What do you get when rain falls for days and days and days onto dirt, limerock, sand and gravel roads? Answer – Roads become sludged, schmutzed and crudded… or whatever you want to call it.
What do you get when a bunch of gravel cyclist nutters are itching for a ride? Answer – A guaranteed fun time riding bicycles around in this stuff!
While most every other cyclist in the Gainesville, Florida area on Sunday morning was sleeping, whinging about the rain and not riding, the Gravel Cyclist crew plus special guests (10 cyclists in all) were ready to roll at 8:20am from the unincorporated community of Jonesville, Florida.
The weather forecast called for 80% – 100% chance of rain around ride start. The forecast was off, but rain had fallen heavily about an hour to two hours earlier. The remainder of the day was one big rain forecast.
Dr. Pain and JOM chose this ride to unveil the fruit of their latest tinkering – shiny new electronic groupsets that were going to be covered in crud within five minutes of ride start. No better way to break in some expensive parts eh! Read about JOM's tinkering with XTR Di2 here. We'll be posting an article about Dr. Pain's updated Quiring Monster CX bike soon.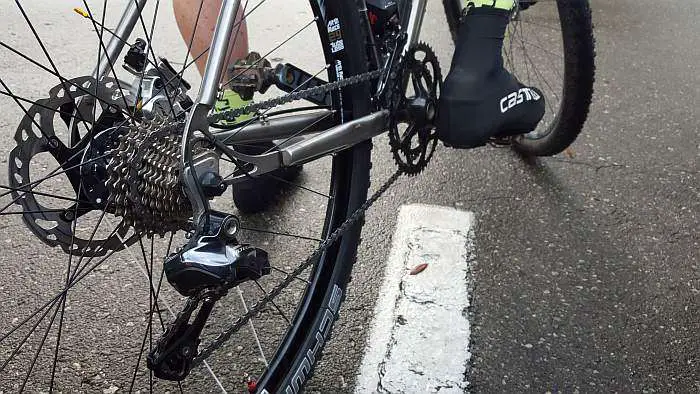 Some people shouldn't quit their day jobs…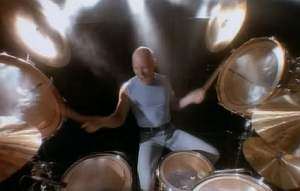 Upon entry onto the first of many sectors of dirt and sludge, JOM and K-Dogg broke into song, attempting a vocals only cover of AC/DC's Thunderstruck. Nobody can emulate Brian Johnson's voice, even if you commit totally while trying to keep the bike upright.
The singing went badly.
Dr. Pain, Nature Boy and our mate Anthony aka Moose promptly attacked to get away from the singing, causing massive collateral damage to the group.
Despite a regrouping, the duo of the Belgian Diesel and Big Head Todd (BHT) missed the memo. Not due to an attack, rather because they skipped part of the course; namely, a very swampy and sludgy road that is only traveled by locals. As anyone knows, if a group of riders separates, that separation must be closed pronto.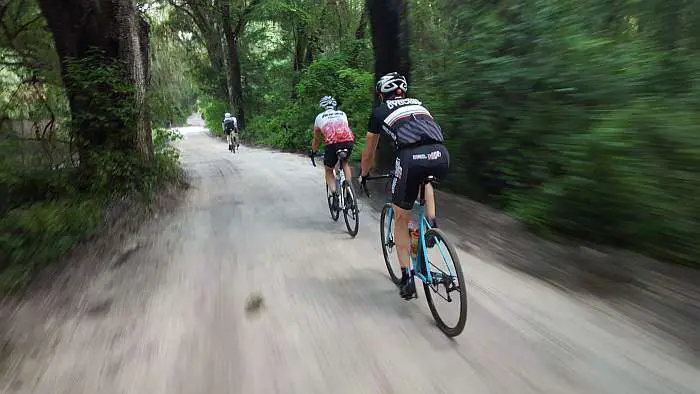 Mrs K-Dogg, still new to the ways of dirt and gravel, chose to ride at a more serene tempo and backed off the pace. She is secure in herself and doesn't whine and complain, but doesn't like people waiting on her – which seldom happens. With K-Dogg now off the leash, the chase would begin. Ultimately, we would regroup with her a little later – you were probably thinking we were mongrels for ditching a lady from the ride, eh.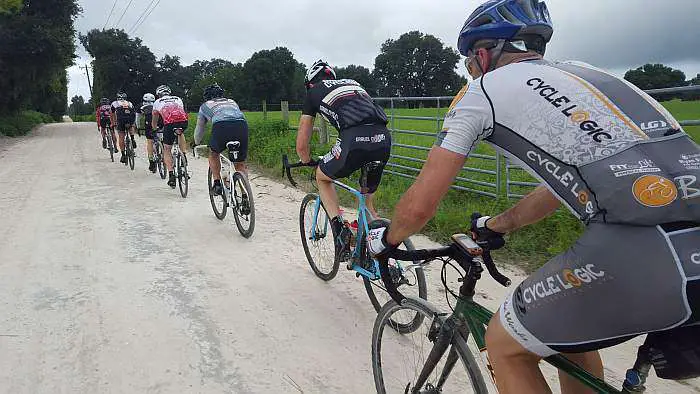 Some very hard riding followed, and eventually, we caught the two man breakaway – who were cruising and not riding hard – and by some miracle of tribal knowledge, Mrs K-Dogg had joined these guys.
The hard riding didn't cease there. A long section of sandy limerock sodden by recent rain, featuring undulating hills with a block headwind, caused further suffering. Most everyone hid their suffering (as in, don't show your pain face), although it was apparent one rider was feeling the pinch.
Note: We may not have the huge hills and mountains of other areas in the country, but there are plenty here to hurt you – and we do have the FLAppalachians… and sand… and tribal knowledge.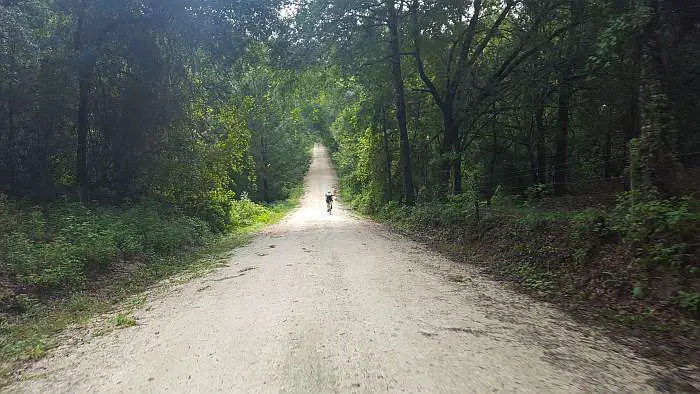 Where was the rain?
Somehow, the weather forecasters had gotten it all wrong. There was plenty of wind and dark, overcast skies, but no rain. While many of the roads were sticky and wet, this was turning into an absolutely fabulous ride.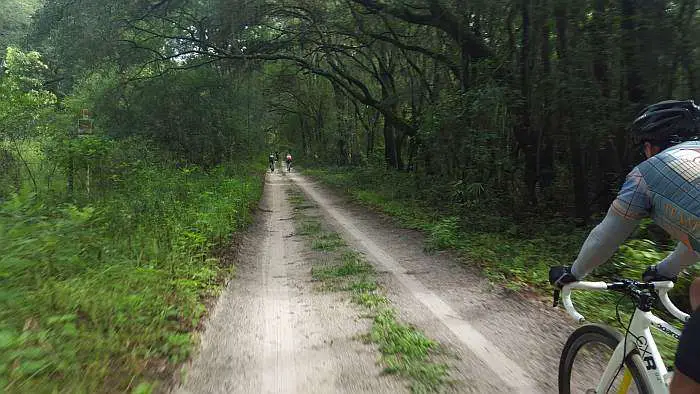 No route organized by JOM would be complete without the possibility of bush bashing – in the case of this ride, riding along a dodgy road, and skirting along part of the overgrown former Newberry railway line.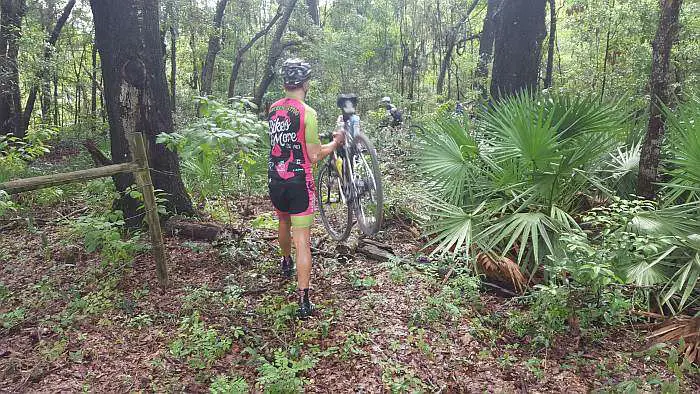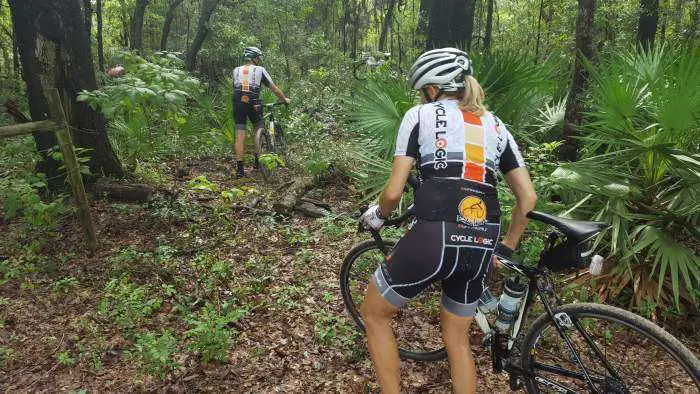 The planned rest stop in Newberry, Florida was close by, but not before we spotted some interesting sights along the way. How often do you see an American flag hung above a road, dirt or otherwise? Clearly there were some serious patriots living in this area!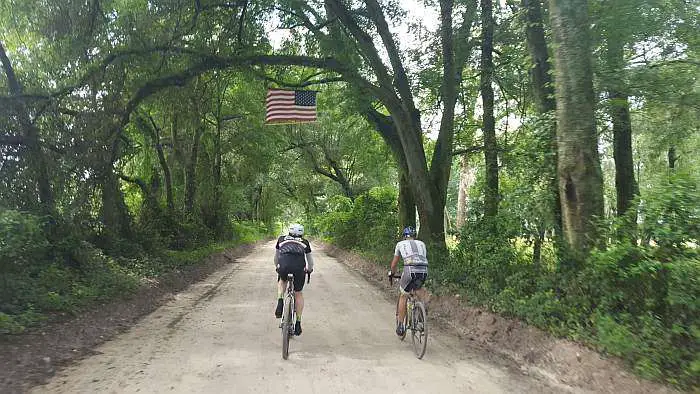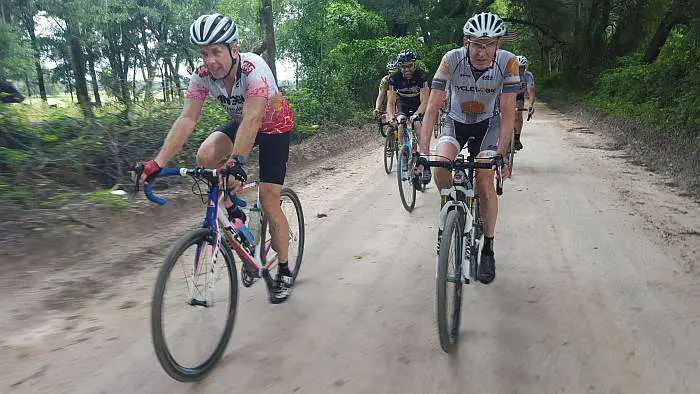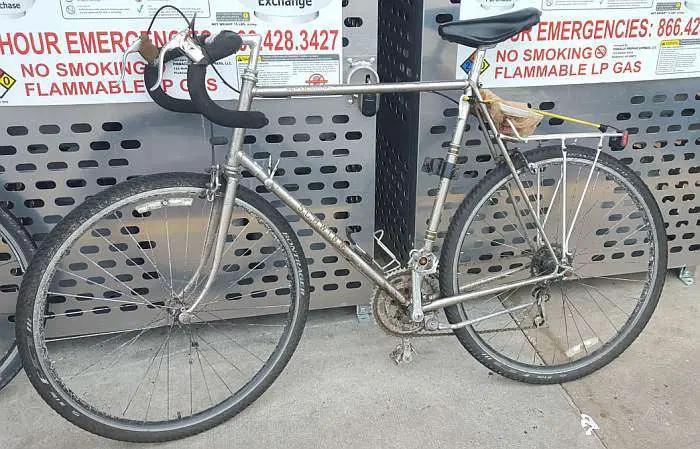 This Schwinn Super Sport was spotted at the obligatory store stop. Note the tires (tyres) – Bontrager 700c x 38mm! From an era when you could jam decent sized tires into a road / commuter rig.
The pace lifted… and the rain fell…
Post store stop, the pace was jacked immediately. Three riders who shall remain unnamed created a gap and rode away, never to be seen again until the terminus of the ride. The seven who remained were too tapped to chase, couldn't be arsed chasing, or were playing ride leader. Barring Jimbo (now in no man's land between the two groups) and two riders who made it clear they would be turning off early, JOM (playing ride leader) was under the impression everyone else would complete the entire route.
Unfortunately, this wasn't the case. This knowledge was kept private until said riders turned off early, leaving JOM to ride the route solo. No worries.
That's when the rain came down. Whether one becomes soaked with rain or humidity and sweat, it is all the same. When rain combines with already damp limerock, sand, dirt and gravel, it gets messier. Perfect conditions to break in new bike parts!, and listen to disc brake rotors ping and ting while enjoying the solitude of the ride… and take some photos.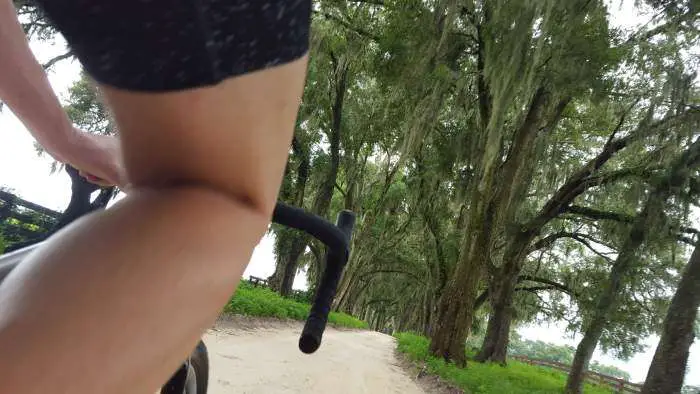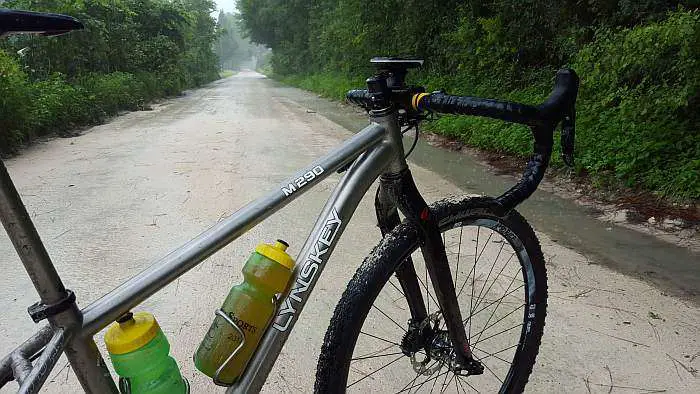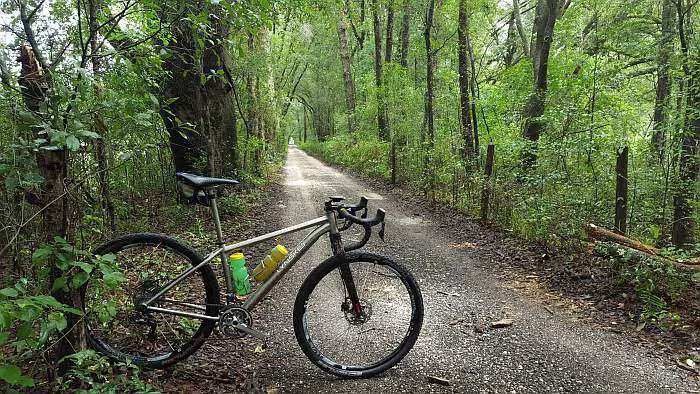 In all, a fantastic day of cycling – everyone said so over email later, so it must be true.
For everyone who rode, their kit and bikes need a scrub and a rinse, but the alternative? Sitting on one's arse inside with cabin fever. Get out and ride! Dirt washes off

Thanks for reading!