This article isn't about tubing, house-boating, floating or kayaking down a river. Rather, it's a short story about three blokes who paid attention to the weather reports, and chose to avoid the heat of the sun, rolling beneath the shade of copious tree canopied dirt, limerock and gravel roads; all while snaking back and forth over the Suwanee River.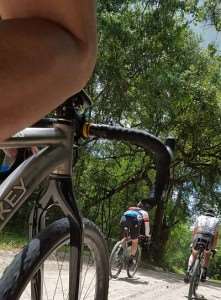 The ride began near the boat ramp at Ivey Memorial Park in Branford, Florida. JOM busted out a 100 miler the weekend before, encompassing Branford and other small Florida towns.
He thought it a good idea to begin riding further out, exploring the roads north and west of Branford. Initially, another 100 miler was planned, but Dr. Pain talked some sense into JOM… heat exposure, common sense and that sort of thing.
The ride also served as the perfect opportunity to shake down the Monster CX rigs of the Gravel Cyclist crew, for the upcoming Hilly Billy Roubaix race in West Virginia.
Our man K-Dogg was testing tire (tyre) pressure by feel, accomplished by pushing his thumb onto the top of the tyre casing – not recommended for everyone.
Regular people in the 21st Century prefer to use tyre pumps with gauges.
Regardless, 69.368 miles were on tap (110.99 kilometres), taking in Mayo and O'Brien, Florida, the only towns / unincorporated communities along the course. Unfortunately, the town of Mayo was early in the ride, and O'Brien, almost at the end – less than optimal for supply purposes.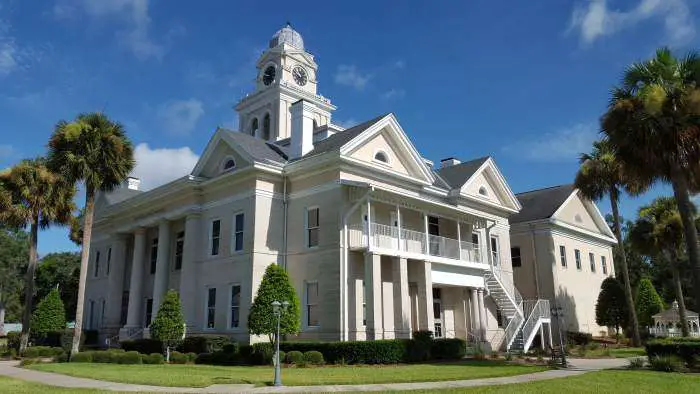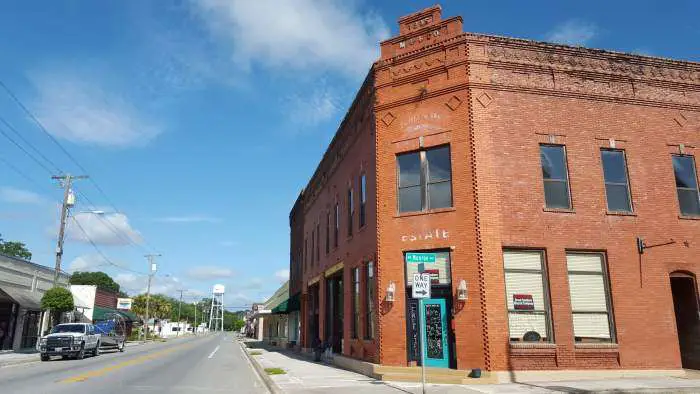 Staying hydrated in this sort of heat (95 Fahrenheit with oppressive humidity) is of the utmost importance, so planning a course that passes by convenience stores, etc, is a huge consideration. While exploring new roads is fun, it is zero fun when you're out of water and 20 miles from the closest town – more on that in a future article!
The early miles of the course featured several sandy roads, a problem exacerbated by a lack of rain over the past week. We chose well to ride bikes fitted with 1.8″ / 2.0″ tyres. However, the roads further west were much better packed down, so it wasn't all struggling and flailing around like a fish out of water.
A new route by JOM wouldn't be complete without a bit of bush bashing, but thankfully, all of it was legal and above board. Trespassing isn't recommended!
Later in the ride, we encountered something we'd never seen before; a dirt road subdivision with its own airstrip and yield signs for aircraft! We spotted only one property with a plane parked in the shed, but a unique sight nonetheless. This being the United States, I (JOM) suspect this isn't the only community of its kind.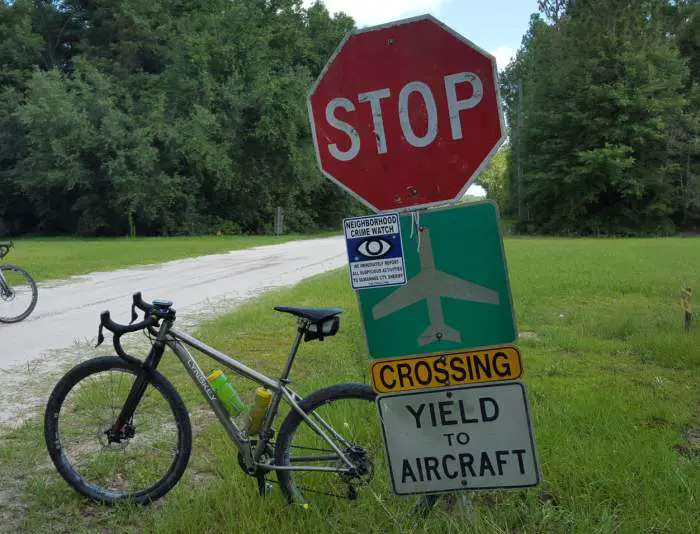 The other interesting sight (and smell) was the massive irrigation device sitting in the middle of a field, pumping what appeared to be liquid poo – HUGE amounts of it. The wind was blowing in the wrong direction, so we didn't stick around for photos.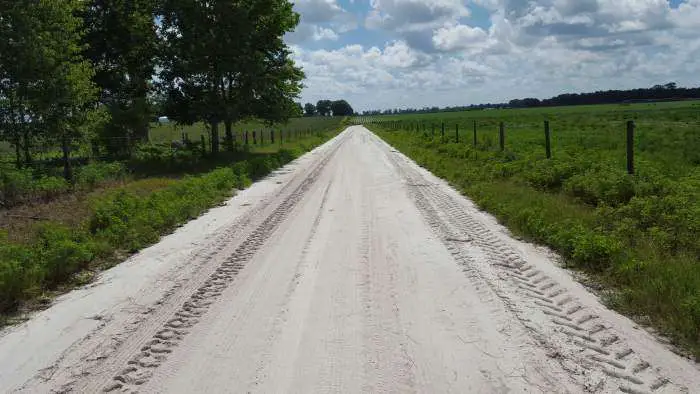 The blip town of O'Brien, Florida (basically a flashing light and a petrol station) couldn't have come fast enough – about seven miles from the end of the planned route. K-Dogg was feeling the heat, while Dr. Pain and JOM were impressing each other with lengthy turns on the front.
Dr. Pain had done the lion's share of the work during the first 40 miles, while JOM sandbagged, to punish K-Dogg later. Subtle payback for smack talk comments made over email on Friday 🙂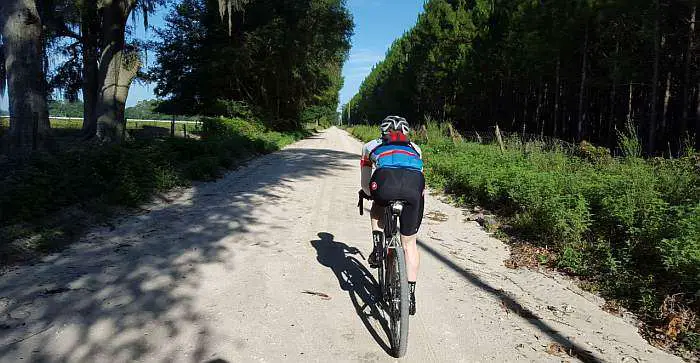 No Gravel Cyclist training ride would be complete without K-Dogg reminding us he is 60yo a couple of times…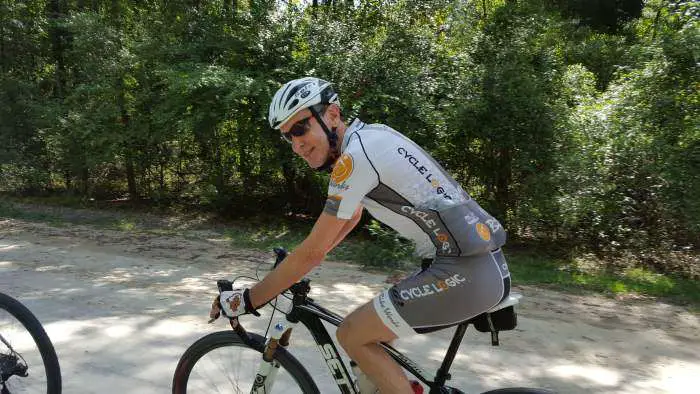 The final miles back into Branford were perfect. Tree canopy atop a dirt road, and an uber easy pace to warm down. K-Dogg celebrated the ride by taking a dip in the Suwanee River.
This is a route we'll be repeating in the future!
Thanks for reading!