And a Heat Index close to 100 Degrees Fahrenheit
That was the forecast for June 13, 2015 in Gainesville, Florida. The early days of summer are well upon us, and for many residents of this little town, that means hiding out from the heat, or if you're part of the college student population, leaving town altogether.
While I cannot attend gravel or ride race events for a little while longer (due to injury recovery), that isn't stopping me (JOM) from getting in a few endurance rides solo, and maintaining some semblance of fitness. What better way to accomplish a couple of these goals, by riding 100+ miles in some insanely hot weather!
To Beat the Heat, Leave Early
Well, that was the plan.  When the alarm went off, daylight was already shining through the window shades. My extra hour of sleep would have been better served if I'd gone to bed an hour earlier. Once the morning rituals have taken place sans coffee, the bike tires (tyres) inflated, and kit adorned, I rolled out the door at 7:20am.
The heat at this time of the day was in the mid 70's Fahrenheit and overcast, perfect for getting some miles in. However, humidity was off the chart, meaning the dripping of perspiration from the cap worn beneath my helmet began in earnest. Drip, drip, drip, coating the top tube in a sweaty sheen.
On the way out of town, I joined the Gainesville Cycling Club's "Sunrise" ride as they ambled down Millhopper Road, one of the prettiest paved roads in the area. Imagine low traffic, copious tree cover and you get the picture. I didn't shamelessly suck wheels, rather I contributed a solid turn before leaving the group to their ride, and the serious business of my 103 mile adventure.
Destination – Bradford, Florida
Today's adventure would head west out of Gainesville, on a mix of dirt, limerock and some gravelly roads, passing close to High Springs, Fort White, Branford, Bell, and back to Gainesville. My legs were feeling amazing today, possibly helped by my solid sleep and the huge amount of food I ate on Friday night. This was going to be a fabulous ride!
Many of the roads on today's route were new to me. Before I lead a ride with the other Gravel Cyclist lads in tow, I like to get a little bit of scouting in. Typically, Dr. Pain joins me on these rides, but alas, he was making a rare appearance at a road race in Florida.
Did I mention I'm divorced from Florida Road Racing?
Moving along, all was going well until I encountered the sandpit of hell and the mudpit of doom at around 40 miles into the ride. What appears rideable on satellite or Google Street View – some crazy person had driven the Google car down this section of road – isn't always the case, even in the best of conditions.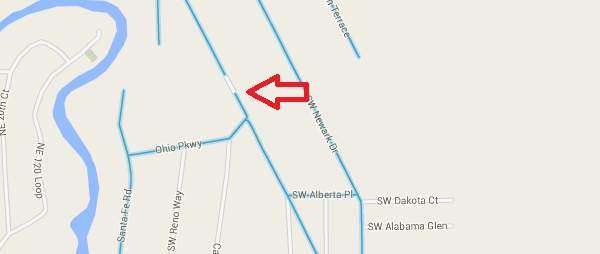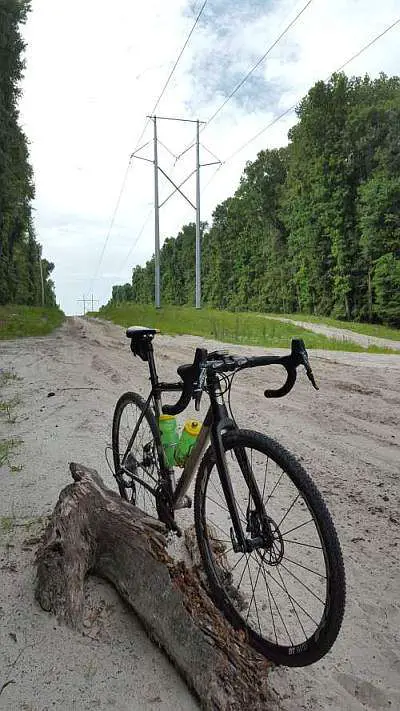 See the arrow above, that part of the route isn't mapped in Google Street View. That should have been a clue.
Unfortunately, I was remiss in taking a photograph of the mudpit, but the photo at right demonstrates the nature of the deep sand. Only a Monster CX bike was getting through this… these 33mm wide tires on the Foundry Overland review bike weren't cutting it. After a bit of trudging and mucking up my nice shoes, I pressed on towards Branford, Florida.
Connecting with US27 near the crossing of the Ichetucknee River, dirt road options at this point in the ride weren't readily available. But, the Suwanee bicycle trail ran parallel to US27, making for a long, straight path devoid of traffic into Branford. Barring a golf cart that is, the inhabitants of which I caught by surprise.
Halfway
There isn't much to talk about Branford, Florida, other than the petrol station convenience store I visited. It wasn't that interesting, but some friendly locals did take interest in the fancy bike I was riding. Question and answer time is always fun.
Not counting my stops for the odd photo and walkabout section, there would be two store stops today. With the projected heat of the day, it was important to stay well hydrated, topped with additional food calories to help get through the ride.
Old River Road took me south of Branford, and ran sort of parallel to the Suwannee River. The heat was beginning to build, and the overcast skies had given way to bright sunshine.
The tree canopy lined roads in this part of Florida are amazing. You can't beat the humidity, but you can beat the heat taking these thoroughfares, another reason I love riding these types of roads.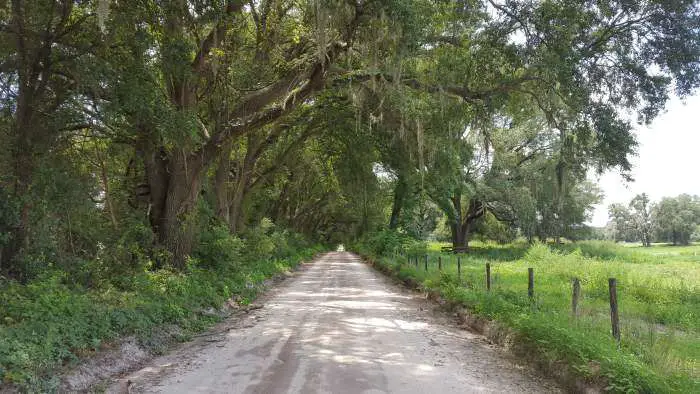 My next stop would be Bell, Florida, a well known bustling metropolis if you have anything to do with the Dairy industry. Other than that, it is a little blip on the map that sometimes smells of cow poo.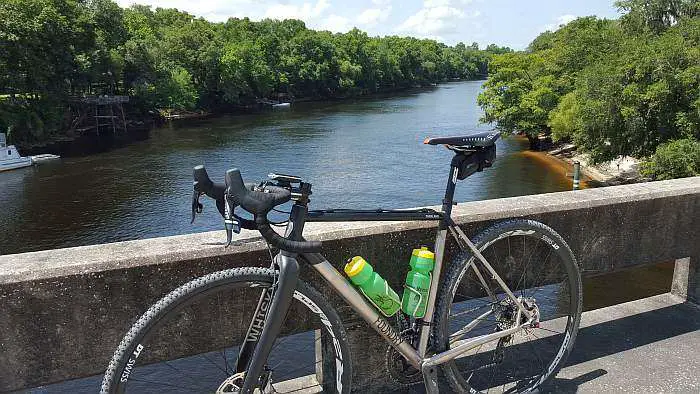 Not counting the paved crossing of the Suwannee River along 340, I spotted two vehicles along the roads, paved or dirt, between Bradford and Bell. Bliss on a bicycle.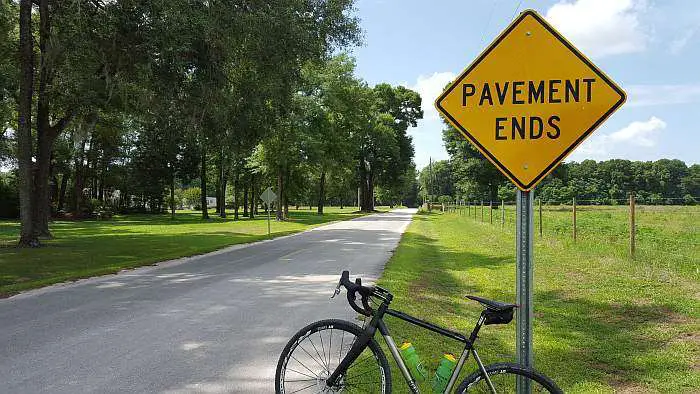 There are a lot of lovely roads in this area, that meander either side of the river. If it wasn't so hot, one could spend hours, deliberately getting lost on these quiet country roads.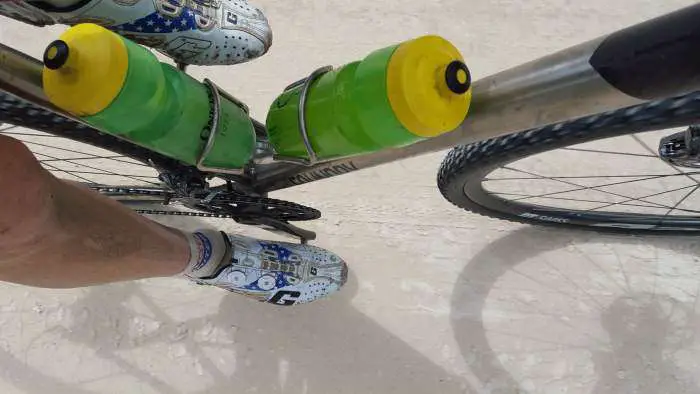 The Home Stretch
Arriving at Bell, Florida, I visited yet another petrol station / convenience store. Purchasing a few items to help with the hydration and calorie intake, I took the opportunity to rest a little while beneath the shade of the store front. It was also a good time to communicate with the outside world, courtesy of the camera phone I was toting along. Dr. Pain thought I was a nut riding in this heat for this long – he was probably right.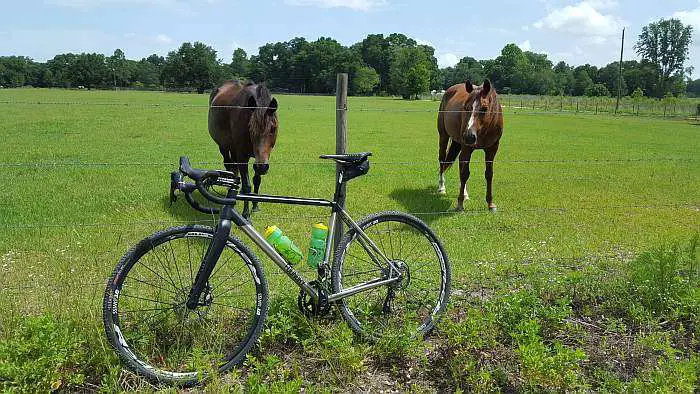 However, with over four and a half hours of riding behind me, I was feeling pretty good, but one of the toughest stretches of road lay between Bell and Gainesville.
The dirt and limerock road options between Bell and Gainesville are few and far between, unless you don't mind heading a little south-east towards Newberry / Jonesville. Even taking that into account, most roads that exist are privately owned by mega timber corporations and the like.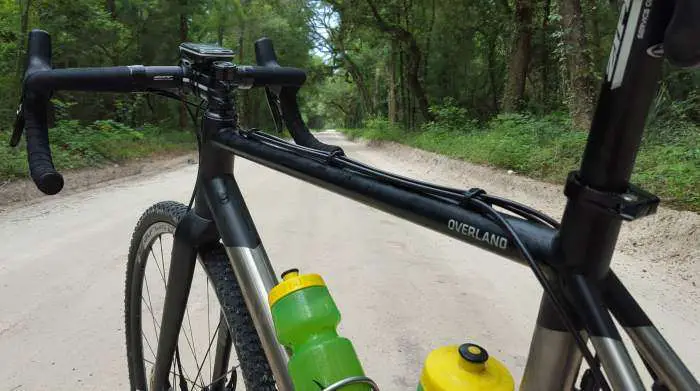 With a pressing engagement happening later in the day, my optimal route for a speedy return was The Highway From Bell – cue AC/DC band references here.
Country Road 232. An almost dead straight road running east / west into Gainesville, devoid of shade and a guaranteed headwind, just what you need to be riding at around 1:30pm in the afternoon.
All was going well for 15 of the remaining 32 miles. That's when the headwind, heat and fatigue set in. My sugar induced initial average speed of 20mph into the headwind dwindled sharply, eventually falling to around 16mph. All I could do was look down at the spinning front wheel and slowly chug along, periodically taking a peek at the Garmin to see how far I had to ride.
The last seven miles weren't pretty. Millhopper Road, which I took out of Gainesville, featured on the return route. Typically the few grades along it's paved surface aren't a worry, but when you're out of food, and the hydration in your bottles is running low, they can be a rough time. Scaling the Interstate 75 climb took longer than usual, but thankfully nobody was around to witness my suffering.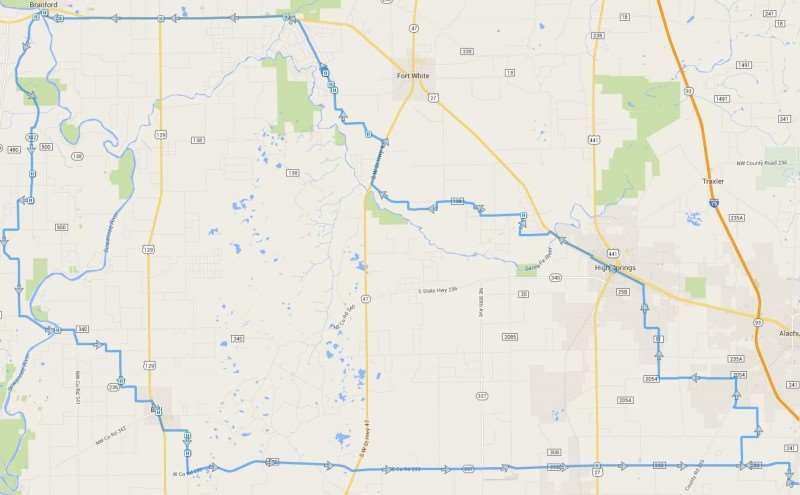 In all a great ride of about 103 miles (165kms), taking in many roads I've never ridden before. Next time, I'll figure out an alternative return route to Gainesville… or leave earlier. The Foundry Overland review bike (article appearing soon on BikeRumor.com) was a treat to ride, and didn't leave me beat up. And, it looks sharp, which is the most important thing 🙂
I shed seven pounds of weight during the ride, most of it fluid. This is despite consuming five litres (over a gallon) along the way.
Riding long distances on dirt, gravel and limeroads is fun, but be wary of the pitfalls, and plan a route that encompasses store stops; or be prepared to carry a lot of fluid on-board!
Thanks for reading!