Greetings readers. This is the fourth in my series of articles about dealing with a common injury that affects many cyclists; recovery from a broken clavicle.
Part 1 – HERE, Part 2 – HERE, Part 3 – HERE.
Recovery Week 4 – 5

I began cycling on the road again about a week ago, even if this action is not recommended by most doctors. Walking and the stationery trainer have kept me somewhat sane, but the outdoors is where it is at. The last orthopedic doctor I visited alluded to the fact I have too much energy. He'd rather see me burn such energy and keep myself in a positive frame of mind versus being cooped up inside the house. However, crashing is not an option, at least for a while (fingers crossed it never happens again).
I'm doing my best to mitigate the risks. By that I mean, there are no group rides in my immediate future; rather, I am training solo or with a friend or two. Position wise, I'm riding 99% of the time with my hands atop the bars, in a relaxed but controlled manner. Riding from the drops feels OK and is a nice break from this position, but I need to keep my left arm as immobile as possible.
The negative of riding three to four hours with one's hands atop the handlebars, is your shoulders and other body parts sometimes begin to ache. In particular, both of my shoulder blades. But, some gentle stretching while riding or off the bike helps to alleviate the pain, and encourage blood flow to the site of the injury.
Some stiffness still persists in the joint, but this is to be expected. I cannot begin properly rehabilitating the injury for at least another week. I need maximum time for the bone callus to form between the break and promote proper fusion.
More Recovery Goodness
Thanks to the kind nature of a good friend, I was loaned an Exogen 4000 unit in December of 2013, the previous time I broke my collarbone. The machine is still in my possession and is being put to good use. If you haven't heard of Exogen, a few details from their website:
"EXOGEN uses safe, painless low-intensity ultrasound waves to stimulate the body's natural repair process. In just 20 minutes a day, EXOGEN may help you get back to the activities you enjoy most—in less time and with less hassle."
#1 prescribed bone healing system.
20-minute daily treatment.
38% faster healing of indicated* fresh fractures.
86% healing of non-unions† (breaks not healing on their own).
91% clinically proven high treatment compliance.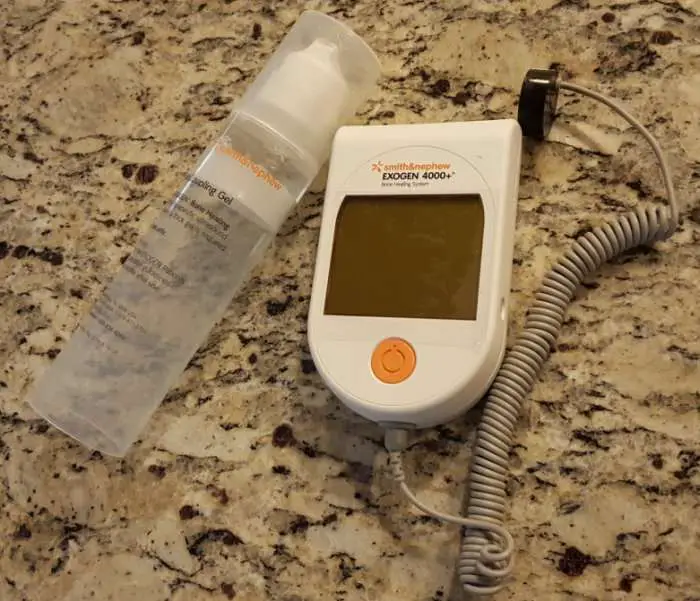 All of these claims may be placebo rubbish, but placebo and the power of the mind are powerful things. My 2013 clavicle break healed in near record time when I used the Exogen, and I'm confident this time around will be no different. It's just a shame the bone displacement is a tad unsightly. Thankfully, most people don't see me sans shirt so this is a non-issue 🙂
What's Next?
I will continue taking the recovery week by week (and posting updates), with the hope I can begin riding gravel events proper towards late June. The clavicle needs to be healed very well before I can consider jarring it while traversing dirt and gravel roads.
On the continued positive, I'm confirmed for the epic D2R2 ride in Vermont, which is an event I am really looking forward to!
Thanks for reading.