Greetings trendsetters. This is the second in my series of articles about dealing with a common injury that affects many cyclists; recovery from a broken clavicle. Part 1 is HERE.
Recovery Week 2
Overall, I like to think my recovery is going well. Doctors would probably condone this, I have on a few occasions tested the amount of extension / flexibility of my left shoulder, simply by raising it as as high as I can. After the initial break, I could raise my left arm a little over 45 degrees, with the starting point being the arm by my side. Ten days later, I am close to 75 degrees. While there is no way the bone has fused, the muscle and tendon damage seems to be repairing nicely, which bodes well.

I seem to have recovered from my concussion; either that, or my friends are being extremely nice and humoring me 🙂
Sleeping
Has definitely been the biggest hurdle the past nine days. The broken clavicle and associated muscle damage cause little to no pain during sleep. However, the rib bruising, which extends across most of my back has been very painful, particularly after six hours of on and off sleep. I've been taking painkillers as mentioned in the first posting, but only for sleeping. On the positive, last night's period of rest (Thursday 04/30/2015) was the best yet, with the rib pain dialed back a level. It seems they are healing, and tonight's sleep will be the first sans painkillers. Progress!
To aid with sleeping on my back or right side, I've arranged pillows and assorted cushions into a U shape. Little things like this make a huge difference when dealing with an injury. While I'm not a regular sleeping on my back kind of guy, I find elevating one's arms with a pillow / cushion beneath the elbow, really helps with getting comfortable, and hopefully, restful sleep.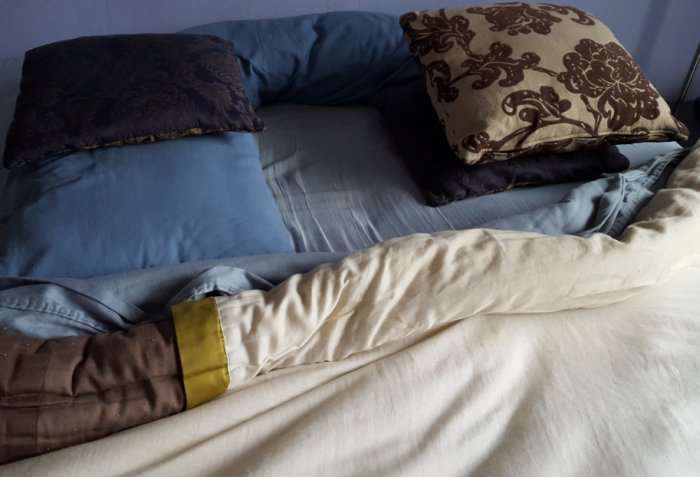 Diet
I am not here to profess the virtues of any particular diet. Diet is a personal choice of everyone out there, and can be a sensitive subject for some. I follow a vegan diet when I'm home (except when certain friends send Tim Tams in the mail… you know who you are), and a 100% vegetarian diet if I'm traveling on the road. I've upped my intake of dark veggies / leafy greens to include broccoli, which is known to be high in calcium. Smoothies help with ingesting all these raw goodies, and are quick to prepare. I love my Vitamix!
According to scientists out there, the absorption rate of calcium derived from broccoli and such isn't optimal. But, I'm a believer of placebo / positive thought. I'd much rather ingest vitamins and minerals from food versus pills and tablets.
Exercise
Cycling is out, road, gravel or otherwise for a week or two. However, to keep myself in a positive frame of mind, I've been walking during lunch breaks, or doubling up walking after work. This past Wednesday and Thursday, I managed seven miles of walking each day. While the scenery could be better, getting out of the house / work and into the outdoors is really boosting my morale and recovery progress. From where I was a week ago, I am feeling so much better. Hoping to continue the walking trend this weekend with a 10 miler or two, maybe a little longer?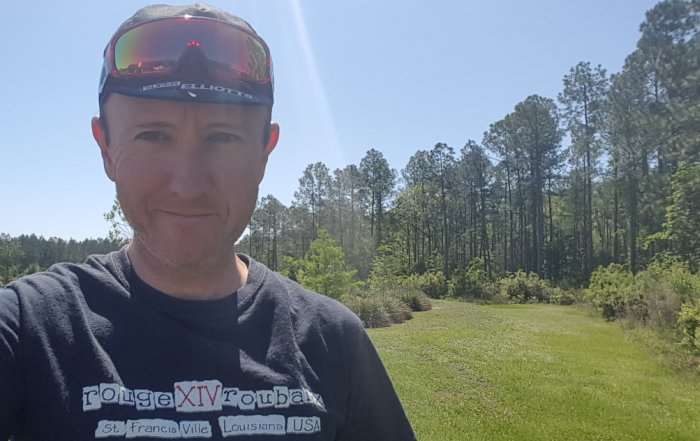 Sometime next week I should be visiting or consulting with an orthopedic doctor.  In my mind, surgery isn't required, as the broken clavicle seems to be settling into place, helped by the reduction of swelling around the break. Reminder, I'm not a trained medical doctor, and while I've had several experiences with broken clavicles in the past, I'd really like to avoid being cut open again!
Expect another update next week. Hope everyone has a good weekend planned, thanks for reading!