Despite the cool temperatures (lows in the 40's Fahrenheit) ten riders appeared for this week's edition of the GCX Worlds, beginning at DeSoto Park just north of Gaineville, Florida.  While humidity was about 84% at the time of the ride, there were no complaints about the weather, when we consider there is no snow, or freezing gale force winds to force us indoors onto stationary trainers.
Like last week, there were some heavy hitters on the ride, including Dr. Meshugganah (aka Dr. MSG), Pfaff Junior and his dad, Pfaff Daddy, and The Fraulein.  We hadn't seen her for a few weeks, but her presence is always welcome.  The Belgian Diesel was back for more punishment, and because he lives way across town, he insisted we ride the long loop.  Decided.
Sector One
Dr. Pain who was filming proceedings tonight, was notably absent from the front.  Something about taking it a bit easier, following wheels, etc.  Pfaff Junior had a relatively easy weekend, and announced his legs felt amazing.  This is never a good thing for an 18yo to announce, particularly when he has recent race wins under his belt, and been kicking our collective arses for weeks on end.
As it turned out, yours truly (JOM), was feeling a lot better this week, having finally ditched the dreaded Qantas Legs jetlag from the week before.  With that said, JOM found himself in the first break off the front, with Dr. MSG and Pfaff Junior for company.  The break's pace wasn't flat out, and the group, having lost us at the first corner, caught up quickly.
Recent rain had transformed any sand into a nice solid mass, meaning those aboard narrow tyres weren't sinking like they usually do.  JOM took to the front heading into the first hill of note, hoping to avoid a repeat of last week's sandy mess.  He faded towards the top, but hung on with Pfaff Junior, Dr. MSG and someone else (JOM was seeing stars) until the end of the sector.
Sector Two
A nice tempo of around 20mph / 32km/hr ensued, before JOM decided to be a pelican head and attack the group.  JOM was brought back rather quickly, and counterattacked immediately, sneaky style (seated), by Pfaff Junior, Dr. MSG and K-Dogg.  JOM shot to the back of the group, who was leading a rather lethargic chase.  Eventually the chase group bridged to the Dr. MSG led move, after most everybody worked together.
Sector Three
Not a lot happened here, just more tempo, excessive wheel sucking, lung clearing, etc.
Sector Four – The Flappalachian NOT Mountains
Somehow, by sheer stupidity, JOM ended up being stuck on the front for the first half of this sector.  Nobody would come around, despite JOM giving those behind him the arm flick (the arm flick / chicken wing is a pro like move meaning your turn is done on the front).  This was JOM's reward for trying to attack earlier.
Things got very interesting on the second of the Flappalachians.  JOM, still on the front, stayed seated as the 18yo lad, Pfaff Junior, launched a full blast attack on the left side of the limerock road.  At this time, Junior's rear wheel appeared to work itself free, causing him to lurch forward, and momentarily float a few inches off the ground.  We suspect the inside of his bib shorts may be sludged, but he did a nice job of saving himself from a potential crash.  The Gravel Cyclist crew hypothesize that Junior's quick release wasn't tight enough, or he has an amazing amount of power.  Whatever the cause, we hope to analyze Dr. Pain's on-bike video footage, which may contain more answers.
Sector Five
Pfaff Junior rode from the front pretty much the entire sector.  We suspect the lad was trying to relax after his earlier near calamity.  Regardless, most everyone enjoyed the relaxed tempo for the moment.
Sector Six – Our Lady of Perpetual Spooge Spring
This was a near carbon copy of last week.  JOM went to the front and held a solid tempo, to prevent anybody coming past him, and to avoid getting his clothing all sludged by Our Lady of Perpetual Spooge Spring.  Because the sand that follows the Spring was nicely packed down, anybody aboard narrow tyres didn't lose time, and the group stuck together until the sandy but soft, left hand turn.
Dr. MSG decided to play his hand here, and jacked the pace hard.  Bodies were seeing flying backwards, with only Pfaff Junior, Pfaff Daddy, Dr. Pain, JOM and The Fraulein able to hang on.  K-Dogg was flailing around in no man's land, with Big Head Todd, the Belgian Diesel and Mark on the MTB not far behind.  If the facts are a little off, blame hypoxia.
The lead train of pain continued with Dr. MSG in the driver's seat, until the next climb of note.  This is where Pfaff Junior launched and dispatched everyone.  Dr. MSG couldn't bridge and was stuck chasing the lad with a deficit of about 50 metres.  JOM was leading the chase to Dr. MSG, with any survivors stuck on his wheel.  Nobody was helping JOM with his chase (we have video proof), leaving him the crappy task of closing the gap to Dr. MSG with zero assistance.  It was only because of Dr Pain's on-bike camera, did JOM turn himself inside out for two to three minutes to catch Dr. MSG.  Nobody caught Pfaff Junior on that sector.
The Final Sector and Eating Dirt

Was all Dr. MSG.  We suspect he was angered by Pfaff Junior's latest attack, resulting in Dr. MSG setting a hard tempo for the half mile 1% – 2% leg deadening climb that comprises much of this sector.  Out of respect or tired legs, there were no notable attacks after Dr. MSG's stellar effort.
Eating dirt?  Yes, really.  This happens when the bicycle with the large volume tyre ahead of you, kicks up all sorts of dirt into your face and open mouth.  Invariably, you ingest some of this dirt.  In a perfect world, we'd keep our mouths closed, but that ain't happening when you're breathing hard, and your heart rate is jacked as per the chart below.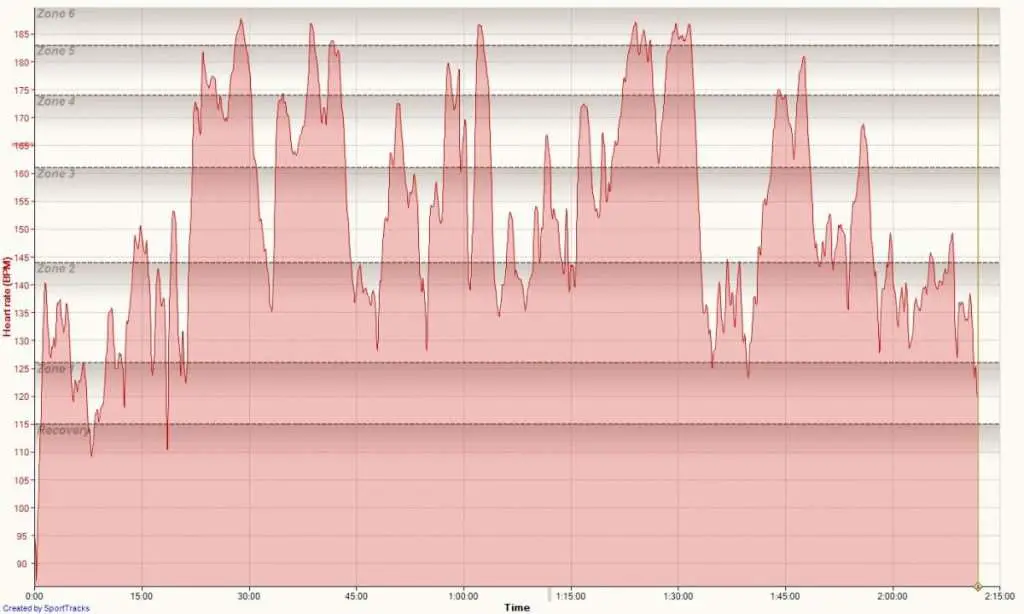 All in all, a tough, but solid workout.  As a bonus, everyone rolled a nice conversational pace all the way to the parking lot, as their energy levels were mostly depleted.
As alluded to earlier, Dr. Pain captured video footage of tonight's ride, which JOM hopes to edit soon.  He may even produce a ride report, which could be interesting.
Thanks for reading!