This report comes to you from Dr Pain:
GCX World's aka World's Tallest Leprechaun Contest Report for February 3, 2015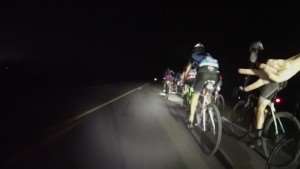 An astonishing fourteen lucky Leprechaun's showed up for this week's contest at DeSoto Park.  A quick glance around the parking lot led a sinking realization that there was potential for heavy damage, or I mean, an excellent training adventure.  Notably present were Dr. Meshugganah (hereafter referred to as Dr. MSG), and Pfaff Junior who was hot off a solo road victory over the weekend.  Pfaff Junior quickly noted that he was riding easy because of the weekend races.  Why would an 18 year old say such a thing?  Why should he be believed at all?  There was also a father-son team present on mountain bikes (Bryce and Mark), which made for two father-son teams in attendance (the Pfaffs being the other).  This was most definitely a first.
With a large group, it was decided to do the long loop with the vaunted Flappalachian chain of not-mountains.  We swooped out of the parking lot at a gentlemanly pace (no women present at all tonight), with the expectation that the hostilities would begin at the first limerock section.  This was mostly true, as mostly what happens, most of the time.
As expected, at the first limerock section, Dr. MSG led a not-at-all gentlemanly pace to the railroad tracks, then proceeded to practice his first dirt-based criterium turn onto the next dirt road.  The group was partially exploded at this point, which was effectively about one mile into the real riding.  A hardy group of Leprechaun's made contact, and shared a frantic pace, until Mark aboard his MTB led us into a sand pit in what had to be the absolute worst line imaginable.  Some floundering occurred which allowed Dr. MSG and Pfaff Daddy to get a gap.  K-Dogg was dangling somewhere behind them and in front of the rest of the Leprechauns, until Pfaff Junior dragged Dr. Pain up to him right before the next paved road.  A regrouping occurred as we soft-pedaled to the next dirt sector.
Tempo Time
After turning onto the next sector, Dr. Pain rolled casually off the front.  Shortly after that K-Dogg came flying by in the draft of a white pickup truck!  He then "sat up" and made a few token efforts to assist Dr. Pain off the front.  It was obvious the Aussie Bastard (JOM) was back in the group organizing a "let those wankers hang out there" group soft-pedal.  So that entire sector was nearly neutralized until Pfaff Daddy broke ranks and joined, then left K-Dogg and the Good Dr. Pain.
The next sector was a semi-spirited chase of Pfaff Daddy, significant only for the demonstration of our unworthiness and small stature, when Dr. MSG stood up, and disappeared into the darkness to join Pfaff the Senior.
The Flappalachians and Beyond
There was another sector in there somewhere, but I don't remember anything about it.  Either it was uneventful, or I have repressed all memories due to the unpleasant nature of it.  The next memorable section, was of course the Flappalachian not-mountain chain.  A reasonable pace was set by Dr. Pain to begin the section.  K-Dogg and a few others took a pull, but what followed as a stylish acceleration by Nature Boy, who looked up to his old tricks.  Pfaff Daddy and K-Dogg managed to drag him back on the second not-mountain, where Nature Boy appeared to have dropped anchor, and deployed parachutes.  K-Dogg demonstrated that he is definitely back, and maintained the lead up to and over the final not-mountain.  Dr. Pain briefly considered trying to come around, but realized that Dr. MSG was lurking on his wheel, ready for a sure-fire assassination.  Instead, Dr. MSG was remarkably reserved, and K-Dogg, Dr.Pain and he rolled over the top and down the hill together.
After the Flappy's, the group sort of regrouped.  Protocol was breached when Jimbo and Dr. MSG stayed off the front on the pavement.  Dr. Pain, sitting at the back of the group, and trying to consume a brick hard Powerbar, finally rolled up to them.  The rest of the Leprechaun's decided to socialize, rather than taking advantage of that excellent draft, and stayed behind.  The trio at the front decided to continue on.  Some grumbling in the larger group was reported.
Our Lady of Perpetual Spooge Spring and the Sector of Pain
The next sector or two of limerock were done at frantic pace with Dr. MSG stretching everyone's legs.  JOM, showing his Australian holiday form, moved to the front to be first through Our Lady of Perpetual Spooge Spring (and avoided getting his jacket dirty).  He accomplished that goal, then promptly disappeared from sight (backwards) as the counter-attacks ensued *.   It was here that Dr. MSG got a gap that took the combined efforts of Dr. Pain, K-Dogg, and Pfaff Daddy to overcome.  Dr. MSG was reeled in just at the end of the sector.  Dr. Pain used up the last of his watts to close the final gap, and K-Dogg danced around Dr. MSG at the last "just to show that we were there".  Don't poke the bear when you are a Dogg.
The Finale
The final sectors were ridden at a solid pace with only 4 or 5 sharing the workload, due to tired Leprechaun legs for everyone.  Dr. MSG's true nature was revealed when Mark on the MTB came around him on the last turn into the final dirt sector.  This was clearly perceived as a challenge.  The pace lifted, the transgressor was summarily dispatched off the lead group, order was restored.  The group then rolled in mostly together on pavement to the parking lot.  Special note should be given to the Belgian Diesel who forgot his cycling shoes.  Instead, he rode the entire ride in size 17 Rockports!  Anyone else would have gone home immediately upon discovery of the missing shoes.  He's a Flahute, for sure.  There is video to confirm all these observations, maybe it will get edited (when JOM has time from his regular commitments).
* Note from JOM:
I declare I am knackered from last Saturday's beatdown in the Ocala Forest (including 5 miles / 8kms of sand hiking).  There is video proof, which will be coming.
I have Qantas legs.  Qantas legs are attained when your arse is parked on an Airbus A380 for 16+ hours, flying from the great land of Australia to the US of A.  JOM's legs don't like remaining dormant that long, particularly when he has bugger all room to stretch them out.  As such they feel dodgy, whose condition isn't helped by hardly any sleep and hemisphere time zone changes.
Good cyclists always have excuses.