Little Five Peaks: All Around Rothrock
When I recently found myself looking at most of an open day during a trip to Pennsylvania State University, I knew I had to look for a riding opportunity. You may have already read about JOM's Pennsylvania adventures here or here. Step one for me is always considering ride options: road, MTB or gravel? While good riding seemed to exist locally for all three, I gravitated towards MTB since there were, at least by Florida standards, real mountains nearby in Rothrock State Forest. Multiple accounts however talked about the "very rocky" state of most trails. Definitely not my forté. Also mentioned were miles of gravel forest roads. I easily found some existing gravel routes so… decision made and my ride planning commenced.
The starting point would need to be sourcing a bike locally. Several shops had demo bikes available but not to rent. However, the oldest operation in town, The Bicycle Shop did offer rentals, with multiple options to choose from. Their gravel bikes are the Diverge by Specialized (more on that below) which seemed like a great choice. I contacted the shop via email and was advised to phone in a reservation about a week in advance. Done.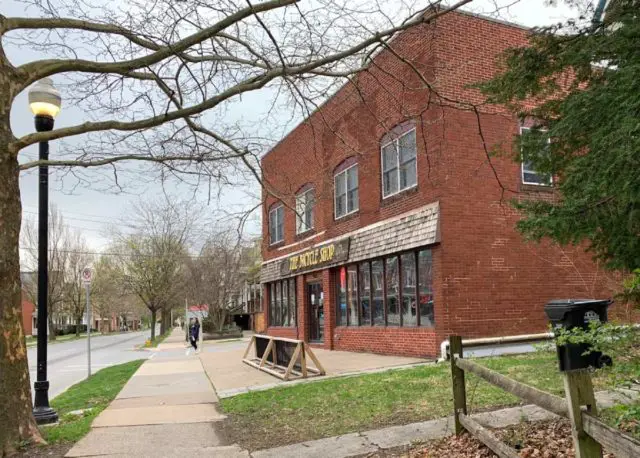 Next step – find a route. It did not take much searching to decide on a 64-mile route departing from the entrance to Rothrock State Forest. That, plus about 7 miles each way from the shop would mean something like 80 miles total with over 6500ft of climbing. This would be a hard solo ride. Drilling down on the satellite imagery, there were no obvious convenience stores or gas stations, just a couple state park entrance buildings which might or might not hold any provisions. So a fully kitted backpack with reservoir would be in order. This would be a remote solo ride.
I arrived at The Bicycle Shop right at their 10am opening after an easy walk from my hotel. While processing the rental charge ($50/day for this level bike is a steal) I realized I'd left my pedals in the room. Doh! As with any good shop, they came up with a set for me at no charge and overall bike setup/fit took about 15 minutes. My mechanic seemed to think the roads would be packed and fast as "the graders haven't been out yet."
Heading out of town, the weather was cloudy and breezy with temps in the low 50's Fahrenheit. Rolling up towards Tussey Mountain Resort, I could see there were still remnants of snow on the hills. Ok, so it was still very early spring in Pennsylvania.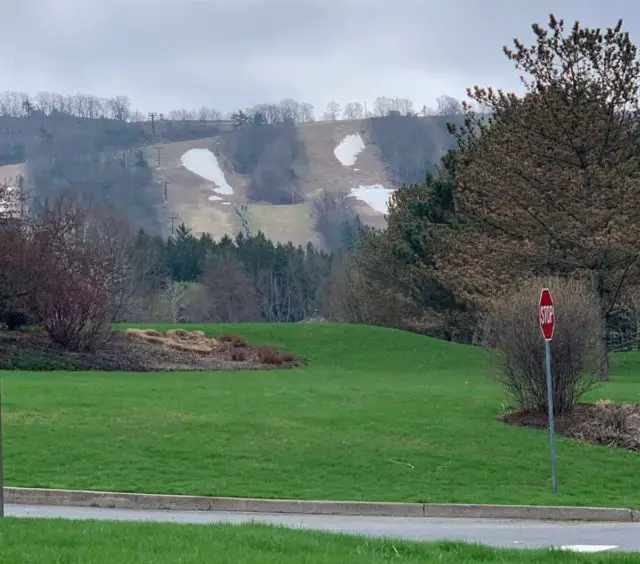 It did not take long for the road to tilt upwards from there, as in right out of the Galbraith Gap parking area. This initial climb on Bear Meadows Road was 3.5 miles @ 3%avg with a couple of sections over 6%. So basically longer and more gain than anything in Florida—but a just nice warmup by Pennsylvania standards.
Turning left onto Treaster Kettle Road meant another climb—this one shorter and sharper: 0.75 miles @ 5%avg—before dropping down for nearly three miles to the tiny hamlet of Coyler where the valley widened before the mountains on my left ended and a number of farms appeared.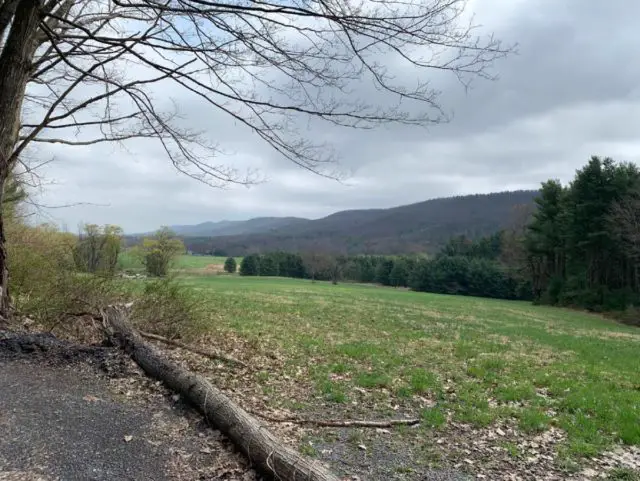 After cruising through Coyler in something under a minute, the second long climb of the day started on Boal Gap Road: 3.4 miles @ 4%avg but this one hits 7.5% near the top. Some beautiful sectors along here made especially picturesque as the sun emerged for the first time that morning.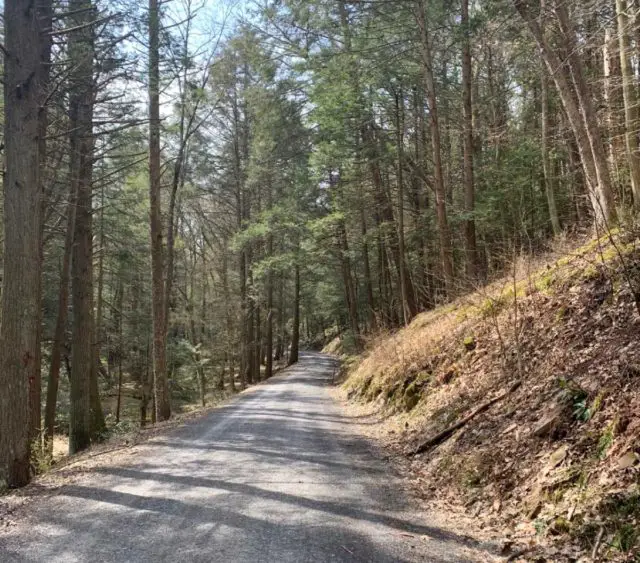 At the top of Boal Gap Road, a short descent drops down to the northern edge of Penn Roosevelt State Park, largely built by the Civilian Conservation Corps in the 1930s. Camp S-62 housed Company 361 during their construction of park facilities as well as many of the roads in Rothrock State Forest that I'd be riding much of the day. The 361st was one of only a few African American CCC units—fully segregated despite their northern location—that operated in Pennsylvania during those years.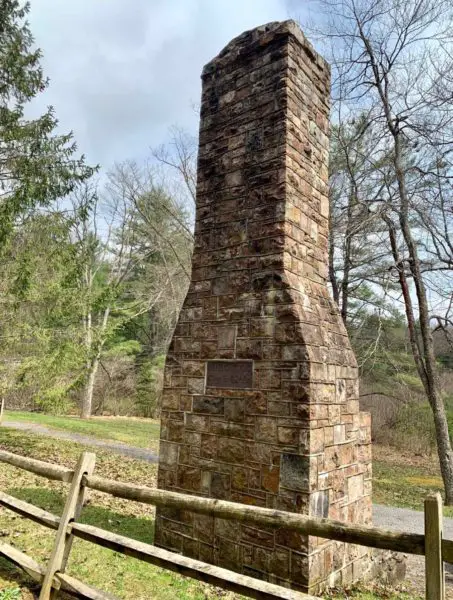 Climbing out of Camp S-62 on Stone Creek Road I faced another mile of 4% avg with 8% in a few spots. Starting to get used to that rhythm by this point. Then, long fast descent down to the hard right turn onto Spruce Mountain Road. A lot of deer season cabins in this area mostly deserted in spring and especially on a weekday. While Stone Creek had been hard packed and fast, the turn onto Spruce Mountain brought an immediate change to soft, loose gravel that made for harder going. It seemed as if it had been recently graded and few cars had been out to pack in any lines whatsoever. Very quickly the going got even harder as the climb towards Spruce Gap is 0.7 miles@ 8%avg with several ramps over 11%. Somewhere on this section, I passed the first vehicle since leaving Galbraith—a single state forest pickup. Once over the top, the road surface got even worse and made descending tricky with very loose almost squishy gravel on a 10% grade. The source became obvious when I rounded a bend and had to slow quickly for a grader coming back up the hill toward me.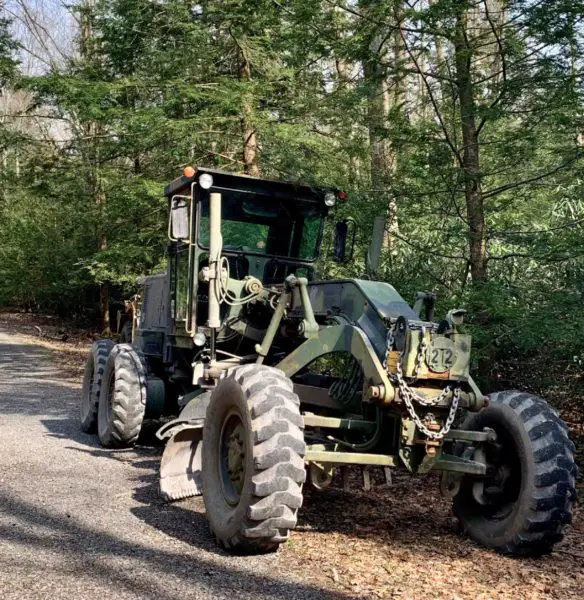 But once onto Lingle Valley Road, the surface improved to the usual high standard (the grading really works over course of the year given how good some of these roads are) and several miles of descending took me into Milroy at the lowest elevation of the entire ride. Milroy does have a bar and a pizza place, neither of which seemed like a good idea if I remembered the rest of the route profile correctly. That pint of Tröegs would have to come later (and it did). A short stint on smooth rolling pavement took me onto Back Mountain Road at which point I got stuck behind some local traffic.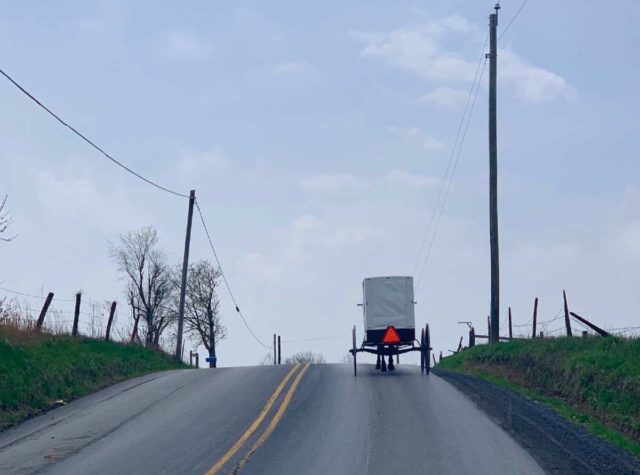 The next right turn onto Coopers Gap Road signaled another climb ahead unless I really had not gotten a sense of the local terminology. Like many others in the area, this road runs alongside a lovely creek in its lower stretches. And like the others, once it moved away from Tea Creek, that's when I knew the serious climbing would begin.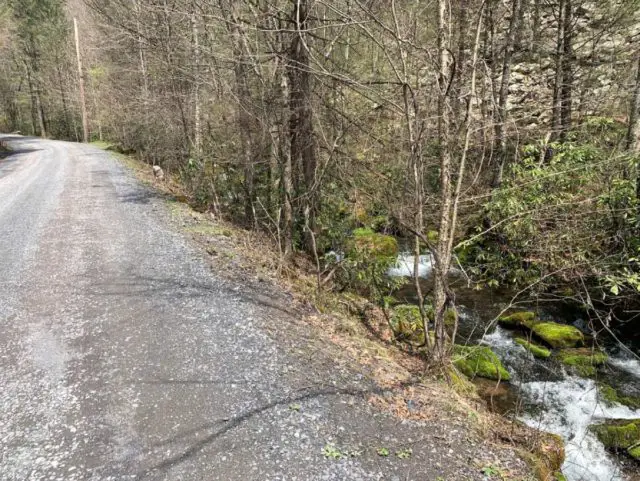 Coopers Gap would hold some rollers and false flats along with a section over 8%. Overall, not bad. But 3.5 miles into the climb the route turned onto Kettle Road and here the going got tough, with the last mile fully at 7-10%. So statistically at least, five miles @ 7%avg should have been the toughest climb of the day. But it was still early…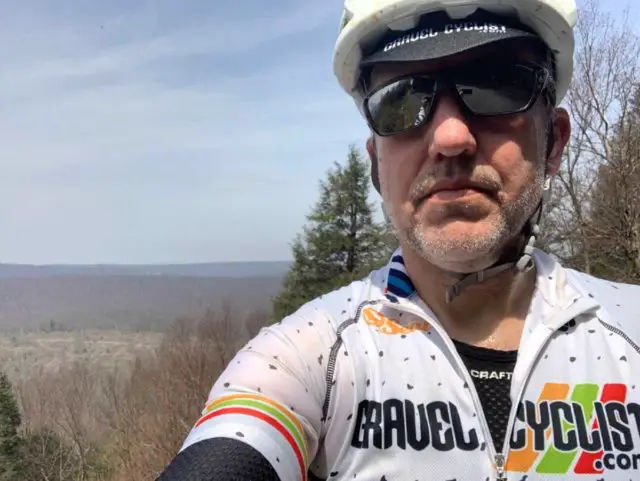 Coming off Kettle Road onto Rag Hollow, it was a nice four mile descent to Greenwood Furnace State Park. This spot had been a center of local iron production for 70 years in the 19th Century. While the village is long gone, the furnaces remain.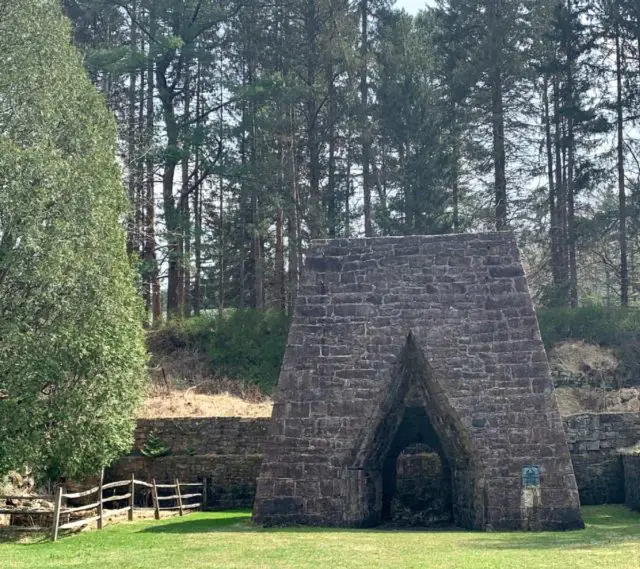 From Greenwood, Broad Mountain Road begins with a short punchy climb before several miles of smooth gradual downhill allowed me to push hard and made for a quick trip to the junction with Alan Seeger Road The next eight miles would ascend some 700ft @ 4-5%. Nothing too steep but a steady grind nonetheless at 50 miles into the day. This section also brought me back into Rothrock State Forest.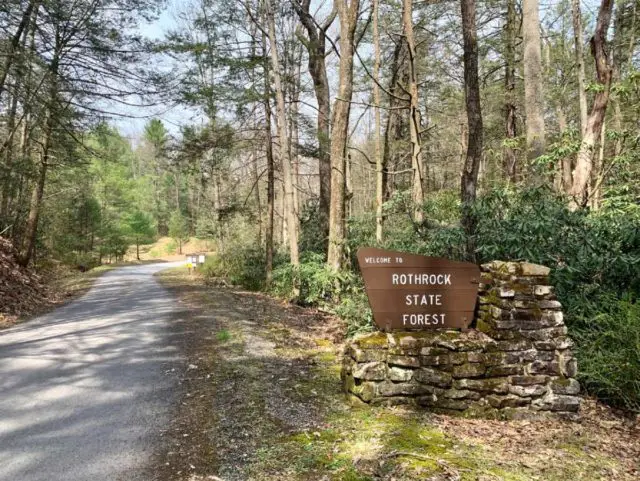 After topping out on Beidleheimer Road I descended to Greenlee Road which then met with Laurel Run near Whipple Dam State Park. Still too cold for a swim and because I was not "bikefishing" I did not stop. From there, Laurel Run goes for about six miles generally to the northeast, climbing steadily @ 3-5%. After several miles of this, I passed a park ranger pickup on the side of the road. And a few seconds later… gunshots. Then more gunshots. I lost count after 10. Presumably, target shooting but who knows? Just put the head down and keep rolling. I wore a white jersey and helmet for a reason.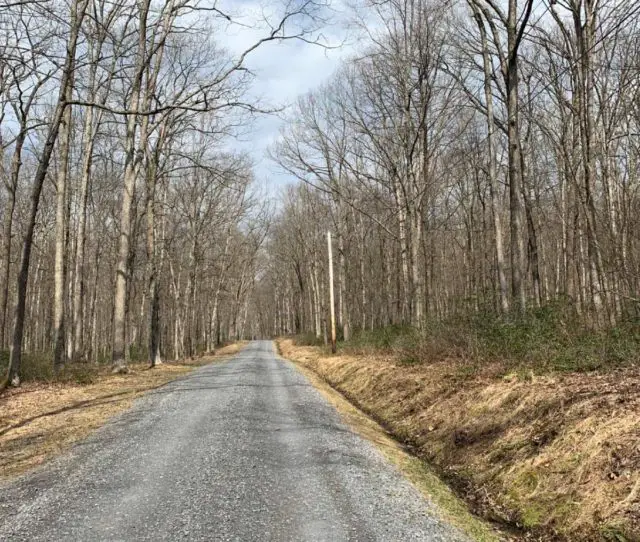 For a while, before I could see it with my eyes, the Garmin had been showing me an abrupt right turn that nearly doubled back on itself. My mind said "switchback" and my legs said "uh oh." When I finally could see the turnoff onto Bear Gap Road through the still bare trees my mind also said "uh oh." This looked considerably steeper than anything on Laurel Run over the past 30 minutes. With 65 miles and over 6000ft of ascent already in my legs, I knew this was going to be tough. Laurel Run was at 5% when I turned off but the grade on Bear Gap immediately went to 7%. After 0.1mi it was 10%. Then it maxed at 11%. I started looking for the end around every blind curve. Bear Gap eventually dropped to 4% briefly, taunting me, before trash talking like a star when it jumped back to over 9%. I was now using every gear inch available on the Diverge and still managing only slightly better than walking pace. I was blown up good.
Aggregate numbers can hide many things and this climb up to Gettis Ridge turned out much tougher than the advertised 6.2mi @ 5%avg. But from here I had six miles of descent back to Galbraith before the pedal back into town to make 80.0mi with 7,073 feet of ascent. While enjoying group rides and events, long solo efforts always bring me back to my earliest days of cycling when every ride was an adventure.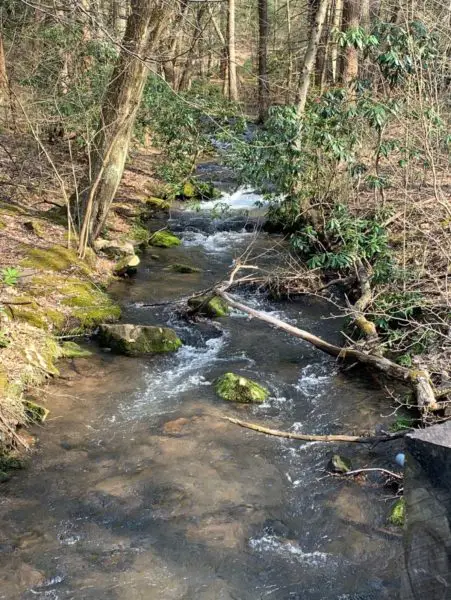 The Bicycle Shop provided a Specialized Diverge set up 2×11 with Ultegra shifting and hydraulic disc brakes. I'm still a 2x rider on all my bikes so the setup worked well for me. As Dr. Pain says, "I like my front derailleur." And I definitely loved the disc brakes on this course especially. Tire setup was 700×40 tubeless at +/-45psi for what were overall smooth fast roads. The Diverge features +/- 20mm of suspension in the headtube. I'll confess I never consciously "felt" it working but these were not roads that would necessarily fully challenge the system. On the other hand, I'm not sure how I would have felt at the conclusion of this ride aboard a full rigid front end. For a day rental bike, this was a fantastic option: comfortable and fast with flawless shifting on local-approved gearing. The Bicycle Shop crew were friendly and interested in my ride. One even asked me if the Hipp ride was still going! Check them out if you are in the area.