The second water crossing was the one that got me. It's often that way. The ancient Greeks defined Hubris as an arrogance or excessive pride that angers the Gods. Hubris may indicate a loss of contact with reality and an overestimation of one's own competence, accomplishments or capabilities. The Gods punish those with Hubris, and mine was both swift and conclusive. I was down and sliding sideways across a slick concrete water crossing that had a fine crop of algae growing. It was punishment for thinking I alone could ride across what should not be ridden.
Our first water crossing, at about mile 50, was en-mass – we flew in and let the wheel spray blast our friends next to us. I was loving it and leading the way. But I felt that I had missed a good photo-op on that crossing, so requested to be the first one across the next creek to set up the camera for a few good shots of the gang. I was riding my 'cross bike with 35mm tires – a set up where I can ride easy mountain bike trails – no water crossing was going to spoil my day.
At the next crossing, I knew not to brake once in the water and entered at about 15 mph. As I reached the midpoint of the 100 foot crossing, I slid out so fast it shocked me. Boom! I was sideways in the water and hanging on to the bike. The creek was moving pretty quickly, about 5 inches deep, and was rapidly taking me and bike toward deeper water – probably overhead deep. Swimming to shore fully clothed trying to drag a bike was not appealing. The pavement was so slick with algae I wound up scooting on my butt, dragging the bike, onto an area about 50 feet away where the traction was OK to stand up.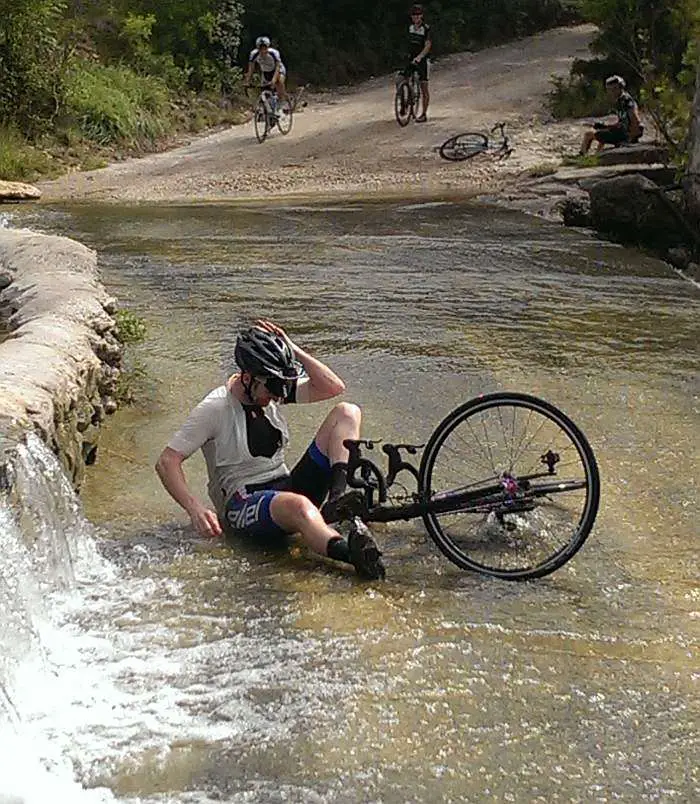 The lads, waiting to have their photos taken at the crossing, saw me spank the ground and heard my swearing as I floundered in the algae. Next across pedaling was Ian, one of the most amazing bike handlers around, and the guy who had designed our day's adventure. Want to guess how far he made it? That's right, just about where I slid out. He reported he enjoyed the water as the air temperature was about 90, and there is nothing wrong with washing your kit, shoes and all, en route. So the rest of the posse walked or butt scooted across after sliding out – the best strategy was walking in socks which have more friction and purchase on algae. Everyone got to wash their feet one way or another…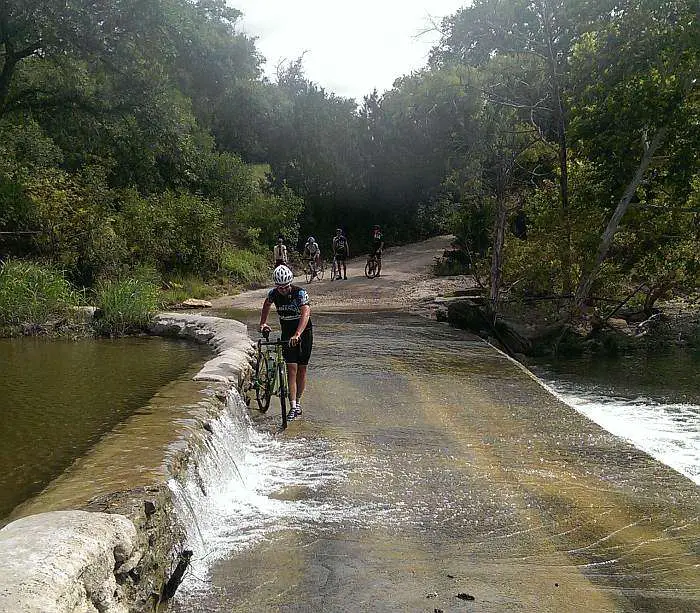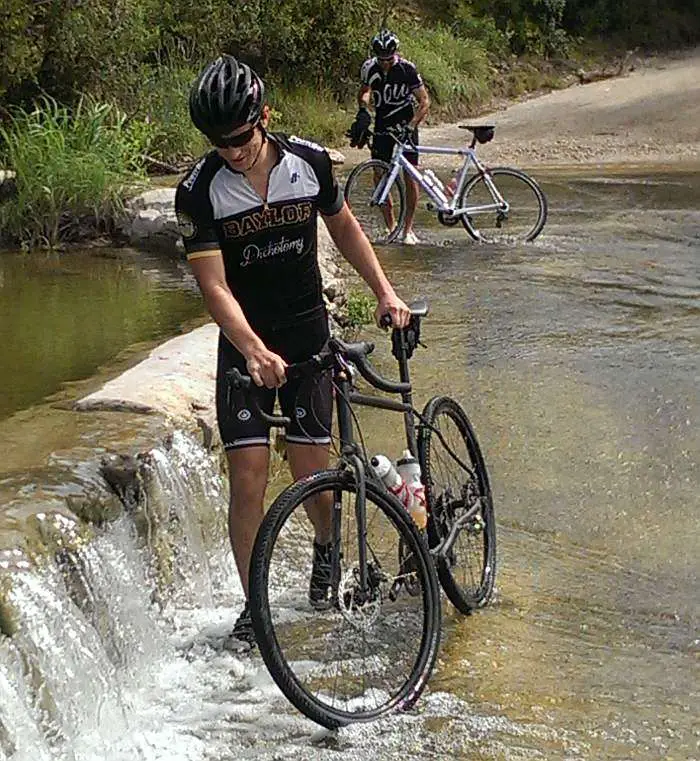 This whole adventure started with my pals from Squadra Servitori, a racing club here in Waco, Texas, who wanted to ride 400km for the 4th of July weekend. Sounds good eh? "400 for the 4th.'" I had damaged a meniscus in my knee about a month earlier (running – bad idea), so was tapped for driving the lunch wagon.  The Servitori posse are pretty low key, but they are fast, and know how to ride in all conditions. The route for our first day was about 225 km (140 miles) on a big loop west of Waco that included many small rural roads, lots of gravel, and had some tough climbing to boot. The route also included nine water crossings – it rained all May and the rural creeks were still up.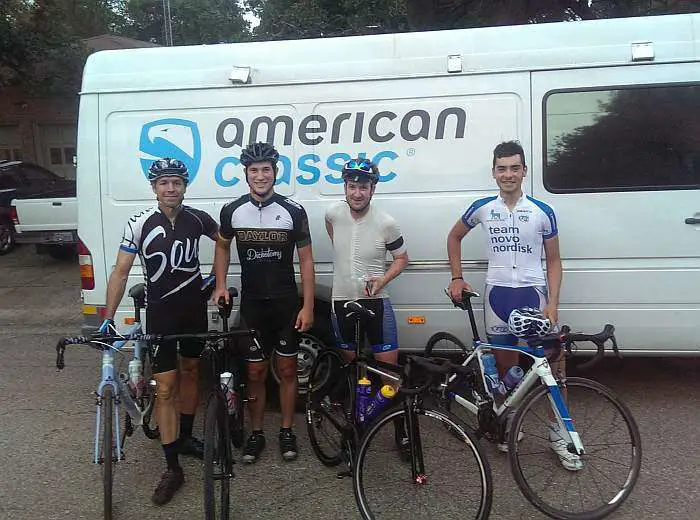 The goal of 400km on the three-day weekend was to keep everyone fit through the summer. Some of the lads had raced tough events like the Rouge Roubaix this spring, and they wanted to be ready for fall events like the Camino205, an amazing gravel route in the Piney Woods near Palestine, Texas. (Full disclosure I am the ride director for el Camino205). A couple of our Squadra group would be at the National Road Championships too, so there was the proper amount of focus and friendly competition.  Fit, fun and fast on gravel roads – a good recipe as long as you don't anger the Gods.
I was lucky, in that my job was to drive the American Classic Sprinter van out to the midway lunch point and then ride backward on the course until I met the group. I had a good comrade with me, Brother Joseph, and we found the rendezvous church/graveyard about ten miles out of Clifton, Texas with time to spare.  This allowed us, the lunch bunch, to get in a good warm-up before we joined the hammer fest of the Squadra. The next two hours were some of the best fun I have had in a good while. We enjoyed sweet roads surrounded by green pastures, some forested bits, and lots of wild flowers.  Although there was the obligatory Texas wind, it was not too bad, and we saw maybe one or two cars per hour.
As a recent transplant from the west coast, I am amazed at the myriad of great small roads – both paved and gravel – that abound in the center of our nation. This spring I went up to the Land Run 100 in Stillwater, Oklahoma and the Dirty Kanza 200 in Emporia, Kansas. Both rides are relatively new, and they have a vibrant energy and passionate participants.  Although this year there was an unprecedented amount of mud at both events, most everyone I spoke with was jonesing to come back next year. Gravel riding is here to stay, you might call it a positive addiction.
What makes a great day on the bike is a challenging course, natural scenery, friendly locals (but few cars) and the chance to ride somewhere you may have never found otherwise. Texans are finding the good routes. The Spinistry is putting on all kinds of fresh events. In cool weather they ride in day-time, and in the heat of August rides start at dark and may go as long as 12-hours. Midnight beer hand-ups anyone?
There is a late-summer Race Across Texas that harkens back to the early days of the Tour de France. Teams cars – heck no, this is self-supported racing and please HTFU. To me, the bicycle has always been a vehicle for exploration, self discovery, fitness, and adventure. If you want a predictable ride go to spin class. If you want to go big, sign up for a gravel grinder and see what its all about.  Any bike will do – an old MTB, fat tires on a steel road bike, or a used 'cross bike that you can score cheap right now.  Technology should not be an impediment to fun!  But what ever you do, don't anger the Gods – it ain't worth the punishment!