From the Promoter, "Mother Nature's Cyclocross Race Through the Beautiful Hoosier National Forest and Beyond!"  Check out the official race website.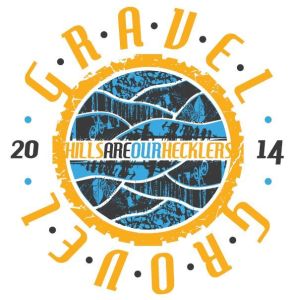 I (JOM) wholeheartedly agree with the promoter's statement.  Not that I had a whole lot of time to admire the scenery on race day.
The Sub 9 Gravel Grovel consists of 60 miles of varying terrain including paved roads, gravel, sludge, mud, mud covered by leaves, single track, double track, creek crossings and a LOT of elevation.  Namely 5,000 feet worth of elevation in Southern Indiana.
Indiana is supposed to be flat.  Uh huh.  Ride around Bloomington, Indiana and south of, into the Hoosier National Forest, and you'll soon discover otherwise.  Shocking.
Race Day
If viewers read my reconnaissance report, they'll see I had a reasonable idea of what to expect come race day.  Love the tribal knowledge.  However, there were a couple of things your writer didn't factor in.
I've no snow or ice experience. I'm originally from Australia.  My home state of South Australia never gets snow or ice.  In fact, I'd never seen the white stuff until I did a bit of traveling around the USA.  Thankfully, snow wasn't going to be a factor this year.
I wasn't privy to the fact that while gravel roads may appear hard packed during one's reconnaissance ride, the underlying hardened icy ground can soften and melt, as it did on Friday afternoon before the race.  Friday, the temperatures reached the mid 50's Fahrenheit.  What does that mean?  It means hardened gravel roads soon became wet and sludgy.  Perfect for mucking up your cycling kit and shoe covers.
To ease my nerves a little pre-race, I kitted up pretty early, and rode around the race start, easy, chatting to many of my UltraCX friends, and taking photos of various bikes.  I'll be featuring some of these bikes sometime soon.
Time to Race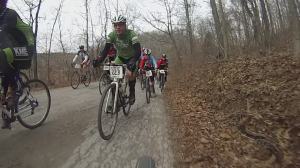 After a brief rider's meeting, Tania the race promoter sent the racers on their way, with the bunch led out by a Volkswagon Westfalia van.  The first couple of miles  were paved, with some small roller hills for everyone's pleasure.
I was tucked nicely in the front 20 riders, hanging out close to the likes of Farmer G, Ms Stephanie Swan and Gerry Pflug.  The first few miles reminded me of the times when I used to road race.  Except here, everyone was a whole lot nicer about shuffling position, moving up through the pack, etc.
Gravel Sector One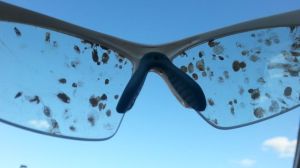 This is when I realized surface conditions were very different from my pre-ride.  My prior comments about melting gravel roads apply.  Within five seconds, myself and everyone around me, was covered head to toe in liquid mud $hite.  Note the view through my glasses at right.  Still, I was hanging in a good spot, despite eating rooster tails consisting of liquid mud.  Don't think about how the water bottles are going to taste… yum.
In my reconnaissance report, I mentioned there were a couple of climbs that would make a difference.  In my case, it was the short paved climb that bridged gravel sector one to two.  If you know me, you know that my legs are never happy about going hard early on.  Then there is the excuse I reside in Gainesville, Florida.  So, rather than put myself completely into the red, I sat up… or was dropped… from the front group on that steep bastard of a climb.  However, I wasn't alone, meaning there were plenty of riders to connect with, and ride together.
Unfortunately, early on I could never find a group that suited my tempo.  I was either going too slow on the climbs, i.e. being dropped, or too fast on the flatter roads.  So, I found myself riding solo.  That's often the story with UltraCX.  You find a tempo, and crank out your own Personal Time Trial.  Knowing the first of many tricky forest sections loomed ahead, I was quite fine picking my own lines through that bollocks.
The Forest of Endor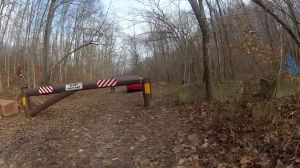 This is the name I give to the section of double track that begins beyond the gated entrance (see right).  Said double track consisted of mud and hard pack soil, broken up with multiple creek crossings, and pits of standing water.  I felt a little sorry for those riders aboard narrow CX specific tyres.  I was running my trusty 1.8″ Specialized Renegade tyres on the Monster CX rig, but I too was sliding around.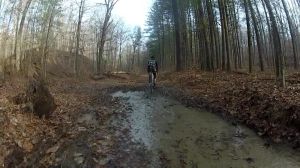 I finally found a rider who was riding the perfect tempo (Jason Samonds) and followed his lines through the sludge.  Always let someone go ahead of you… if they screw up,  avoid that line 🙂
Additionally, I was working overtime (and cursing) keeping the GoPro camera cases free of mud.  Imagine a muddy glove wiping mud from a camera case.  Mud + mud wiping = mud streaks.  Brilliant.
Combs Road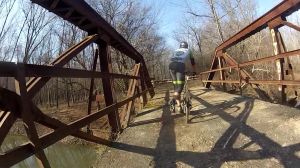 Just before one enters Combs Road (who would drive this bloody thing?), one must dismount and drag one's bike over a waist high barrier.
Imagine a muddy boulevard, covered in leaves; that sums up Combs Road pretty well.  The key here is to follow the most heavily worn ruts through the mud and sludge.
Along this stretch I spotted several puncture victims, including two of my UltraCX friends, Ms Stephanie Swan and Mr Garth Prosser.  Thankfully, they both know how to sort their bikes out.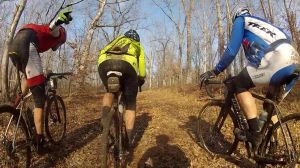 Combs Road leads to a nasty $hit of a climb, which is steep, covered in leaves and who knows what else.
Just before the right hand turn to the climb, Mr Prosser came flying past me, and was nice enough to give me a one finger salute.  Cheeky bugger.
There was groveling on a mass scale (Grovel Cyclist) on this climb.  Some dudes walked, some dudes wobbled, and some dudes were over geared.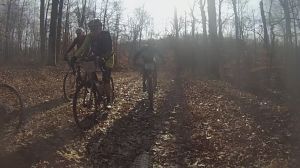 I stayed seated and plugged away on my uber low gear.  The following descent was a bit tricky.  Much as I love descending, I wasn't cool with bombing leaf covered rocks, puncturing a tyre, or crashing.  Tip toe.
Flatter Roads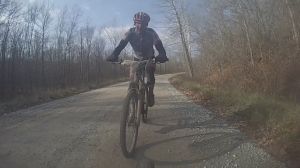 Finally past the first major obstacle of the race, the next few miles of flatter gravel roads (Blue Creek Road) were a welcome sight.  I was joined by a dude on an MTB (sorry, didn't get your name), but we knocked out some miles roadie style, swapping turn for turn into the headwind.
Then came Nebo Ridge
I pre-rode part of this single track on Wednesday and thankfully, conditions hadn't changed much.  My MTB friend ditched me here, but I latched onto a dude aboard a CX bike who was riding the perfect tempo.  Overall, this piece of single track wasn't technical, meaning someone with my limited ability could roll at a somewhat decent speed.  With that said, at least three MTB'ers rolled past me like I was standing still.
No Man's Land
Between the end of Nebo Ridge, the second aid station (that lay atop a nasty steep climb), and somewhere along Pike Road, I was riding by myself.  Massive thanks to the volunteer manning the second aid station.  He was kind enough to lubricate my knackered chain, while I swiped a couple of food items.
The good news, my legs had finally woken up, and I was feeling fantastic riding into the stiff headwind along some of the flatter roads.  Kinda reminds me of Gainesville, Florida.  I caught and passed a few guys along this stretch, who were nice enough to yell encouragement as I rolled onward.
MTB Dude Again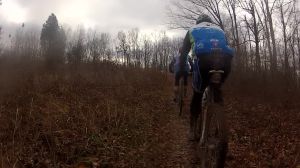 I reconnected with the MTB dude from earlier, who had joined another MTB dude, along the single track between County Road 1190W and County Road 1200W.
These guys were riding a strong tempo after the single track; the three of us worked very well along Horse Camp Road and beyond.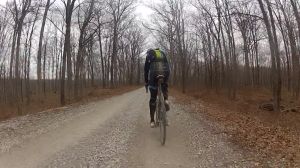 Somewhere between the final section of single track, our trio was caught by an uber fast lad aboard a CX bike.  I didn't catch his story, but I expect he had a mechanical issue and was riding in anger trying to make up time.
Our trio did very little to contribute to the lad's workload, but he didn't really mind.  Cue a bit of shameless wheelsucking.
I promised the lad I'd feature him in the race video (coming), and the ride report.  Nearing the final piece of single track, we caught a couple more riders, including the dude aboard the Boo Bamboo CX bike.  That is one sweet bike.
Final Singletrack
All was rosy until the single track began.  MTB Dude 1 and 2, and Bamboo CX dude split immediately.  I don't know if they possessed tribal knowledge, but I was off the back in the single track (nice rhyming) with the Uber fast CX lad.  Both of us didn't enjoy the twisty woods, or bunny hopping small logs here and there.  Luckily, this singletrack was pretty short.
The Barn is Calling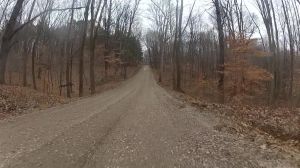 Back onto lovely gravel roads again, I sat bolt upright to enjoy a gourmet gel treat, and promptly lost the Uber fast CX lad's wheel.  Calculating my chances to get back to said wheel, and the possibility I could cause myself a leg cramp, I decided to ride my own tempo the remainder of the race.  Not far to go now.
The remaining 12 or so miles of gravel featured a lot of self motivational abuse, and switching back and forth between my Garmin 800 map screen, and the number of kilometres left to ride in the course – yes, I still ride in Kms.  The numbers look bigger, that sort of thing.
Somewhere between home, I caught MTB dude 2 (I believe he went off course at some point), and a couple of other riders who appeared to be completely cracked.  This part of the race is a blur, apologies if I missed anyone or the facts are a little off.
The Finish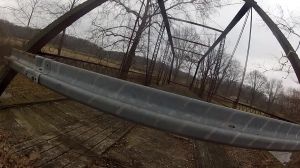 The last mile included a bridge closed to traffic, that had barriers either end of it.  Just what you need when your legs are pretty blown out.  But better than that, was the creek crossing to the finish line.
I'm sure there was a perfect line you could ride that prevented you from jumping off your bike, but there was no way I was falling arse down in the creek, in front of a waiting crowd.
So, I rather ungracefully slogged across the creek (and finally soaked my VeloToze covered shoes) to finish 15th in the Masters category.
Partial Results
The Masters race was again won by Tim Proctor (he's from the UK if you were wondering), with Garth Prosser making a huge comeback to take second, along with Brian Teipen in 3rd.  If there had been a 50+ category, my good mate Farmer G (aka Greg Schisla) would have won that category.  As it was, he ended up 7th in Masters overall, with another mate, Scott Bond finishing right behind him.
Single Speed – 1st, Gerry Pflug – 2nd, Thomas Brockman – 3rd, Daniel Rapp.
Unfortunately, I didn't snap photos of the other categories 🙁  Sorry ladies and gents.  You'll have to wait for race promoter Tania to post them.
2014 UltraCX Series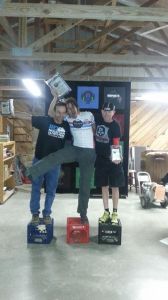 The Sub 9 Gravel Grovel was the final round of the 2014 American UltraCross Series.  By virtue of my attendance of five of the seven series races, and my consistent performance (mostly very average), I ended up taking 3rd in the point series!  Pretty stoked about that to say the least.  Even more stoked to share the podium with Masters points series winner, Garth Prosser, and 2nd place, Mike Janeiro.
Unfortunately, the 2014 UltraCX Series is the last one.  Maybe it will return sometime in the future?
Thanks
Thank you to Tania the race promoter, all of the volunteers, and my fellow racers.  Hanging out post race was a blast!
In closing, the things I love about UltraCross and Gravel racing is the way laid back atmosphere, friendly promoters, and how encouraging all the participants are of each other. No egos, just good racing and good times.

Sub 9 Gravel Grovel Race Video Coming Soon!