About the Race
Savage CX 2014, race #1 of the Blue Ridge Monster Cross Series – August 23, 2014.
From the event website –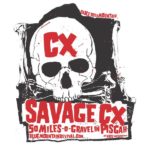 "Savage CX is held in the only designated Wilderness area in North Carolina, it is wild and scenic.  Often called the Grand Canyon of North Carolina, you will be in for a treat as you circumnavigate the gorge and push yourself to the base of Table Rock Mountain."
Let's Try This Again

That's what myself and the Gainesville, Florida lads decided a few weeks after we appeared at the 2013 edition (2013 race video).  Some of us didn't have the best of luck at Savage CX 2013, and figured we should make amends in 2014.  A bit of tribal knowledge from 2013 goes a long way in 2014.  This year, K-Dogg, Dr Pain and JOM made the trip to Nebo, NC.  Irish Ed had relocated to DC, so no Savage CX 2014 redux for him.
Preparation
Dr Pain and JOM had bikes sorted out for this event, namely of the Monster Cross variety.  K-Dogg, after an epic tyre fail at the Red Clay Ramble, finally jumped onto the tubeless bandwagon, aboard tyres of the Clement Explorer MSO variety (40mm).  Someone needs to remind K-Dogg the sealant periodically dries out…
With bike preparation sorted, all that remained was a good night's sleep.  Zzzzzzz.
Pre-Race

The Nebo, NC race location was about half an hour from our hotel in Marion, NC.  Three hours before race start allows plenty of time to get the coffee and chow going, and the body flowing.  By that I mean, the morning weight loss sessions.  I won't name anybody's names here, but I *may* know of two individuals who've made a record five visits, pre-race.  The poor plumbing.
Cam and his race volunteers are well organized.  Number pickup was a breeze, I was in and out in under two minutes.  Pin the race number, attach the timing chip to my helmet, install the Go-Pro cameras onto the bike, and load the jersey pockets with essential spares, and race food.
Race Time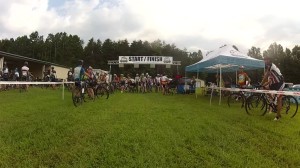 The 2014 race field was well stacked with talented riders, in all categories.  Many of the usual suspects were there, and a number of other bad-asses just to make us all hurt.  There was talk the local Sheriff would escort the race to the base of the first climb.  This meant the log jamming sector of 2013's race would be avoided.  That was until the Sheriff called Cam, and bailed on the plan.  No neutral.  Savage CX is savage.  That means there's no neutral.  Bugger.
The clock timer counted to zero, which is when the pandemonium started.  For once, I got clipped in immediately, and got off to a half decent start.  My heart rate was through the roof, but I pretended it wasn't under duress and kept following the wheels ahead of me.  The race was on to reach the logjam first.  I was about 20 spots out of first.
Log Jammin' Version 2014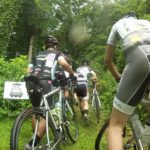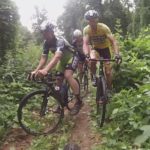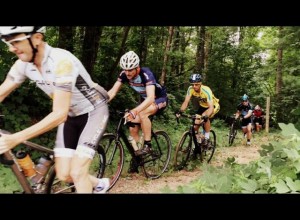 I *thought* I'd make it unscathed, and not have to unclip, walk, crawl or othewise kill myself ascending the logjam chute.  Repeat 2013.  In this situation, one must exit the bike as gracefully as possible, and likely jack the heart rate by running the logjam chute.  Not running the logjam chute meant slowing down those behind me.  Attempting a CX style remount could result in disembowelment, as I never practice this remounting bollocks.  Wait until you see the race video.
The Climb
Before I was onto the biggest, fiercest, steepest and worst climb of the day, the field was already stretched out and blown to shreds.
It didn't really matter if you had a wheel to hide behind, because there is no hiding from this climb.  This climb, which I believe is referred to as Old NC 105, is close to 14 miles of sustained climbing, on gravel.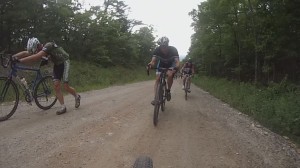 There is a mile and a half descent section in there somewhere, but that only primes you for the worst that is to come.  The climb generally averages around 10% – 12% (correct me if I'm wrong), with steeper pitches towards the top at 22% – 23%.  Absolutely brutal.  Gear selection is important.   Not having low enough gears on this course is a recipe for walking.  A lot.
Individual Time Trial

This is what Ultra CX, Monster CX, Endurance CX or whatever you want to call it, is all about.  Generally the terrain destroys any peloton, and everyone is on their own, or in little packs huddled together.  Whatever happens, settle into a time trial rhythm.
Unfortunately, I was in a pack of one.  My pack of one was about 30 seconds behind the pack containing my teammate, K-Dogg.  I could almost touch them.  But, on a steep 15% – 20% gradient, almost touching them is about a 30 second time gap.  Sometimes, it makes sense to walk.  But, I don't like to walk up climbs.  That's because I'm stubborn.  I'd rather be riding slower than someone walking, just to show them I'm a dumbarse who is too cool to walk.  Dumbarse.

Old Bastard NC 105 took well over an hour to climb.  I hated it.  Eventually, that 30 second time gap I referenced earlier blew out to something around a minute or greater?  Really steep pitches aren't my friend, only those with bugger all body fat and a penchant for climbing pain do well.  I'd rather descend.  The constant barrage of steeper pitches near the last quarter of the climb pretty much buried me.  Again, a repeat of 2013.
Some light rain fell towards the top of the climb, which was a welcome relief from the high temperatures and humidity.   Unfortunately there was no relief from this climb.
Chow Time
After much suffering, the first aid station came about, and I needed some aid.  One bottle of JOM's secret formula had been consumed, and a banana inhaled, mostly through my nostrils.  Ironically, as I was arriving at the aid station, K-Dogg was leaving.  My "Oi!" went unanswered 🙁  So much for having a teammate around.
More Climbing
There was a little paved (bitumen as we call it in Oz) descending, before more paved climbing.  Thankfully this section of ascending wasn't as steep, and it was on paved road surface, meaning I had plenty of traction.  For the gear heads, I was using Specialized's Renegade tires (tyres) front and rear, 1.8″ in both cases.  I also like to use Schwalbe's Furious Fred tire (tyre), but I wasn't up for trusting their uber lightweight casings on this knarly NC gravel.
Where did these Riders come from?
After resigning myself to the fact I would probably race alone the remainder of the day, I encountered some fellow racers who had gone off course.  There was K-Dogg, Kevin Hessler, Kristina Putnam and Tricia Stevenson.  All of them had kicked my arse on NC 105.
I was fortunate.  The Garmin 800 is my saviour, meaning I was following the purple course line dutifully.  The course file I was riding was a known entity from 2013, no worries there.
Cause of the course misguidance?  It seemed a naughty local had deliberately misplaced a key piece of course signage, just to mess with everyone in the race.  Not cool.  Post race, I heard there many victims of this silliness.
On the positive, I had people to ride with again.  Yay!  Or, until they dropped me again.
Big Kahuna Descent
I love descending.  Especially if it's on a road bike on a paved descent with a buttload of tight switchbacks.  Today, the Big Kahuna descent was on gravel, with lots of potholes, ruts and washed out corners.  Still, a great opportunity for me to make up a few microseconds on those who had so unceremoniously left me behind on the earlier climb.
Having the Monster CX bike in my arsenal has been a game changer for me, due to it's increased tyre width and handy cross top brake levers.  Don't laugh at these brake levers.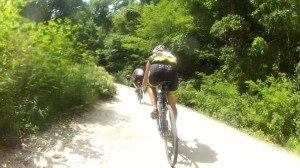 They provide me with  another braking position which allows me to slide my weight behind the saddle, useful for when the descending is steep.  Braking from the drops on these steep pitches also wreaks havoc on my biceps, which are rather undeveloped.  Most women can crush me at arm wrestling.  There, I said it.
The descent was fab.  For about half of the descent, I followed the lines of some of the riders now accompanying me.  However, I like to see and take my own lines, so I did a sneaky, and cut through on a corner or two and lead the group down the climb.  Another fellow aboard an MTB joined me, he and I sometimes swapped the lead down the hill.
Through the Forest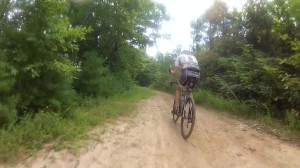 Beginning at the second aid station, is a long, but steady section of descending on ATV like trails.  This is where bigger tyres come in handy, ditto for those cross top levers.  Living in Florida, it's hard for we lads to prepare for such descents.  My calves and quadriceps, they weren't prepared either.  With your body behind the saddle, maintaining balance, the latter muscles are working hard to act as suspension, and support your weight.  Consequently, they are screaming after a while.  Our friend Jens would say Shut Up Legs.
All Hell Broke Loose
With less than a third of the race remaining, and accompanied by my teammate K-Dogg, I was on track to potentially beat my time from last year.  Around this time, my body alerted me that my stomach was in great duress.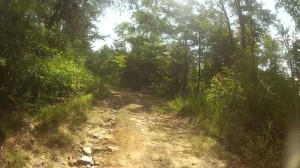 I am quite certain of the cause of this malady, but in the interest of keeping sponsors interested in these types of events, I am not going to trash talk anybody's nutritional product.  All I will say is, it didn't work out so well for me, but may be great for others.
A little before the logging truck area, I was trundling along with K-Dogg, when the above-mentioned issue went nuclear.  There was no more riding, rather an irresistible force needed to be released into the forest.  NOW.  Bye bye K-Dogg.  Bye bye breaking or equaling 2013's time.  I will spare you readers the details, but let's just say part of the forest suffered.  Water bottles make for good bidets 🙂
Home Stretch
Approximately nine miles of pavement remained before the finish.  There were several long uphills, but several long downhills, so it equalized.  The heat and humidity today were rough on everyone, and nobody relished the baking sun.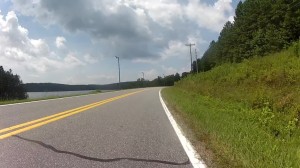 I was in pure survival mode at this point.  Bugger all energy, considering what had happened in the forest earlier.  It's funny what goes through your mind during moments like this.  Stuff like…"why do I torture myself like this", "I should take up darts", "I'd love a team car so I can abandon right now", etc.  On the positive, the scenery was pretty spanky.
With approximately two and a half miles of the race remaining, William Boone, also in my age category, caught and passed me.  Nearly cracked, I could do nothing about it.  Between that point and the finish line, I lost almost four minutes to William.  Bloody hell.
Finish
I crawled across the finish line, about 15 minutes slower than last year <ugh>.  On the positive, I didn't crash, and had no punctures or mechanical issues.  Post race, my stomach was too thrashed to consume any solid food, meaning soda and water was about the only thing I could handle for a while.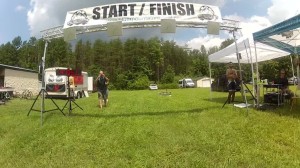 That was a real shame, as Cam and his volunteers had copious pizza on hand, of which I consumed none 🙁  I'll rectify that next year!
Closing
Cam and his group of volunteers put on an awesome event.  Barring the local yeehaw messing with one section of course signage, the course is well marked.  The scene at Cam's events is awesome.  No pretentious crap, just a bunch of chilled out people enjoying bike racing, stories, and hanging out post race.
The Gainesville, FL lads and I are already planning on attending 2015, and hope that third time is the charm.  Not that I'm superstitious or anything like that.  Maybe.
K-Dogg may be furnishing his own race report, which I will post to the blog here at GravelCyclist.com – thanks for reading!
RACE VIDEO COMING SOON