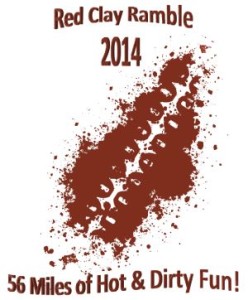 Hosted by the Bicycling Club of Milledgeville and the Milledgeville-Baldwin County Habitat for Humanity, the Red Clay Ramble is a 56 mile gravel road bicycle race / recreational ride. 161 riders signed up, with 43 racers, and 118 cyclists in the recreational ride.
To my knowledge, four cyclists made the trip from Florida for the event.  K-Dogg, Jim Phillips and I (JOM) represented Gainesville, FL in the race, and a gentleman whose name I forget, drove from Clermont, FL. To him I say, many thanks for the M4 bolt loan.  Without it, we would only have footage from one Go-Pro camera.  More on that later.
Before the Race Started
Typically, K-Dogg and I skimp a little on the accommodations, meaning we stay in hotels two star or less.  We may be cheap, but we're not easy! I must give kudos to the Days Inn Hotel in Milledgeville, Georgia. Our room was huge, clean, cheap, and comfy. Win! The morning coffee was spot on too. The lady who staffed the hotel in the morning confessed to being an ex bike racer. K-Dogg and I were a little skeptical at first until she threw out details of her custom Reynolds 531 frame, Weyless seatpost, and other details. I was impressed. In hindsight, I should have interviewed her. It's not every day you meet a female cyclist who raced during the 1970's.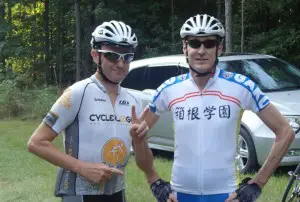 After the usual weight loss sessions in the hotel room :), we headed to the race start and arrived in plenty of time to snag a nice parking spot, sign in, and collect our race numbers. All that remained was to pump tyres, attend the pre-race meeting, and relax until race start. Unfortunately, attaching my forward-facing Go-Pro camera didn't go well, as the bolt that attaches it to the handlebar mount went on walkabout. Thankfully, the gentleman from Clermont I introduced earlier, had a spiffy bolt which I borrowed for the race.
Race Start
K-Dogg, Jim and I positioned ourselves nicely on the front row. Arriving a little early always helps to secure a primo start position. Everyone was very friendly, so there were no pushing and shoving contests for start placement.That sort of bollocks is a total pain in the arse at road races, and something I don't miss.
Whilst standing around, we took the time to appraise our fellow racers. Typically, you do this in a covert fashion, and mumble notes under one's breath to a teammate, or to anybody else who cares. There was a local team of four or five riders who concerned us, as well as the red hot favourite, Mr Brian Rogers.  And some other blokes.
The race volunteers issued their countdown, and everyone rolled out in a mellow fashion, maintaining gentlemanly (gentlepersonly for P.C. types?) conduct until the brief neutral section was over.
A bloke wearing a fluoro yellow jersey bolted from the gun, along the right side of the gravel road. It was an impressive looking move, but I figured it was doomed to fail. Approximately 30 seconds later, he did fail, and was never seen by the race group again.
Dismemberment
Is what happened to the field when the first serious hill was taken at speed.  A group of 40 riders was rudely split in half, courtesy of the tempo pace set by Brian Rogers. I was doing my best to avoid doing any serious work this early in the race. As it was, my legs were very displeased, yet to waken. There were still in la la land back in the hotel room, along with that dream I was having.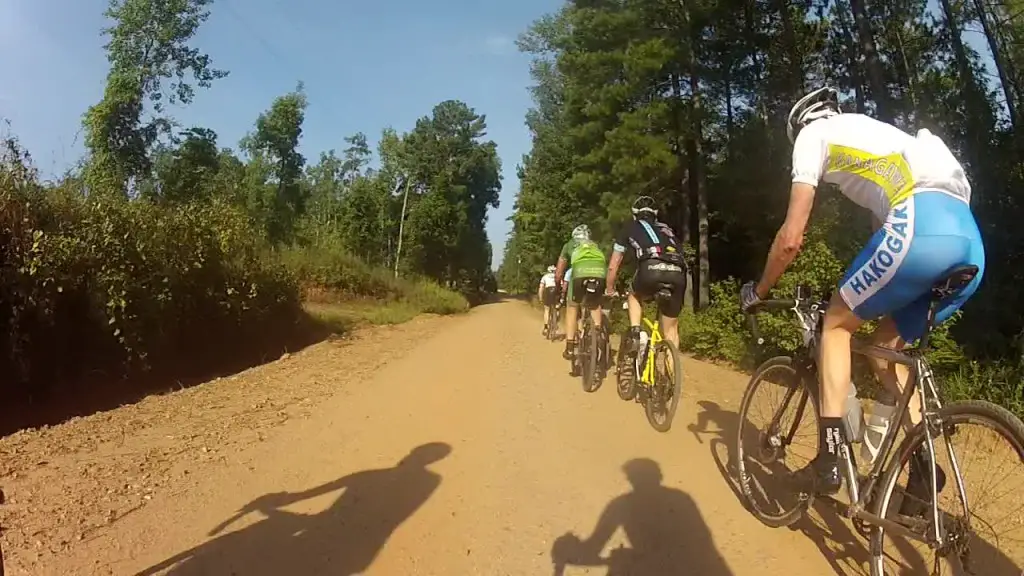 This course was hilly. The hills weren't overly steep or long, but there was a lot of them, and they were being ridden fast. Blokes from the local Georgia team, Craig Bailey, Brian Rogers, Shey Lindner and others whose names I don't know, were all taking solid turns on the front, trying to shred the field early. With each new hill, groaning could be heard from behind, as one by one, the field reduced. K-Dogg and I were sitting pretty, throwing in a turn here and there, and generally contributing to the workload.
15 Miles In
The group was reduced to about seven or eight riders. One of the guys in our grupetto was aboard a road bike. Having ridden events like Rouge Roubaix on a machine similar to his, I didn't think too much of it, but knew he could be in trouble on some of the longer downhill sections, depending on his skills. Road bikes with 25mm or 28mm tyres would have been a good choice today, if you were riding solo. When you're hauling arse behind three or four riders, your field of vision is non-existent, and you cannot pick your line. A cyclocross bike with the right tyres was the perfect machine for today's course conditions.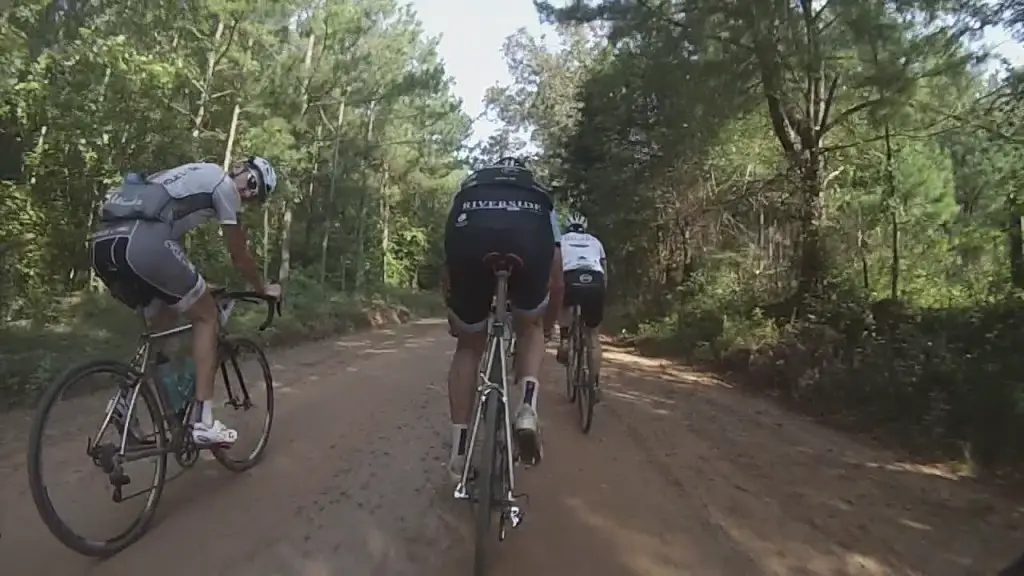 K-Dogg and I are gentlemen most of the time, although we were spotted drilling it hard on a few of the downhills to make life difficult for others. I don't know if the gentleman on the road bike was ridden off the back?, but I know he suffered the misfortune of a tyre puncture. As is the nature of these races, you need a lot of luck too.
Bridge of Death

Somewhere along the course, was a pick-a-plank type bridge.  The promoters were very nice to warn us way ahead of time, notably at the rider's meeting, and with a very prominently placed sign. The front bunch had thinned considerably, so everyone had no trouble taking the MIDDLE line over the bridge, and up the following climb. Brian Rogers took this opportunity to test his legs a little, to see if anyone could follow his mild acceleration. Nobody followed, at least for a short while, and nobody liked it.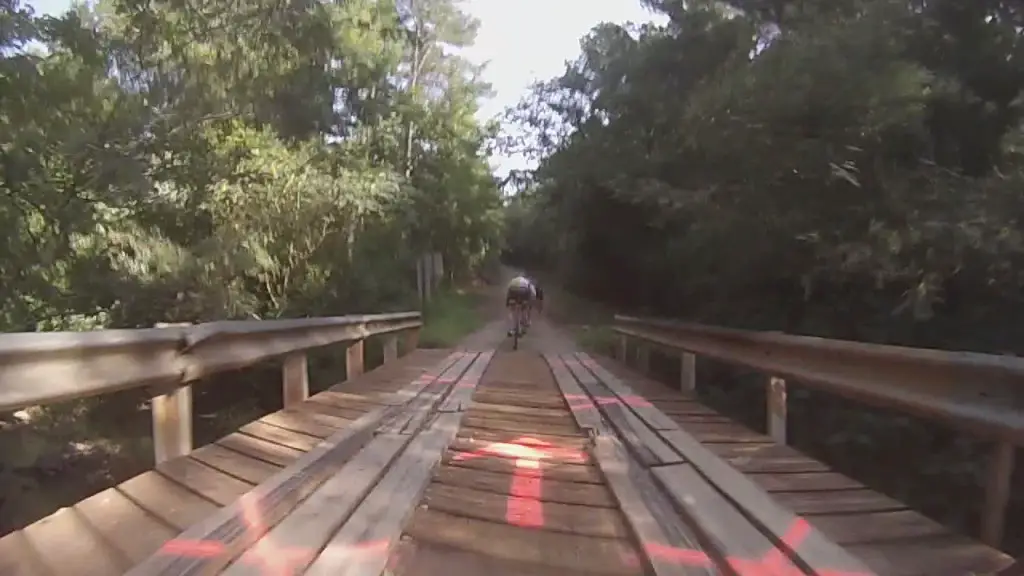 Craig Bailey punctured a wheel shortly after traversing the bridge, but his tubeless spooge seemed to have temporarily worked. He rejoined us a little later, then, he disappeared again. My understanding is a massive nail was his tyre's undoing.
29 Miles In
I was beginning to feel my legs a bit, particularly my hamstrings. To make an awesome excuse, I've been working on a yard project at the house of late.  Loading, unloading and spreading a $hitpile of mulch around my yard wasn't the best move, late on Thursday evening. Needed another day of recovery.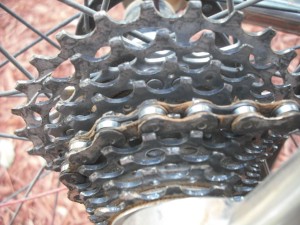 Our group was down to four riders. Brian Rogers, Shey Lindner, K-Dogg and yours truly. K-Dogg announced to me and I quote, "it's a great feeling knowing I have the 50+ race pretty much wrapped up". I thought to myself… "what a dumbarse, you've still got 25+ miles to race, anything can happen". I was on the "Virtual Podium" for the Men's Open Race, but I kept most of those thoughts to myself.  I knew my legs were dodgy, and I knew it was a matter of time before something gave out.
31 Miles Complete
In an attempt to bluff those who remained in the front quartet, I continued pulling through whenever I could, hiding signs of weakness. These guys probably saw through my pitiful ruse. Brian and Shey had tribal knowledge. K-Dogg and I, we did not. The JOM show came to an end after I completed a magnificent turn on a somewhat long downhill. Brian bumped the tempo hard on the climb that immediately followed. Incidentally, this climb was the longest and steepest climb of the day. One second later, I was out the back door, groveling along on a 34 x 27 gear, watching those blokes scamper away. Bollocks!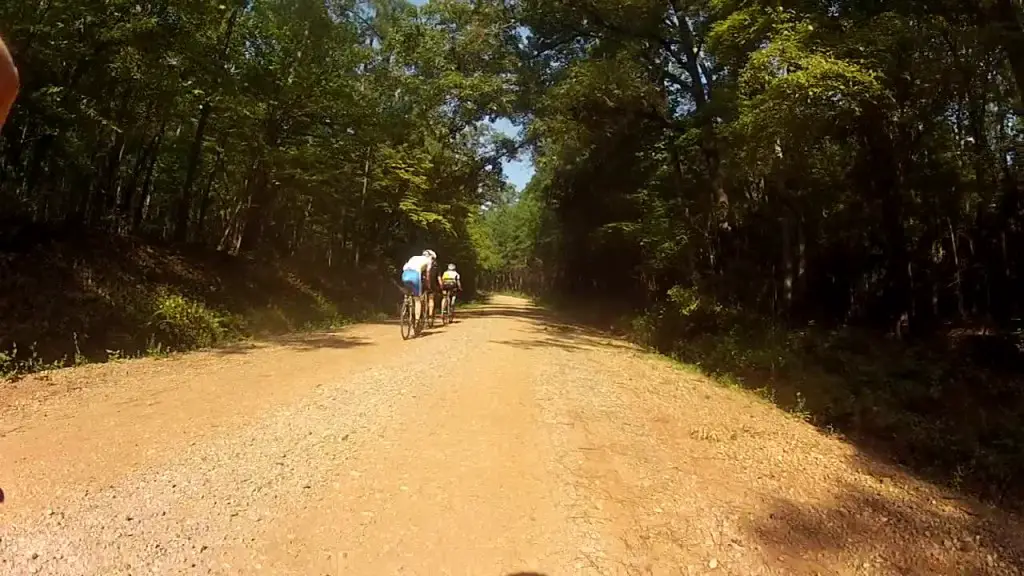 Twenty Five Mile Time Trial
This is what I resigned myself to. The last bloke to drop before me was either blown, or had a punctured tyre. Either way, I was certain he wouldn't be far behind, so I couldn't squander whatever slim lead I had. The podium was a possibility, and I was determined to take a spot. Having zero tribal knowledge, I couldn't ride all out, meaning a Zone 4 / Zone 5 heart rate effort was required.
Team Mate in Trouble
I came upon K-Dogg and the follow car a few miles later. The car was parked in the middle of the gravel road, all passengers had exited, watching K-Dogg fix a punctured tyre. I'll wager he regretted his speech from earlier in the race. I was hoping the Dogg would fix the dodgy tyre quickly, remount, and start chasing. Every minute or so, I would turn around to see if he was coming, in the hope I could slow down a little. My plan was, divide the workload with him all the way to the race finish.  Alas, I never did see him.
Red Clay Rambling
For the remaining 25 miles of the race, I used various methods to maintain my effort and motivation, and distract myself from leg pain. Methods included:
Self verbal abuse (chop chop biatch, WTF – another hill?, etc).
Staring at the Garmin purple line, and number of kilometres remaining.
Consuming Gatorade, shot blocks and bananas, and convincing myself everything tasted really good.
Knowing I'd never hear the end of it from K-Dogg or myself, if I gave up a podium spot.
Obsessing about NOT getting a flat tyre.
Finish and Podium
The suffering was worth it. I rolled across the finish line for 3rd fastest overall, and 3rd in Men's Open. Sub three hours too. Results are here. I was particularly stoked to be sharing a podium with Brian Rogers and Shey Lindner. Both of these guys are bad arse riders, but humble and respectful off the bike. Things may have been different for me if some of my fellow competitors didn't suffer flat tyres, but good fortune is an element of gravel racing.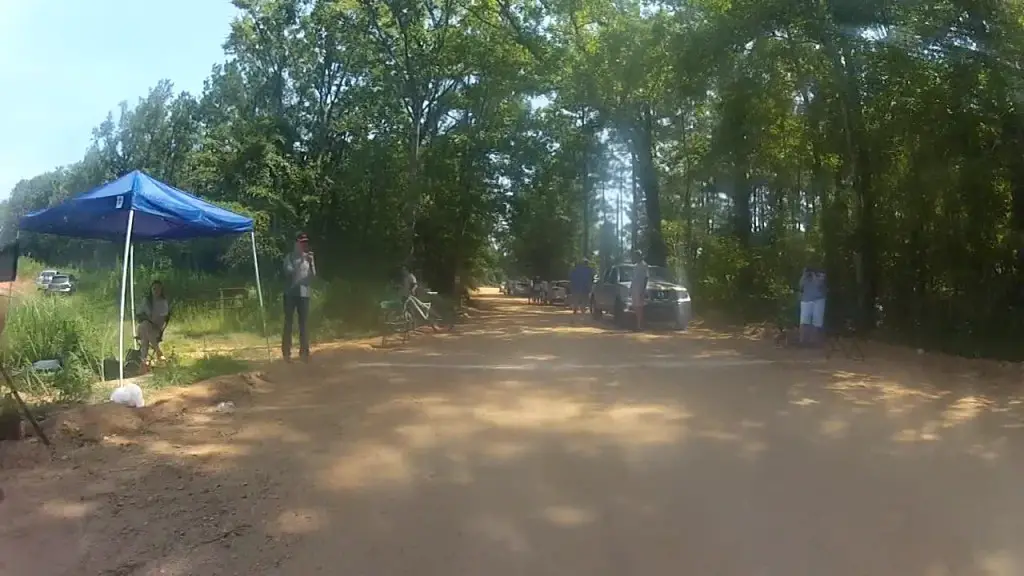 Punctures Galore
I am sad to report my teammate from Gainesville, Florida, K-Dogg was a DNF :(. He suffered not one, not two, but three punctures in total, all of them on the rear wheel. By the time he sponged a fourth tube from the follow car, it was pretty much over for him. The valve stem of the fourth and final inner tube was too short to work with the rim.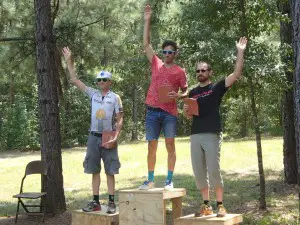 At the time of writing this blog article, the Dogg has embraced tubeless technology and will be sans tubes at the next race. It only took about 14 punctures and a race loss to convince him.
1988
Jim Phillips, also from Gainesville, had a very respectable finish.  More impressive than his finish was the fact this was Jim's first race since 1988.  That's right, NINETEEN EIGHTY EIGHT. As in, the twentieth century. Kudos Jim! Thanks also for your photographic contributions.
In Closing
Overall, this is a fantastic event, which supports a great local charity and the local bicycle club. It is an event I would consider doing in the future. The course was very well marked, and there was almost no chance of getting lost.
The promoters and volunteers were very friendly and appreciated us making the trip from Florida.  The beer, drinks and chow spread post-race were greatly appreciated! If the promoter reads this, what was in that keg on the right side of pickup truck bed?  It was bloody awesome… mmmm.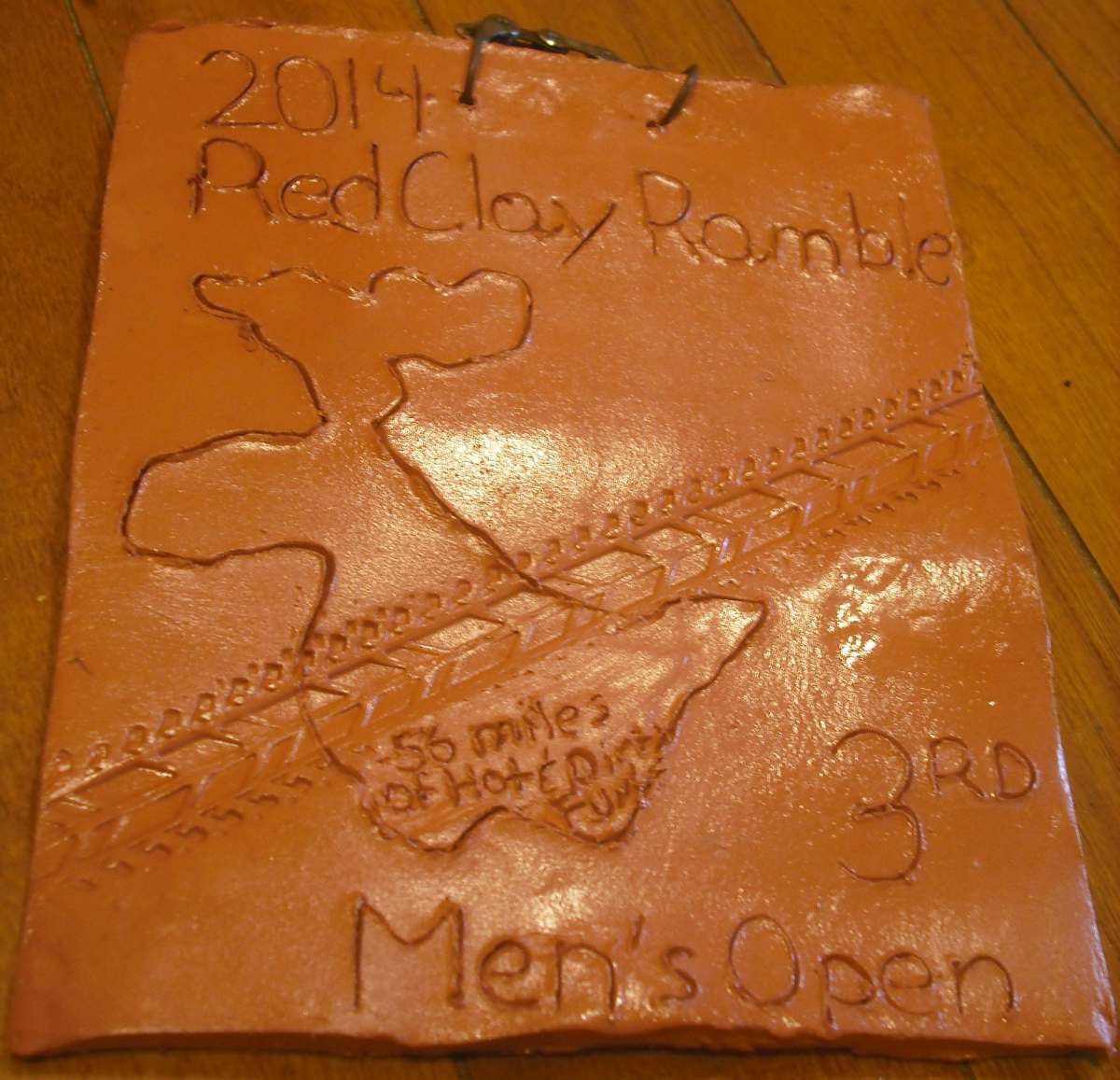 Thank you!