From the race organizers: "The original Texas gravel grinder is back, bigger, badder and better than ever! It is a full day of amazing dirt roads, gorgeous scenery, Texas BBQ and great wine… what's not to love?"
Swayed by the promises of Texas barbeque and wine tasting, I made a last-minute decision to ride the Red River Riot in Muenster, Texas. The fact that Muenster cheese is the best cheese (I will fight you on this) may also have had something to do with it. Plus, I had heard great things about the Spinistry guys (who more than lived up to the hearsay; more on that later), who are the masterminds behind Red River Riot. Offering 35, 80, and 125 mile options, I naturally chose 125, because I am terrible at moderation.
The adventure started with a drive halfway there and camping in Ardmore, Oklahoma the night before, with a new friend I'd made at Gravelleur's Raid less than a week ago, because that's how gravel people roll. He had chosen to ride the 125 on a fat bike, which made me feel a little better about my own life decisions. We rolled out of Ardmore and into Muenster early Saturday morning. As we approached the entrance to 4R Ranch and Winery, this year's home base for Red River Riot, my Subaru grumbled up one of those long and winding bumpy steep gravel hills that makes you wish you had a legit mountain bike, and I said, "we're not riding up this, right? Right??"
We parked at a large barn, which served as the main staging area. Each loop (1 for those riding 35 miles, 2 for the 80, and 3 for the 125) started from the barn; thus, your car served as your own personal aid station.
Loop 1: Miles 1-35
The first five miles out of the ranch were wide open and provided the first taste of the 20-30mph headwind and crosswinds that we would be fighting all day. Being out in the open exposed you not only to wind, but to the sun… and Texas has no shortage of that either. That said, the scenery was pretty, and offered the chance to get up close and personal with some windmills. If you are afraid that windmills are going to come alive and chase you, this is not the race for you. Or maybe it is, if riding scared is your thing.
The highlight of the first loop was the aptly named "Windmill Hill," speckled by the subset of cowbell-wielding spectators that had been coaxed out of the winery.  My brain prefers the "ignorance is bliss" strategy to hill grades, but it was steep enough for a brief loss of traction on my rear tire, because apparently my bony retired-runner butt isn't quite heavy enough to keep that end down (note: I ran Panaracer Gravelking SK's. Something knobbier might've been better for reducing slippage.) A brief perusal of race photos shows plenty of folks hoofing it, although I appear to be pleasantly meandering my way to the top: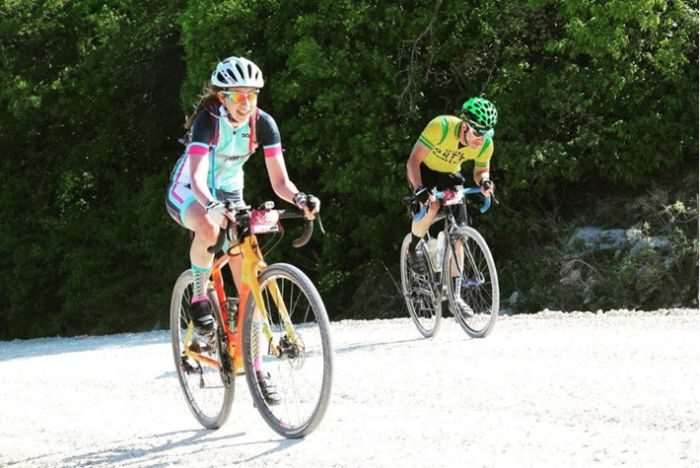 At the bottom of a descent, I approached what appeared through crappy sunglasses to be some sort of reflective detritus from a car, but as I whizzed past, turned out to be a snake lounging in the middle of the road, and I was extra glad not to have run him over. After obtaining the following picture, I consulted a local snake expert, who thinks he's a Texas Rat Snake (non-venomous), and also noted that he appeared "kind of rumpled, as though several folk have already run him over."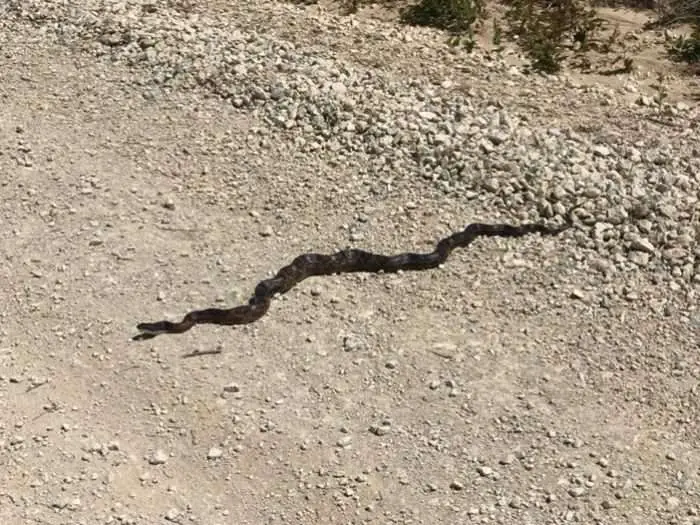 I was significantly more excited to encounter what I think was tumbleweed. Then again, the entirety of my tumbleweed knowledge comes from the 1991 Disney movie Fievel Goes West, so your confidence in my tumbleweed sightings should be roughly proportional to how much you trust a singing and dancing mouse.
As for how my ride was going, I had been fighting mechanical issues pretty much from the get-go. Long story short, I spent over an hour cumulatively during and in-between the first two loops trying to tune my rear derailleur. I figured it must've gotten off somehow in the car ride down, since I'm not dumb and thoroughly tuned my bike the day before. Apologies to anyone who rode within 20 feet of me who had to listen to my chain jumping all over the place. Being able to stay in only about two gears slowed me down significantly, and when the occasional sudden loss of tension on pedals was perfectly timed with a large wind gust, things got extra dicey. I spent a while fuming at myself for not being able to fix whatever was wrong, at the bicycle gods for Things Not Working Right, and at the wind for nearly knocking me over every 10 seconds. After ruling out a ritualistic Go-Away-Wind Dance as a potential solution to my problems and doing the umpteenth limit screw adjustment, I decided that I was just going to enjoy a ridiculously long training day, and accumulate some extra pre-Dirty Kanza practice for dealing with mechanical issues in heat and wind.
At the end of the first loop, we turned back into 4R Ranch, and rode up that same winding, narrow, slightly technical and very steep entrance that my motorized vehicle hadn't been thrilled about at the start of the day. My bicycle wasn't thrilled about it either, and rear wheel slippage was again an issue, causing plenty of folks to hop off their bikes. Instead of heading straight up to the barn, we instead turned right to go through the timing mat that served as either your loop checkpoint or finish line, depending on how many rounds of this Riot you'd signed yourself up for. Past the mat you hopped off and carried your bike up some stairs like a badass while having your picture snapped next to a too-late sign warning you about snakes: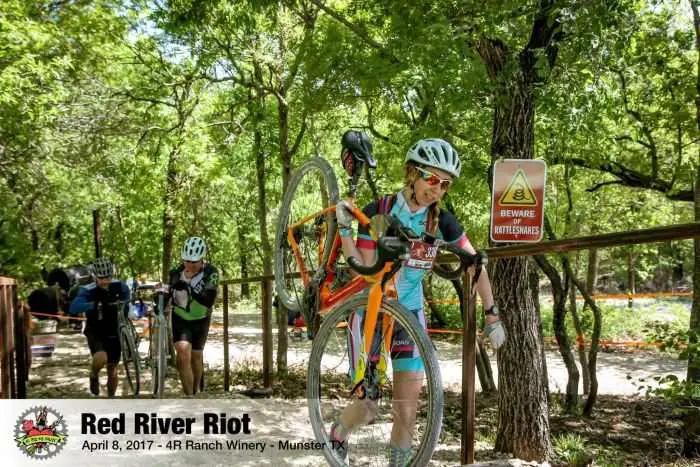 Then, in the interest of further self-torture, you ran past the wine and barbeque and rode back over to the barn/staging area to refuel and head back out. This was the site of many people abandoning second and third loops, largely due to wind and heat. I refilled my Camelbak, grabbed a couple extra bottles given the still-rising temperature, failed again at fixing my chain/derailleur issues, thought about how much more barbeque I could eat for every additional loop I rode, and headed back out.
Loop 2 – Miles 36-80
My chain clanked away while randomly jumping all over the place, it was hot, and it was windy. I almost blew over 99/100 times, and actually blew over once (slowly, in a corner, with only a little road rash and dignity sacrificed). My chain dropped twice and I fixed it, twice. But the sky was blue, the gravel was nice, and there were plenty of windmill friends for company, ala Don Quixote. The two surprise oases which were much appreciated by all riders.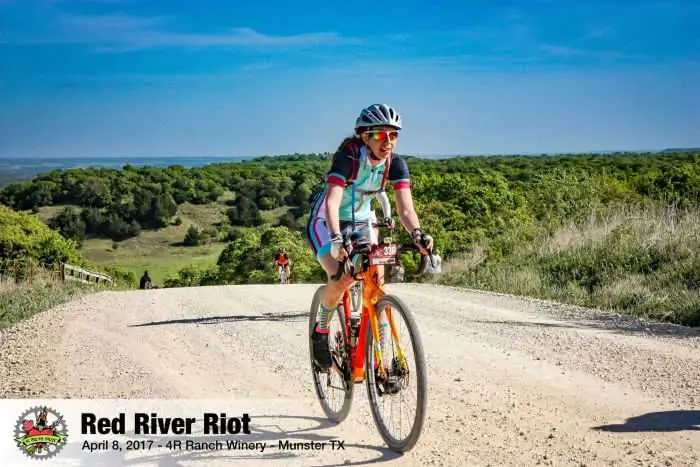 My Specialized Crux again won the battle with that crazy hill leading back into 4R Ranch, and I was pretty convinced I was done. I was wind-battered and couldn't control my gears, and pretty sure I must be coming up on some sort of time cut-off. The Spinistry dudes were manning the timing mat.
Me: "I'm supposed to ride another loop and my bicycle is not having a good day."
Spinistry dudes: "Do you want to ride the last loop?"
Me: "My bicycle is not having a good day."
Spinistry dudes: "But do you want to ride the last loop?"
Me: "Well, yes. But my bicycle is not having a good day."
Spinistry dudes: "Then you're riding the last loop. Neutral support will throw your bike on the work stand and get you back out."
Loop 3: Miles 80-125
And that's exactly what happened. It turns out I had a bum chain link, which was one of the only things I hadn't checked for already. We replaced it with one of my quick links and I was off the Struggle Bus. The first five miles out of the Ranch were again horribly windy, but the remainder of this loop had some truly beautiful roads. I relied largely on the red triangle directional arrows on course as my Garmin battery life wound down, and expended an absurd amount of mental energy trying to remember the three types of triangles (they're equilateral, isosceles, and scalene. I looked it up afterwards. Sorry, middle school geometry teacher.) I only followed an (isosceles) triangle the wrong way once, down some gnarly doubletrack that turned out to be the entrance to a ranch. Note to future Red River Rioters: if you hit gnarly doubletrack, you have gone the wrong way.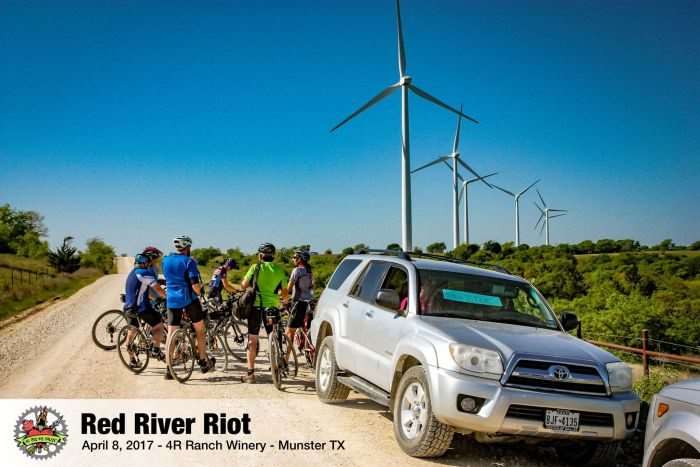 After one last big climb, the course spat me out back in Windmill Territory, which meant I was back in the wind tunnel final miles. A Spinistry Jeep bearing bottled water went by, presumably to make sure anyone still out in the Texas sun after nine hours was still alive. It turns out I was alive enough to haul myself a third time back into 4R Ranch, and I may have even shouldered my bike and run past the finish line and up those stairs just to get to the barbeque in a timely manner. I promptly nearly aspirated some pulled pork, and thought that I should probably avoid Death by Barbeque, seeing as I'd just managed to keep myself alive through a full day of snakes and windmills and hills.
So in sum, I accumulated a horrendous amount of non-moving time, and a tremendous amount of wind/heat/mechanical practice. For my efforts, and because very few women (and people in general) had decided to brave the 125, I left with a bottle of 4R Ranch Vineyards & Winery Gravel Grinder wine and a snazzy medal, and way more pulled pork than a smallish woman should be able to eat judging by the look on the food line guy's face. The Spinistry hype is real – from the course to rider support to just being plain damn nice, they certainly helped make a hard-fought long day great.