"Rebecca's Private Idaho is your ticket to the wild, rugged Idaho that few people know. Ride 100 miles with mountain bike endurance champion Rebecca Rusch on grueling gravel roads, through canyons, over summits, and across high mountain basins. When you're done, expect a healthy dose of western hospitality and the good feeling that comes from supporting charities like the Wood River Bike Coalition, Bikes Belong, and World Bicycle Relief."
2017 marks the fifth running of Rebecca's Private Idaho, hereon referred to as RPI. The term "bucket list" is not part of my vocabulary. To me, it's a very tired and worn out cliche… put it up there with "pain cave". I prefer the vernacular "to-do list" or "rides I must do". Moving on, RPI falls under those categories and has been of interest to me for several years.
Making the 2017 RPI a little different from year's past is the addition of a stage race. Huh? Isn't a stage race format typically reserved for roadie types or MTB'ers? Well, yes, until now that is. The 2017 RPI "Queen's Stage Race" is arguably the first race of its kind in the United States; a gravel stage race! Rebecca's helper extraordinaire, Kristi Mohn (she's also heavily involved with the Dirty Kanza 200 race), extended an invitation to me and 49 other lucky gravel cyclist types for the inaugural Queen's stage race. The chance of being a part of something as fun as a gravel stage race, riding Rebecca Rusch's event – remember, Rebecca IS the "Queen of Pain", and my first-ever trip to Idaho, all of the boxes were checked – or ticked as I would say. I had to accept!
I'll spare readers some of the intricacies of all my logistics; in brief, accompanying me during my flights from Florida to Idaho was a Ritchey Breakaway gravel travel bike, cycling kit, every possible combination of base layers, vest and shell jackets, civvies, food, drone camera, laptop, GoPro cameras, a stack of batteries, cables and chargers.
I flew into Boise, Idaho late on Tuesday evening, August 29, 2017. Wednesday morning, I drove my humble rental car to Hailey, Idaho, and later, into the host town for RPI, Ketchum, Idaho.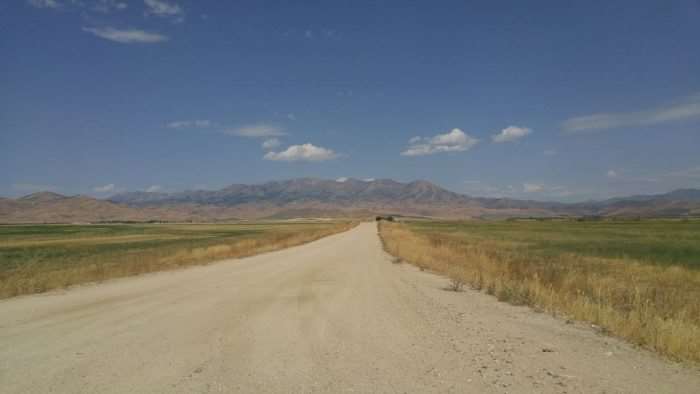 Assuming you follow my route to Ketchum – Interstate 84 south out of Boise, followed by US20 East and US75 North – you are in for a visual treat. Large hills and small mountains are abundant on both sides of the road, their height and beauty increasing as I drove closer to Ketchum and Sun Valley.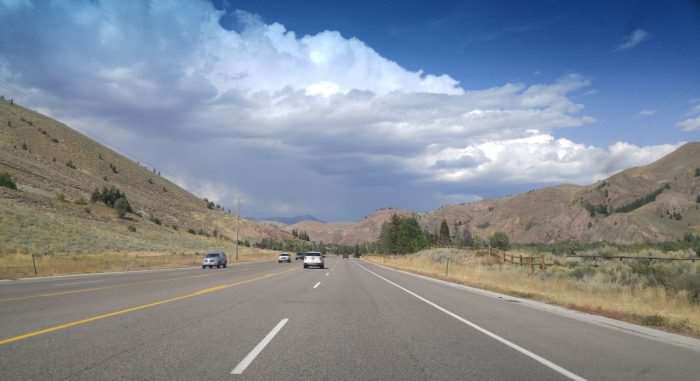 Before departing Florida, I'd arranged with Niner Bikes to ride their top-tier, 5-star build RLT 9 RDO machine for the duration of the 3-day Queen's Stage Race. Additionally, I'll be reviewing this bike long term post RPI. I wasn't alone in my use of a Niner bike. Rebecca Rusch herself rides an RLT 9 RDO bike, while the Niner cargo van, inbound from their Fort Collins, Colorado home base, was packed to the gills with RPI loaner bikes for riders who'd made arrangements ahead of time too. In hindsight, I could have left my Breakaway gravel travel bike at home, but I always have a contingency plan!
Between waiting for the arrival of the Niner crew and stage race packet pickup, I got busy socializing, networking and in one instance, interviewing – thanks for your time Bobby – aka The Casual Cyclist. I also paid a visit to the local brewery, Sawtooth, naturally. There are some very good brews there, mmmm.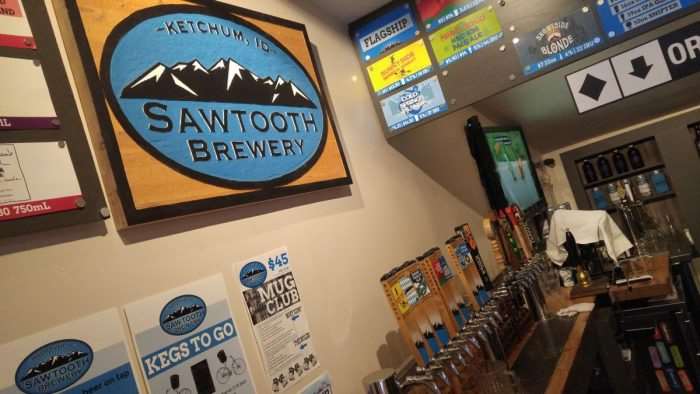 Ian and Kristin of Niner Bikes pulled into Ketchum early on Wednesday evening. This didn't leave me a whole lot of time to dial in the review bike and swap some key parts, but sleep deprivation is part of my modus operandi – so what's another late night between friends?! Thank you Ian and Kristin, for all of your help!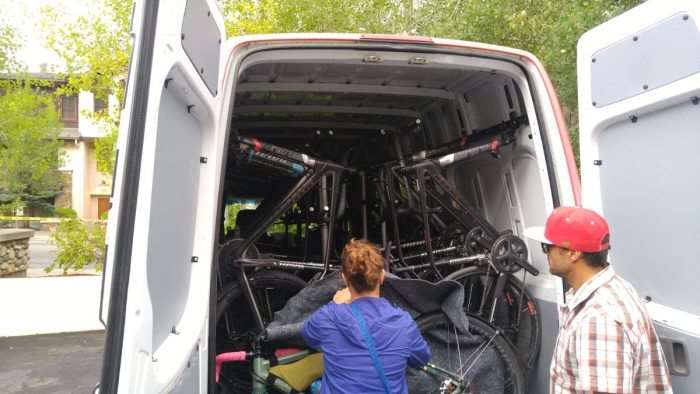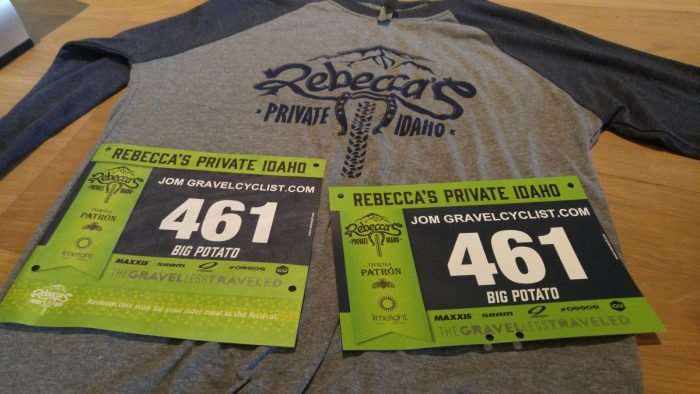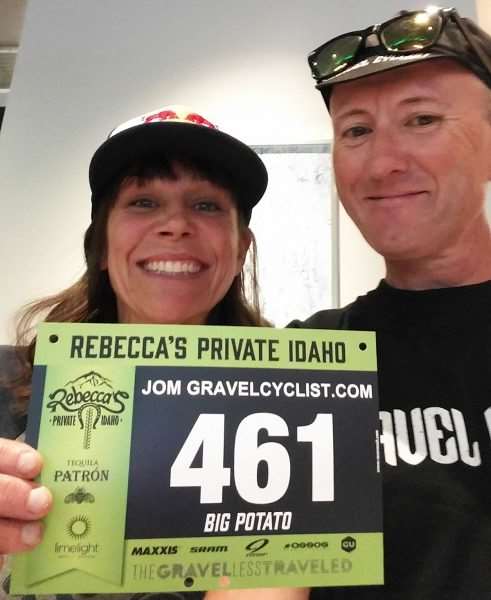 The Niner's stock saddle, big chainring and tyres were substituted for items of my preference, namely, a Fizik Arione saddle, 46 tooth Shimano Ultegra chainring and Panaracer Gravelking SK tyres (tubeless).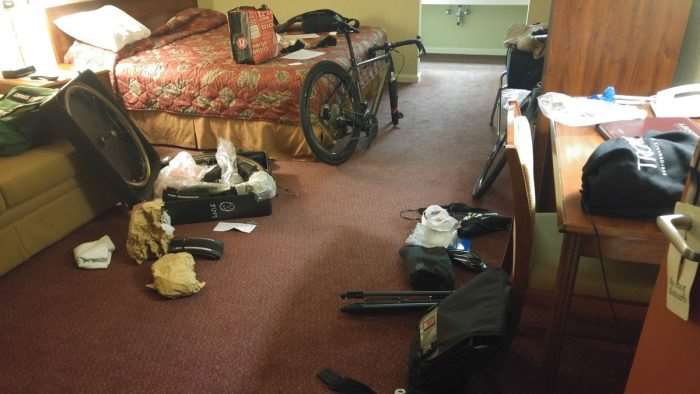 A brief five-minute ride around midnight got the Niner's position reasonably well dialed in, ready for Stage 1 of the Queen's Stage Race! Time to sleep!
Stage 1 – Harriman Trail Adventure Stage – August 31, 2017
The Queen's Stage Race was a brand new addition to RPI, but it was also a practice run. That meant the course wasn't marked and timing was managed through Strava segments, at least for the first two stages. This format is loose and casual versus a properly timed event, but invited riders understood this. Everyone was more intent on enjoying the riding experience in Sun Valley, instead of fretting over hyper-accurate results. Presenting sponsors Camelbak and Assos supported the stage race, with nutritional goodies supplied by Gu, Red Bull and mother nature (water).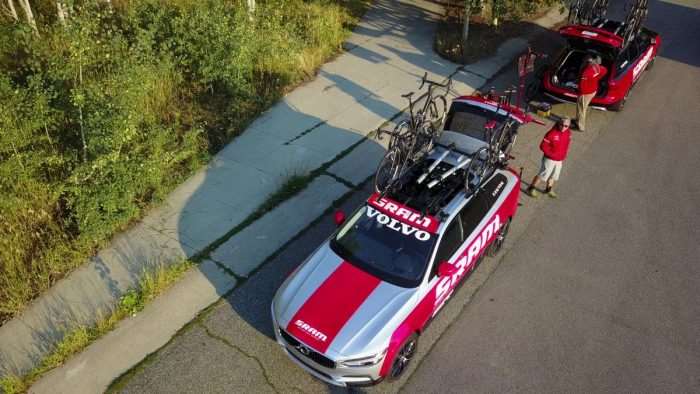 SRAM neutral support was there with two shiny Volvo's, ready to lend a hand at a moment's notice.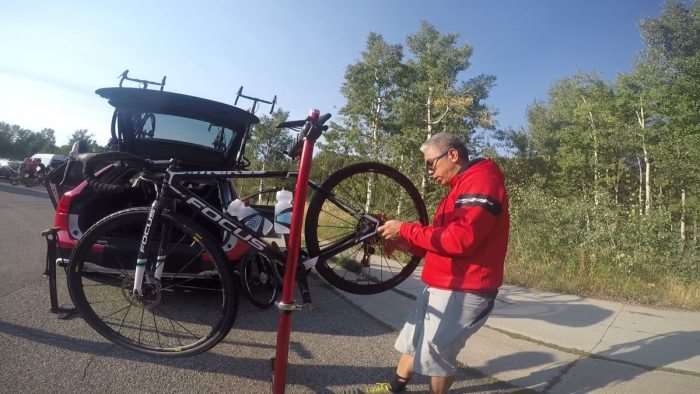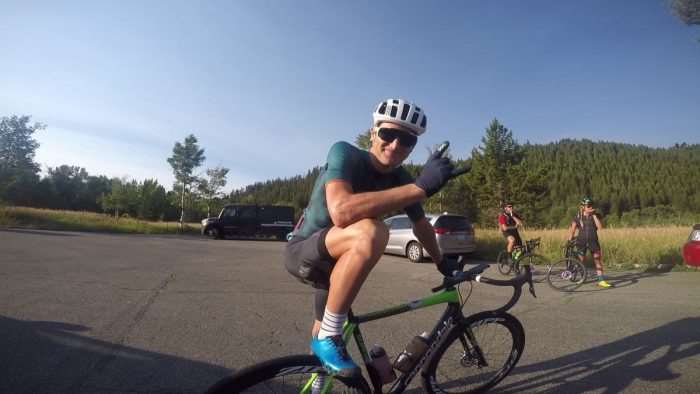 The headquarters of the Sawtooth National Recreation Area was the meeting point for beginning Stage 1. Rebecca's blurb about the stage provides the best description. "This is my favorite stage of the entire event and I think it could be the most challenging. You are going to freaking love it and can thank me later. This stage is an action packed adventure where obstacles pop up quickly and yet it's hard to keep your eyes on the trail because the view is so stunning."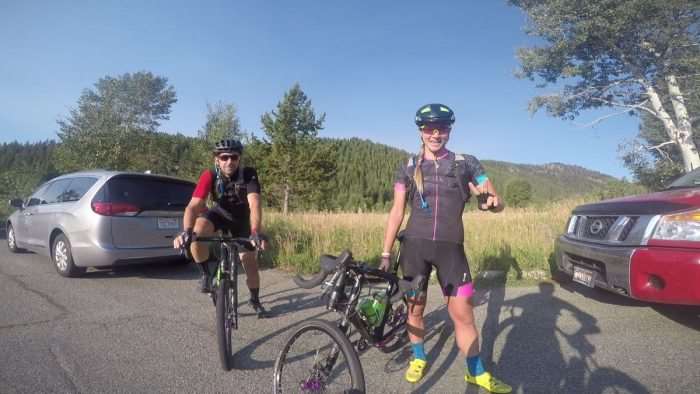 Any description stating "you are going to freaking love it" has to be good, right?!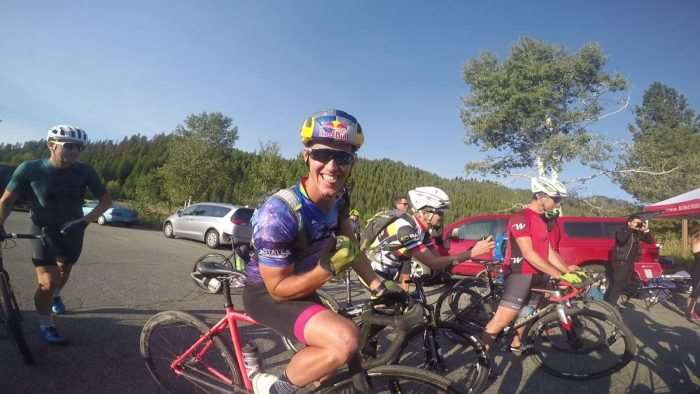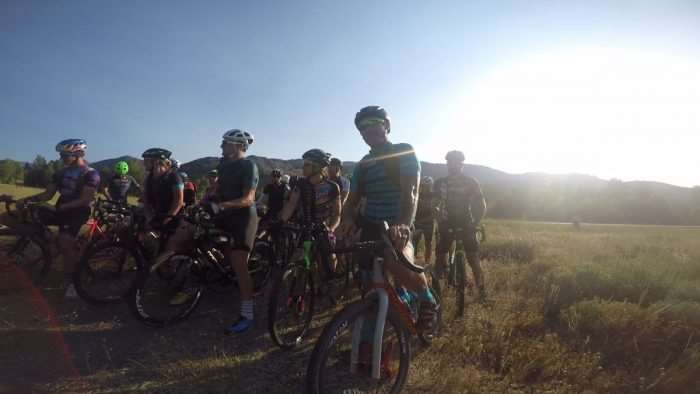 At 9am sharp, 49 gravel stage racers and yours truly launched from the Sawtooth Recreation area and onto the Harriman Trail, a non-motorized gravel and dirt path.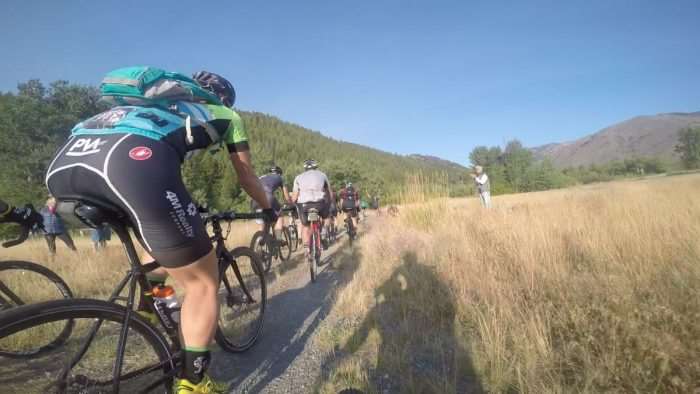 A fast start, with about 41 miles / 66 kms to cover, including 3 miles / 4.8kms of singletrack at the top of the climb.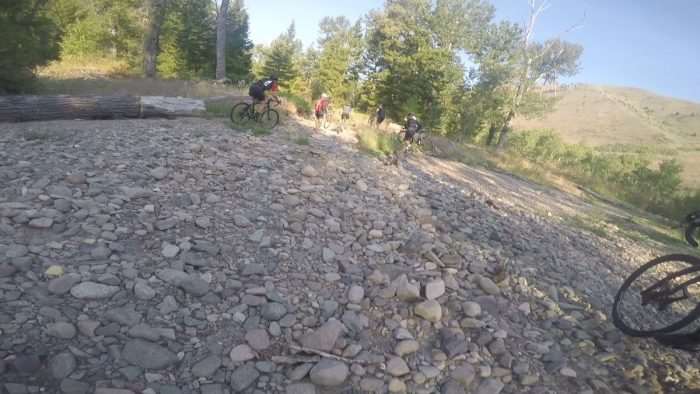 The course description gave mention to some rough conditions, particularly in the first seven miles. Cue washouts, deep ruts and some hike-a-bike sections.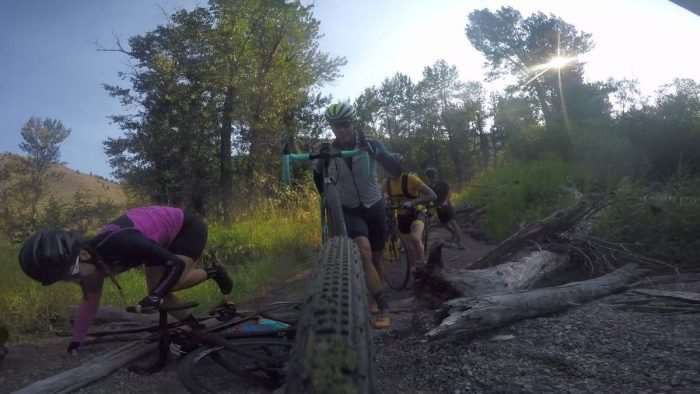 The challenging fun of the early miles even had women's Dirty Kanza 200 and Gravel Worlds winner, Alison Tetrick, hike-a-biking. Glad I wasn't alone in the madness of shuffling my bike along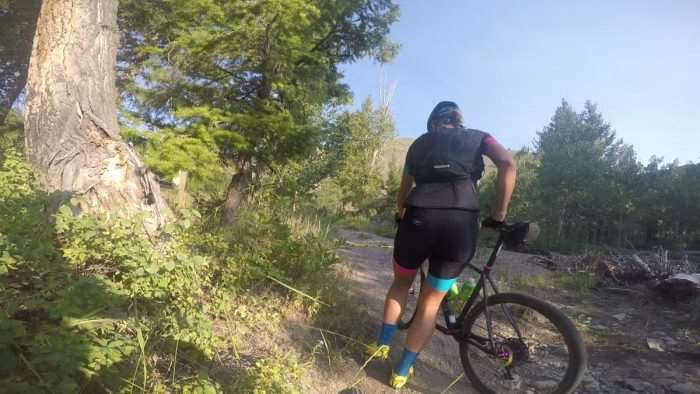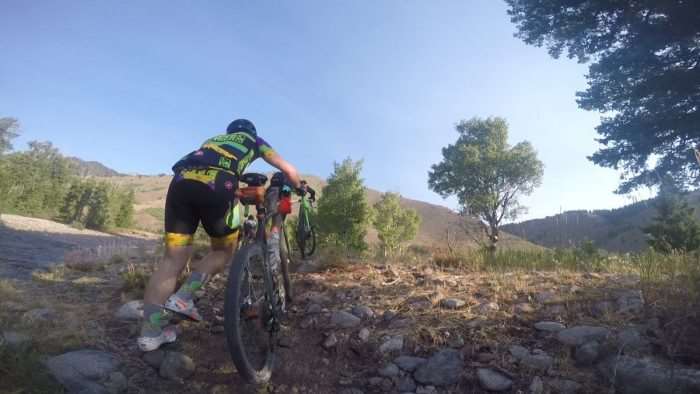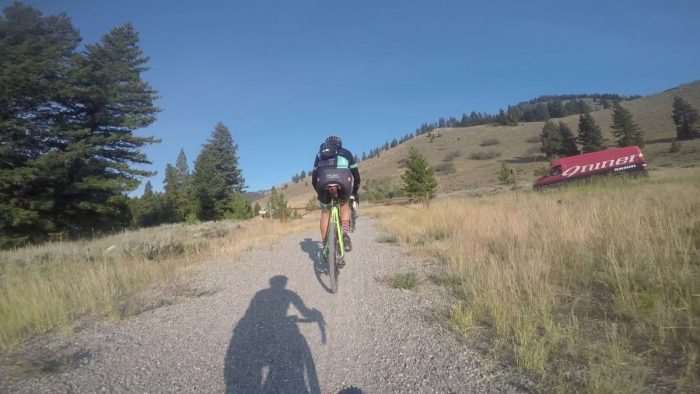 Eventually, I got into a rhythm of sorts with Wil Matthews (Wil Matthews Photo) and Christopher Keiser, residents of the Bay Area in California.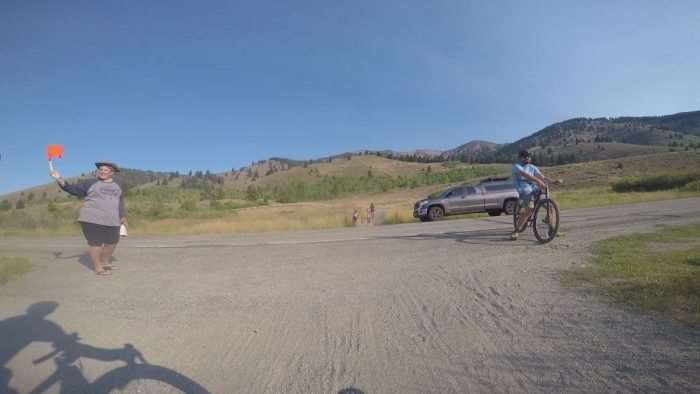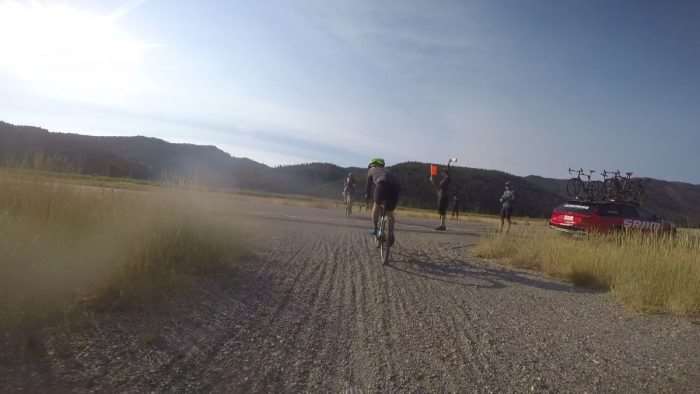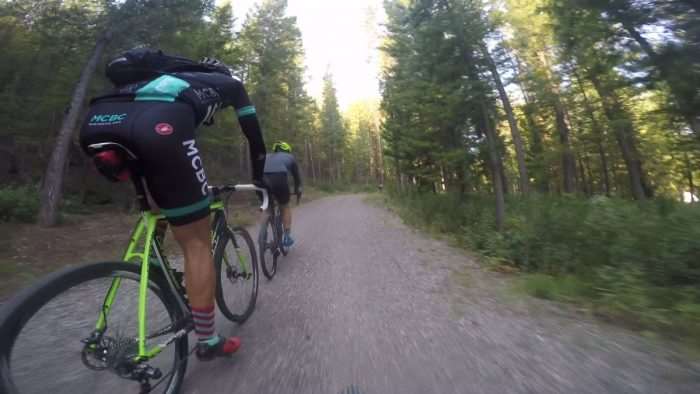 Wil and Christopher claimed to be fellow flat-landers, but Christopher's riding indicated he may have done some extra training. Soon, he left Wil and I behind. Later, I left Wil to soldier on alone… nothing personal Wil!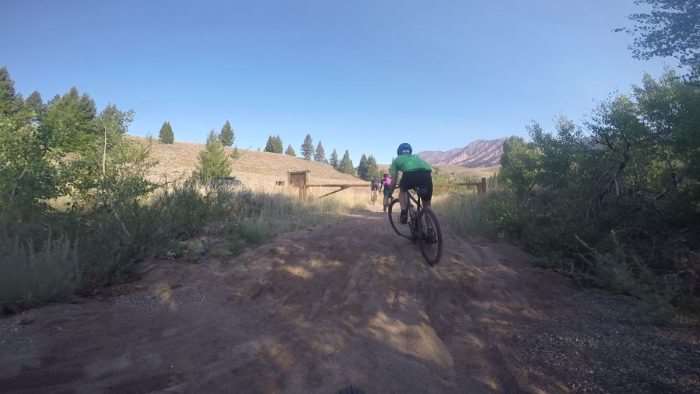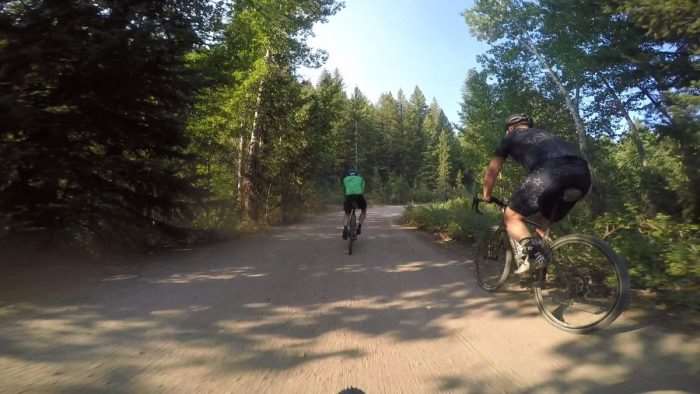 As the stage progressed, I figured I was somewhere in the top 20, albeit with a large gap separating the stud / studette leaders. For a while, I was in the company of Dan Hughes, former winner of the Dirty Kanza 200.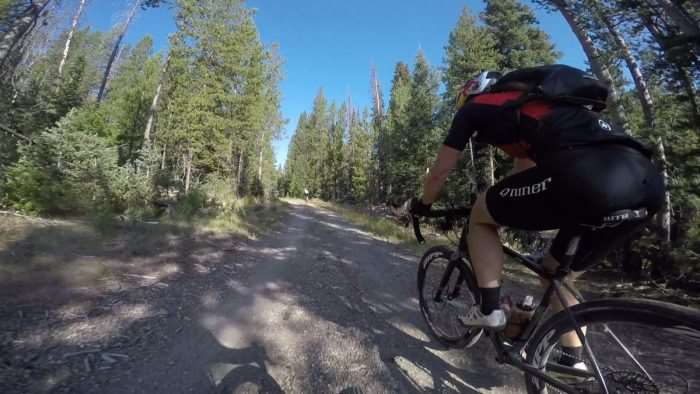 The Queen herself, Rebecca Rusch, rode with me for a ways, but I'm 100% certain she was slumming it. Rebecca could easily ride me off her wheel in about two pedal strokes, but it speaks volumes when she hung back to ride with a bloke like me for a little bit. Chapeau Rebecca!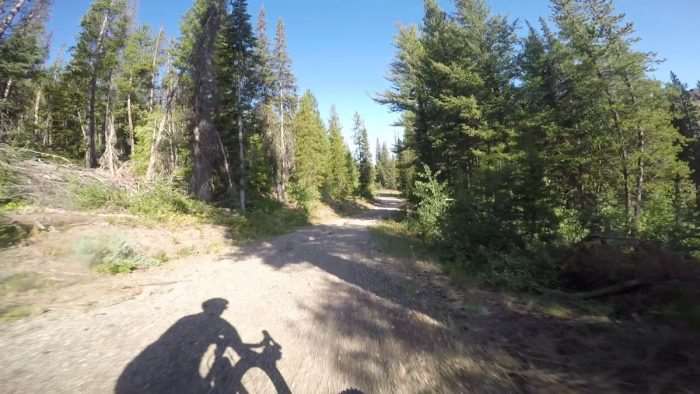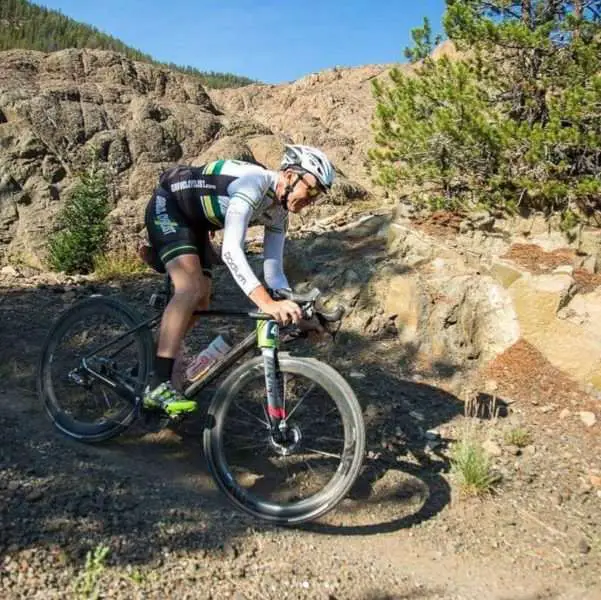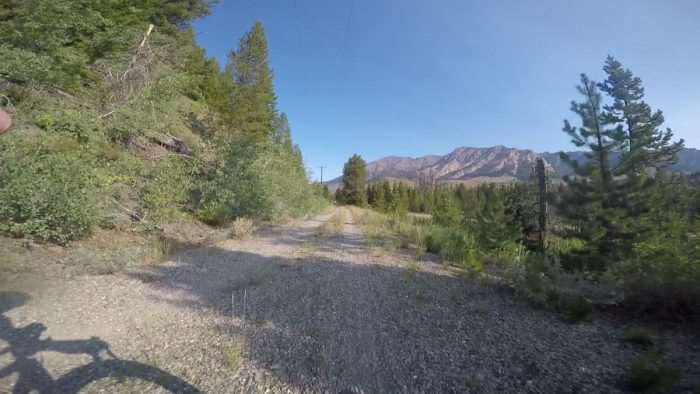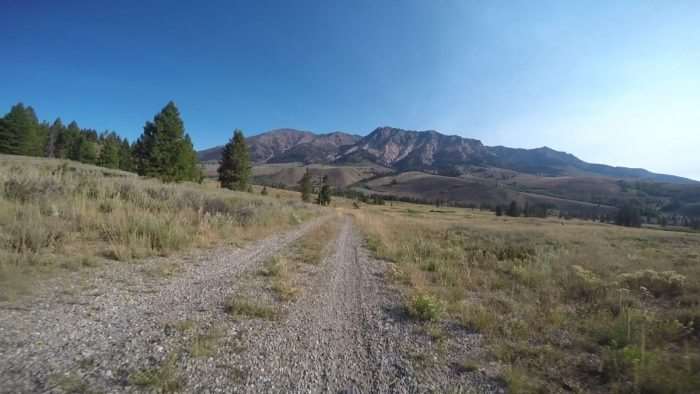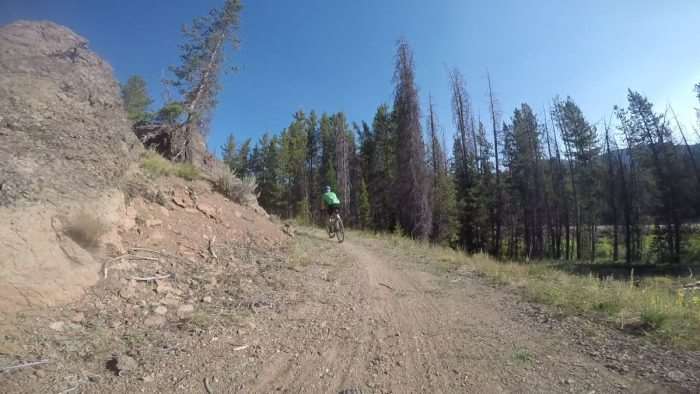 Jeff Young is a good mate, although he'll probably claim we're barely acquaintances – cheeky bugger! We yo-yo'd back and forth all the way from the mid-point of the stage to the single track. Jeff would outclimb me – I'd go into damage control mode – then bring him back on the short descending sections.
Our rivalry at the race is friendly, but I was hoping to stay level or put some time into him during this stage. Battle of the mid-pack riders!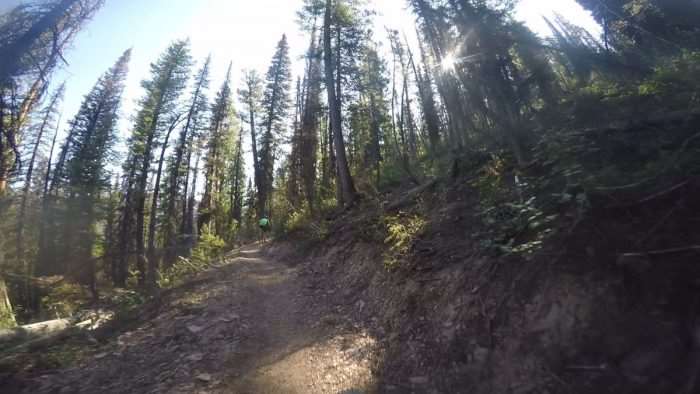 Our back and forth continued into the single track section. Jeff is as bad, if not worse than me at riding single track 🙂 Thankfully, the RPI Stage 1 single track flowed nicely, although the steep grades had us clamoring for lower gears and traction. Post stage, I heard that Alison Tetrick ran most of the single track – she was 2 seconds faster than me on the RPI Strava single track segment. I certainly feel better about my performance after seeing that!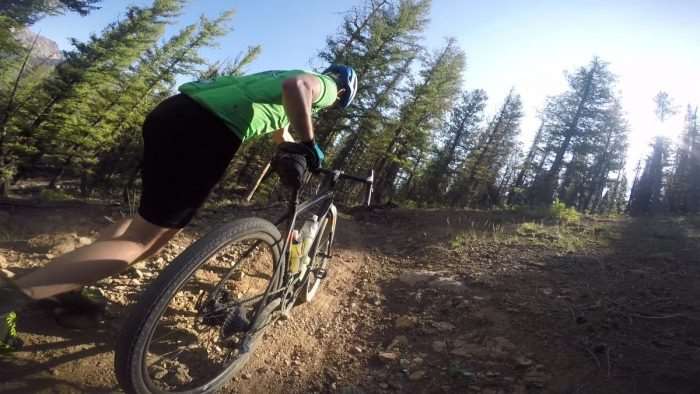 Eventually, my deadlock with Jeff was broken. I used my descending prowess to distance him towards the end of the single track – after all, it was still a race! However, I'm certain Jeff took a mellow approach to the stage and let me ride away.
I'd saved enough in the tank to ride the last half of the stage as fast as possible. Not counting the single track loop, the course was an out and back. Up the mountain on the way out, and down again on the return. Did I mention how much I love descending?!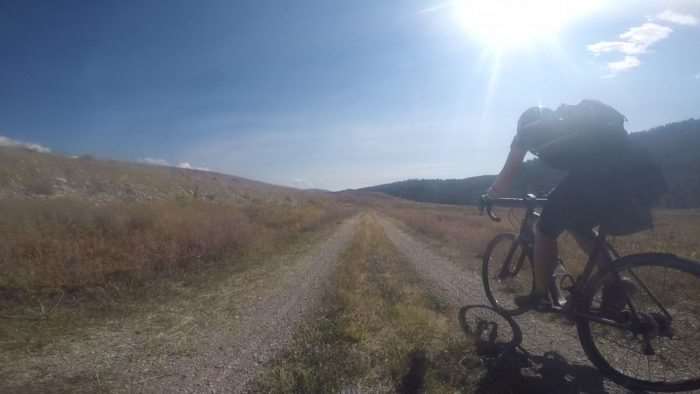 During the final 10 miles / 16kms of the stage, I rode quite a bit with Christina Knutson. She was equally as fast on the descending portions, but was far better in the tricky final five miles of the course. Together, we went off course by a small margin on at least three occasions, but this added to the adventure element of the stage.
I believed I finished somewhere around 3:22:30, quite a ways behind the men's winner Ted King, and women's winner, Jen Luebke. Congratulations to all finishers!
Less than serious overall standings for the mid-pack crew, Stage 1:
JOM aka Gravel Cyclist – 3:22:30
Jeff Young aka Jeffy – 3:29
Bobby Thompson aka The Casual Cyclist – 3:39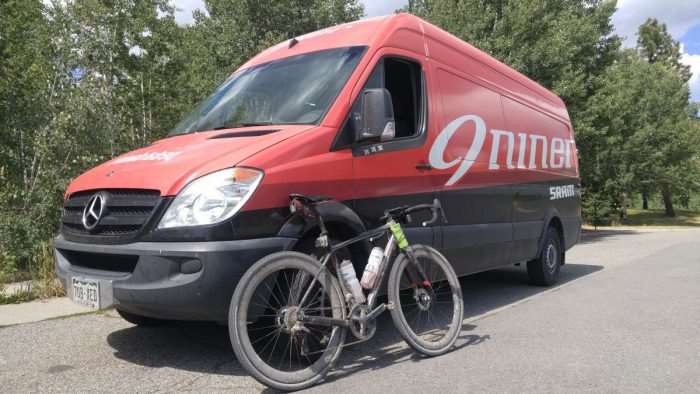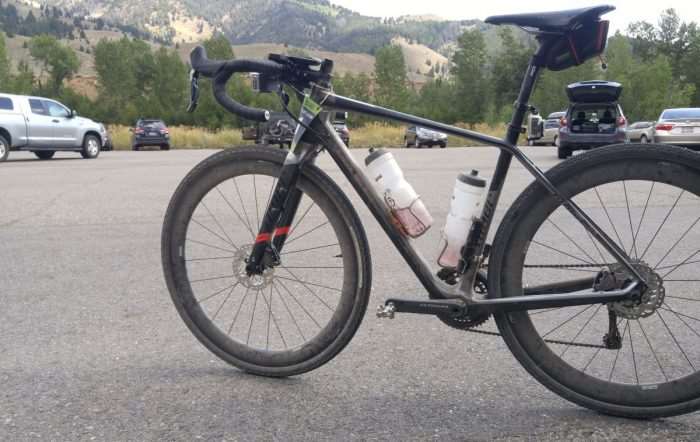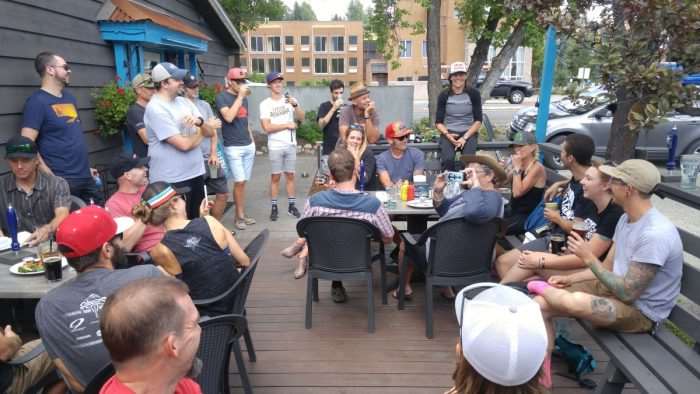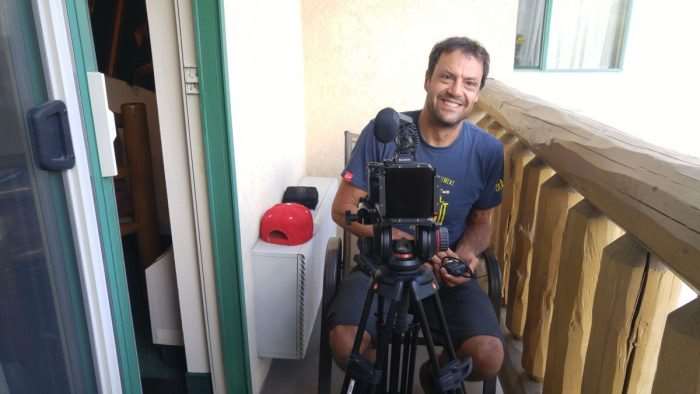 Stage 2 – Dollarhide Summit Time Trial – September 1, 2017
The stage some of us flat-landers feared – an uphill time trial. Departing the Limelight Hotel Plaza, contestants in the Queen's Stage Race rode approximately five miles of lush pavement, before ascending 15 miles of dirt, gravel and rocky bumpiness to the base of the Dollarhide climb.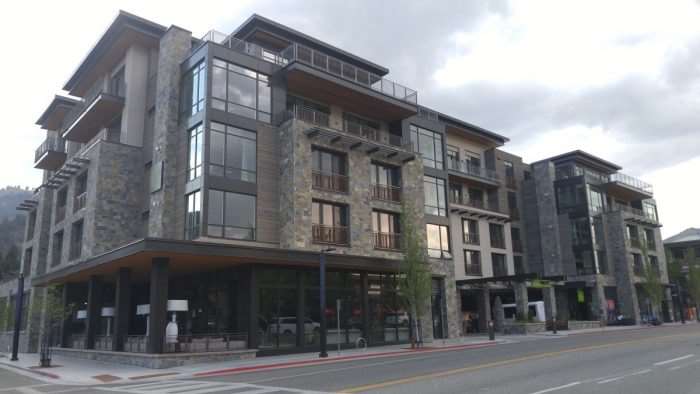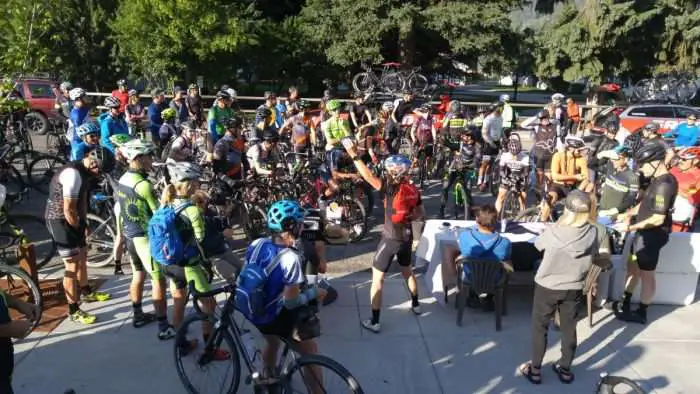 The first 20 miles / 32 kms of the stage were to be ridden neutral – and you had to ride them – no driving one's car! These neutral miles didn't count for the overall general classification (GC), but rather as participation and mostly an excuse to socialize and network. Only the time trial proper of about 4.5 miles / 7.2kms at an average gradient of about 6.5% on gravel, would count.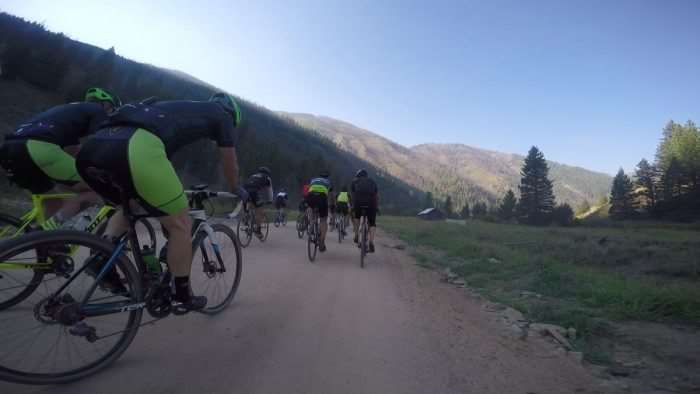 The ride to the base of Dollarhide mountain was scenic and the weather, absolutely perfect. All of those winter base layers I use for about two weeks in Gainesville, Florida every year, piled into my suitcase for the trip, were relegated to the "crap I won't be using pile". Only arm skins would be needed to keep my delicate little arms shielded from the sun.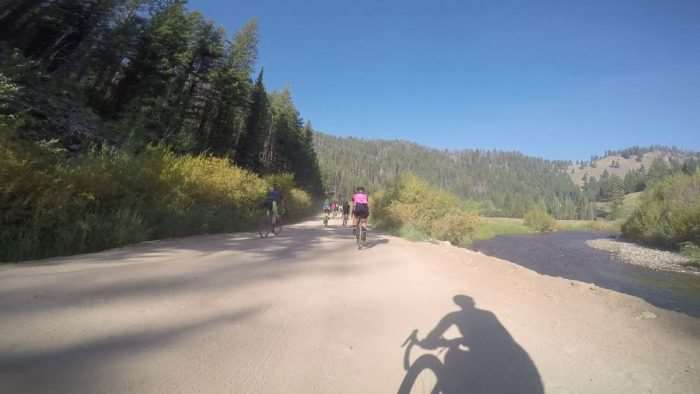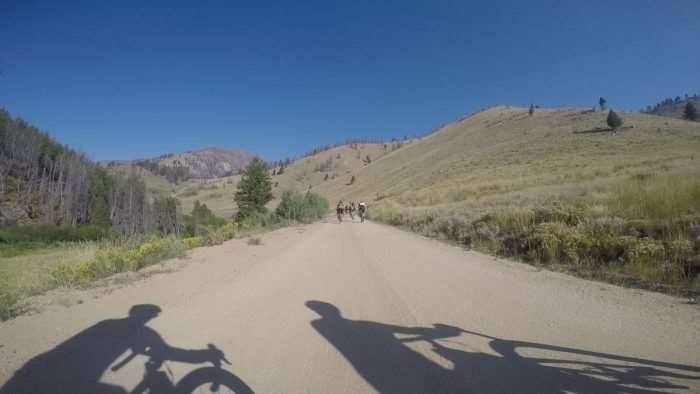 Ride tempo up the long climb began steady, but it soon rose to the point that I was forced to "sit up". It needs to mentioned here that I never get dropped in races or rides. Rather, I "sit up". That means, I found the tempo to Dollarhide mountain to my disliking, and thus "sat up", to avoid any form of long-term displeasure.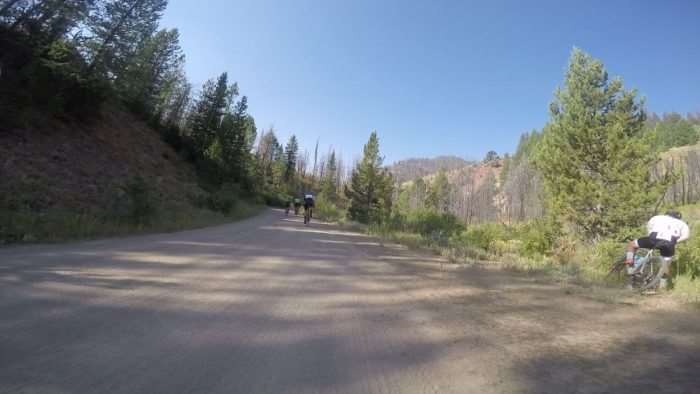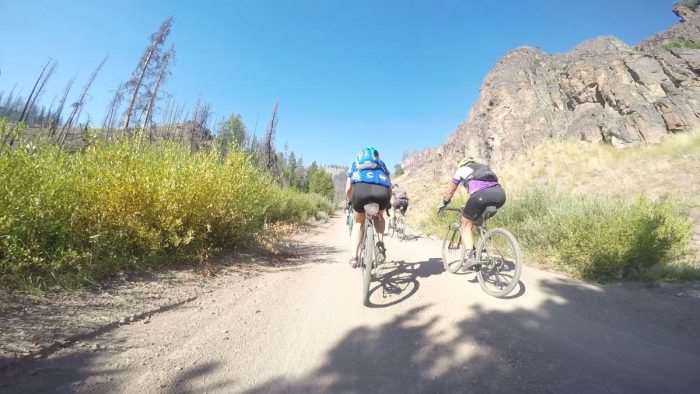 All jokes aside, the group stuck together nicely until about half way, which is where some rock strewn sections of the road made themselves known. Our gravel peloton would regroup at the base of Dollarhide, so there was no real pressure to hurry. Pick a clean line through any rocky bits, and arrive safely at the base, ready to time trial.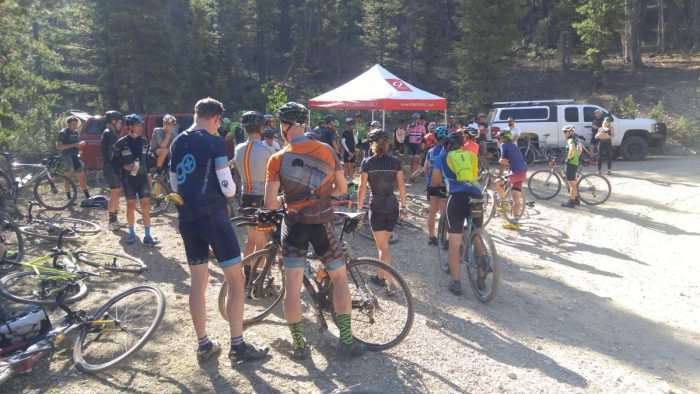 The scene at the base of Dollarhide mountain resembled a yard sale. Riders ditched anything from their bikes that could possibly add weight. Water bottles? Gone. Saddle bags, ditched! Yours truly was lugging GoPro cameras and extended batteries, so the weight saved by ditching two water bottles was pretty scant. Instead, all of my solid food and secondary water bottle were carefully placed into the roadside soil for collection after the time trial.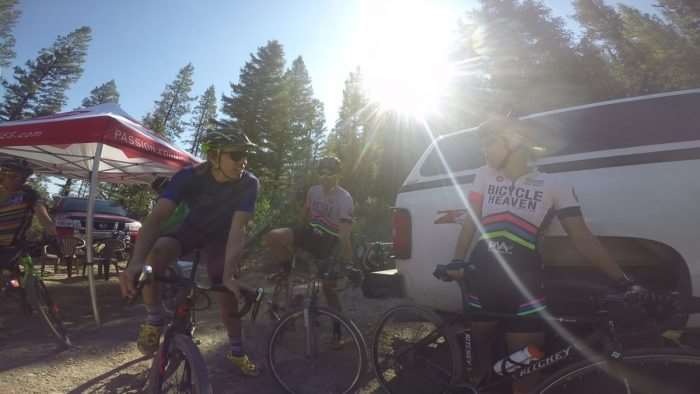 The Stud / Studette riders were the first to start, but I specifically asked to start somewhere within the first 10 riders. Not because I was expecting a stellar performance, but more about my interest in capturing these riders on camera as they blasted past me. Remember, I Iive in North Central Florida most of the year (a good excuse)!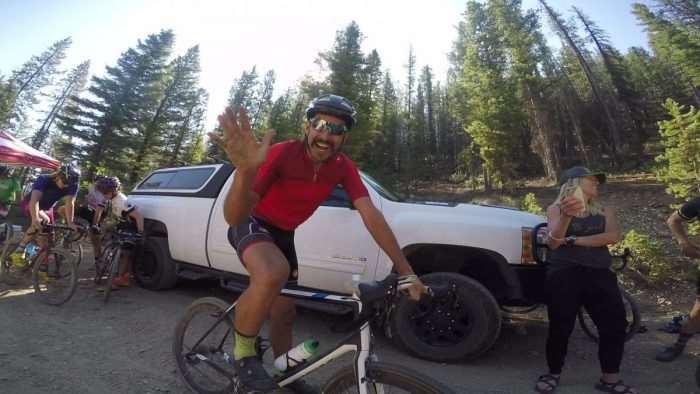 Additionally, Ian from Niner Bikes had kindly taken my drone camera to the summit in Wil the Photographer's Toyota pickup truck. My plan was to drone film some of the suffering once my time trial was over – assuming everyone didn't catch me that is.
I quite like time trialling but the uphill variety at altitude isn't my specialty. Ms Alison Tetrick started 30 seconds behind me, and it took about two minutes before she'd closed that deficit and blasted past me. D'oh!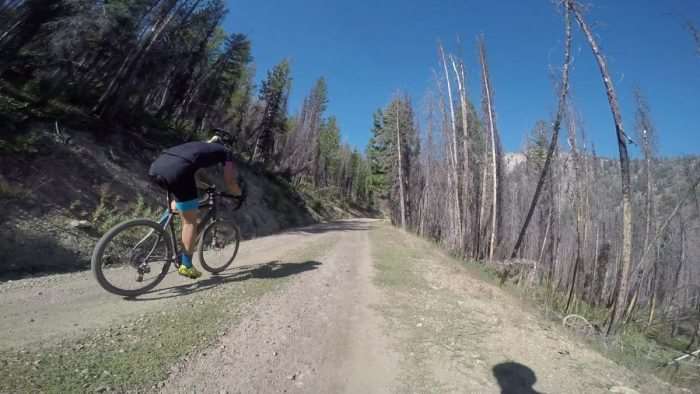 What follows is the gallery of riders who caught and passed me…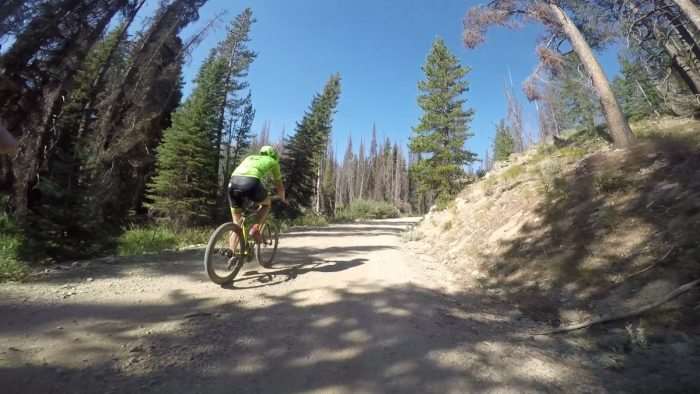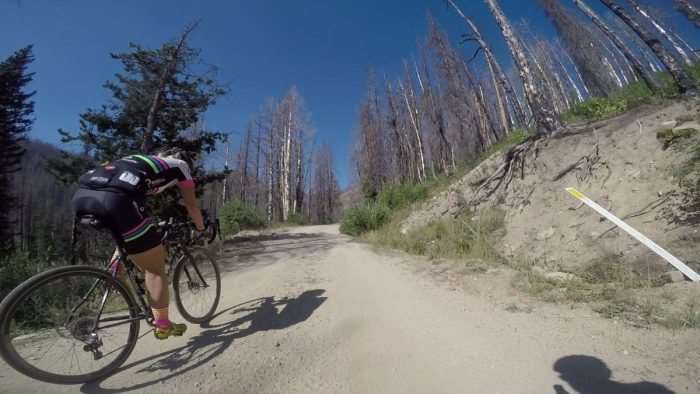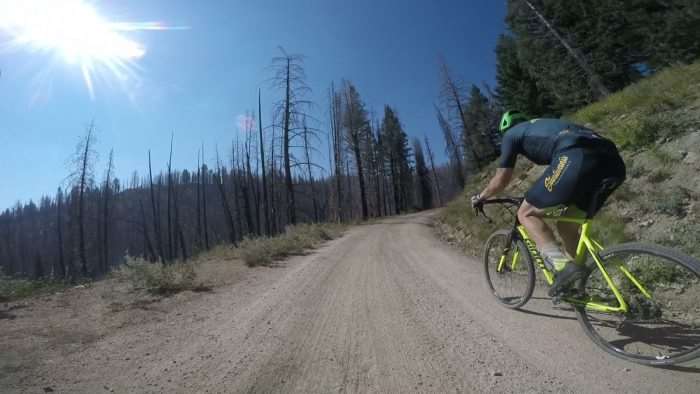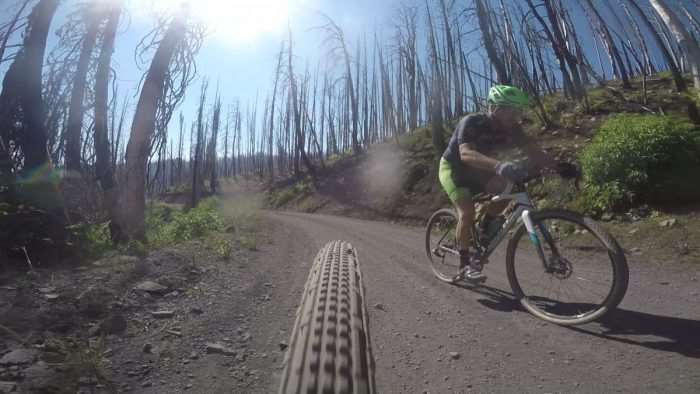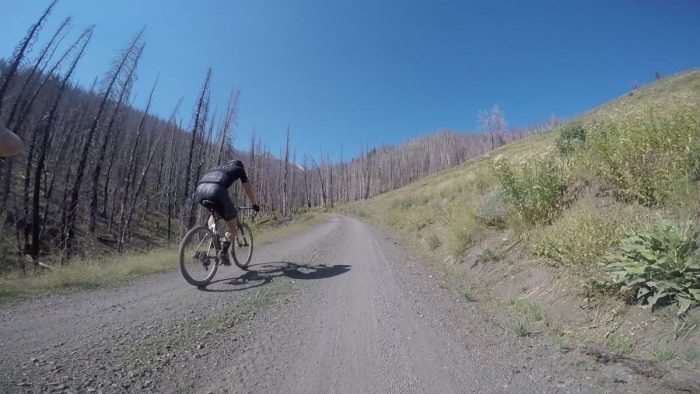 Caught by at least six riders on the way to the summit!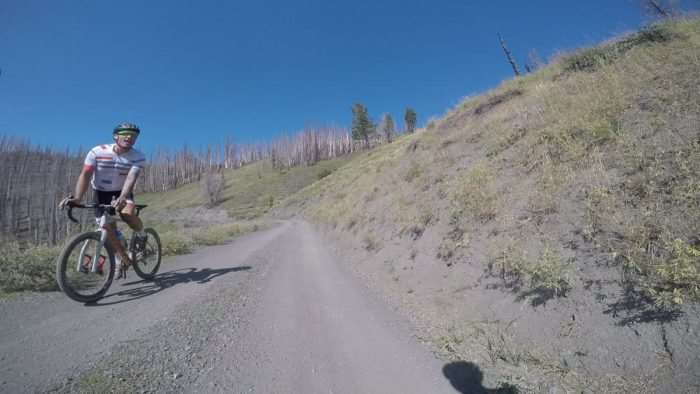 Above, as I suffered in the final kilometre, Salty the Yeti (aka Yuri Hauswald) offered some cheeky words of encouragement, along the lines of my own Aussie slang. Well deserved of course 🙂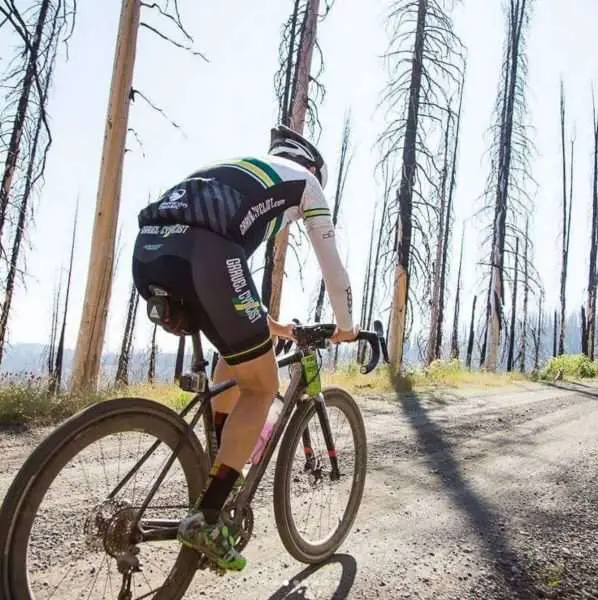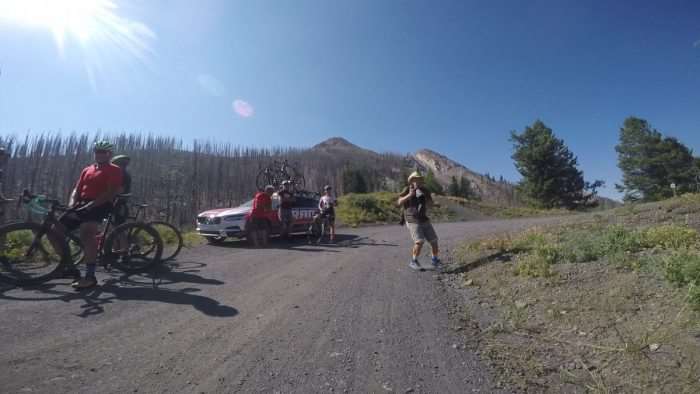 The time trial was quite painful. Despite being caught by several riders, I was pleased with my effort considering my legs were pretty knackered from yesterday's stage – and the part about high altitude and living in Florida.
According to the Strava segment, I rolled in at 35:43, way behind the leaders, and about 32nd place out of 50 in the race.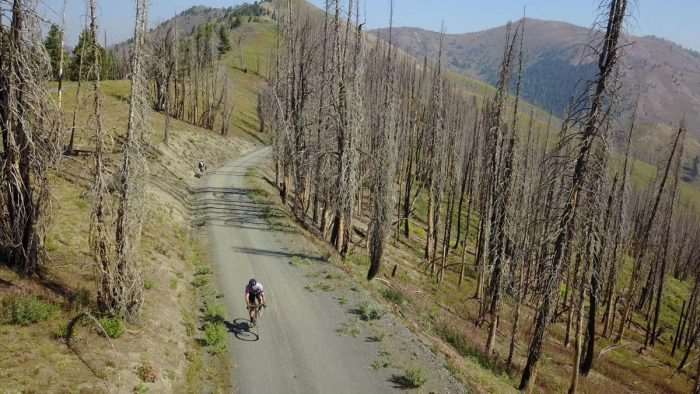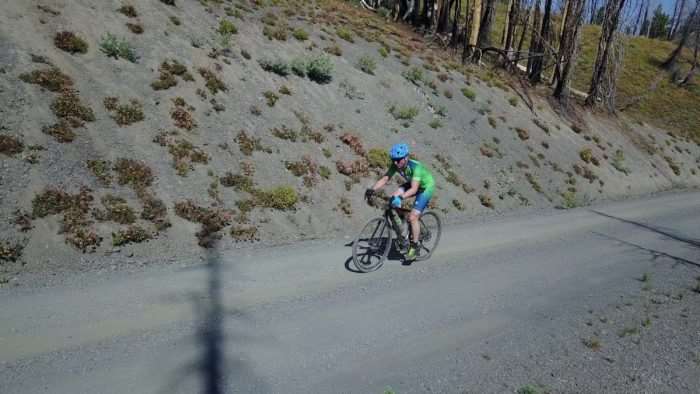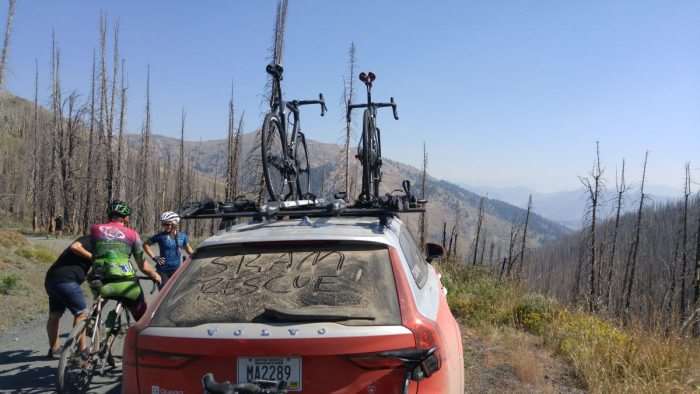 But more important than this was the less than serious standings for the mid-pack crew.Stage 2 Results:
Stage 2 Results:
Bobby Thompson aka The Casual Cyclist – 34:02
JOM aka Gravel Cyclist – 35:43
Jeff Young aka Jeffy – 40:12
In Jeff's defense, we later learned he had a knackered drive side bottom bracket bearing, and an overall feeling of lethargy from a long season of training and racing. I can relate.
Less than serious overall GC standings for the mid-pack crew after Stage 2:
JOM aka Gravel Cyclist – 3:58:03
Jeff Young aka Jeffy – 4:09:12
Bobby Thompson aka The Casual Cyclist – 4:13:02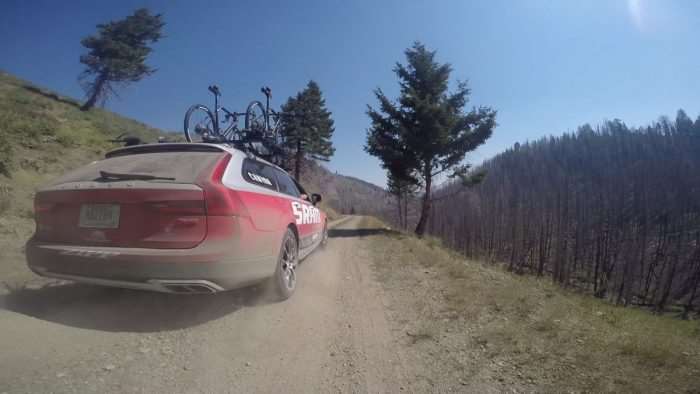 Coming up…
Stage Three – The Big Potato, 93 miles / 149km
The Race Video – Two Parts