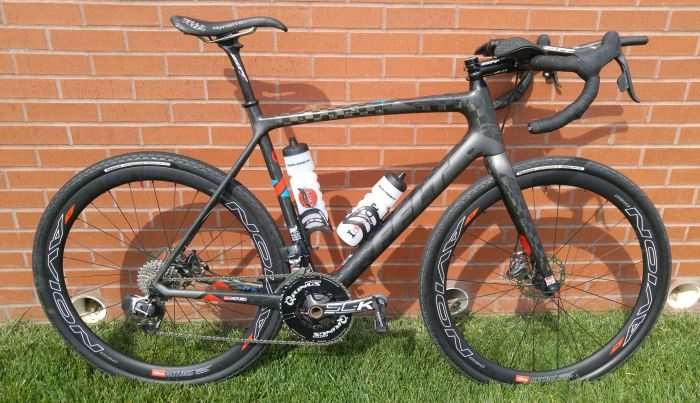 "Felt was founded by Jim Felt in early 1994 when Felt products were distributed by Answer Products. Felt nearly disappeared from the domestic market following a fallout with Answer after a 7-year relationship. The brand was relaunched in 2001 as an independent company." – source Wikipedia.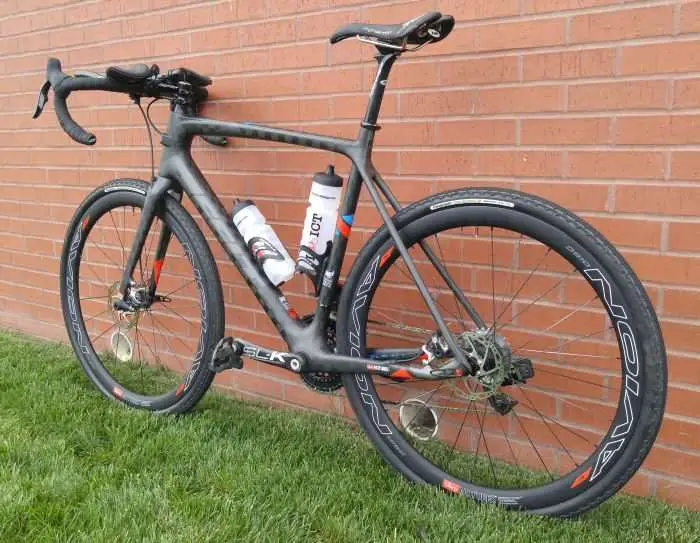 Since that time, Felt has developed several unique bicycle technologies. Felt extensively utilizes wind tunnel and computational fluid dynamics modeling in its frame design process and that includes frames like the Fx FRD.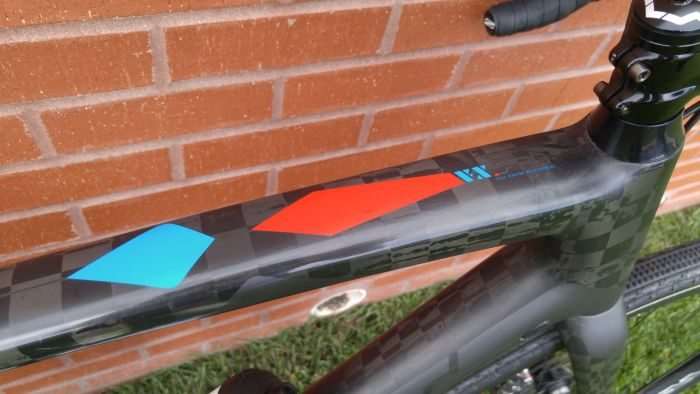 The Fx FRD is touted as Felt's "ultimate cyclocross racing machine", but it works perfectly well for racing on gravel roads. The frame is laid up using Felt's premier UHC Ultimate + TeXtreme® carbon fiber which creates a very light frameset and fork with impressive durability and stiffness qualities.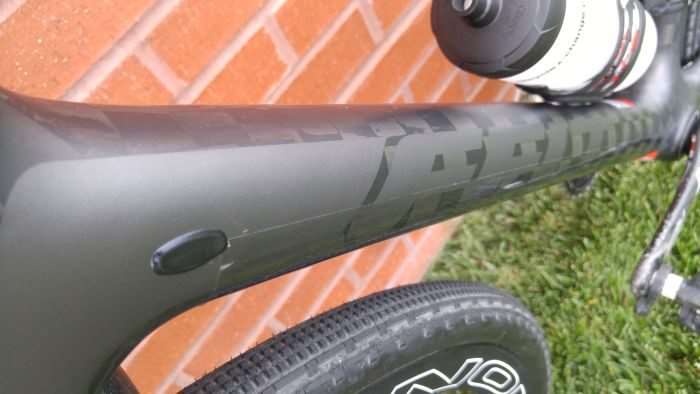 This example of the Fx FRD belongs to Bob Cummings of the Panaracer / Stan's NoTubes p/b Bicycle X-Change gravel team – check out our interview with Bob the day before 2016 Gravel Worlds in Lincoln, Nebraska.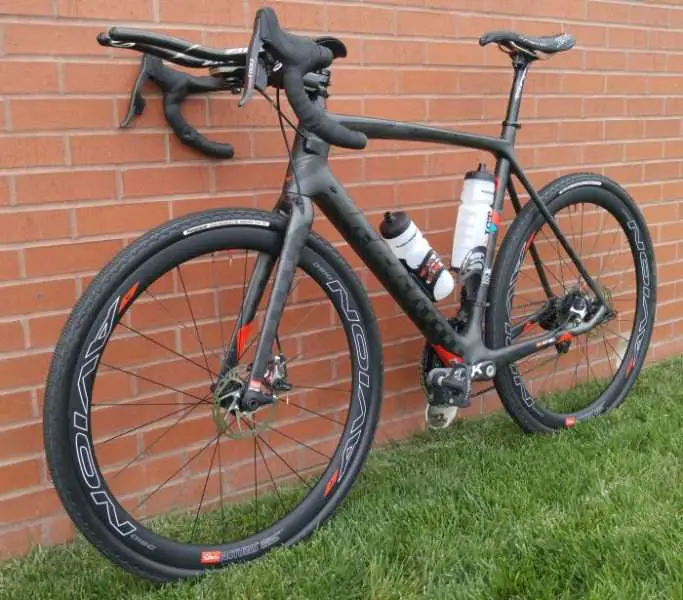 This Felt Fx FRD – with Bob's power to the pedals – rode him to victory at the 2016 Dirty Kanza 200 in the Men's 45+ category. At 2016 Land Run 100, the team locked up the podium with an impressive 1-2-3 finish – and Bob took 3rd at last year's Gravel Worlds… so he knows a thing or two about bike preparation and how to ride fast on gravel. Ouch.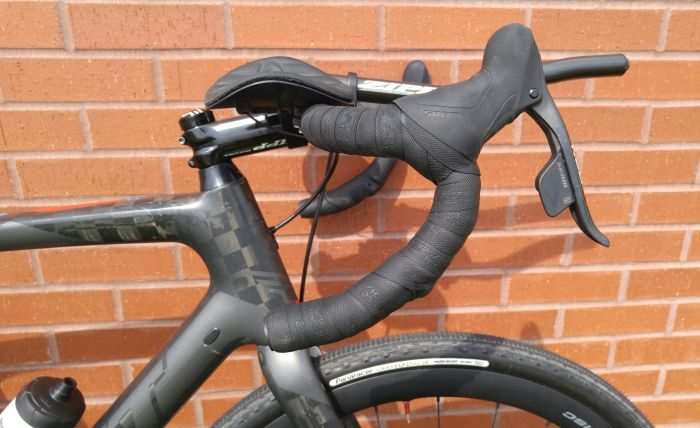 If you're looking at Bob's machine, you're possibly thinking, what the heck are Tri / TT bars doing on a gravel bike?! Admittedly I questioned this myself, but after riding with Bob during a short pre-ride of the Gravel Worlds course, I can see how these bars offer some big-time aero advantages provided you have good skills on the gravel – they aren't for everyone.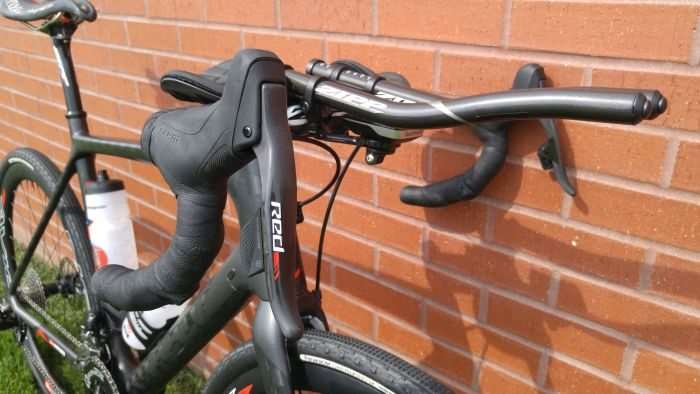 SRAM eTap resides front and center on this bike. The company's revolutionary gear shifting system rocked the world when protoypes first appeared – disguised as a wired system – but especially later when it was revealed the system was completely wireless. Bob rode SRAM eTap at the 2016 Dirty Kanza 200 which is testament to the system's performance over some questionable terrain. Gravel Cyclist is reviewing eTap long term as it pertains to gravel, so be sure to watch this space!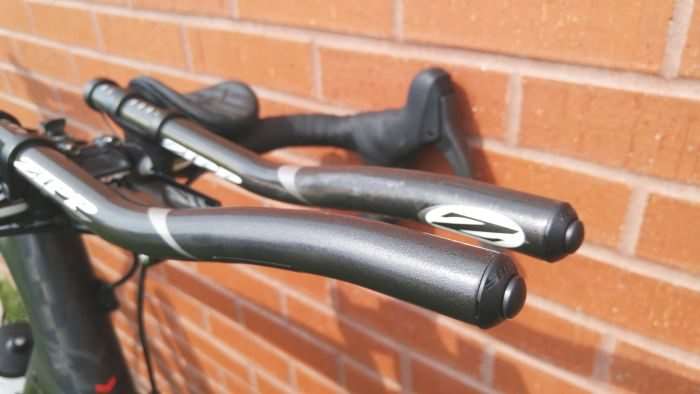 Bob's Zipp Vuka extensions feature SRAM's eTap Clic shifters. Right side = down the cassette, left side = up the cassette. Pushing both buttons simultaneously = change between chainrings at the front derailleur.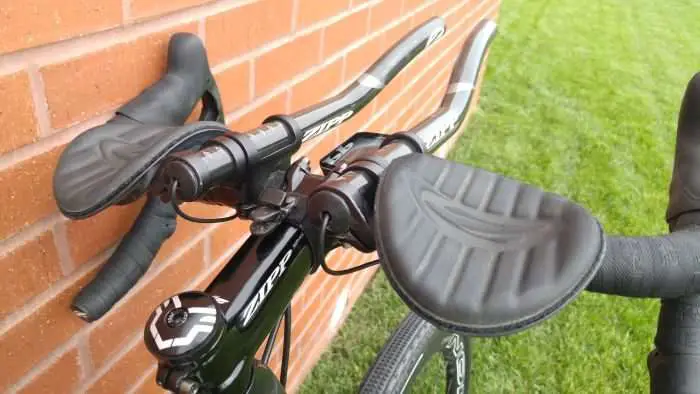 The eTap Clic wires exit at the rear of the Zipp Vuka extensions, run beneath the handlebar tape and plug into their counterpart eTap brake / shifter levers. Bob also has SRAM eTap Blip shifters installed towards the bottom of the drops of his handlebar.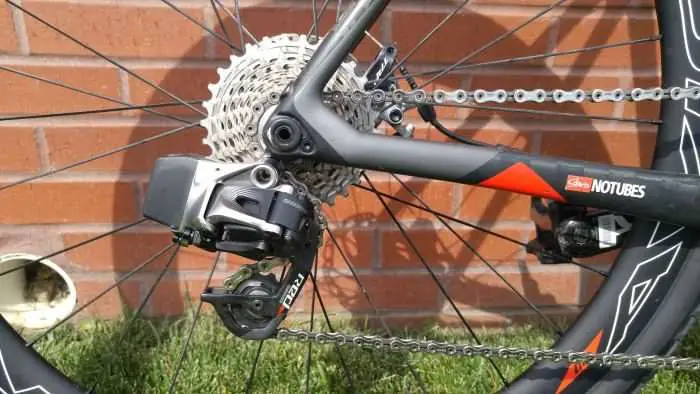 SRAM's eTap derailleur paired to a SRAM XG-1190 11-30 cassette. SRAM doesn't recommend it, but JOM of the Gravel Cyclist crew has confirmed the eTap derailleur plays nicely with an 11-32 cassette. Simply turn the B-screw clockwise – all the way. Try at your own risk! (disclaimer)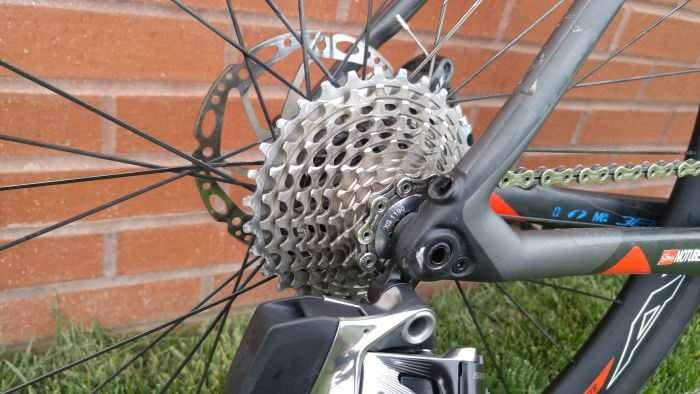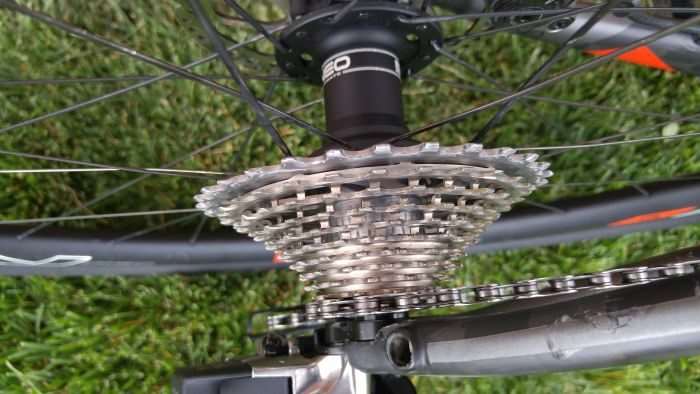 Bob has tricked this cassette out. The inside material which is usually in place to keep running noise down has been removed. Mud can still get into those gaps, but it doesn't have a tendency to pack up versus the stock arrangement.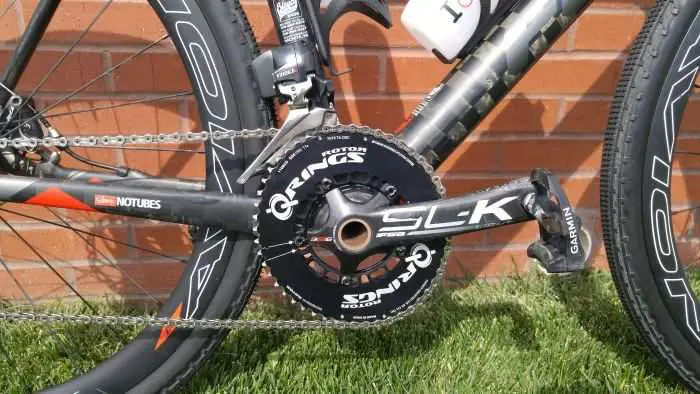 SRAM eTap front derailleur with FSA SLK-K carbon crank, fitted with Rotor's QRings in the 50 / 34 size.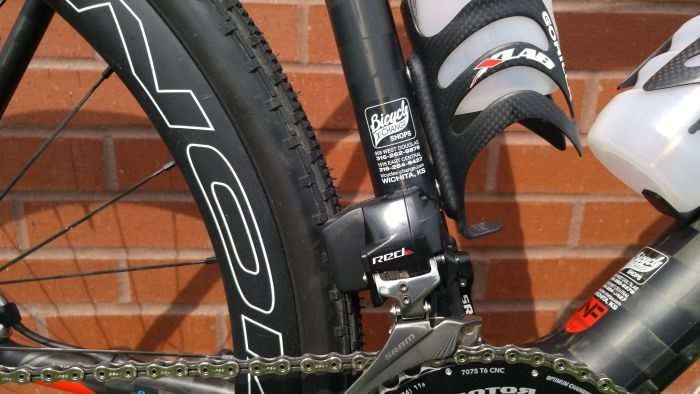 XLab carbon fiber cages keep Bob's bottles secure. Bicycle X-Change of Wichita, Kansas is Bob's go-to shop and the shop who builds and maintains all of his bikes.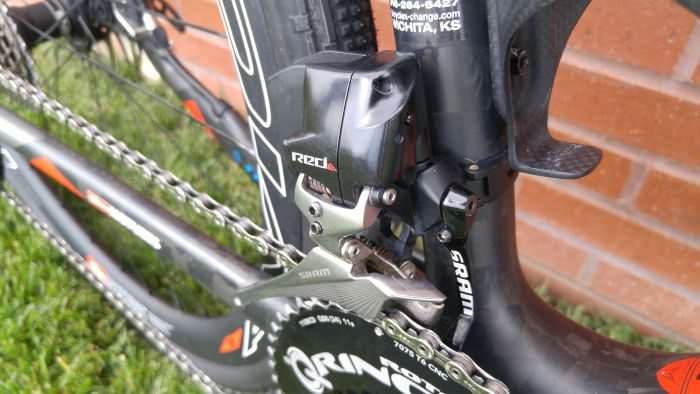 The eTap front derailleur doesn't come fitted out of the box with a chain catcher, but Bob prefers the security that it offers, preventing chain drop, etc.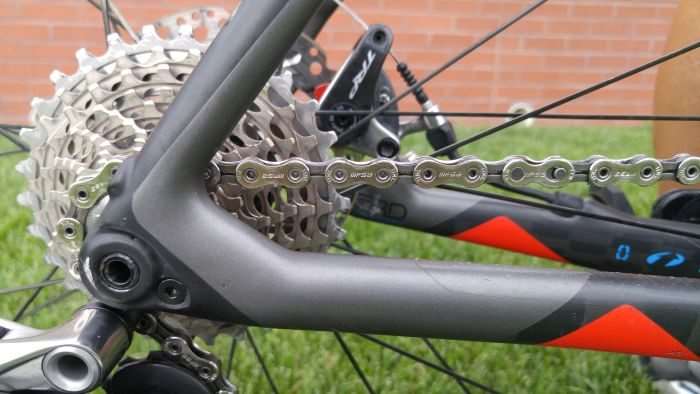 Note the FSA labelled chain. This is a sure sign their "WE" electronic groupset it due to hit the market around Eurobike 2016.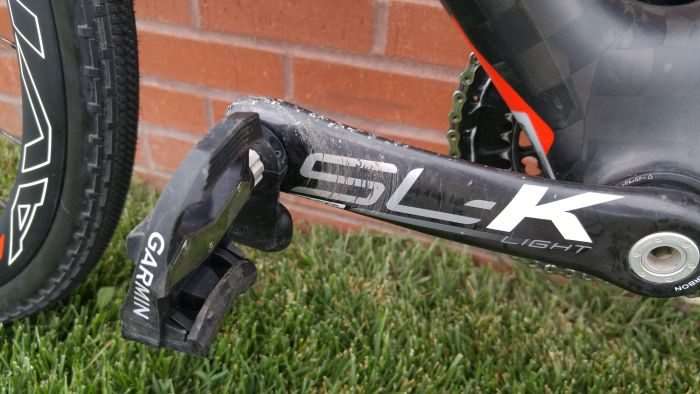 Bob relies on Garmin's Vector pedals for the measurement of power. Note the banged up FSA SL-K crankset… Bob has cranked out some serious training and race miles on this machine.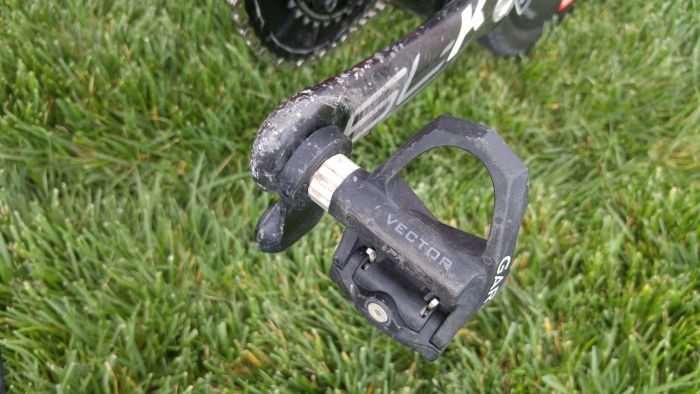 If you enjoy keeping your parts pristine and pretty, maybe riding and racing on gravel roads isn't for you. If you haven't caught it, the Garmin Vector pedals are road pedals. Bob seldom dismounts to walk the bike, but he has been spotted hoofin' it in road shoes at events like 2016 Old Man Winter and 2016 Land Run 100.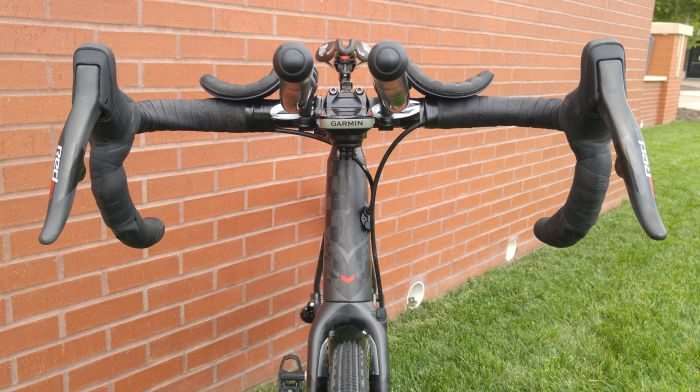 This view proves that a gravel bike can be aero.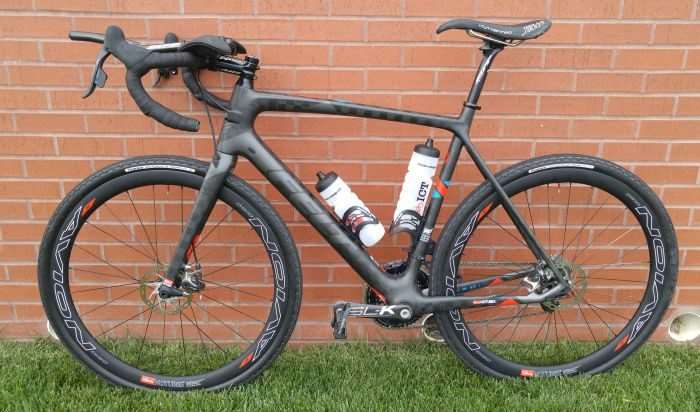 Stan's Notubes Avion wheelsets feature 41mm deep carbon tubeless-ready rims that are 28mm wide (WideRight), optimized for 25mm – 40mm wide tyres.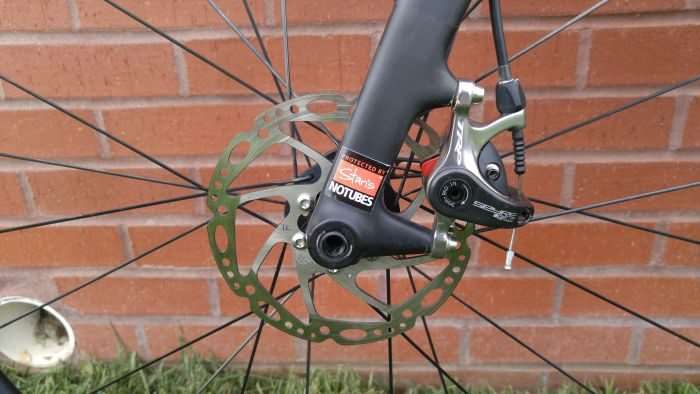 Braking duties are handled by TRP's Spyre SL mechanical brake calipers with matching TRP rotors in 160mm.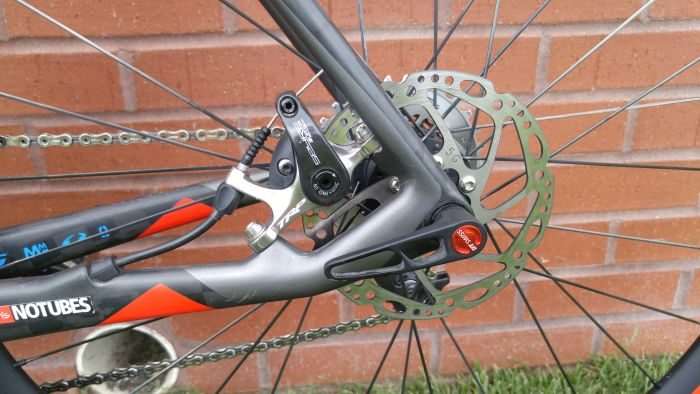 Stan's Notubes is the team's official supplier of tubeless tyre sealant.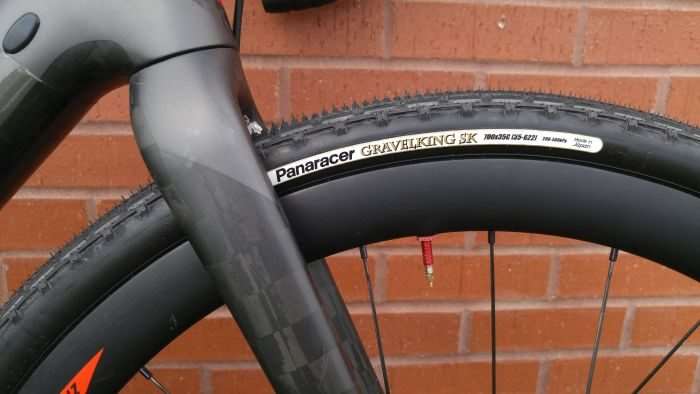 Proven at the world's biggest gravel race, Dirty Kanza, the Panaracer Gravel King SK is one of the best all-round gravel tyres on the market. We hope to have our long-awaited video review of this tyre available soon.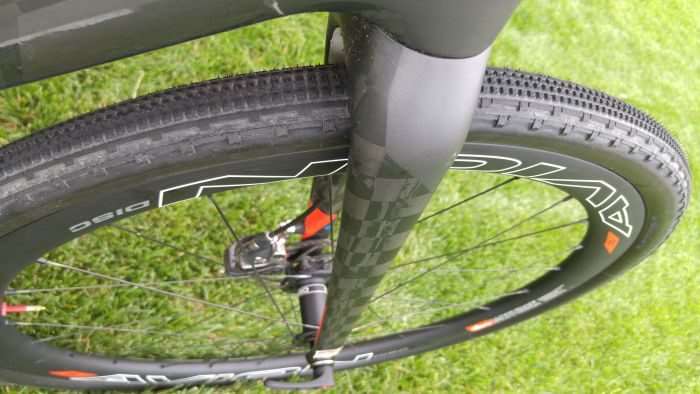 Felt's straight blade fork features the same carbon mix and layup as the frameset.
Bob applies alumin(i)um duct tape to protect the underside of the carbon fork from damage… gravel roads are not discriminating about who or what they damage!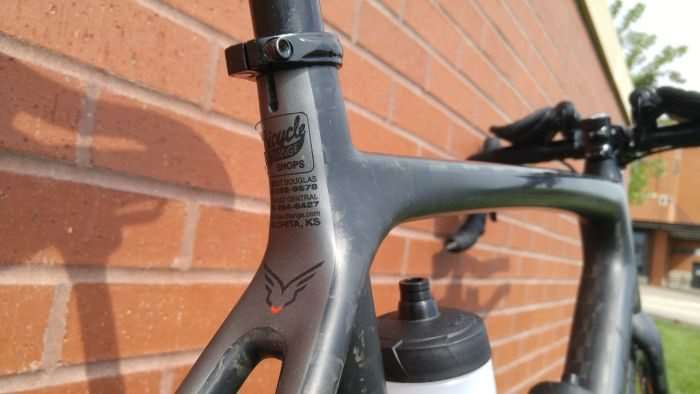 The clean lines of the seatpost junction is also a nice spot for a little additional advertising by shop sponsor, Bicycle X-Change.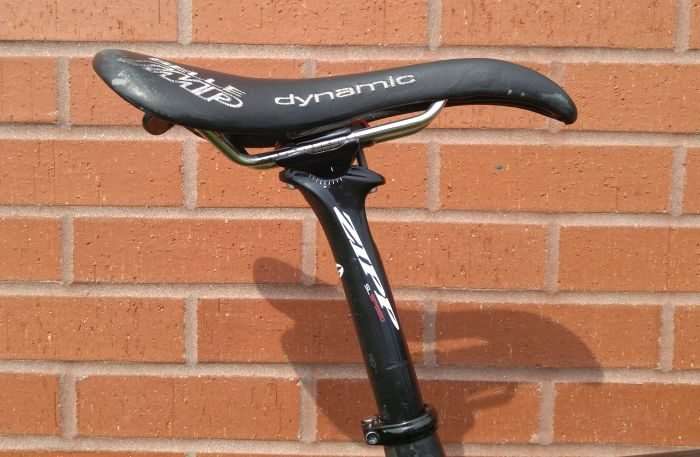 The Selle SMP Dynamic is a unique saddle – and like everyone's fitting requirements – is unique to each rider and therefore not for everyone. A Zipp SL Speed seatpost keeps Bob's saddle securely positioned.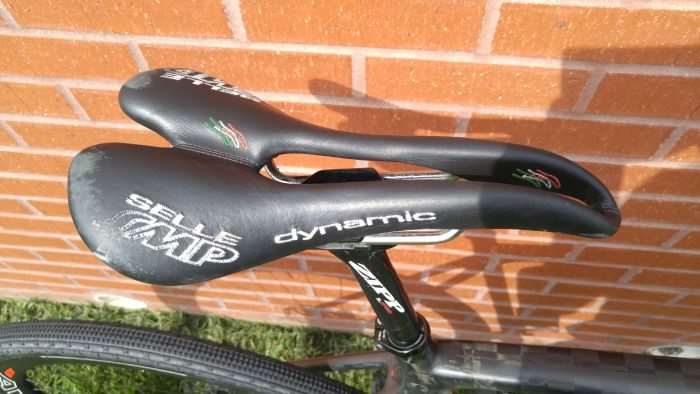 Saddle cutouts keep the blood flowing in one's sensitive areas…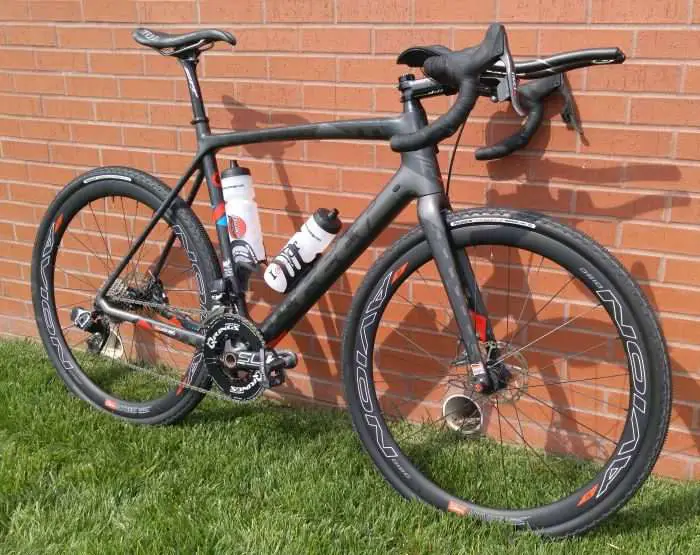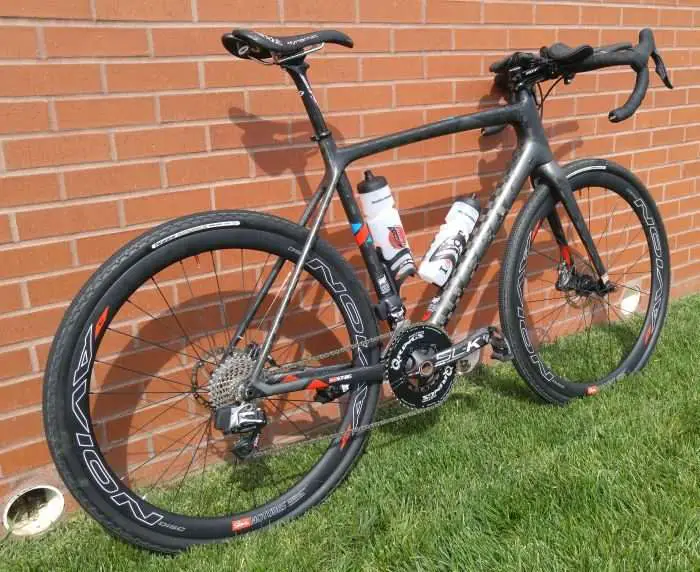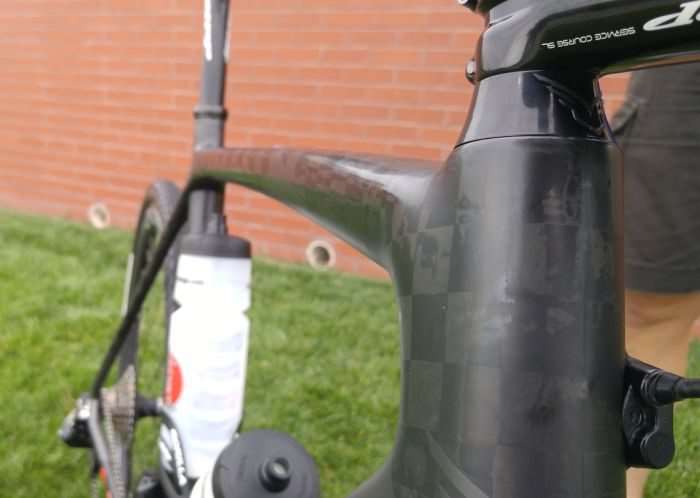 The nicely sculpted lines of Felt's Fx FRD frameset.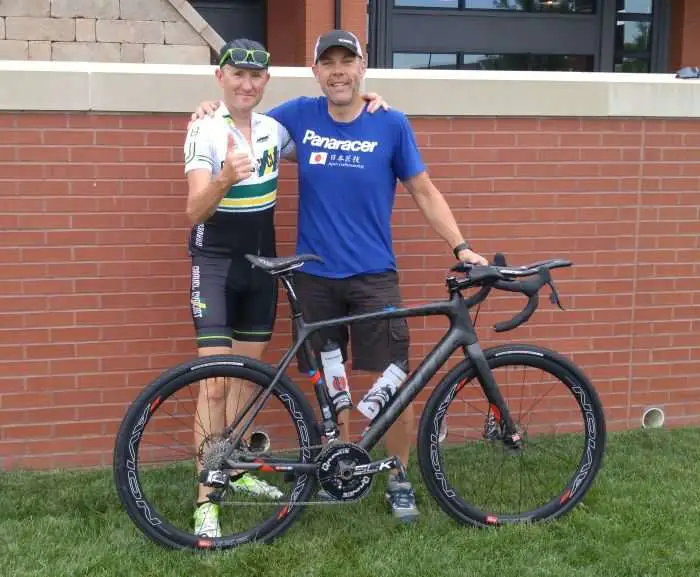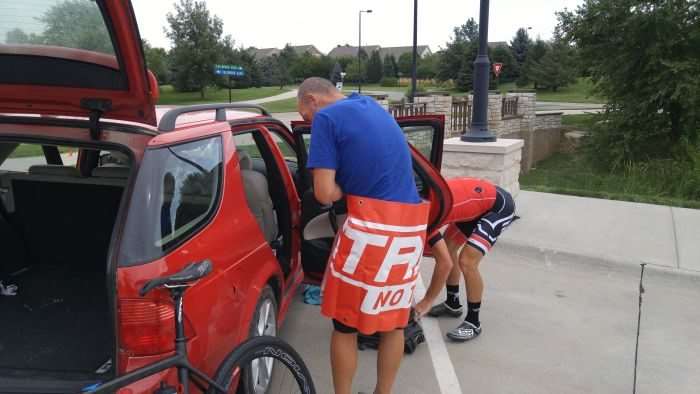 The photo above depicts dedication to a sponsor! Bob changes into his cycling kit using a sponsor's banner to shield the family jewels from prying eyes…

Frame: Felt Fx FRD carbon, size 57cm.
Fork: Felt Fx FRD carbon, tapered steerer tube.
Headset: Felt 1 1/8″ to 1 1/4″ integrated.
Stem: Zipp Service Course, 31.8mm clamp.
Handlebar: Zipp SLC2 carbon fiber fitted with Zipp Vuka Alumina Clip and Vuka Extensions.
Handlebar Tape: Zipp Service Course.
Front Brake: TRP Spyre SL mechanical disc.
Rear Brake: TRP Spyre SL mechanical disc.
Shift / Brake Shift levers: SRAM eTap for mechanical brakes.
Front Derailleur: SRAM eTap 11-speed.
Rear Derailleur: SRAM eTap 11-speed.
Cassette: SRAM XG1190 11-30 11-speed.
Chain: FSA 11-speed.
Crankset: FSA SL-K fitted with 50/34 Rotor Q-Rings.
Bottom Bracket: Felt BB386.
Pedals: Garmin Vector, power measuring.
Wheelset: Stan's Notube Avion Carbon with Sapim CX-Ray spokes, 700c, configured tubeless, fitted with DT Swiss thru-axles. Brake rotors are TRP's in 160mm.
Front Tyre: Panaracer Gravelking SK 700c x 35mm filled with Stan's Race Sealant.
Rear Tyre: Panaracer Gravelking SK 700c x 35mm filled with Stan's Race Sealant.
Saddle: Selle SMP Dynamic.
Seatpost: Zipp SL Speed, zero setback.
Bottle Cages: Xlab carbon.
Computer: Garmin 520.
Bike weight – Approximately 17lbs.