September 28, 2019 marked the fifth edition of Grinduro in Northern California. Breaking from tradition came a last-minute course change, attributed to the wildfires that raged in the Plumas National Forest earlier in the month of September.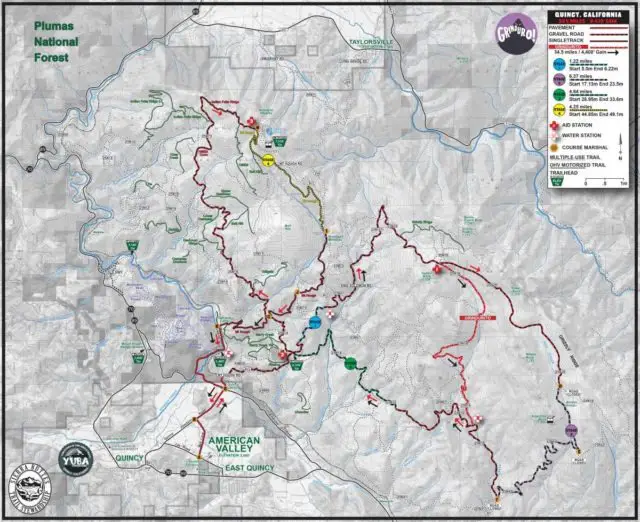 If you're new to Grinduro or wondering what it is about, a history lesson from the Grinduro website provides a little background – "In 2015 the Grinduro event concept was brought to life in a joint venture between Giro Sport Design and Sierra Buttes Trail Stewardship. SBTS were able to realise the dream of Grinduro and the rest as they say is history."
Not a traditional race per se, more of a riding experience, riders are started neutral until onto the course proper, where they will face four timed segments / stages. One can ride as slow or as fast between stages, but time is not on your side. There are time limits to reach each of the stages to discourage en masse soft-pedaling.
Yours truly made a last-minute appearance in a media capacity (meaning my results were not scored), after spending two days at a media-only camp in Downieville, for a new line of gravel wheels from Roval. The details on those wheels are hush-hush until October 8th, 2019, so watch this space.
I spent a good chunk of Friday driving from Sacramento, California to Chico, California, for a visit to the Paul Components factory (huge thank you to Billy Sinkford of Echos Communications for facilitating). I've been a long-time fan of the company, ever since Paul manufactured those sweet USA-made derailleurs in the mid-1990's. There is a factory tour video coming soon, yet another reason to re-visit the Gravel Cyclist website and subscribe to the YouTube channel!
The drive from Chico to Quincy, California was an absolute delight, and Travis of Paul Components warned I may waste copious hours taking photos of the canyon road. Travis was spot on. I must've launched my drone at least six times along so many of the scenic spots, including a stop at the world-famous Keddie Wye railway junction, which I timed to perfection, to catch a freight train hauling across the bridge and into the tunnel. If you missed it from my earlier postings trendsetters, I'm quite the railway nut.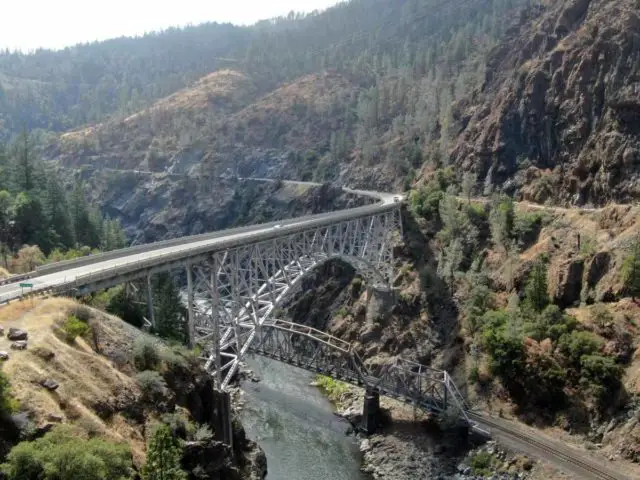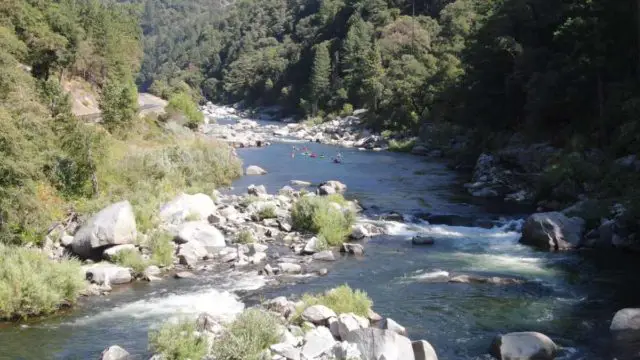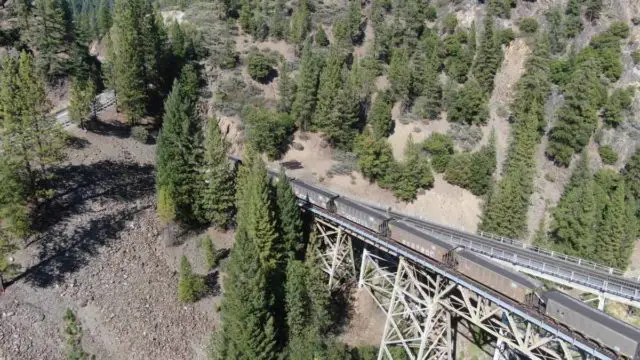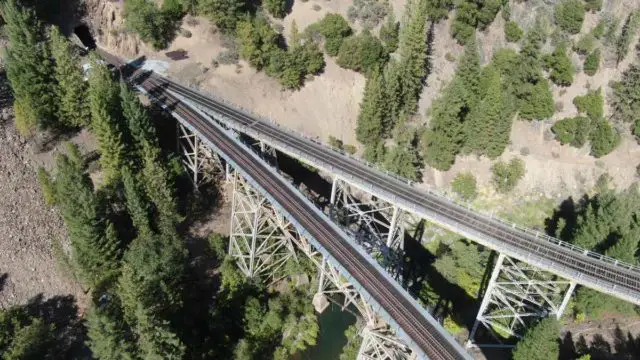 When I did finally arrive at Grinduro HQ at the Plumas County Fairgrounds, I made a check of the weather, which looked something like this…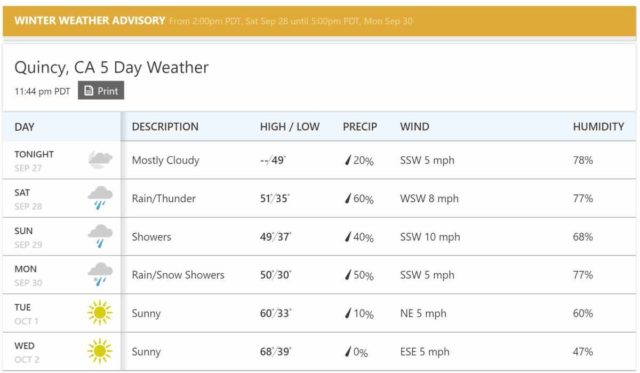 Hmmm, "that's a bit dodgy," I thought, but I set about the task of collecting my media credentials and socializing, one of my favorite things to do at bike rides / races!
Later on Friday, my thoughts shifted to my accommodations. Because every hotel within 20 miles of Quincy was booked solid, and camping wasn't an option due to no tent, my closest option, at least when I checked on the WWW a few days before the race, lay in nearby Susanville, California. By nearby, I mean about 35 miles as the crow flies… or 65 miles in the car, a distance I was a wee bit remiss in thinking about when I clicked book, and cursed greatly when I realized the err of my ways driving to the hotel. At least the drive was pleasant.
The hotel itself was a nice little affair, sans noise or racket in the parking lot after 9pm. I spent most of my evening catching up with email, laying out my clothes and preparing my loaner bike with cameras, fluids and such. I must pass along a huge thank you to Mike of Blacksmith Cycles of Toronto, Canada for loaning a beautiful bike, the Titici GR02 carbon gravel bike, hand-made in Italy.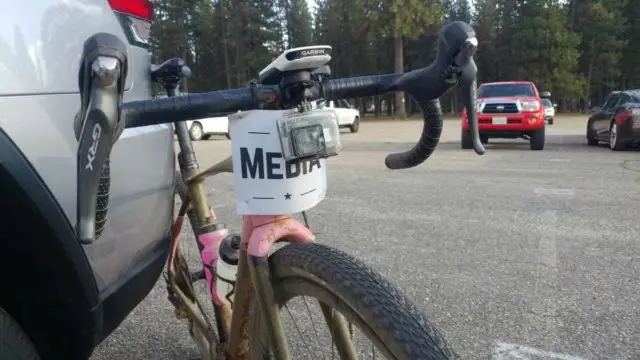 Unfortunately due to the embargo I mentioned earlier about the Roval wheels, I cannot reveal too much detail of the bike, hence the photos of this gorgeous machine are somewhat… covered in dirt. But have no fear, this bike is in my possession in my USA home base of North Florida, and there will be a video review later. In the meantime, do yourself a favor and visit the website for Blacksmith Cycle. If you're looking for a gravel bike, or any bike really, that is out of the norm and can be built bespoke to your wildest of desires, talk to Mike. Be prepared to waste a lot of time perving on super hot bikes… and buy one whilst you're browsing.
Grind Time at Grinduro!
I woke at the early hour of 4am on September 28, 2019 to review the weather. It went something like this…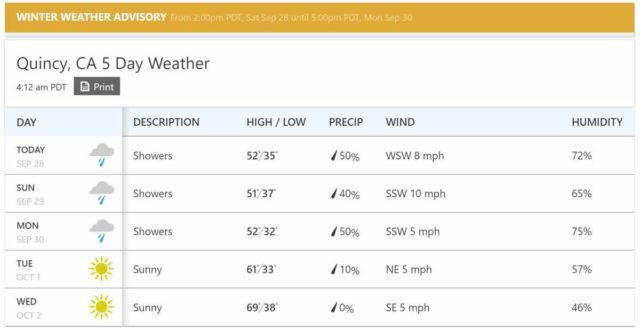 The weather forecast for Quincy had been up and down like a yo-yo the four days prior, but considering I'd flown in from Gainesville, Florida, I wasn't about to mamby pamby and abandon the race before it started. Consultation with the pile of clothes laid upon the hotel bed confirmed for once I was prepared to deal with any and all eventualities that could happen. Onward!
Because of my lengthy drive, the need for breakfast (thanks Grinduro and the caterers, it was delish!) and farting about preparing my GoPro cameras, I rolled to the Grinduro assembly area with three minutes to spare before the ride start. Typically, I film the action from the front, but because of the neutral start and so on, it was a better idea to film from the back.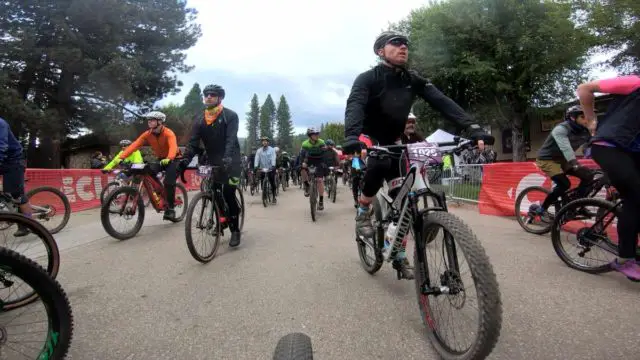 And thus, we rolled out as a collective when 8am Pacific time rolled around, to a raucous send-off by everyone in attendance not doing the race.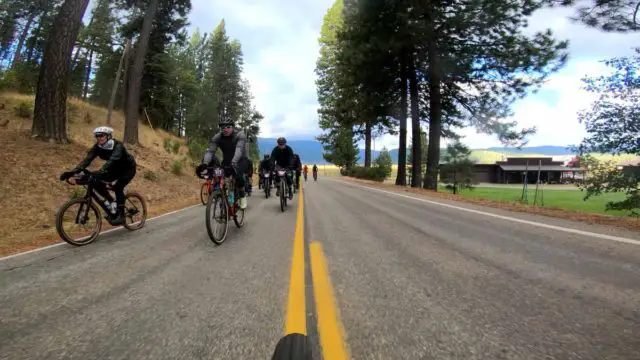 I cannot speak for the head of affairs, but everyone in the last half of the Grinduro crowd was rolling out nice and easy. I moved up quickly in the name of capturing sweet video footage, and ideally, hoping to get a solid start on the first and longest climb of the day, 22 kilometres long… or 13.75 miles, if you're of the imperial persuasion.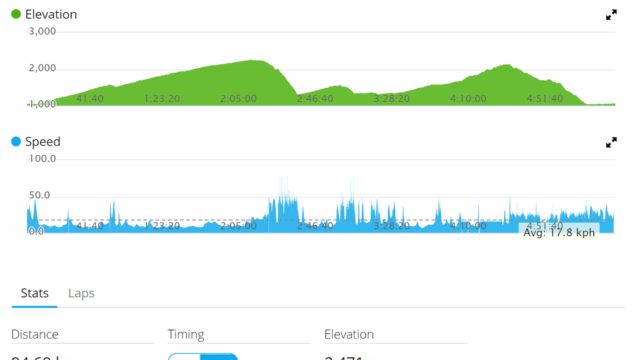 Above is the Grinduro course profile according to Garmin Connect. Bloody hell. What this map doesn't indicate is the gradients of 11%, ramping up to 18% later in the course. Did I mention I was riding a Shimano GRX mechanical 1x drivetrain with a 42 x 42 low gear? I'm not here to whine and complain because my loaner bike was a fantastic bit of kit, but you cannot underestimate the requirement of low gears at Grinduro California. I would have preferred a 2x drivetrain with a 46/30 chainring combination and 11-36 cassette… but I digress.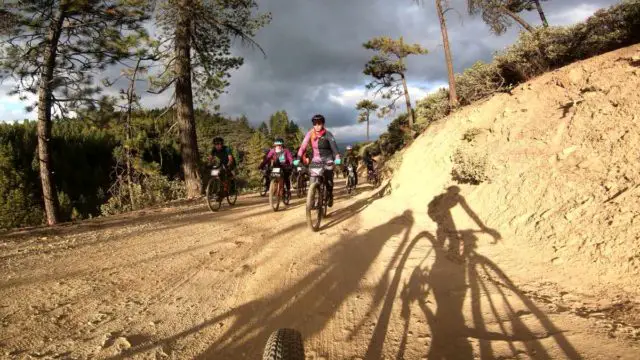 The climb began and kept going and going… shift gears up the cassette… 200 metres later, the climb's a bit steeper now, let's shift up the cassette one more time. "Farrkk, you're already on the lowest gear!" Well, better focus on a smooth pedal stroke, breathing and trying to look composed. Trying to look good is part of the deal 🙂 It may have been cold at the start but climbing warms you quickly. My clothing consisted of a long-sleeve base layer, winter weight arm warmers over the top, toasty knee warmers, jersey, bib shorts and a gillet / vest on top. My pockets were packed to the gills with food, rain jacket, phone, lube, spare tube, inflator, GoPro camera batteries and so on. Because my rear-facing GoPro does its best work slung beneath my saddle, all of the bollocks that ordinarily goes into a saddlebag has to go elsewhere.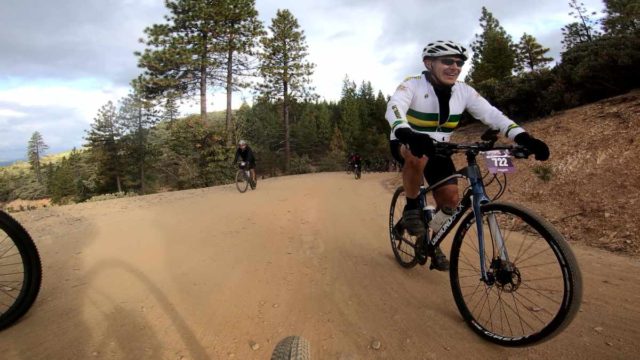 I made plenty of friends during the short climb to the first official timed segment of the race. Joe, a fellow Aussie racing in the Men's 60+ category, and David il Terzo aka always_be_riding on Instagram, riding a single speed!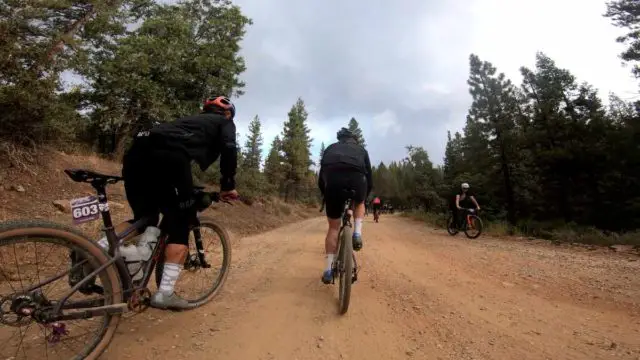 Single-speed is hard enough as it is, but picking just one gear to muscle over legit mountains is a real challenge… I've always wondered how single speeders decide upon their mountain gears?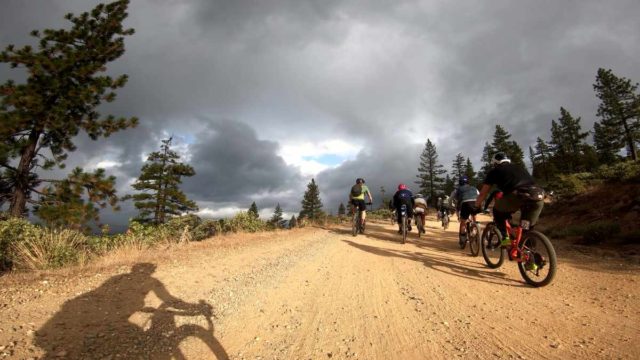 Riders took the opportunity to shed clothes at a flatter part of the climb, a little before Stage 1 began. I took the opportunity to shoot video, snap some photos and prepare for the effort. Whilst I wasn't officially being timed, I wanted to make a solid effort regardless, whee!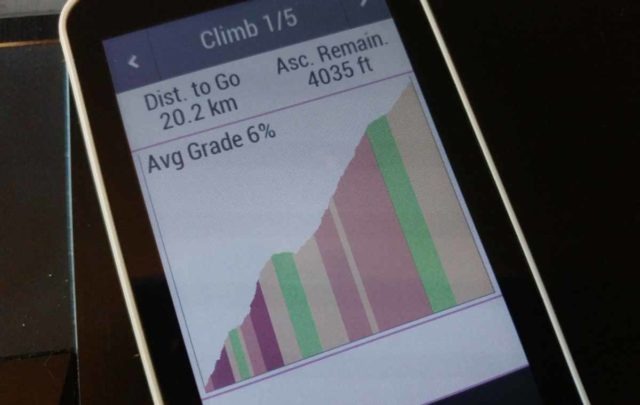 Once the timing mat had been crossed and Stage 1 begun in earnest, it was apparent the Garmin 830's ClimbPro function doesn't lie; see those orange / maroon lines in the image above, those indicate steep pitches > 10%.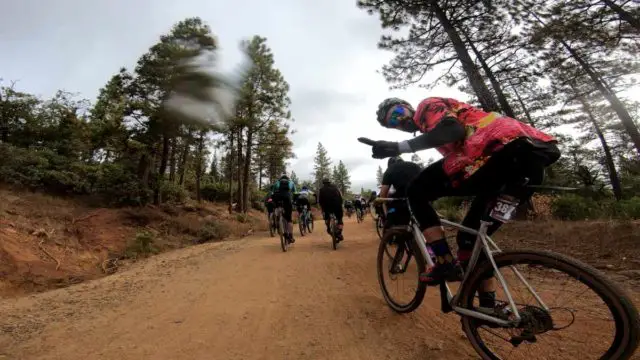 I was joined by yet another Aussie on the climb, the bloke pictured above wearing the Hawaiian shirt jersey, originally hailing from Sydney but nowadays residing in Toronto, Canada. Naturally, we shared a chinwag (aka a chat) and compared notes about life abroad.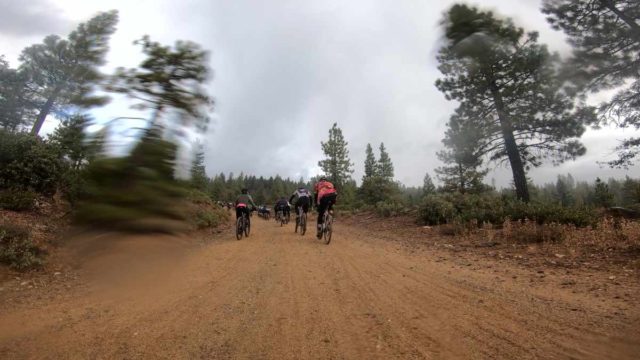 A light rain began to fall during the stage, but not enough to truly soak in. The climb dropped away briefly to a short section of rollers before pitching upwards again for the kick to the end of the stage.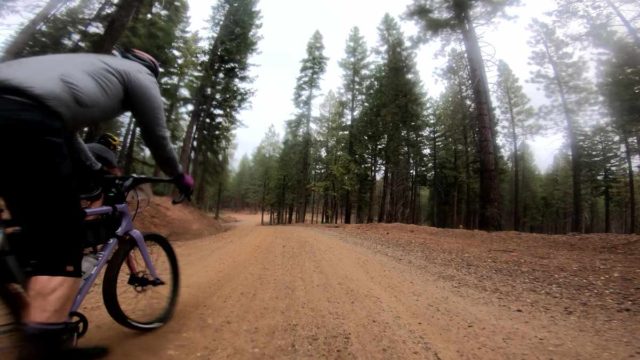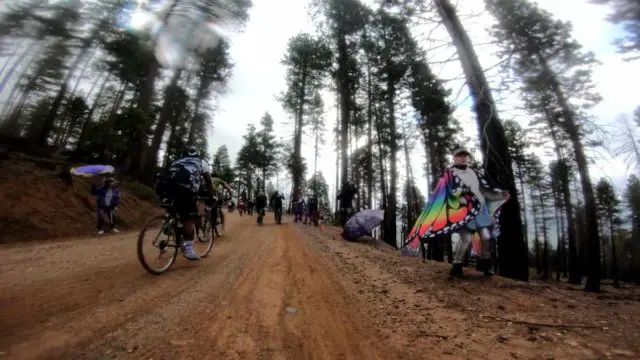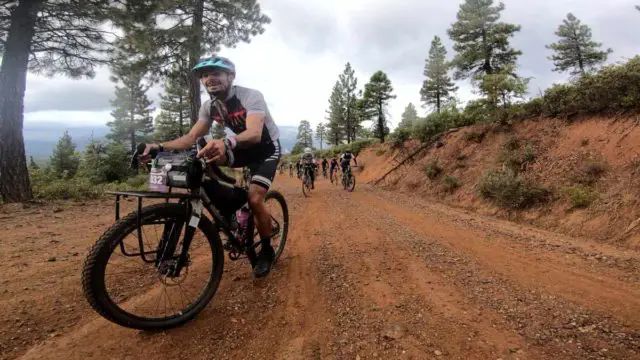 I finished Stage 1 to join the throng of assembled riders, collectively catching their breath. Whew!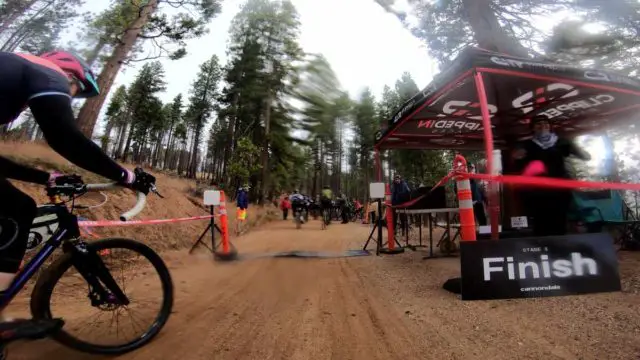 Taylor Phinney, riding incognito style was right behind me, so naturally, I had to consult him for a few words.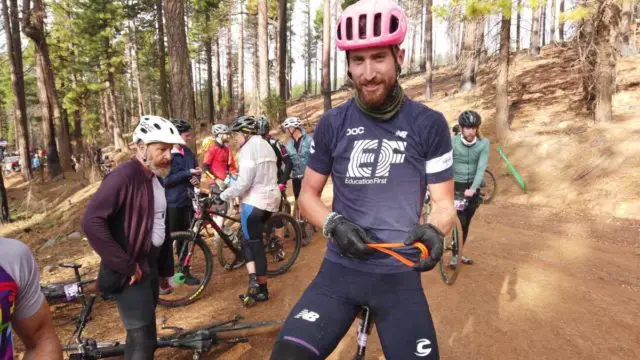 Aid Station #1 was a popular destination, but because the temperature seemed to be dropping with the threat of more rain to come, I grabbed some yummo snacks and kept rolling.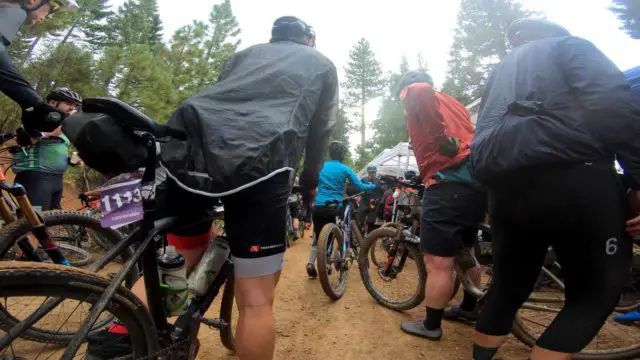 My clothing erred on the light side, and was reliant on raising body temperature by riding, even though I did shiver somewhat during later descents. Everyone enjoyed a momentary respite from the climbing with a short but sweet descent, before the Garmin advised me the first climb was far from finished… bollocks-o-rama!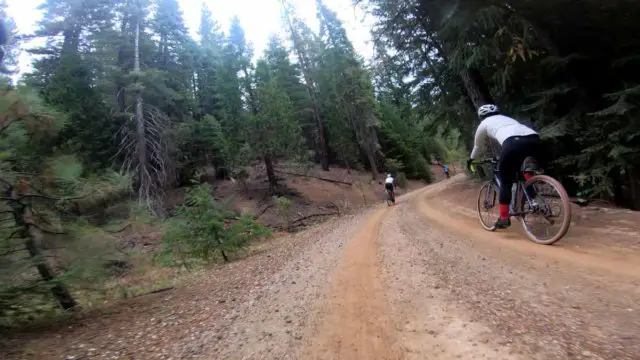 This was also my first encounter with the Party Tandem, two strong dudes on one bike, blasting tunes and kicking my arse on the climb.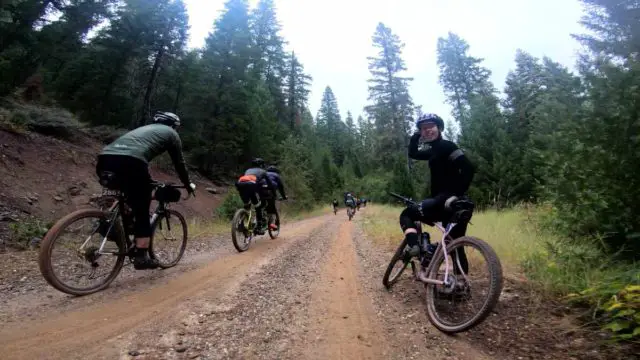 Then, the rainy season began. This time, the rain was more serious, and it was about this time I regretted leaving my waterproof gloves way back in Florida.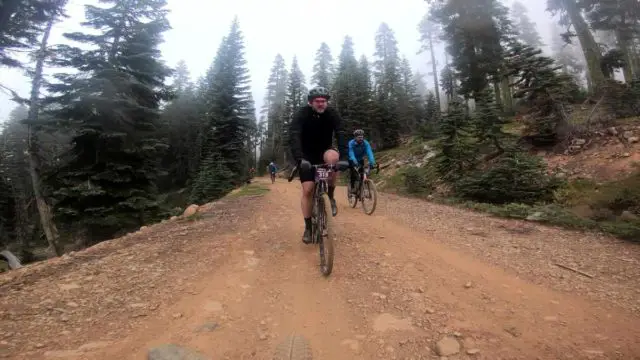 My mid-Winter grade Assos gloves were nice, but they were struggling to cope with the increased cold, and now the wet.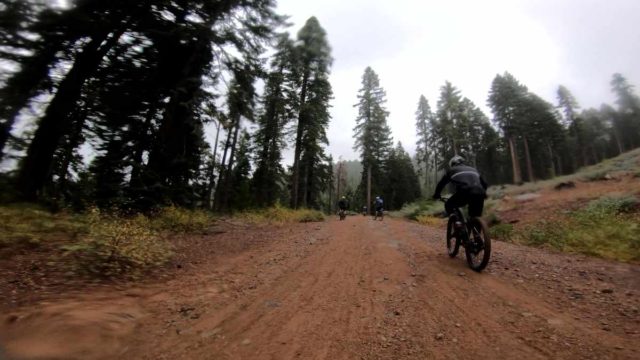 My one saving grace was the purchase of chemical hand and feet warmers… I wasn't toasty warm, but these marvelous inventions are a game-changer and should be part of everyone's serious winter riding setup. Thankfully the gravel gods were smiling and this rain shower quickly moved away.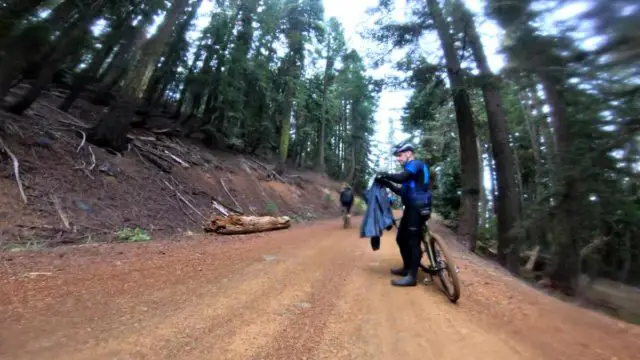 Fog was the next season, and this is possibly where the temperature reached its low point for the day. It was about this time my first camera battery died and needed replacing; cold weather is sheer hell on batteries.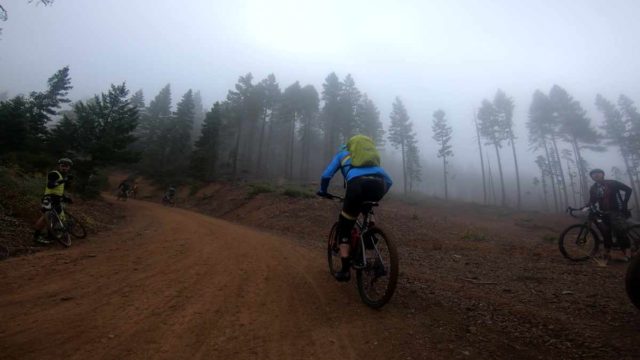 I stooged about by the roadside sans gloves, freezing the proverbials off, making haste with limited finger dexterity due to the newfound cold. Task accomplished, I chugged on and checked in at Aid Station #2 not long afterward.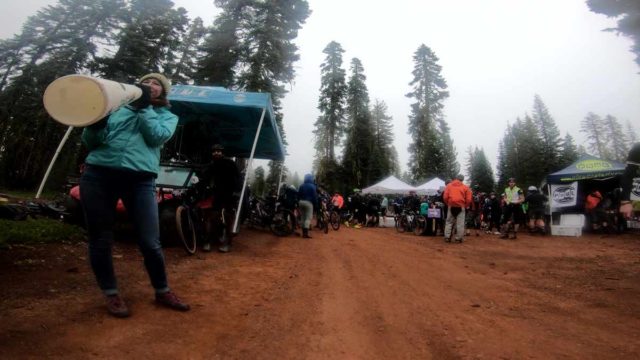 Paul Components hosted this aid station complete with beer keg, although it was too effin cold for me to consider indulging in a frosty.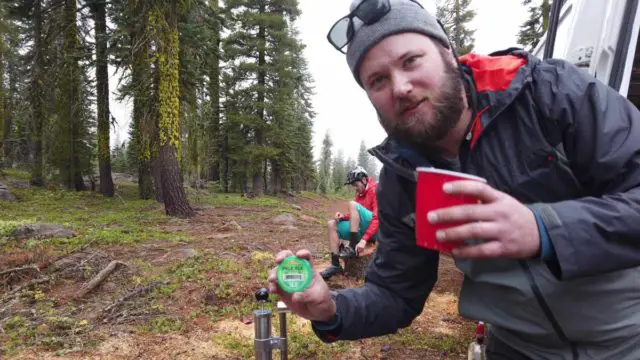 However, the keg did contain Chico, California's finest beer export, Sierra Nevada Pale Ale, and Paul himself was seen encouraging riders as they rolled through the aid station.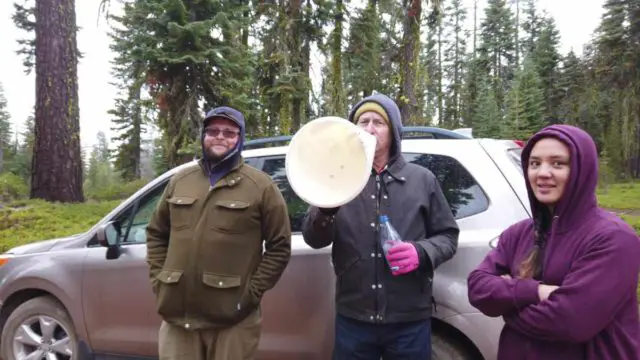 It may have been cold and a wee bit wet, but have a look at this scenery.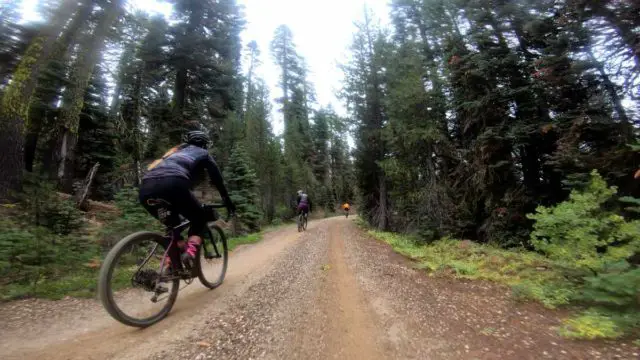 Grinduro isn't a bike race, it's an all-day party ride with a ton of your closest friends. Even if you don't know anybody at the start, you'll surely make friends by the time you finish.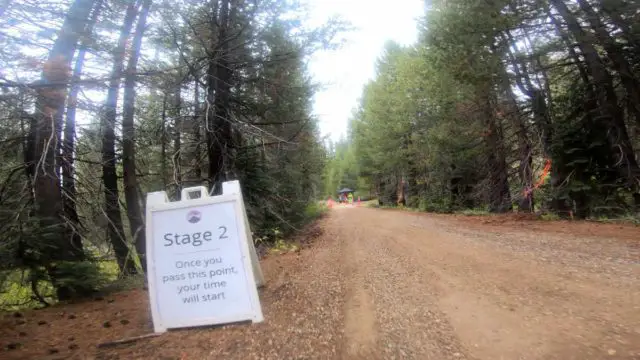 Stage 2 began a little after Aid Station #2 and it was all downhill.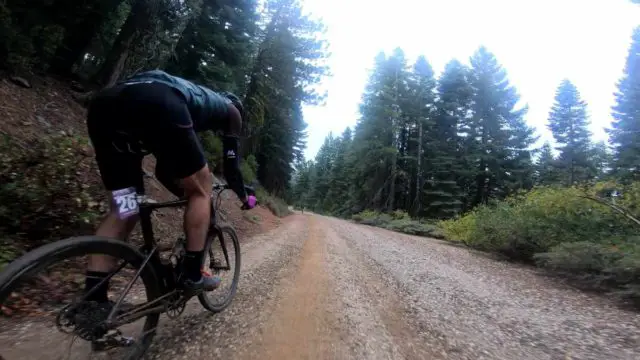 I'm a pretty good descender, I've even made a video about the subject. However, there were many riders in attendance, mostly pro's or riders aboard MTB's, who were much faster than yours truly. Regardless if they are locals and possess "tribal knowledge" of the descent, their speed was impressive. I quickly learned an MTB was the bike to use if you wanted to be successful chasing Stage times at Grinduro.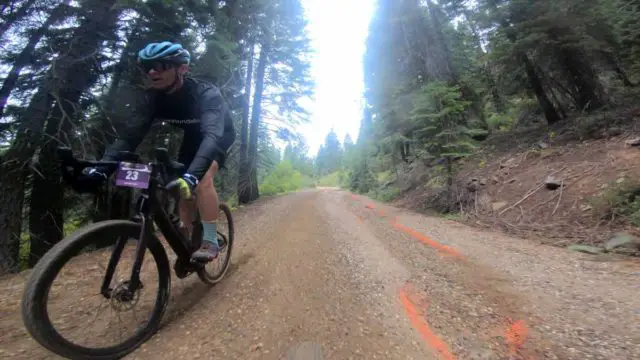 It didn't help that the best lines, especially the inside line, was heavily rutted and washboarded (or corrugated if you an Aussie / South African) making for some sketchy handling. The cold didn't help either, making braking challenging, even with the power of hydraulic.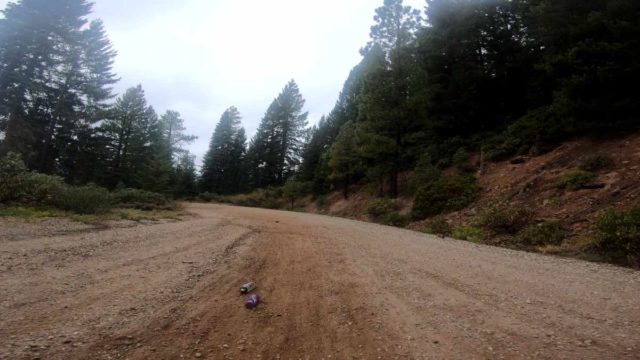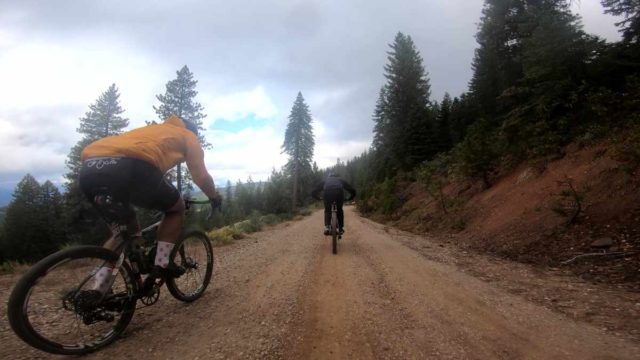 Above left is Sam Baxter, one of the fastest non-pro riders I've ever seen on a descent… in this scene, he's flying past me. Thanks for the conversation during lunch!
The descent drops some 1,000 metres, or roughly 3,000 feet before the stage is complete. I arrived safely, albeit after another camera battery change that further numbed my fingers and thumbs, and joined riders warming up by the nearby barrel of fire.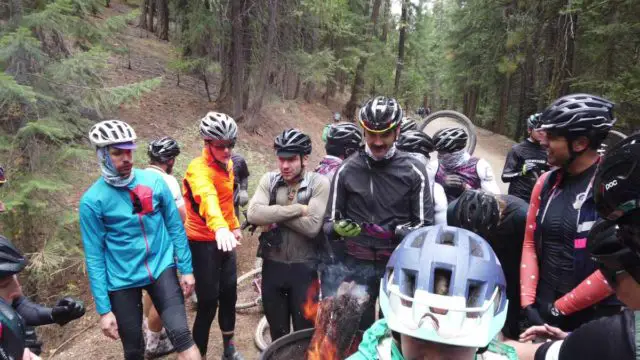 The sun made a brief appearance! and may have warmed the land below some, although I didn't stick around to find out, as a steady rain had started to fall. On the sort of positive, another climb faced riders less than a kilometre away, which helped raise everyone's core body temperature. Moving was the key to staying warm, barring hands and feet.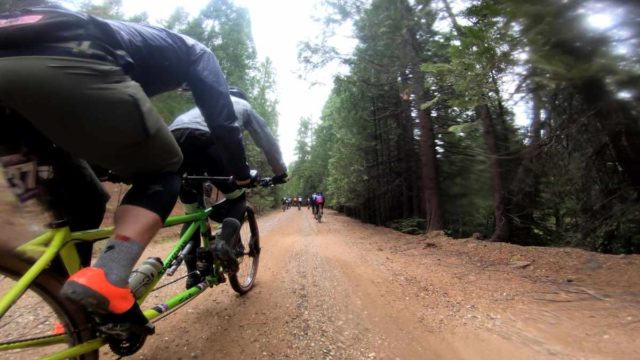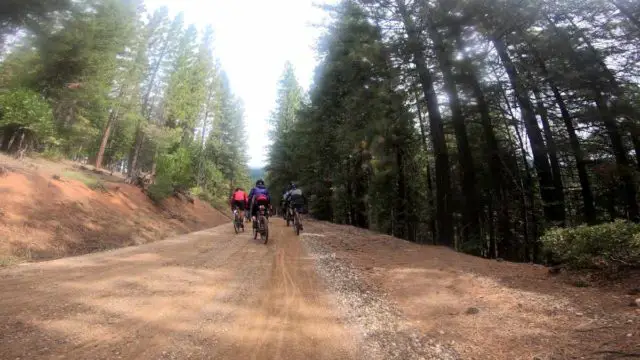 Stage 3 began not long after the summit of this climb, some 44km / 27 miles into the course. Stage 3 was better suited to Rouleurs, aka, solid all-rounders.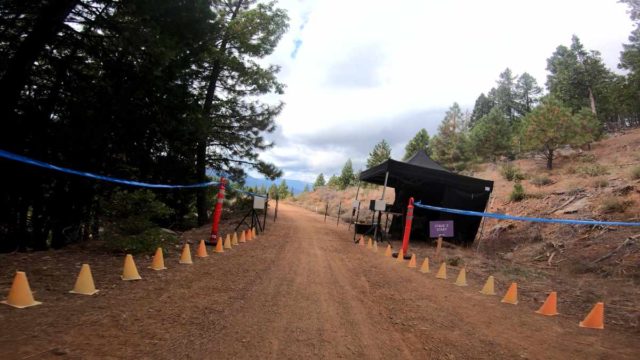 There was still a good amount of descending on this stage punctuated with ruts and potholes, which demanded a rider's attention and respect.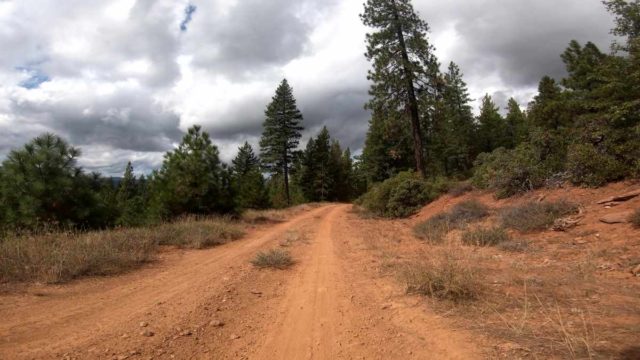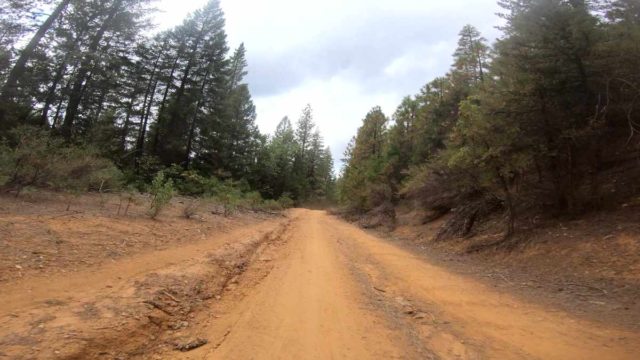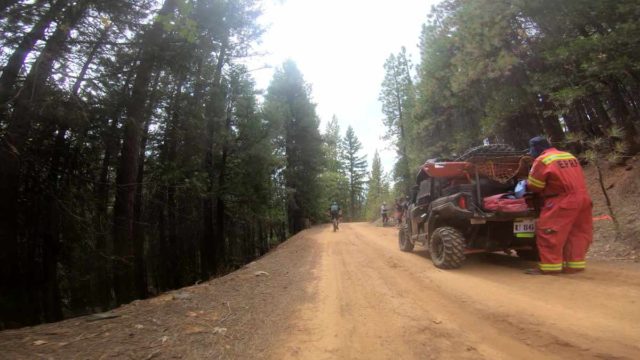 Unfortunately, one of the riders took a heavy fall on Stage 3, but first-aid was quickly on the scene to render assistance. I sincerely hope whoever you are, you are mending well. Remember, ride within your limits, taking unnecessary risks to save a second or two here and there just isn't worth it.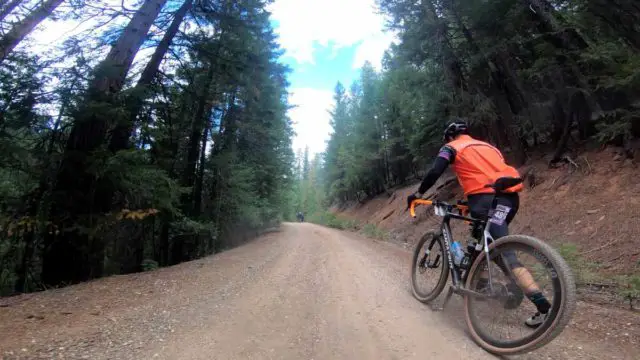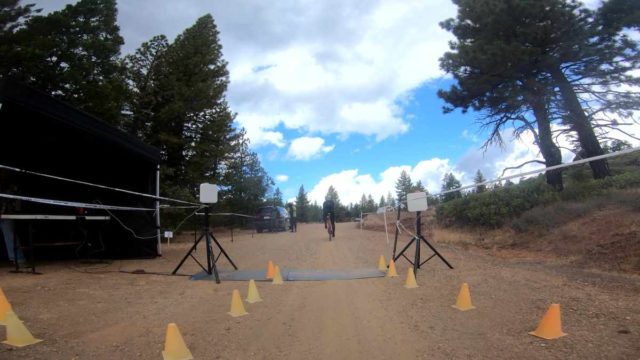 Above, Stage 3 ends and a relaxing lunch break follows.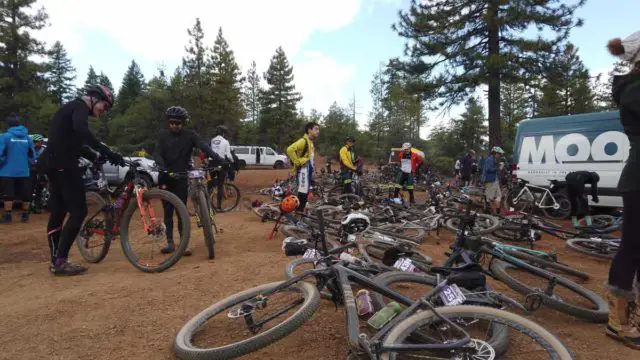 Hot coffee, tea, and an excellent lunch catered to all dietary requirements. Copious socialization saw me among the last to leave and in fear of missing the Stage 4 cutoff time. I departed in the company of Aussie Joe and rode towards the next Stage milestone. All that lay between lunch and Stage 4 was a mountain, one that was close in elevation to the first mountain of the day, peaking at around 2,100 metres, except it accomplished that altitude over a shorter distance. In other words, there were grades along the way that were steep as fark, in the range of 17 to 20%.
What follows is a gallery that tells a story of the climb: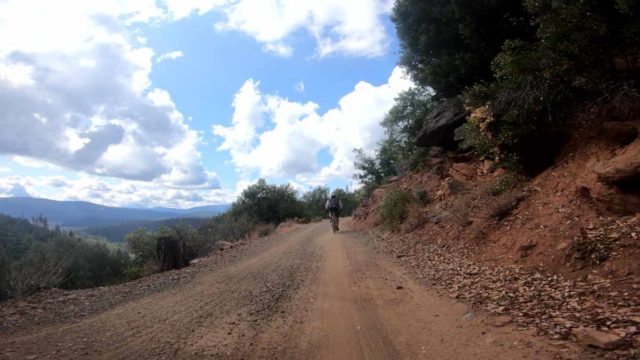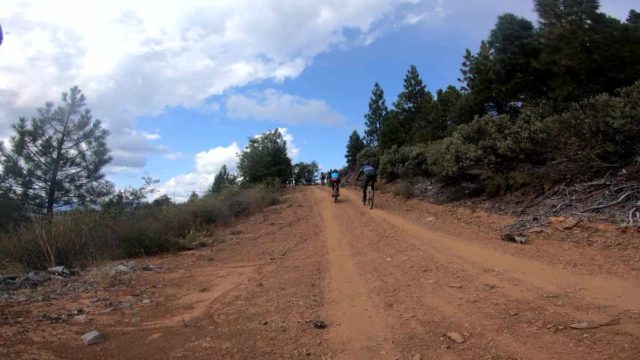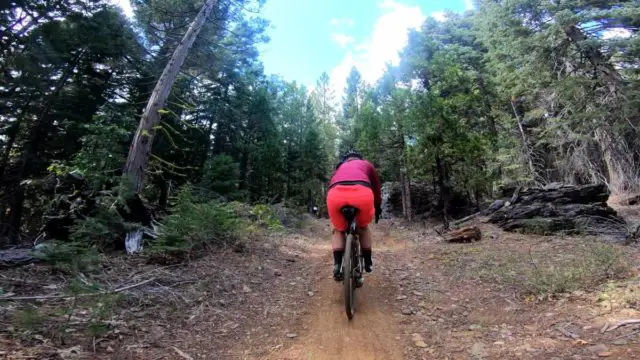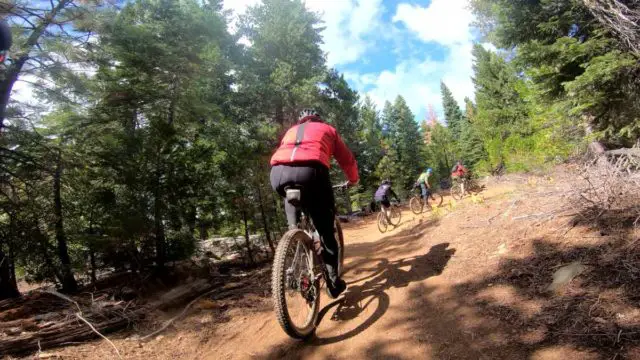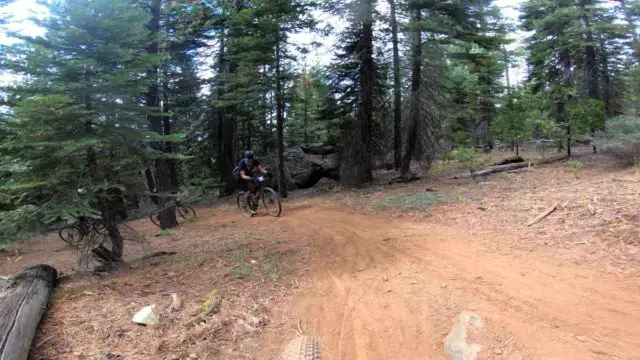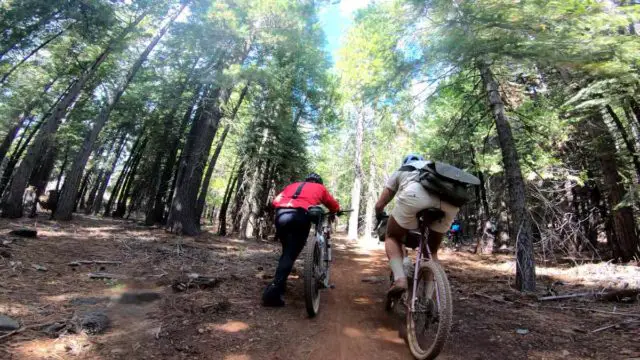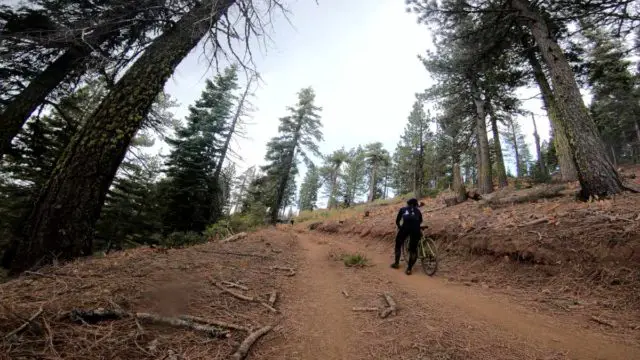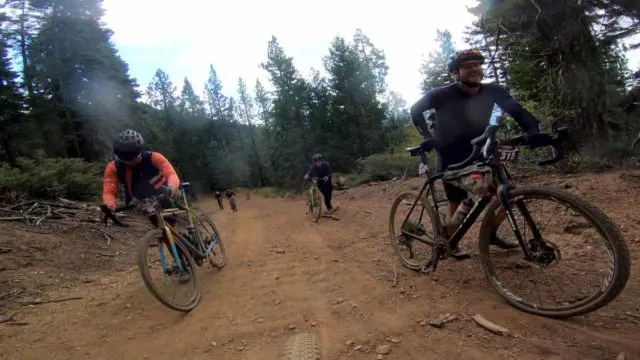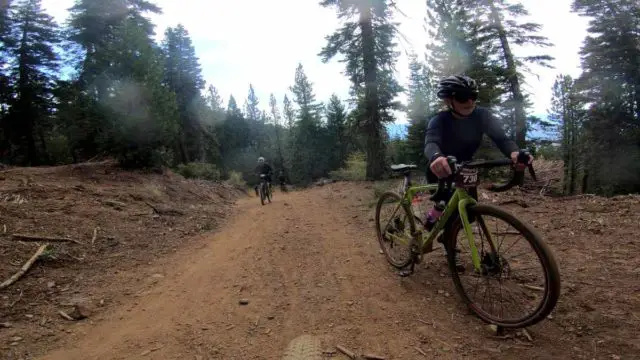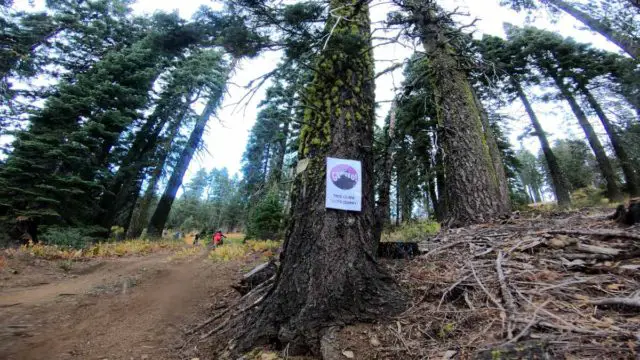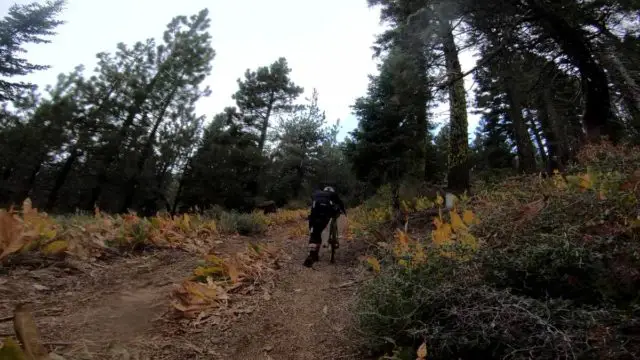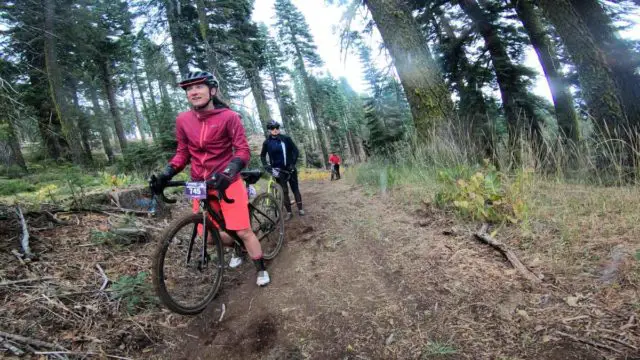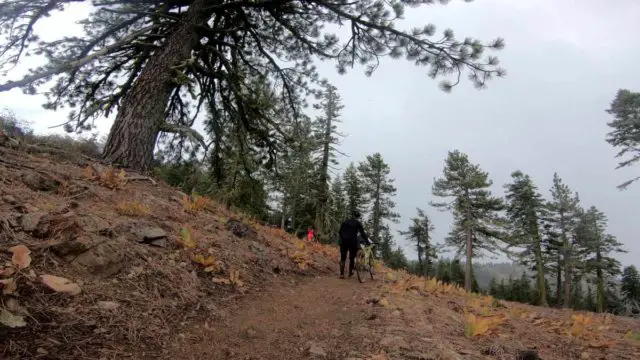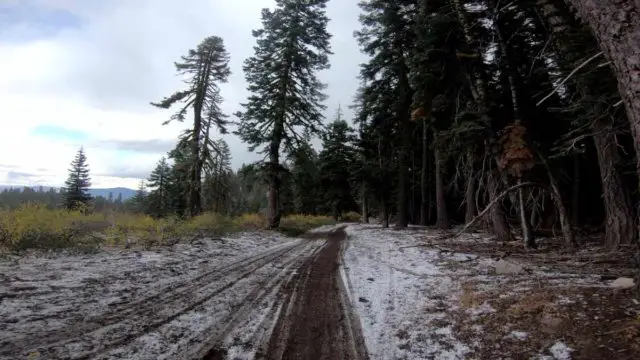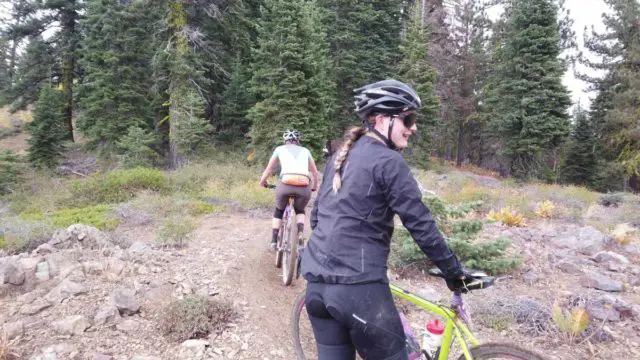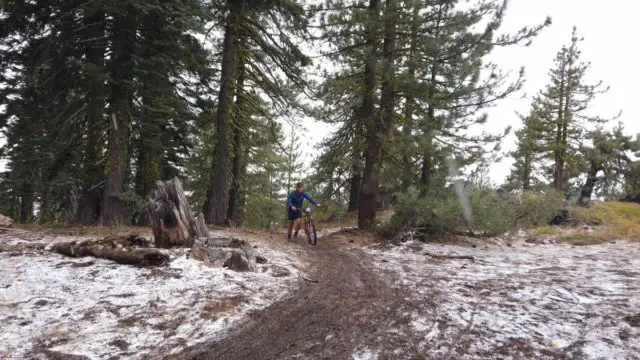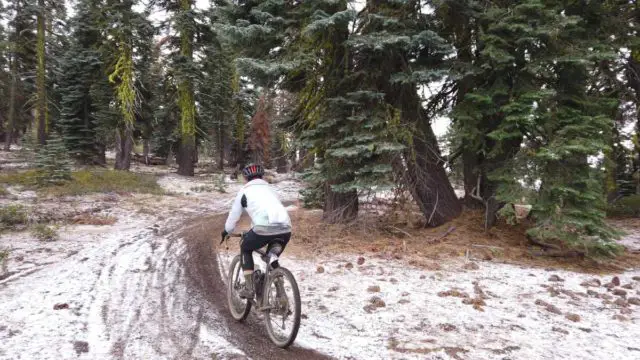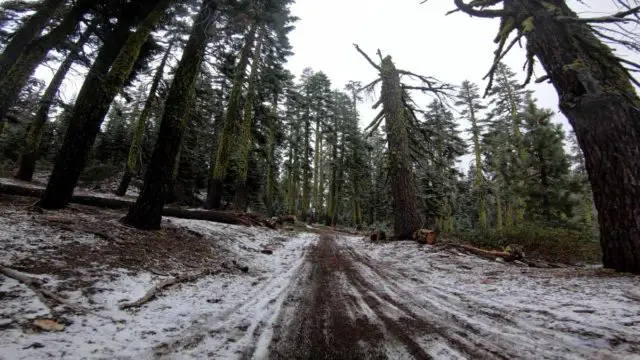 Ascending this beast of a climb took a serious effort and no records were set, but the journey to the top was one of my most memorable experiences on a bicycle. Laughing at the cold, taking photographs and making new friends, this is what gravel / all-road / hike-a-bike cycling is all about!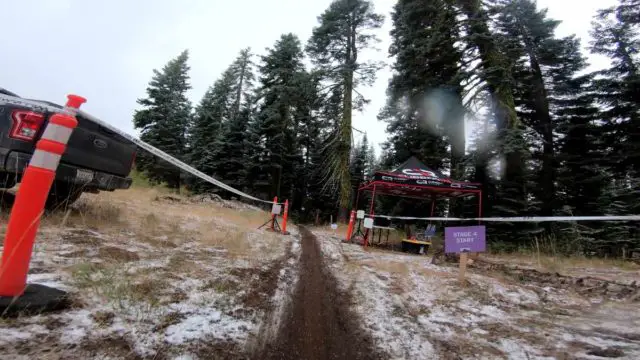 Because of the inordinate amount of time I took to reach the aid station preceding Stage 4, just three minutes remained before the cutoff time. With no time to grab snacks, I made haste for the singletrack of Stage 4 and hoped for the best. I don't own a mountain bike nor do I ride trails that often. Thus, my skills could be considered sub-par dodgy at best.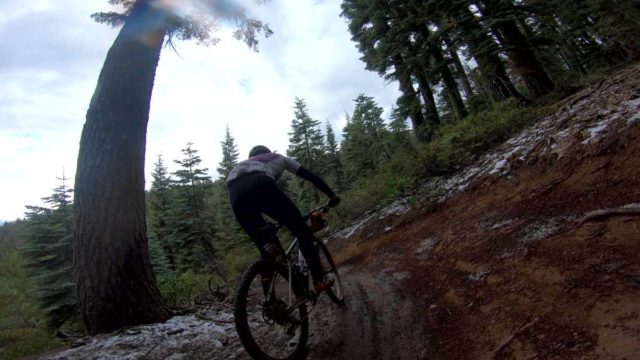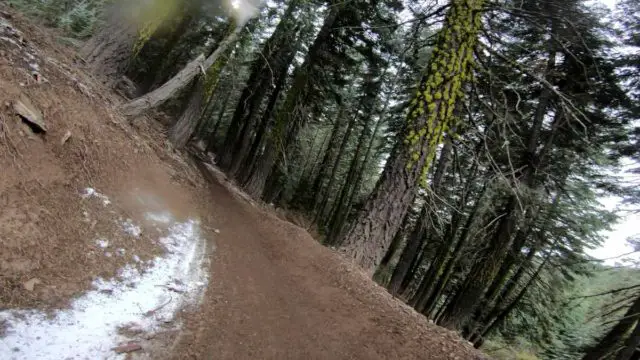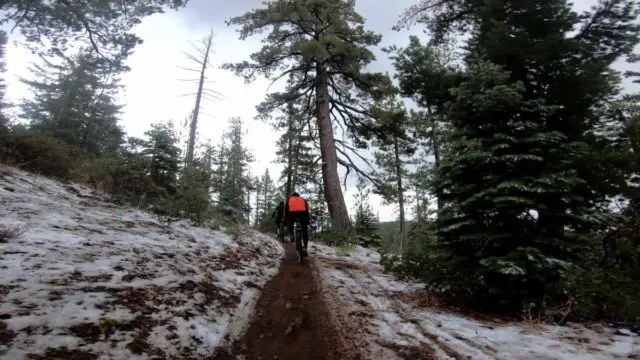 The video captures above don't do justice of the beauty of Stage 4, so keep your eyes peeled for the Gravel Cyclist Grinduro video.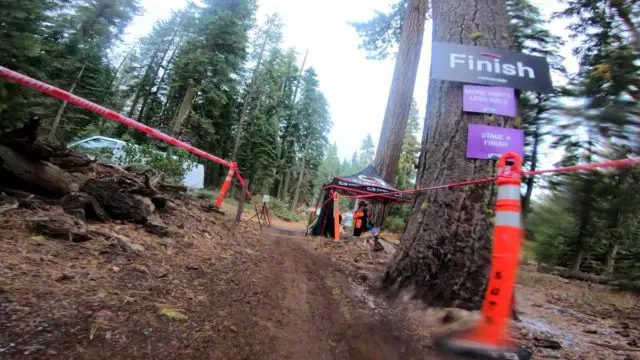 I completed Stage 4 sans crashing, my primary goal, and looked forward to mellow tempo riding for the final 15 or so miles back to Quincy.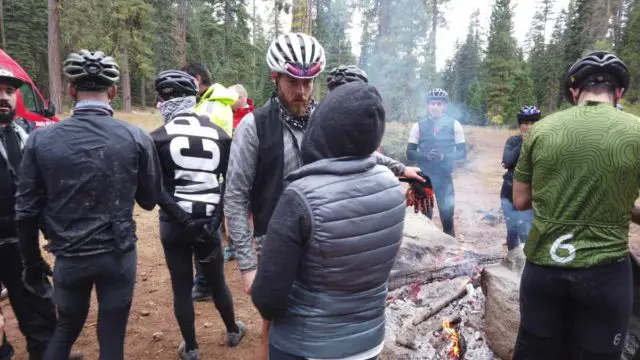 I didn't pay heed to the final section of the course when I scoped out the map, and missed the part about 10 miles of singletrack still to ride… faaarrrk! Singletrack isn't my specialty, but to finish, even if my time counted for naught, I'd better get riding.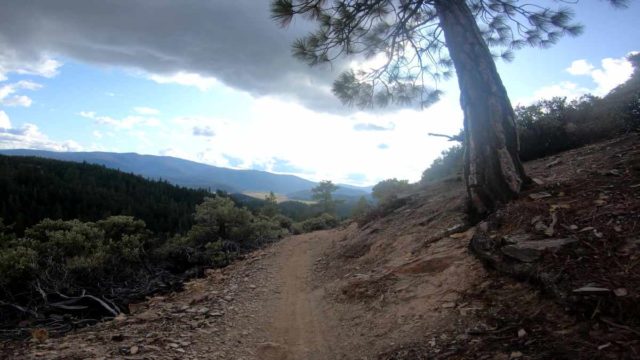 I've condensed the single track down to a few images, mostly because nobody needs to see me setting a tragically slow pace down the mountain. Eliminate the risk of crashing or eating $hit in the final miles of 2019 Grinduro California.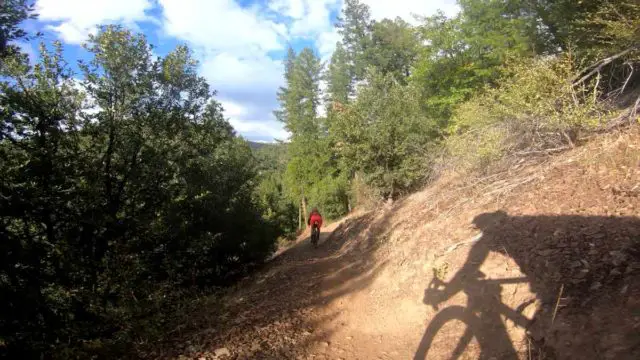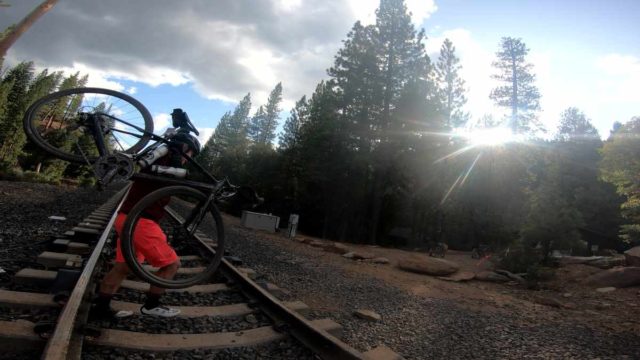 Eventually after abundant cursing, stopping to take in the views and swapping camera batteries for the final time, I descended to the base of the mountain. I crossed the railway line, and begin the final all-pavement miles into Quincy.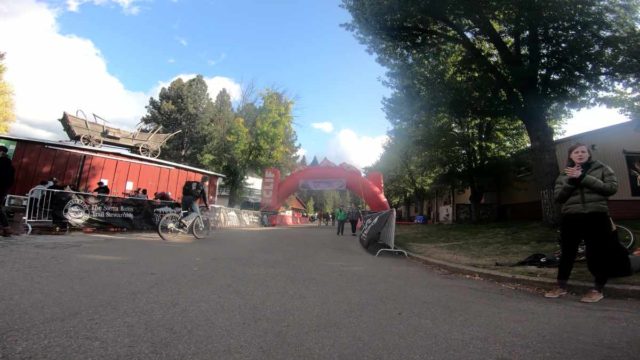 I've no idea of my times during the four stages, but you can check out my Strava workout from the 2019 Grinduro at this link. No speed records were set! Coming soon is the Grinduro race video, which gives a much better perspective of this mega day on the bike.
Thanks for reading, Jayson aka JOM