Red Clay Ramble 2016 – Uncle Elmer Strikes Again
Red clay is as ubiquitous in Middle Georgia as toasty temperatures and high humidity are in August down there. Such red clay is generally composed of aluminum silicate sheets with some level of metal oxides (like red iron oxide) and water. On the molecular level, when you get enough hydration between those sheets they tend to slide around on each other. This is what gives wet Georgia red clay the characteristic slimy and slippery consistency so many have experienced at races such as Mountain Goat Adventure's very wet Southern Cross Race in 2015.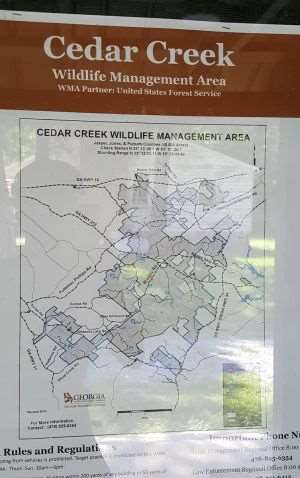 The hydration source for red clay gravel roads in Georgia can either produce a racer's worst nightmare or create the most perfectly tacky hardpack and fast conditions for riding a bicycle on. That hydration source is, of course, good 'ole rain. Radar images showed a substantial amount of it falling onto the course for the 2016 Red Clay Ramble gravel road race the day before, overnight, and even a couple hours before the start of the race. Puddles lined the roads on my drive to the venue located on the relatively remote Checking Station Road in the Cedar Creek Wildlife Management Area (WMA). A part of me secretly hoped the course would be muddy and challenging. After arriving I did a short warm-up ride to check out course conditions and the start/finish, but amazingly, there was no mud. There were no slick spots. It was about as close to perfectly fast conditions as you could get. There was just a touch of dampness, enough to keep the gravel dust down and allow someone on a single speed gravel bike (such as myself) to stand on climbs and not slip out.
The gravel roads in the Cedar Creek WMA and the Piedmont National Wildlife Refuge are a wonderful place to "wander around leisurely in an aimless manner" on a bicycle. Most of them are single lane and canopied beneath a lush deciduous forest, occasionally popping out next to a clearing or bucolic middle Georgia farm. The hills are gently rolling and elevation gain tends to average around 50-feet per mile with nothing that is too steep. That makes it very single speeder friendly. In other words, it's a lovely place for a "ramble".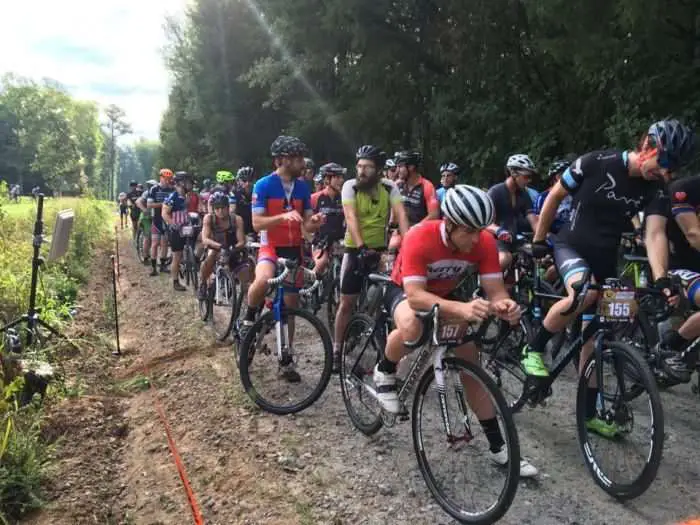 Ten minutes to go before the start: I was positioned three rows back, tire pressure set for fast hardpack, a bigger chainring bolted on my crank, and absolutely pouring sweat all over my top tube… just sitting there. Nerves? Yes. Ninety-nine percent humidity? Of course! Luckily I was carrying a bucket load of hydration and wouldn't need to stop. GO!… and there was absolutely ZERO "ramble" to it!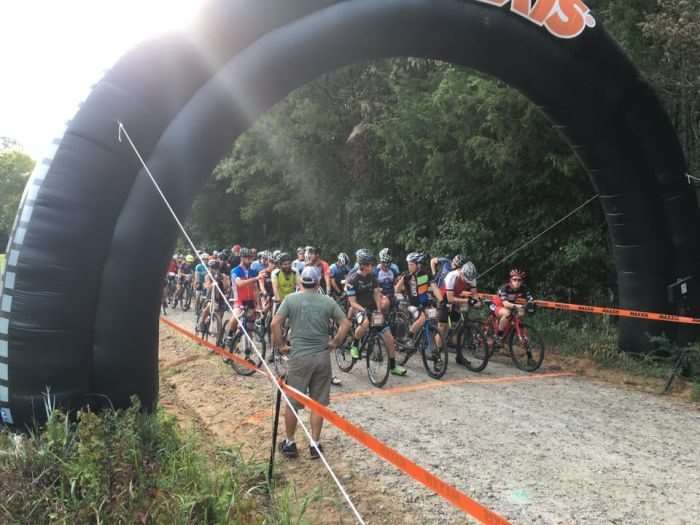 Head down full gas spin move up hold the wheel fight for position carry momentum up the hill… crap… geared riders shifting down… boxed in, low cadence… I'm OK… over the top, another roller tuck-up spin-up 38 mph! Stay on the lead group, heart rate a little high but OK, legs burn but OK. Take a little pull. Do a little work. Cross a highway long slight uphill 24 mph… ouch… I'm OK. Long slight downhill lead pack pulling away, SHIFT up… crap oh yeah forgot! SPIN UP come on… SPIN UP… COME ON MAN… crap… spin up… CRAP! Solo.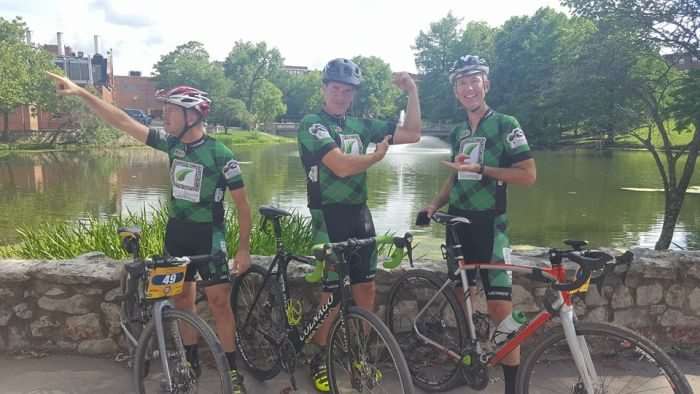 I had made it 16 miles with the lead pack. We… they… had been clocking around 21 mph average so far. I had some buddies in the pack including Art Of Stone teammate Craig Bailey and Sean Philyaw (AKA "Pull Y'all") of the Reality Bikes Ridley Masters Team, but I had to sit there and watch them slip away like a swarming pack of locusts that had just rendered a field of fresh crops desolate and dusty.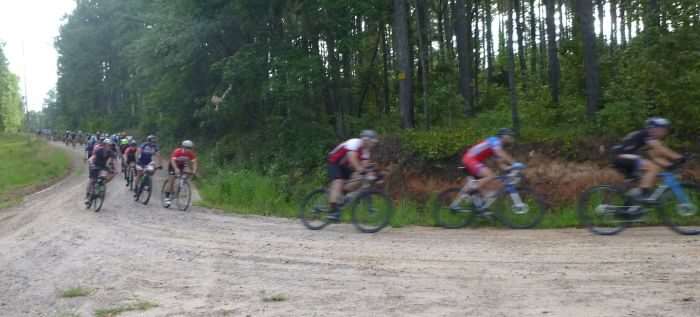 When the un-hitch was forced upon me I knew I held the single speed lead. I rode solo for a few minutes to let the heart rate drop a little and to take in substantial hydration. Soon enough I was caught by a few chasing riders that had been gapped earlier from the lead group. I latched on, pulling on the uphills when I could and spinning and tucking on the flats and downhills. My group changed composition a few times and I tried to keep communication open and up-beat, letting them know when I could help/pull and when I had to sit on like the wheel sucking single speed leech that I was. The first 45 minutes had been so head-down-in-the-drops that I hadn't seen a thing. So I tried to start looking around and taking in some of the landscape views from the area.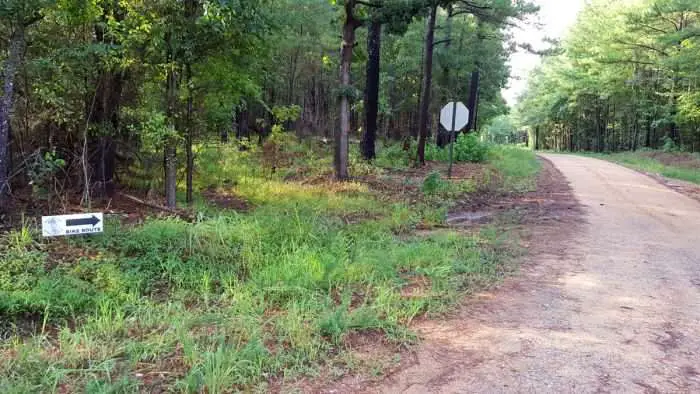 My new small group was moving really well with a couple of guys taking monster pulls on the flats. Occasionally, I would gap the group on a rise due to gear turning necessity, but they would soon roll back up to me. I knew if we kept moving like this that any single speeders behind me would have a hard time clawing me back. However, that didn't stop my nervous over-the-shoulder checks every time we crested a long straight hill! My hip flexors spazzed a few times from the high cadence spin-ups but I kept on the hydration and never full out cramped. What a relief that was!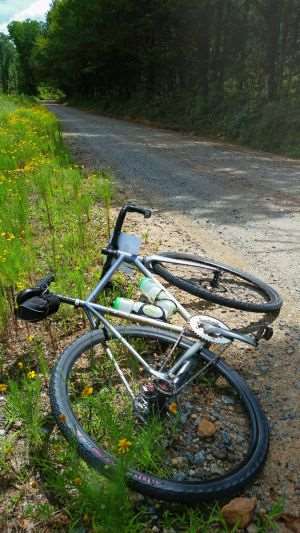 45-miles in and my group was showing signs of becoming tattered and unraveled. At 49 miles Dumas Road bent downhill and a stark gray swath of relatively new gravel announced that the final obstacle had arrived. It was loose and not packed in. I lost my line on the downhill once but didn't lose too much time.
"Keep it smooth and don't flat now", I thought! Across the bridge and on the gas looking for the least gravel line. Standing, forcing, my quads are searing on the steeper pitch but it rolls off as soon as it began. Now it's hot tempo and a 5 mile gradual solo climb to the finish… that keeps going… and going… 2.5 miles to go almost there – DON'T FLAT!
The gravel stayed thicker until about a mile to go. Keep on the gas, glance back… NO look forward! Find a smoother line! I passed a few riders from the shorter recreational ride and timed it so I could ride solo across the line. I gave the thumbs-up salute for the photographer and I had won single speed!My pre-race goal had been to break three hours and I did so by four minutes! In total I had lost around 13 minutes to the over-all winners on geared bikes.
I rolled straight over to a misting/bike wash station and up next to Craig, who had finished well enough to win the Southeastern Gravel Cup Series in Master's 40-49. He relayed to me that the final lead pack had stayed mostly together until the bridge on Dumas Road. He said it was the final climb that had been decisive in breaking up the leaders and positioning the other podiums, including Sean who had brought home the bacon in the 40-49 Masters category. At least I think that's what he said. By then it had finally gotten hot and I felt like I might actually throw up – head spinning. Fortunately I didn't! I dumped two bottles of ice cold water over my chest and down my back and could feel my core temperature start to drop immediately. Finally I could see straight and begin to enjoy the win!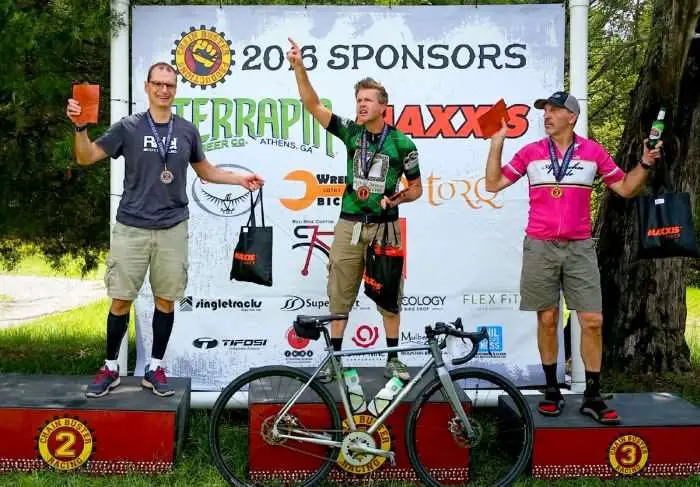 Chain Buster Racing partnering with the Bicycling Club of Milledgeville put on a great event with a spaghetti lunch provided post race. The swag bags for the winners were packed very well with nutrition products and Maxxis gravel tires. The course markings were probably the best I've seen and the course was awesome. All in all, I would say the race completely lived up to its motto of "56 miles of hot and dirty fun"! The red clay was most certainly in abundance, but… the "ramble" part…. um yeah… not so much!