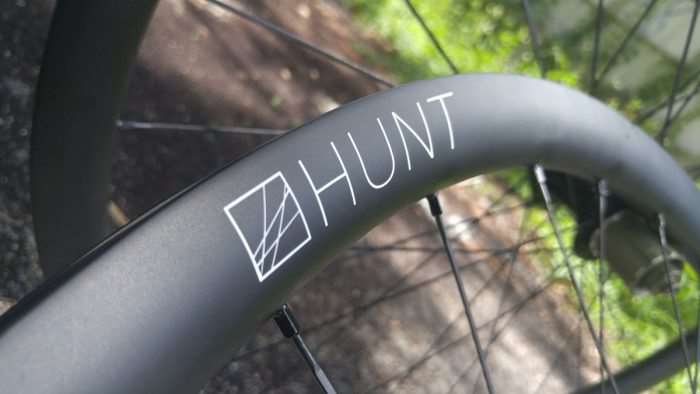 Hunt Wheels are "Honoured to create wheels for devoted bike riders".
"You ride every chance you get", "You push on through wind and rain" and "Your time and money must deliver results".
In the line above, the first two statements made by Hunt's Marketing Department may not apply to every gravel cyclist, but the last certainly does. Wheelsets should deliver value for money and performance.
Hunt Wheels are based in the UK, and gaining traction as a company renown for manufacturing value for money wheelsets in aluminium and carbon, with free shipping worldwide. Everyone loves free shipping! Like so many manufacturers these days, Hunt Wheels are built in Taiwan, but they go a little farther than your average wheel company. Hunt Wheels utilize the services of Mr. Hao-Cheng, Hunt's wheel building partner.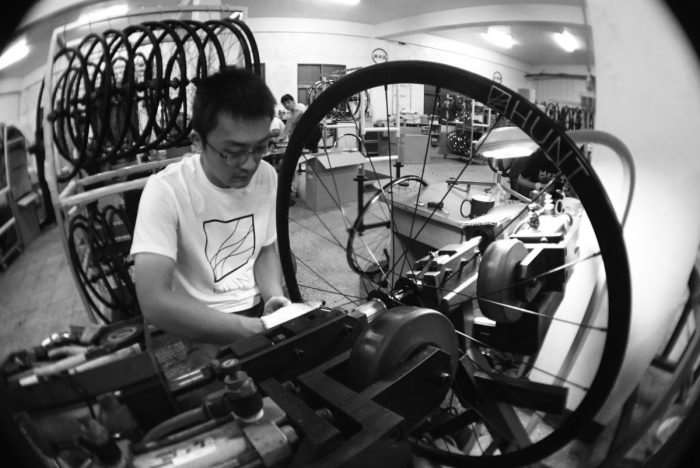 Mr. Hao-Cheng has built and finely tensioned tens of thousands of wheels for leading high-end brands during his many years as a master wheel builder. Additionally, Hunt passes their wheels through a two-person build and finishing process. This ensures each wheelset has a complete quality control inspection, where all features of the build are checked.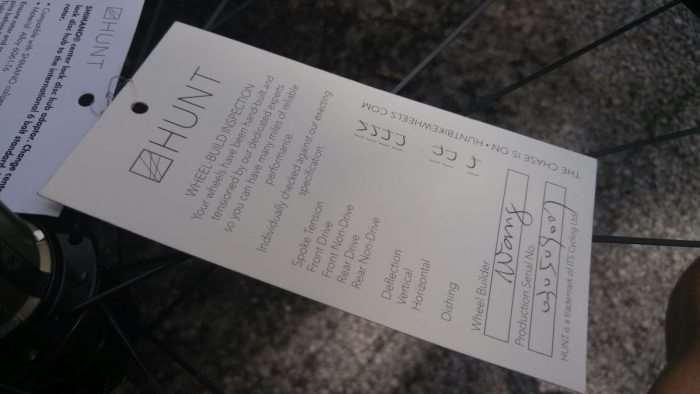 Finally, the wheelset is signed off personally by the builder on the individual control card and included with your wheelset.
Hunt 30Carbon Disc Specifications and Weight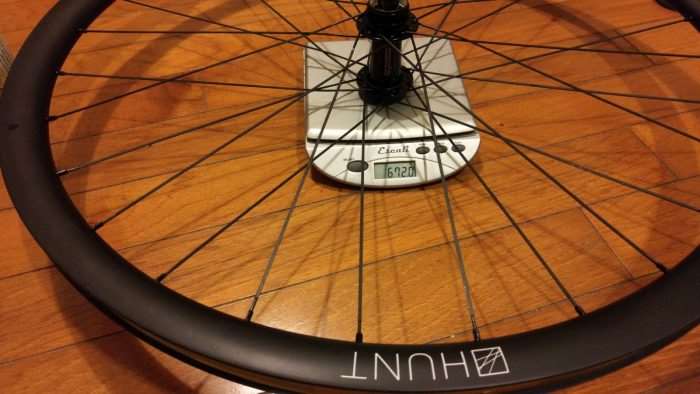 Plopped onto the trusty Gravel Cyclist gram scale, the front wheel with rim tape installed weighed 672 grams.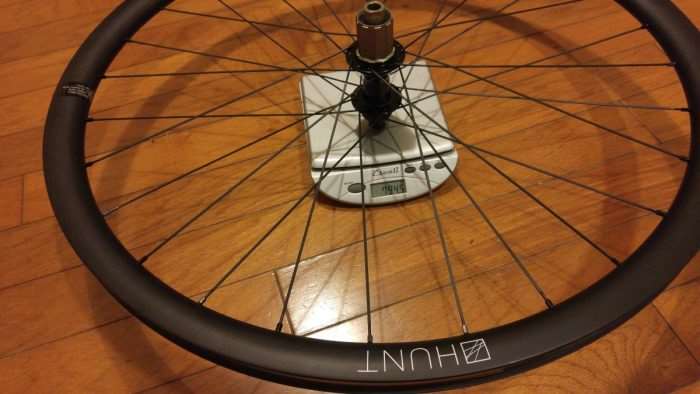 And the rear wheel, 794 grams with rim tape installed. The combined weight is 1,466 grams, 13 grams less than the manufacturer's spec weight of 1,479 grams. Taking into account most manufacturers weigh their wheels sans rim tape, it's refreshing to see Hunt Wheels are spot on / below with their numbers versus marketing claptrap. The sample wheelset is likely sub 1,460 grams sans rim tape, which is impressive considering the stout nature of its build.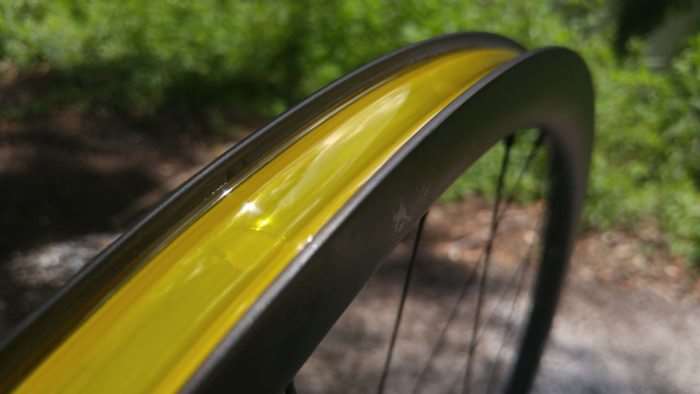 The rims in Hunt's 30Carbon wheelset (30 referring to the rim's depth) are manufactured from unidirectional T24/30 carbon fiber, and a 3K carbon weave is used to reinforce the spoke holes. This rim measures 26.6mm outside to outside and 21.3mm internally.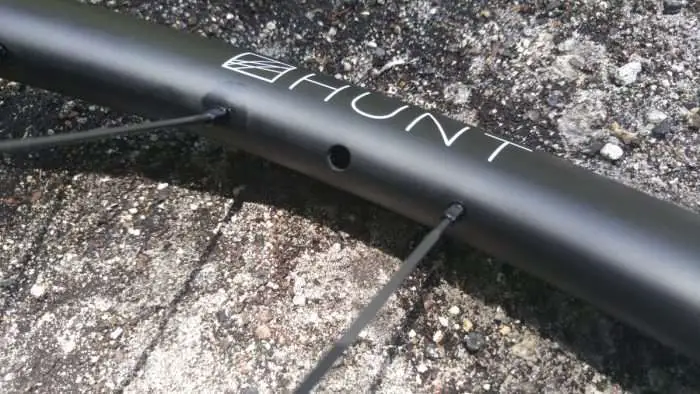 The rim features a rounded, aero profile that is designed for good handling qualities in all angles / wind directions, and excellent straight-line speed. Because these rims are disc-specific and not reconstituted from a rim brake design, Hunt has removed material from appropriate spots in the rim to drop the weight, while maintaining strength to support the forces generated by spokes and tyres.
"V:Absorbe" resin, part of the rim construction process, is a low-temperature resin and hence less brittle, making for a rim that has better resistance to impacts. Hunt claims this resin helps with vibration dampening.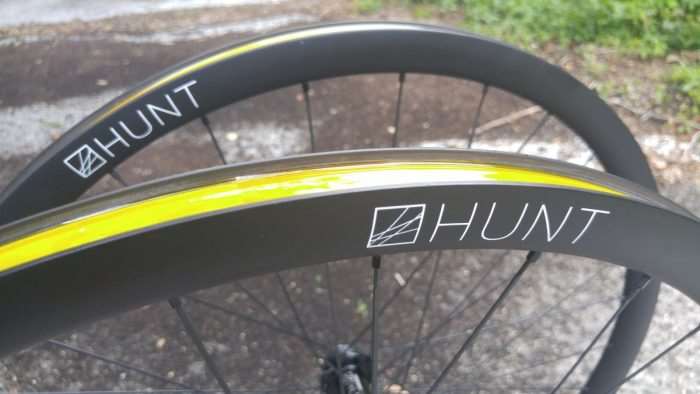 "H-Lock" is Hunt's tubeless-ready rim bed profile, which promises to lock the tyre beads more securely in place once the tyre has been properly seated. Hunt claims their "H-Lock" design makes for easy tyre installation.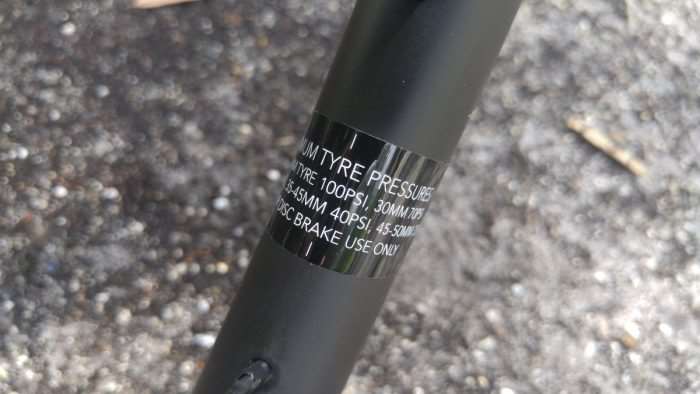 Maximum tyre pressure is dependent on tyre width:
25 to 28mm, 110psi max.
30mm, 80psi max.
33mm, 60psi max.
35mm to 45mm, 40psi max.
46mm+, 35psi max.
Heed these recommendations. Excessive air pressure can damage the rim resulting in a potential rim failure.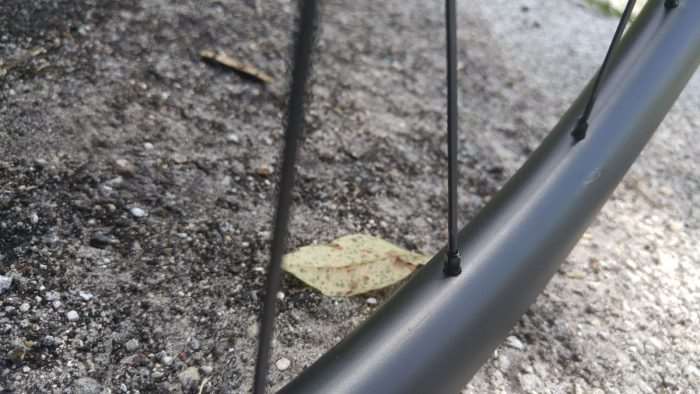 Hunt doesn't skimp on spokes, selecting Pillar's XTRA stainless steel bladed and butted aero spokes and 14 gauge, external aluminium nipples in anodized black.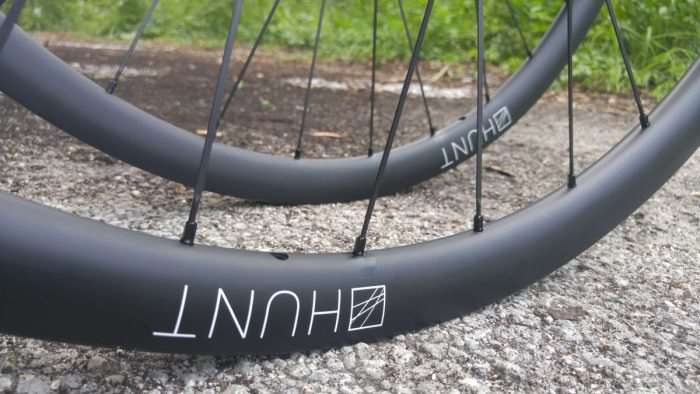 Twenty-eight spokes front and rear laced in a two-cross pattern provide plenty of strength.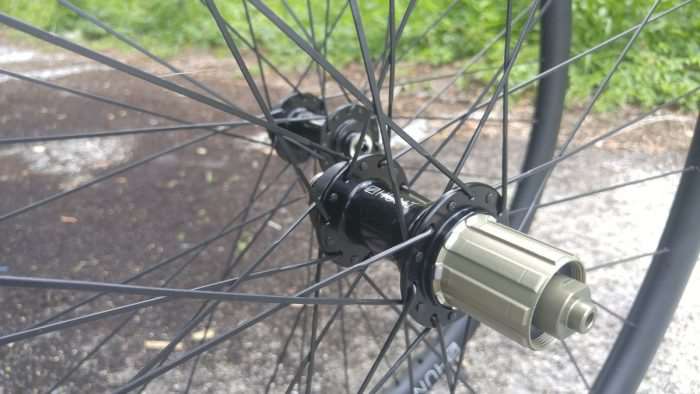 At the heart of Hunt's 30Carbon Gravel Disc Wheelset is the company's "4Season" Disc brake hubs. The "4Season" hubs feature additional bearing shielding and seals for endurance in all weather conditions.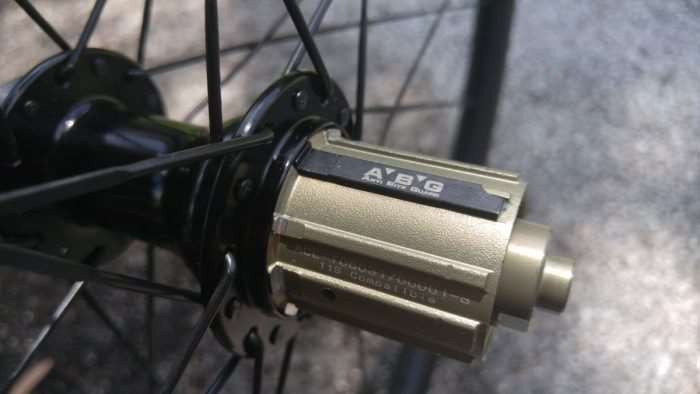 Above, the Hunt cassette body features a steel insert aka "Anti Bite Guard", to prevent cassettes from scoring the body's soft aluminium.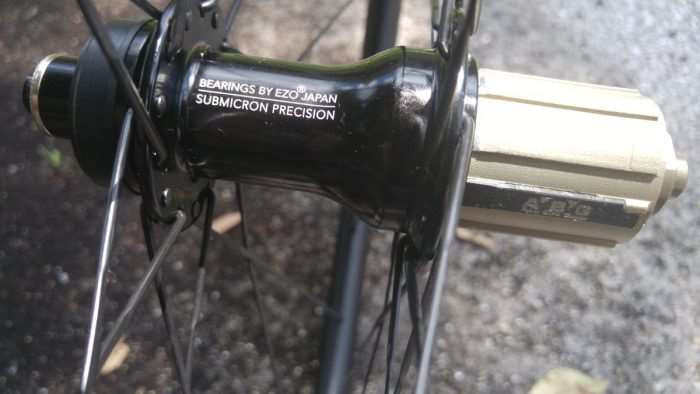 High-quality Japanese EZO bearings are present in the front and rear hub.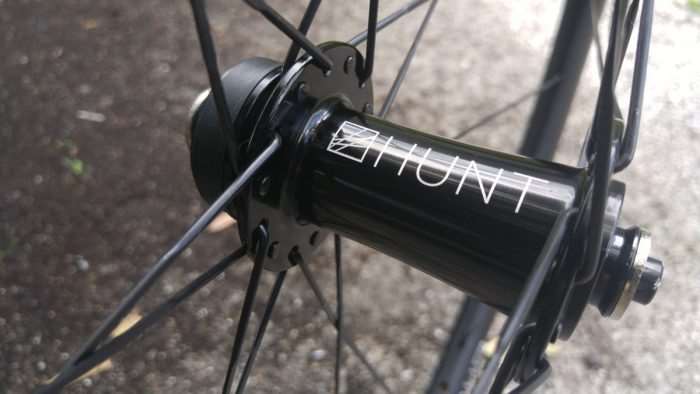 Both hubs are well thought out and potentially future proof, catering to almost every axle standard relevant to disc brakes. For the front hub, a set of easy to swap end caps provides compatibility with a standard quick release, 12mm, and 15mm thru-axle. The rear hub caters to standard quick releases and 12mm x 142mm thru axle once a simple axle swap has been made. Hunt's instructional videos and FAQ's are very easy to follow.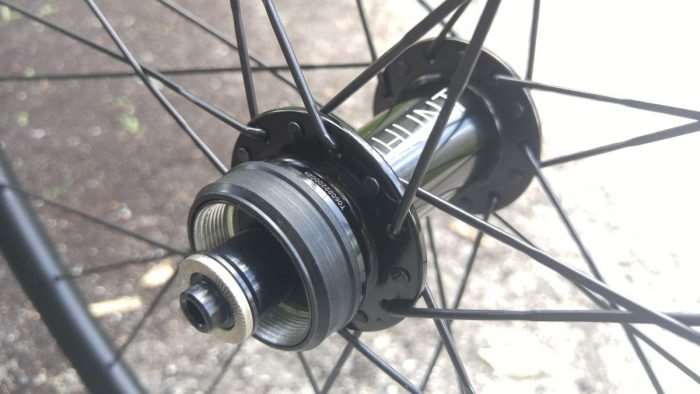 Hunt has wisely chosen Shimano's centre-lock standard for the mounting of disc brake rotors. But, bikes with 6-bolt rotors are not left out in the cold. A pair of 6-bolt adapters is included with each wheelset.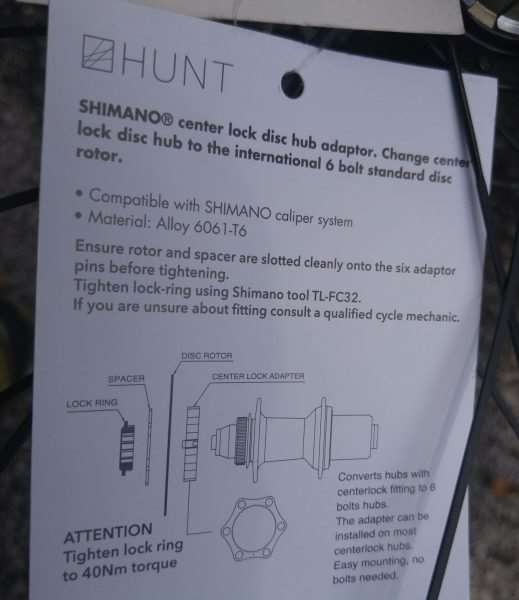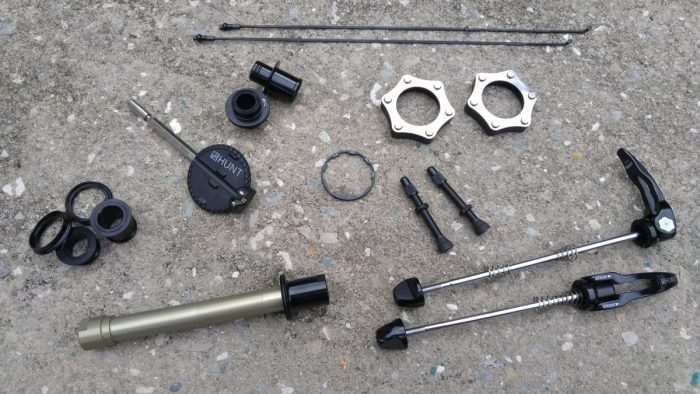 Finally, pictured above is the comprehensive set of axles, end caps, rotor adapters, quick releases, truing key, tubeless valves and spare spokes, supplied with every Hunt Wheelset for maximum compatibility. To my knowledge, Hunt Wheels are the only company who provides such an extensive support package. Priced out individually, you're looking at somewhere around $US 100 worth of accessories, gratis.
Hunt 30Carbon Gravel Disc Wheelset – Disc Rotor and Tyre Installation
In today's world of gravel cycling, virtually every new bike is equipped with disc brakes. That entails a minor dilemma in itself with two different standards for mounting disc brake rotors. As for the mechanisms that attach those wheels to one's bike, quick releases or thru-axles, these standards make it difficult for a manufacturer to supply a wheelset that is ready to roll for the consumer, direct from the factory. As alluded to earlier, Hunt's versatile hub design covers all of the standards, but they take the extra step of noting at order time, your axle preference. The Hunt Wheels arrive at your doorstep with your preference of axle, ready to roll.
The Hunt review wheels mostly found their home on the Orbea Terra gravel review bike, a machine I reviewed earlier in 2017. That bike utilized 12mm thru-axles front and rear. Because Hunt shipped the wheels ready to go, there was no need to swap end caps or axles.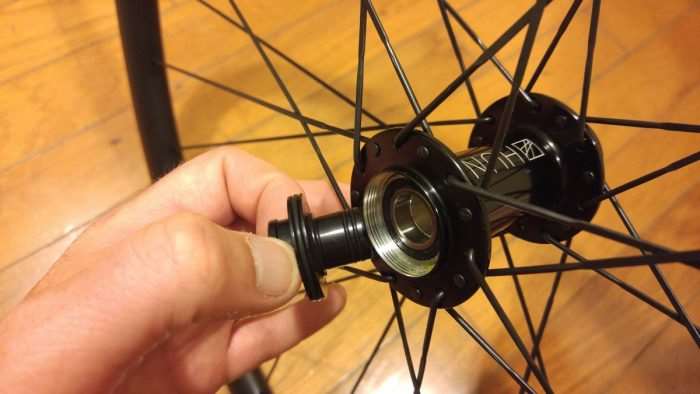 Pictured above, you can see what a doddle it is to swap a front wheel end cap to cater to a different thru-bolt size. No tools, less than one minute, done!
Rotor installation is a snap with center lock, and the fastest of the two rotor standards. The time I can save with review wheels, swapping rotors back and forth, is really appreciated!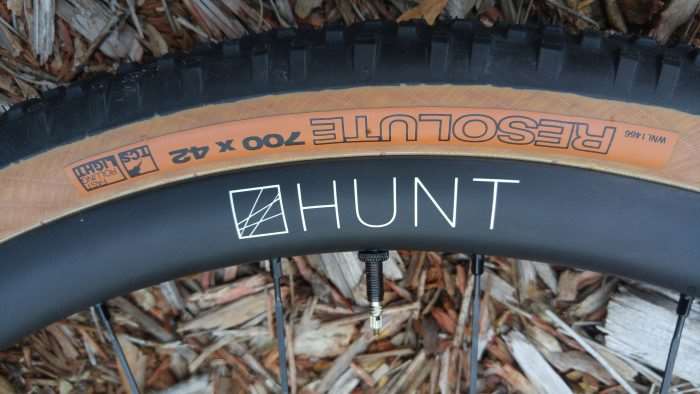 For the duration of the review, I mounted and ran two different tubeless tyres with the review wheels. The Schwalbe G-One tyre in 700c x 40mm and WTB's Resolute tyre in 700c x 42mm. Both tyres mounted easily to the wheels, without the need to pry them on with tyre levers. The tyres inflated nicely, courtesy of Bontrager's TLR Flash Charger pump, but I'd expect the Topeak Joe Blow Booster pump would have no troubles either. Using an air compressor? Even easier. Sealant used was Orange Seal's fantastic Endurance Formula.
Hunt 30Carbon Gravel Disc Wheelset – The Ride
At sub 1,500 grams, the Hunt 30Carbon Disc wheelset is among the lighter pre-built offerings currently on the market. Their low weight translates into fast acceleration and excellent handling characteristics, particularly in crosswinds. Once up to a nice rolling speed of 20mph / 32km/hr on a fast, smoothish gravel road, the Hunt 30Carbons tick along nicely and maintain their speed well. The aero effect of these wheels is questionable, especially when you factor in how disruptive a 42mm wide gravel-specific tyre can to be to air flowing across the bike. But the placebo factor is well-proven as a positive. If you feel fast, you are fast. The Hunt 30Carbon Disc wheels felt fast, and I wouldn't hesitate for a moment to do double duty with these wheels on a disc brake road bike.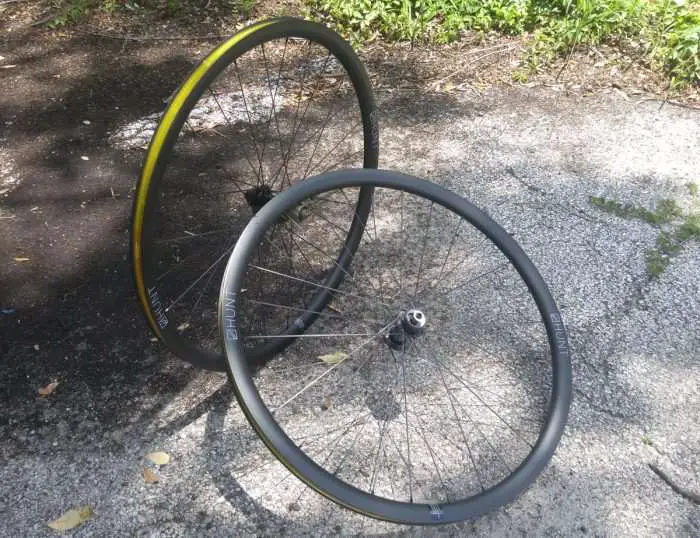 The Hunt 30Carbon's 28 Pillar, aero butted J-Bend stainless steel spokes provide a measure of aero benefit, but replacement spokes beyond the two spares supplied will be tricky to find in a local bike shop. In Hunt's defense. any decent bladed spoke could substitute as a replacement, along with a garden variety double butted or rounded spoke. For the duration of the review, the Hunt 30Carbon wheels stayed perfectly in true, a good testimony to the skills of the wheel builder.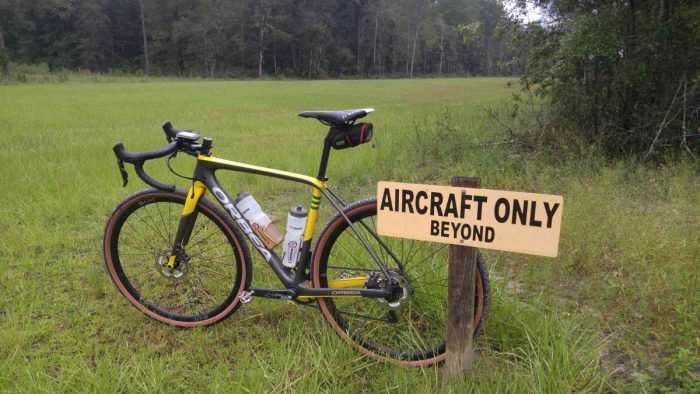 Hunt Wheels aren't flashy or covered in garish logos, rather, their focus is on price, performance and simple good looks. Riders who appreciate the subtler side of aesthetics will appreciate the subdued look of the Hunt 30Carbon Gravel wheelset.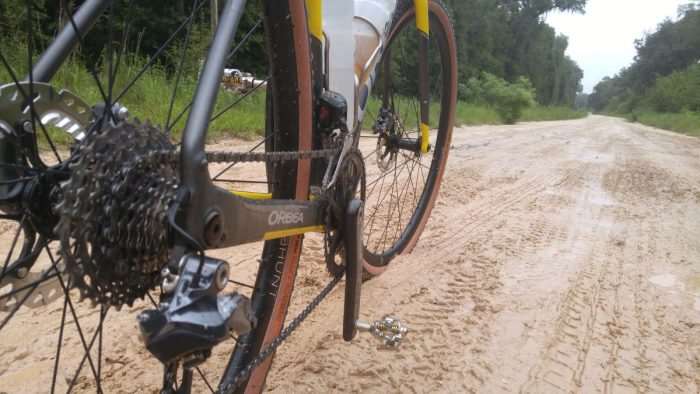 In sticky situations like the one pictured above, the rear hub's 4-pawl, 28-point engagement system was appreciated. This is one of those times when you need to finesse your line carefully, which sometimes calls for a last-second change in direction. At worst, 12.85 degrees of movement has to occur in the Hunt's rear hub before the forward driving mechanism is engaged. Coasting along, freewheel operation is very quiet.
The Hunt 30Carbon's have a rider weight limit of 115 kilograms / 253 pounds. Yours truly weighs anywhere from 153lbs to 160lbs/69kg to 71kg, depending on how much I've been riding or stuffing my face. The wheels have been absolutely rock solid. I've been unable to budge them laterally during out of the saddle efforts, but this isn't to say their stiffness makes for a rough ride.
Tyre pressure is one of the biggest factors to ride quality and the most overlooked factors regarding overall comfort on a bicycle. It's no wonder I spot riders squawking about the merits of suspension on gravel, yet their tyres are inflated to 50psi or higher. Crazy! Drop your tyre pressure and save yourself hassle and expense! Depending on the tyre, I generally inflate to 32 to 35psi on the front, and 35 to 38psi on the rear. That said, once your tyre pressure has been set appropriately, the Hunt wheels are indeed a smooth ride.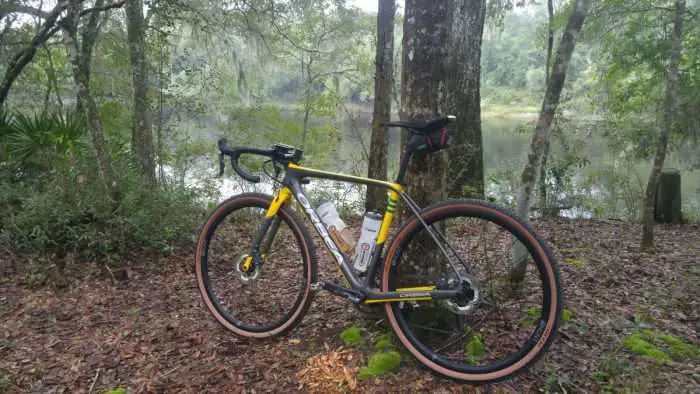 There is one sticking point with the Hunt 30Carbon's I must mention. The sample tyres used with this wheelset, the WTB Resolute and Schwalbe G-One were extremely difficult to remove from the rims. I did a serious number on my hands, trying to wrench these tyres free. To say these tyres were securely mounted to the rims is an understatement. On one occasion, I was able to pry tyres free, but on every other occasion, I had to enlist the help of a local bike shop mechanic… whose hands are stronger than mine… and I swap tyres between wheels regularly.
I don't believe the sample tyres were overly tight on the rims, as they installed so easily. Perhaps the sample wheelset is a pre-release before the production model appeared (this happens sometimes)? Regardless, this is a legitimate concern. Should you flat a tyre on these wheels, breaking the bead from one side will be a challenge, and may have you calling home or Uber. Considering how well these wheels ride, this is a shame.
Hunt 30Carbon Gravel Disc Wheelset – Braking
What's not to love about Shimano's hydraulic disc brakes. Mount your disc brake rotors, align them with the calipers and go ride. Zero issues. Hunt 30Carbon Gravel Disc wheelset or otherwise, if your bike is fitted with hydraulic brakes of any kind, there's a good chance they'll bring you to a screeching halt in wet and dry conditions.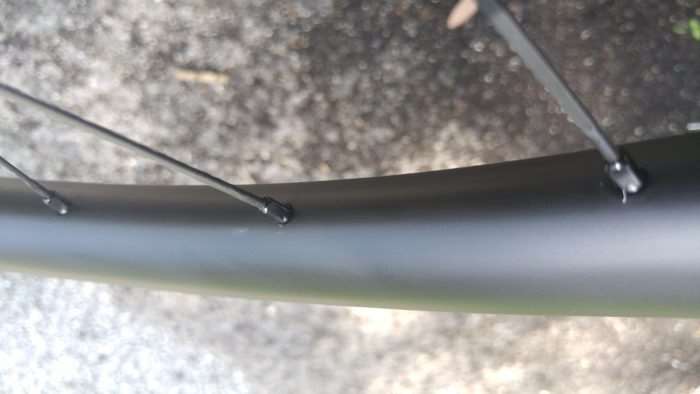 Hunt 30Carbon Gravel Disc Wheelset – Summary
The Hunt 30Carbon Gravel Disc wheelset is exceptionally well-built and proven to be a reliable and flexible package that is perfect for gravel cycling – or road cycling – on a suitably equipped road bike.  The wheelset is designed for tubeless use but is perfectly capable of running with tubes. I applaud the use of J-bend spokes, even if they are aero in nature. Replacement J-bend spokes can be found at any good local bike shop.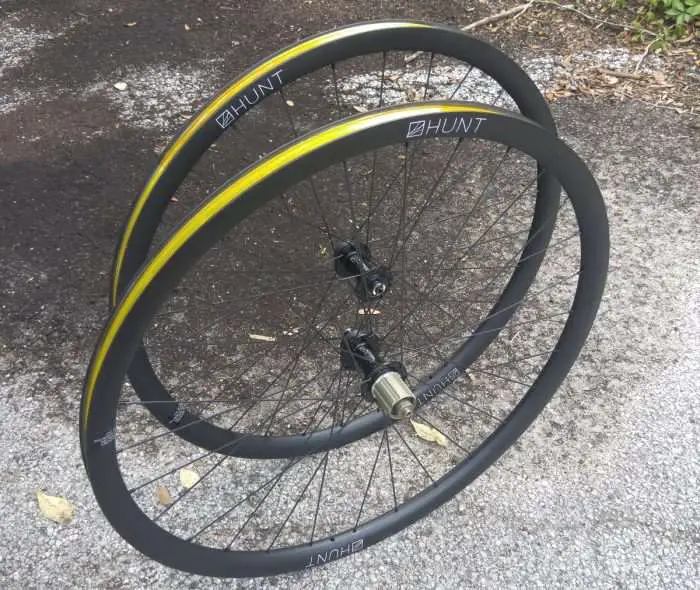 The front wheel end cap system and easy axle swaps for the rear wheel make this wheelset almost future proof… until the next standard is invented. But, the difficulty I experienced when removing tyres is a problem. Perhaps it was just my sample wheelset, but it is something to be wary of. This issue aside, the Hunt 30Carbon Gravel Disc wheelset is light, fast and arrives at your front door with an impressive array of accessories.
Pricing
The Hunt 30Carbon Gravel Disc wheelset is well priced at $US 1,344.00 / £969.00 GBP (remember, the exchange rate varies), which includes free shipping worldwide! Compare this to a wheelset of similar weight and you'll be paying a lot more. This price includes pre-installed rim tape, valves, end caps, skewers, 6-bolt rotor adapters and spare spokes.