Seat bags are fairly ubiquitous amongst all sorts of riders – except those who'd rather stuff their jersey pockets full on every ride just so you can have an unobstructed view of that magnificent seatpost while sitting in their draft. Somewhere I still have my very first iteration – the Cannondale tubular bag I bought circa 1982. I've gone through all sorts of styles and sizes and materials since then but when looking for a new bag recently, I decided to go in a different direction: Lezyne's modern version of the classic tool roll.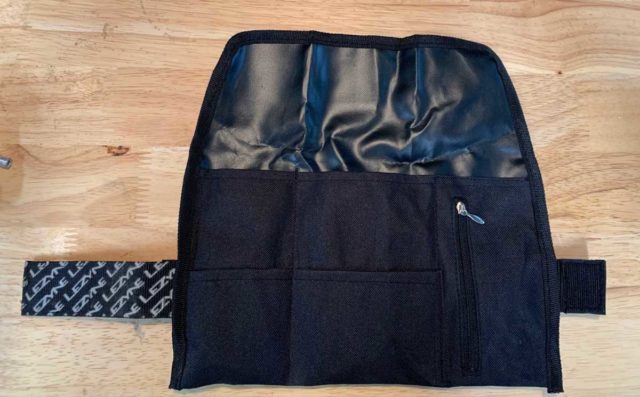 The Lezyne Roll Caddy is made from a tough nylon fabric with the outer surface backed by a waterproof drybag-type material and Lezyne puts the weight at 90g. Two larger pockets are fronted with small half pockets. A zipped flat section pocket makes up the final third of the bag. Once rolled up, the bag is held closed by a wide velcro strap and a separate removable strap holds the bag to the seat rails.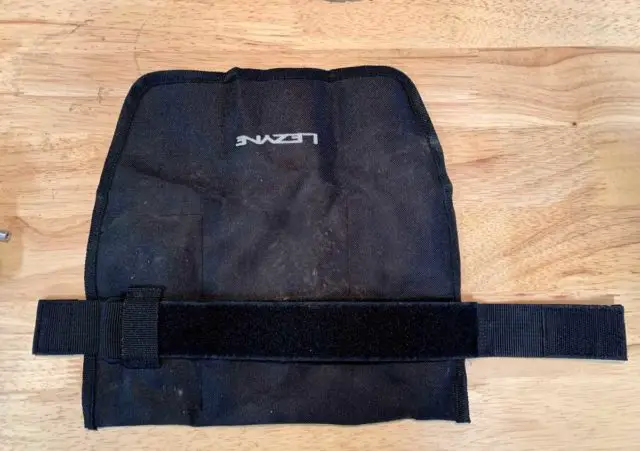 I pushed the Roll Caddy's capacity, stuffing it with a 700×40 tube, two levers, CO2 cartridge & head, Lezyne tubeless repair kit, micro multi-tool, valve core tool, Presta-to-Schraeder valve adaptor (for service station pressure top offs), Park TB-2 tire boot, and a spare master link (these two items not pictured). Just because I could, I also threw in a spare 4mm bolt for either stem or seat clamp as well as a spare SPD cleat mounting bolt. The zip pocket is great for all the little bits n' bobs. You may need to experiment with the placement of bigger items in order to obtain the best roll shape but anyway you do it, that's a lot of stuff!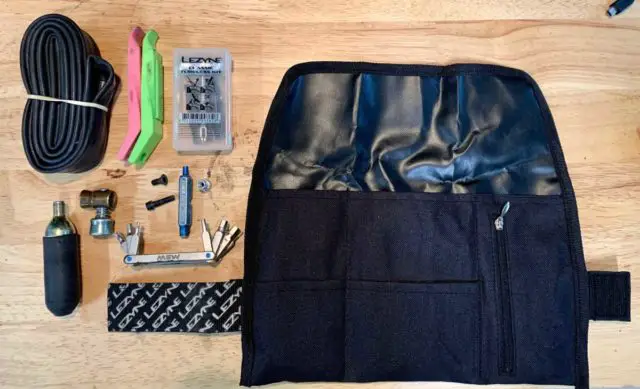 The Caddy Roll mounts securely with the provided strap and when snugged down fully I could detect no rattles or other movement-induced noises over many hours of riding a variety of gravel roads. Common single compartment seat bags would struggle to match this quiet performance with so many small pieces inside. Despite its fabric lining, the Caddy Roll should not be considered waterproof (and Lezyne does not claim this) due to the roll design being vulnerable to rear wheel-spray. While several short bursts of rain did not penetrate, riding all day in classic spring classic conditions probably would… so I'd simply call it very water-resistant.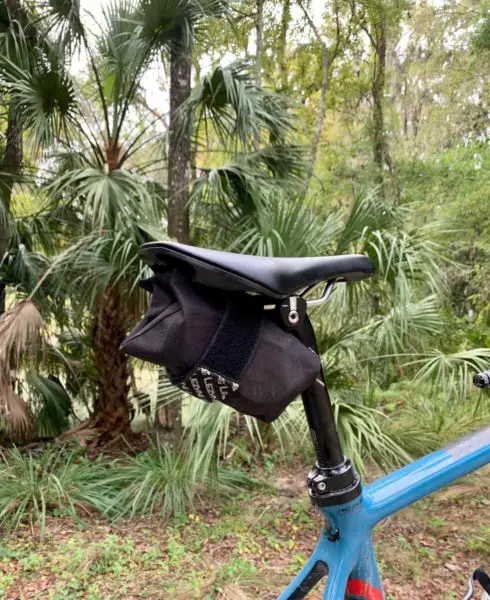 So who is this product for? Well, if you're a minimalist and only carry a tube, lever, plus a CO2 cartridge then this much capacity certainly is overkill. Conversely, for some riders, this bag may still not offer sufficient space for everything they normally carry on remote journeys. If you need a race-oriented bag for speedy tire fixes then the strap attachment system that requires removing the roll from seat rails to access contents will not suit your needs. If you want a very clean, super aero look then choose another type of bag. But if you like to be prepared for a variety of mechanicals on all-day adventures where you have to get home and "cannot make that call" then the Roll Caddy is a sound choice. Link to an example where JOM made that call.
If you are a bit (or more) OCD about how the minutiae of your support supplies are organized, then the Roll Caddy is a true delight. Remove the attachment strap and the Roll Caddy could also serve as a handy tool kit to drop into your frame bag when that under saddle real estate is taken up by whatever you are running as a larger bikepacking seat bag.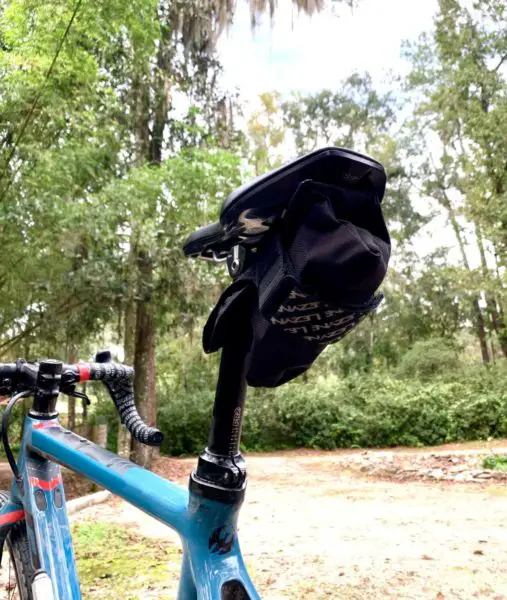 The Roll Caddy is commonly available for under $US 25. But if this roll doesn't suit your specific needs and you're feeling a bit spendy, any number of small bag manufacturers will also have options perhaps even with the potential for customization. Roll on!