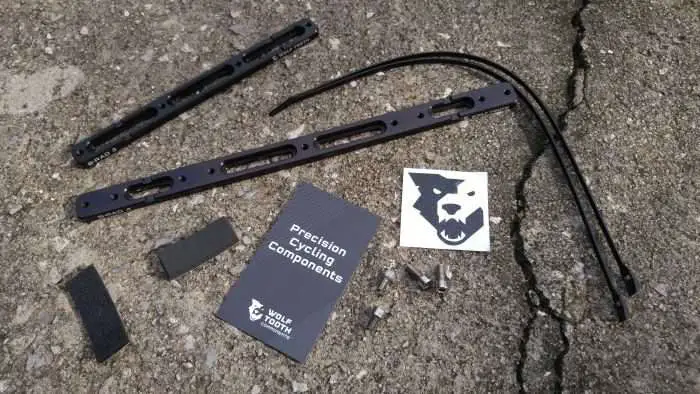 Wolf Tooth Components
"We are a group of hardcore cyclists that found ourselves spending a lot of time talking about bike components.  Like most racers we were always looking for new products that could make our bikes lighter, faster, or more reliable.  Since we all come from engineering and manufacturing backgrounds our conversations often focused on how we could make the products on the market today even better.  The company was founded to design and manufacture precision cycling products that emphasize function, performance, and reliability to meet the needs of fellow racers and riders."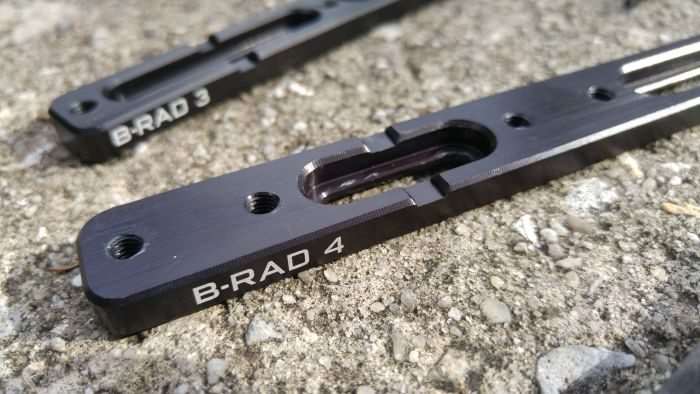 The B-RAD System
"Whether you race enduro, bikepack, commute, race XC or anywhere in between, B-RAD will help you optimize your on bike storage!"
"The B-RAD system begins with a series of slotted Mounting Bases.  Available in three sizes, B-RAD bases can shift a bottle cage away from inconvenient rear shocks, add room for tools or tubes below a bottle cage, or even provide space for a second bottle on sufficiently-long downtubes."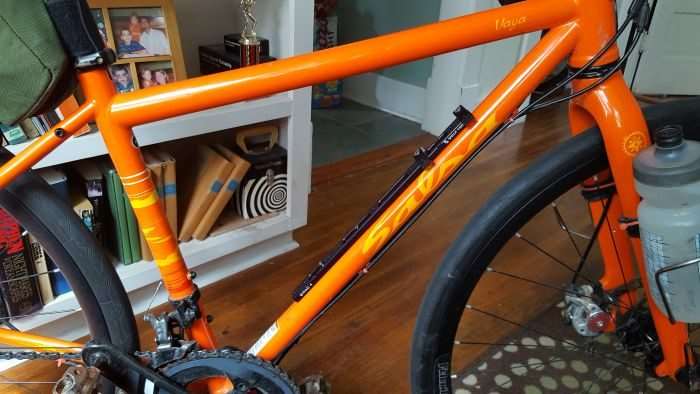 "You can mount various B-RAD accessories to your B-RAD base or bases.  The B-RAD accessories improve or optimize bottle cage locations, add water/tool/spare parts capacity, and there are many more accessories coming in the future."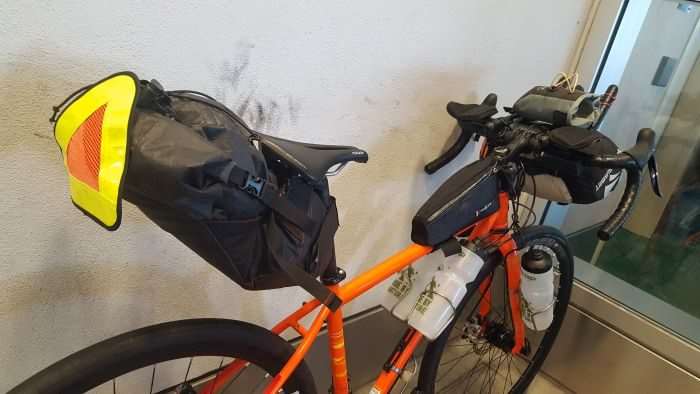 But real world experience is the only way to test product – over to Jen Colestock!
B-RAD Review
Or: a spork, but in a good way.
You can tell if something is good if your reaction to it is "Well, duh! Hasn't this been made before?" Okay, so this isn't applicable to movies, TV, music, and a lot of other things. But it was my initial reaction when I saw the Wolf Tooth B-RAD system. It's so simple and well-made that I had a hard time believing it didn't already exist as a product.
Well, this seems to be a niche Wolf Tooth has found. They take what larger companies in the bike industry have made and make something to improve it, but in a way too polished and professional for me to call it a "bike hack". The Goatlink, Roadlink and Tanpan show just how well they understand the demand of those wanting to go with drivetrains outside of the norm and show that they fully understand the technologies they expand.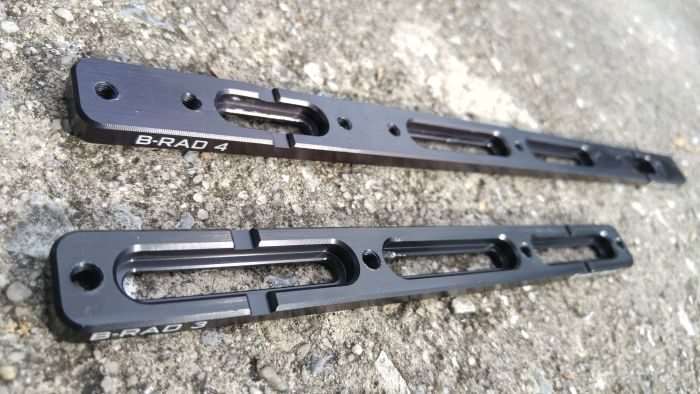 So now they've made the B-RAD system. What is it? Ostensibly, it's a metal rod with holes in it. Are you sold on it yet?
But really. It's the key to modifying and expanding the storage capacity of your bike. The B-RAD is a rail system that comes with two, three or four mounting points. From there you can throw on some of their accessories, which are currently a strap or a set of double bottle adapters.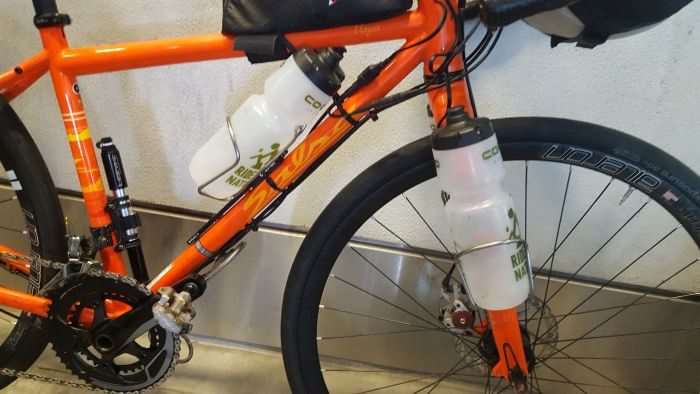 This is priceless for a few specific groups:
Those of us tired of taping tubes to their frame and struggling to reuse the tape afterwards and ending up with a sticky mess.
Those of us who want to mount a ridiculous amount of cages and storage options to our forks.
Those of us who have smaller main triangles (see further below for an example).
Those of us who think we want a custom frame or frame alterations but are way too indecisive or broke or are constantly changing your bike's setup.
As a smaller-framed cyclist (hey, I'm 5'7″, which was the average height of a Roman soldier. I assume this is true and haven't bothered to verify this because it sounds cool), mounting enough bottle cages in the main triangle has always been impossible.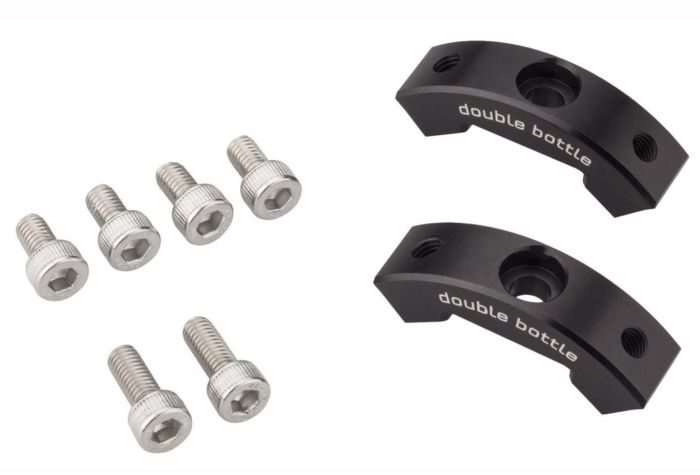 With the double bottle adapters and a B-RAD rail, I can fit one bottle on my seat tube and two side-by-side on my downtube.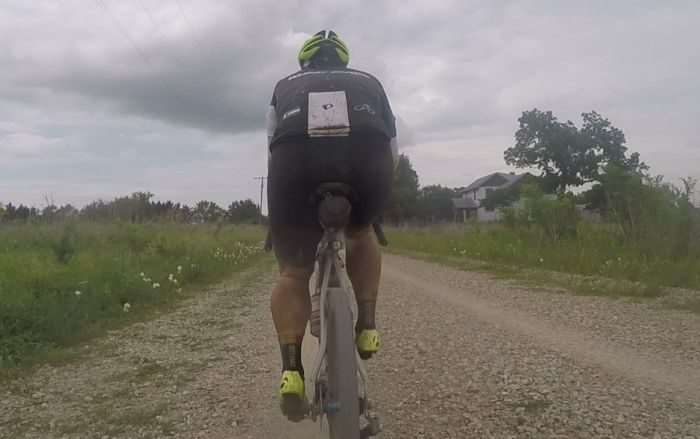 Also, it leaves me with extra space on the rail to strap a spare tube below the two bottle cages. I used the double bottle adapters to allow space for a triangular half-frame bag during my Transam attempt this year. Properly adjusted, there is absolutely no knee or foot strike.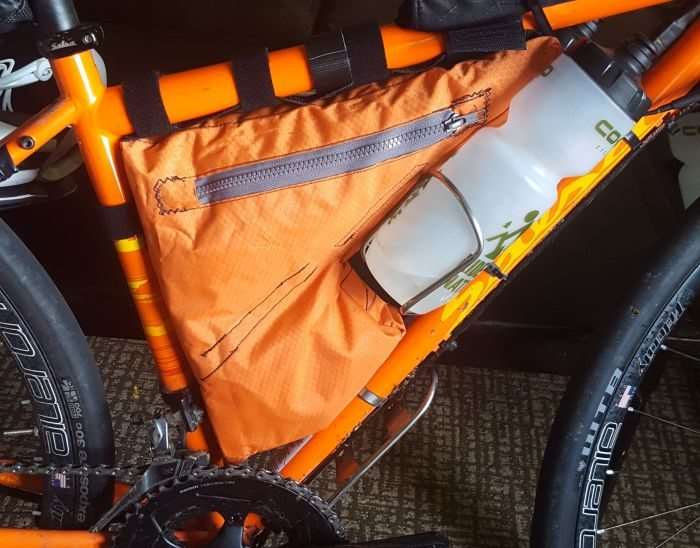 For those of you with suspension forks, or even two eyelets on a rigid fork, or (with some caution) just a midblade eyelet on a straight fork and a couple King Cage USBs, you can mount an absurd amount of clutter on your fork now. Buy two B-RAD rails and two double bottle adapter sets and you have four cage mounting points. I don't have any Anything cages on hand to double-check this, but I'm sure you could at least mount a Manythings cage next to a bottle cage on both sides of your fork.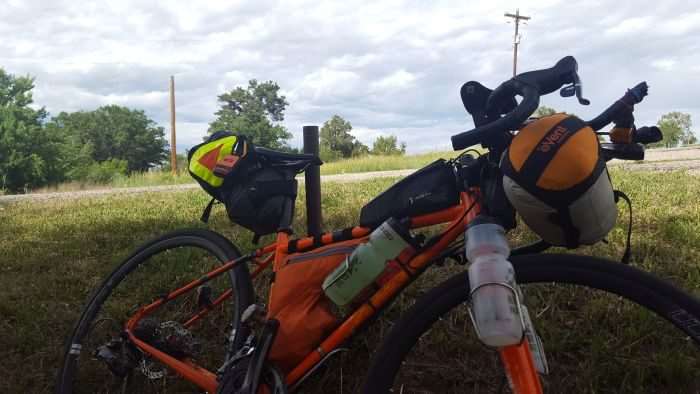 Note: I'm aware that similar products to this exist, but I like that it's made of aluminum and attaches by bolting on to mounting points. It's sturdier than the zip-tie-on, plastic models I've seen. If you're concerned about weight, maybe the ability to load a metric sh*t ton of water on your frame is the first thing you need to scale back on.
In conclusion, for less than $20 for the smallest rail and less than $30 for either of the accessories, this is hands-down one of the most affordable and practical storage expansion options I've seen.
Fitting Bottle Cages into a Tight Spot with B-RAD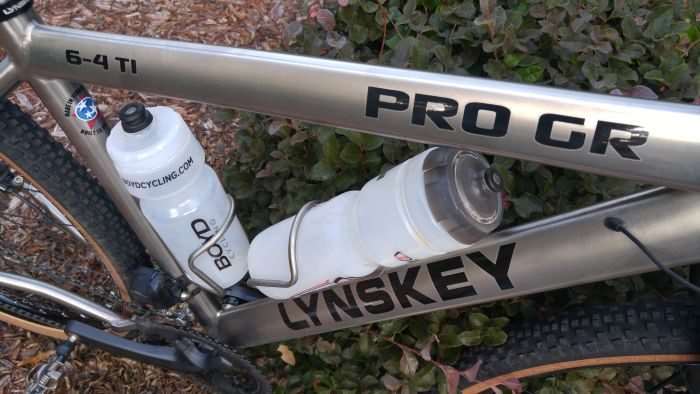 Above, one of JOM's review bikes, the Lynsyey PRO GR 6/4 Ti gravel bike. On this size Small PRO GR, the front triangle is tight. Two regular, 20oz bottles fit comfortably.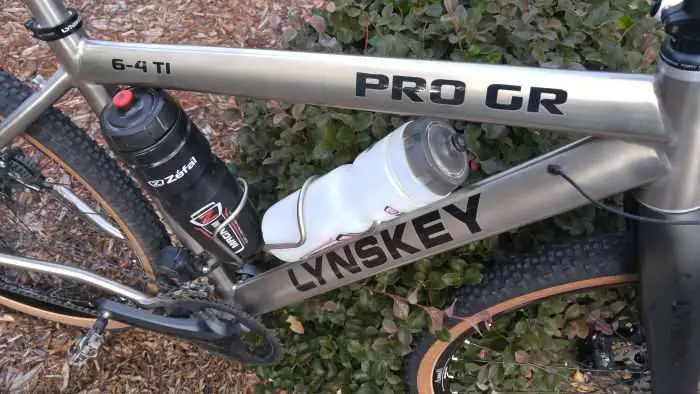 As does a larger Zefal Magnum 33oz bottle (a favorite of JOM's, it's about a litre in metric), at least on the downtube mount. The seattube mounting position, not so much.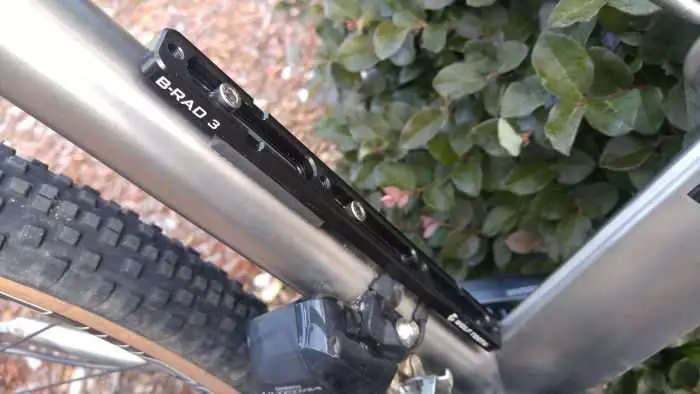 B-RAD to the rescue! Note, a B-RAD 2 would solve this problem nicely (it's shorter), but JOM temporarily misplaced the review sample somewhere inside his house… d'oh!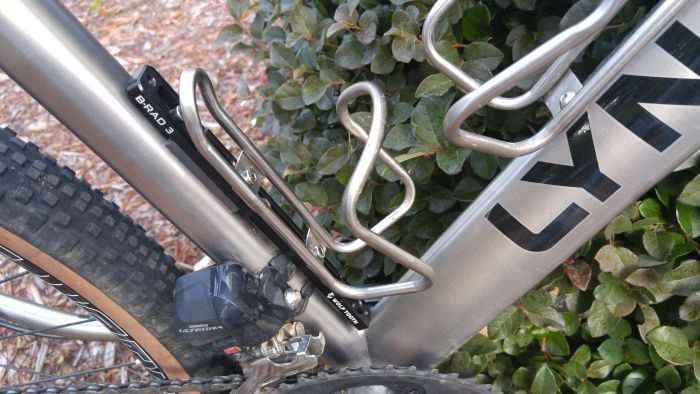 Above, the B-RAD has been mounted and the King Cage fitted to the B-RAD, nice and low.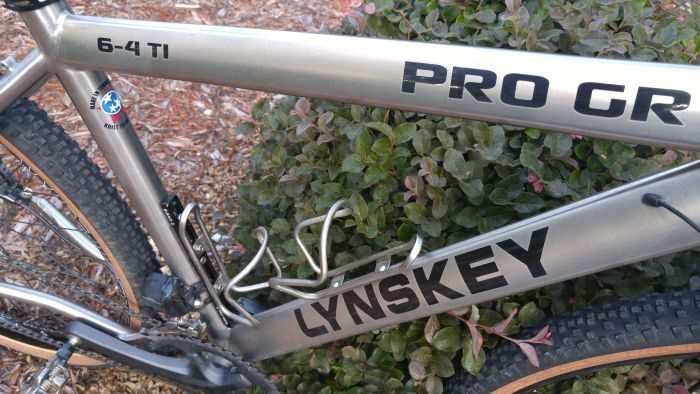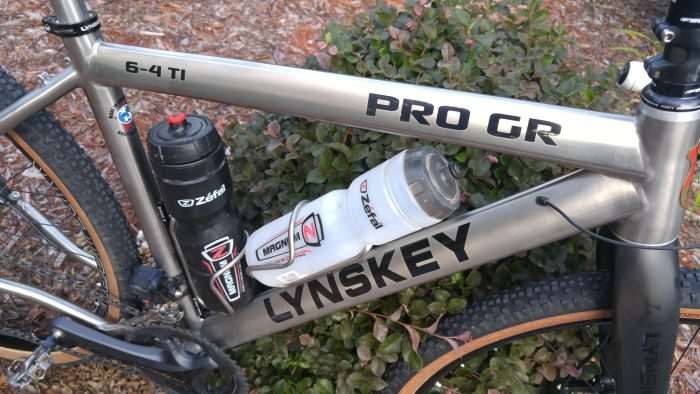 Now, the frame will accommodate a second Zefal Magnum bottle on the seattube. Brilliant!
Note: JOM doesn't use frame bags, so this solution would not work in that instance.
For a frame with enough room on the downtube, one could install a B-RAD 4 for double bottle cage / double bottle bliss… or TWO double bottle adapters for FOUR water bottles on the downtube. The possibilities are endless!
More examples and accessories for the B-RAD system can be seen at their website.
---
Review by Jen Colestock of JenColestock.com
Be sure to follow her adventures! (she's also a Gravel Cyclist type).