"Over fifteen years of dedication to bring you well-crafted cycling products made of high-quality materials and innovation. Then, tested to extremes to ensure that when you install it on your bike, you instantly notice the difference in performance." – Token
Token's product line features five tiers, each designed around a unique set of characteristics to accomplish their assigned task. They are as follows:
Zenith – "For road cyclists who need the highest levels of performance."
Prime – "Balanced between performance, price and longevity."
Resolute – "Proven designs that last."
MTX – "For cross-country cyclists who need light weight and high performance."
Vigilante – "For those cyclists who enjoy riding off the beaten track."
Some of these tiers, or collections as Token prefers to call them, cross over their respective boundaries and hence can be a little confusing. Nomenclatures aside, I was very happy with the Token RoubX wheelset, one that I reviewed earlier in the year for my friends at BikeRumor, and which happens to fall under the company's Prime moniker.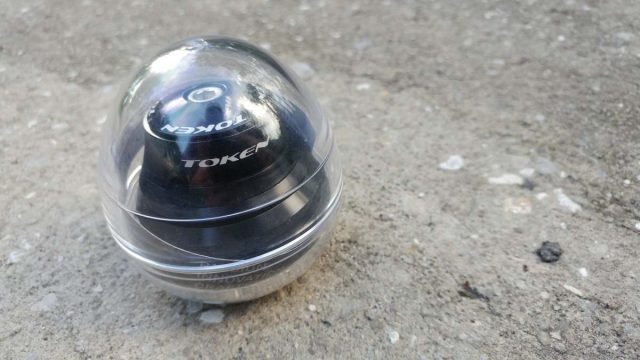 Pictured above is the Token hEGGset (TK070 model, integrated), which falls beneath the company's MTX moniker.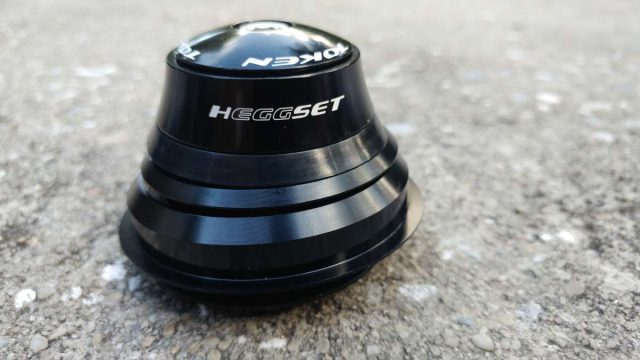 "The hEGGset is a tough one to crack. Made of proven materials that have been thoroughly tested in the field, we can confidently say go ahead and put all your eggs in one basket and count all your chickens before they hatch."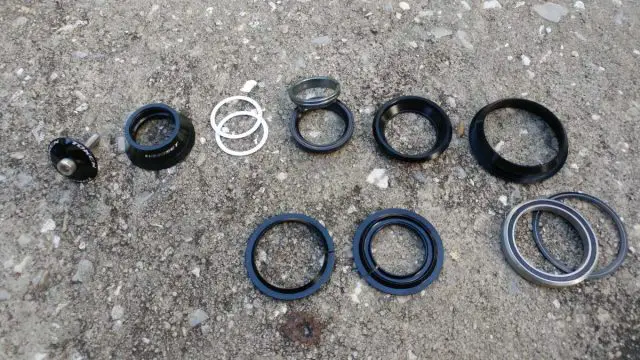 "The hEGGset hasn't been designed as the lightest, most aerodynamic or cutting edge headset on the market. Instead, we wanted to make a headset that quietly did its job, year in and year out. We designed this headset to take abuse and we proved it could through machine and rider testing."
Token's description of this headset sounds perfect for a gravel, cyclocross or mountain bike, right?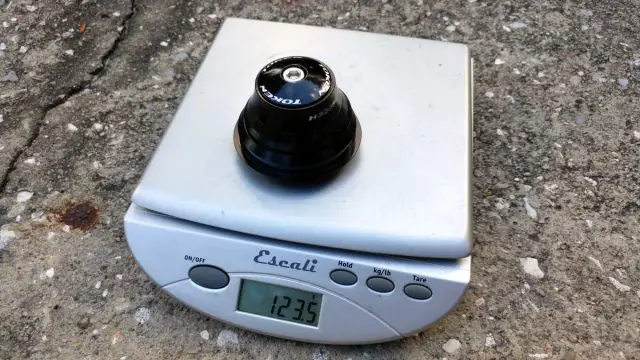 On my trusty gram scale, the TK070 model of the hEGGset weighs 123.5 grams, which is over the spec weight of 105 grams. I don't know if the latter weight includes everything that arrives in the Token hEGGset package, or just the essentials to get a functional headset? The company includes everything – crown race (these are integrated on some forks), cartridge bearings, compression rings, cup adapters, top cap, spacers and so on.
Because this headset is touted as heavy duty, Token upgrades the hEGGset to their double-sealed, Premium line of bearings, claimed to be rounder and smoother than their Standard bearing offerings. If your frame supports it, the 6061 series aluminium cups are supplied with the headset to help support the bearings better.
The hEGGset was installed into my Lynskey PRO GR sans Token cups (the Lynskey features pressed in headset cups), which also happened to be the bike I used at this year's Dirty Kanza 200 gravel race (check out my race video here). At the very least, I figured Dirty Kanza 200 would be a good test of the Token headset.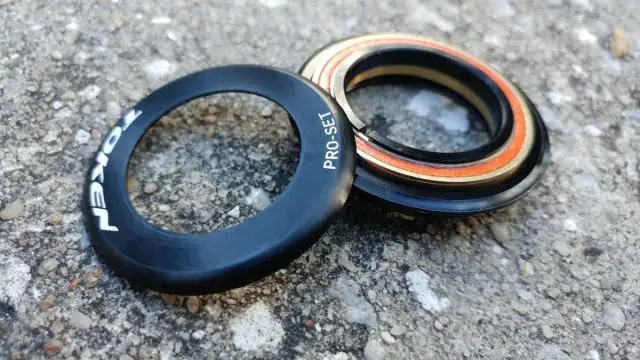 If you prefer a lower stack height beneath your stem for the hEGGset, then the above item is for you. This is Token's Pro-Set top cap, which is for those who love to slam. Included in this extra cost mini-kit is the mega low profile top cap, bearing cup (some frames won't need this), the same high-quality Premium bearing and compression ring.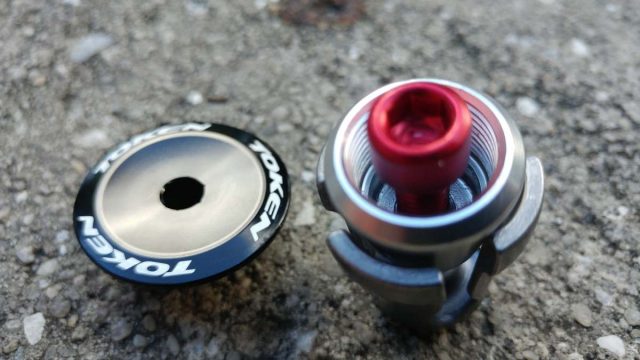 Also along for the ride, Token's Push'n-Turn Headset Expander, part of the company's Zenith line-up (pardon the focus blur on the photo above).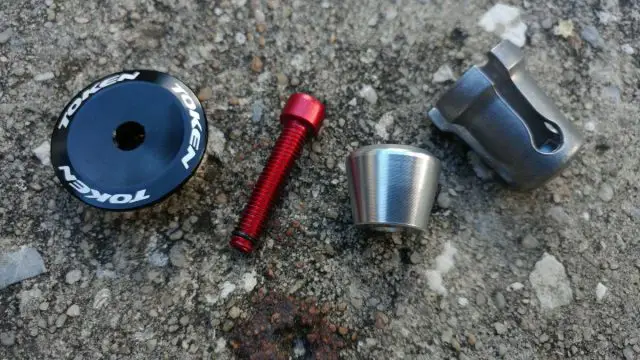 "The Push-'n-Turn is a lightweight (only 19.5g) and easy to use headset expander with solid performance."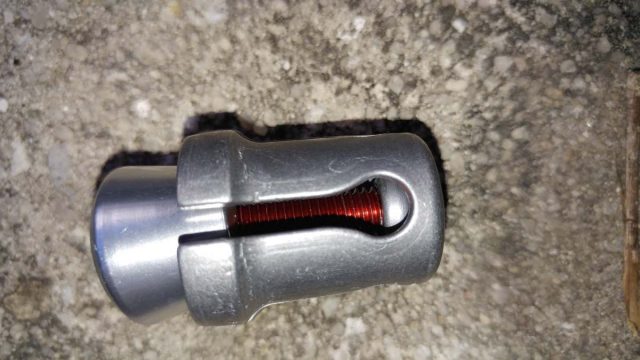 "Unlike common expanders, the Push-'n-Turn expander's simple design makes installation quick and easy as the assembly will not rotate inside the steerer."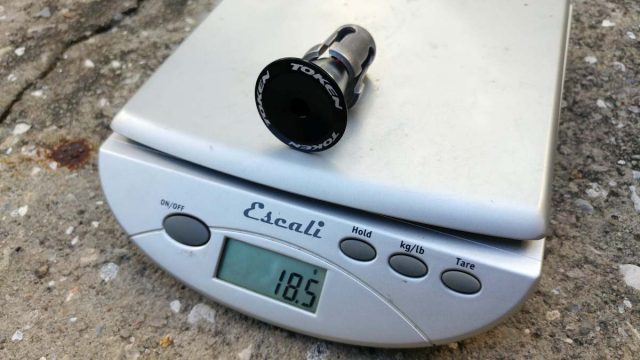 Good news! My review sample of the Push-'n-Turn came in one gram below spec. Brilliant!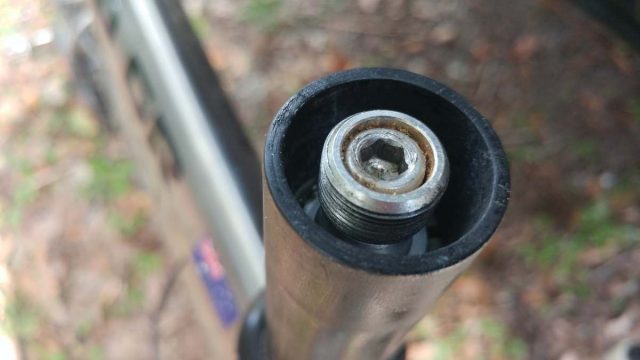 Unless you're a weight conscious cyclist (referring to bike weight here), you're not going to pay heed to this area of the bike. But compared to the FSA expander pictured above with its top (top cap not pictured), the complete Token Push-'n-Turn drops 22 grams, whilst maintaining the same function of the heavier FSA unit.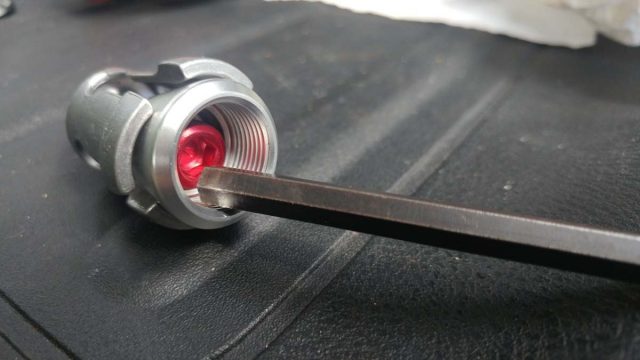 Installation of the hEGGset and Push-'n-Turn is relatively simple.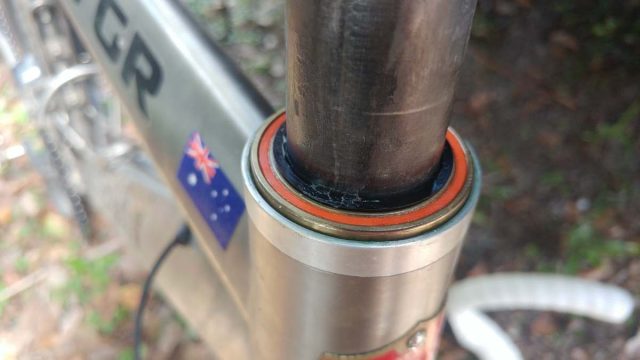 As alluded to earlier, I didn't need to fuss with additional bearing cups in my Lynskey PRO GR frame. Simply remove the existing bearings top and bottom, install the fork crown race (my existing crown race was compatible) and compression ring.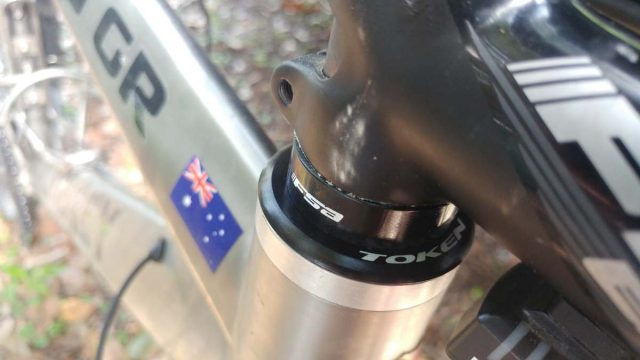 Pictured above is the Token Pro-Set top cap. My ideal stem height is a lower than that offered by the default hEGGset top cap. In hindsight, I probably should have requested Token headset spacers for the review… sorry Token.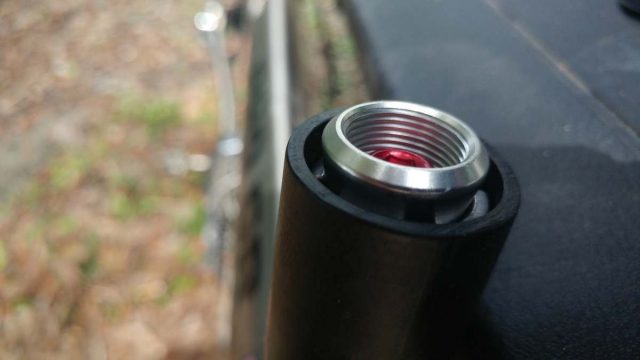 Next, set the Push-'n-Turn to the appropriate height inside the steerer tube (initially, it should sit above the steerer by about three millimetres.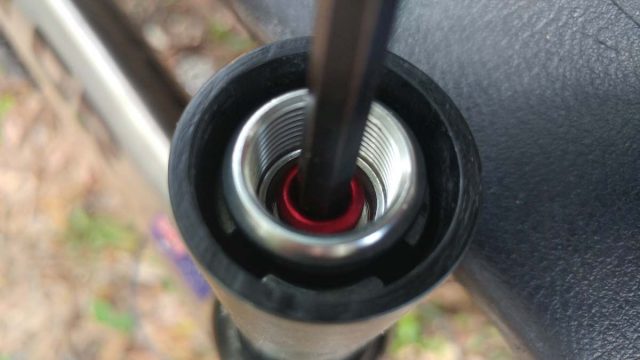 Once the red bolt has been tightened to the appropriate torque (5-6 Nm), in turn pushing the rest of the expander mechanism against the inside of the fork steerer tube, the top piece of the Push-'n-Turn will recess into the fork by about three millimetres.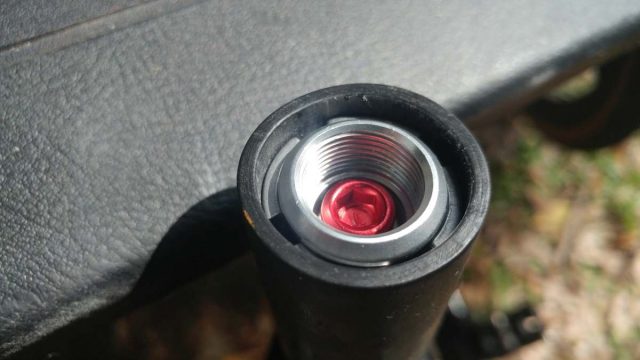 Above, the Push-'n-Turn is locked in place.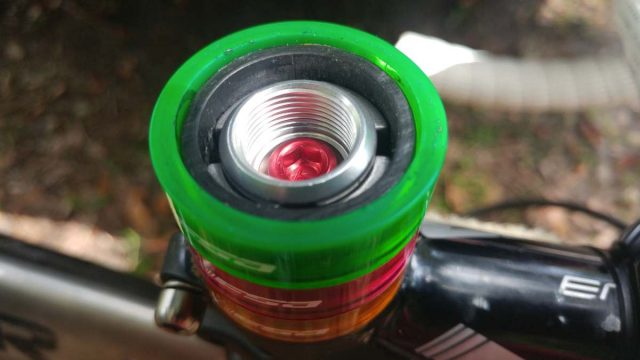 Install the stem and spacers. Observers will note my steerer tube is yet to be cut short, with about 25mm showing above the stem. In order to preserve my sanity for future reviews of stems or whatever else, and resale value, I leave the fork steerer with room to move. #losingstylepoints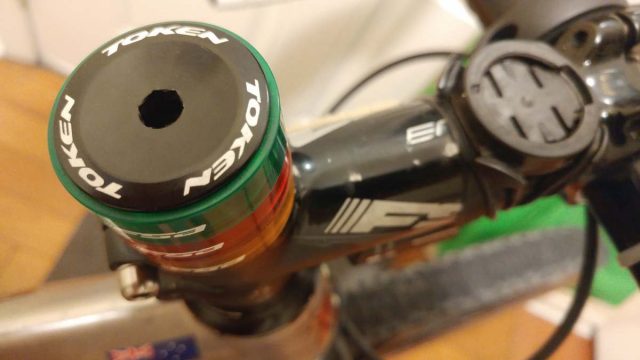 Finally, install the Token top cap, tighten appropriately to draw the spacers, stem and headset together, and lock down the rear stem bolts.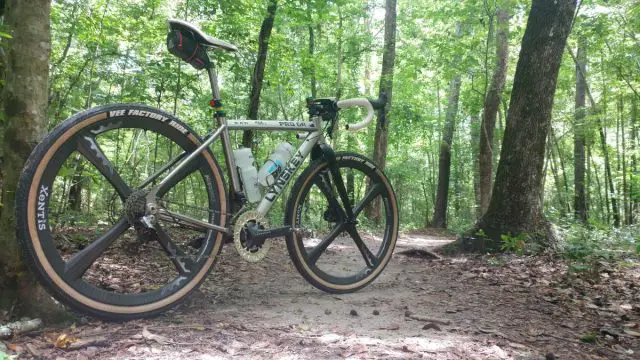 Above, the Lynskey PRO GR on a post-install shakedown ride with Token goodies installed. In case you are wondering, those are Xentis Kappa 2 650b carbon wheels… something else I am reviewing.
How did the Token hEGGset and Push-'n-Turn perform?
A headset is much like the bottom bracket on a bicycle. Typically, they are abused and neglected, until something breaks. They aren't glamorous, but the headset and bottom bracket perform two of the most critical functions on a bicycle.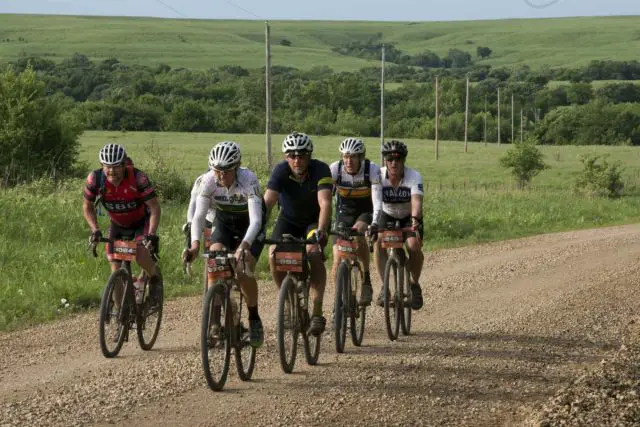 I finished my third Dirty Kanza 200 gravel race (206 miles in reality), and two things I didn't think about during the race – my headset and the related expander. Since that event, I've continued riding the pants off this bike, all the time paying no heed to those parts – which is how it should be.
The Token hEGGset passed the bearing smoothness test, about 600 miles since its installation before Dirty Kanza 200. Ditto on the Push-'n-Turn expander, it hasn't shifted and the headset has not loosened. Only time will tell, and another year, before I can truly say if this headset passes the test, but all indications are it's a solid piece of gear.
Token provides a two-year warranty for the hEGGset, which may be short compared to some manufacturers, but priced somewhere between $US 50.00 and $US 65.00 depending on where you buy, it's a pretty nice deal. As for the Push-'n-Turn, that will set you back $US 9.00 to $US 18.00 – if you can find it for $US 9.00, this little upgrade is an absolute steal and saves at least 20 grams from the front of one's bike. From this point forward, the Push-'n-Turn is my headset expander of choice!