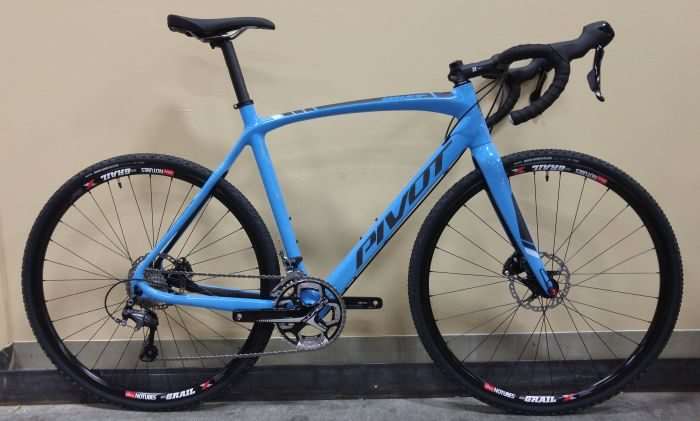 Pivot Cycles, founded in 2007, is one company who has been at the forefront of developments in recent mountain bike design and performance-enhancing technology. It is no wonder the company has established themselves as a leading brand in such short time. Helping along their growth are in-house goodies such as 3D printing and CNC machines; with these capabilities, Pivot is able to develop, test and build prototypes in a rapid manner, getting them into production much faster than was once dreamed possible.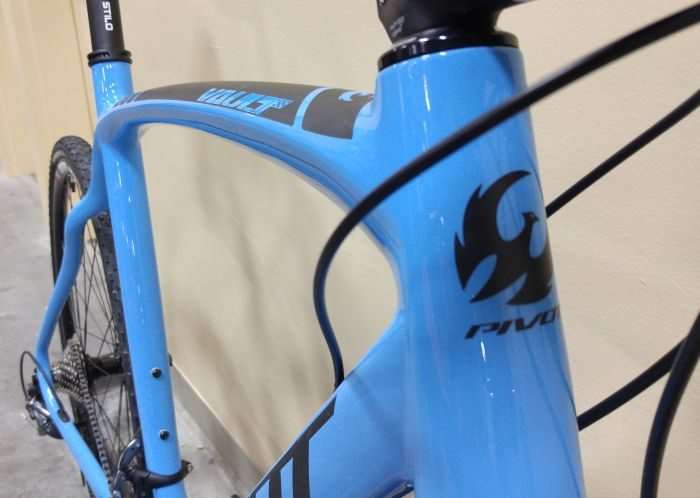 But, did you know that Pivot makes a gravel / cyclocross / road bike – the Vault? As Pivot puts it – "Vault's go-anywhere, do-anything personality means that you can pare your quiver of drop-bar bikes to just this one perfect ride". A bold claim to make.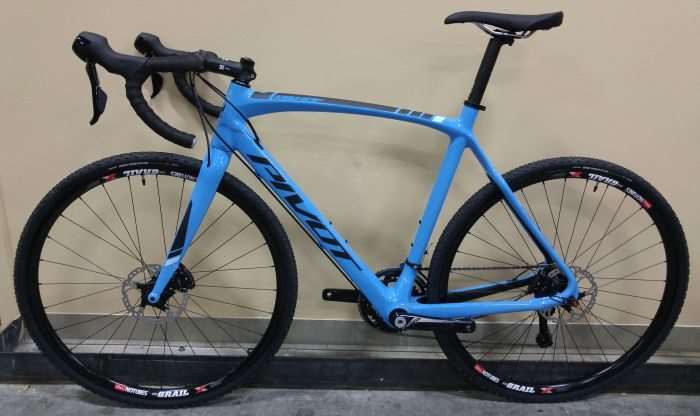 "The Pivot Vault is a competition-ready cyclocross machine that eagerly doubles as your all-season stage racer. Whether you plan to throw down in gravel events, the local crit series or if your favorite race is the one against sundown – when your rides include every possibility."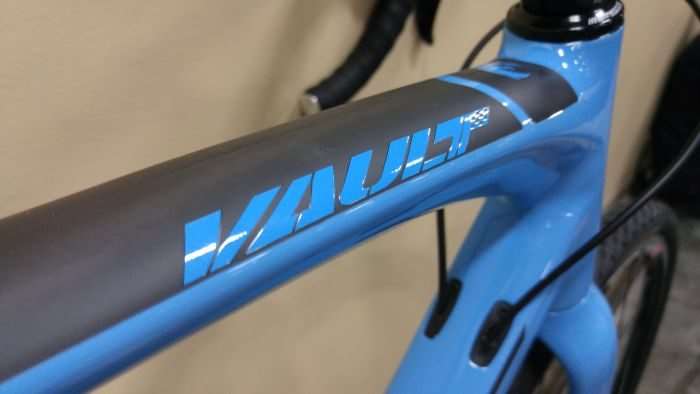 To create a bike that is rideable across a multitude of genres – "next-generation cross/gravel/road geometry" – Pivot utilizes "Tour de France" caliber carbon fiber technology. That technology also goes into the Vault's all-carbon tapered 1.5″ fork, which touts increased tyre clearance and an oversized fork crown to optimize stiffness, and steering precision while eliminating brake chatter on rough surfaces.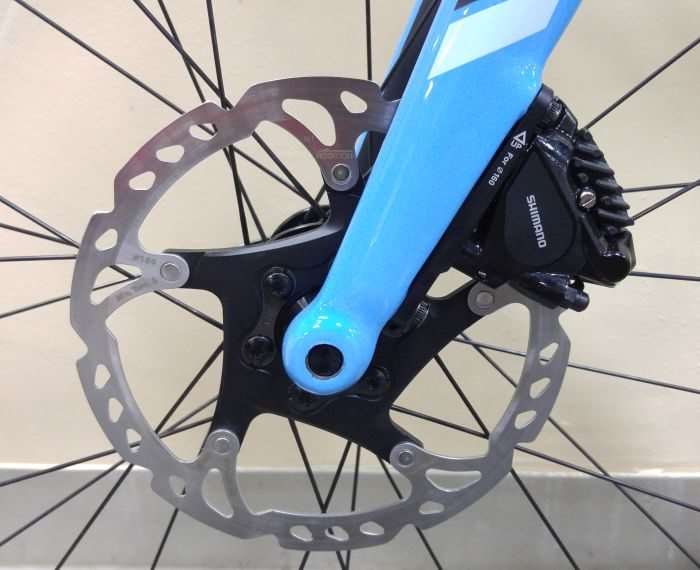 The Pivot Vault takes advantage of Shimano's latest flat-mount standard for disc brakes, along with a 160mm Shimano Icetech rotor on the front wheel.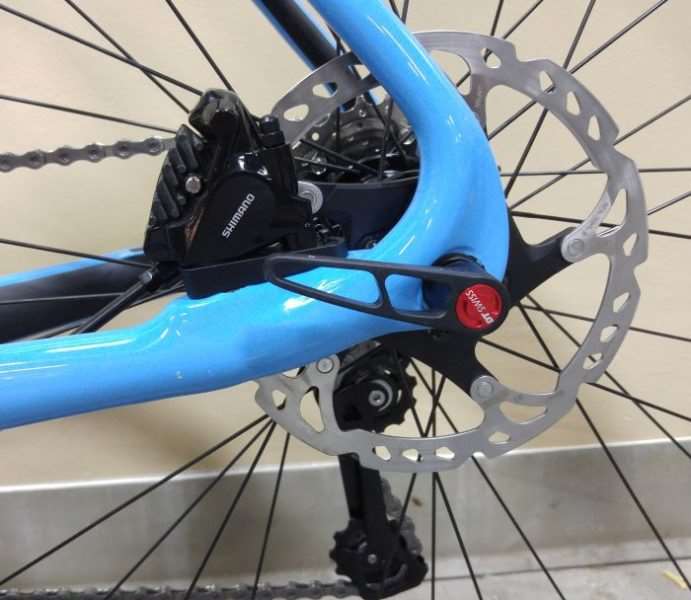 Flat-mount brakes on the rear of the Pivot Vault too, along with a 142 x 12mm thru-axle. Awesome DT Swiss thru-bolts keeps the wheels firmly locked in place. The Vault is compatible with 160mm or 140mm rotors.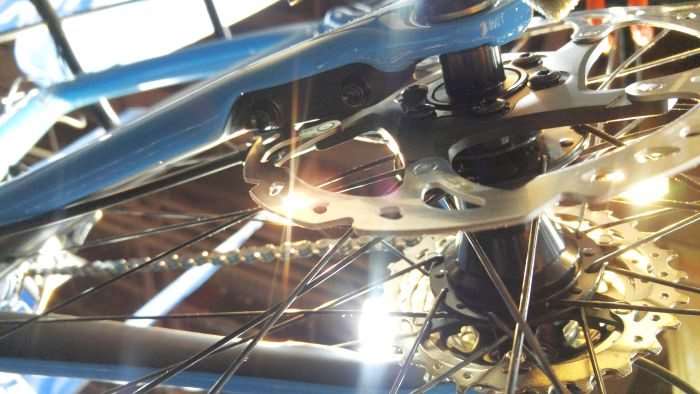 Above, this view demonstrates the neatly recessed mounting points for the rear brake.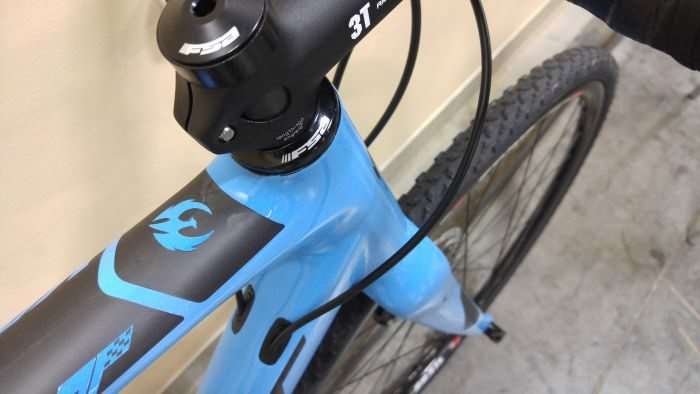 The Pivot Vault internalizes shifting for both mechanical and wired electronic drivetrains with its mechanic-friendly access ports.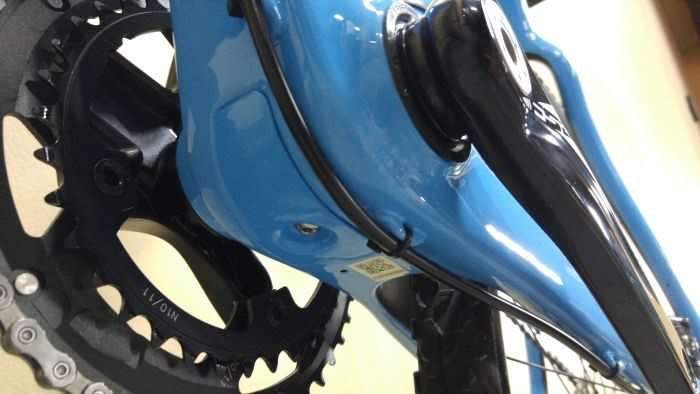 Large access ports beneath the bottom bracket are appreciated by home mechanics who work on their own bikes – and by the professional mechanics at your local bike shop. Note that Pivot choose to keep the rear brake cable externalized along the downtube and chainstay of the Vault.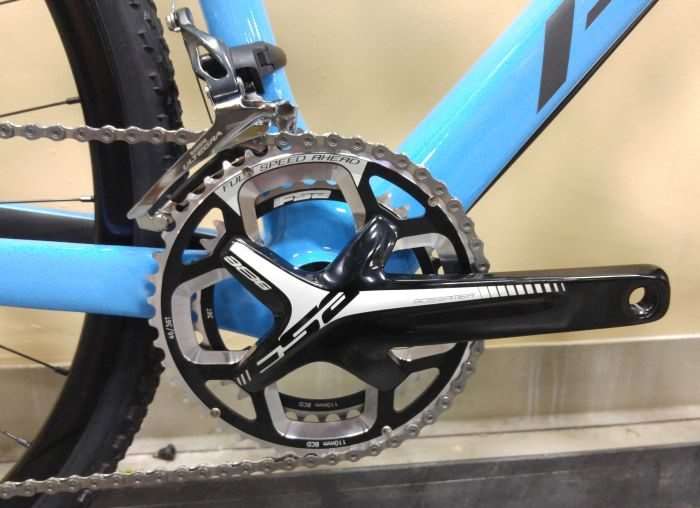 FSA's Gossamer Pro 386EVO crankset handles the duties of pedaling – while it seems the primary duty of the Pivot Vault is cyclocross, the company is wise in choosing this crankset and gear rations. The 46 / 36 chainrings are the near perfect gearing combinations for gravel cycling. Single chainring drivetrain systems maybe be the rage at the moment, but we really like the flexibility and added gear ratio options that a double chainring configuration offers. Paired to Shimano's Ultegra 6800 11-speed mechanical front derailleur, you are guaranteed fabulous shifting performance.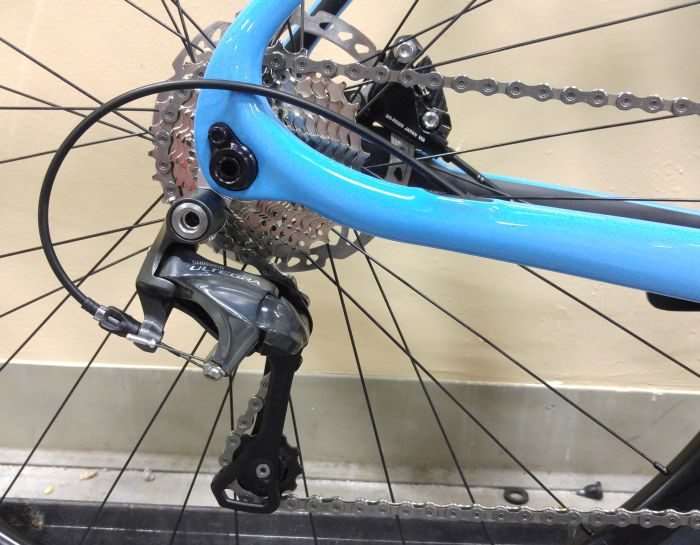 Pivot outfit the Vault with a mid-cage Ultegra 6800 11-speed mechanical rear derailleur. The stock build comes with an 11-28 cassette, but an 11-32 is our preferred choice for gravel use. We have proven this drivetrain becomes even more flexible if you install a Lindarets Roadlink – combined with the derailleur pictured above, this pairing allows for shifting up to a 40 tooth cog.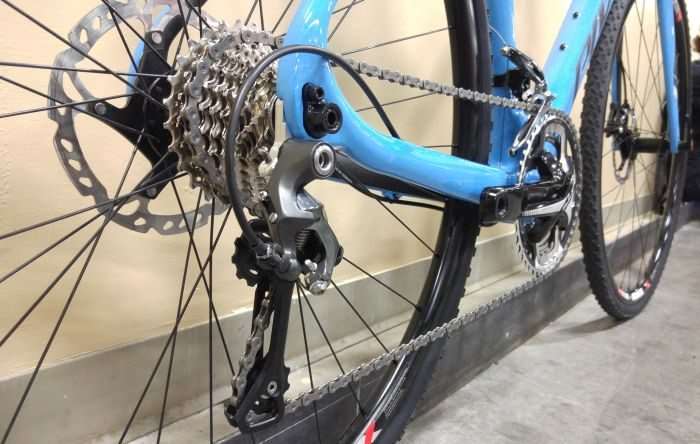 The Vault's dropouts are elegantly shaped with shifter cabling internalized inside the right chainstay. Note the replaceable derailleur hanger.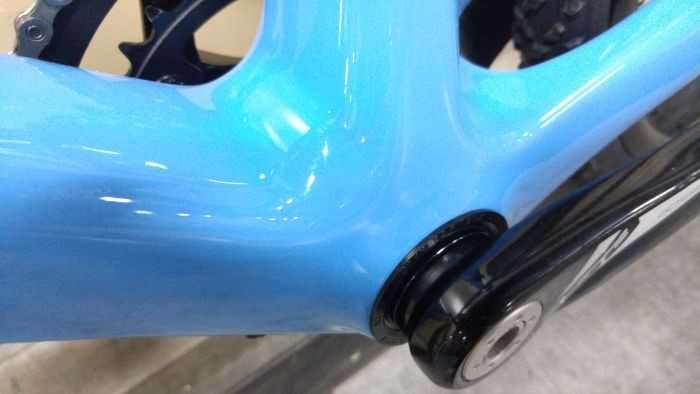 Pivot choose the BB386EVO bottom bracket standard; they claim increased torsional rigidity, strength and power transfer, while allowing for increased rear tyre clearance.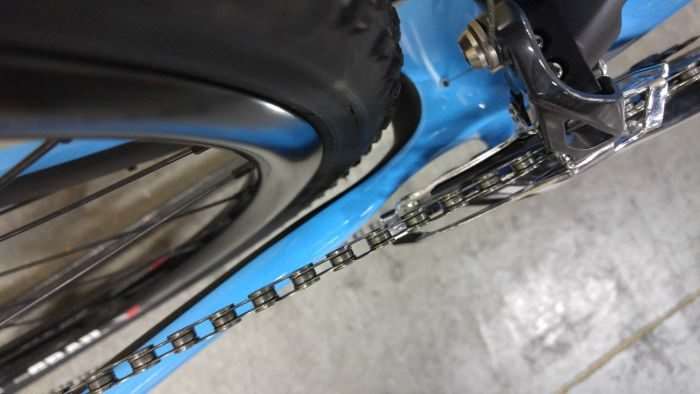 The Interbike show bike was fitted with Maxxis Mud Wrestler 700c x 33mm tyres – clearance appears to be tight from this photo angle. However, Pivot have specified the revised 700c x 38mm Maxxis Rambler as standard equipment on the Vault for 2017.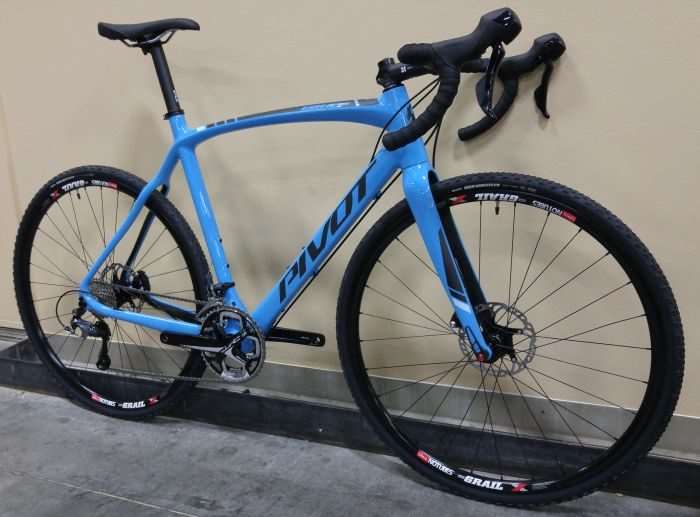 The Vault is available in one colour – gloss blue with matte carbon accents – and four sizes. X-Small, Small, Medium and Large with top tubes beginning at 52cm for the X-Small and 57.5cm for the Large.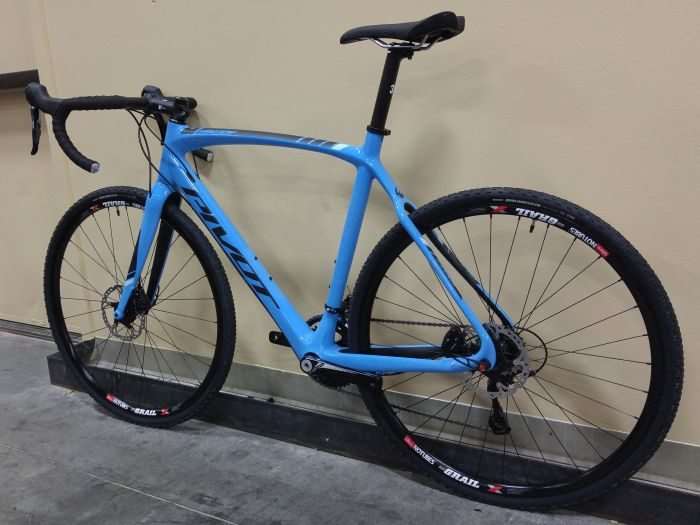 The Pivot Vault is priced at $US 3,999.00 with their high-end carbon frame and fork, Shimano ST-RS505 shifters and equivalent brakes, Ultegra 6800 11-speed mechanical derailleurs, Stan's Grail wheels – and everything else you see pictured above (barring possibly a change of tyres).