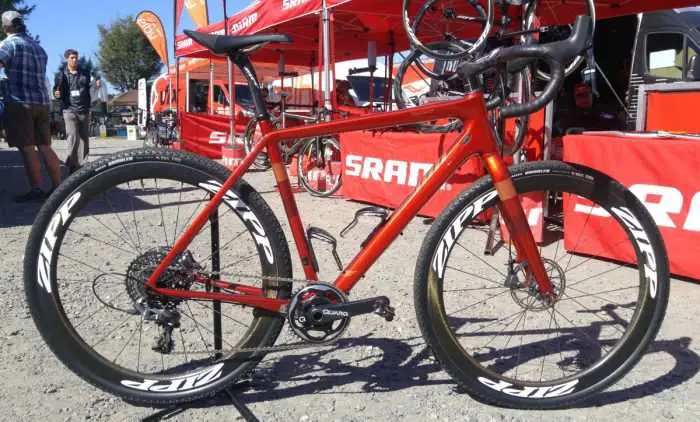 About Salsa Bikes
Salsa Cycles was founded around 1981 / 1982 by Ross Shafer. Before selling the company in 1997 to Quality Bicycle Products, Ross and his brand manufactured custom-made steel mountain bikes. His desire to build frames came about in 1976 after his sighting of a Wizard branded bicycle, built by Brian Baylis. Later in that same year, he assembled his first frame, albeit with a suitable amount of frustration. Frame number two soon followed, a vast improvement over his first effort.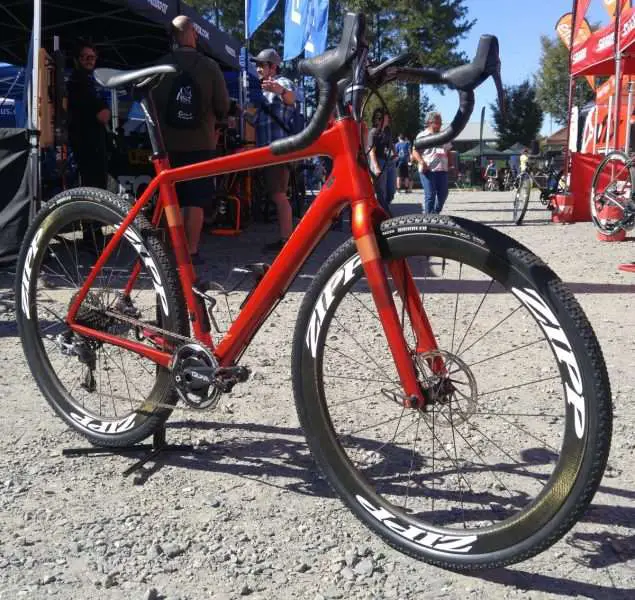 You can read more about the history of Salsa, by clicking on the following link to another Salsa featured bike – the Cutthroat belonging to Jim Cummins, founder and promoter of Dirty Kanza 200.
Salsa Warbird Carbon Gravel Bike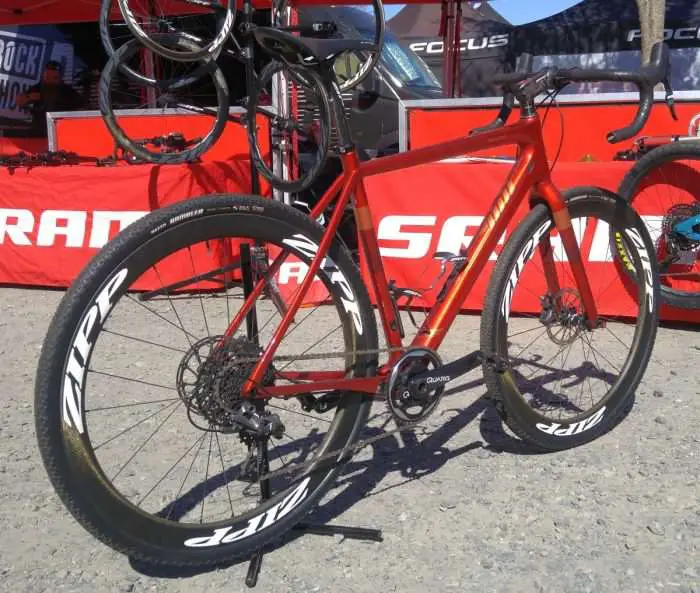 "Warbird is our gravel race bike, built off years of experience racing in some of the nation's premier gravel events like the Almanzo 100, Dirty Kanza 200 and 340-mile Trans Iowa. Warbird is designed to survive and thrive on anything from the often-hazardous B-roads that make up much of the Midwest gravel scene to the fire roads that climb to the heavens on the coastlines. Riding a Warbird only improves your chances of a podium finish."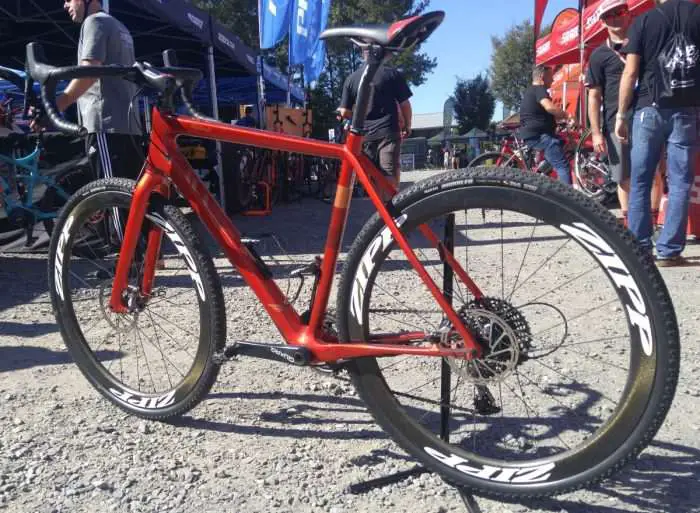 "The Salsa Warbird Carbon frame features a "Class 5 Vibration Reduction System" with specially shaped seatstays with a tall, thin, vertically oriented profile that promotes vertical compliance by allowing the seatstays to "flex" outwards on impacts."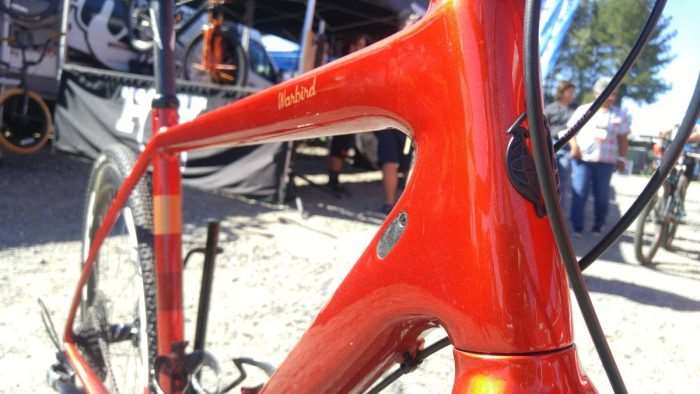 Salsa uses interior molds at all main front triangle junctions during the layup and curing process. "This allows for precise control of wall thickness and inner wall smoothness in these areas."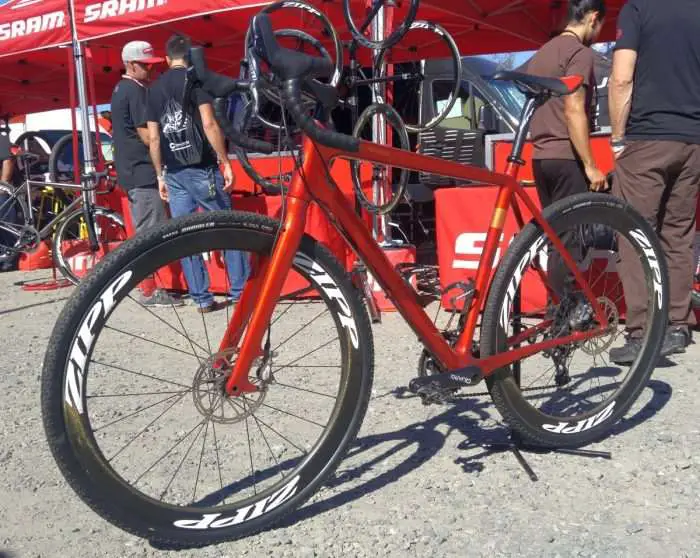 "This process increases compaction and reduces voids and wrinkles in critical high-stress zones".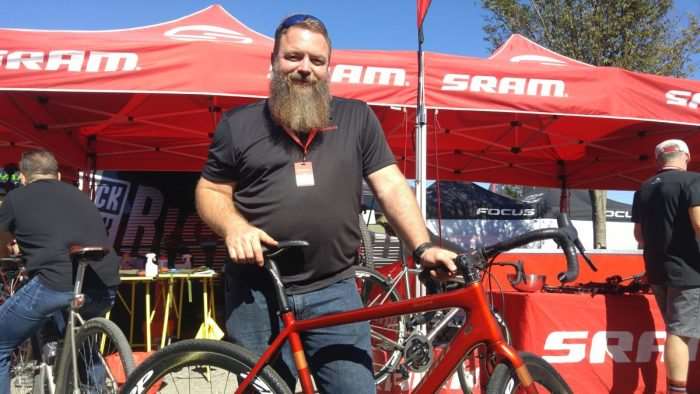 This example of the Salsa Warbird Carbon belongs to Mike Spilker, Technical Ambassador at SRAM. If you've appeared at Dirty Kanza, you may recognize Mike's smiling face. Mike kindly services the bikes of riders in need, before and during the race (you'll spot him in Madison, Kansas playing neutral support), in addition to spreading the tech talk goodness of SRAM's product line.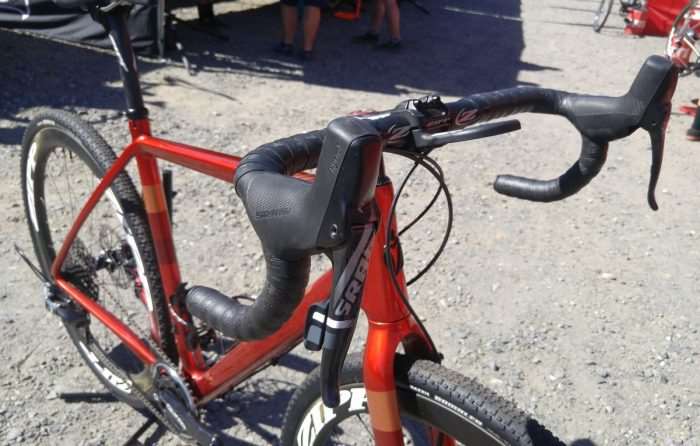 It should come as no surprise that Mike's Salsa Warbird Carbon is kitted out with SRAM components. Wheels and cockpit parts are provided by SRAM's sister company, Zipp, and the power meter is by Quarq, another SRAM entity.
Starting at the shifter / brake levers, Mike has chosen SRAM's Force HRD hydraulic brake levers / 11-speed shifters.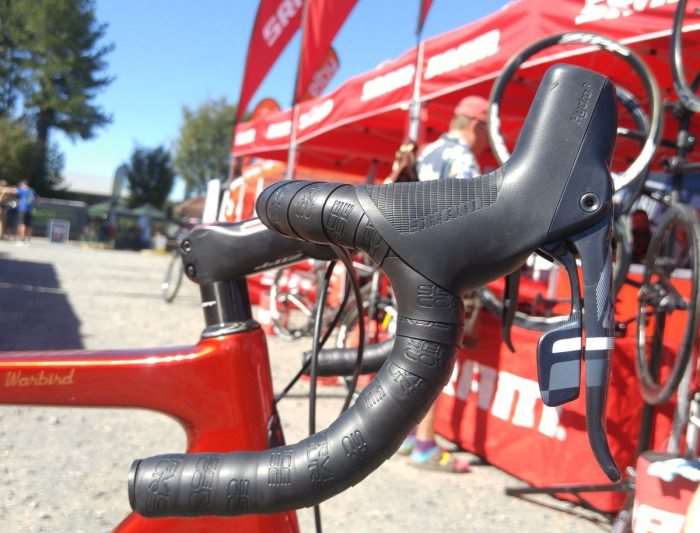 Above, a Zipp Service Course 80 aluminium handlebar wrapped in Zipp Service Course handlebar tape.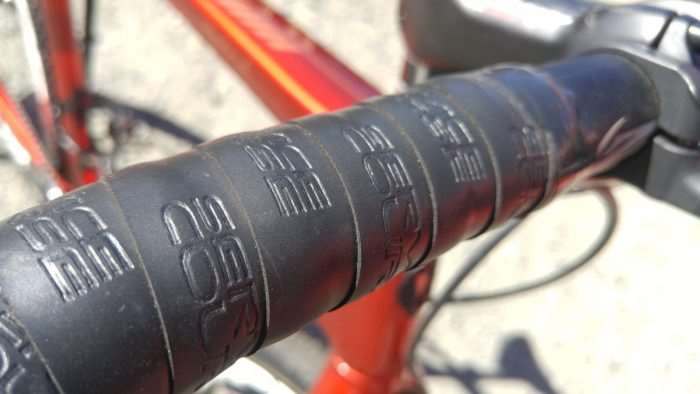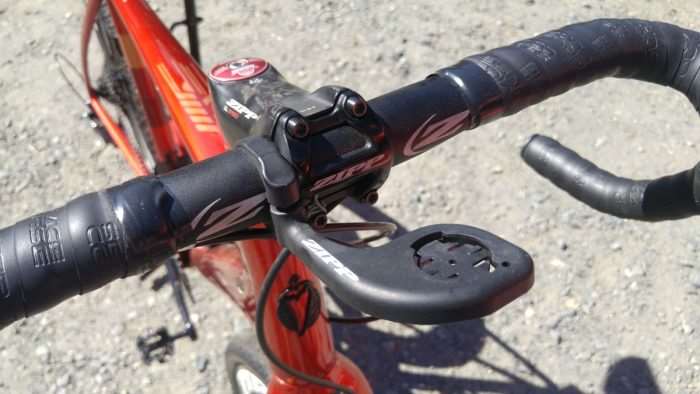 Zipp's Quickview Road Low Computer Mount places Mike's computer of choice nearly flush with the top of the handlebar.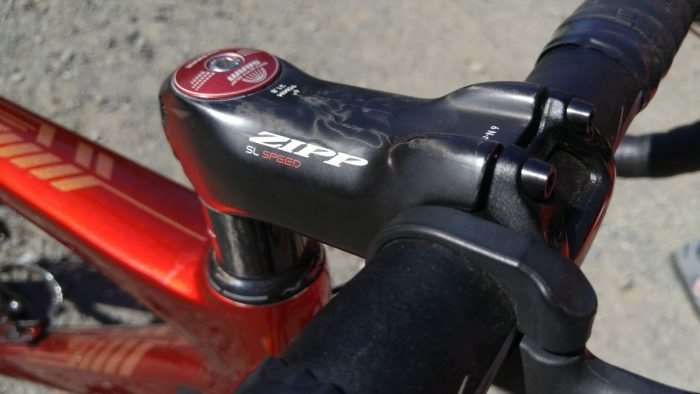 Above, Zipp's Speed SL Stem. "Designed using SRAM Exogram™ technology found in SRAM RED cranks, the SL Speed Stem weighs just 123g (100mm) while exceeding our stiffness-to-weight standards."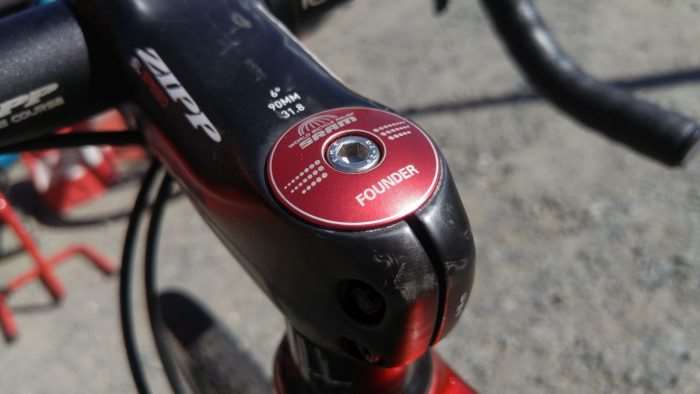 As the top cap implies, SRAM is the founder of World Bicycle Relief. World Bicycle Relief is an international, non-profit organization based in Chicago, Illinois that specializes in large-scale, comprehensive bicycle distribution programs to aid poverty relief in developing countries around the world – source, Wikipedia.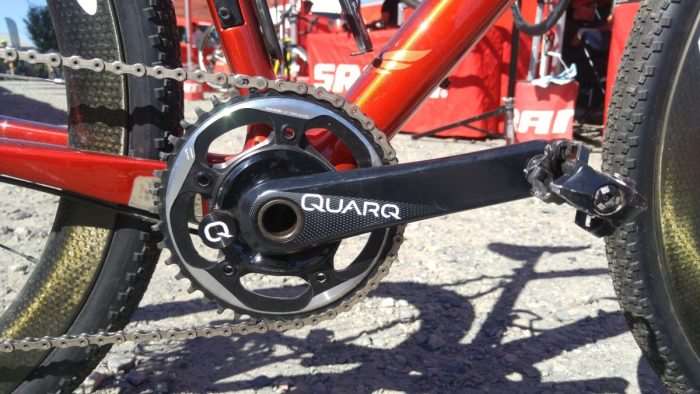 The Quarq DZero power meter on the SRAM Force 1 carbon crankset is shod with a 42 tooth X-Sync 1x specific chainring.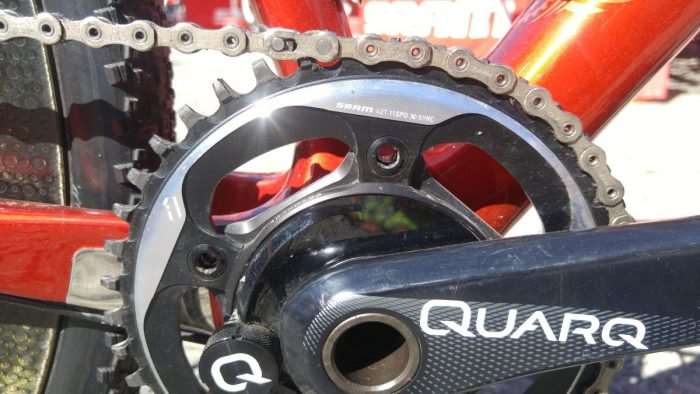 SRAM's X-SYNC™ features wide-tooth, narrow-tooth chainring technology for maximum chain control.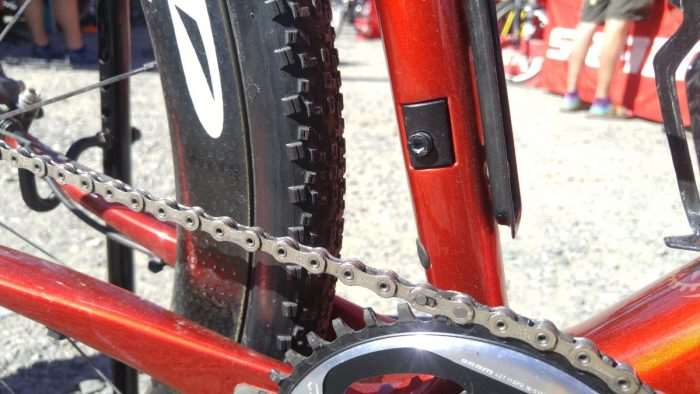 The Salsa Warbird Carbon does provide a front derailleur mount, for those riders who still enjoy a double chainring configuration. Be sure to check out our 1x / 2x video filmed at Rebecca's Private Idaho!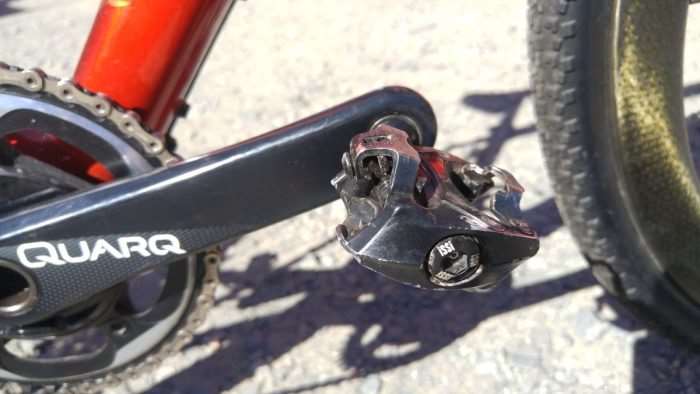 iSSI pedals are inexpensive but get the job done.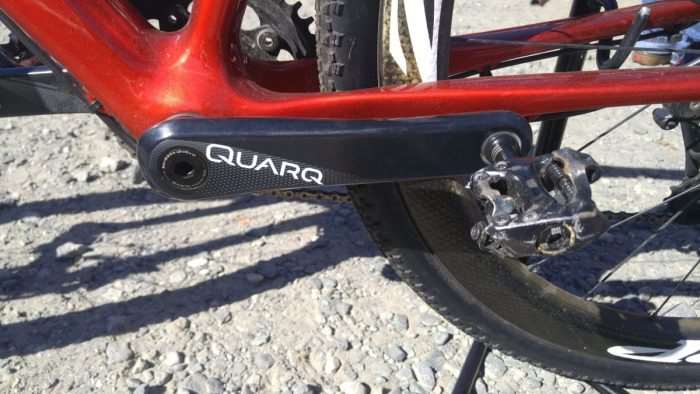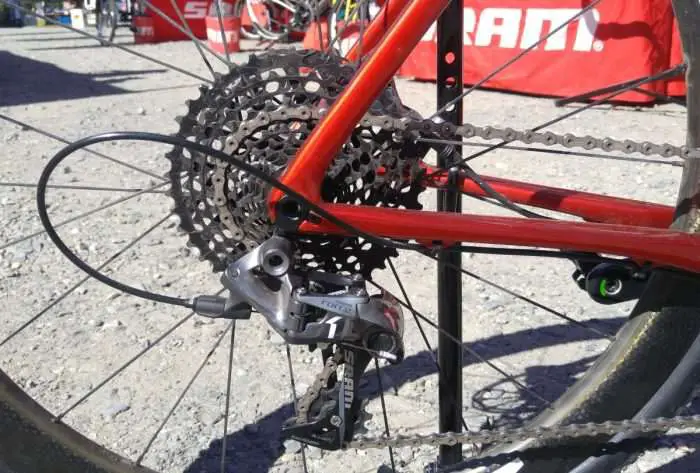 SRAM's Force 1 rear derailleur is completely dedicated to the single chainring concept – aka 1x. The clutch system eliminates chain slack – if you ride or race on gravel roads, chain slap is usually part and parcel of the experience.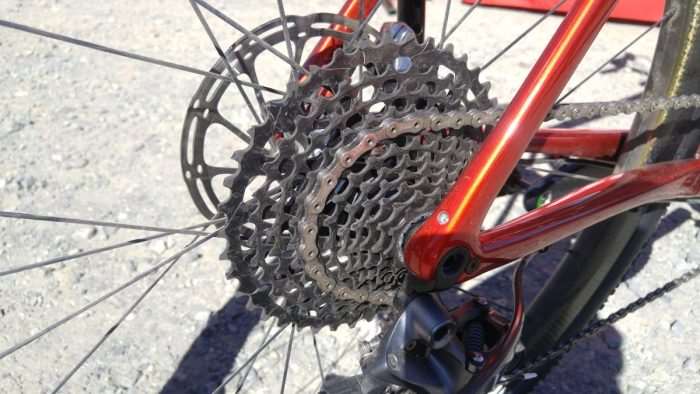 The SRAM XG-1180 MINI CLUSTER™ cassette provides a super wide gear range of 10-42. MINI CLUSTER™ construction combines three small cogs that are CNC machined out of a single block of billet steel with an additional eight cogs that are individually pinned together.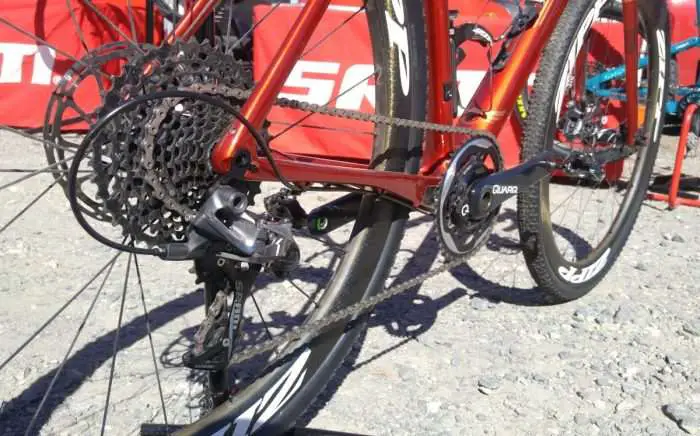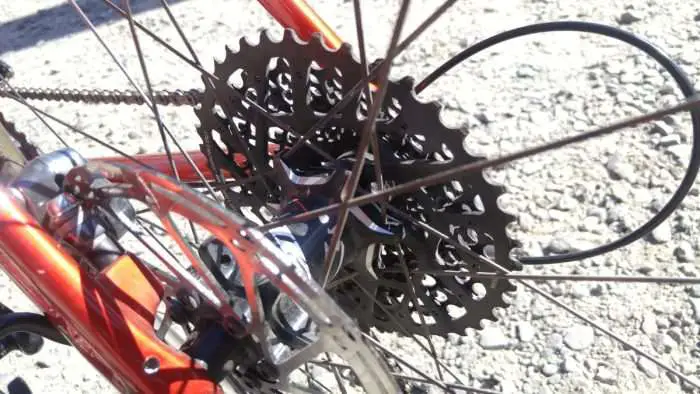 We at Gravel Cyclist would love to see the machine that produces these cassettes!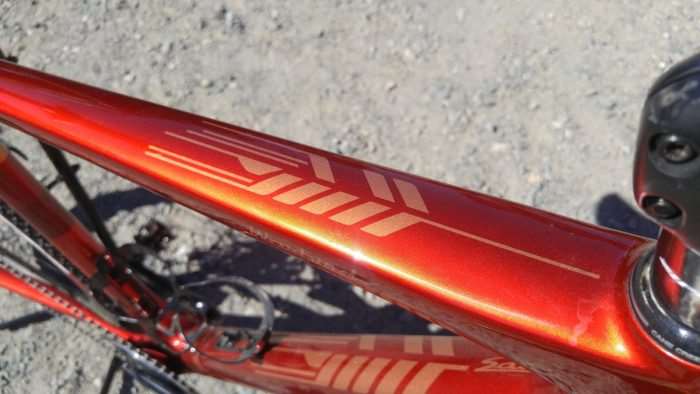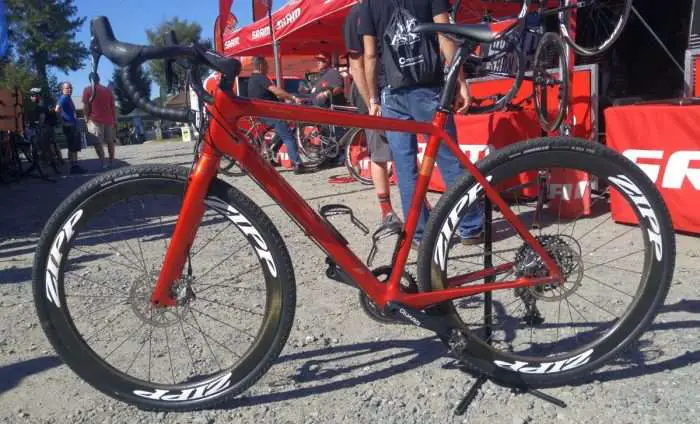 Zipp 303 Firecrest carbon wheelsets are among the most versatile of carbon wheelsets on the market today. Zipp refer to them as "a serious do-it-all wheel."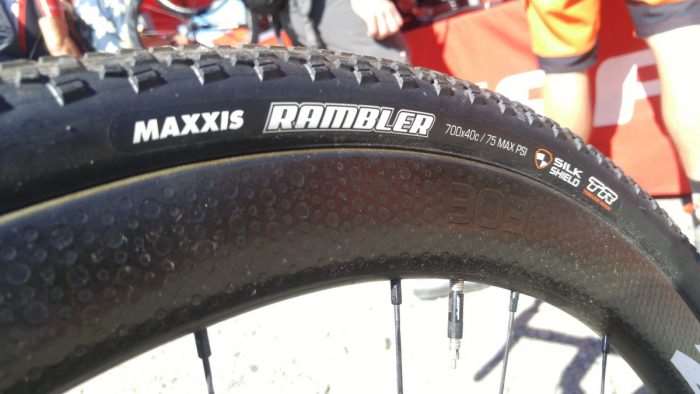 Mike chooses the excellent Maxxis Rambler in the 700c x 40mm width. Check out our review of the Rambler. Note how Mike has configured the valve extender. The valve core has been shifted to the end of the extender which greatly aids tyre inflation. Without such a tweak, valve extenders are renown for leaking air with each stroke of the pump.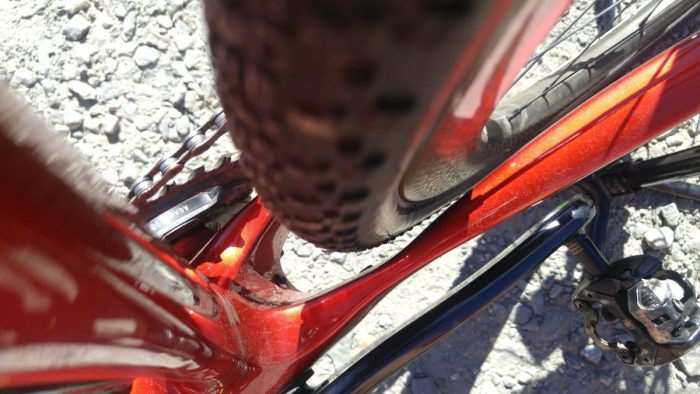 Past experience at muddy rides and races has taught Salsa to design bikes such as the Warbird with plenty of tyre clearance. Salsa provide clearance for a tyre measuring 700c x 44mm.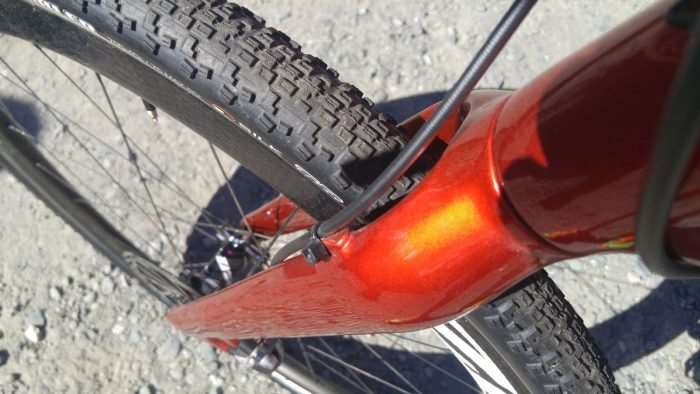 The Warbird's carbon fork routes the front hydraulic brake housing externally.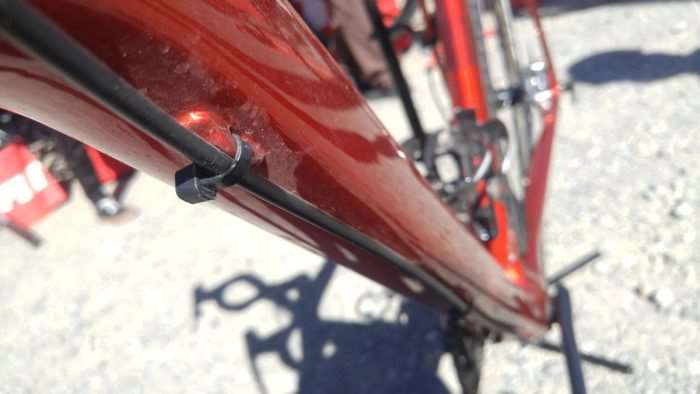 And likewise with the rear brake.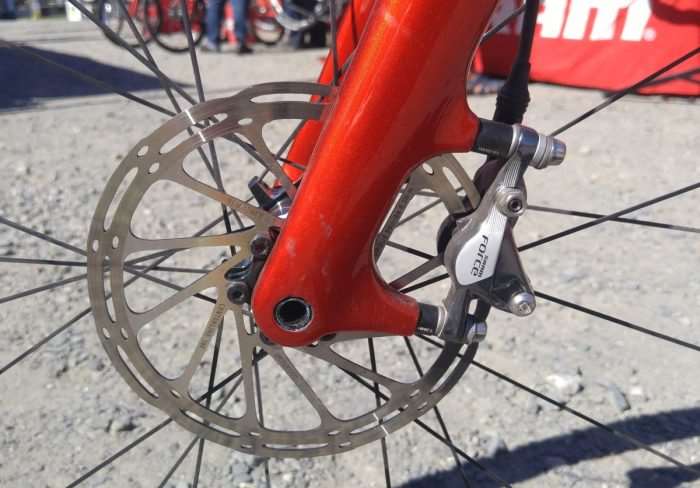 SRAM Force hydraulic brake caliper, post-mounted with support for a 15mm thru-axle. 160mm SRAM Centerline 6-bolt rotors at front and rear of Mike's Warbird.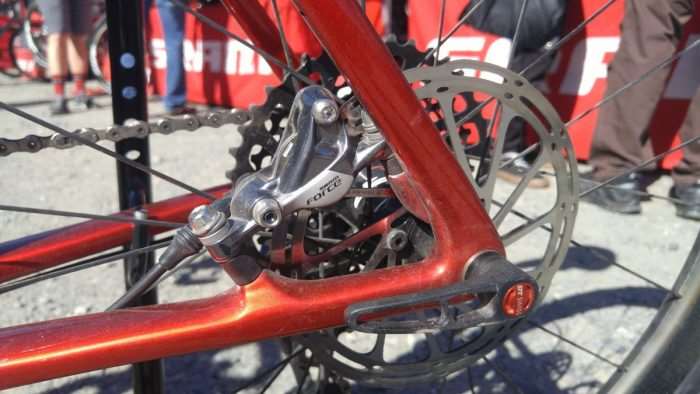 Post-mount on the rear and SRAM Force hydraulic brake caliper. Mike relies on the excellent DT Swiss thru-bolt to keep his wheels locked in place.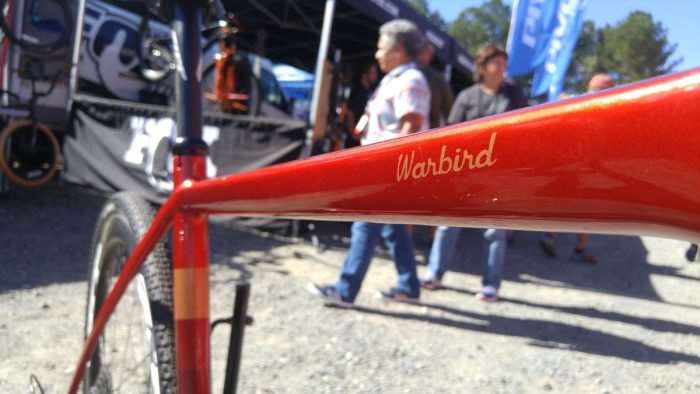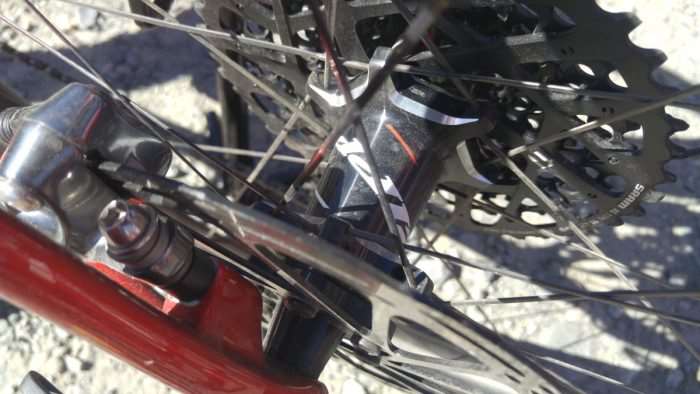 Above, Zipp's hub shells demonstrate a good amount of machine work. Notice the straight pull spoke configuration.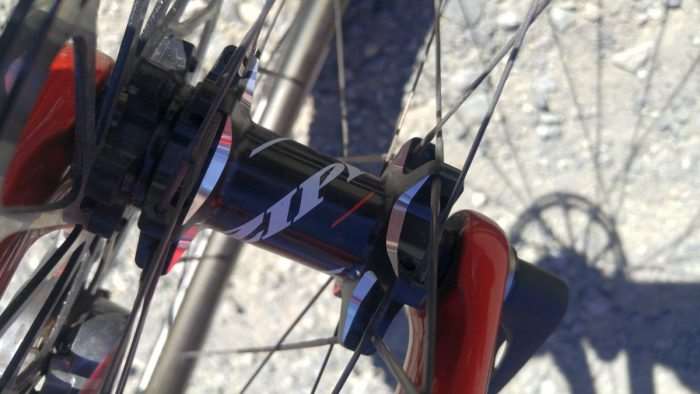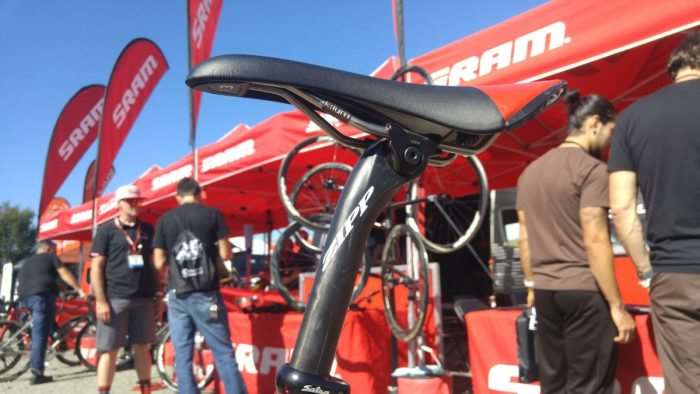 Above, an all-carbon Zipp Speed SL seatpost with 20mm of setback keeps Mike's saddle firmly in position.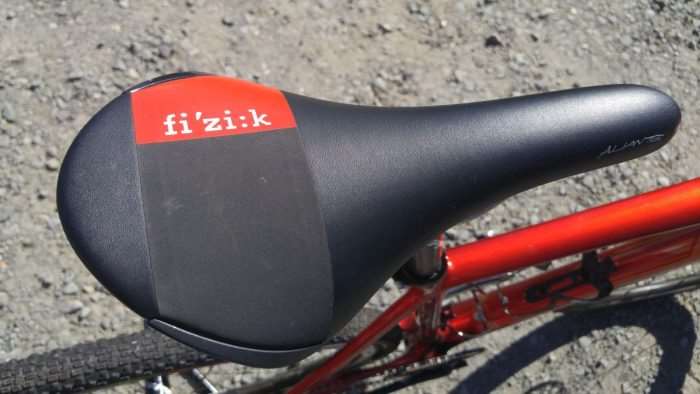 The venerable Fizik Aliante saddle.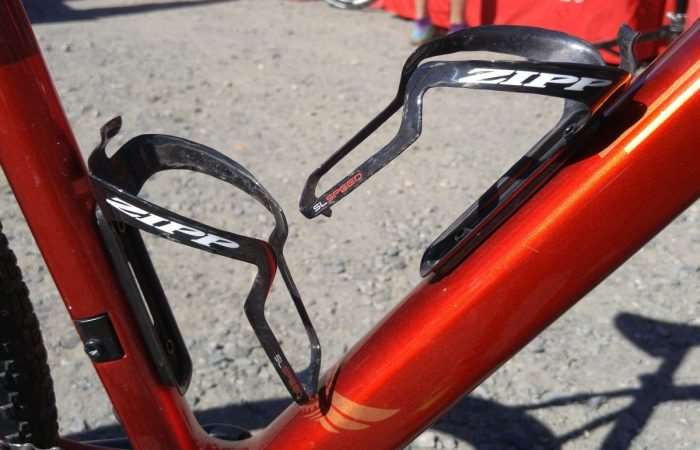 Zipp Speed SL carbon bottle cages complete the speedy carbon theme of Mike's Salsa Warbird.
Mike Spilker's Salsa Warbird Carbon Gravel Bike:
Frame: Salsa Warbird Carbon, 12mm x 142mm thru-axle.
Fork: Salsa Warbird Carbon tapered 1 1/8″ to 1 1/2″with 15mm thru.axle.
Headset: Cane Creek 40.
Stem: Zipp Speed SL Carbon.
Handlebar: Zipp Service Course 80.
Bar Tape: Zipp Service Course 80.
Brakes: SRAM Force hydraulic, post-mount.
Brake Rotors: SRAM Centerline 160mm.
Brake / Shift Levers: SRAM Force HRD hydraulic/mechanical 11-speed 1x
Front Derailleur: N/A.
Rear Derailleur: SRAM Force 1 11-speed.
Cassette: SRAM XG-1180 11-speed 10-42.
Chain: SRAM X1.
Crankset: SRAM Force GXP with 42 tooth chainring and Quarq DZero Power Meter.
Bottom Bracket: SRAM PF86.
Pedals: iSSi.
Wheelset: Zipp 303 Firecrest Carbon Clincher, Tubeless.
Tires: Maxxis Rambler TR 700c x 40mm.
Saddle: Fizik Aliante.
Seatpost: Zipp  Zipp Speed SL, 20mm setback.
Bottle Cages: Zipp Speed SL.
If you own a unique gravel bike you'd like to see featured on Gravel Cyclist, please contact us.