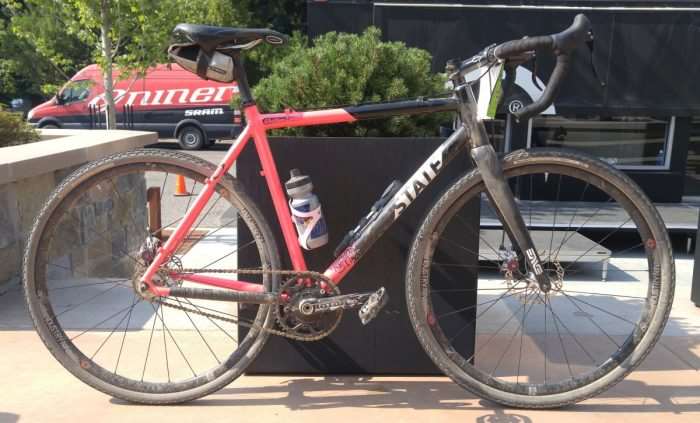 About State Bicycle Company
"When we say State Bicycle Company is rider-developed, we mean it. In 2009, State was launched by three Arizona cycling addicts with big dreams. The goal was and remains: to introduce premiere quality, aesthetically striking bicycles to the fixed gear / single speed market at a fantastic price."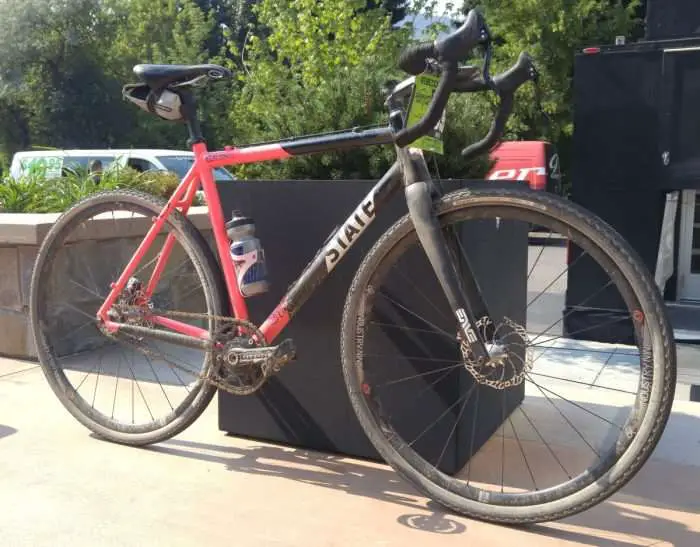 The Thunderbird Gravel / Cyclocross Bike – in Pink and Black
"Our deluxe race-ready Single Speed Cyclo-Cross bike, the Thunderbird, boasts the versatility and power any serious SSCX rider needs: lightness, agile maneuvering, a 6061 aluminum frameset that begs to be punished, serious stopping power, custom-graphics by Johnny Hsu, and some of the most trusted components in Cross. Want to ride geared? The Thunderbird frame can be converted to accept gears!"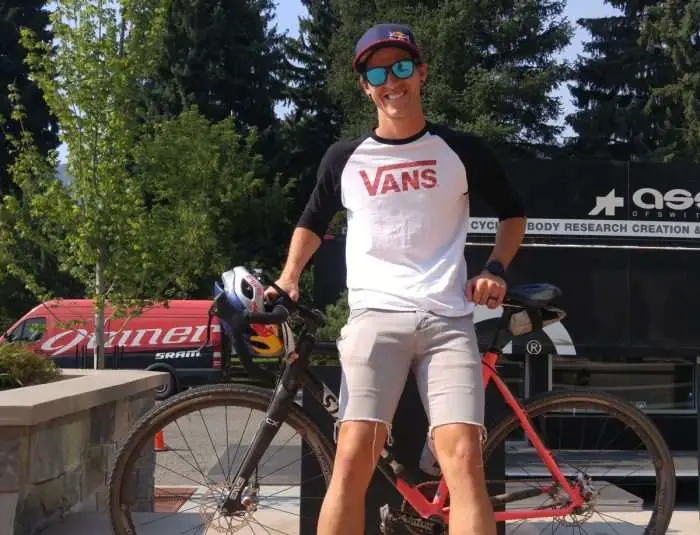 Pictured above is the man himself, Addison Zawada. Addison is a State Bicycle Co. sponsored rider, who has taken his Thunderbird to victory at the 2017 Dirty Kanza 200 in the Single Speed category and more recently, a Top 5 finish at the inaugural "Queen's Stage Race", part of Rebecca's Private Idaho. Did I mention the lad has some serious talent!?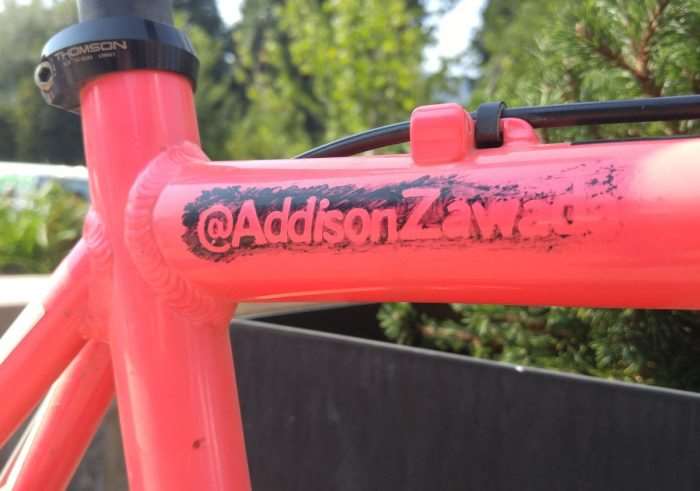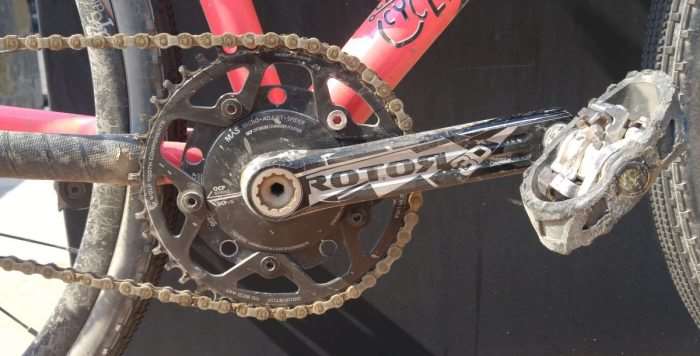 Gearing selection on a single speed bike IS the most critical aspect of bike setup. Stating the obvious, single speed is a world of compromise. At a race such as Rebecca's Private Idaho where there is an abundance of climbing, gear ratios are chosen to favor ascending versus flat road riding or descending.
In the case of Addison, he chose a Wolf Tooth 44T chainring, mated to a Rotor 3D+ crankset (incidentally, we're reviewing one of these at the moment, albeit with two chainrings).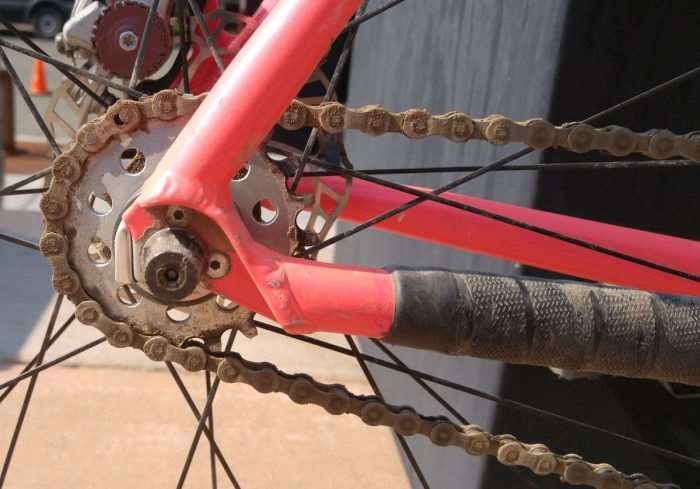 Addison's rear cog for Rebecca's Private Idaho is 21T, at least during the time trial stage.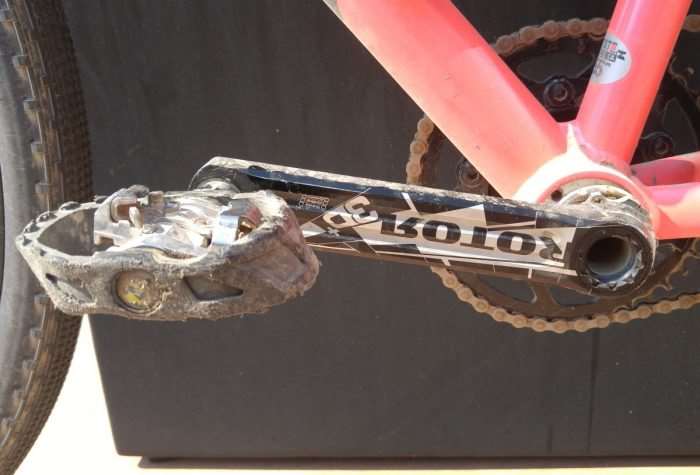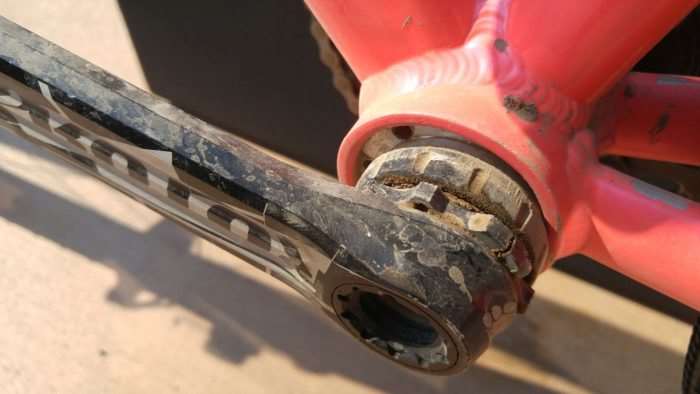 Above, Addison's rig is fitted with an eccentric bottom bracket. For those who don't know about this type of bottom bracket, Wikipedia does a great job of explaining how they work.
"An eccentric bottom bracket is a cylindrical plug or bearing cup that fits into an enlarged bottom bracket shell. The plug is machined to accept a typical bottom bracket, but offset from the center of the plug, so that by rotating the plug, the location of the bottom bracket (and hence the chain tension) may be adjusted (fore and aft to tension the chain, the upper or lower eccentric position for a given chain length can be chosen to fine tune bottom bracket height). Once properly adjusted the plug is then fixed in place by a pair of set screws, a clamping bottom bracket shell, an expanding wedge in the plug, or the plug may be manufactured in left and right halves that clamp against the faces of the bottom bracket shell with screws that connect the two halves."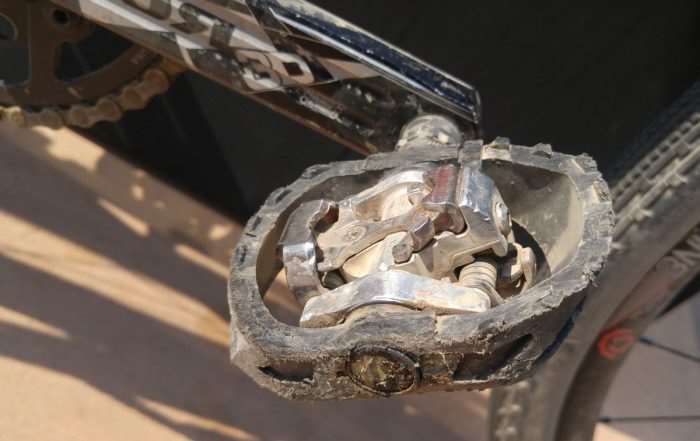 This well-used pair of Shimano PD-M424 pedals have taken a beating, but continue to perform. Shimano intended the M424's for Dual Salom, Freeride and BMX type use, but they work just fine on gravel.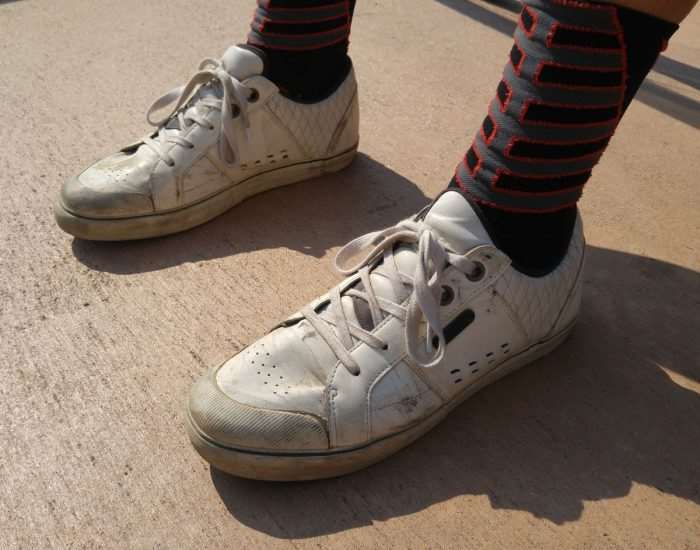 Addison left his racing shoes at home by in error, but still managed to crush using these unbranded shoes that do have a cleat recess and cleat installed.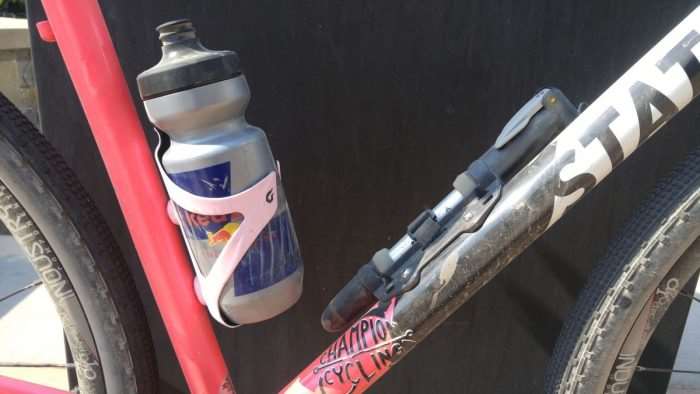 Only one bottle cage for Addison's rig. Like many riders who've taken to the fun side of cycling – gravel – his hydration needs are worn on his back, in the form of a Camelbak hydration pack. A mini-pump accounts for the second set of bottle cage mounts.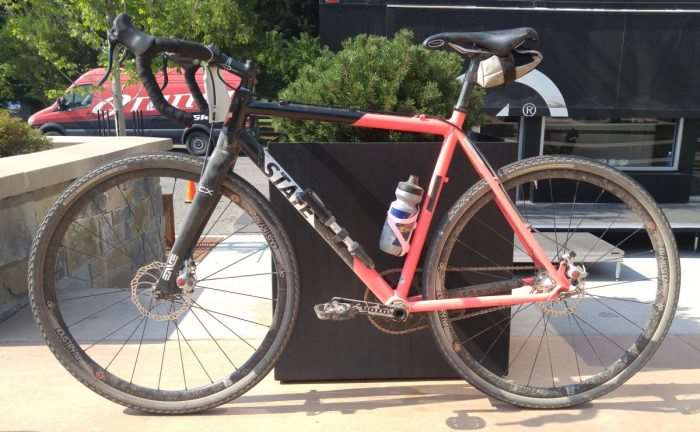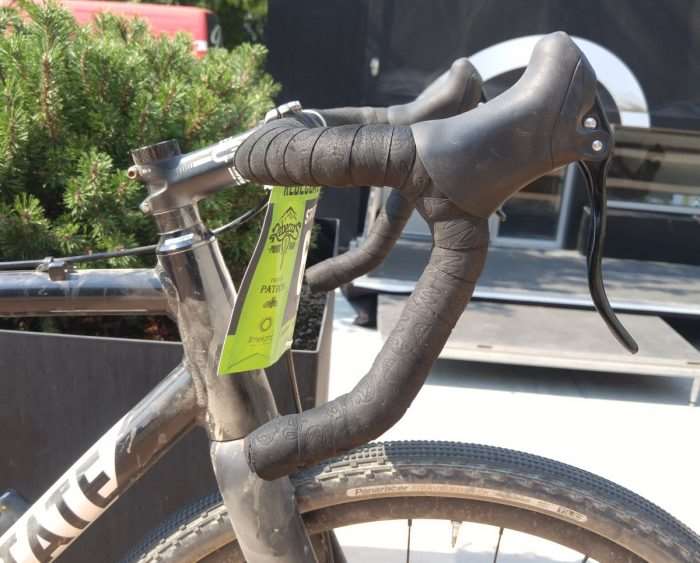 The front end of Addison's rig is a hodge podge of parts, beginning with an older model Easton EC70 carbon handlebar mated to Tektro brake levers.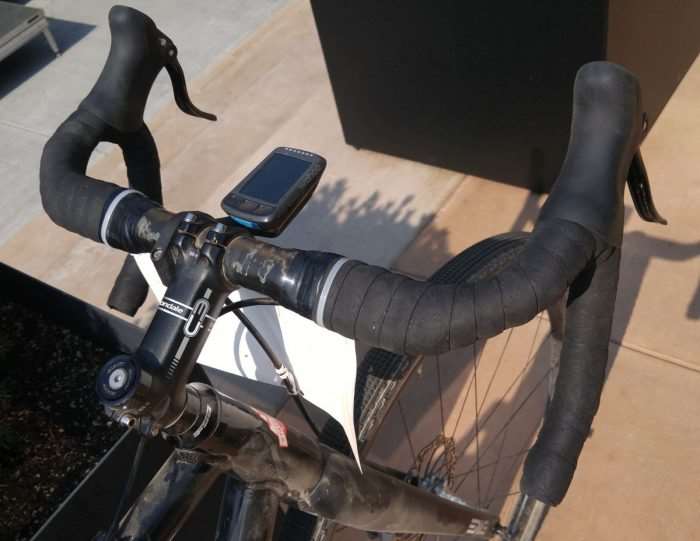 A Cannondale C3 stem attaches the handlebars and fork with a Giant labelled top cap.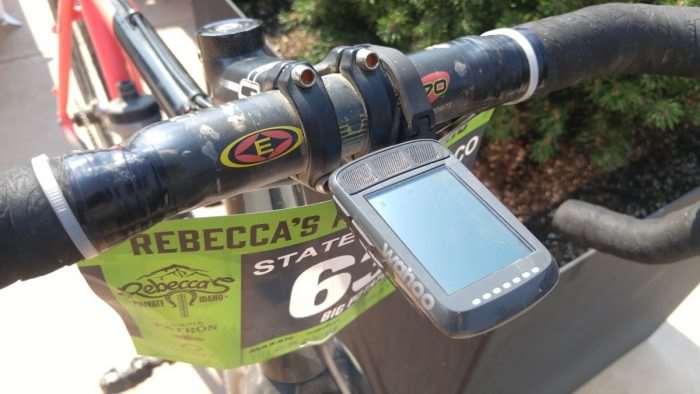 Wahoo's Element Bolt computer provides basic navigational functions for Addison. According to the company's marketing blurb, the Bolt provides an air drag saving of 50% versus most other computers, adding up to a saving of 1.5 watts! Go slow on gravel, but fast 🙂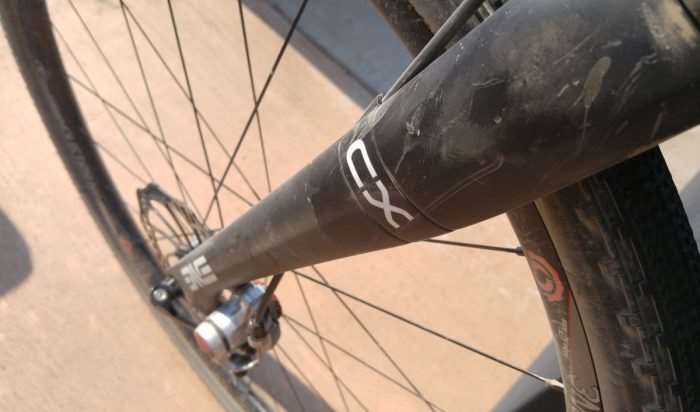 Above, Enve's carbon disc brake CX fork.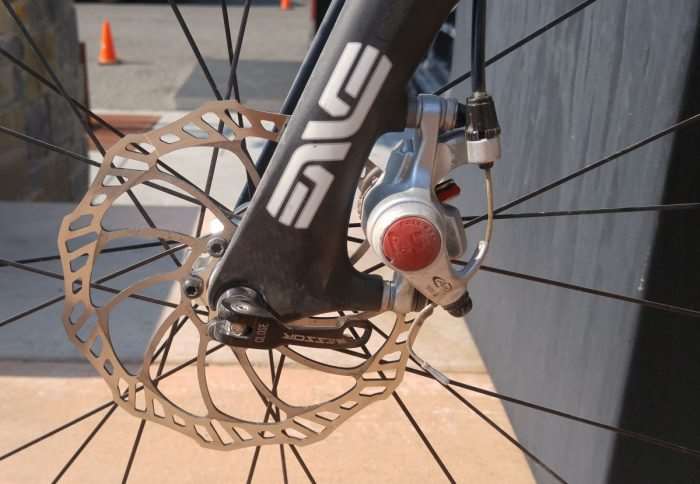 Avid's BB7 mechanical disc brake is an older but well-proven design. It is a single piston brake that offers a good amount of power and simple adjustment. Addison relies on a 160mm brake rotor at the front of the bike.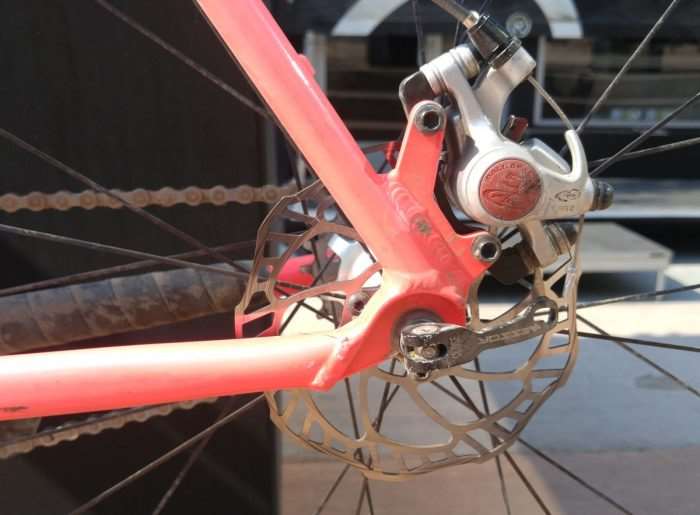 At the rear, a 140mm brake rotor. Thru-axles are the norm nowadays, but the venerable quick-release still works just fine.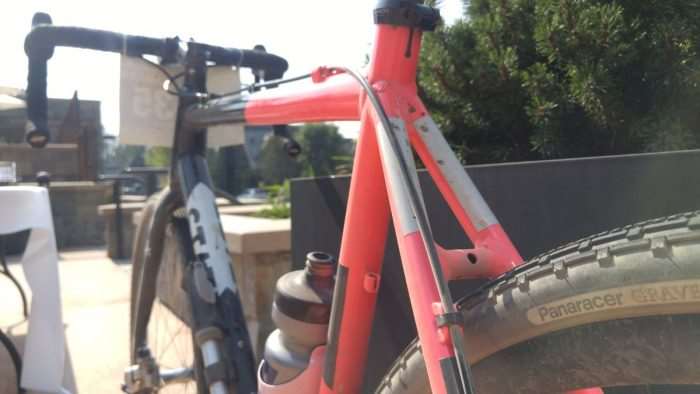 The rear brake cable runs along the top tube and down the left rear seatstay.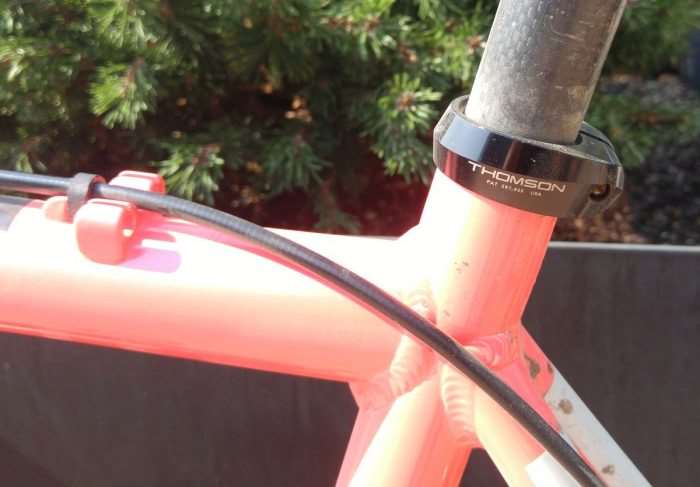 The State Bicycle Co. Thunderbird can be configured as a geared bike, as alluded to by the top tube cable guides. A Thomson seatpost collar keeps the bike's seatpost securely in place.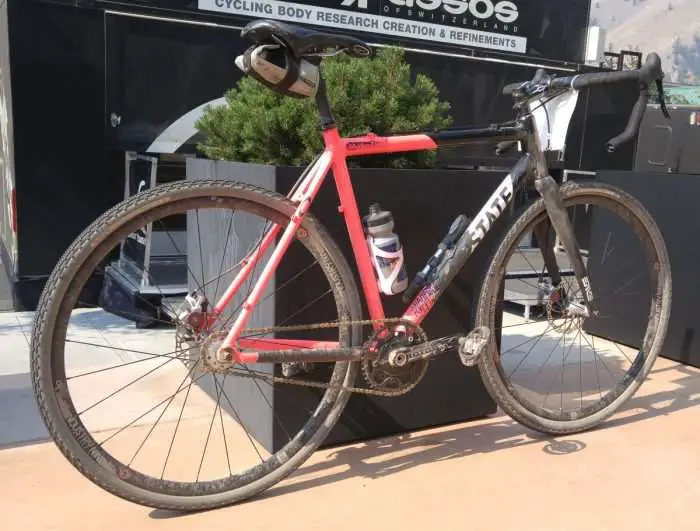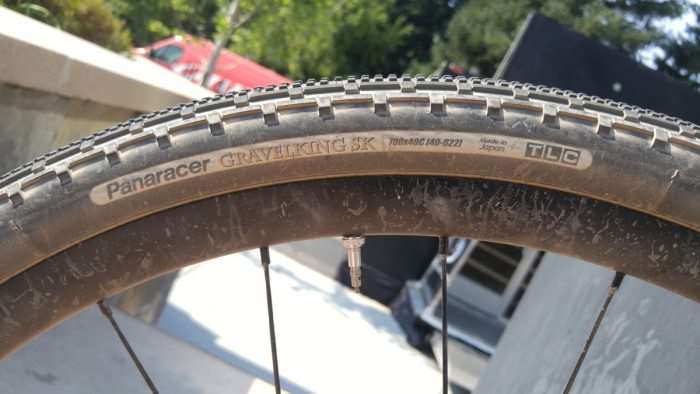 The Panaracer Gravelking SK is a superb tyre. Addison chooses the 40mm wide version, but it is also available in 35mm and a new 38mm width with tougher sidewalls, perfect for the flinty gravel of a race such as the Dirty Kanza 200. All versions are available in black or tan sidewalls. Check out our review of the Panaracer Gravelking SK HERE – and the Panaracer Gravelking Mud, HERE.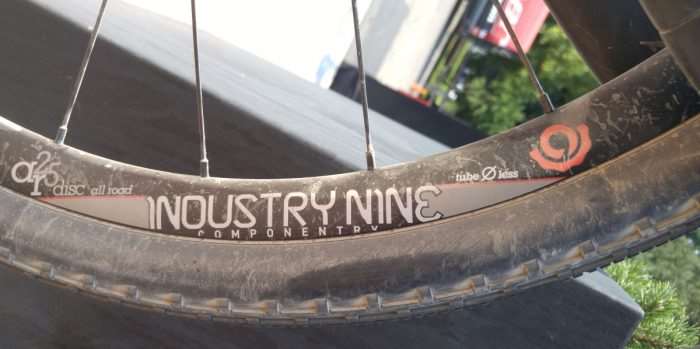 Industry Nine's AR25 disc wheelset is intended for all road use – or "born for adventure", as Industry Nine prefer to say.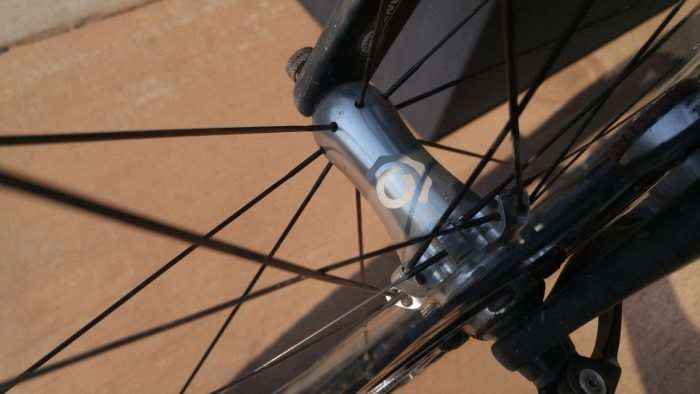 24 spokes on the front wheel.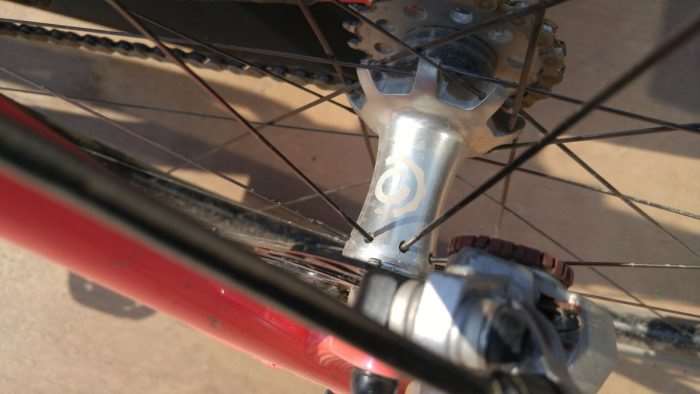 24 spokes on the rear, but in a 2/1 lacing pattern – 16 spokes on the drive side and 8 on the non-drive side. Industry Nine believes this spoking pattern reduces peak stress loads on the spokes and rim, as well as the fatigue cycle incurred compared to a traditional 24 spoke wheel.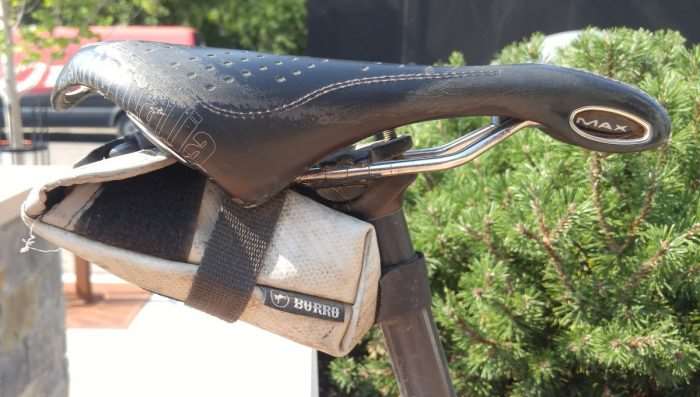 Addison's saddle of choice is the Selle Italia Gel Flow Max, paired to a no-name, zero setback carbon seatpost. The saddle bag is by Burro Bags who are based in Jacksonville, Florida, Addison's former stomping grounds.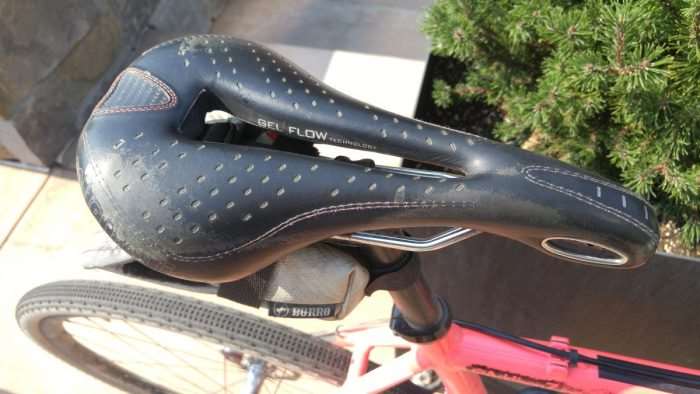 The Gel Flow Max also features a pressure relief cutout.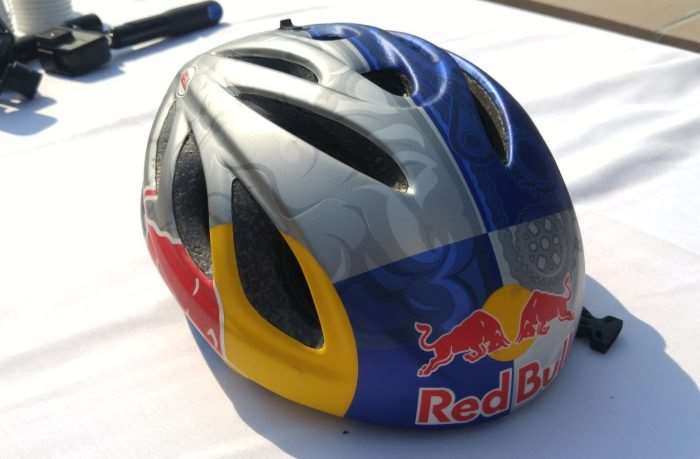 Addison also happens to be a Red Bull sponsored athlete.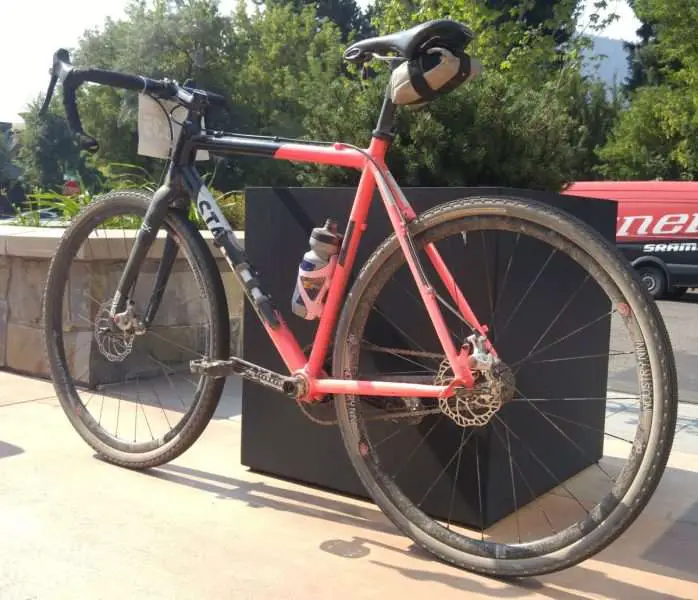 Addison Zawada's State Bicycle Co. Thunderbird Single Speed Gravel Bike:
Frame: State Bicycle Co. Thunderbird.
Fork: Enve carbon CX, regular quick release.
Headset: Full Speed Ahead.
Stem: Cannondale C3.
Handlebar: Easton EC70 carbon ergonomic.
Bar Tape: Salsa.
Brakes: Avid BB7.
Brake Rotors: Avid 160mm front, 140mm rear.
Brake / Shift Levers: Tektro.
Front Derailleur: N/A.
Rear Derailleur: N/A.
Cassette: N/A. One cog, size will depend on the course.
Chain: Unknown.
Crankset: Rotor 3D+, chainrings are dependent on the course.
Bottom Bracket: Unknown eccentric.
Pedals: Shimano PD-M424.
Wheelset: Industry Nine AR25 disc tubeless.
Tires: Panaracer Gravelking SK 700c x 40mm.
Saddle: Selle Italia Gel Flow Max.
Seatpost: No-name, zero setback carbon.
Bottle Cages: One cage, unknown brand.
If you own a unique gravel bike you'd like to see featured on Gravel Cyclist, please contact us.