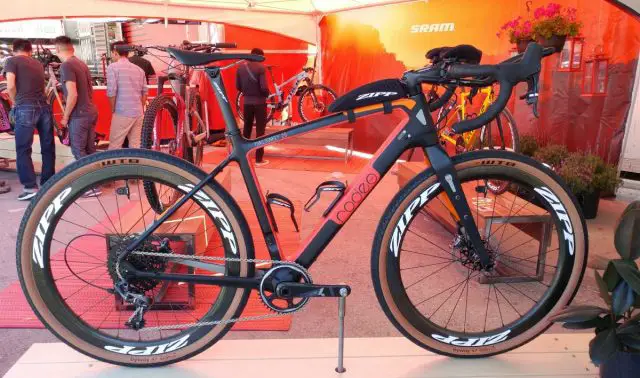 Rodeo Adventure Labs
"Rodeo believes that everyone approaches cycling for their own reasons and that no single approach is right for everyone. We believe that individuals can grow tremendously through athletic endeavor, and we seek to support our members in those endeavors through friendship and camaraderie. "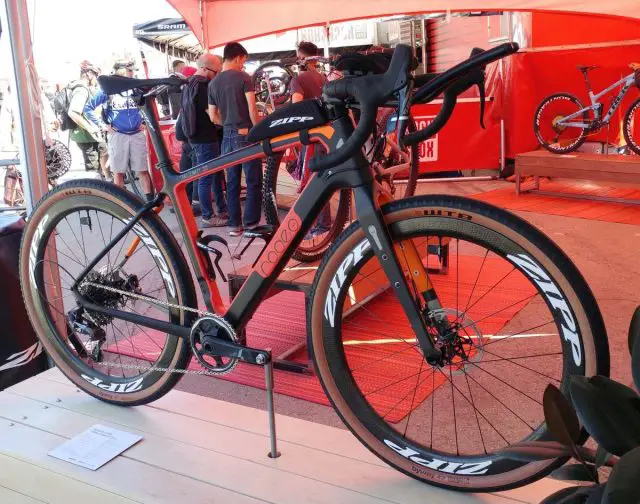 "Rodeo is about racing – if you like. It's about exploring – if you like. It's about having a posse – if you like. It's about doing new things – if you like. It's about KOMs – if you like. It's about MTB, Cyclocross, Road, Fatbikes, Track, or even recumbents. Actually… it's not about recumbents."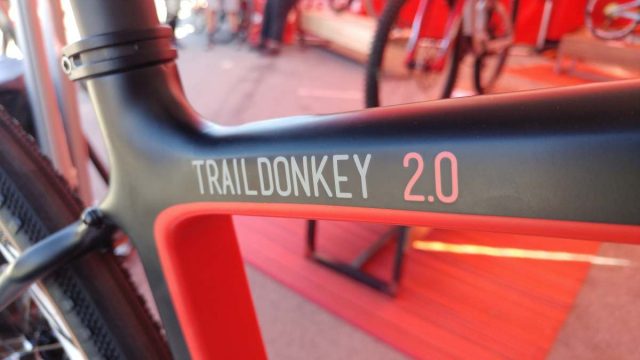 "Trail Donkey 2.0 is Rodeo Labs Premiere Adventure Bike Platform"
"Traildonkey is produced by hand in low volumes. Framesets are available for those seeking to complete their own builds and we offer completely customizable full builds for those seeking assistance in tailoring the bike to their styles and goals."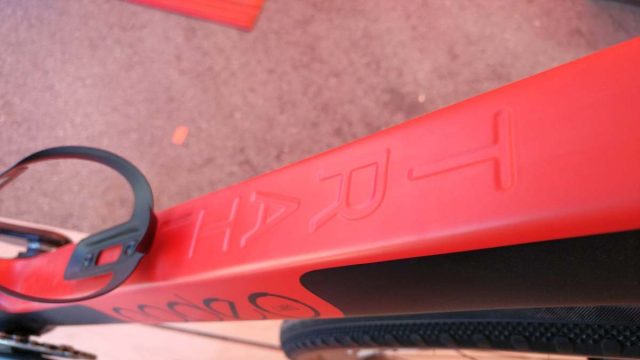 Technical frame specifications:
Frame: 3k and unidirectional carbon fiber. Aluminum dropout hardware, cable routing guides, and bottom bracket shell. Aluminum lower headset bearing seat and carbon upper bearing seat.
Bottom Bracket: PF30.
Dropouts: Carbon with swappable aluminum hardware for both 142 x 12mm through axle or 135 Quick Release both included with each frame. 135mm QR threads directly into frame hardware instead of a separate end cap creating a more integrated connection with the frame.
Rack Mounts: Front and rear, full length ready.
Fender Mounts: Front and Rear.
Cable Guides: Interchangeable mechanical or Di2. Can be capped to seal frame when not in use. Removable housing cover at lower bottom bracket shell for easy access to rear brake and derailleurs.
Dropper Post: Internal routing along top tube with exit point at upper seatpost. Can be capped with flush hardware when not in use (31.6mm seatpost).
1x Compatibility: Removable front derailleur mount for clean 1x installations.
Single Speed Compatibility: Planned with future dropout hardware.
Bottle mounts: 3. Seat Tube, Down Tube, and beneath Down Tube.
Tire Clearance: 56mm front and 52mm rear rear at 700c. Traildonkey is optimized for 700c. Any tire between 23c and 45c will fit with room for the elements. Traildonkey will also accept 650b wheels and tires but tire clearance does not increase significantly on the frame at 650b. Traildonkey will easily fit WTB Horizon 47c slicks.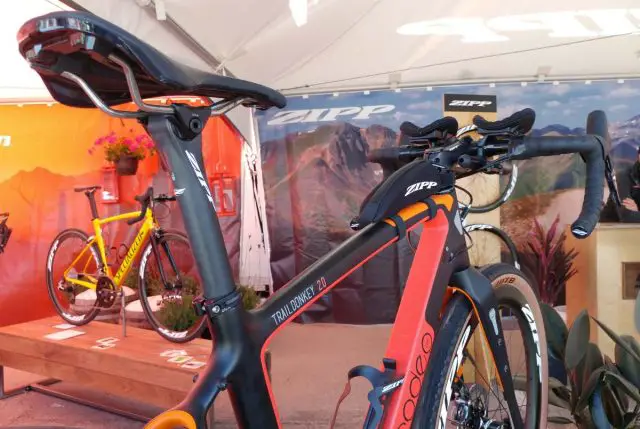 "Every full Traildonkey build is a custom build experience. We dial in key measurements such as stem length, bar width, crank length, and saddle size for optimal fit, and we allow buyers to bring their own favorite parts to the build if they would like to use items that they already have."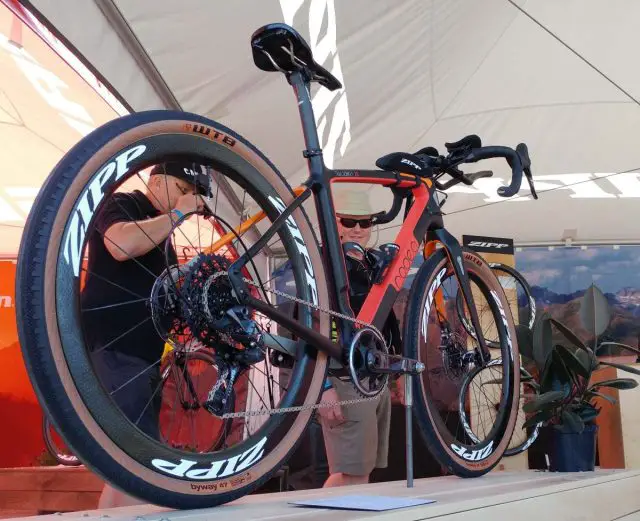 Following the example set in the previous paragraph, this Rodeo Labs Trail Donkey 2.0 was kitted out with a custom build, namely a SRAM Force 1 single chainring drivetrain, with wheels, cockpit and other parts by sister company Zipp. This is expected, considering I spotted this fine machine residing inside the Zipp / SRAM tent at Sea Otter.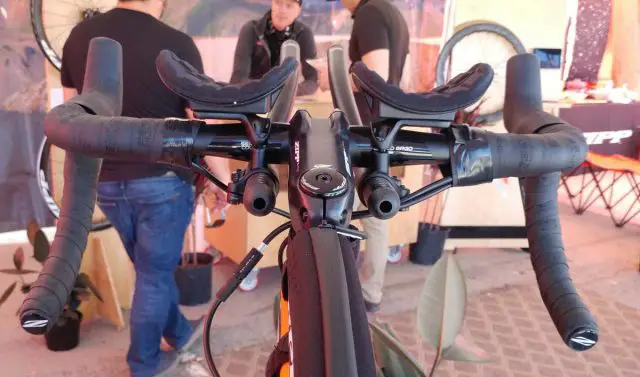 Love them or hate them, clip-on handlebars are here to stay at gravel events, particularly in the Midwestern United States. Not only do they provide an alternative hand position for long rides or races, they also offer a speed advantage assuming one can generate power from a more aero position. Yours truly totes around too many cameras and remote buttons to consider using such an aerodynamic aid.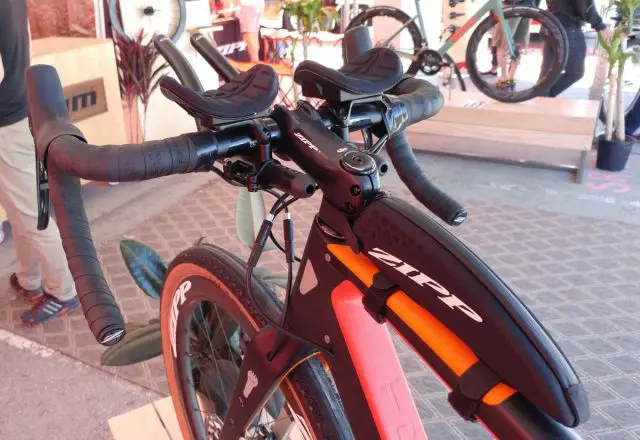 Above, a Zipp Speed Box 1.0 adorns the top tube. They feature 18 cubic inches of storage space, which is relatively decent, considering they sit just 2.5″ tall. Other measurements – 9″ long, 1.5″ wide and 65 grams of weight.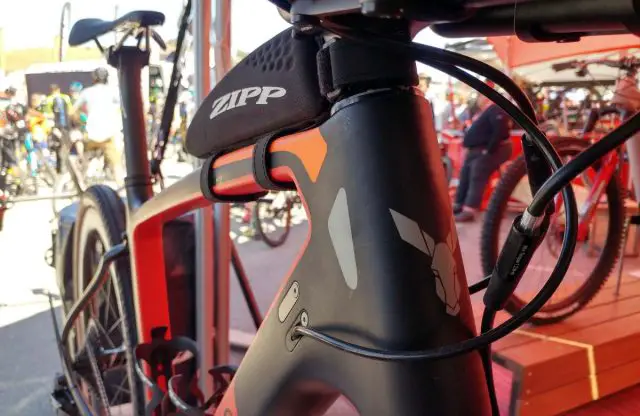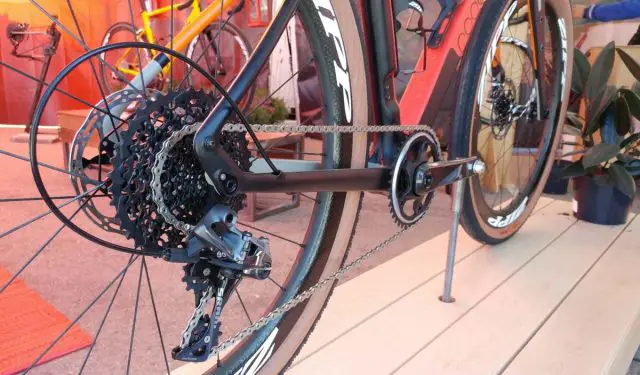 Above, a SRAM Force 1 clutch rear derailleur paired to a 10-42 cassette and a 40T single chainring.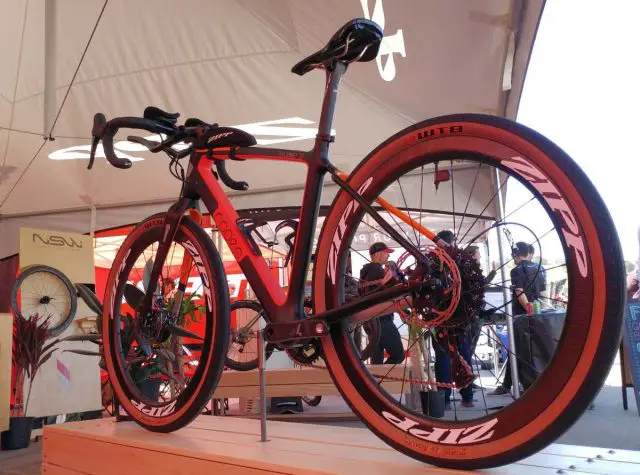 Sizing on the Trail Donkey 2.0 is logical, I like this a lot.
"The Traildonkey fits true to size. That means if you order a 56 the frame will fit like a 56 typically does. The frame does have a generous slope to its top tube which lowers standover height and makes the bike much more fun on trails. It also makes the frame adapted for dropper posts when built as a trail bike. The top tube slope can make the frame appear smaller, but the effective top tube height, reach, and other key measurements remain true to what you'd expect for each size."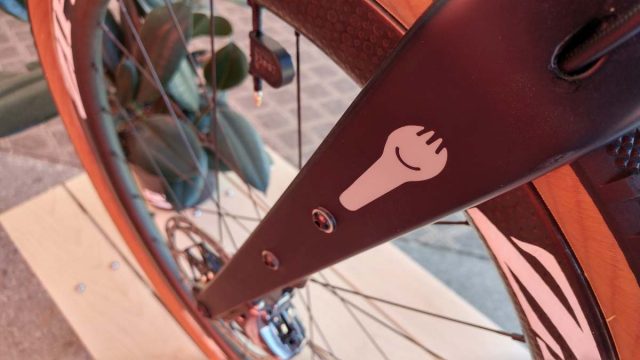 Rodeo Las refer to their fork as a "Spork" which is now at version 1.1. Its features include all carbon tapered construction, aluminium 15mm thru-axle hardware (LOVE 15mm thru – this allows you to run MTB wheelsets on your gravel bike), 140mm/160mm flat-mount compatibility, 160mm/180mm post mount compatibility with adapter, and heavy-duty fender mounts.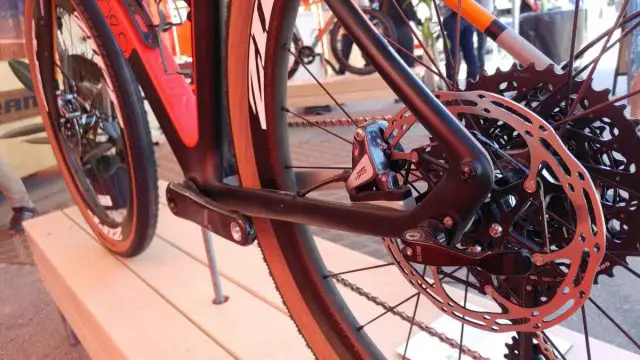 At the rear of the Trail Donkey 2.0, support for flat-mout disc brakes (160mm rotor fitted in the above image) and 142mm x 12mm thru-axle.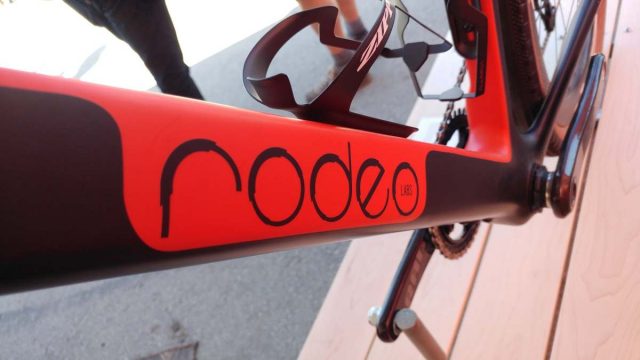 No surprise to see Zipp bottle cages adorning the downtube of this Trail Donkey.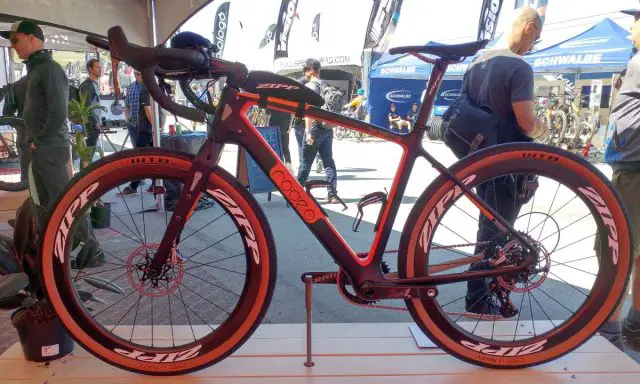 Zipp's Firecrest 650b carbon clincher, tubeless ready disc brake wheels shod with WTB's Byway tyre.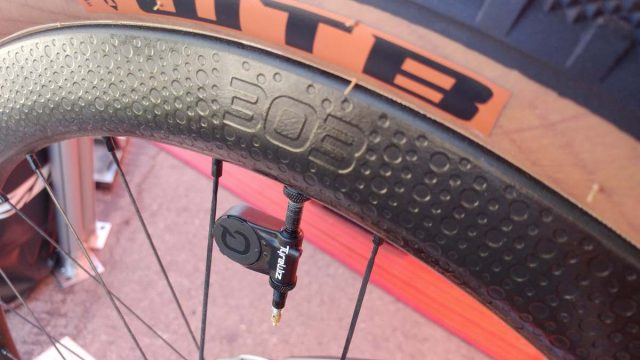 This Trail Donkey 2.0 was also sporting one of Quarq's newest products, the TyreWiz. Read all about that product HERE.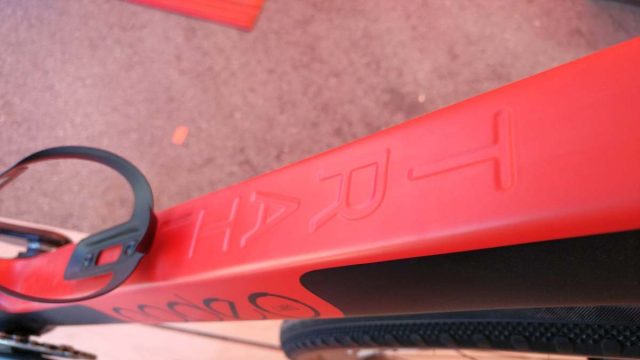 Rodeo Labs offer a standout warranty on the Trail Donkey 2.0 – "The Traildonkey frame and fork is warranted against defects in design and construction for the life of the bike. If we designed or manufactured something incorrectly then you aren't responsible if the bike somehow fails. The Traildonkey is not warranted against abuse, crashes, or when used outside of the reasonable intent for a bike of this type."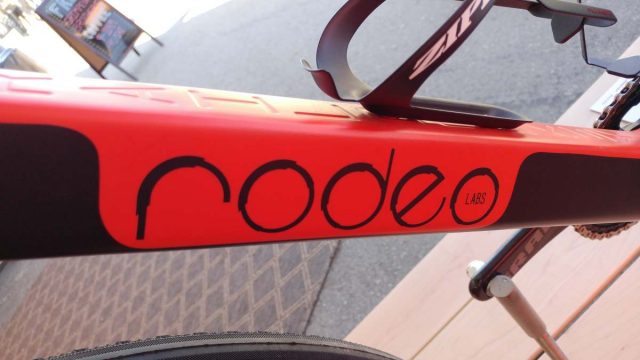 Prices on the frame and fork will vary, depending on promotions the company is running, but expect to pay around $US 2,500.00 for a frame, fork, which also includes a seatpost collar and FSA headset and fork expander. The company also offers complete bespoke builds, the sky is the limit!