Shimano 105 Derailleur Hack – by Thomas Aceves
This article comes to us courtesy of Thomas Aceves, a reader of the Gravel Cyclist blog. His contribution came in response to the article we wrote – "Achieving the Impossible", running a 40 tooth cog with a Shimano Ultegra Di2 11 speed derailleur.
Over to Thomas…
Thought you might be interested in a write-up on a "hack" I recently did on my Monstercross. It's not Di2 but similar in nature.
Seems like there's a lot of interest in 10 vs 11 speed as well as Road vs Mountain group compatibility. I just completed a mix/match combination I think your readers would like to hear about. I have a Giant Anyroad Comax with Shimano 105 11-speed group set.
The bike has compact 50-34 crank and 11-32 cassette with 32 mm tires from the factory. After taking a group trail ride with mixed cross and Mountain bikes, I soon discovered the climbing/traction limitations of the factory tires/gearing. I wanted to be able to swap between wheelsets with 32mm cross tires to as big a tire as I could fit in the frame with even lower gearing.
The 11-32 cassette is the lowest geared road 11-speed cassette available and I didn't want to change to a Mountain crankset. The solution it seemed, was how to reliably use the XTR 11-40 11-speed cassette. I purchased a used Giant Mountain 10-speed wheelset and mounted a Panaracer Firecross 45 mm tire for the front and Bruce Gordon Rock-n-Road 43 mm tire for the rear.
Since the XTR 11-speed cassette has the same hub width as a 10-speed cassette it mounted to this new wheelset without modification. With a 50t chain ring and 40t cog the stock 105 medium cag rear derailleur wasn't up to the task of taking up that much chain and the long cage Mountain derailleurs have a different pull ratio and are therefore incompatible. Also, there isn't a "B" screw long enough to keep the upper jockey wheel from rubbing that 40t cog.
What I needed was a Long Cage 11-speed road derailleur. After examining the exploded views of the Shimano road and Mountain rear derailleurs I found it appeared the long cage from a direct mount Deore LX 10-speed RD-T670-SGS derailleur would interchange with the 105 medium cage.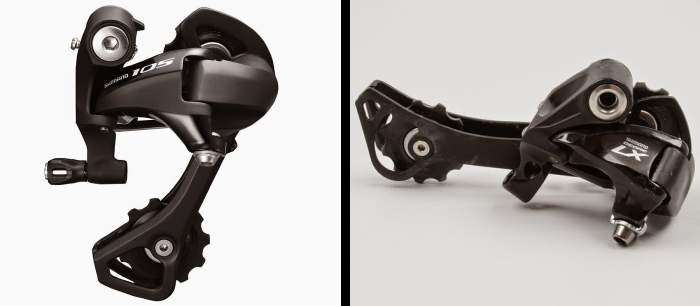 I purchased a used Deore RD-T670-SGS, removed the cage/P-tension spring, removed the 105 cage/P-tension spring and sure enough the mounting/pivot pins are identical.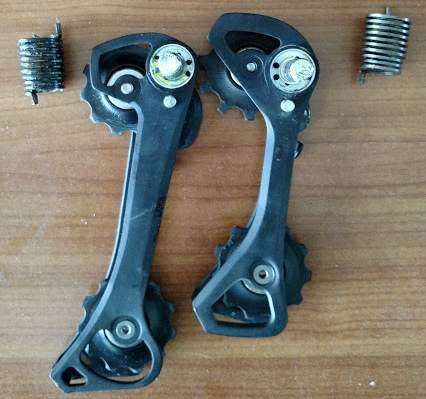 I installed the Deore long cage/P-tension spring on the 105 and now have a Long Cage 105 11-speed rear derailleur. Prior to my rear derailleur "hack", I would switch chains when I would switch between wheelsets. Also, I reversed the "B" screw, had it adjusted all the way out, and had to install a spacer between the screw and derailleur hanger to prevent jockey wheel rub.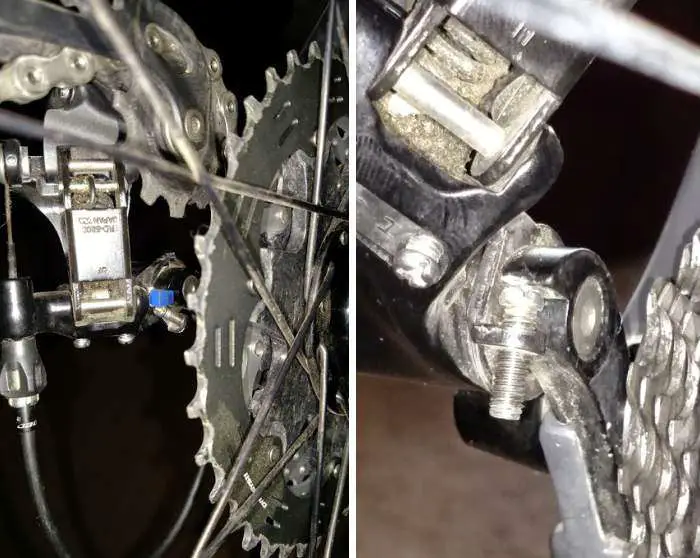 The Long Cage 105 derailleur "hack" solved 2 problems:
I no longer have to switch chains when switching wheelsets, the long cage easily handles the longer chain.
The upper jockey wheel on the Deore cage is offset slightly away from the cassette compared to the 105 cage. This allows an almost normal "B" screw adjustment even with that big 40t cog.
The time it takes to swap cages/P-tension springs is about 30 seconds (not including chain) and for me was under $30. I haven't priced just the cage from Shimano but these Deore derailleurs can be found used for cheap. I can cross chain 50-40 or 34-11 with no issues and it shifts flawlessly.
Post-Install Images Slideshow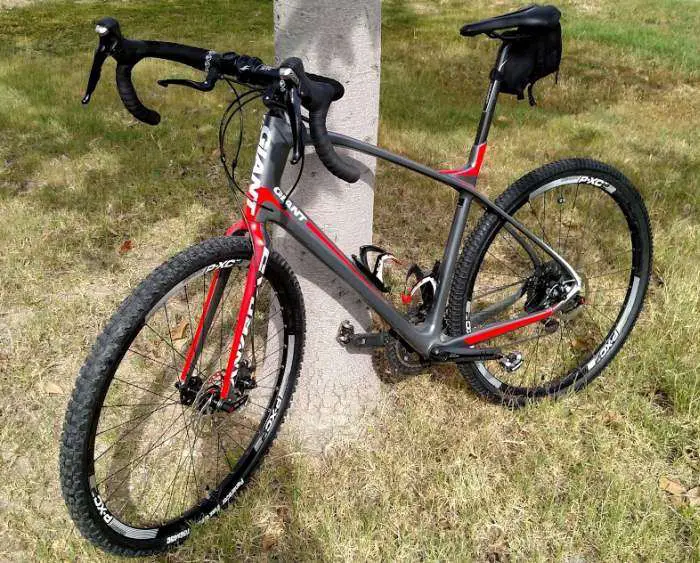 Disclaimer:
Try this modification at your own risk. We are not held responsible if you destroy an expensive derailleur because you didn't follow the manufacturer's specifications for maximum rear cog size.
With the legal jargon over, thanks for reading!