Derailleur Limits
My good friend Dr. Pain and I (JOM) are known bicycle tinkerers. Our Monster CX creations (Dr. Pain's rig – JOM's rig) are the result of planning, customization, tinkering; creating bicycles that weren't commercially available at any bicycle dealer.
JOM has been running a 11-36 11 speed SRAM 1170 cassette in conjunction with a 11 Speed Shimano Ultegra Di2 derailleur for a few months. The Di2 derailleur is rated at a maximum of 32 teeth. With the 36 tooth cog installed and the "B" derailleur screw turned clockwise approximately 2/3rd down, there is plenty of room between the top jockey wheel of the derailleur, and the cog itself.
With a little time to kill over the past weekend, Dr. Pain and JOM wanted answers to what is deemed impossible (or perhaps not recommended) by most manufacturers.
Running a 40 tooth cassette cog with a Shimano mid-cage derailleur, mechanical or otherwise.
Why you ask? While a 34 tooth front chainring with a 40 tooth cassette cog sounds like a low gear on a road bike, on a Monster CX rig with 2.0″ tyres, that low gear is negated because of the increased height of the 29'er tyres.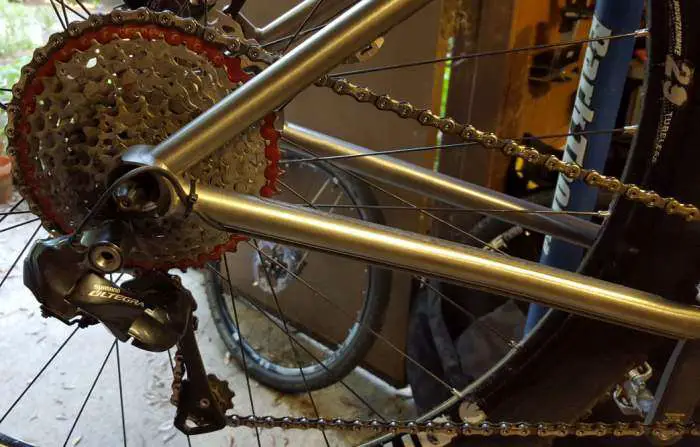 The image above tells the story, Ultegra Di2 mid-cage derailleur in use with a 40 tooth cassette cog. Keen eyed observers will note we are testing with a 10 speed cassette – just to prove our theory.
Does it work?
In short, yes, but a small change needs to happen first. The stock Ultegra Di2 "B" screw, turned clockwise until it bottoms out, almost works. The chain will shift perfectly onto the 40 tooth cog, with a minor amount of cog to pulley contact. Obviously this is not acceptable.
The problem is solved by installing a longer "B" screw, which safely pushes the top derailleur pulley clear of the 40 tooth cog for flawless shifting. Win!
Disclaimer:
Try this modification at your own risk. We are not held responsible if you destroy an expensive derailleur because you didn't follow the manufacturer's specifications for maximum rear cog size.
With the legal jargon over, thanks for reading!