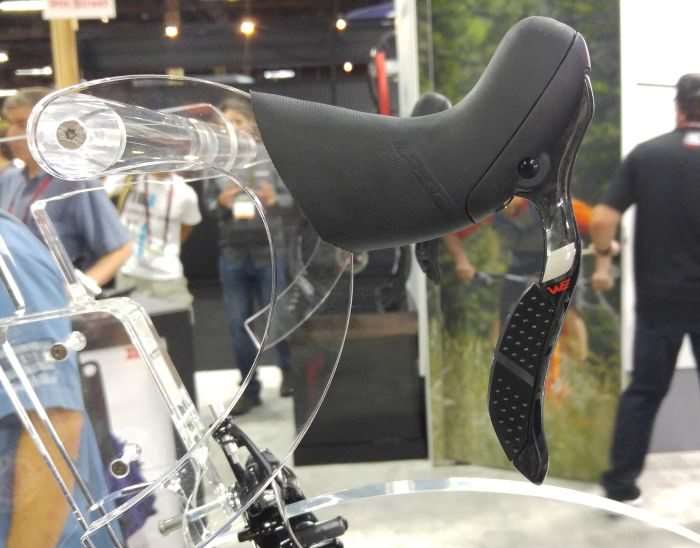 Electronic shifting came to the forefront of cycling on August 2nd, 2008, when Shimano officially released the 10-speed version of their Dura-Ace 7970 shifting system. But, that wasn't the first time electronic shifting has graced a bicycle. JOM of Gravel Cyclist has owned both iterations of Mavic's systems – Zap and Mektronic (wireless rear derailleur only) – before that was the Browning Electronic AccuShift Transmission (aka SunTour BEAST) in 1990 that featured an electronically controlled triple chainring system for Mountain Bikes – and Campagnolo were working on their EPS system for over 20 years before it was finally made available in 2011.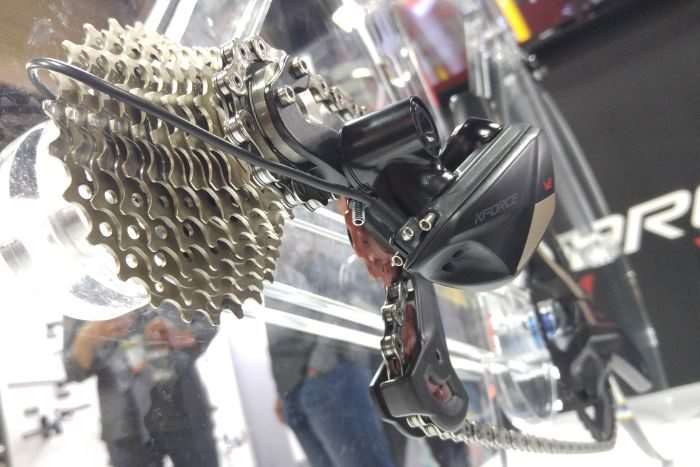 The technology that goes into these systems has improved significantly – derailleurs have gotten smaller and reliability has improved – the most important factor if one is using these systems in the gravel cycling genre – and prices have dropped, at least with the trickle down effect from Shimano Dura-Ace Di2 to Shimano Ultegra Di2.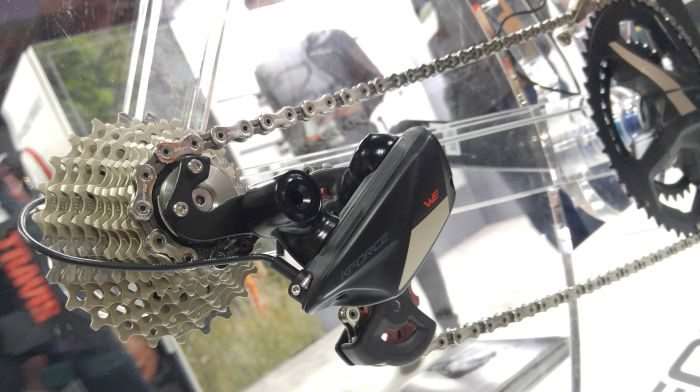 Introduced in August of 2016, FSA (Full Speed Ahead), a long-time manufacturer of components such as cranks, stems and seatposts, have released their much rumored system to market – K-Force "WE" – Wireless Electronic. WE is an 11-speed system designed for double chainrings but differs from every other electronic design on the market – it is a "hybrid wireless" system – the derailleurs and battery are connected by wires hidden inside the frame, while the configurable shifters are fully wireless, each powered by a small CR2032 battery.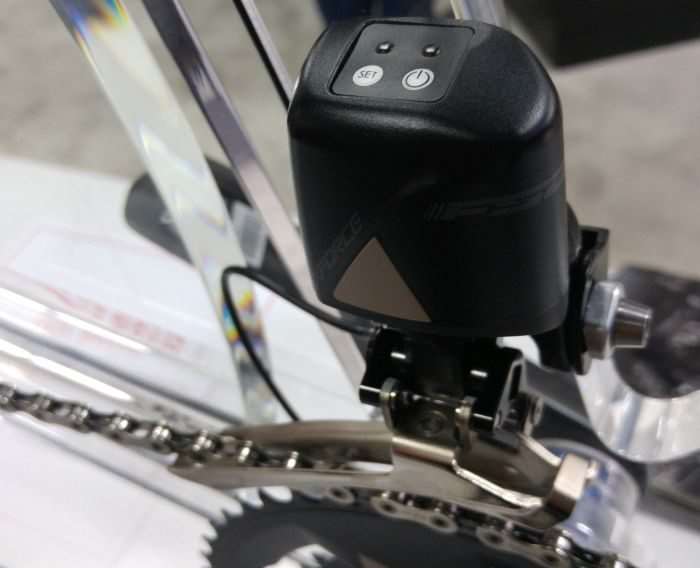 The "brain" of the WE system resides within the front derailleur, which includes all of the electronics for configuring the system to the rider's preference. Controls and status lights are easy to reach and clear to see on top of the K-Force WE front derailleur.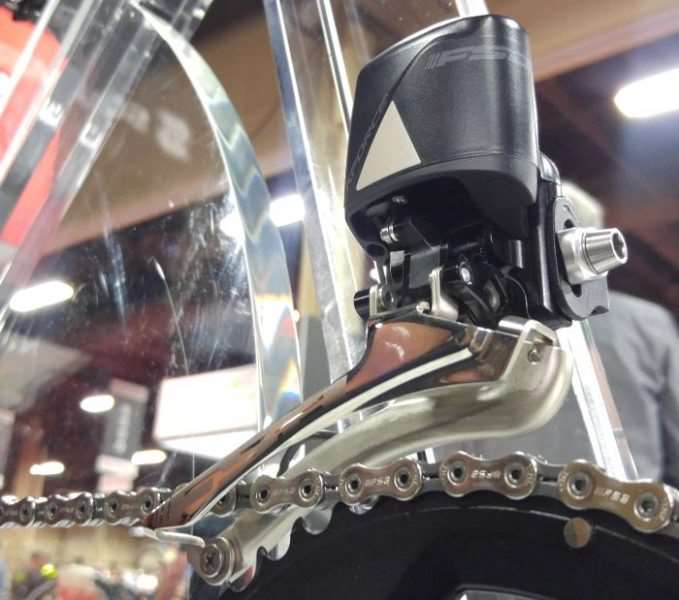 The system can also be powered down completely – or up – by pressing the power switch on top of the derailleur.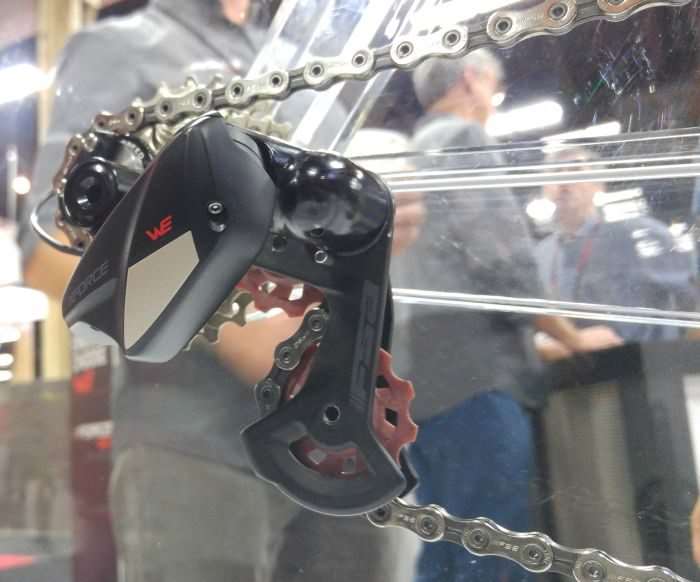 The K-Force WE's rear derailleur does not use a traditional parallelogram design, but a unique electronic-driven gearbox that moves the derailleur cage across the cassette. FSA claim this approach has enabled them to produce a more compact derailleur design. The miniature gearbox is powered by the motor whose signals to shift are received from the shifters. Three gears mesh to produce lateral movement and ensure that the sides of the cage stay parallel. Carbon fiber is used where possible to reduce weight and maintain strength.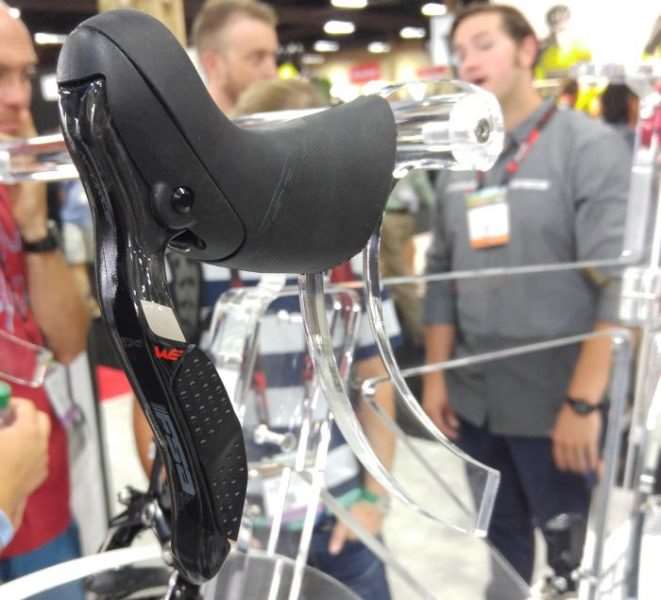 K-Force WE's wireless signals are transmitted via ANT+, the same protocol used by computers such as Garmin and Wahoo – meaning, the amount of time spent in gear X could be recorded and thus analyzed later – along with heart rate and power meter data, if one is so inclined.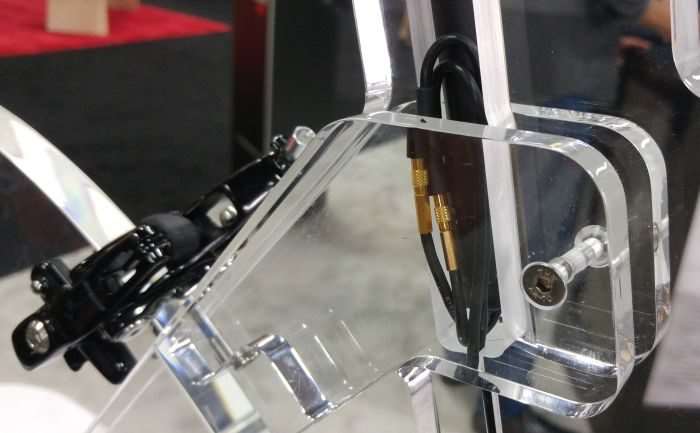 FSA plan to offer a full line of components to compliment the WE system, including brakes, an all-new crankset, chain and cassette. Price and availability are unavailable at this time, but we hope to obtain a system for review in the future.
---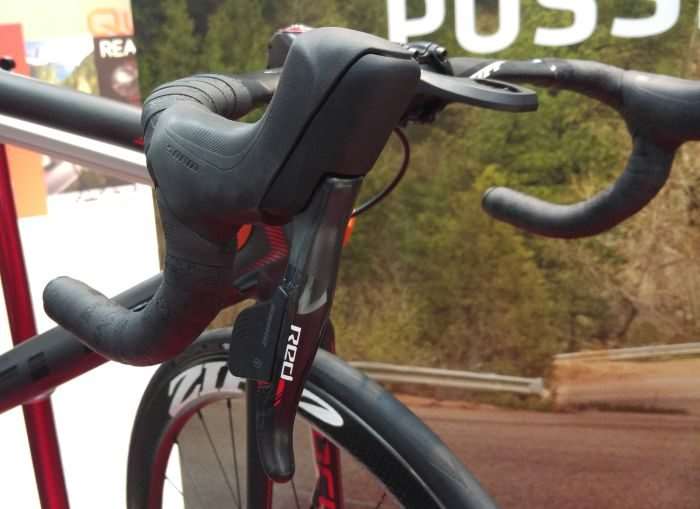 SRAM's Red eTap system has been officially on the market since early 2015, but was spotted in various prototype forms long before that. The system has been well received by the public and is gracing many new road bikes as OEM equipment. It has been spotted here and there on the odd gravel bike – namely JOM's Ritchey Breakaway gravel travel bike – and on bikes such as the Felt FX FRD of Bob Cummings– and others. You can see Part One of our review of the eTap system HERE – as it pertains to gravel.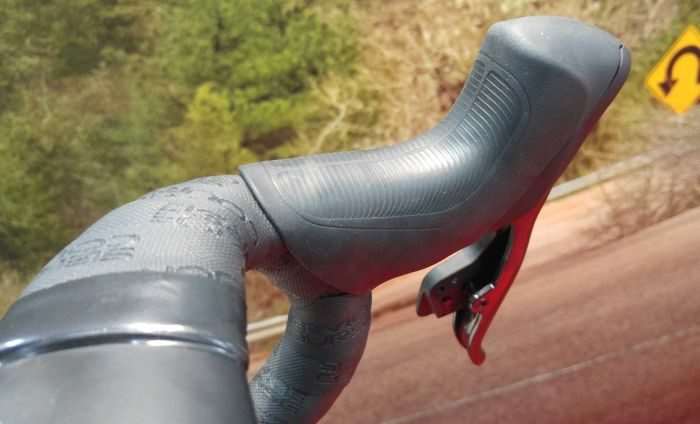 The first release of eTap was only for mechanical caliper / mechanical disc brakes. However, SRAM have been busy, assembling the hydraulic brake version which recently hit the market – but not widely available at the time of writing.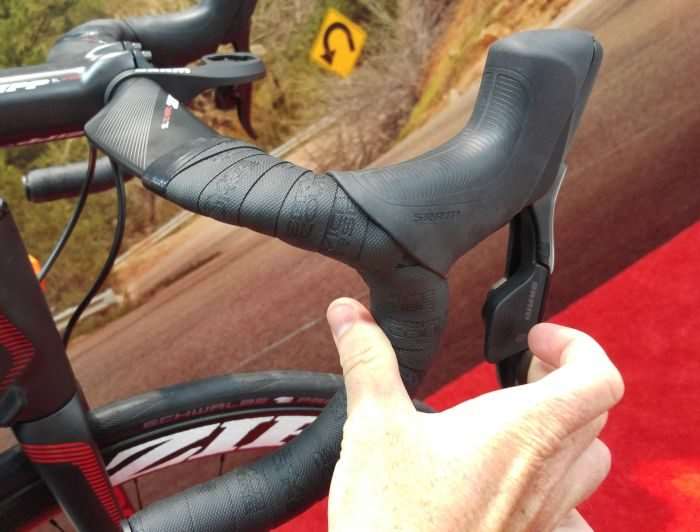 During our limited "touchy feely" session on the new hydraulic eTap system at the SRAM Interbike booth, we can tell you the hoods are nicely shaped and feel great in hand.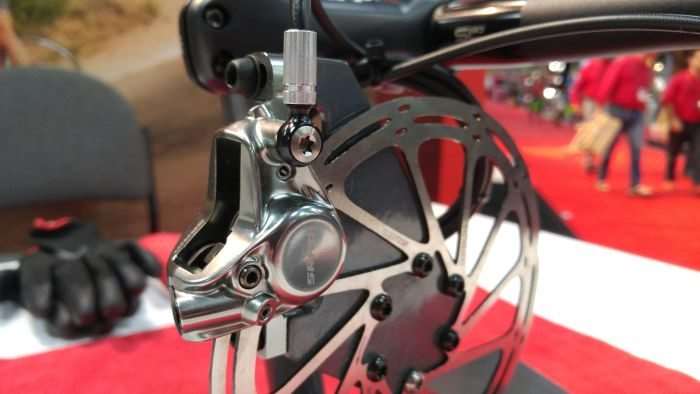 The test system was well-bled and there was very little lever travel before the brake pad made contact with the rotor. This has historically been a bit of an issue for Shimano's Di2 brake hydraulic systems, no matter how well they have been bled.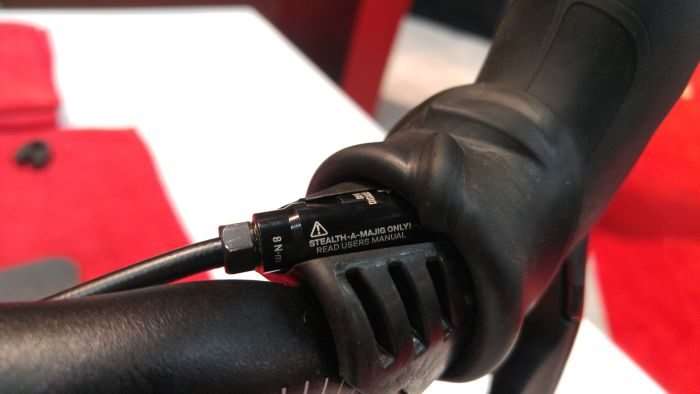 Hose fittings are discreetly located beneath the eTap hoods. In no way do these fittings disrupt the feel of the levers.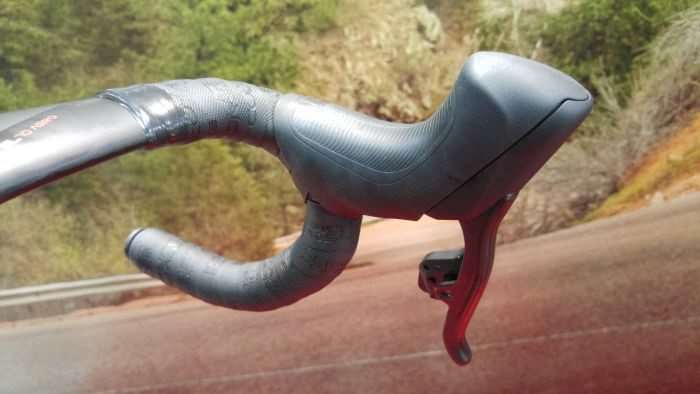 The only thing missing that would really compliment these shifters is a longer cage eTap rear derailleur. Thankfully, SRAM recently announced availability of the Wifli eTap rear derailleur, rumored to be hitting stores sometime late 2016 / early 2017.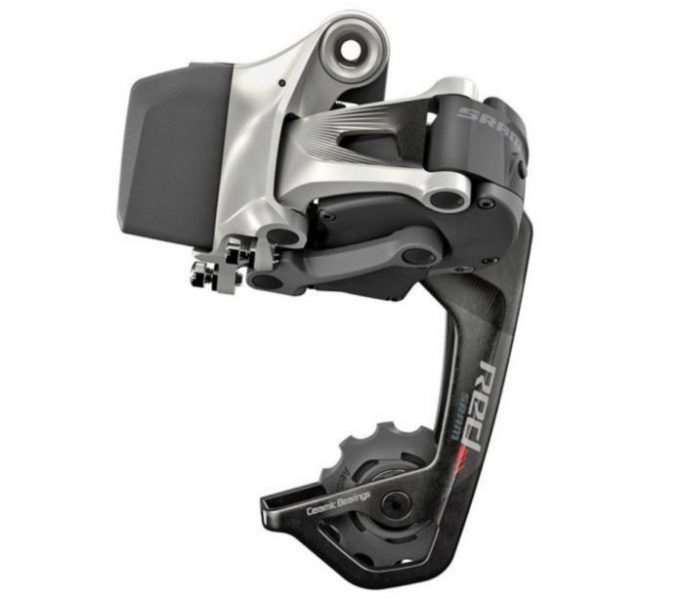 The longer cage Wifli eTap derailleur will cater to a 32 tooth cog. However, we've proved in Part One of our review video, the short cage variant handles a 32 tooth cog just fine – so, we're assuming the Wifli version will accommodate a 36th cog without any trouble. Remember, the B-screw is your friend.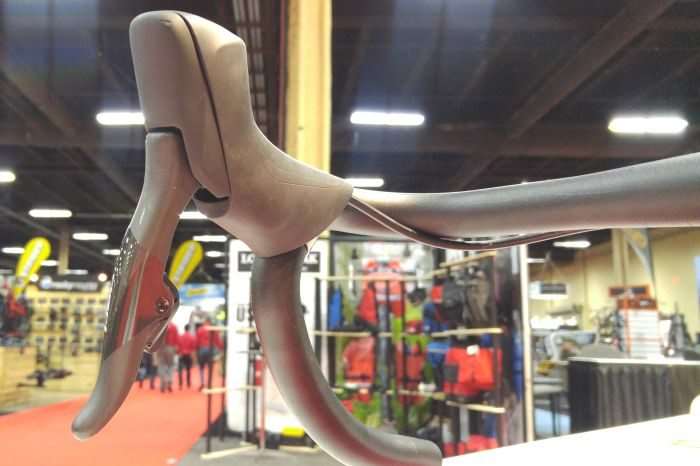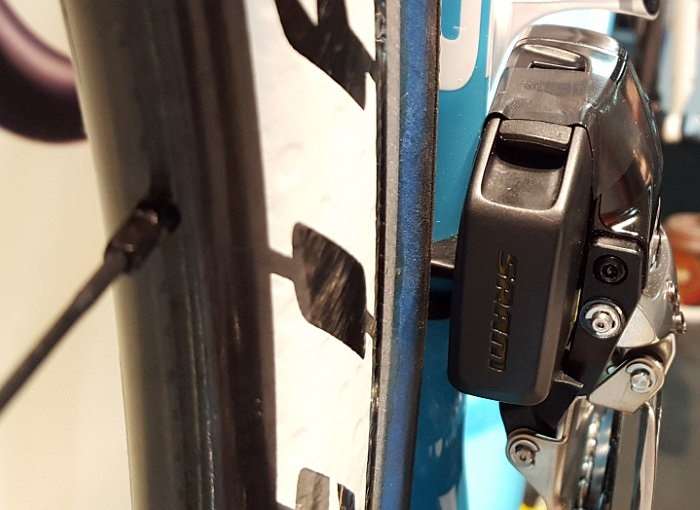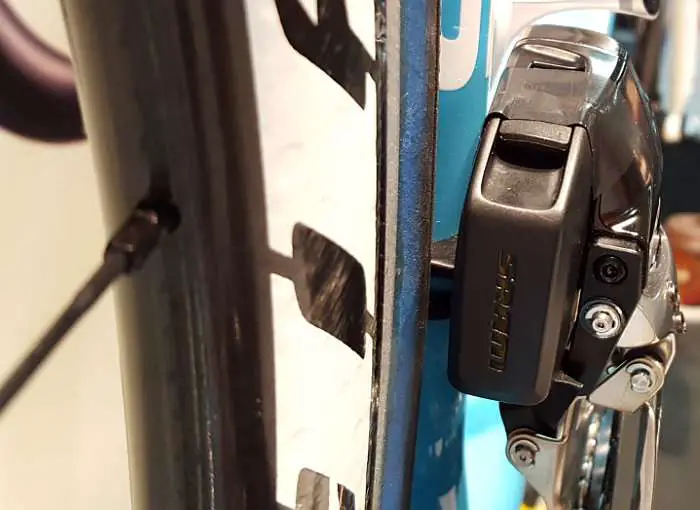 Finally, for those wondering about clearance between the SRAM eTap front derailleur battery and a rear tyre – clearance is close when you start using tyres such as the 700c x 35mm Panaracer Gravelking SK – which measure about 38mm on many wheelsets. There is about a 4mm gap between tyre and battery in this configuration. We made the point of asking the SRAM technicians about this at Interbike – "Is a redesign of the front derailleur happening in the future to shift the battery?" Tyre / mud clearance could be a real issue in cyclocross too. Unfortunately, SRAM's company line on this is – "gravel is for 1X drivetrains". Sorry SRAM, this response is very disappointing.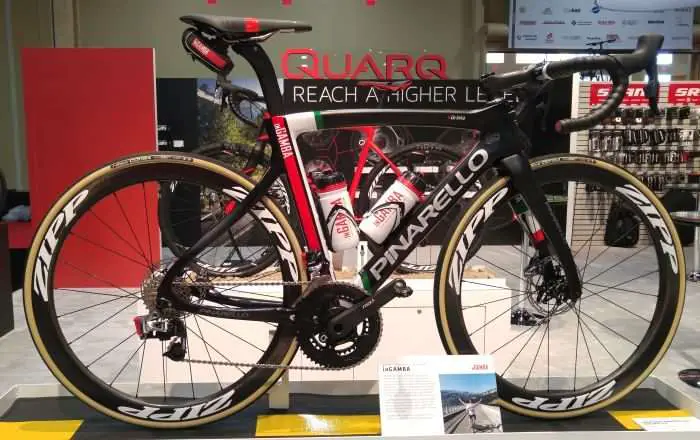 These gripes aside, we look forward to SRAM releasing their new eTap hydraulic brake system and Wifli rear derailleur. We would certainly love to run the system through its paces on a gravel bike.
---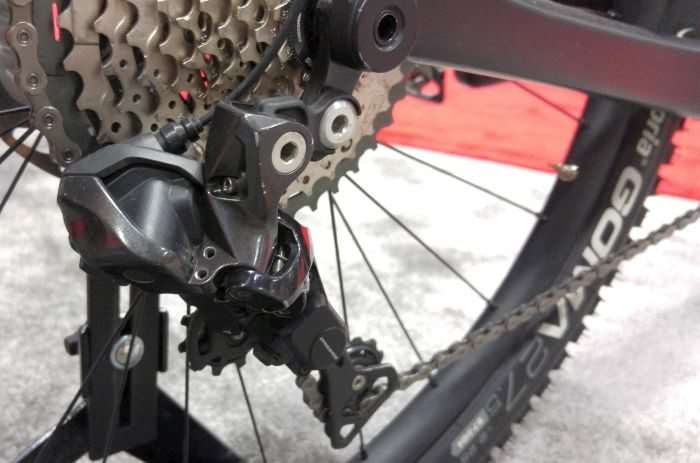 The final piece of our 2016 Interbike electronic shifting roundup is Shimano's XT Di2 system. Slated for use on a mountain bike, the XT system is a direct result of Shimano's trickle down technology from their flagship groupset, XTR Di2. JOM of Gravel Cyclist has been running XTR Di2 with great results on his homebuilt dropbar Monster Cross bike.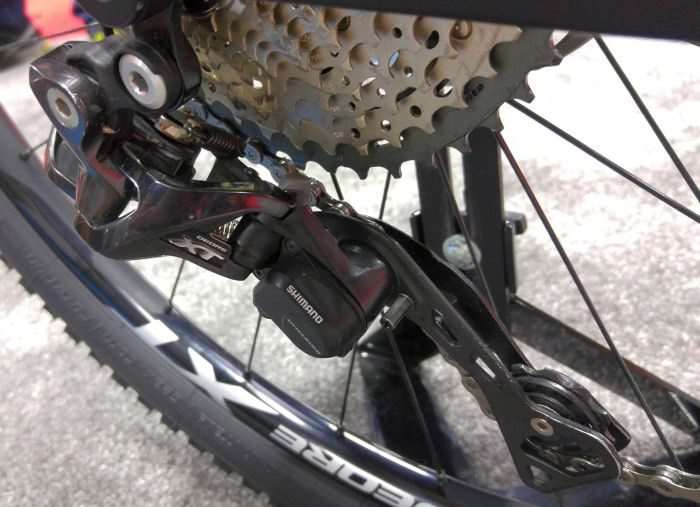 Shimano XT Di2 is no poor relation to XTR Di2 – the sample unit at Interbike shifted just as quickly and reliably as its XTR Di2 brethren, except that it costs considerably less.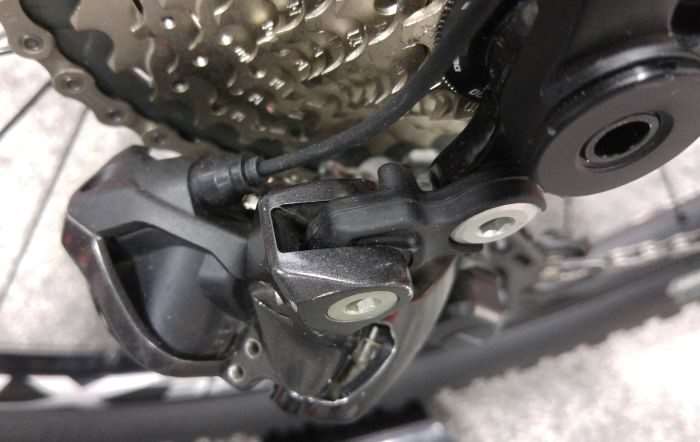 Weight is the only area where XT Di2 loses out to the pricer XTR Di2 system. But if you don't mind the extra grams, the XT Di2 system is very worthy of consideration – it is priced close to the mechanical version of Shimano XTR.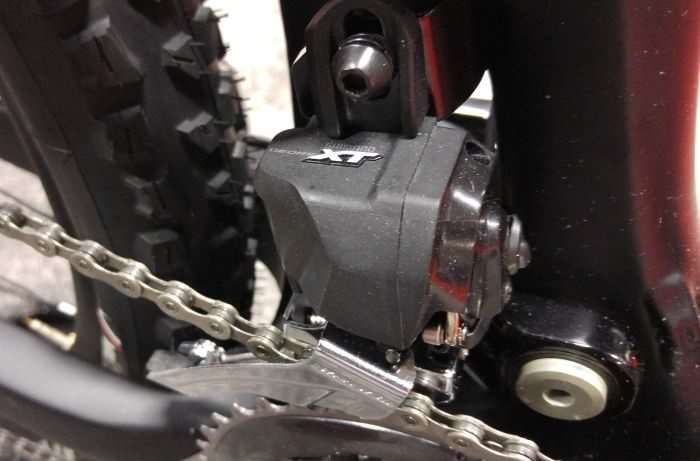 Some of the plastics used in the XT Di2 front derailleur appear a little cheap, but if the system is anything like Ultegra Di2, it will perform very well over the long run.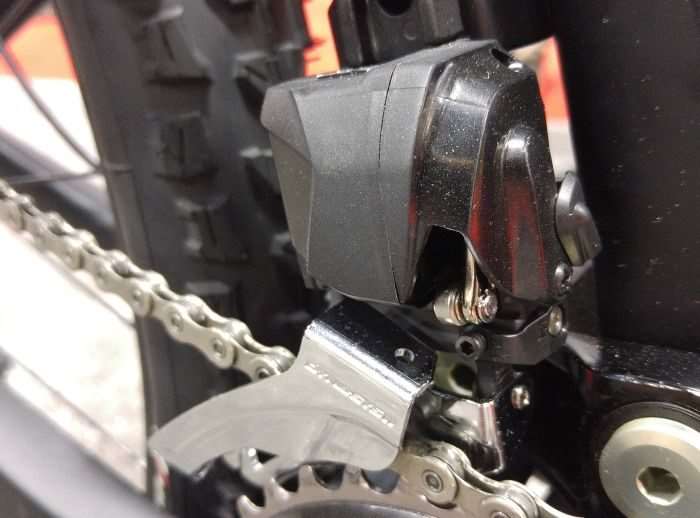 We don't have an XT Di2 system on-hand for testing, but we're going to assume that it works nicely with Shimano's RS785 hydraulic road brake levers – just like XTR Di2.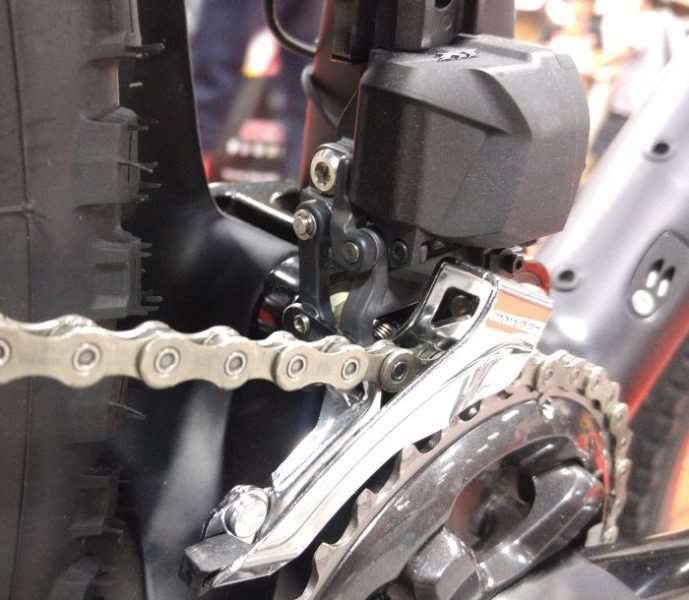 However, Shimano inconveniently use software to block the mixing and matching of Di2 road and mountain bike derailleurs. This is a real shame. The rear XT Di2 derailleur features a clutch, just like the XTR Di2 model – in the most disgusting of muddy conditions, the clutch helps to keep the drivetrain running nicely, avoiding issues such as chainsuck – a major drag – pardon the pun – particularly on the small chainring of a double chainring system. In conjunction with an Ultegra Di2 front derailleur, this hypothetically would make for a very sweet shifting system.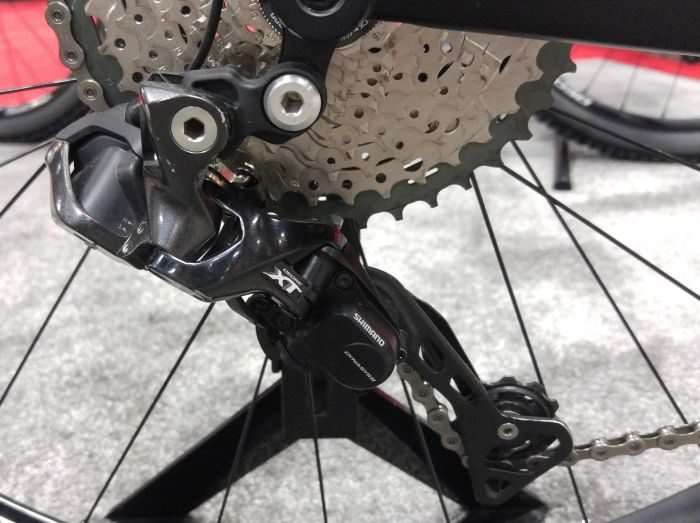 For those who prefer a single chainring drivetrain, XT Di2 caters to that as well.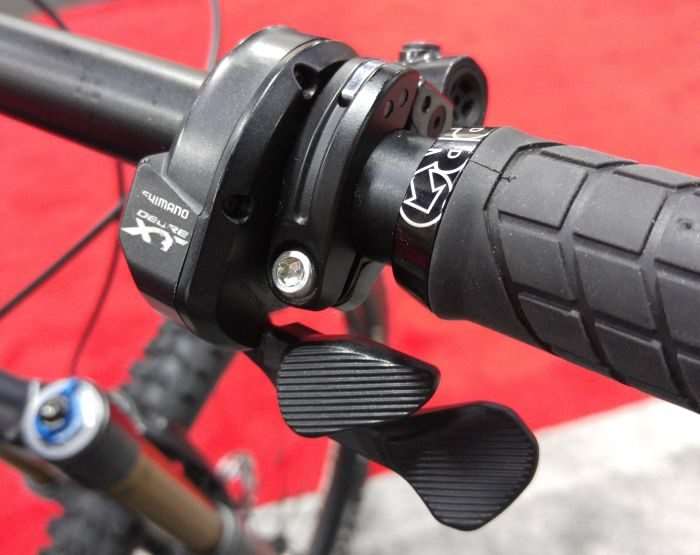 The XT Di2 shifters are only suitable for flat bar use. But as alluded to earlier, we expect the XT Di2 derailleurs will work just fine with Shimano's road Di2 shifters. Just remember to place your Shimano E-Tube software into MTB mode when it's time to tinker.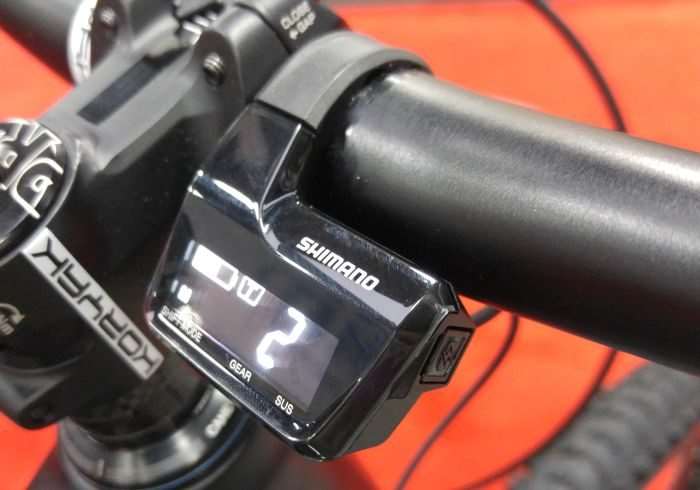 The Shimano XT Di2 SC-MT800 display unit also acts as the system's Junction A box, with a charging port and three E-tube ports. If the system is anything like XTR Di2, when road levers are incorporated, you can substitute SC-MT800 for Shimano's three port SM-EW90-A or five port SM-EW90-B Junction A boxes. We highly recommend SW-EW90-B, as one can run additional satellite shifters in conjunction with Shimano's RS785's hydraulic road shifters, which have no auxiliary ports.
Shimano XT Di2 is readilly available now.