"My name is Adam Sklar and I build each bike by hand here in my shop." – SklarBikes.com
"I have spent a lot of time on my bicycle. From summers spent as a mountain bike coach where I was in the saddle all day every day to racing cross country mountain biking and cyclocross, or just exploring back roads and singletracks with good friends."
"If it wasn't bikes it would be something else. Tinkering, building, redesigning and improving a design is in my nature. I was inspired to pick up the torch and start building my own frames after an endless search left me dissatisfied with what I could buy off the shelf. I wanted a bike that was up for an adventure, and now I get to put that into each bike I create. Watching weeks of planning and design turn into a finished product that makes someone's life better is what I live for."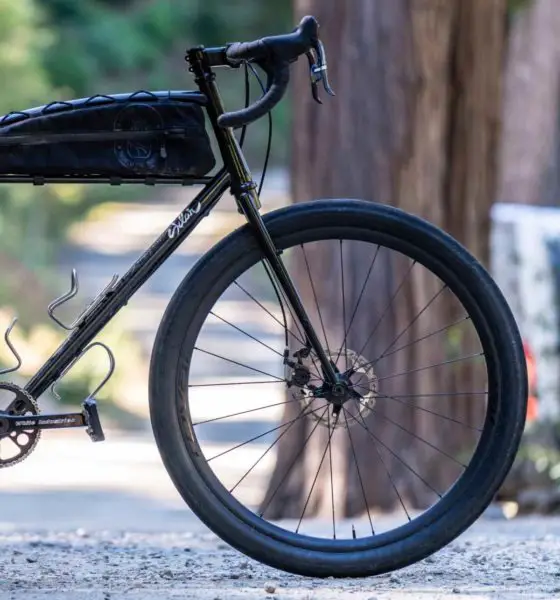 Sklar Gravel Grinder
"Cross, cyclocross, all road, gravel grinder, adventure bike – These versatile machines are getting more popular by the minute, and there are lots of reasons why. A drop bar bike with wider tires makes it easy to hop out the front door to explore long dirt roads with your friends but always keeps open the opportunity for spontaneous singletrack exploration. Maybe you want to run slicks for group rides and training, ride paths or roads and then put knobbies back on in the fall to race cyclocross. Add a few rack mounts, or even better, a few frame bags, and you can be set for the lightest to the longest tour you want. Make it a monstercross bike with 2.1 tires or bigger in the wheel size of your choice. If there is one bike to have in your quiver then this is it."
"The possibilities with a wider-tired drop bar bike are endless. If your goal is to just get out there, enjoy being outside and do some pedaling, this is probably the bike for you."
"Sklar drop bar bikes are available in buttery-smooth steel or lightweight Titanium."
This beautiful bike was part of the 2019 launch of Roval Component's Terra CLX and CLX EVO line-up of carbon gravel wheels.
Links of Interest:
Roval Components – Sklar Bikes
Cover photo by Billy Sinkford of Echos Communication
Thanks for watching!
Don't forget to Like the Gravel Cyclist Facebook page, follow G.C. on Instagram and subscribe to our Youtube Channel. We are also on Twitter!