This Tuesday's GCX ride report courtesy of BHT (Big Head Todd)
With the onset of holiday travels big and small plus one regular on a "rest week" (yeah, we didn't know what he was on about either) the ranks were somewhat depleted, leaving only Dr. Pain, K-Dogg, Die Fraulein, BHT, and Mr. International to contest for valuable series points.
BHT nearly didn't make the ride at all: first he left his proper O-ring at home so front light mounting was going to be a struggle.  Dr. Pain had extras.  Turns out he didn't bring a rear blinky either – Dr. Pain had an extra. There by the grace of Pain went BHT.
Note from JOM – New excuse to blow off a ride – "I can't make the ride, I left my O-ring home".
Weather conditions were a bit bizarre for December.  After weeks of drought the heavy rains came Monday night and warm air followed.  This produced a foggy heavy mist hanging over parts of the entire course, and with only five to work, the group decided upon the "medium reverse" route.  Roads were expected to be still tacky but a vast improvement over the sugar sandy mess of the previous month.
Going into sector one, BHT offered the possibility of skipping the cratered Sage Blvd and heading straight to Burnett Lake Road.  This idea gained no traction whatsoever with Dr. Pain who simply grunted, "I'm turning left."  So of course the pace jumped immediately upon hitting limerock, but there were no 'real' attacks as everyone stayed in the saddle.  That's what passes for hard tempo on Tuesday nights.
Sector two saw Mr. International take a long turn on the front, followed by BHT.  Pain came through at +2 and nearly put a gap into the tiny group, but rotation continued and everything held together up to Hasan Crossroads.  After the right turn, BHT put in a hard turn followed by K-Dogg and Dr. Pain.  Mr. International was off the back before the chicane, and Dr. Pain jacked it once more in the run down Pinky's Dragstrip.  Apparently Die Fraulein 'sat up.'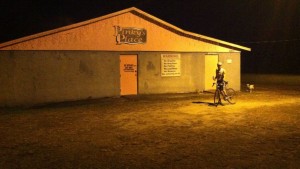 This was the move of the night as the gap grew quickly and when the front three reached Pinky's, there was certainly time for a photo op.  Pinky's is a primary landmark in the short and medium routes.  You have to wonder about their usual crowd when the sign outside states, "Warning: No Drug Use.  No Drug Sales.  No Fighting.  No Loud Music.  No Weapons.  No Loitering at All."  Sure, OK.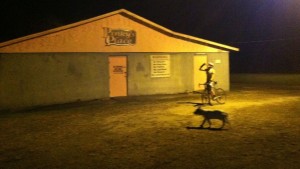 K-Dogg was eager to pose for a pic, but suddenly Dr. Pain rolled away mumbling something unintelligible that sounded like "dog."  That's when Big Pink ambled silently around the corner and was quickly on K-Dogg's wheel.  Big Pink looked to be some sort of pit bull/bulldog mix, disposition unknown.  It turned out however, that since we were all apparently following 'the rules', Big Pink had no issues whatsoever.  Or maybe it was two Doggs just getting along.
The long run out to the Hunt Club Road was fast and smooth through a lot of fog.  The sandy sections of Hunt Club were more manageable but there was one section of wet concrete sand before the long uphill into the final stretch.  BHT led the hill with some decent tempo, but had nothing left when Dr. Pain went by with K-Dogg and Die Fraulein in tow.
After regrouping on the pavement, everyone was on the lookout for the Hound of Monteocha, but he was apparently off terrorizing other living creatures this night.  The group hammered down Antioch Road with Die Fraulein once again showing that she can climb very well on the short punchy finale.  The last dirt sector actually produced a sprint for some unknown landmark – is this a new thing?  Let's hope not.
Lot's of fun, numerous good intervals, and great prep for some holiday cheer!