For those not in the know, there is a plethora of dirt, limerock and sandy roads, completely devoid of motor vehicles and humans, all within an hour and a bit of driving from Gainesville, Florida.  This particular location is within the northern confines of the Ocala National Forest.
Rodman Dam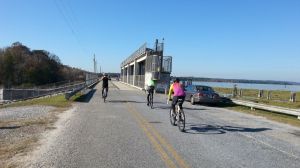 Rodman Dam, or Rodman Reservoir as it is sometimes known, is an artificial reservoir located on the Ocklawaha River in Putnam and Marion Counties, in North Central Florida.  The reservoir was recreated by the U.S. Army Corps of Engineers in 1968, as part of the Cross Florida Barge Canal.  Thankfully, Florida Defenders of the Environment and President Richard Nixon nixed (see what I did there) the canal idea in 1971.  You can read more about the Reservoir HERE, and the Barge Canal HERE.
The Ride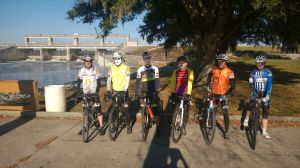 December 13, 2014 – Four of the usual suspects carpooled to the Rodman Dam ride meet location from Gainesville, FL; Dr Pain, K-Dogg, Pfaff Daddy and JOM.
Also meeting the group were The Terminator (Roger of Ocala) and Shannon (from Gainesville).  The weather was cool and crisp, but bright and sunny with clear skies.  One of the best times of the year to be living and cycling in Florida!
JOM the ride leader, had planned a route of almost 70 miles.  Drawing from his experience on a past ride in the Rodman Dam area, he did his best to design a route that featured known roads, and a few new roads for good measure.
Caveat: the trouble with ride planning using dodgy satellite data is the problem determining the difference between mega deep sugar sand roads, and hardpack limerock roads.  Granted, if a road appears as a bunch of squiggly lines covered in trees, it's a safe bet the road / trail is an sandy mess, best ridden on an ATV.
Mile Four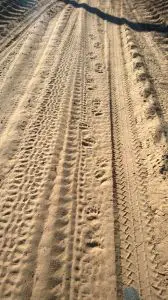 What looked like a pretty cool road turned out to be a deep, sandy pit.  This road was so unrideable, that it crushed the spirit of Dr Pain's and JOM's Monster Cross rigs.  Imagine 2.0″ of wide tyre running at 30psi sinking into a sandpit, and you get the picture.  K-Dogg yelled something like, "bugger this", and exited stage left, accompanied by The Terminator and Shannon.  The other three clowns, JOM, Dr Pain and Pfaff Daddy, pressed on.  Rather, they trudged on.
This particular road ran for one mile.  Everyone's cycling shoes quickly filled with sand, and leg muscles that had no business dealing with walking in sand, moaned and complained.  Pfaff Daddy and JOM soon resorted to bush bashing, aka riding through the scrub either side of the road.  Meandering through the tree / scrub line, and bunny hopping fallen trees meant progress was slow.  And a good way to fill your derailleur with flora.
Approximately 20 minutes later, the trio emerged at the end of the road, and were rejoined by the smarter half of our group.  Secretly, they were chuckling inside at our stupidity.
It can only get better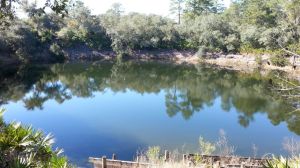 Our sextet cruised along tree lined roads, featuring lovely roller hills, while basking in the sunshine and magnificence of this particular Saturday.  Not counting the odd hunter dudes adorned in camouflage and orange, there was not a soul to be seen.
Approximately 20 miles into our journey, we rode a tasty section of limerock and rough paved road, that was adjacent to Lake Kerr.  Some folks make this part of Florida their home; rather enviable if you dig the quiet life, on a lake.
A note about Google Maps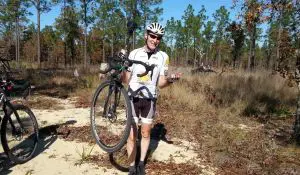 What appears to be a legitimate road in Google Maps (JOM plots all of his courses using RidewithGPS.com), may not be so in reality.  Satellite imagery isn't always current, or necessarily accurate.  Riding a course is the only way to determine the true story.
With that said, mile 25 – 27.5 (km 40 to 42.6) turned out to be great for a while, running alongside some very rural houses.  Then the path turned into one massive sandpit.  Nobody was immune from walking, except for Dr Pain.  Turns out this section of the course is part of the Florida Trail.  Completely walkable if you dig deep sand.  K-Dogg didn't dig it.  Neither did anyone else.
Lake George and the Salt Springs Store Stop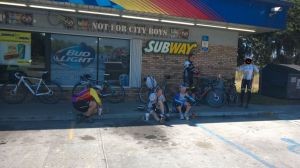 The terrain between the dud sand sector, and Lake George was a mix of hardpack limerock, with smatterings here and there of a dodgy sand patch or two.  Pretty good stuff.  Rain hadn't fallen in a while, but all things considered, conditions were fine.
The paved road near Lake George was devoid of traffic, and had a few noticeable hills to keep things interesting.  Plenty of nice houses hidden on the shore of the lake, far away from the prying eyes of the Gravel Cyclist crew.
The Gravel Cyclist crew has visited the small town of Salt Springs, Florida in the past.  Our prior visit featured a smaller crew, with JOM feeling the effects of a shattered body; the prelude to a cold that would have him sitting at the rest stop in silence.  Thankfully, this time was different.  Everyone was in good spirits, enjoying the day, and chowing / refueling at the petrol station.  Not the best of spots to stop, but when the town you're passing through is a blip, you're thankful for anything.
National Forest Road 43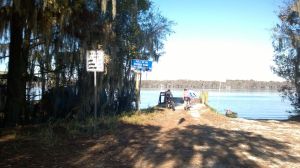 Is the road to the St Johns River Ferry, and the towns of Welaka, Florida, and Georgetown, Florida.  If you don't like washboard roads that beat the absolute crap out of your vehicle suspension, it's best to avoid cycling on this road.  NFR 43 is hardpack limerock most of the way, with the odd sections of sand here and there.
After rain, this road turns into a sticky quagmire.  That's how it was last time we rode it.  Sans recent rain, it's a bone jarring ride.  Low cadence, big gear, low tyre pressure, and a relaxed grip on the handlebars are the recommended tricks to cycling on this road.  But, the trip to the St Johns River Ferry is worth it for the views alone.
Norwalk Road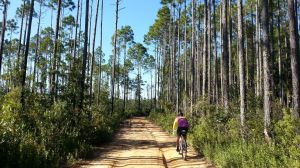 The last time our group attempted to ride this road, it was a gently flowing creek.  At first the water was about one inch above one's tyres.  As we moved along, the water level increased to axle depth, which caused K-Dogg to spit the dummy.  The entire group promptly turned around, and added a bunch of back track miles, riding for home.  Nobody was happy about that.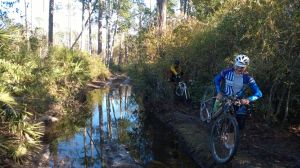 Thankfully, the lack of rain meant this piece of road was mostly devoid of standing water, barring a couple of small mudpits, and one rather deep pool.  That pool required everyone to dismount, and gingerly tread through the underbrush to avoid a serious soaking.  Some of us were concerned about what lay beneath the surface of this water…
The Last 10 Miles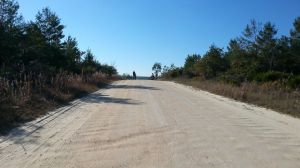 A division of 65% hardpack limerock, and 35% hardpack limerock with enough sand on top to make the going rather tough.  One hill in particular brought Shannon to his knees.  A combination of the day's miles, 38mm tyres, and excessive hoofing meant he was really feeling the pinch.  However, rather than whinge and moan, Shannon did a good job of sucking up the remaining miles to finish the ride.
Everybody else on the ride was leg weary, but felt a great sense of accomplishment about the day's awesome proceedings.  Dr Pain had amazing legs, and must be complemented for holding back, and not crushing everyone in attendance.  JOM and The Terminator were both doped up on Dayquil, and chugged along, trying not to go deep into the red during any of the sandpit sectors.
Pfaff Daddy and K-Dogg, they were pretty solid all day.  Although I'm certain I (JOM) have video of both of them, floundering around in the sand looking like complete amateurs 🙂
Video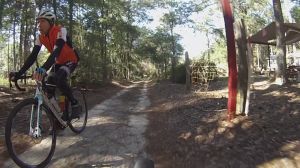 There were four cameras on the ride.  JOM had front and rear cameras, K-Dogg had a Go Pro, and Dr Pain, an older Contour.  JOM hopes to collect and combine this footage into a fun video which will be produced soon.
12/23/2014 – Ride video is ONLINE.
In the meantime, take a gander below at some of the day's photos.  Thanks to Pfaff Daddy for supplying some of these.
Gallery – Click a thumbnail image to see full size (hosted by Flickr).
[alpine-phototile-for-flickr src="set" uid="[email protected]″ sid="72157649705358696″ imgl="flickr" style="gallery" row="15″ grwidth="800″ grheight="600″ size="240″ num="30″ shadow="1″ highlight="1″ curve="1″ align="center" max="100″]