Tuesday Evening, February 2nd, 2016
For those people who are regular followers of the Gravel Cyclist website, you'll know I (JOM) spent virtually all of January in my Australian homeland. I won't go into the details – check out the postings from January – but it was an amazing trip, which kept me very busy.
But alas, a return to reality meant a return to my regular job. On the positive, it also meant a return to riding with my teammates and friends, most of whom reside in Gainesville, Florida. Knowing them well, I had a feeling they'd welcome me with a suitably apt return ride.
I returned to the USA late on the evening of January 28, 2016. After spending approximately 30 hours sitting inside four aircraft, dealing with airport security, customs, immigration for two countries, and dragging backpacks, suitcases and a wheel box about the place, I finally made it to my Americano base camp. I hadn't touched a bike since my Australia Day ride (Wednesday January 26, USA time), but I was optimistic I'd be recovered well enough to ride and feel OK.
Taking my usual approach, I rolled from my humble abode to meet the lads and ladies at 6pm. Lately, the weather in Gainesville, Florida has been interesting to say the least. While I had missed much of the cold spell (at least for Florida), where temperatures dropped overnight into the high 20's Fahrenheit / -3 or -4 Celcius with reports of snow flurries nearby!, this particular Tuesday was very warm. Folks in other parts of the United States may be displeased at reading this, but I was wearing bib shorts and a short sleeve jersey sans base layer. For those folks enduring Winter Storm Kayla, all of us at Gravel Cyclist sincerely hope you pull through fine.
Because of the warmer weather, attendance was much improved. While the usual suspects of Dr. Pain, Pfaff Daddy and K-Dogg had never missed a ride, the earlier mentioned cold was a little too tragic for some. I am certain the winter weather-hardened cyclists of the mid-west and northeastern United States will laugh at the soft behavio(u)r of the absentees.
All Systems are Go
My legs and overall constitution were stellar across the first sector of dirt and gravel roads. I tested my legs a little here. This particular sector is heavily potholed and rutted, meaning it is very tricky to draft someone closely, without risking damage to one's wheelset. Consequently, the only person to join me was Mark on the MTB rolling 2.something inch tyres.
Our group of nine riders regrouped after I slowed the pace down. In attendance were regular suspects Pfaff Daddy, Dr. Pain and K-Dogg. Joining them was Amy (representing the ladies), Mark on the MTB with 15yo son Bryce, Nature Boy and Matt (who we have no nickname for)… and of course, yours truly.
The second sector began with a steady pace, ending with a torrid effort up the sector's only berg (or hill if you prefer). Things were a little spread out, but yours truly was safely attached to those in the leading group.
The third sector of the Long Route is known as the "Aircraft Landing Strip", a name that pays homage to its length, straightness and lack of elevation changes. Sadly, Nature Boy bid us farewell at its beginning. Citing a new tubeless tyre installation that wasn't holding air just right, Nature Boy inflated his tyres to 40 psi and headed for home… more on him later.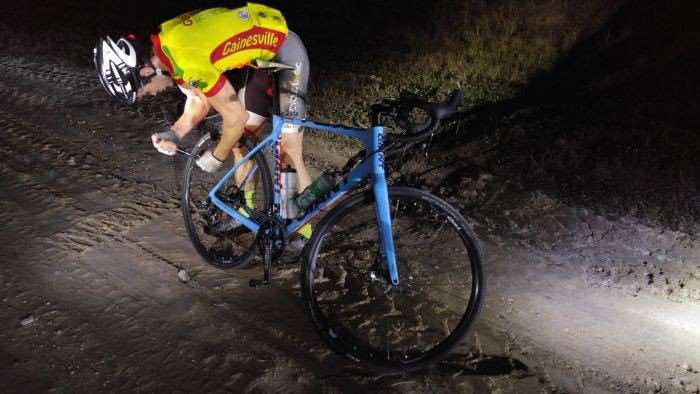 Sector three was a series of mostly pointless attacks, but they were painful. At this time it became painfully obvious that while I had ridden a lot of long and steady miles in Australia, my lack of high end intervals may be a handicap as the ride pressed on.
Sector four is usually a stalemate. Most everyone is keeping whatever reserves they have in store for Sector five – The Flappalachians.
The notable climber types come to the fore on the Flappalachian sector, and things were no different on this Tuesday evening. While these steepish but short hills aren't on par with the French Apls, they are tough enough to cause some duress. I seldom analyz(s)e my heart rate data, but I suspect I peaked at 194bpm somewhere along this sector. While I made the cut and hung with the three leaders, my legs and overall mojo were now pretty knackered. It was apparent my jetlag, lack of sleep and other excuses could no longer be ignored.
Sector six came and went without too much trouble, but the soft sand in one area did see our youngest attendee, Bryce, go sideways at maximum velocity into a deep and sandy quagmire. Thankfully he was just fine.
Sector seven is tough. It begins with a mud dousing from the ever present spring water across the road, aptly named "Eternal Lady of Spooge" – or something like that. From there, it is a fight for position in the following slightly uphill chute. I was suffering greatly on the wheel of K-Dogg, who was safely in the draft of the leading three riders. It was at this time he decided it appropriate to attack. I had no legs and no interest to chase him down. Rather I made haste towards the closest wheel, and stuck to it like a barnacle on a whale's arse. Later, I did make a forlorn attempt to aid with the chase of K-Dogg, but my turn at the front was both short and pitiful.
Eventually the catch of the mature-age K-Dogg was made, and naturally, a counter-attack followed. Yours truly was dropped immediately, albeit with the now tired K-Dogg glued to my wheel. Used worse than a grease rag at an engine rebuilding convention, the Dogg recovered, then attacked off my wheel to leave himself and myself, firmly in no man's land behind the leading duo of Pfaff Daddy and Dr. Pain. My only solace came watching K-Dogg fail to bridge across. Sucker 🙂
The eighth and final sector is typically a nondescript affair. However, a soft and sandy area, located somewhere upon the shallow uphill of the sector, caused some major problems this particular evening. Namely, anyone behind the leading rider (Pfaff Daddy), who was picking the perfect line, received the proverbial screw job. Matt, who hasn't been mentioned much because he was hiding and suffering like me, was first to go sideways in the sand. Matt's actions knocked K-Dogg off his line, right into my path, and into deep sand. Because of my state of body and mind, I needed no such issues in order to hang with the leading riders. The two seconds spend floundering in deep sand meant it was game over. While I did my best Chris Froome impersonation to maintain a fast cadence and keep sight of the three leaders at 10 mete(r)es ahead, I cracked. The fatigue had completely set in. I also used many bad words.
Thankfully, the sector soon came to an end. Everyone regrouped, and rode back into town, sharing their respective stories about the ride. In all, a fantastic ride and while I suffered, I was glad I made the effort.
Strava Ride Data

For those inclined, you can see just how much JOM suffered HERE.
Thanks for the welcome back!
Snakes… and Nature Boy
After Nature Boy turned for home, this happened… quoted verbatim.
"While my mechanical incident tonight was regrettable, it did afford plenty of time for the Nature Boy to document the herpetofauna of the roads we ride. Who else in out riding in February gets to see snakes!!! I had the thought on the way out that things were snakey and was not disappointed once I slowed down enough and got to look.
I stopped and photographed three fine examples of the Florida Brown Snake, Storeria victa.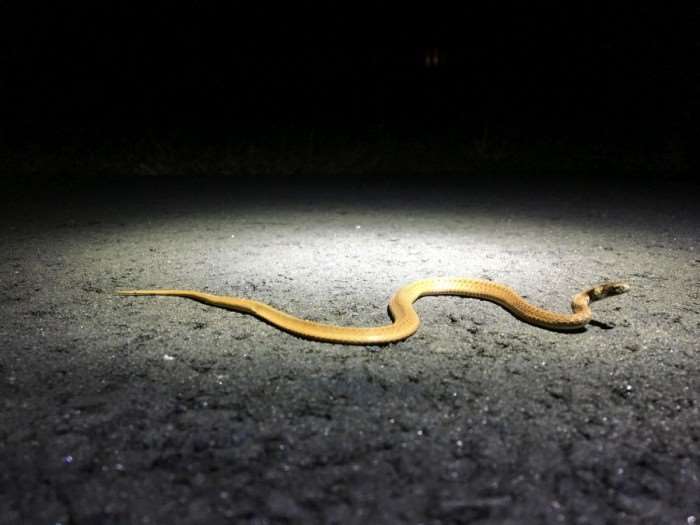 People can learn more about this diminutive serpent here:
A fine juvenile Florida Water Snake, Nerodia fasciata pictiventris had just met its demise via vehicular traffic. I photographed it too.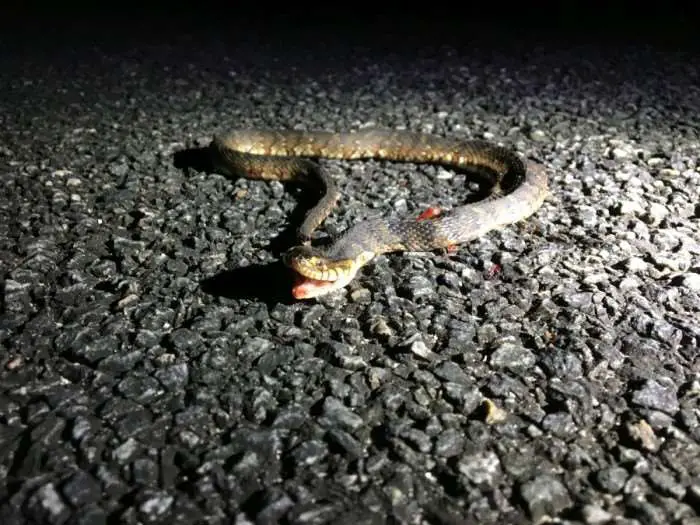 These poor guys get mistaken for cottonmouths far too often, but with just a tiny bit of attention to one or more features, one can see they are really not very similar at all. More info here:
All four snakes were seen on the cut through between 43rd and 441, three of the four on the newly paved portion. No doubt the increased traffic drawn in by the smooth surface will cull their numbers substantially. Sad."