We're not in Kansas Anymore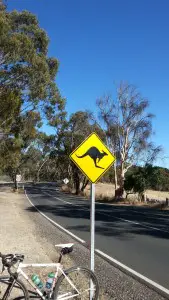 Today's inaugural gravel ride in South Australia took me from the suburbs of Adelaide, and into the Adelaide Hills.  Decently long, sustained climbs is more like it… the word "Hills" is very misleading, although there are a lot of them too.
I rode through areas in the Mount Crawford Forest Reserve (areas near the reservoir are off limits), and into the Mount Gawler Native Forest Reserve.  Both of these areas are laden with gravel fire roads, that feature some leg breaking, but short climbs.
Even if I was fresh as a daisy (still very jetlagged), I was very under geared on so many climbs today, which wasn't helped by the loose gravel conditions.  Suffice to say, I did a lot of slow, painful, walking.
Supplies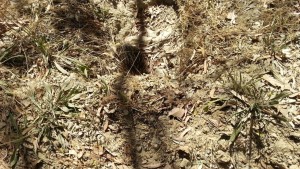 I underestimated how much food and water I would need today, and completely ran out of everything, about 20kms from civilization.
That made for some interesting thoughts, as my legs cracked, and my mouth and lips became dry and parched.
Temperatures today were in the low 80's Fahrenheit with very little humidity, so that didn't help matters.  Next gravel ride, I'll be taking along another water bottle… and some more chow.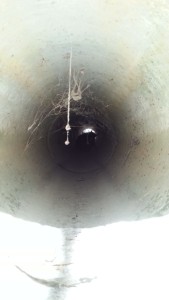 There was a multitude of gravel roads outside of these reserves, on which I saw three cars in all, and heaps of wildlife.  Today I saw at least ten Kangaroos, and a very reclusive Echidna.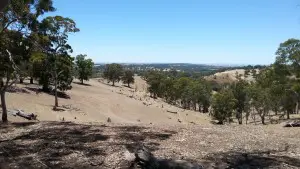 Now, while I have everyone's attention; American readers, please note.  The flightless Australian bird, the Emu, is pronounced "Eem-you".
"E-Moo", that would be an electronic cow.
Micro rant over, moving along 🙂
Hide from the Sun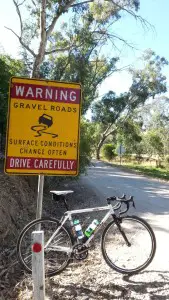 I was wise to wear my Podium Sun Blockers, but neglected to slap on any sunscreen, d'oh!  Now, I have another tan line on my hands, and my legs, well they bronzed up pretty quickly.
The Australian sun is harsh, harsher than what folks in Florida are used to.  Next ride, sunscreen will be applied.
In all, today's ride was just over 66 miles (106kms), with 1,900+ metres of climbing (6,250+ feet)… ouch.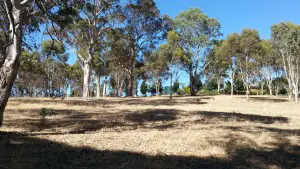 I took heaps of photos, which are available below for your viewing pleasure.
Planning to take tomorrow off the bike, but looking forward to another sweet ride after my rest day.
Thinking about hitting up gravel roads in the winery region of the Barossa Valley.
Should be fab!
Gallery – Click a thumbnail image to see full size (hosted by Flickr).
[alpine-phototile-for-flickr src="set" uid="126879102@N04″ sid="72157649966226792″ imgl="flickr" style="gallery" row="15″ grwidth="800″ grheight="600″ size="240″ num="30″ shadow="1″ highlight="1″ curve="1″ align="center" max="100″]