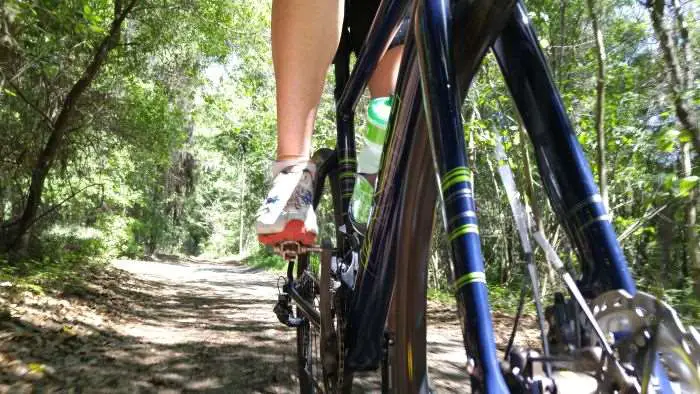 From March 25, 2016 to April 8, 2016, Gravel Cyclist ran an 18 question survey (19 if you count how you found Gravel Cyclist), titled "How do you Roll on Gravel?". Firstly, I would like to thank all 412 people who made time to take the survey. I understand that taking surveys is never any fun, but I believe you will find the results to be of great interest – JOM ~ Founder, Gravel Cyclist.
Fiftteen of the questions were Single or Multiple choice format, with the remaining three in Comment format. For Part One, we relay the results of the Single and Multiple choice questions in the order they were asked.

This question was multiple choice. The answers demonstrate that people who ride on gravel roads don't necessarily limit themselves to just gravel cycling.

No surprises here. In my experience, the 40 – 49yo group has always represented the largest demographic of those attending gravel rides and races, with the 50 – 59yo group not far behind.  I am stoked to see the 60+ demographic is growing in size.

Unfortunately, gravel cycling is still male dominated, like a lot of genres in cycling. Do your part to encourage women to participate in the sport, and discover the fun that can be had riding on gravel roads!

I was a little surprised by the answers to this question. I expected more respondents to answer "I ride for fun".  However, people clearly enjoy racing in the gravel scene. I attribute that to the emphasis on fun and enjoyment of the experience. At nearly every race or event I have attended, the environment has always fostered participation in a very positive manner. It doesn't matter how fast or slow you ride – everyone is encouraged and everyone looks out for each other. I sincerely hope this attitude doesn't change as the gravel cycling genre continues to grow.

And I thought the Gravel Cyclist crew were the only ones who rode at night time! Granted, we ride in the "winter" here in Florida, but great to see people getting out after dark.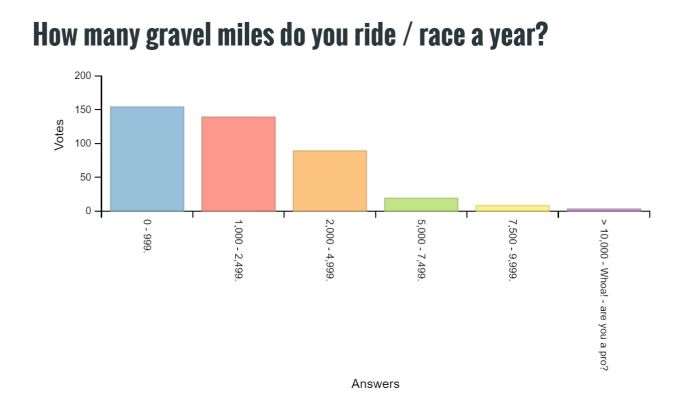 I expected these sorts of percentages but to the three cyclists who answered > 10,000 miles a year? – Whoa…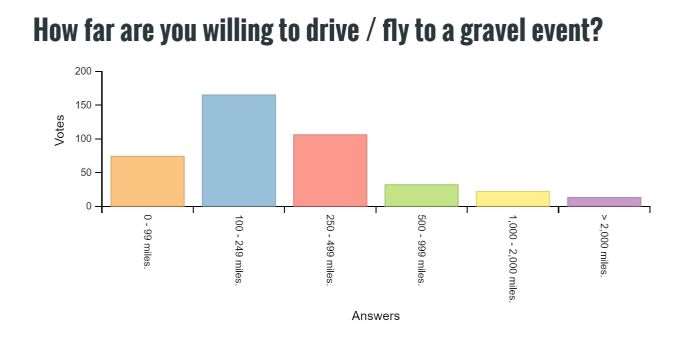 | | | |
| --- | --- | --- |
| | | |
| | 1,000 – 2,000 miles – 22. | |
People are willing to drive a good distance for a great event. Gravel events and races not only bring people into town, they bring money into the local economy – restaurants, hotels, bicycle shops, etc.

If you race, jerseys are the desired prize. In Florida, there are four "World Championship" gravel rides with a jersey up for grabs – and they are sought after. But the Big Kahuna in the United States is the Pirate Cycling League's unofficial Gravel Worlds race in Lincoln, Nebraska.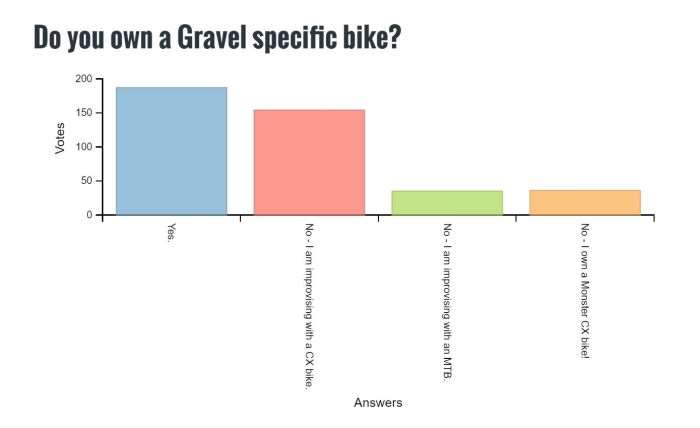 | | | | |
| --- | --- | --- | --- |
| | No, I use a CX bike – 154 | | No, I use a Monster CX bike – 36. |
There should have been a fifth choice – Single Speed. I humbly apologize to those single speeders who left comments in the survey. Leaving out that choice was an error on my part (JOM). I've lost count of the number of times I've been crushed by single speeders…
With that said, bike manufacturers take note. The #1 response was a gravel specific bike. Barring a teammate's rig, I don't believe the perfect mainstream production gravel specific bike exists at this time. The survey also proves that a cyclocross rig is more than capable at performing on gravel roads.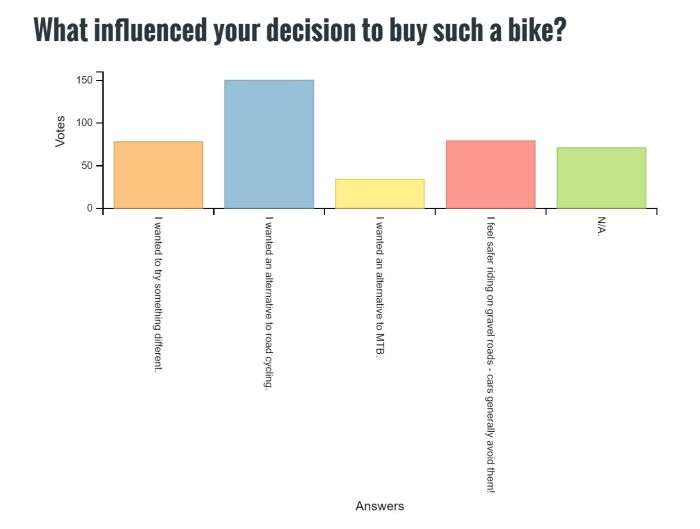 | | | |
| --- | --- | --- |
| Try something different –  78. |  Alternative to road cycling – 150. | |
| Gravel roads are safer, cars avoid them – 79. | | |
People like to venture off the beaten path – and people feel safer riding on gravel roads versus paved / bitumen roads.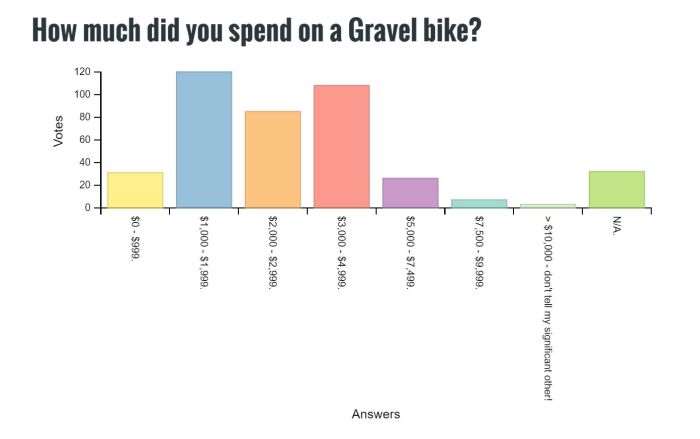 | | | | |
| --- | --- | --- | --- |
| $0 – $999 – 31. | $1,000 – $1,999 – 120. | $2,000 – $2,999 – 85. | $3,000 – $4,999 – 108. |
| $5,000 – $7,499 – 26. | $7,500 – $9,999 – 7. | > $10K – 3. | N/A – 32. |
People are willing to spend money on bikes. By the same token, you don't need to spend a lot to buy or assemble a quality machine for riding on your local gravel road. For the respondents who spent > $7,500 – $9,999 and > $10,000 on their bikes, you should probably contact the Gravel Cyclist site because we'd like to see what you're riding!

Not quite an even split, many riders are still leaning towards regular tube and tyre setups. However, tubeless technology is virtually standard on MTB's, and I feel gravel bikes will follow suit as more and more dedicated gravel tyres come into the market.

Disc brakes are the big winner here. As with MTBs, disc brakes are virtually standard on gravel bikes nowadays. I suspect the Cantilever respondents are riding older bikes.

| | |
| --- | --- |
| Electronic Shifting – 34. | Mechanical Shifting – 378. |
By far, most gravel cyclist respondents are using mechanical shifting groupsets. Judging by how much money some people spent on their bikes, I don't necessarily think finances are the barrier preventing people from making the jump. Are folks skeptical about the reliability of electronic gear systems? Or is the hassle of recharging batteries just too much?

For riding on gravel roads, navigational aids are where its at. I assume folks who answered No are using paper maps or cue sheets?
Part Two will be coming soon and feature answers to the questions:
What is the name of your favorite ride / race?
What is the name of your favourite beer / wine / other beverage?
Comments? We'll share some of the best – there are some good ones in there
Thanks for reading! Don't forget to tell your cycling friends about GravelCyclist.com!