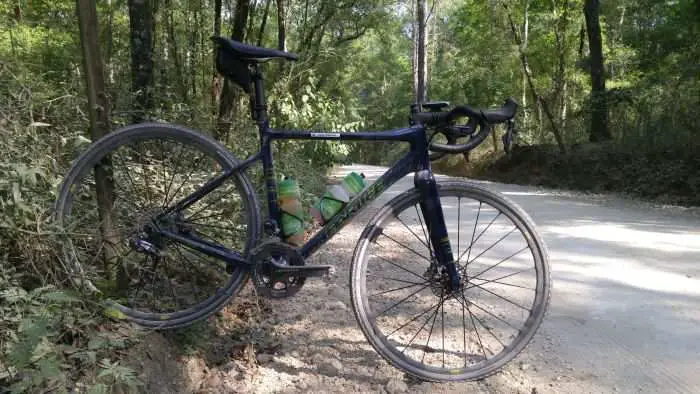 I was in one of those moods. My legs were knackered from the heat, length and mental effort related to Saturday's local group road ride in Gainesville, Florida. Group road rides with a decent attendance sometimes turn into a cat herding contest; with a little variance between abilities and such it can be challenging keeping everyone together – no offense to anyone intended. Great ride regardless!
For Sunday, I wanted to go solo, switch off a little and ride some new and beautiful dirt and gravel roads in a part of Florida I have seldom touched on. It is early summer here in Florida and we're already seeing temperatures well into the mid 90's Fahrenheit; temperatures that feel much warmer when you factor in the humidity.
I'm one of those nutters who loves riding in this sort of heat. It probably comes from my Aussie roots and being raised in the "sunburnt country".  So, with a toasty weather forecast predicted for Sunday, I thought it pretty appropriate to knock out 105 miles / 166 kilometres of awesomeness beginning in Wellborn, Florida. This is a town I've ridden through many times, but starting so far north and almost dead center between Tallahassee and Jacksonville, it provided opportunity to ride into Georgia. I get a kick out of crossing borders on bicycle…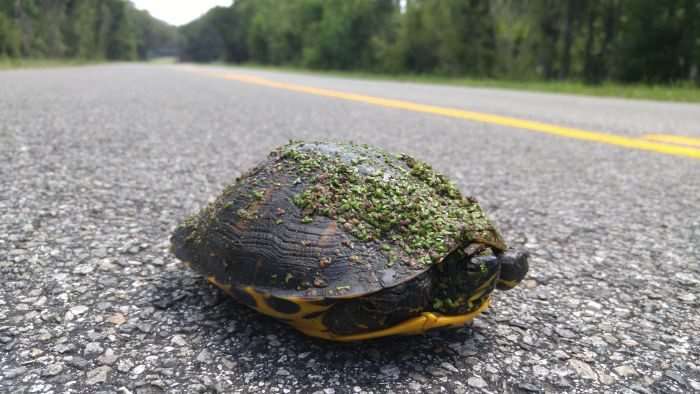 My planned route would cross the Interstates 10 and 75 twice and the Suwannee and Alapaha Rivers. I really don't like vehicular traffic disturbing my rides, so I always plan my routes to avoid main roads like a dose of the plague. Unfortunately, pavement has to creep in from time to time in order to link up the really good dirt and gravel roads.
Wellborn is a sleepy little town and on a Sunday morning, it was in a veritable coma, devoid of life. As I loaded up my pockets with food and a Platypus foldable water bottle, a local bloke rolled by on a beach cruiser and inquired into my ride for the day. "You doing a tour?" he said. Nearby White Springs is a popular destination for road cycling. "No mate, I'm out for 100 something miles of killer dirt and gravel roads" I replied. No response from him, but it was clear he was perplexed. I can only assume he thought, "why ride 100+ miles on crappy and dirty roads?" Some people just don't get it 🙂
I rolled out at 9:14am, about two hours later than planned. The best plans of getting up uber early always end up going out of the window. As I turned onto the first of many dirt and gravel roads for the day, it was painfully obvious it hadn't rained in this area for a while, and that sandy roads could be a factor. I was rolling on Panaracer's 700c x 35mm Gravelking SK tyres (tubeless) filled with Orange Seal Endurance formula sealant. These tyres are one of many products I am currently reviewing.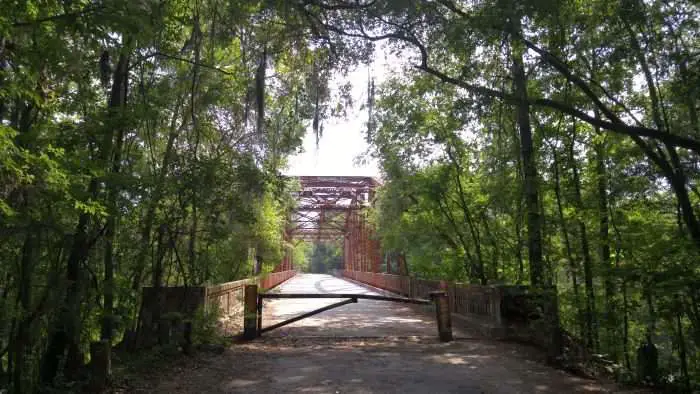 The roads may be dry, but there was no traffic. In the first two hours, I spotted seven cars. Brilliant! Drawing closer to my first crossing of the Suwannee River and Suwannee Springs, I recalled the existence of a neat bridge that took me away from the paved crossing of US129.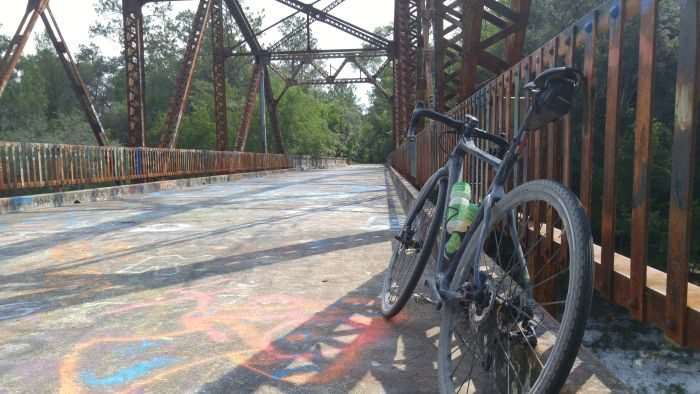 The old truss type bridge that used to be open to cars is now the exclusive domain of walkers and the occasional cyclist. It is located close to the Suwannee Springs Bath House ruins and sulfur springs. Over the years, the old bridge has become a haven for grafitti and general tomfoolery.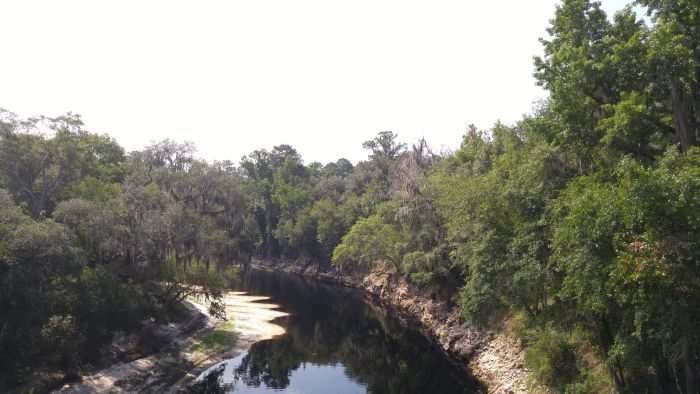 After snapping photos, I continued rolling north over the bridge and along the discontinued and overgrown paved road. I have tribal knowledge of this area, having poked around the bridge and springs earlier in the year.
The road comes to a rather rude and abrupt end at a small tributary of the Suwannee. Once upon a time a bridge crossed the gap in the photo above, but circa late June 2016 and that bridge is long gone. Hike-a-Bike time!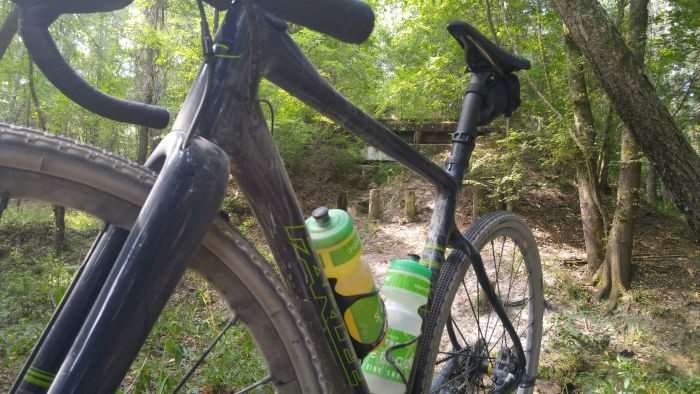 Tip toeing gingerly down the extremely steep drop off to avoid twisting an ankle, I avoided getting my feet and new shoes wet, before hiking out and upwards on the other side. I must commend the Gaerne G.Sincro MTB shoes I was bedding in – they gave superb grip on some very dodgy terrain, and they look good!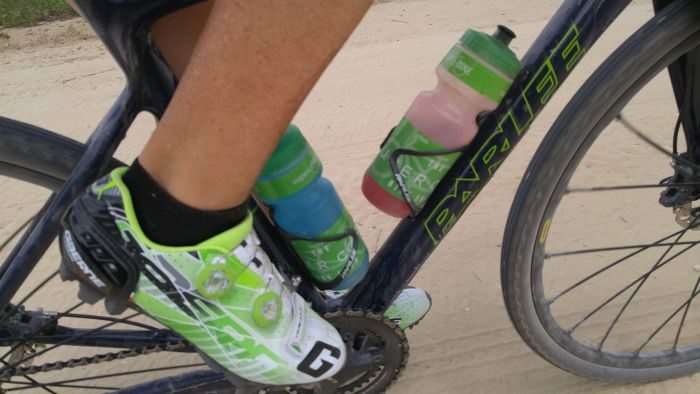 Not long after, the town of Jasper, Florida, came and went. There isn't much to the town, but it is located far enough away from nearby civilizations that I imagine living there could be quite peaceful. Much as I was tempted to stop and collect hydration supplies, I chose to keep rolling. The nearby halfway point of the day was Jennings, Florida, a town right near the border of Florida and Georgia.
During today's ride, the wind had been rather unsupportive, mostly blowing out of the north and northwest, making the going a little slower than usual. Still, I was optimistic I'd have a lovely tailwind to push me along during the journey home.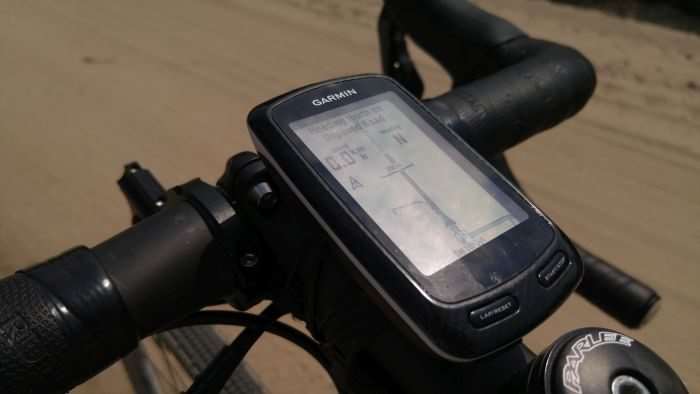 Jennings, Florida couldn't come around fast enough. I was feeling very good, but was running low on hydration and the temperatures had risen noticeably. Some errant thunderstorms appeared threateningly in the distance, and I would have welcomed a dousing from the clouds above.
There isn't much in Jennings, but it did have the all-important convenience store I'd planned on visiting. CSX Railways have a line that runs through the town with no visible station, but I suspect many of the area residents work on farms that surround the town. I'll spare you the details of grub consumed at the rest stop, but it was almost all liquid calories.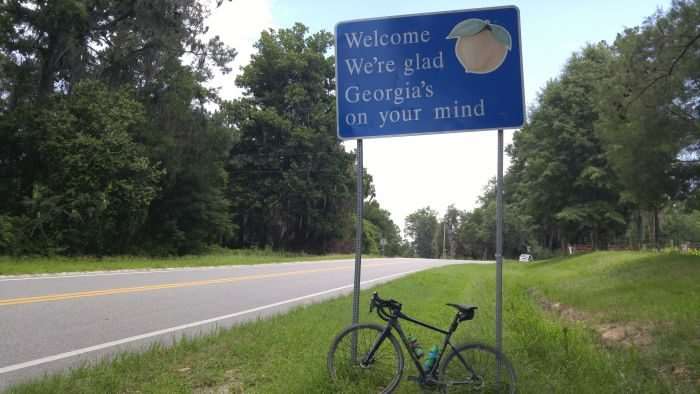 Pressing on after my extended store stop, I crossed into Georgia with approximately four hours of riding time beneath my wheels. I've ridden in Southern Georgia many times, but it became apparent this area of southern most Georgia needs to be explored in the near future. Sadly, I didn't take any photos of this area, but imagine rolling hills, clay roads and beautiful tree canopies to shield from the burning sun.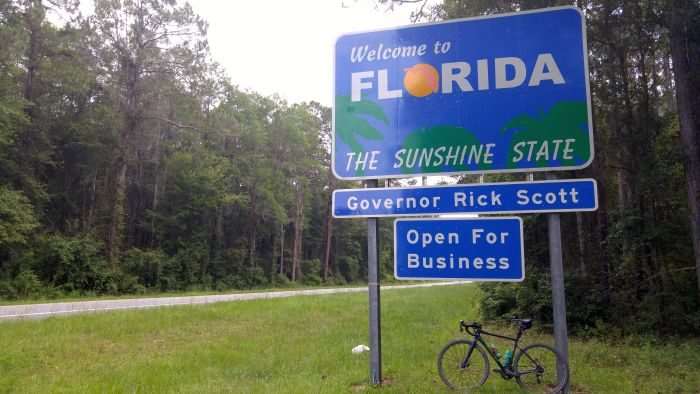 My route looped briefly into Georgia before heading back into Florida, which according to the Governor, is Open for Business.
As alluded to earlier, there are several farms in this area, and the next dirt and gravel road on my route would take me several miles into the hinterlands. Historically, roads located near farms and forests are always in bad shape. In this part of Florida, that means sand. With the lack of any decent rainfall, this road did not disappoint; I dubbed it, the Hell of the North.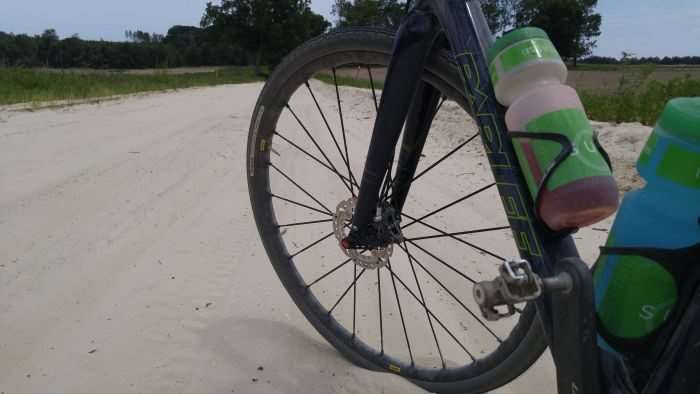 Surprisingly, my 700c x 35mm Panaracer Gravelking SK tyres were doing the best of any narrow gravel tyre I have ridden. But at some point, the deep sand cannot be overcome by such a narrow tread. Invariably, my bike sank, cutting a deep swathe into the sand as I struggled to stay upright and keep pedaling forward – such is the resistance. I was all over my 34 x 32 low gearing, grinding along, trying to remain relaxed with a loose grip on the handlebars as the bike twisted left and right into the deep sand, almost with a mind of its own.
I plowed along burning serious energy and leaking perspiration from every pore of my body. Ahead in the distance, the silhouette of a paved bridge gave hope this tough section of road would soon be behind me. The baking hot pavement of the nondescript bridge over Interstate 75 was a welcome respite from the sand.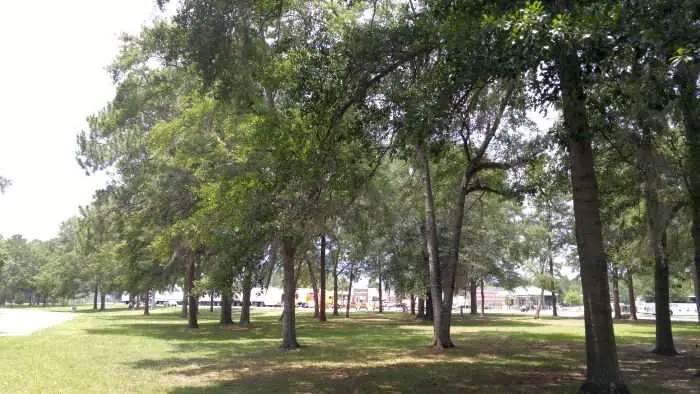 Then it appeared, like a mirage in the distance. An unexpected Interstate rest area lay directly adjacent to the road I had dubbed "Hell of the North". Yes! A bonus chance to hydrate and replace the fluid and calories I'd blown just minutes earlier. I expected odd looks from motorists at the rest area, but I guess a bloke with a bicycle wearing a lycra cycling kit covered in crap isn't very noteworthy.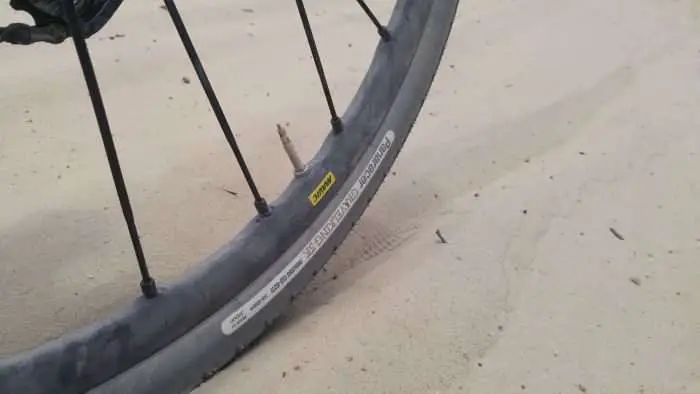 Then there was the wind. I'd been expecting a friendly and supportive tailwind anytime I turned south and east towards Wellborn, Florida. Rather, I was greeted by a headwind in either direction! What?! The wind had done a complete 180 degree flip… bollocks!!!
For the remaining 46 miles / 74 kilometres of the ride, I thought of insulting names for the wind. While I had plenty of petrol in my proverbial tank, the disappointment of being dealt a crappy hand with the weather was greatly displeasing. But compared to the slogfest headwind I'd experienced at the recent Dirty Kanza 200, this effort would be a piece of cake.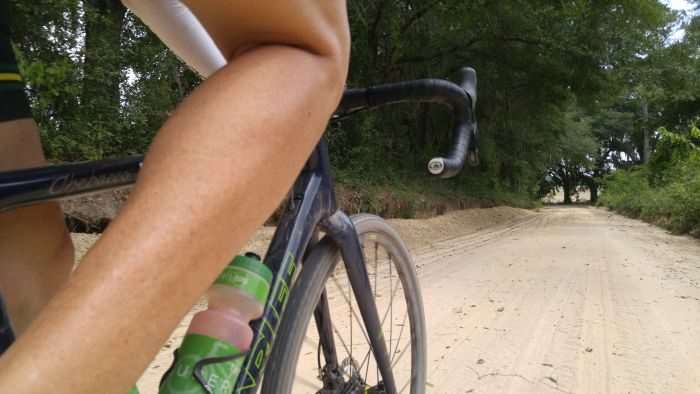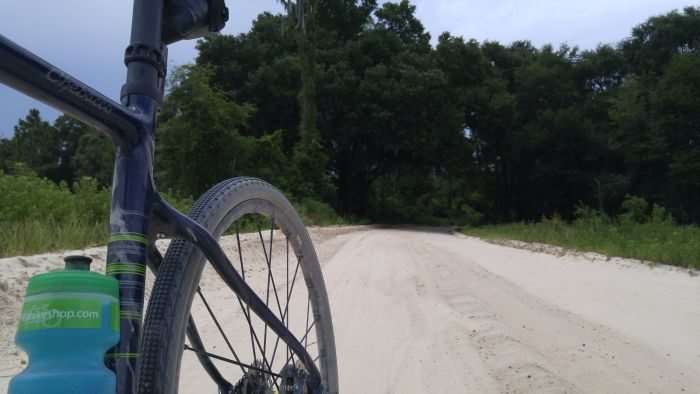 The eastward push along the long dirt and gravel road (Railroad Street) that paralleled US90 was tough on the legs and the mind. While the road was covered by a healthy tree canopy of Live Oaks, the wind seemed to intensify along this tree chute as I made my way towards Live Oak, Florida – aptly name, no?
I am a cyclist who completely eschews music of any kind whenever I ride – I'm also a very social person. In my opinion, it's nice to chat with other cyclists during a ride or a race – and, what is the point of spoiling the sounds of nature, the wind and the outdoors by listening to music blasting through headphones? Consequently, I played head movies of good times from days gone and tried to remain positive versus insulting the wind by name as I'd done earlier.
Roll on Live Oak!
I didn't stick around in Live Oak too long. It's a town I've visited many times in the past and while I enjoy every visit, I was on a mission to get back to my car. The remaining 13.5 miles / 22 kilometres into Wellborn were ridden at a strong tempo considering the wind, but I was ready to be done.
At the start of the day, I'd held delusions of grandeur about holding an average speed of about 17mph / 27km / hr. Sometimes, the best plans go out the window. The moral of the story is, expect the unexpected. Always save something for the return journey if you're riding in new territory. Always have a plan and always notify friends and family about where you are headed.
For those so inclined, this is my Strava data from the ride.
Thanks for reading… already looking forward to next weekend!
JOM