The Sasquatch 125 / 200 Fall Bike Packing event is the creation of a bloke who goes by the nickname of the Cycling Sasquatch – aka Ray Egan. Ray's description of himself is "an oversized cyclist on MTB and Road, and the journey from large and out of shape to smaller and in shape". You have to like that.
Riders have the choice of riding 125 or 200 mixed surface miles round trip. Or, in the case of some people, ride the short route one day, and the long route another. The organizers were pretty easy-going, so there was no hard and fixed rule about sticking to a plan. You have to like that.
Planning an event of any kind is no easy undertaking, but a two-day bike packing event is a much taller order. Logistically, it can be tough.
Create website / Facebook page with a big list of to-do's for riders, including route maps (which you countless spent hours scouting).
Event day, herd riders into a semblance of order (like herding cats) at the start location.
Hope said riders can follow Garmin directions, cue sheets or what have you, to the camping destination. Sending out a search party is never any fun.
Transport gear for riders from the start location to the camping destination. This is what I call the slack packing option. The seasoned veterans of bike packing carry their own stuff.
Ensure the camping location is easy to find and can accommodate at least 100 people. Ideally, the location has power, bathrooms and an undercover area that people can congregate and hang out.
Provide food – and beer onsite – that last part is extremely important  🙂
That's just a very short list of what Ray and his team of volunteers had to think about.
Ray also has the 2018 Tour Divide on his mind. The Sasquatch 125 / 200 is a fundraiser event for his attempt at this most insane of races. We wish you much luck Ray!
Friday Evening Check-In
K-Dogg and I made the drive after our regular gigs ended to Warner Robins, Georgia, to meet with Ray's staff of volunteers for event check-in. This was mostly an opportunity for riders to socialize and shoot the breeze. During check-in, I had the pleasure of meeting Kim Murrell, the lady promoter behind the Dirty 130 event in Tennessee. Sadly, I could not attend her 2017 event, because I was completely knackered from my trip to Rebecca's Private Idaho which finished a few days earlier. Hope I can raincheck for 2018, Kim!
Saturday, November 18, 2017 – Kathleen, Georgia
Kathleen, Georgia was the meet and parking spot for attendees at this year's Sasquatch 125 / 200 event.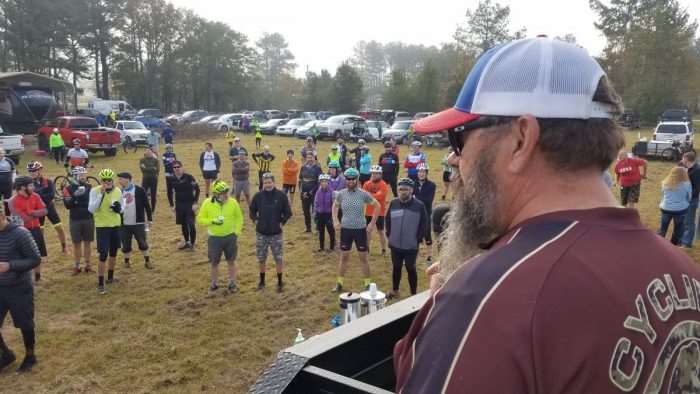 It needs to be said that K-Dogg and I have a lot of experience at riding and racing on gravel roads, but we have zero experience at bike packing. That means, we don't own suitable bags and racks, items designed specifically for the rigors of carrying camping gear on one's bike. Thus, K-Dogg and I fall into the "slack packing" category.
Slack packing I hear you ask?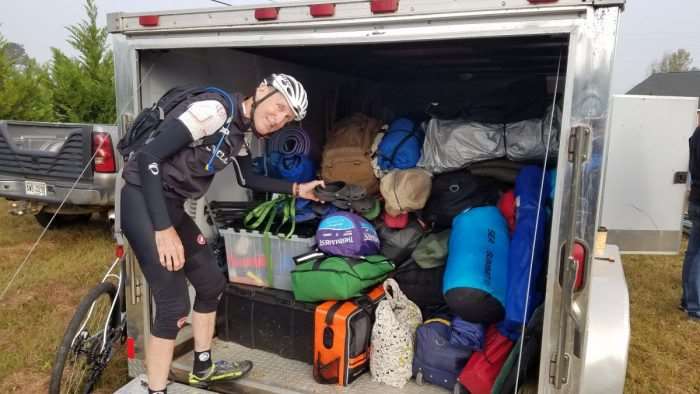 When the organizer and his crew offer to carry your gear – and not just our gear – but the gear of anyone in attendance – that makes bike packing for beginners / lazy buggers a much better prospect.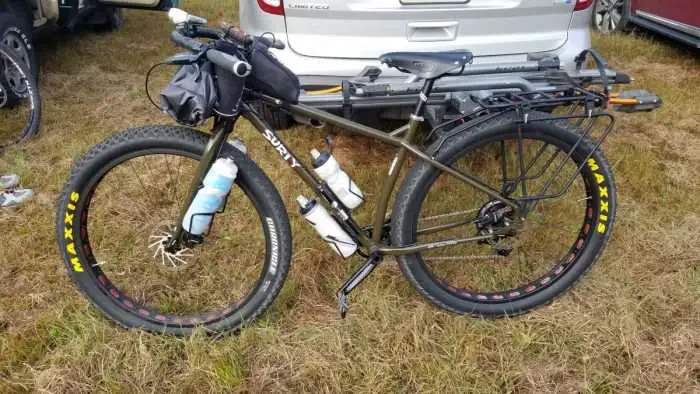 Remember, you have to dip a toe in first before you can fully commit! K-Dogg and I embrace the philosophy of slack packing, mostly because our bikes aren't laden down with 30lbs of gear and handle as we expect. We're not camping snobs, but we are a little bit lazy.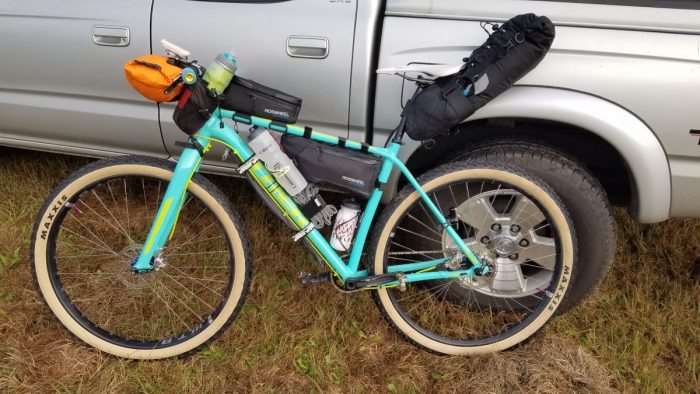 Over 100 riders made the trip for inaugural Sasquatch 125 / 200 and most attendees chose to ride the shorter of the two routes on offer. Keeping in the tradition of our not riding too hard during November, we decided to ride the shorter, 125-mile round trip route too.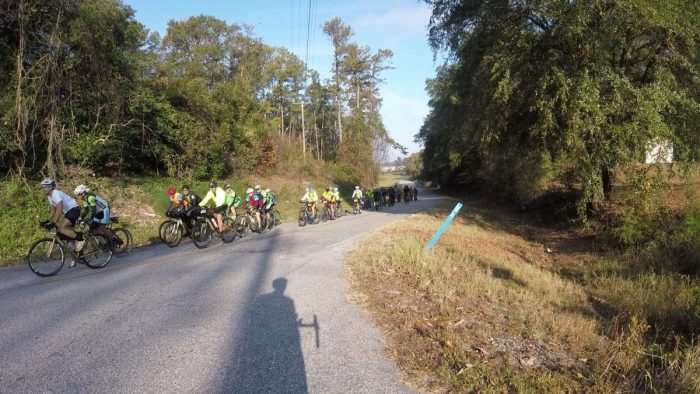 Our prime directives on day one were to have a lot of fun on new roads, and reach the camping location of Georgia Veterans State Park, a little west of Cordele, Georgia in good time. Part of that good riding time meant hitting up the showers early as well!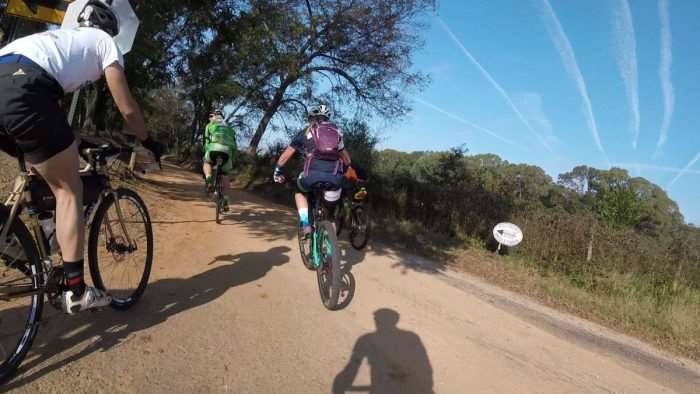 It didn't take long before the collective group of bike and slack packers established an order on the road, which ultimately determined one's riding partners for day one.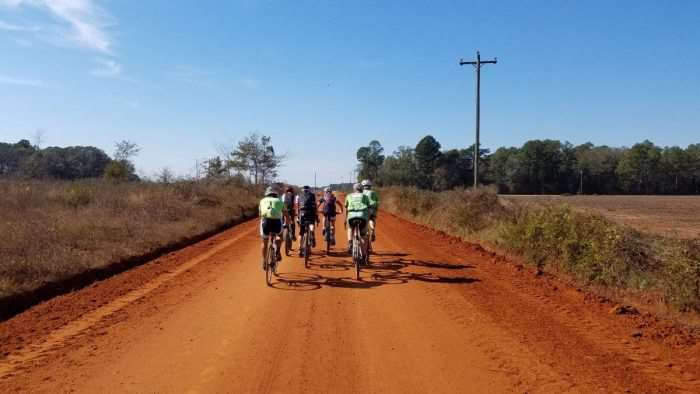 Our pace was moderate and cruisy by gravel racing standards, and our group comprised of seven riders, most of whom I have ridden or raced with before. Reminder, this wasn't a race.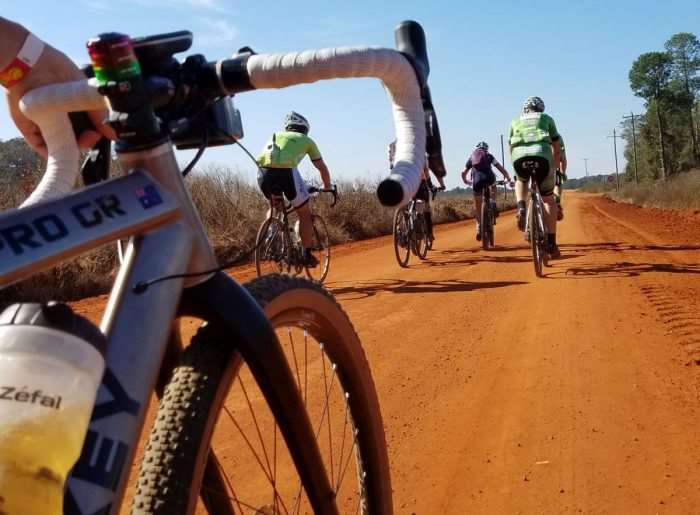 There was Jeff of the Georgia Neurological team, hereon referred to as Stony (hope I spelled that right), a nickname he earned from his days in the Air Force.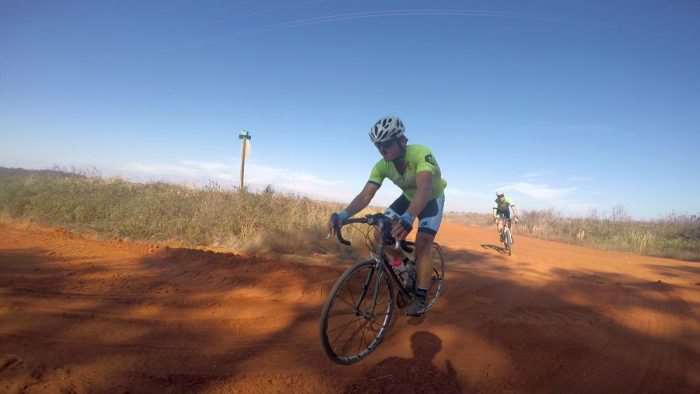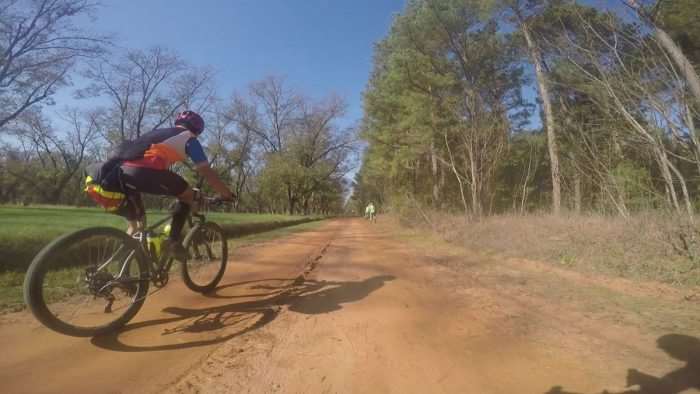 Asa aka Monty, a regular in the Georgia gravel cycling scene and organizer of the Sac O Suds and Fried Green 50.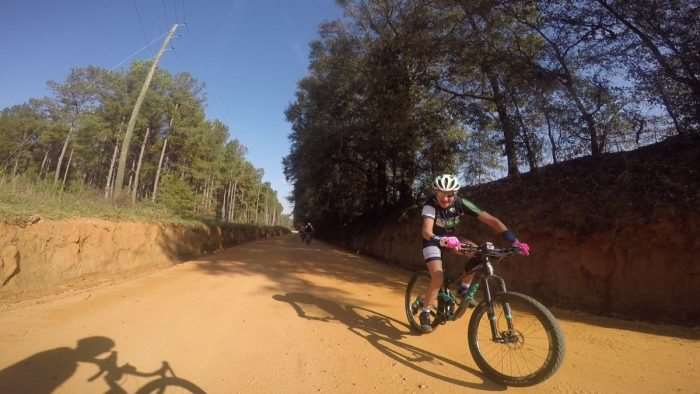 Grace, a talented lady rider astride a very under geared single chainring mountain bike. This was the first time we'd met.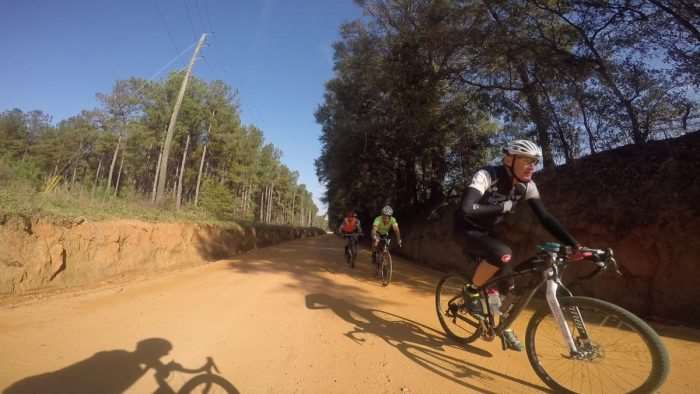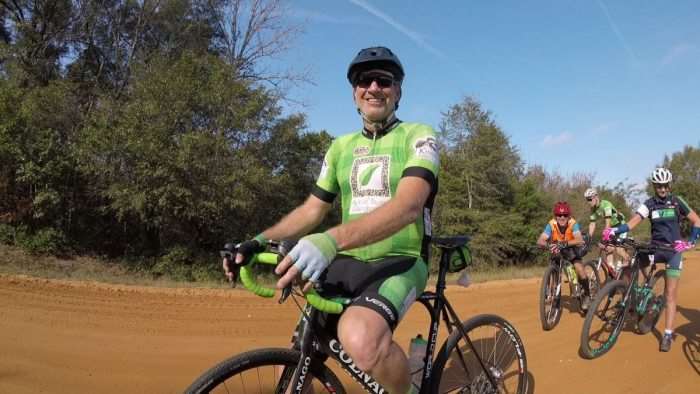 The Art of Stone Gardening team duo of Jason (aka The Couch / Tow Truck) and Craig, and finally, K-Dogg and yours truly of Gravel Cyclist.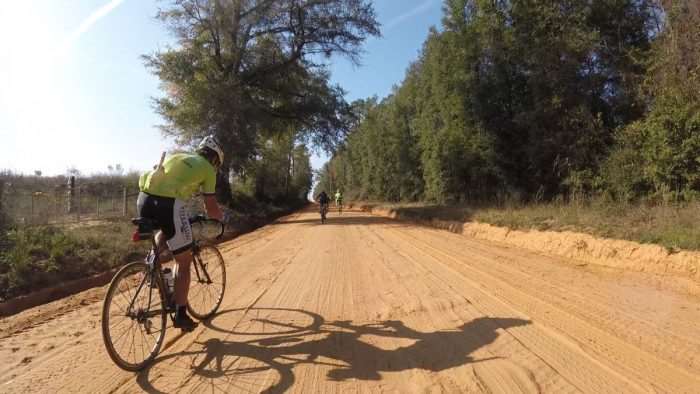 Jeff was rolling a road bike shod with 25mm or 28mm tyres, which under normal circumstances would be a big disadvantage. But due to the decently hard-packed dirt and gravel road surfaces along much of the course, he had a considerable advantage versus the rest of us, pushing wider tyres at lower pressure. But we were very glad he was behaving himself and enjoying the easier pace.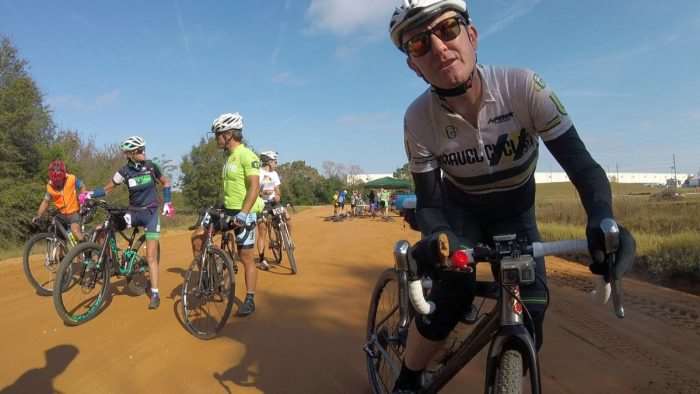 Some of us, myself included, gorged ourselves a bit too much at the first aid station, but that was the point of this trip. Eat a bit too much and keep the speed low.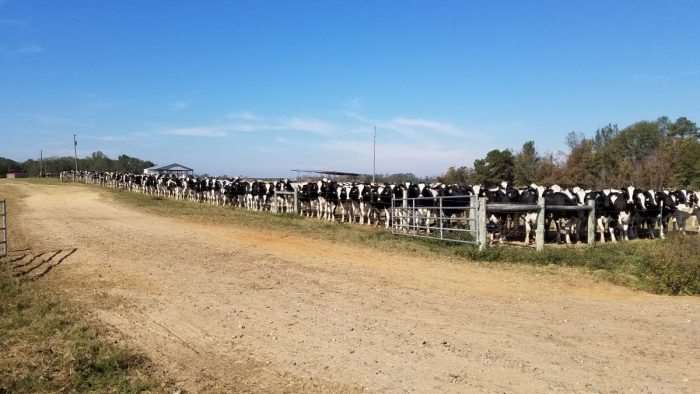 Our group ambled along, enjoying pleasant conversation, photographs, and near-perfect weather. This time of year in southern Georgia sees the cotton fields come alive with blooms of fluffy whiteness, contrasting to the red clay roads that litter the area.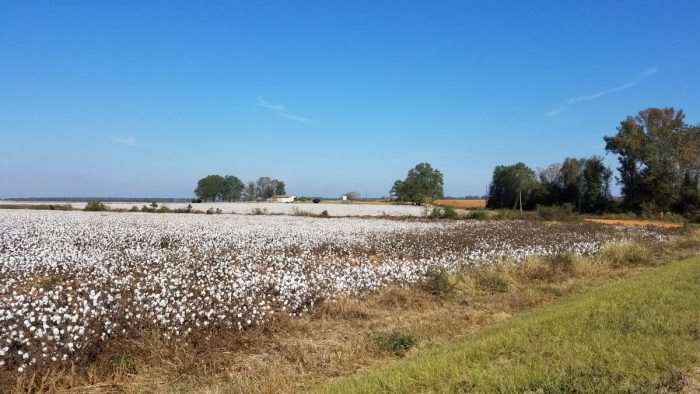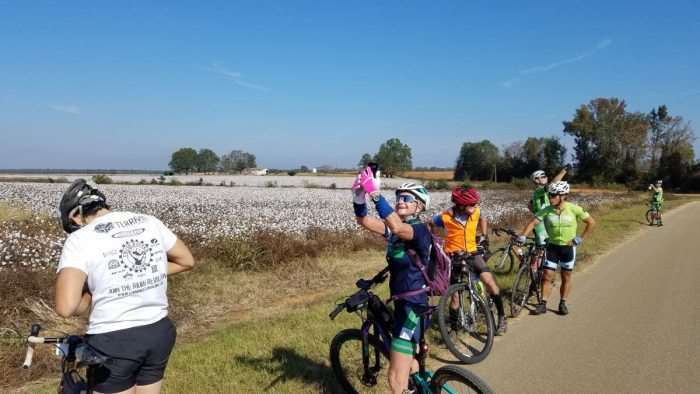 The recurring theme of eating too much happened again at the approximate halfway point of the day's route, Five Points Grocery store in Montezuma, Georgia. If you're in a hurry, this isn't the ride for you.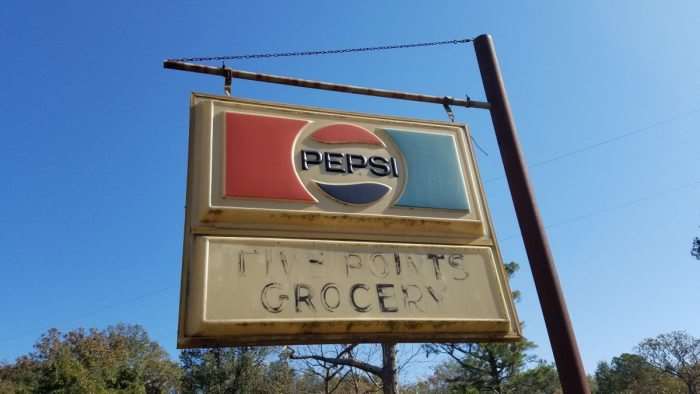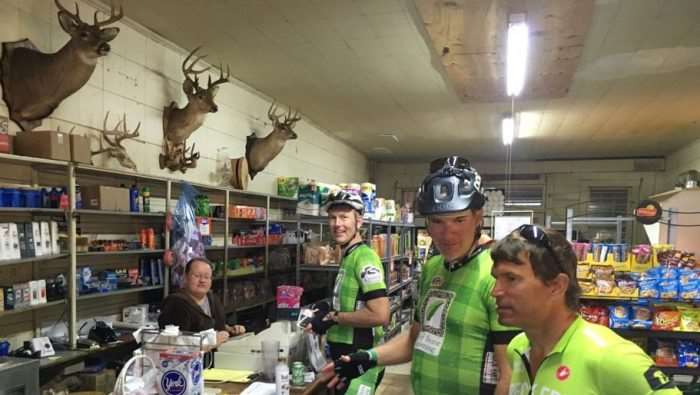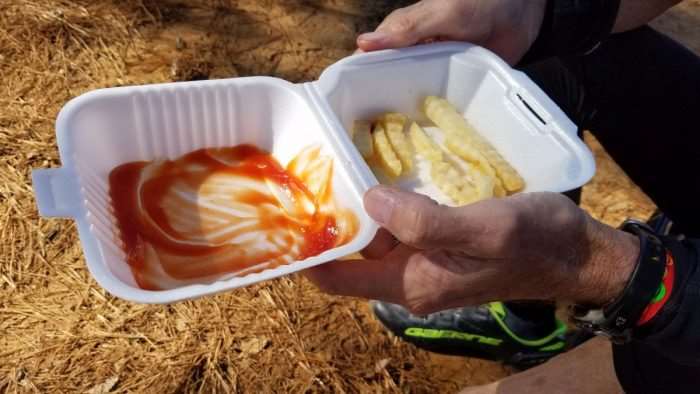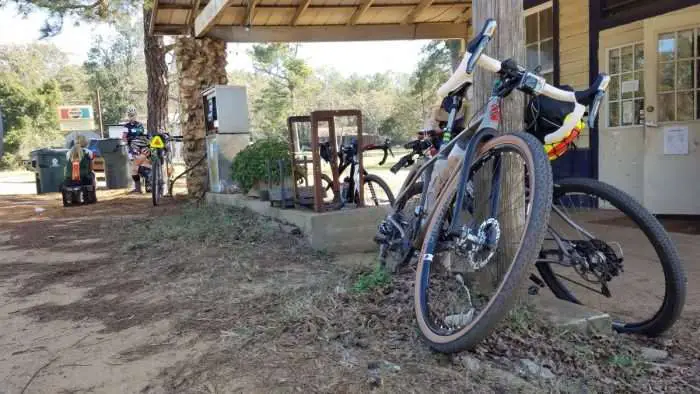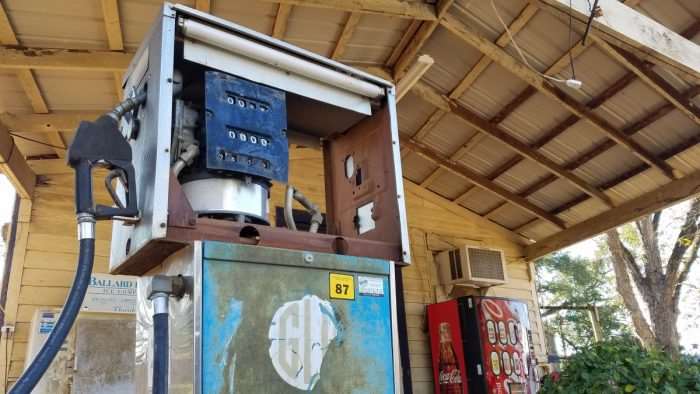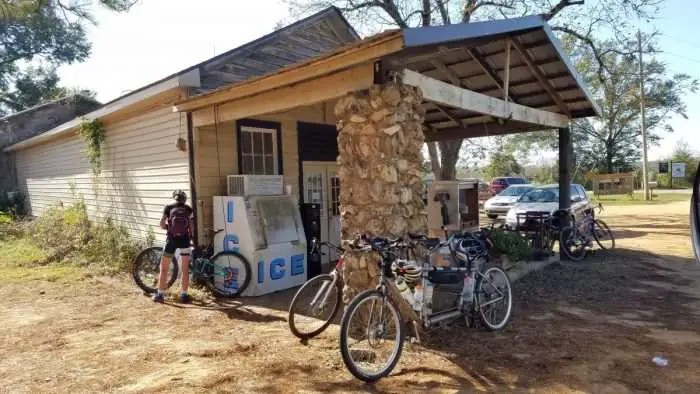 We eventually got rolling again, arriving into Georgia Veterans State Park around 2:30pm.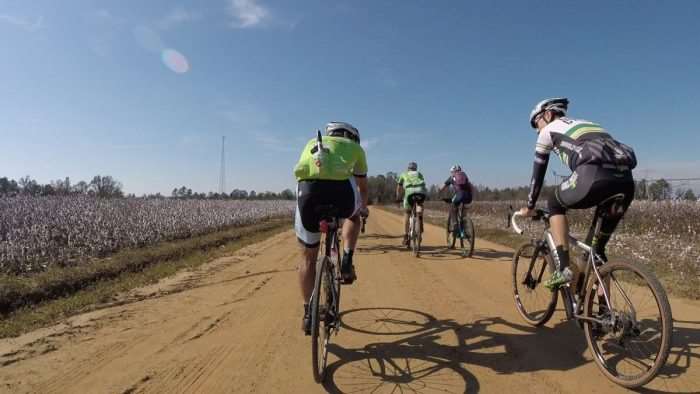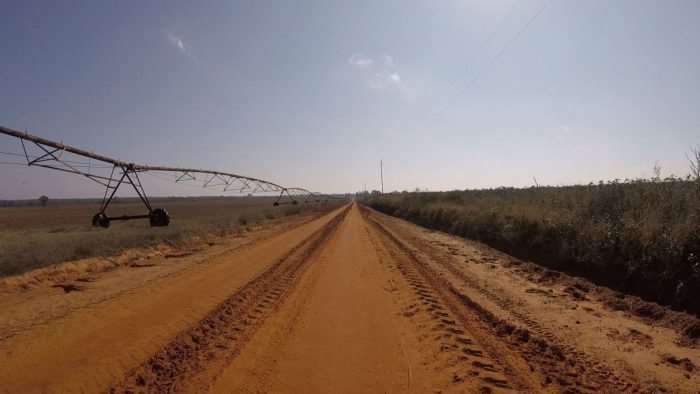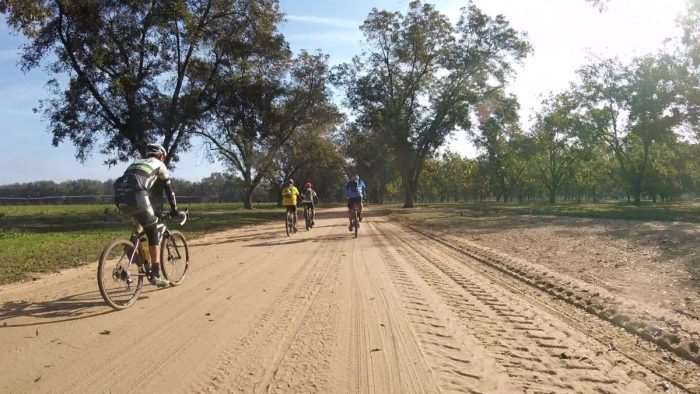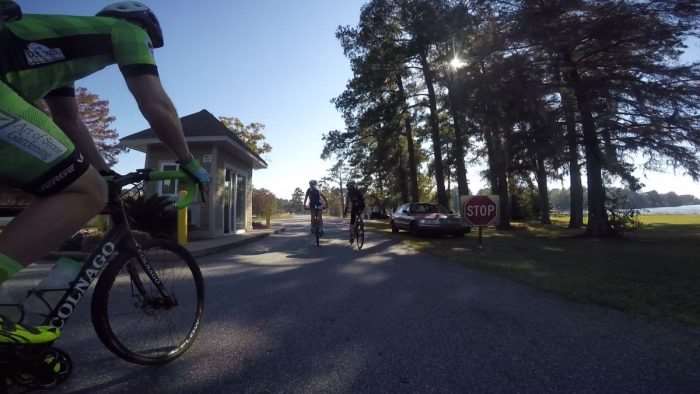 We were the first group to arrive, but we would need the extra time to collect our massive pile of gear, and set up our tent. Yours truly has one camping experience in his timeline, while K-Dogg's experience is more numerous, but a bit dated.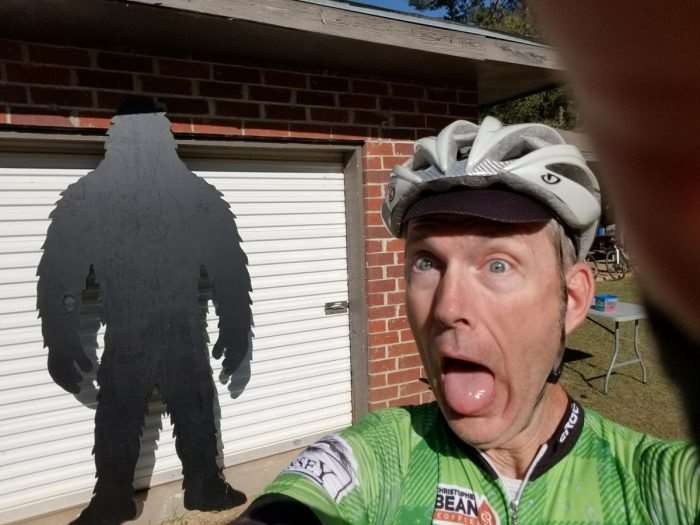 Saturday Night Camping
We may have been the first to arrive, but first, we faced the small challenge of finding our gear in the massive pile that had been transported and unloaded by the organizer. Once the sifting was complete, we took our own massive pile of stuff to a suitable location on the edge of the nearby woods.
Now, most people with common sense and organizational skills would have tested their tent before the event. Not us. K-Dogg had not set up this tent in years, which I suspect was circa 1981 or thereabouts.
Naturally, our friends from Art of Stone Garden cycling team were there to capture K-Dogg and I bumbling about the place on camera. Helpful.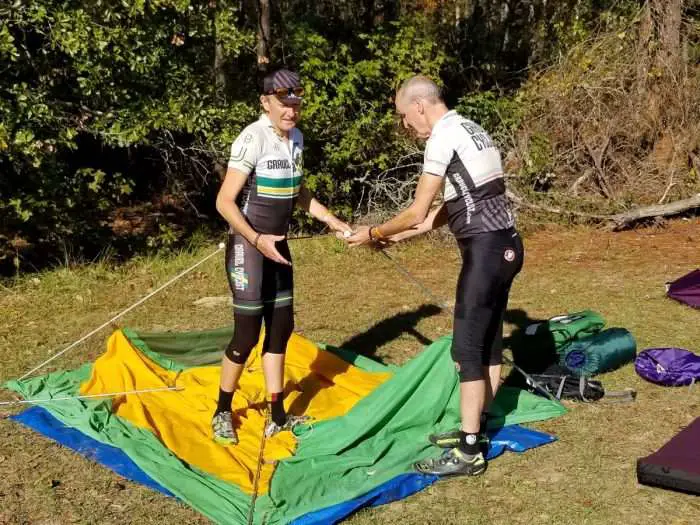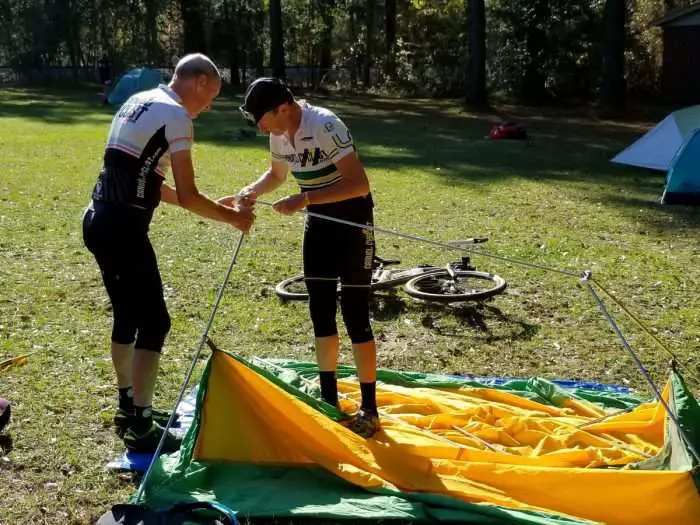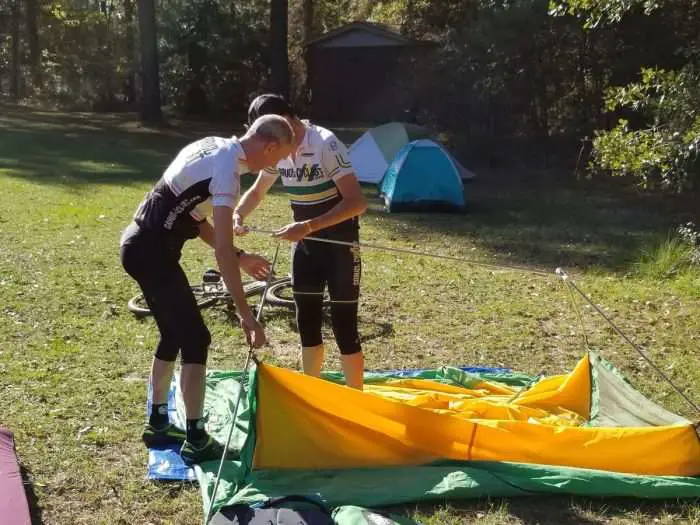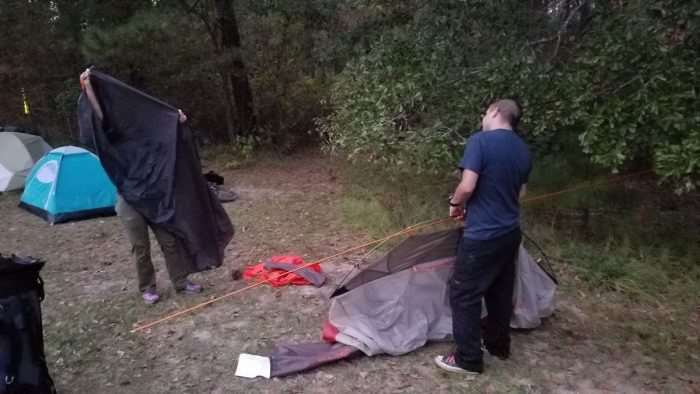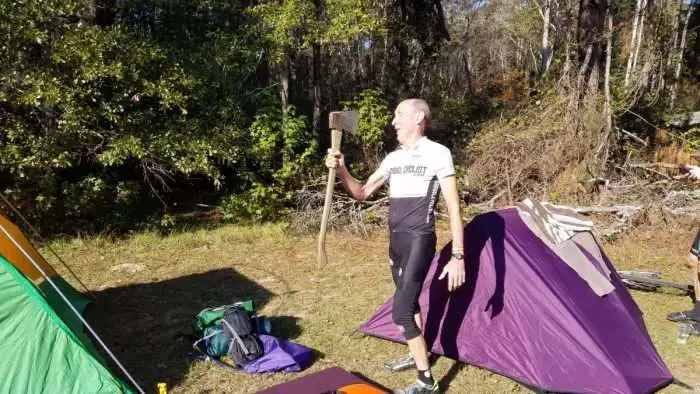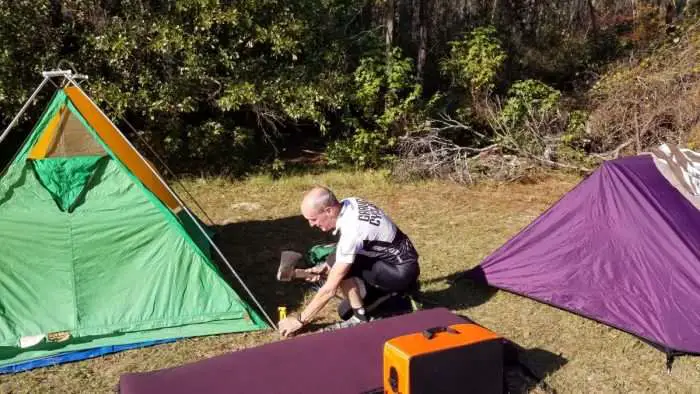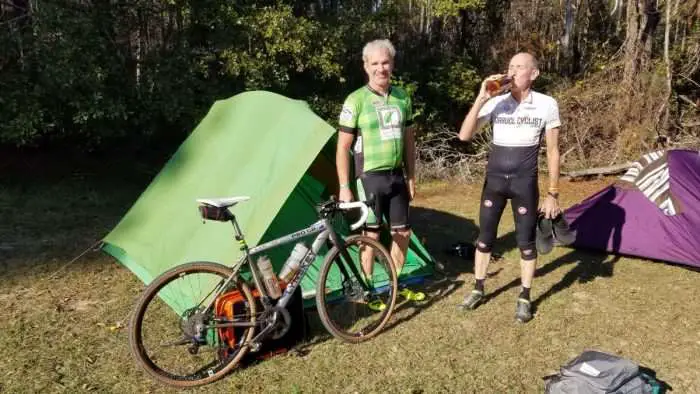 The lack of daylight savings time in the Northern Hemisphere is the current bane of my existence. The reduced daylight hours soon turned to nightfall and with it, came cooler temperatures. The original temperature forecast in Cordele, Georgia, was in the low 30's Fahrenheit (about two – three degrees Celcius), but it turned out to be warmer, in the low 50's F / 10C. Near perfect for camping!
It helped that K-Dogg and I had packed just about every conceivable article of clothing in our possession for wet weather riding, wet weather camping and staying warm inside our tent. Another vote for slack packing – if in doubt, bring it along!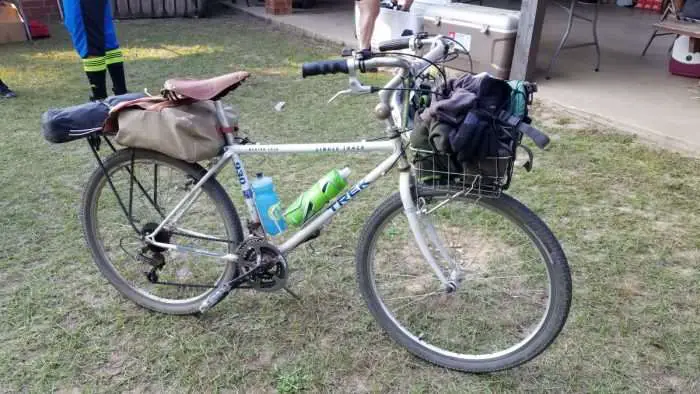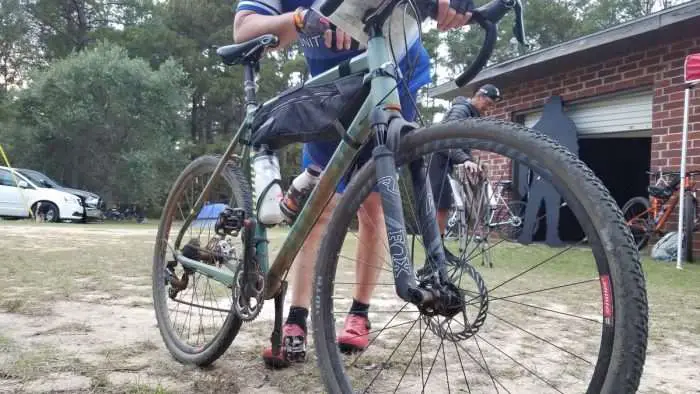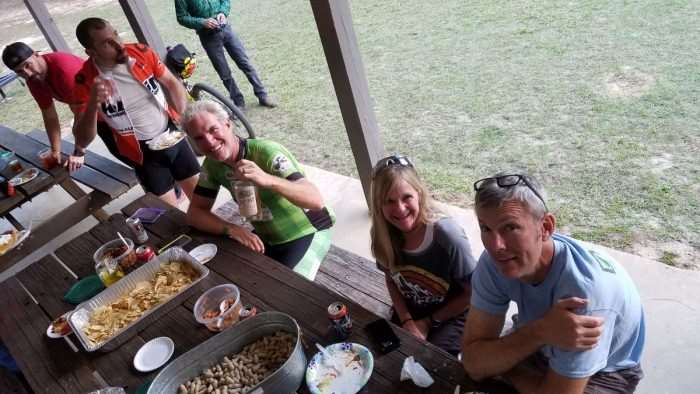 The hours of darkness may have been setting in, but that didn't prevent riders from trickling in during all hours of Saturday evening. Remember, many of them were carrying their gear, or riding the full monty 100 miler route.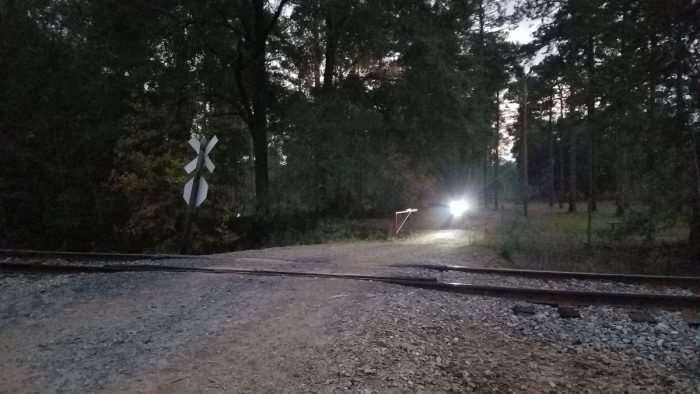 I don't recall their names, but there were at least two riders who completed their first 100 mile rides on this day. Congratulations all round!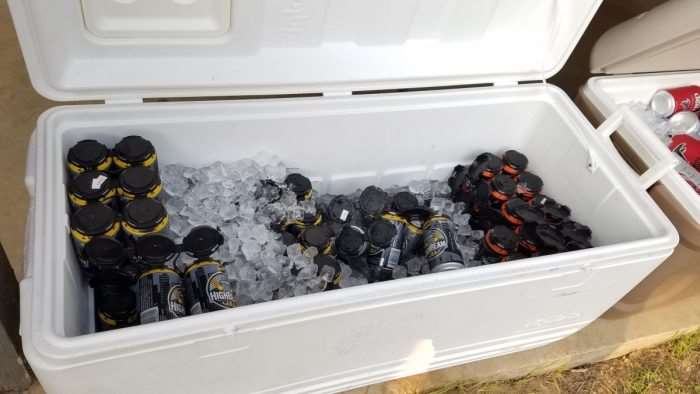 Naturally, there was beer, and a lot of it. A huge thank you to James and Heather Barringer of the Newton Bike Shop in Newton, Kansas.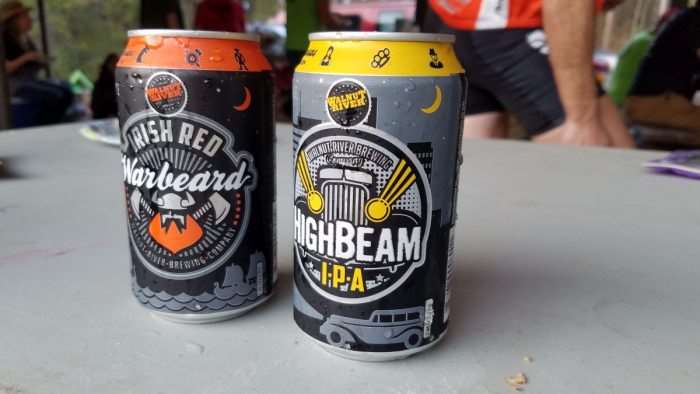 They toted a huge amount of craft beer from Kansas in their minivan, courtesy of the Walnut River Brewing Company in El Dorado, Kansas. Thank you!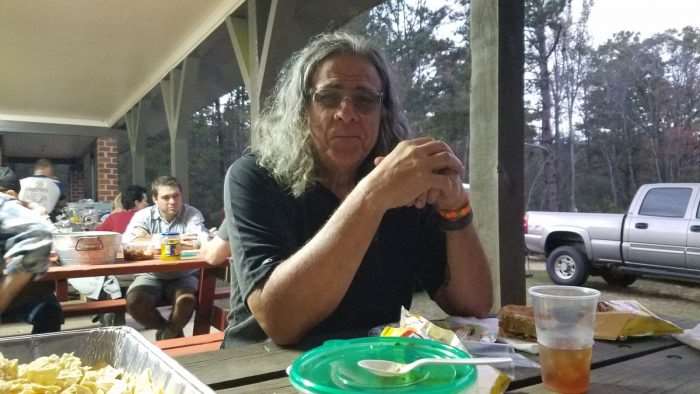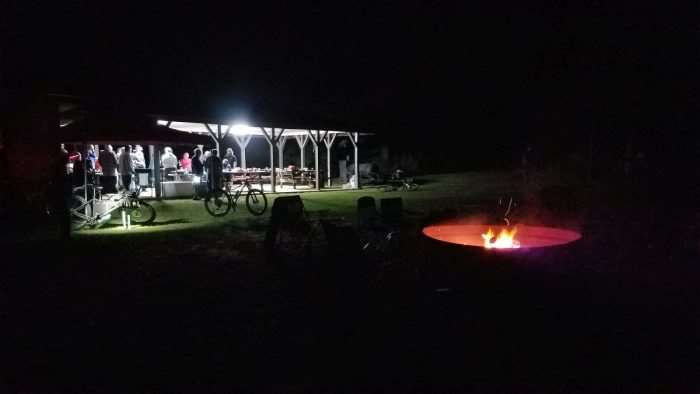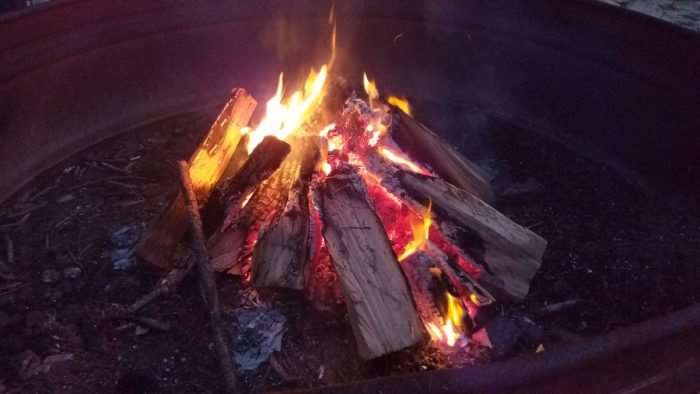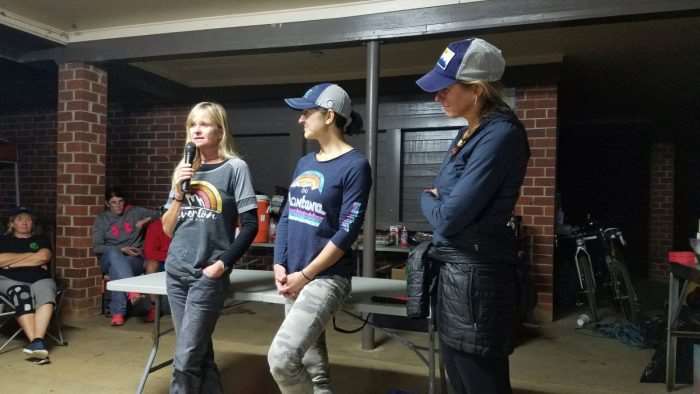 During the evening, speakers such as Rick, Tony (both are Tour Divide finishers), Audrey (TNGA finisher), Grace and Kim (adventurer extraordinaire) inspired everyone to think about events such as CFITT (Cross Florida Individual Time Trial – hosted by The Singletrack Samurai), TNGA (Trans North Georgia) and Tour Divide.
I must give special mention to Grace Ragland, the lady who rode with my group on day one. Grace has Multiple Sclerosis, but manages her condition with the help of products from Teve Neuroscience. Grace is an educator on the subject of MS and speaks at events through the United States.
After the speakers were finished, I made the point of checking the weather.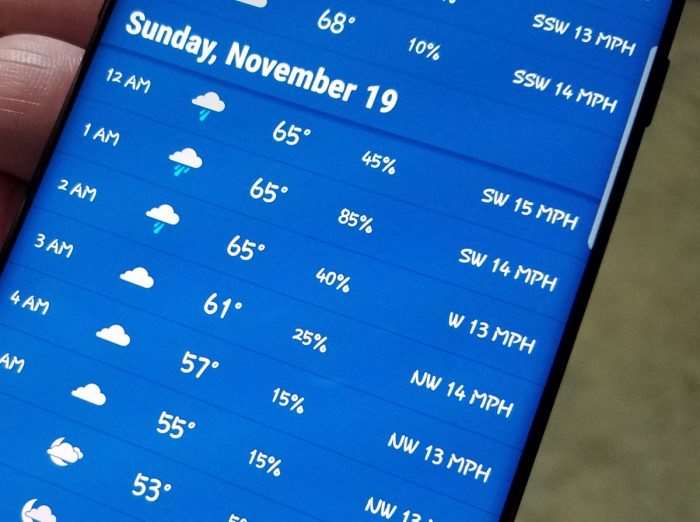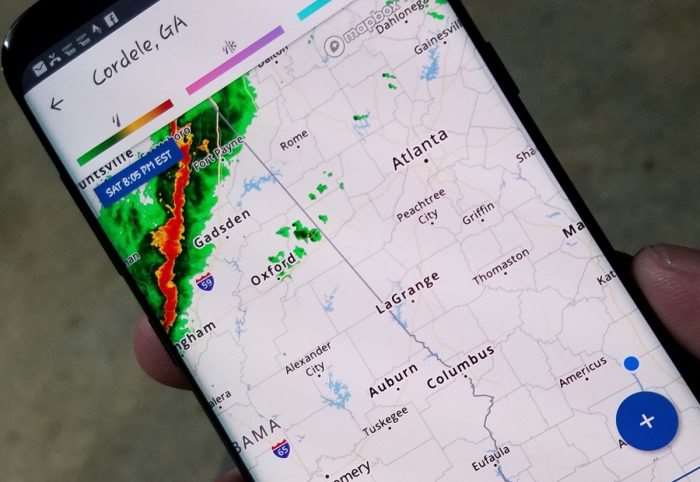 The rumor of a flash storm inbound for our campground and surrounds proved to be true. Yikes! Would our circa 1981 tent be up to the challenge? We moved our bikes to the cover of the pavilion and the gear inside our tent towards the center. We hoped for the best!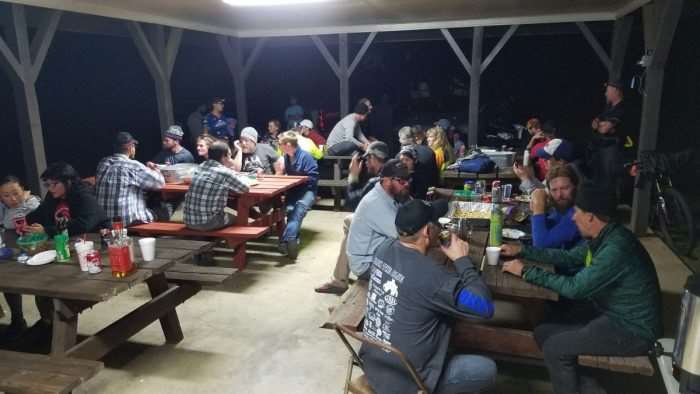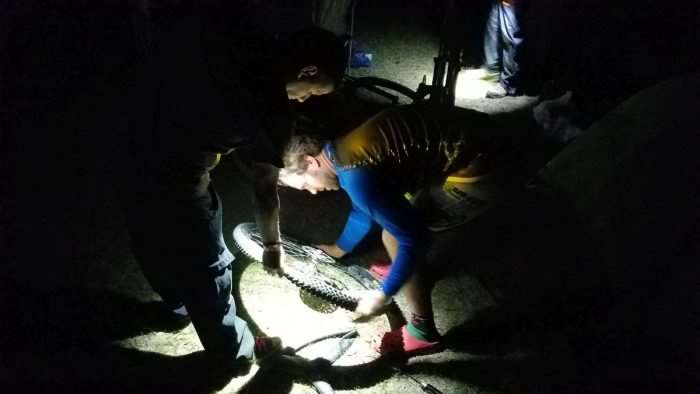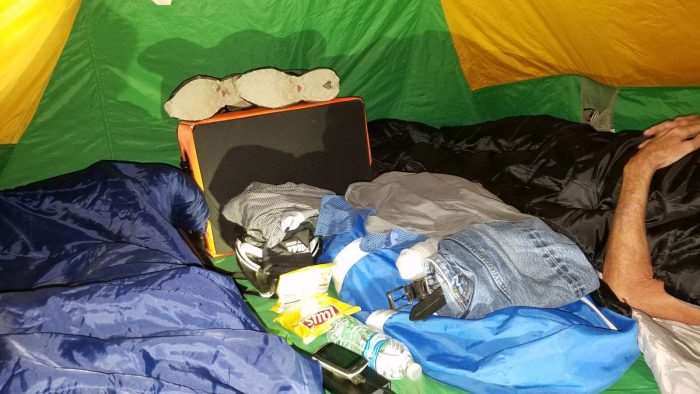 Cue, lights out.
The Sunday Return Trip
The storm that was destined for the campground and beyond, broke up considerably before it arrived. Rain fell on and off, but our tent survived, and we and our gear stayed nice and dry inside. Saturday evening wasn't the most restful of nights, not helped by the fact yours truly forgot to pack a travel pillow. But I will credit my A-M-A-Z-I-N-G sleeping pad for making it much better – the Therm-a-rest NeoAir Dream. It isn't cheap, but if you want the best for camping period, check it out. I mostly purchased it for car camping. It has turned my not-for-sale Honda Element into a bike carrying hotel on wheels.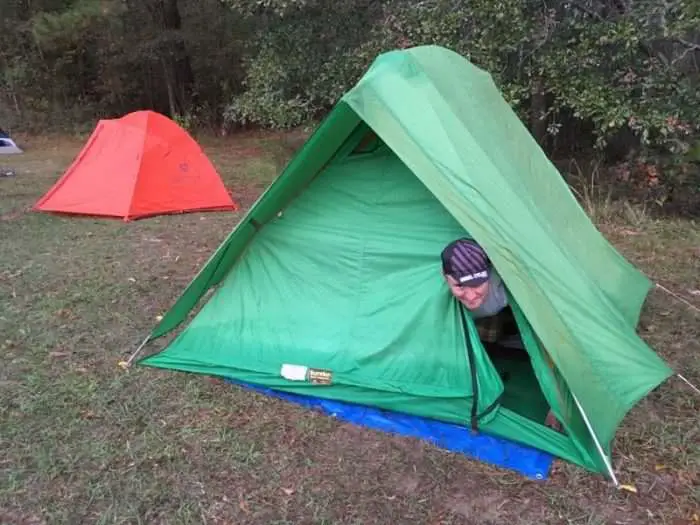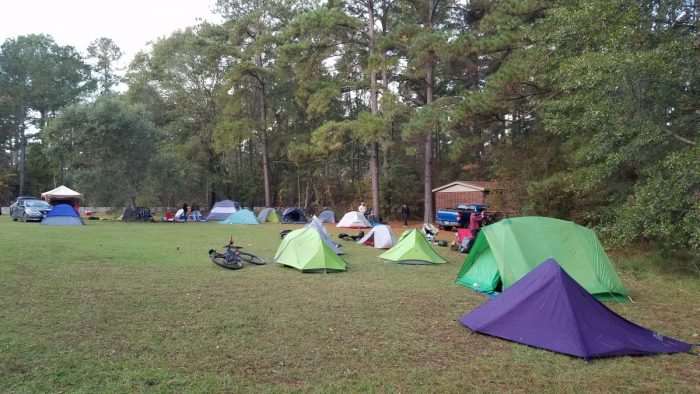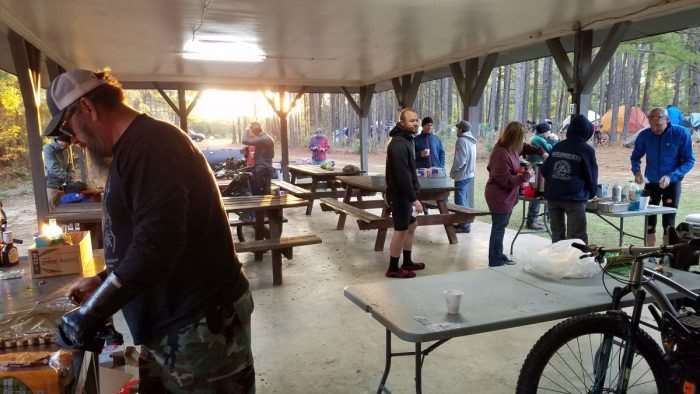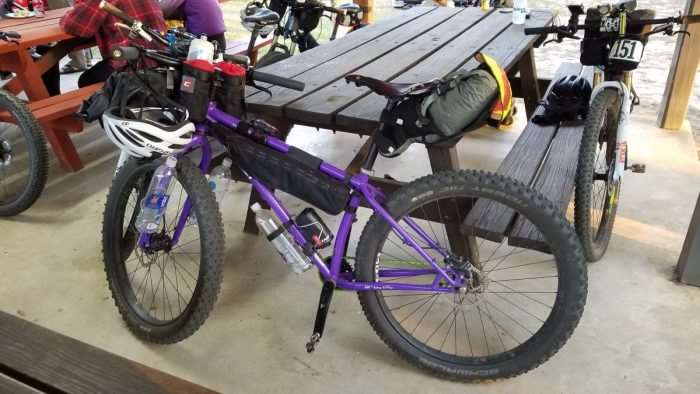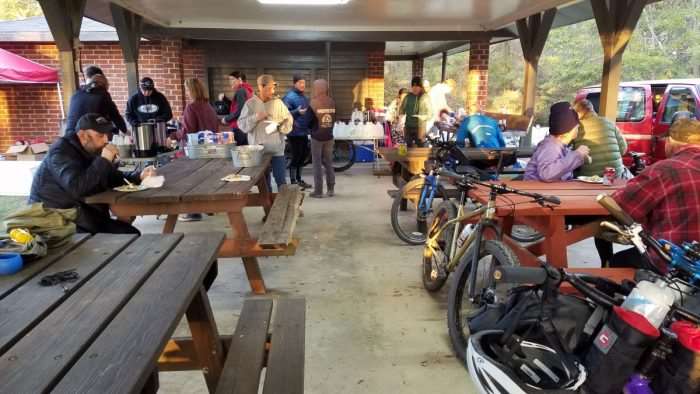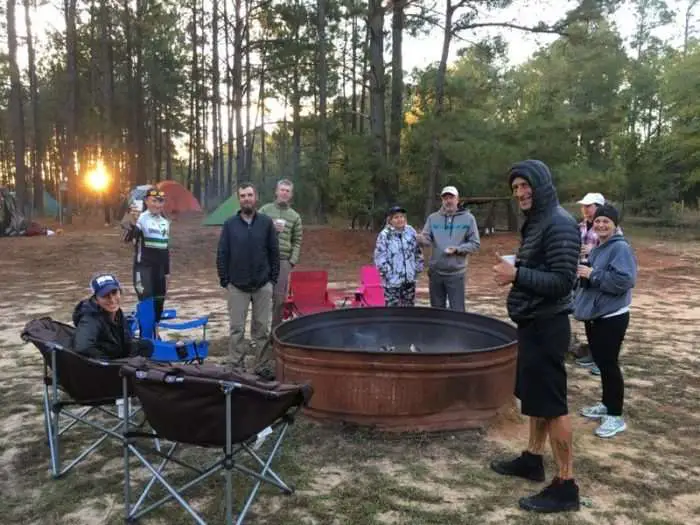 Despite a less than stellar night's rest, I felt pretty good, A-M-A-Z-I-N-G even. Most of the bike packers and slack packers were keen to split early, and K-Dogg and I were no exception. Our vintage tent may have taken an immeasurable amount of time to set up, but tear down was a cinch.
Before leaving Georgia Veterans State Park, just about everyone in attendance gathered for a group photo or two around the park's displays of vintage aircraft, tanks and personnel carriers.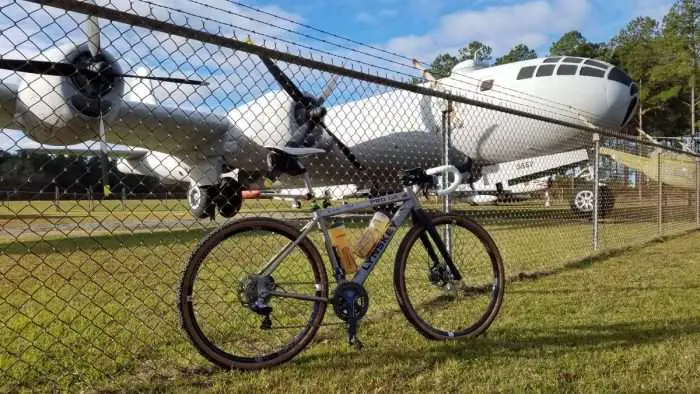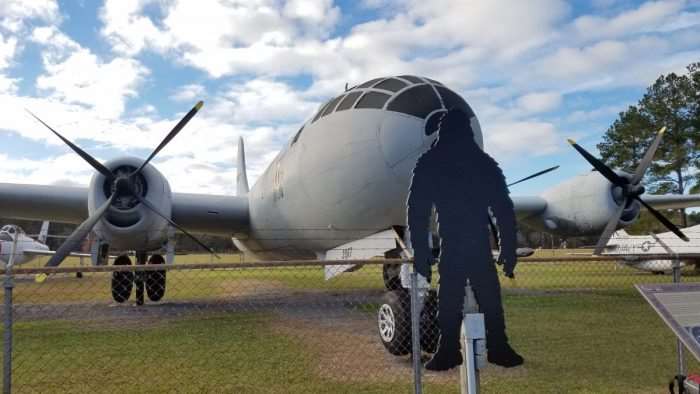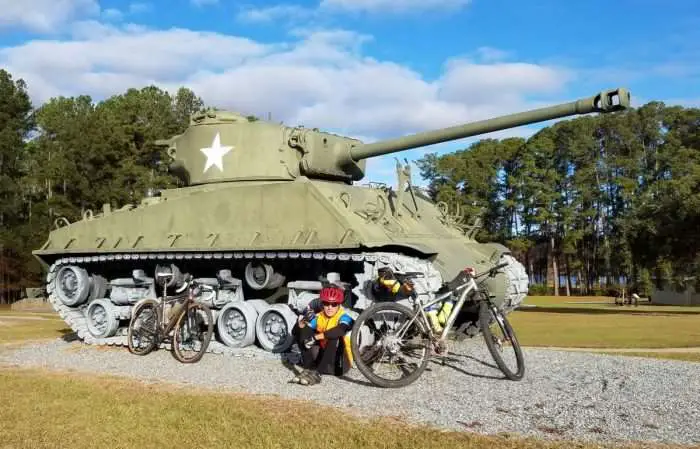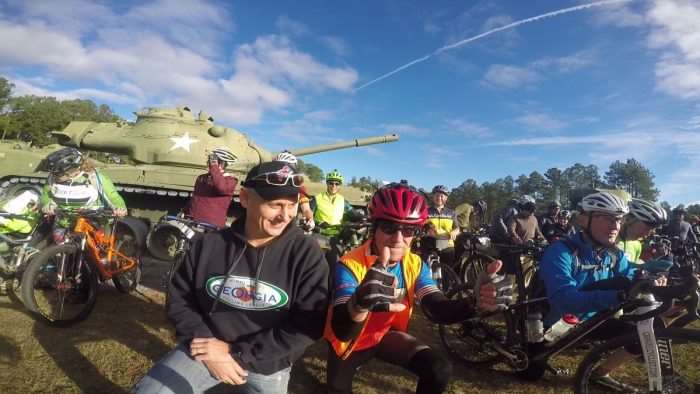 We rolled out of Georgia Veterans State Park around 8:45am along the same route as Saturday, but in reverse. We stopped almost immediately for a nature break at a nearby petrol station, which splintered our would-be group of riders for the return leg.
More riders would have been beneficial that Sunday morning, as the wind had turned against us for the return leg. A tough headwind, averaging between 15mph to 20mph was gusting directly out of the north and into our faces. But that didn't stop Jeff and I, from setting a hard tempo into the wind. With only K-Dogg to share the work – that slacker sat on the back – it didn't take long before K-Dogg cried "Uncle!" and we reminded ourselves this was supposed to be a relaxing and cruisy weekend of riding.
Eventually, we re-joined with Asa, Craig and another fellow whose name I don't remember. Sorry lad!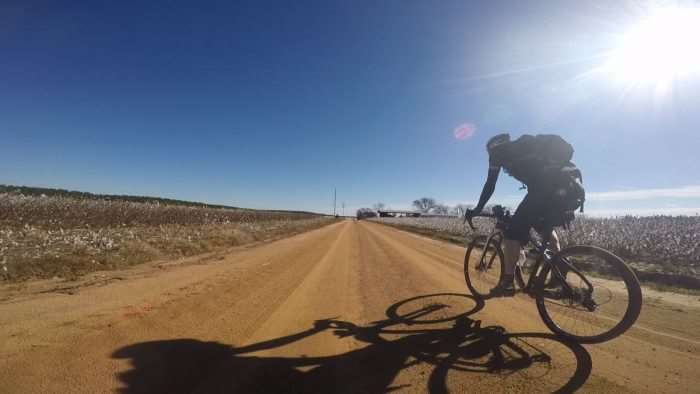 The most challenging part of Sunday's ride back to Kathleen, Georgia was crossing the railway tracks. On Saturday, no trains, and a clear track.
Sunday was a bit different. A lengthy freight train parked itself at our crossing point which raised a serious challenge and issue of safety.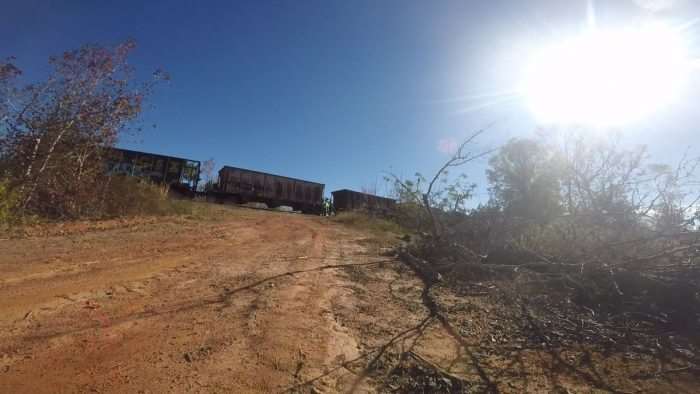 Re-route around the stationary train, or cross it? We didn't have a contingency plan as this was totally unexpected, and none of us knew the area to consider a re-route.
I have a decent knowledge of trains and know a little about their operation. The big clue with a freight train that appears to be stationary – if you hear the air lines pop, DO NOT attempt to cross the train – it's about to begin moving. If you're crossing a freight train when the air lines pop, GET OFF immediately. Be safe, if in doubt, re-route. Please do not mimic our actions. Attempt at your own risk.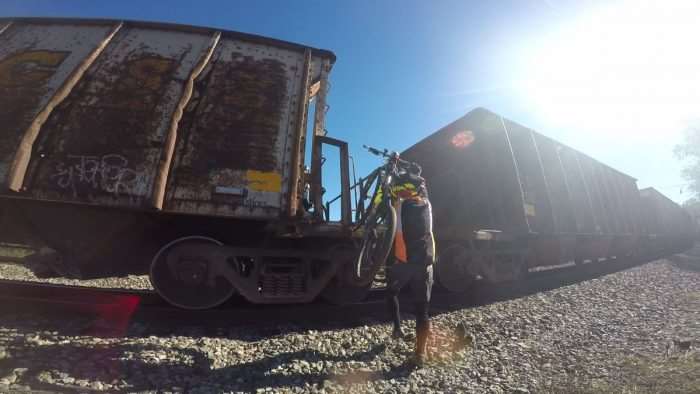 The safest approach was to climb over a hopper car, and work as a team to pass bikes across the train.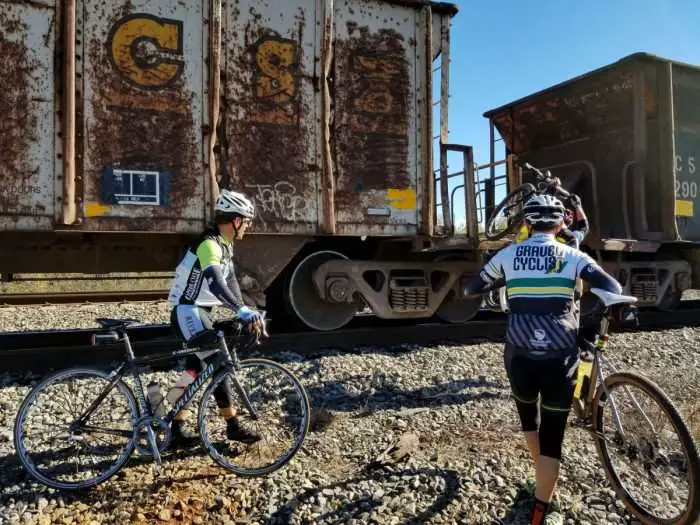 If you find yourself in a similar situation and decide to cross the train, NEVER crawl beneath it.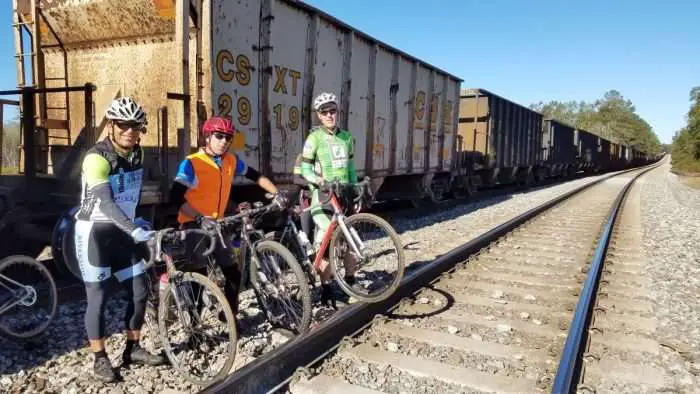 Thankfully, our immediate group and those who followed closely behind crossed the train and tracks safely.
The rest of the ride was uneventful and very mellow.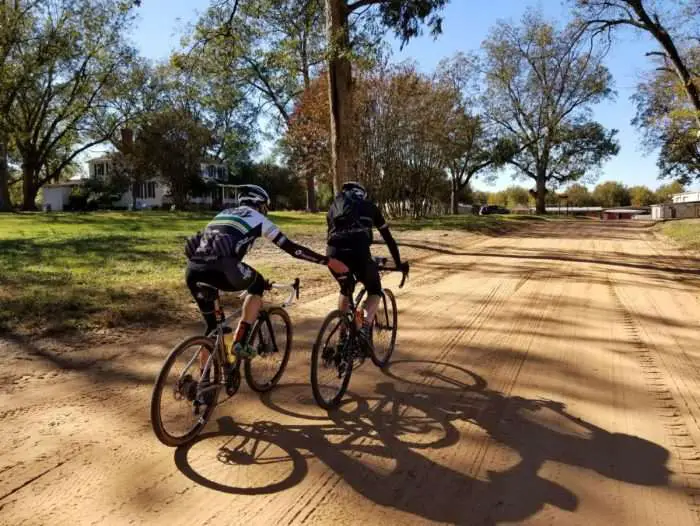 Thank You's
The Cycling Sasquatch himself, Ray, and his wife, Tina.
Registration and Aid Station volunteers.
Camping volunteers.
Event sponsors, including food and bicycle-related equipment – there was a prize raffle.
Our fellow bike packers / slack packers!
K-Dogg and I had a blast. This was our first time at such an event. I was a little apprehensive in the days leading up to it, but with the kind offer from the organizers to tote our gear, that made the event extremely accessible for us, and to the other bike packing / slack packing newbies in attendance.
I really wish I had tried this sooner. There will be more bike packing / slack packing in my future.
Thanks for reading!
JOM