As alluded to in a slightly earlier posting… as in a couple of days ago, Daylight Savings Time is almost at an end.
To officially mark the end of one season and the beginning of another, I (JOM) did two rides to mark the occasion.
Officially, the season of night time cycling on dirt, limerock and gravel roads in Gainesville, Florida kicks off on the first Tuesday evening after the time change. But sometimes, you have to break from convention.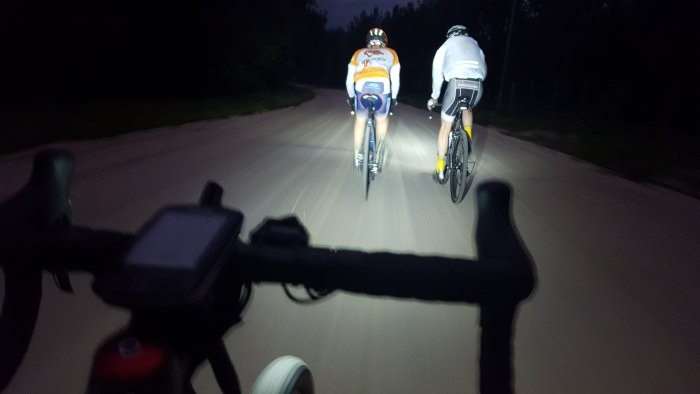 Tuesday of this week was spent doing a nighttime reconnaissance ride on some of our favorite local dirt, limerock and gravel roads – in drizzling rain – with K-Dogg and another fellow, aka Bilo. The whole point of the ride was to test our lights, and recover somewhat from the weekend's cycling activities. There is a video and brief ride report coming about the Saturday event… the Santa Fe Gravel Challenge, held in Gainesville, Florida.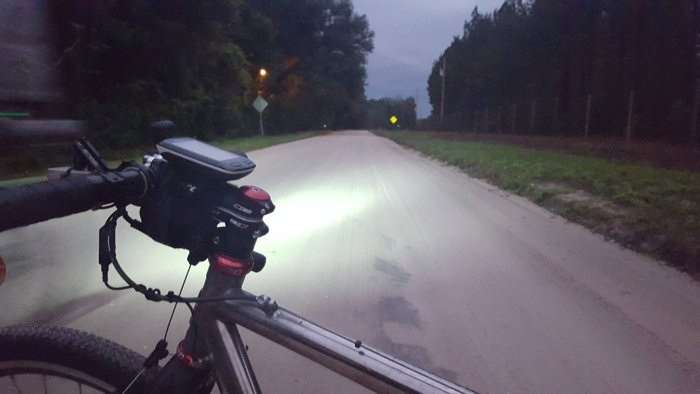 Consequently, the three attendees of Tuesday's ride were in no mood to ride hard, but just fast enough to stay warm from the drizzling rain. Thankfully, the rain itself was relatively warm, as we are still experiencing daytime temperatures here in the low 80's Fahrenheit. As is typical with this ride, there is virtually no vehicular traffic, just the quiet hum of bicycle tires (tyres) on dirt roads, conversation, and the sounds of the night.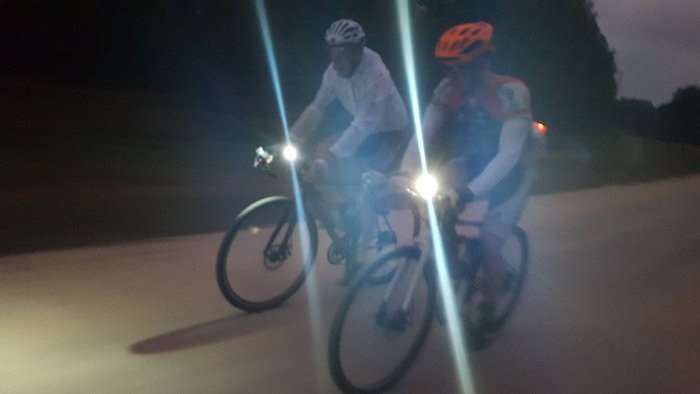 Wednesday nights during Daylight Savings Time in Gainesville, Florida, typically marks a fun road ride, known as the SxSW ride – although JOM prefers to call it the beer ride – as beer is consumed at a local shop post ride – in moderation of course.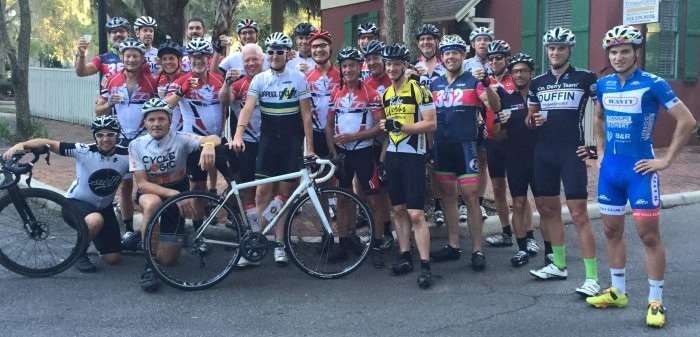 This Wednesday marked the last beer ride for the 2015 season – a champagne toast pre-ride kicked things off – and for once, everyone behaved themselves. It helped matters that Roy Jans, a Belgian professional cyclist from the Belgian second division team, Wanty Groupe Gobert joined us.
Roy was enjoying a little of his off season in the USA, staying with another Belgian who is local to Gainesville, and who loves riding the dirt and gravel, the Belgian Diesel – aka Lambert. Roy has some serious results, such as finishing second in the 2014 Belgian Nationals, ahead of third place finisher Tom Boonen – serious stuff! Roy is the team's designated sprinter.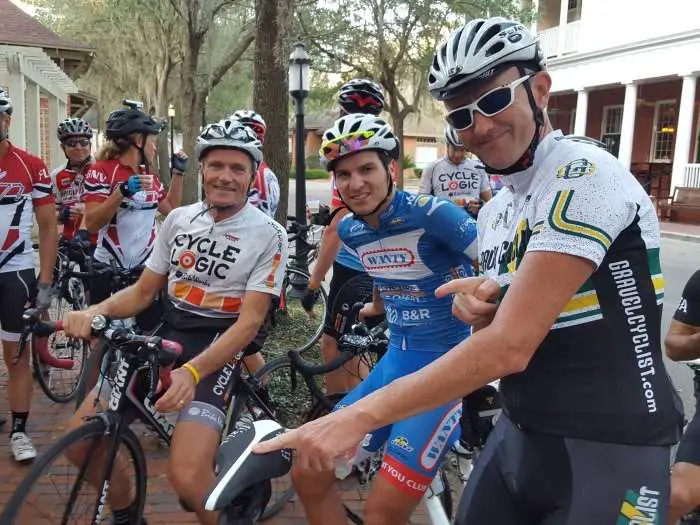 No posting to Gravel Cyclist would be complete unless it involved a dirt or gravel road of some kind. The SxSW group leader, aka Big Head Todd, thought it fitting for the entire group (barring a few blokes who didn't want to get their bikes dirty) to roll down a well known dirt, limerock and gravel thoroughfare, close to the regular SxSW route.
Everyone had a blast, with good brews, food and conversation flowing after the ride. Good times!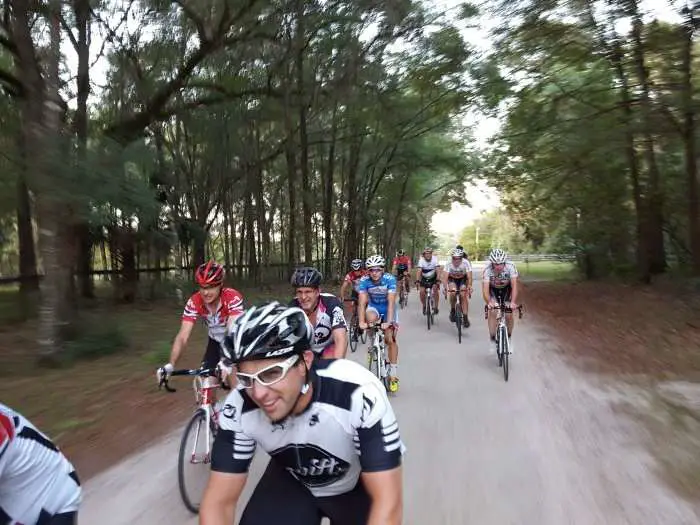 Remember – one season may be ending, but another begins. We at Gravel Cyclist hope our readers have riding plans throughout the darker and cooler winter months – at least in the Northern Hemisphere. We'll be posting about our exploits from rides in North Central Florida, and whatever travels we get up to. Would love to hear about yours!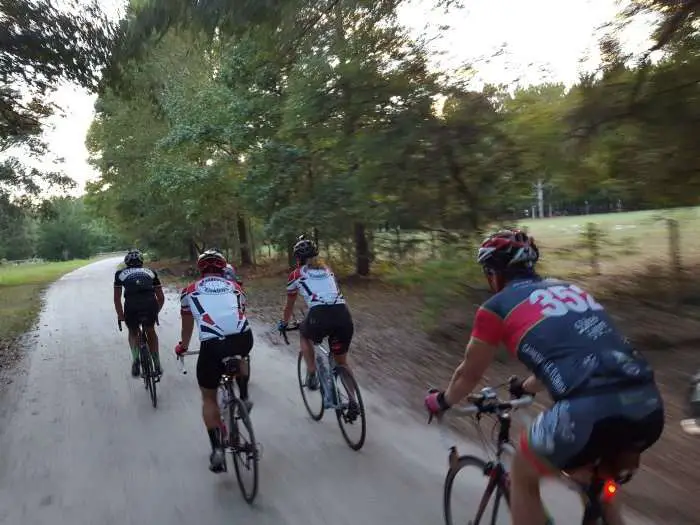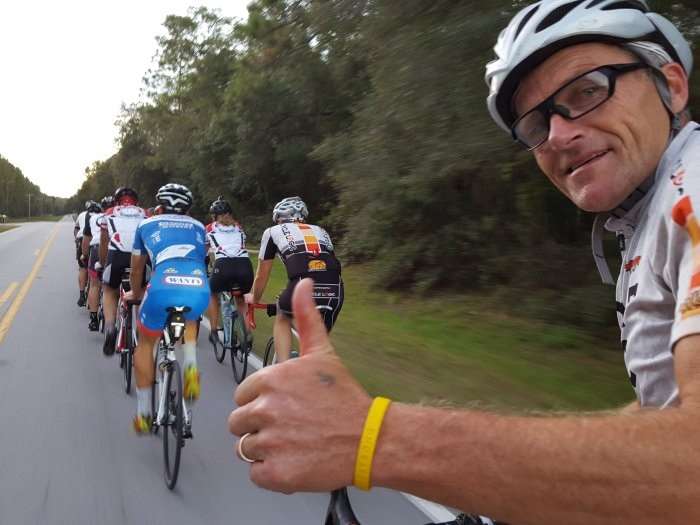 Finally, the Gravel Cyclist crew has two or three race events remaining in 2015, starting this weekend with the Sac O Suds and Fried Green 50 near Juliette, Georgia. Check out Gravel Cyclist's 2014 videos of those events HERE and HERE. Expect race reports and video from the 2015 events soon.
Thanks for reading!