It has been a long season. January of 2017 began in Australia, where I rode a large number of miles / kilometres in the Aussie states of Victoria and South Australia (my home state). Later, I turned my attention to events such as Paris to Ancaster in Canada, Almanzo 100, Dirty Kanza 200, Crusher in the Tushar and Rebecca's Private Idaho… and others I haven't mentioned.
A lot of flying, a lot of driving and a severe lack of sleep. In between all of this, my regular job, riding a bike, taking care of a house, and creating content and videos for the Gravel Cyclist website and its related social media entities. A lot of energy expended, but I'd have it no other way. Now, if only I could run the site full-time!
If you poke around the Gravel Cyclist event calendar, you'll see there are events still happening in November and December of 2017, most notably in Arkansas, Texas, Indiana and the Southeastern USA. For yours truly, it is mostly time to wind down a little and ride a bit easier.
With cooler temperatures in the part of Florida we call home (Gainesville and surrounds), it was time to change things up a little over the Veteran's Day weekend (thank you to those who have served). My good mate and often training partner, K-Dogg, thought it a good idea to overnight at his family cabin, located on an inlet away from the touristy stuff of Cedar Key, Florida. We ended up spending a Saturday evening conversing over a beer or three, eating dodgy popcorn and roughly etching our plans for 2018.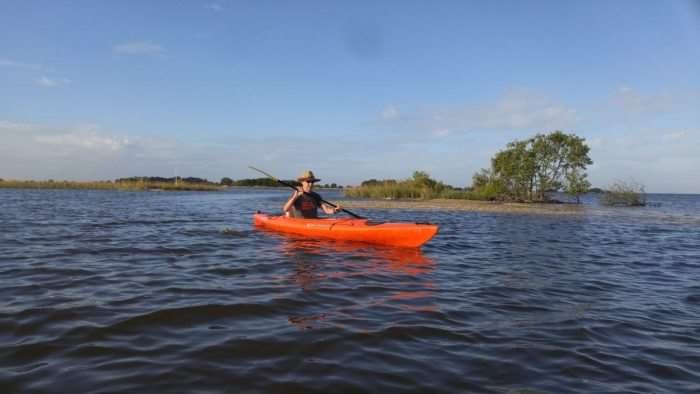 In the morning, we woke to near perfect weather and high tide. If you've ever paddled off the coast of Cedar Key, especially towards the shell mounds, you'll know low tide can be a dodgy affair. Nobody likes to scrape up the bottom of their boat!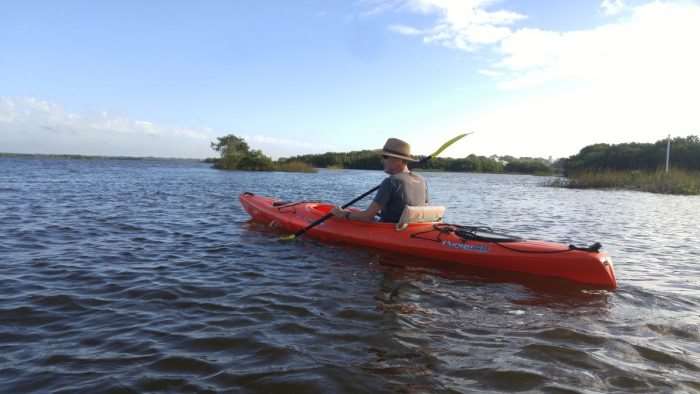 K-Dogg and I possess avian-like arms and upper bodies, but we are efficient paddlers. We don't go fast, but fast enough to paddle into the wind on the way out, and cruise into the dock on the way home. If only every gravel race had a tailwind on the way home. But alas, this was kayak therapy.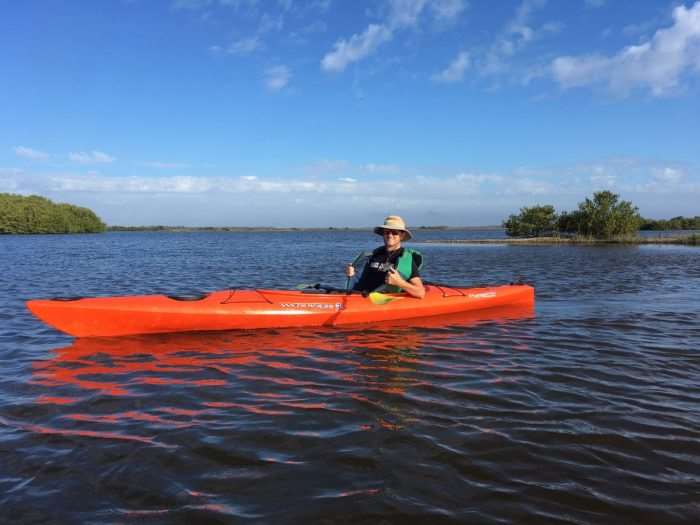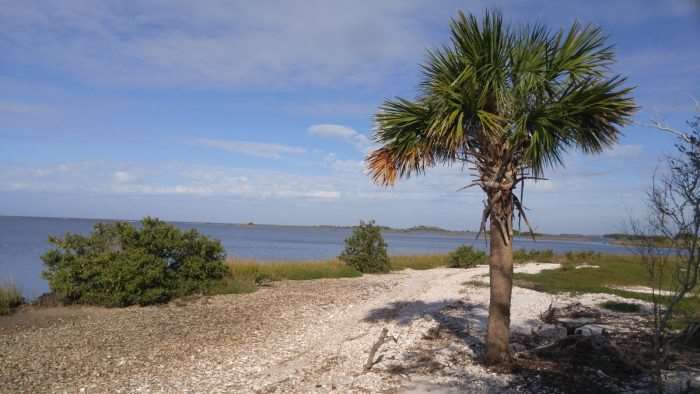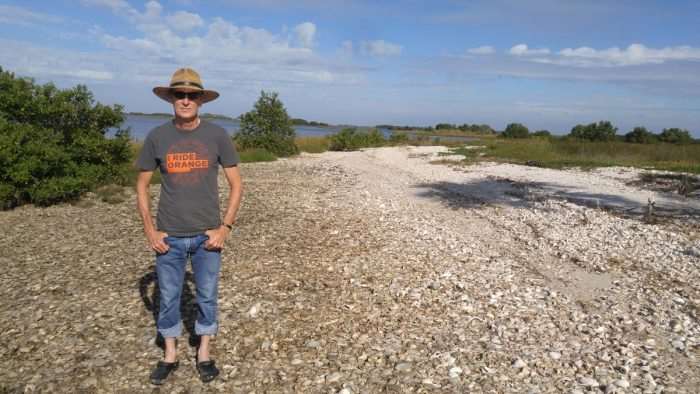 The second half on of our one-day kayak and gravel camp would have involved some primo dirt and gravel roads, east of Cedar Key, somewhere in the hinterlands of Northwesternish Central Florida. Sadly, our timing was off, as the final day of hunting season was on. The park ranger fellow advised we ride elsewhere. Twenty-three hunters and their trucks were ahead of us, laying in wait for their prey. We at Gravel Cyclist aren't about being shot at, so we made tracks towards Willison, Florida, my plan B ride location for the day.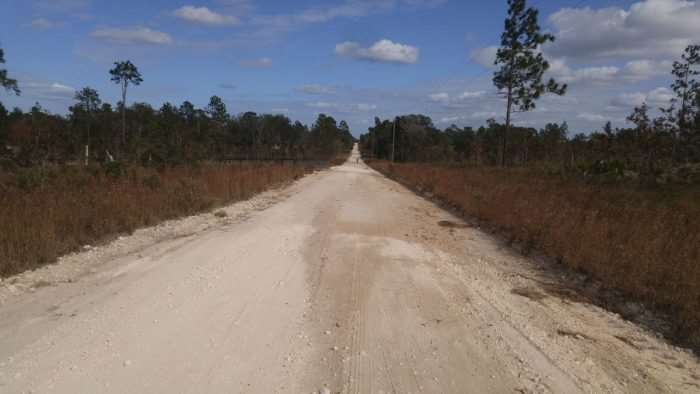 Williston, Florida is a small town of approximately 2,297 residents as at the last census, and mostly known for farmlands and a tiny regional airport. There's also some fab riding there, if you know where to look. Because daylight savings time up and buggered off recently, our training ride was limited to about 45 miles at a pleasing tempo sans attacks.
The few photos we took speak for themselves.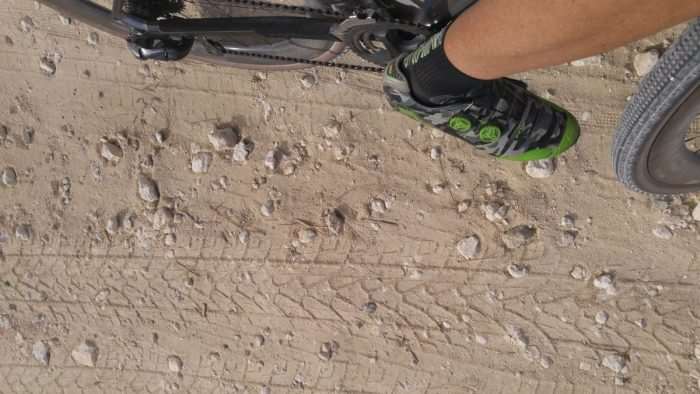 No cars, rolling hills and pleasing temperatures. In other parts of the US of A, riders are donning winterish attire while we're getting about in arm sleeves, regular bib shorts and jerseys. Have to love this part of Florida, this time of the year 🙂 Stay warm, wherever you are.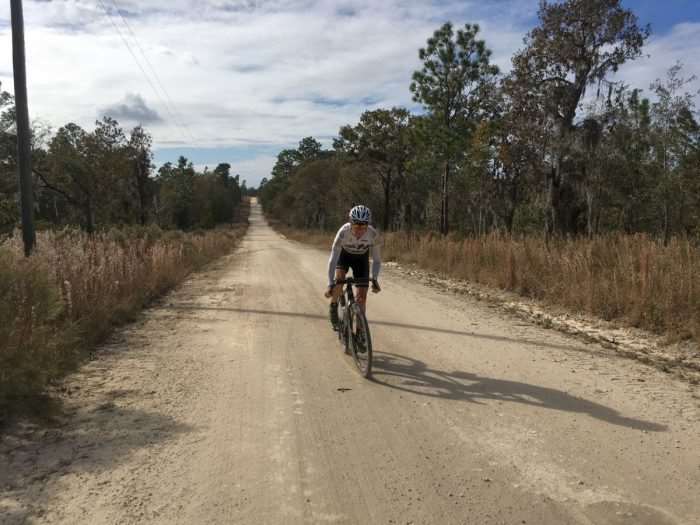 I expect more one-day kayak and gravel camps in our future. Continuing our off-season trend, this coming weekend, K-Dogg and I are attending our first ever bike packing event in Kathleen, Georgia – the Sasquatch 200. In reality, we're slackpacking, because the promoter is carrying our gear while we ride about unfettered and free. Brilliant! Naturally, there will be photos and a ride report.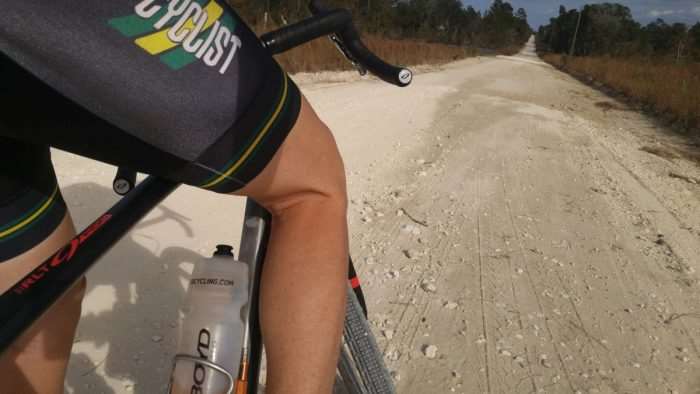 Thanks for reading.
JOM
---
If you fancy yourself a good writer with decent photography skills, we'd love to share your riding adventures here on Gravel Cyclist. Please contact us.