On the roads and trails around Gravel Cyclist HQ here in North Florida, we encounter our share of wildlife – deer, turkey, skunks, opossums, tortoises, snakes, armadillos (mostly squashed), etc. A pretty impressive array by most standards. Recently I had the chance to take my riding with wildlife to another level in Kenya at the Swara Plains conservancy. My friend Steven, based in Nairobi, connected me with Rakesh, owner of Baiskeli Adventures (BA). Rakesh runs regular day trips and multi-day adventures to various parts of Kenya and BA can provide bikes and helmets if, like me, you're packing light. He can also design custom excursions around your taste, ability, and budget.
The "Bike in the Wild" trip is one of BA's most regular and popular, with the Swara Plains located only an hour (depending on traffic!) outside Nairobi. Set on 20,000 acres a few kilometers off the Mombasa road, this private wildlife conservancy features a network of gravel roads and jeep tracks as well as game trails. Swara does not contain any of the "Big Five" of old safari lore (lion, elephant, rhino, buffalo, leopard) known for their danger to hunters. Nor does Swara hold any hippo or crocodile, known for their danger to more regular folks. So not totally wild and really a pretty safe place to ride some gravel amidst some beautiful scenery plus a variety of gentler savanna residents: giraffe, zebra, wildebeest, impala, gazelle, ostrich, and nearly 300 other bird species!
The shuttle that would take riders out to Swara departed from the city center around 7am under cool cloudy skies. As we left the city a heavy mist began to dampen the roadway and by the time we arrived at Acacia Camp a steady rain was falling. This was going to be fun.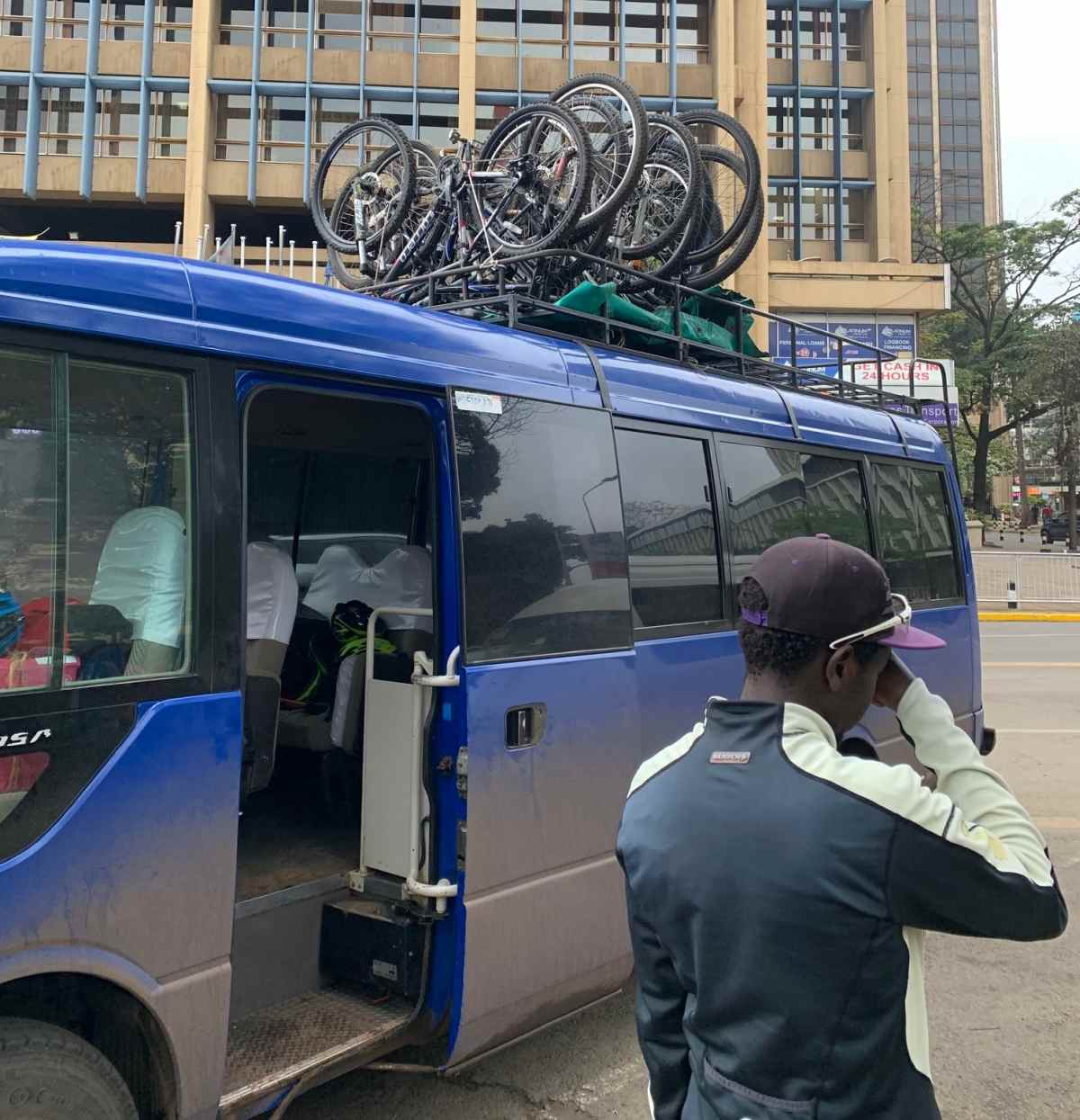 Our group consisted of roughly 15 locals, expats and visitors. Gravel and cross bikes have not made too much of an appearance on the scene here so everyone rode a variety of MTB setups. BA provided me with a Boardman TCX comp 650b hardtail set up with SPD pedals upon request.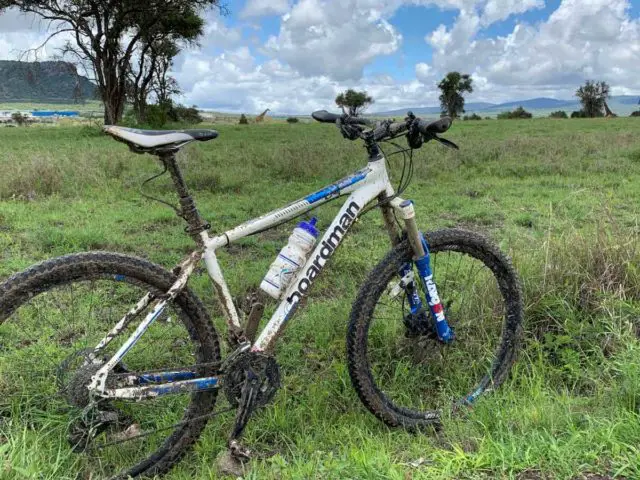 With a dense cloud cover and a light rain falling as we set out, getting dirty seemed a certainty. Rakesh had marked three route options of 15, 30 or 40km. Steven and I definitely planned on the long route and before the start his friend Bouke was even talking about two laps of the 40km course. So we set off in the rain and the roads remained in reasonable to good condition even if requiring more watts to keep rolling. Setting a modest tempo pretty quickly put the three of us off the front and after 15 minutes we were out of sight of the remaining riders.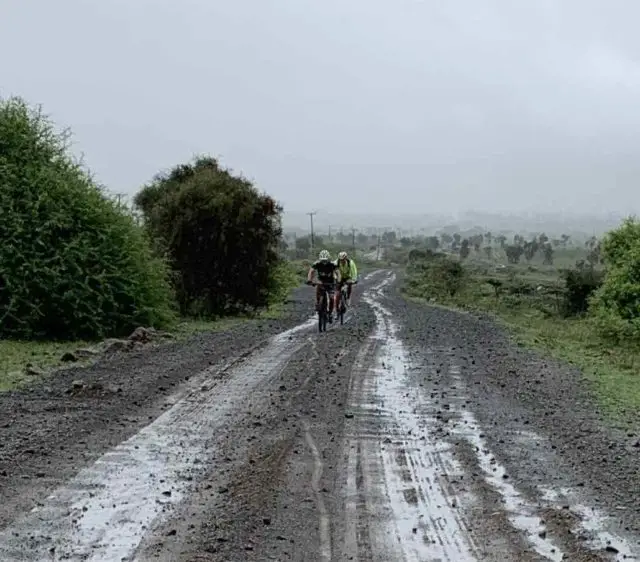 Surface conditions varied from good hardpack gravel to loose fresh gravel to some fairly sludgy clay mud. Some of the gravel contained large lumpy pieces or what that dude from Path Less Pedaled calls "baby heads" – but here we had to also contend with ones of a much softer and odorous nature. Still, nothing that had our small group in any difficulty. After about 10km we reached the turnoff for the short route where Rakesh had set up a feed zone with fruit and water.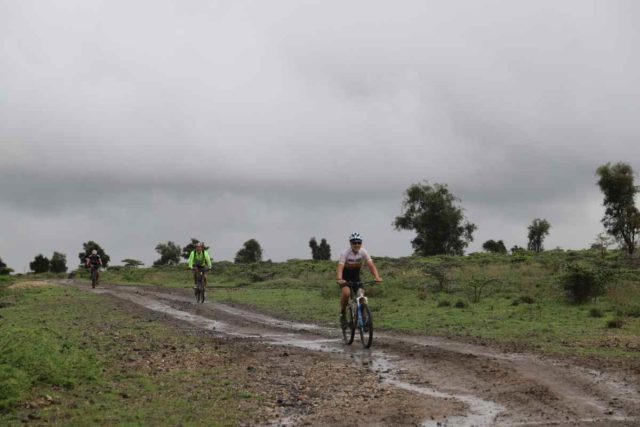 As we approached a herd of wildebeest sprinted across the road. We stopped to chat and refill bottles. Almost on cue, a small group of giraffes wandered into view atop an embankment.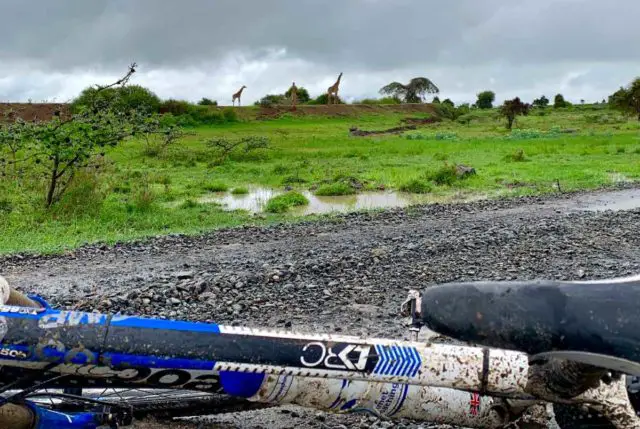 Continuing on the long loop for a few kilometers after the feed zone, and following several more wildebeest and zebra crossings, we turned left off the gravel and onto a soggy double-track. This could no longer be considered gravel and sometimes devolved into two long sections of parallel puddles, but again, nothing that slowed our group very much. However, it did not take long for the double track to deteriorate into merely a game track that ran along the boundary fence for several kilometers. Here the going to harder – until we were not going at all. The October rains that made the plains so green also turned this low-lying area into a vast swath of unrideable, ankle deep muck. Pushing the bikes only drove the front wheels down and collected even more muck. Carrying the bikes would be even tougher as they all picked up more than a few extra kgs of muck. No daylight could be seen under the fork crown, or at seat stay and chain stay junctions. Zero. Faced with a real shortage of trees in this area, we struggled to even find a stick to remove the buildup. This dismal walking pace continued for something like 30 minutes but Bouke knew the place and swore there was a better double track road coming at some point. In the meantime, the overcast skies dissipated, changing towards full "how close are we to the equator again?" sunshine.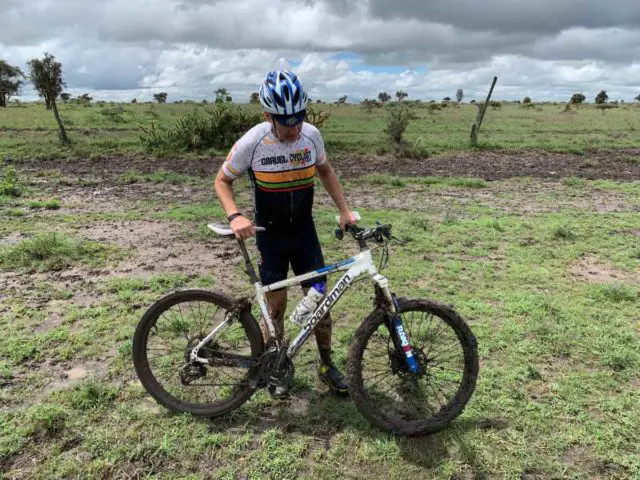 Finally, the muck relented as we gradually moved to higher ground and eventually found that dry double-track. By this point, Bouke had abandoned any further thoughts of two 40km laps but we decided to head back to camp to clean the bikes before going out further as some horrible noises were emanating from drivetrains and brakes.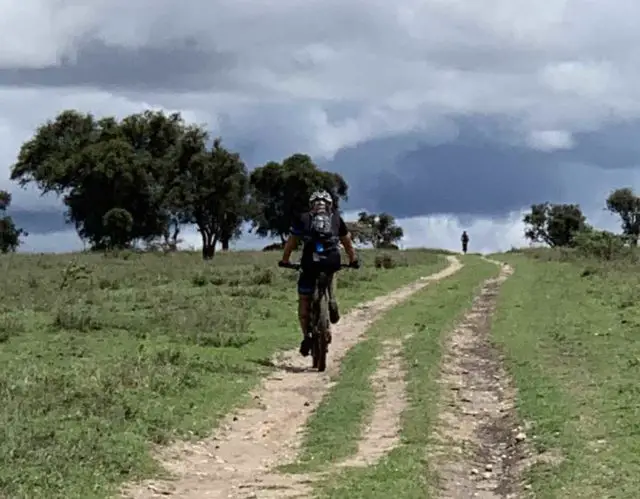 We rolled into camp and took a couple minutes to find the hosepipe. Staff greeted us with a mixture of bemused smiles and outright laughter. By this point the thick mud had congealed in the sun and put up quite the struggle. My shoes reached a state where I wondered whether they might ever recover (update: they are doing fine after a few days rest).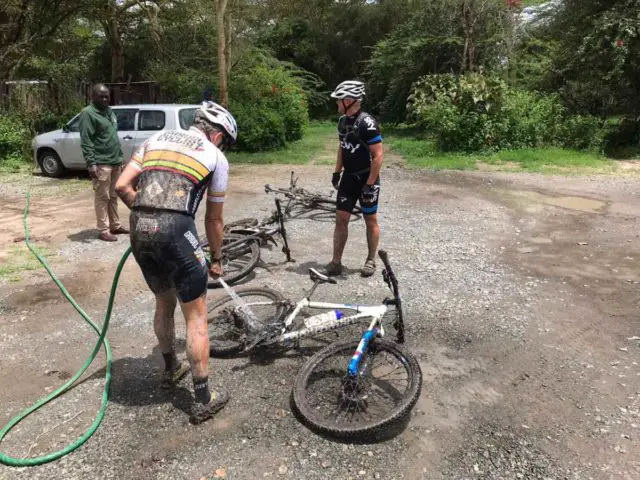 Following this improvised powerwash (not really) session, we remounted an set off to cover the short loop despite all of us being ready for lunch a cold beer. The sun really came out now and with many recent days of rain the plains glowed green, especially for me since I normally visit the region during the dry season.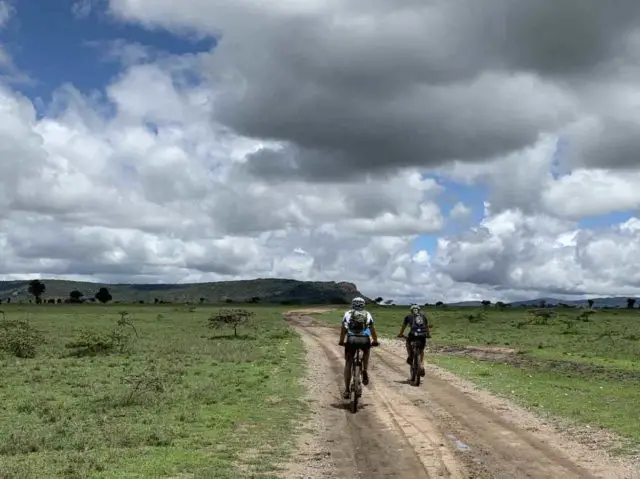 The short loop add-on took us under an hour and we returned to the bike wash area for a more thorough cleaning This time it included our shoes and kits as well. Only then did some of the other riders begin to arrive, having just pushed their way through the first loop. We all reconvened at the open air dining area for a buffet lunch (included in your Baisikeli Adventures package) topped off with my new favorite local beer – Tusker Premium Ale – a refreshing new departure from their standard lagers.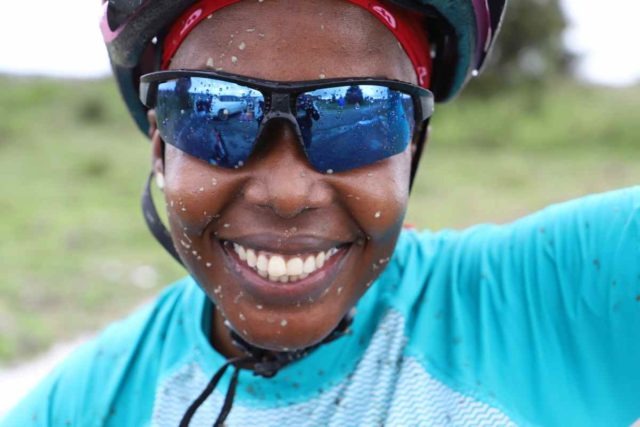 On the bus back into town, I had a long bike nerdy conversation with Rakesh and another local rider, covering such arcane topics as cross vs. gravel bike geometry, tubeless setups, and on and on. We really are the same everywhere…
Big Head Todd