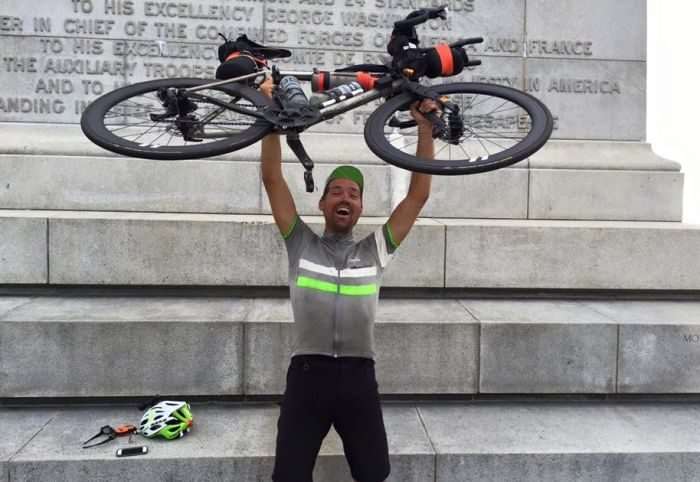 Jesse Carlsson is no stranger to gravel road cycling. If you haven't heard of him, he took 2nd at the 2013 Tour Divide – and for 2015, he won the Trans America Race. Both events are unsupported and serious accomplishments – just to finish.
Jesse calls Melbourne, Australia home and is affiliated with Curve Cycling, manufacturers of titanium bikes such as the Grovel CXR. JOM of Gravel Cyclist caught up with Jesse earlier this year in Adelaide, South Australia. Jesse had just ridden from Melbourne to Adelaide in the company of a few other lads – for some sweet riding – to promote Curve Cycling – and we assume, take in a little of the professional bike race, the Tour Down Under that happens in January every year.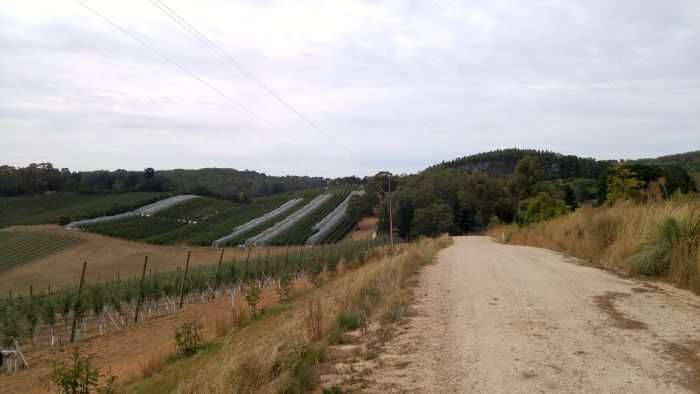 JOM: The gravel scene in the United States has been exploding over the past couple of years, but people don't realize, there is some amazing riding outside of the Continental USA. The world-wide gravel movement is still growing – how long have you been involved in the gravel scene Jesse?
Jesse: About five years. In fact, there is a group in Melbourne under the moniker of Melbourne Gravel Grinders. Regular rides are posted with distances around 90 – 100kms over all sorts of terrain with a bit of hike-a-bike thrown in for good measure. It isn't considered traditional gravel grinder sort of riding, but mixes things up a bit. There's also the odd bit of single track, easy, non-technical stuff.
JOM: Sounds like UltraCX. The original Ultra CX race in the USA, Iron Cross Race in Pennsylvania comes to mind… ouch… mind you, I love that race… but I digress… what about the riders who attend these events?
Jesse: All types and abilities. I think of these rides as more like spirited social rides – but definitely not races. And, there are usually some nice beers and such shared after each of our rides.
JOM: Hang on? No coffee? I know the Aussie road scene is very much into the coffee shop routine post ride.
Jesse: No way, hot coffee after a tough or hot gravel ride just doesn't work. Beer, yes!
JOM: Now you're talking. Not counting your impressive performance at the Tour Divide and Trans America races, have you done any other riding in the US of A?
Jesse: I did the Trans America race which is all on bitumen road surfaces (that's asphalt / pavement for our Americano friends). It's similar to the Tour Divide in that it's completely unsupported. It's held on a defined touring route called the Trans America Trail – 6,800 kilometres / 4,250 miles. It covers all disciplines of road cycling – plenty of climbing through the high mountains of Colorado, into Montana, the Great Plains across Kansas – and some tough kilometres in Missouri. Up and down all day in Missouri – I am pretty certain I blew through a Di2 battery in one day with all of the front derailleur shifting.
JOM: Tell me about some of your bikes.
Jesse: I'm affiliated with Curve Cycling Australia. Titanium is all the company does and to be honest, I was skeptical at first about the dampening properties of the material, especially riding around on gravel roads. But, it only took me one ride and a rough section of corrugations to feel and appreciate the dampening effect of the material. The frame can be constructed to be stiff in some areas, but compliant in others, thereby offering an excellent all-round ride.
JOM: I heard through the grapevine you're putting on a race this year?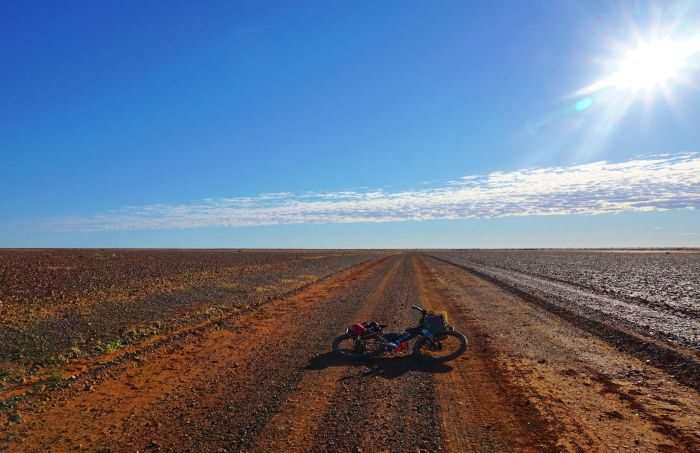 Jesse:
Yes,
Race the Rock
– Adelaide to Uluru (aka Ayers Rock). 2,300 kilometres / 1437 miles, all of it off-road, no technical trails. It would definitely fall under the genre of gravel grinder. Part of the route utilizes the
Mawson Trail
, and will be going through some very remote areas. There will be points along the route where we'll ride approximately 200 and 300 kilometres between water stops. With that in mind, I'm keen to build a Monster Cross bike – not a drop bar Mountain Bike, but probably something purpose built to be versatile – possibly even a 29'er+ with clearance for 3″ mountain bike tyres. There will be plenty of gravel and such, but I expect some sandy sections, which may or may not be rideable.
JOM: Have you promoted this event yet?
Jessie:
Not a whole lot yet (at the time of interview), but there is a Facebook event page –
HERE
– and plenty of info over at
Curve Cycling
. Basically, it's a ride I've always wanted to do. I've never been to Uluru, so if anyone wants to join me, go for it! If people can have their own adventure along the way, awesome! I like to think of it as a Gentlemen's race – I'm not going to stop for them, and I'll be doing my best to reach the Rock first! At the end, we can sit around and trade our respective stories. That's what it's all about.
JOM: This event sounds amazing, I just need to learn a bit about bikepacking first 🙂 I realise it's early (when the interview was held), have you had many people express interest yet?
Jesse: We've got a couple on a tandem signed up, a couple of guys coming in from Belgium, a bloke from the States (aka USA). I would be totally stoked if we could attract 10 guys from overseas, and say 30 – 40 riders overall. Note from JOM – 37 signed up at the time of this article going live.
JOM: I am thinking I need to bring my crew over for this in 2017… paging my 61yo teammate K-Dogg. One more question… what is the deal with the "Belgie" thing associated with Curve Cycling?
Jesse: The Belgie is a ride that was started by a few guys in Melbourne, typically riding road bikes to places they were never meant to go. So, gravel roads, dirt roads, laneways, easy singletrack. Definitely mix it up. I find the riding scene can be a bit serious at times…
JOM:
Totally… there's a reason why most of my Gravel Cyclist crew quit racing road bikes… (
check out K-Dogg's article on his divorce from road racing HERE
).
Jesse: It's all about having fun, a bit of a laugh, not taking ourselves seriously. The typical Belgie ride may start with about 60 people, and if we have 10 who made it to the finish, I reckon we've done a pretty good job (laughs). People will get flats, they'll have their own adventures, but we all come together at the finish for a bit of food and beer, laughs and a good time.
JOM: Awesome Jessie, thanks so much for your time, I really appreciate your insight into the gravel (and Belgie) scene in Australia. This is more proof that gravel cycling is World Wide!
We'll be featuring Jesse's personal Curve Cycling Titanium bicycle in the near future. Thanks for reading!