Hi readers, greetings from my home state of South Australia!  Rather than explain the Barossa Valley, simply click the highlighted link.  Wikipedia does a much better job of explaining the region than I ever could.
Onto the ride.
121 kilometres, or 75+ miles if you prefer, with the route departing Gawler, and rolling through the Valley towns of Freeling, Kapunda, Greenock, Nurioopta, Tanunda, Lyndoch, Sandy Creek and returning to Gawler.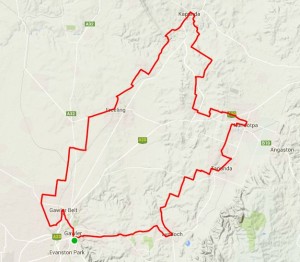 Also on tap was a lot of hills and wind; 1,100+ metres of climbing (3,600+ feet) over windswept (maximum gusts up to 44km/hr / 27mph… ouch), and very open farmland in some cases.  Much of the route was gravel and dirt roads.
The later portions of the route would roll through some of the beautiful wine country of the Valley.  If you've ridden in parts of Ohio, Indiana, Kansas, etc, you will be pretty familiar with open farmland, grid system type roads, etc.  See my route track at right.
Weather was pretty nice at 20.5 degrees Celcius, or around 68 degrees Fahrenheit.
That Wind
Still jetlagged to heck, and feeling the effects of my last gravel ride, I was hurting during most of the ride.  I'll spare readers the details, but there weren't exactly many speed records set.  Thankfully I was riding solo, so all was well.  Unfortunately, I ditched the last 10 kilometres of gravel, and took the fastest route back to Gawler.  Smashed body wasn't up for more pounding on the rough roads, of which there were many… heaps of washboard.
Photos
There are stacks of them.  I trimmed them down to ninety in all, which I've split into three separate groups below.
There are some amazing landscapes in this part of Australia, many of which the average cyclist may never see.  The joys of riding off the beaten track!
Gallery One
Gallery Two

Gallery Three