"There were several roads near by, but it did not take Dorothy long to find the one paved with yellow bricks. Within a short time she was walking briskly toward the Emerald City; her Silver Shoes tinkling merrily on the hard, yellow road-bed".
The Gravel Cyclist crew didn't walk briskly down a yellow brick road, but we did ride on a historic brick road.
Sunday, April 17, 2016, the crew departed our Florida base of Gainesville, destination Palataka, Florida, for a 9am rendezvous. During the drive, light rain fell, none of which appeared on the trusty doppler radar map. Sometimes, mother nature overrules technology.
Attending the ride was JOM, Jimbo, Dr. Pain, Pfaff Daddy, Pfaff Junior, Fake Todd and Mackenzie. Pfaff Junior is a well-known up and coming Cat 1 road racer in Florida, but moonlights on gravel training rides and the odd gravel race. Thankfully he was on a "rest week" and would be taking it easy on us. For Mackenzie, a friend of the crew, she was riding her first ever dirt and gravel ride – on a road bike fitted with 23mm or 25mm tyres… just like Pfaff Junior. Someone should have told them there may be a *little* sand along the route. Everyone else was rocking 35mm wide tyres at minimum on their gravel machines, whereas Dr. Pain was rolling on Schwalbe's much-loved Furious Fred 29'er tyre that measure two inches in width. You reckon he has traction problems? We don't think so…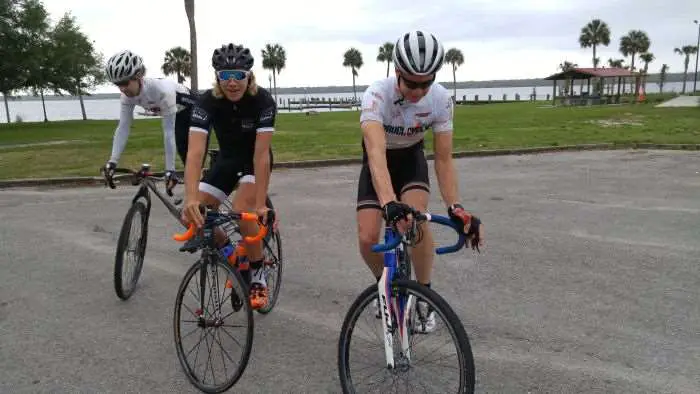 Before the ride began, a three-man track standing competition broke out. The photo doesn't give justice to the amusement of this scene, nor does it convey Pfaff Junior's skills – track standing is child's play for the lad. He's pictured at centre and bears a bit of a resemblance to a certain Peter Sagan…
Once the dilly-dallying was over, the crew rolled eastward and conquered the only climb of the day, the bridge over the St. Johns river. This was a pretty flat route. Speaking of the route, this is one that Jimbo assembled. Without going into the details of his regular gig, a fair amount of travel is involved and naturally, he is always on the lookout for interesting roads to ride.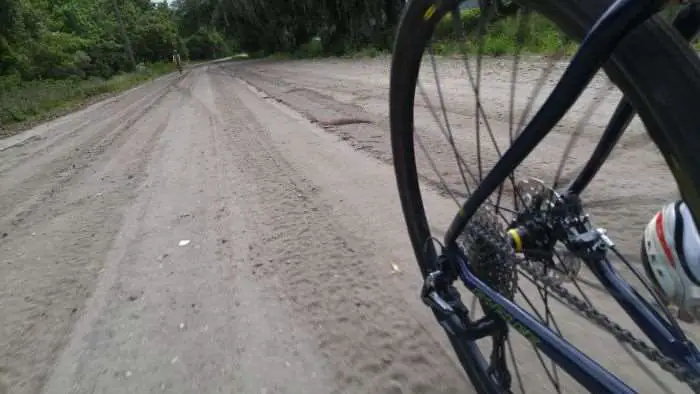 On tap was 82 miles / 131 kilometres, with much of the route covering quiet country farm roads of the paved kind, multiple dirt, sand and gravel roads, and the historic brick road alluded to earlier.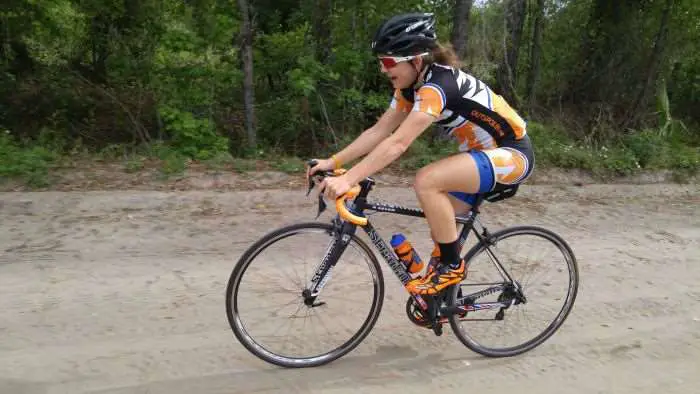 The first town of interest along the route was Hastings, Florida. Hastings is known as the "Potato Capital of Florida", with 21,000 acres (85 km2) of potato farms, but also produces cabbage, onions, eggplant and ornamental horticulture.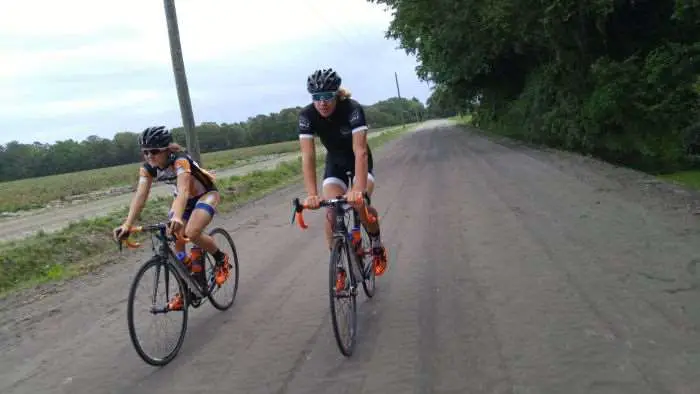 The ride passed close to the neighbouring town of Spuds, Florida, which, you guessed it, is known for its potato farms. Many of the roads weaving through these farms were of the dirt and sand type, and proved a little tricky for the road bikes in attendance. However, as the Gravel Cyclist crew are a nice bunch of lads, nobody was left behind, and everyone accounted for at the end of each dirt and gravel sector.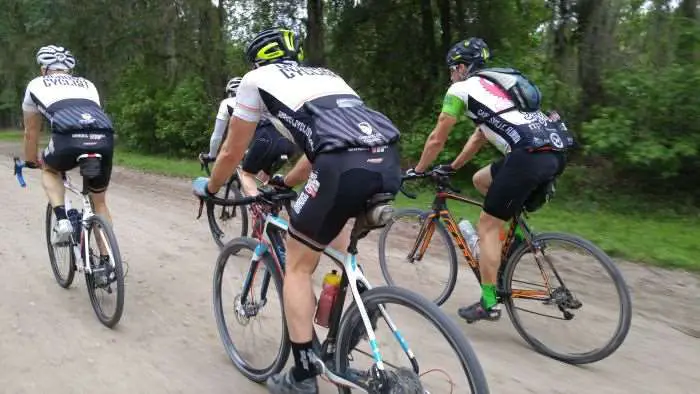 The rain that had threatened to fall on our ride had all but disappeared. The roads were in near perfect condition – unless you were on a road bike – and nary a car to be seen anywhere.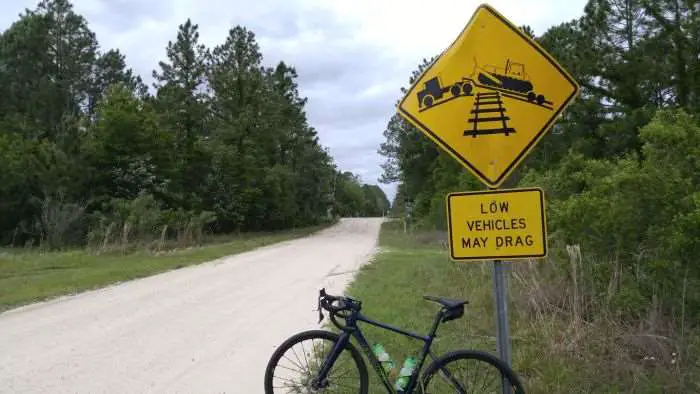 Because Pfaff Junior is a young lad, he likes to entertain us with his skills, including braaaaping and sideways drifts on his road bike.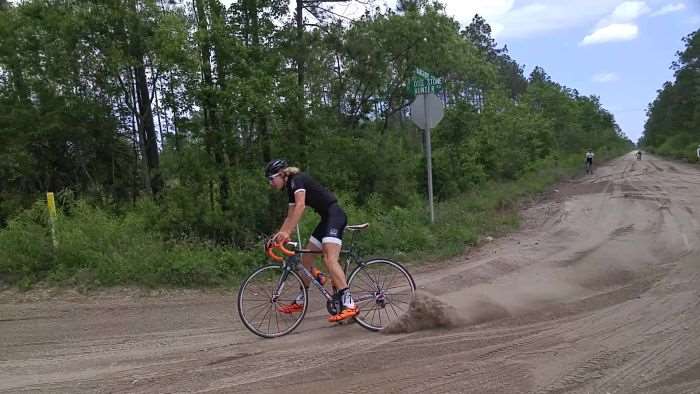 The photo above demonstrates his skills well, but they are better appreciated when JOM produces the video from footage taken during the ride. Incidentally, Pfaff Daddy quit buying Pfaff Junior's tyres some time ago…
As the miles ticked away, the group drew ever closer to the hallowed brick road that Jimbo had told us so much about.
Mass produced automobiles such as the Model T Ford brought motorized transport to the masses, and with it, the demand for better roads. Once upon a time, this road was a major thoroughfare connecting Florida to other parts of the United States. In the short space of 100 years, the time of this road has come and gone, such is the speed of progress.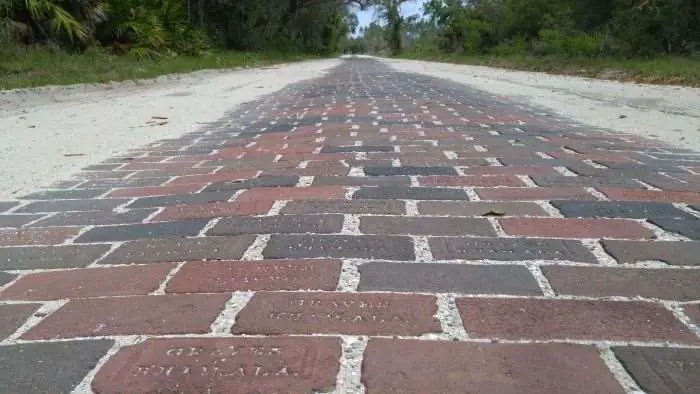 While these roads are generally avoided by vehicular traffic nowadays, they serve as a reminder to a simpler time, and to the back breaking work that went into constructing roads of this nature.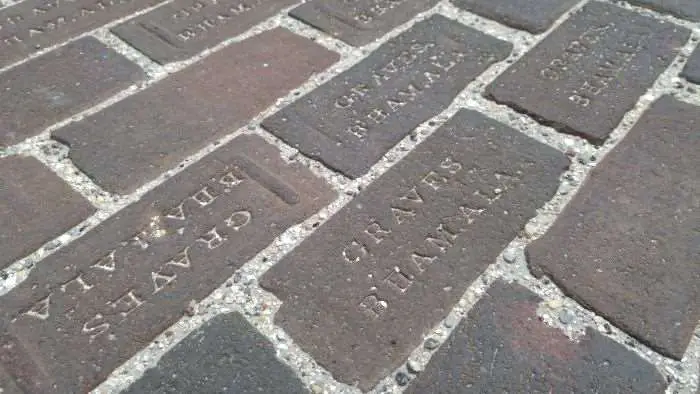 This particular stretch of The Dixie Highway is 11 miles in length, and is one of the few remaining sectors of the original road. As the brick miles pass beneath one's wheels, the shade of each brick and sometimes brand names, will change. One has to wonder how many bricks constitute an 11 mile section of road?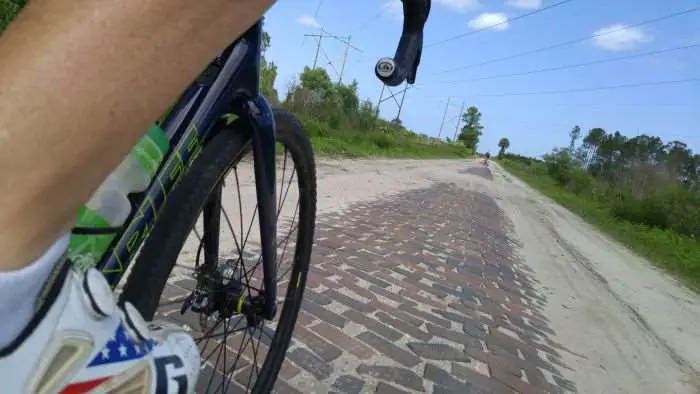 Sand covers the edges and centre of many sections of the road, and in some places, bricks have disappeared altogether. Along some parts of the road, a distinct centre crown has formed, the sides of the road depressed by the weight of vehicular traffic over the years. Certainly not as rough riding as cobblestones like those found at Paris Roubaix in France, one could consider these an American version of the cobbles.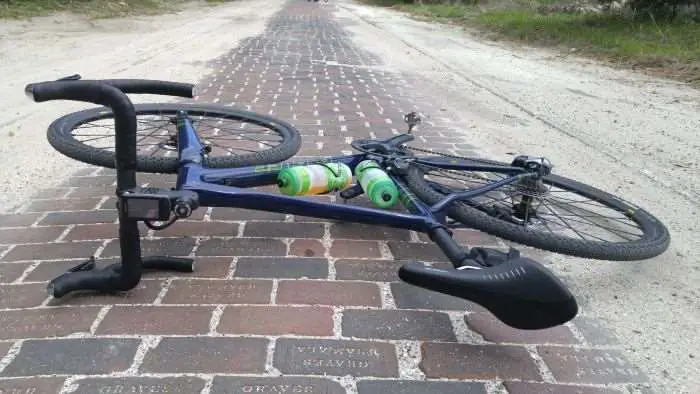 Riding a bicycle along them is a rough ride, and the same goes for anyone in a car. However, the Gravel Cyclist crew LOVES roads of this nature, and everyone was smiling with glee, stopping to take photos or shoot video.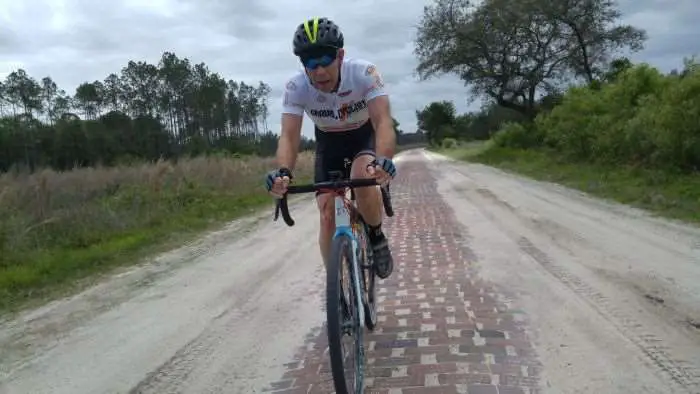 The bigger and lower pressure tyres of gravel and cyclocross bikes certainly made riding this road a lot easier, but it is perfectly rideable with good skills and a road bike. In fact, Pfaff Junior and first-timer to anything like this, Mackenzie, who may be a natural, had no problems. Remember, relax, keep it loose and let the bike track naturally.
Sadly, all good things must come to an end and our eleven mile fun-fest was over. But a much-needed store stop was in order, prompting the group to congregate and chow at the only stop along the route. Pop tarts and other junk were again the winning culinary choices.
Post store stop, Jimbo had saved more of the fun stuff towards the end of the ride. His intimate tribal knowledge of North Florida was paying dividends!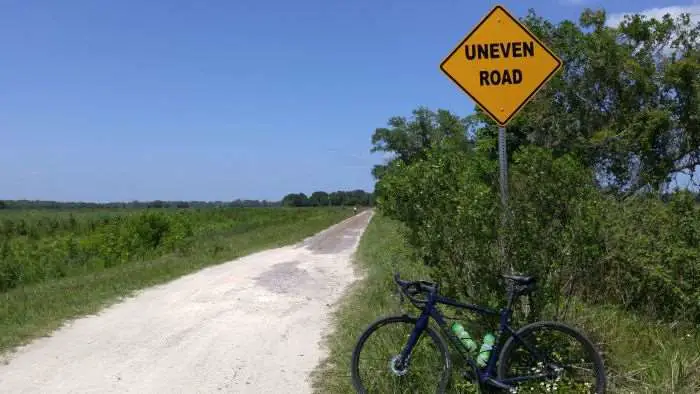 The group got giddy again, and rolled down some well-maintained brick farm roads, somewhere in BFE, Florida.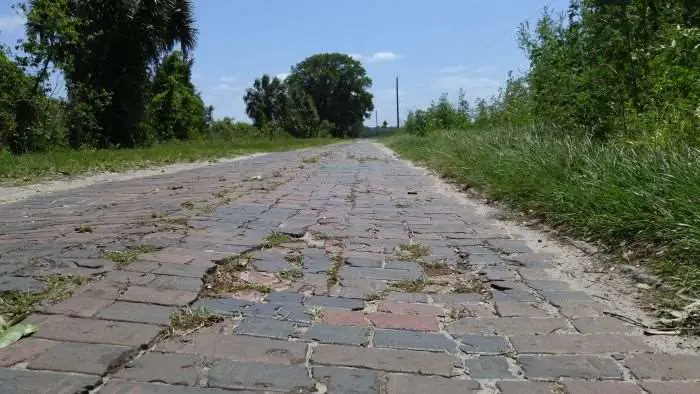 As JOM would say in his native Australian tongue – "these roads are an absolute pearler!"
Wind swept, desolate, no cars and surrounded only by farmland. Superb.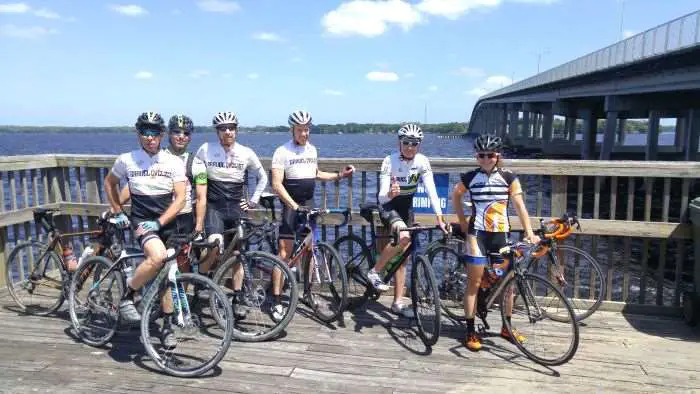 At the end of the ride, the group climbed over the route's high point once more, for the return into Palatka. Making this a complete day of Florida history, the crew rolled into Angel's, Florida's oldest diner. Perfect for a post-ride hangout and chowfest. They even cater to vegetarians like JOM, assuming you like milkshakes 🙂
Thanks for reading, ride video coming soon!