Report by Michael Boyco (Eclipse Racing p/b Bike Tech Miami).
Part One, Preparation, can be read HERE.
The Cross Florida Individual Time Trial is the 240 mile brain child of the Singletrack Samurai.
To wit: "The route is 240 miles of mixed terrain: Singletrack, forest road, paved roads, bike trails, double track and grassy abandoned easements.  This is an at your own risk personal challenge that each rider voluntarily wants to engage in.  There is merely a recommended start time for the route, but riders can start at any time coordinating their official start times with the event organizer beforehand."
I took Friday off so I could pack and make some last minute adjustments to my bike.  I double checked my gear and then made the drive to New Smyrna Beach, eventually getting to the hotel and checking in with the Singletrack Samurai himself, Karlos.  I met up with my dad and some other riders, shot the breeze for a bit, someone kindly bought a round of shots.  I had a beer and then tucked in for 4.5 hours of restless sleep.  We woke at 4 am to eat something and gear up.  We set off for the start on the beach.  I was freezing and starting to have doubts.  Some riders were only wearing shorts.  As Karlos likes to say, the hardest part is showing up.  All I could think about was going home. Time to stop thinking…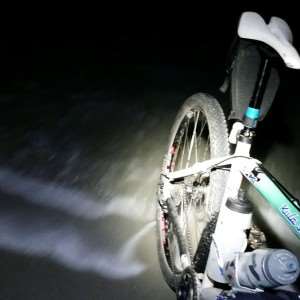 Part of the ride involves hitting checkpoints and taking a picture.  First checkpoint is right there at the start, dipping your rear wheel in the Atlantic Ocean.  It was funny watching everyone trying to get their picture in without getting soaked by a wave.  Finally, it was 5 am and Karlos waved us off.
For an ITT, the mass start format was interesting.  Crossing the sandy beach was like watching a bomb go off: riders suddenly going sideways everywhere.  We got to pavement and started to cross the intracoastal waterways before turning south, eventually squeezing in between a wall and a hedge to some hidden path.  First dirt of the CFITT, this trail was tight and sandy and punctuated with a 100 foot long stretch of ankle deep cold, stagnant water.  Some more road and we turn off into a section of trail that quickly turned into muddy ATV track and more water crossings.  My feet are soaked and freezing, and it smells like I stepped in a cesspool. Only 230 miles to go!
And there I was, back in the wild again: this ATV trail quickly devolved into the most twisted, hellish piece of forgotten infrastructure on the whole route.  We'd been warned beforehand, but that didn't do the section justice.  This trail was a minefield of broken branches, fallen trees, and all sorts of trash, including shotgun shells in every shade of color imaginable.  There was broken furniture and obvious signs of clandestine campfires.  I don't think we rode more than 50 foot stretches before having to get off the bike and clamber over something.  To me, it looked like an abandoned sidewalk but other people told me it was an old railway bed.  Honestly, it felt like a junkyard and I was waiting to get impaled by something.
We finally made it out and turned west. My dad eventually caught up to me, having made a wrong turn back in no-man's land.  After some dirt roads, we hit a 17 mile stretch of road with no shoulder and little to see.  The wind was not too bad though and the sun was coming up.  Nobody buzzed us but one driver came by flipping us the double bird, which was hilarious.  At the end of this stretch, we stopped for our next checkpoint, the Osteen Stone Marker.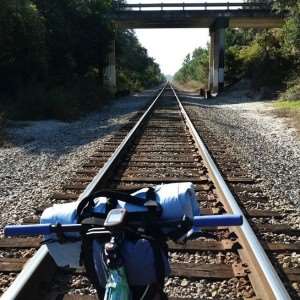 We stopped at a convenience store for coffee and calories before jumping on the Springs-to-Springs trail towards Gemini Springs State Park.  We rode through the park happily, knowing we would now be making the great push north to the Ft. Gates Ferry.  We rode the S-t-S Trail north, past the hills of Blue Springs, stopping briefly for the second checkpoint at Lake Beresford.  Here my dad broke his rear derailleur hanger.  Fortunately, he had a spare. Unfortunately, I realized I did not.  We continued past Lake Woodruff Preserve (closed for hunting, unfortunately, otherwise Karlos would have us sneaking in) and eventually turned (and climbed a barbed wire fence) onto a trail running alongside railroad tracks.  This was a very scenic section of the route, until the hard packed dirt turns to rocks. We alternated walking and trying to ride the trestles.
We eventually found the secret entrance to the Chuck Lennon Mountain Bike Trails which are very similar to South Florida trails: tight, twisty, constant steep climbs and drops, it feels like being in the jungle.  A lot of fun when your bike handles funny due to all the luggage.  The route requires you to ride the various sections and loops in a certain fashion before you can get out.  It felt like solving a riddle and we ran into a few other equally confused CFITT riders.  One in particular, a preacher who'd run a mission in Mexico, summed up the situation neatly:
"Are we almost of here?"
"Yes, I think this is the last trail, should take us straight out"
"Praise the Lord!"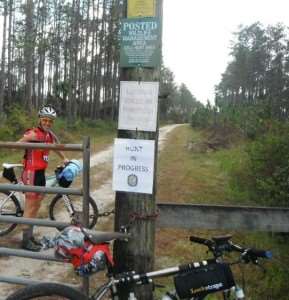 Amen, brother.
Once you get out, you continue north, threading through various tracts of the Lake George State Forest en route to the Ft. Gates Ferry.  Karlos's advice: ignore the signs about the Hunt in Progress.  We survived so I guess it is sound advice.
From Chuck Lennon to Ft. Gates is straight forward and we finally arrived around 4:15 pm, eleven hours after we started.  We arrived along with several other CFITT riders.  Everyone was in really good spirits, elated to have made the ferry.  One guy rolled onto the ferry about 10 seconds before we took off across the St. Johns!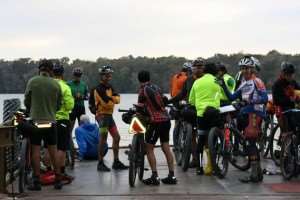 The ferry ride was short, 10 minutes at the most.  Once we crossed, we took off, ready to get through the Ocala National Forest.  The group rode down a jeep trail which quickly turned into more loose sand.  We slowly made our way across, and before long the sand did its work: alone again.  As the sun was setting, we ran into a good ole boy who asked us if we knew it was hunting season… followed by the sounds of gun fire in the distance.  Awesome.  We climbed what has to be the biggest hill in the ONF and were greeted by an amazing vista.  After descending, we reached the Lake Delancey West campground, where most would stop for the night.
This point also marks the start of the Florida Scenic Trail.  By now it was really dark.  The scenic trail is long and not the best terrain for bikes.  It is overgrown and incredibly easy to miss a turn, especially at night when all the orange blazes are harder to see.  We were constantly having to backtrack. I was, however, happy to ride on a secluded trail.  The ONF is known for being somewhat dangerous at night, especially after the locals have worked their way through a few 12 packs… being on the trail was safer than riding the dirt roads criss-crossing the ONF.
We eventually made it to the Old 88 Store, stopping for a beer with some other CFITT riders.  This was a checkpoint, so we took our picture and headed back out after wasting too much time and getting cold.  We pushed on, trying to reach the Lake Eaton campground.  It took us three hours to push the 20 miles from Lake Delancey to Lake Eaton, arriving around 10:30 pm.  I think that if we were better prepared, we could have pushed on all night.  But my light was about to die and we had few calories and no caffeine.  We pulled in.  I had brought a sleeping bag and tarp and wasted no time setting up a small shelter under a picnic table.  I wanted to sleep so I didn't say anything about waking up, just went to bed.  Fortunately, this worked for me and we managed almost 8 hours of sleep.
We woke up around 6:30 am and were rolling by the time the sun was rising.  The first few miles were the last of the Scenic Trail.  They were also, in my opinion, the toughest: wet, narrow, crumbling bridges and very overgrown trail.  Fortunately, we now had a lot of paved road ahead of us.  We hit the checkpoint at Oklawaha Bridge and pressed through Marshall Swamp to Baseline Trailhead.  We stopped for breakfast and coffee at a nice gas station, where we met the very gracious business owner.
We made our way over to Santos Trailhead and began following the arrows for the Epic Trail, hitting Land Bridge, the 49th Ave trails and onto Ross Prairie.  Sadly, Ross Prairie has been destroyed by hogs, making it hell to ride.  It was at this point that I was finally starting to lose the mental game.  Every time I looked down, my GPS said we were headed East *hit another rut*, we need to go West *hit another rut*, why are we going East *hit another rut* we have to go West.  It felt like an eternity, but we only spent 45 minutes riding the meandering ruin of trail.  And I thought Chuck Lennon would never end!
We headed for Dunnellon, excited to be close to the end.  We rode this amazing bike path, lined with incredibly tall, vibrant green trees.  This did not last long before turned into these strange, half built neighborhoods.  I was starting to get anxious again, dying to finish. Of course, right about now is we started hitting the real sand… so demoralizing.  So close to the end and we are hitting stretches of sand so deep that we could barely walk through it.  Ross Prairie was like slowly going insane.  This was like catching multiple red lights when you're late for an appointment; unrelenting and unfair.  I was starting to feel the edge of desperation.
Of course, like all things, the sand finally ended… eventually.  Riding the last paved stretches between neighborhoods, we hit the final obstacles.  Jump a fence, ride a steep grassy path and descend onto the last paved trail.  By this time I had joined up with three other riders, my dad having dropped me back in the deep sand.  Two had started Friday morning.  We had been yoyo-ing around the third rider all day en route to Ft. Gate's Ferry.  Talking to him, I learned that he had laid down for a few hours but could not sleep due to severe cramps.  He eventually decided to just get up and go.  He was one of the guys who I'd been glad to see on the ferry, so it was great to see he was going to make it.
We rode the last four miles of pavement towards the Gulf at a nice pace.  One of the guys made a joke about me jumping them to come in before them.  I laughed it off, but secretly I had considered it.  But only for a moment.  The point of the ride was to accomplish something incredible, not to be a jerk.  We rode in and I made sure to stay behind them.
And just like that, we were done.  The people there to appreciate what we had just accomplished had themselves accomplished it moments before us.  Otherwise, it was just like the rest of the route; nobody really knows what we are up to, the sheer enormity of it.  "Where the hell are those cyclists going with all that junk strapped to their bike?"  We are crossing Florida!  It was surreal and satisfying.  And so I dipped my front wheel in the Gulf of Mexico, thus completing my Cross Florida ITT.