Cross Florida Individual Time Trial
The Cross Florida Individual Time Trial is Florida's Premier Off road Ultra Endurance Event. It is a one of a kind coast to coast bikepacking challenge, the only one of its kind in the United States.
Report by Michael Boyco (Eclipse Racing p/b Bike Tech Miami)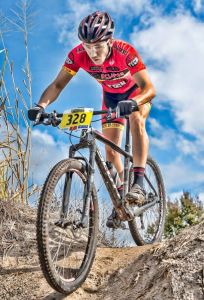 For anyone living in Florida, the premier cycling oriented adventure is inevitably going to be one of the Singletrack Samurai's events. These journeys are not for those who lack a certain courage and imagination. If you have a deep wanderlust that needs to be satisfied, if you want to see the hidden wilderness in the concrete jungle, if you want to find yourself somewhere you likely do not belong, he has an event for you. If you want to see a forgotten side of Florida, one that will might make you slightly uncomfortable, leave you in awe, and generally question everything you know about riding a bike, he has an event for you. I promise you that you will be uncomfortable. You will watch the sun rise and set from your bike. You will be so tired you will fall asleep while riding down some godforsaken grassy road that only he knows about. You may regret it. You will not forget it.
So. To pull off such an undertaking requires gear. You have to be ready. One simple mistake can change your journey from pushing a personal frontier to a very long walk. For me, this gear falls into three main groups: tools & repairs, weather/clothes, and "other". For food, I like to live off the land, which (here in Florida) is conveniently littered with gas stations, quickie marts, super markets, and fast food chains. Basically, with some planning, food and water is not an issue.
Group One: Repairs. This is a tough one because it really depends on many factors. What do you really need to bring and what is the probability you will actually need it? Do you actually have the experience and ability to make trailside repairs? I could go on at length, but I won't. Instead, realize that you have to make a lot of assumptions and hope for the best. Then when you realize you forgot something very important 200 miles away from your car, pray to your higher dimensional being of choice. I brought:
| | |
| --- | --- |
| 1) Two tubes. | 9) Spare brake cable (I have mechanical discs). |
| 2) Tube Patch kit . | 10) A lot of zip ties. |
| 3) Tire Boots (USPS 1st class mail Tyvek envelope, cut up). | 11) A multi tool with chain breaker & all the wrench bits I need. |
| 4) Tire patch kit (needle & dental floss). | 12) Small bottle of chain lube. |
| 5) Small frame pump. | 13) Small roll of duct tape. |
| 6) Tire levers! | 14) Safety pins (ripped bags). |
| 7) Three master links. | 15) Swiss Army Knife. |
| 8) Spare derailleur cable. | |
I have carried a small bottle of Stan's sealant in the past, but I think if you need that, just skip the headache and put in a tube. I have also carried a few extra bolts in the past (rotor bolts, chain ring bolts) but this time I decided to just make sure everything was tight and torqued a few days before. Notice that I did not list a spare derailleur hangar. It's been awhile since I broke one and it did not occur to me to carry one. I got to praying around mile 75 when I saw a rider pulling out his spare to replace the one he just snapped.
Next Category: Clothes for the weather. I have a very low tolerance for the cold, meaning I bring a lot of cold weather gear. It also means that I spend a lot of time stripping down and later on rewrapping myself as winter weather in Florida means 40-50 degrees at night and up to 85 during the day. It also means that my bags can be relatively empty depending on the time of day. For the CFITT, I brought backpacking straps and a motorcycle helmet net to strap clothes to bags I needed for other gear. This allowed me to carry one less bag on the bike. For the record, I realize our lows are not so low, relatively speaking. In South Florida, we like to sweat, which is fortunate as the weather is typically in the 90s with 95%+ humidity. Unfortunately, it prepares us poorly for life north of West Palm Beach.
Final Category: Other. This is all of the other miscellaneous gear one may need to survive the journey, including the bags!
| | |
| --- | --- |
| 1) Etrex 20 (small backpacking GPS). | 9) Sample packs of chamois butter. |
| 2) Spare batteries for my GPS. | 10) Small & simple First Aid Kit. |
| 3) SPOT tracker (mandatory). | 11) Water bottles & Camelbak. |
| 4) An emergency blanket. | 12) Emergency energy gels. |
| 5) The Naked Indian's TrUsTy TrAiL gUiDe. | 13) Adirondack Axiom front bag (300 cubic inches). |
| 6) A strong light for night riding + Battery. | 14) Topeak Large Aero Wedge saddle bag (90-120 ci). |
| 7) Strong rear blinkie. | 15) Backpacking straps + netting. |
| 8) Cash/ Credit Card/ ID. | 16) Sleeping bag/tarp. |
The Bike: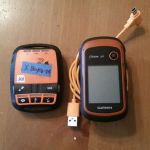 Finally, a bit about my bike. It is a true blue Frankenbike and I consider it amongst my prized possessions. A 2007 Kona Kula Supreme scandium frame, designed to be a high end cross-country frame for 26" wheels, my lightweight Stan's Crest 650B wheels, and a super light weight Niner full carbon fork. I drilled out the cable stops so that the Green Machine can take full length cable housing. Some notes, in no particular order:
130mm, -10 Stem. A result of the crazy geometry created by the ill-advised mix of parts designed for all the wheel sizes under the rainbow.
680mm wide, 5mm riser aluminum bar, I will probably trim this down to something narrower. Eventually.
Beautiful blue ESI grips, surprisingly comfortable, even when going full rigid for 240ish miles.
Thomson Elite seatpost, 27.2. Durable. Classic. American-made.
Specialized phenom saddle, 143mm wide
XT crankset with 36t Wolf Tooth Ring. Always have the option to double up.
XTR Shadow rear derailleur paired with an XT shifter.
XT Pedals. You need reliability? Leave those eggbeaters at home.
Avid BB7 mechanical disc brakes. Easy to adjust and fix in the field
Vredestein 2.2 Black Panther front tire. I truly love these tires. Tough, great volume, and awesome for XC but next time I may get a slicker/narrower tire.
Vredestein 2.0 Spotted Cat rear tire. Another very nice tire, it was great in the back and is all around fast. Would've run this front and back but currently only have one.
Elite bottle cages in the American flag colorway. Once again: durable, reliable, patriotic.
By now, you probably noticed the theme: I want something reliable that I can fix out in the woods if need be. No fancy hydraulic brakes, parts generally known for their durability, and as simple as possible. The Niner full carbon fork is the only sore thumb here (I think) and I have been thinking about replacing it with a Niner steel fork. Or maybe I will get a dedicated 29er frame. Meh.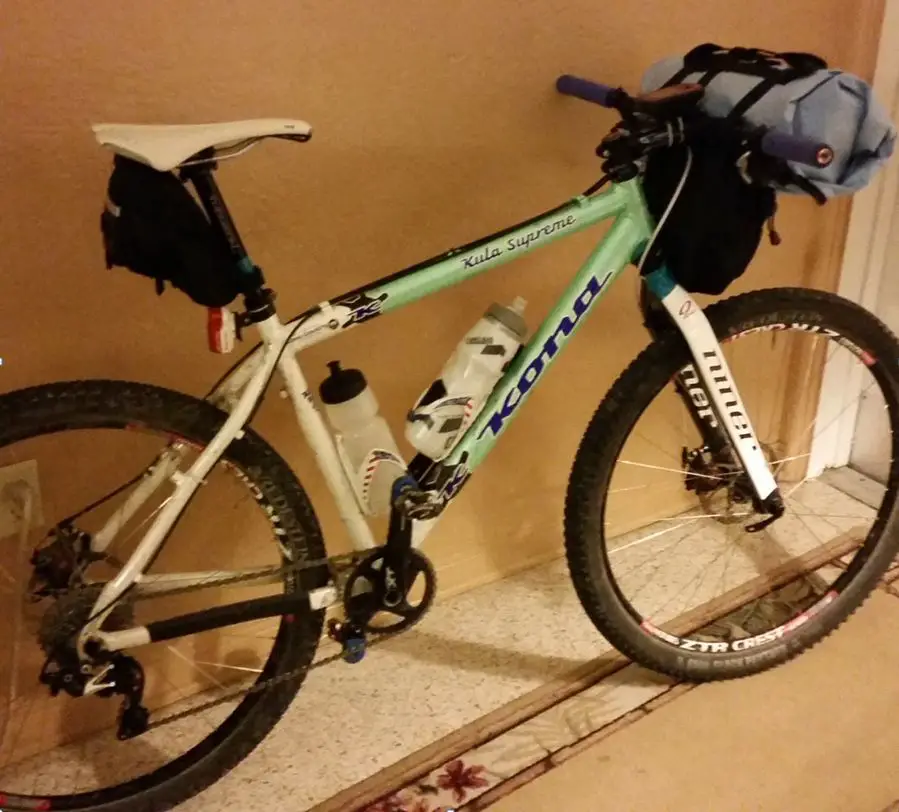 Busy busy busy.
Part Two coming soon.