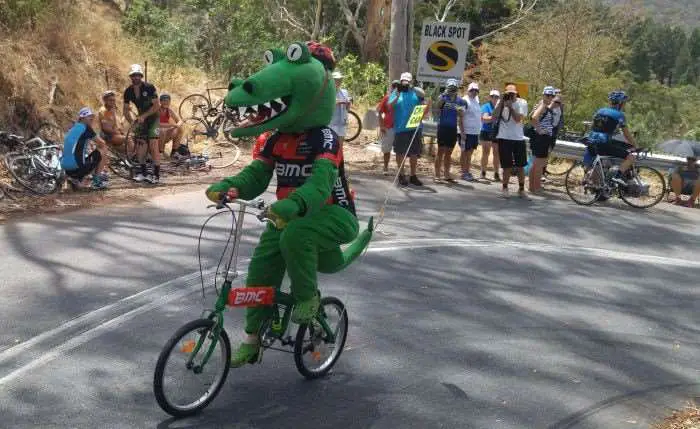 While we don't talk too much about professional road racing on the Gravel Cyclist website, the 2016 Tour Down Under is happening at the moment, during JOM's visit to his home town of Adelaide, South Australia. In addition to some amazing gravel rides (all posted on the site), JOM has been doing some journalistic work for our friends at BikeRumor.com, and following a stage or two of the race in person.
Today's stage, held on January 21, 2016, featured the tough but short climb of Corkscrew Road – check out some of the names who have ridden the Strava segment for this road!
JOM decided to catch the race as it rolled through Corkscrew Road at 800 metres from the summit (KOM – King of the Mountain). But to make it interesting, he plotted a route that would ascend to the ridge leading to Corkscrew Road, through the Black Hill Conversation Park – on dirt and gravel.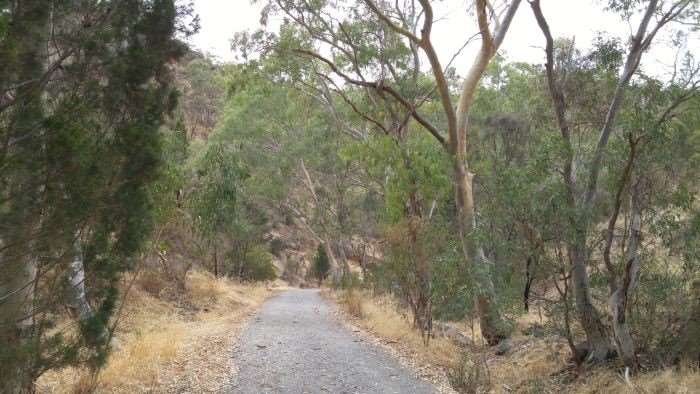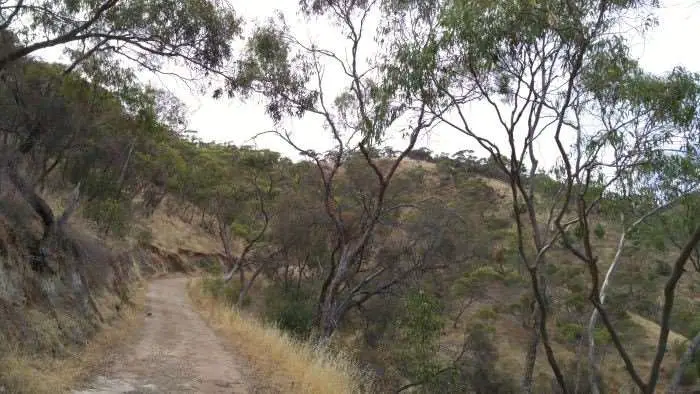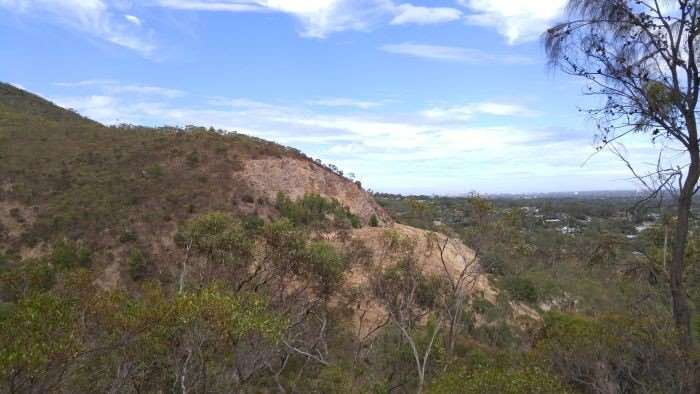 Planning a route using online methods is easy, but research is required to guarantee a good ride. Such research includes factoids like:
Is the road legit?
Does it trespass on private property?
How much ascending is along the route?
Elevation profiles look nice from your computer, but when it comes time to ride them, that is when things can get a little more serious. Seriously steep sums up the ascent of the ridge as alluded to earlier. The photo below was an indicator of things to come.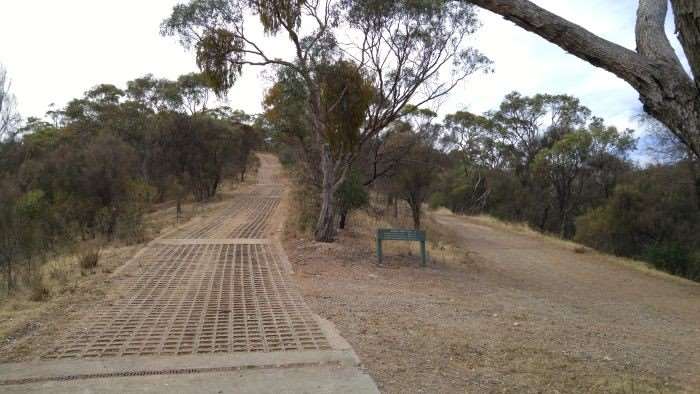 On the positive, those paving stones were grippy for hike-a-bike. But the climb would get steeper…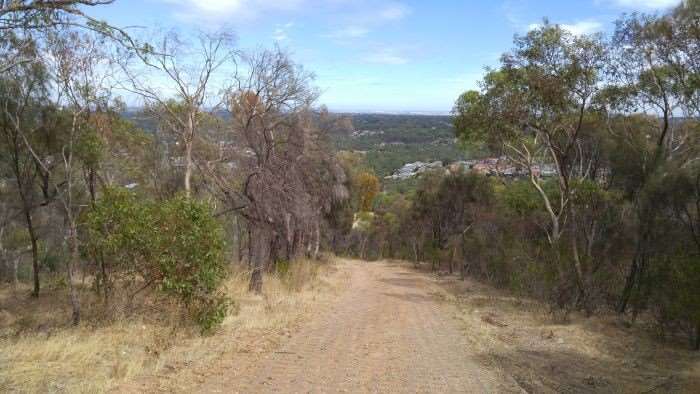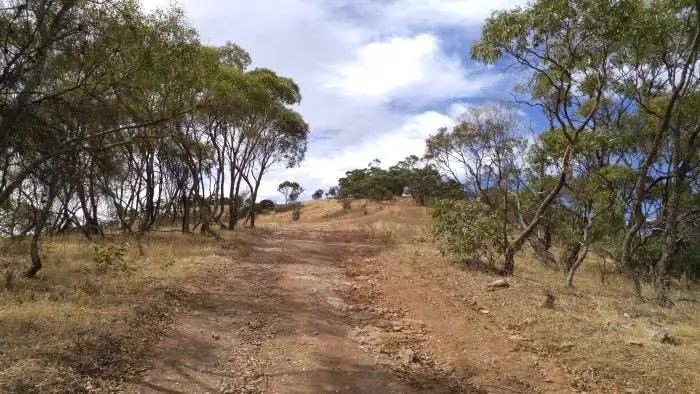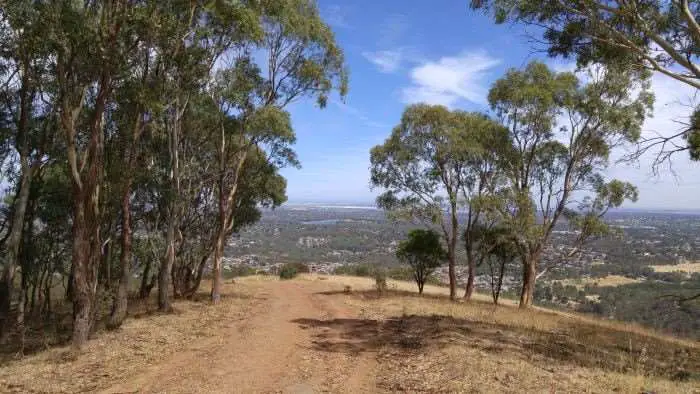 According to JOM's Strava data (see at bottom), this alternative Corkscrew Road climb segment is 1.3 kilometres in length, with an average gradient of 15%. It was much steeper than that in places.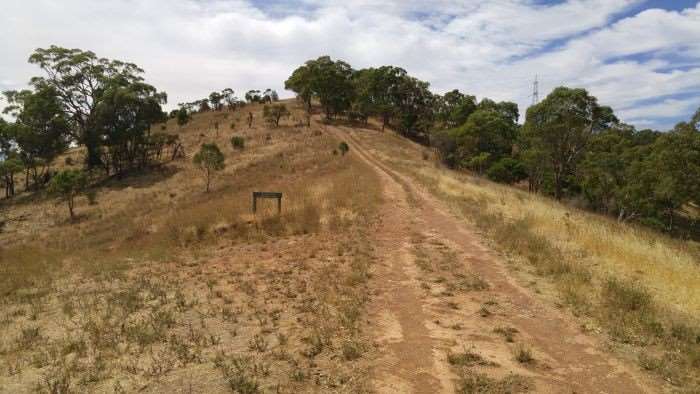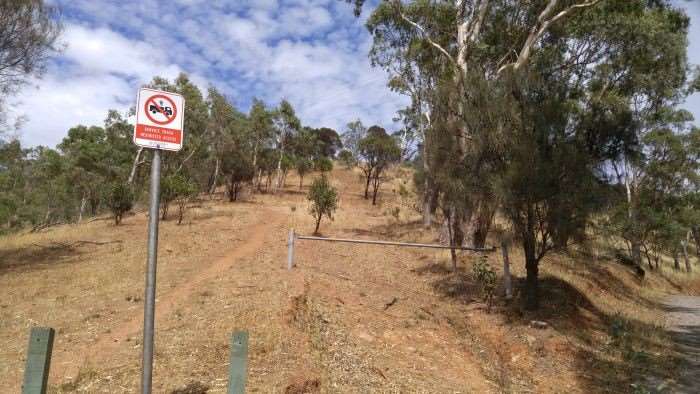 But the worst was saved for last (above) – the final part of hike-a-bike is as hard as the legendary Wig-Wam climb in Pennsylvania, USA at Iron Cross 2014.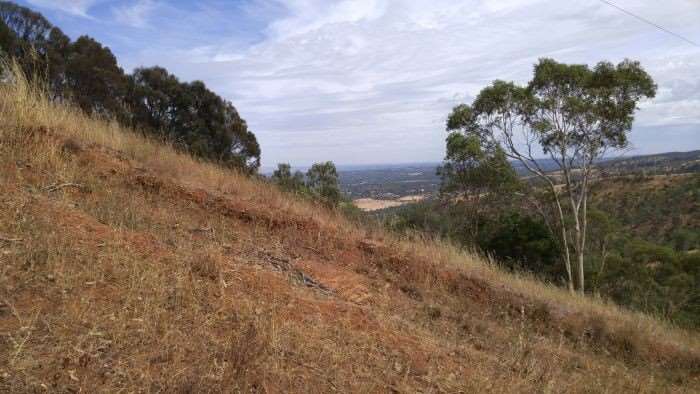 But the baby steps, hike-a-bike and back workout all lead to some amazing scenery. Not surprisingly, JOM was the only cyclist taking this route to the top of the Corkscrew Road climb.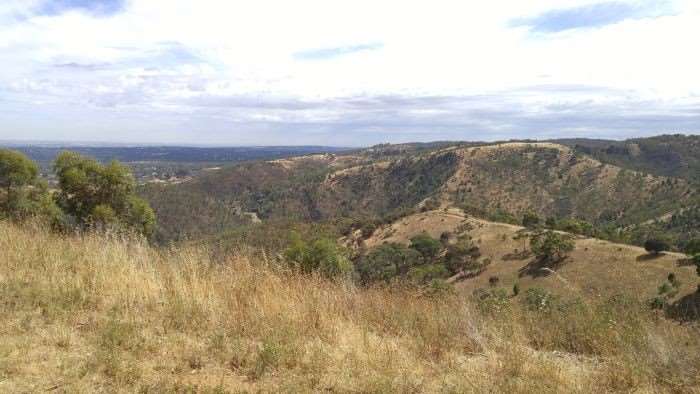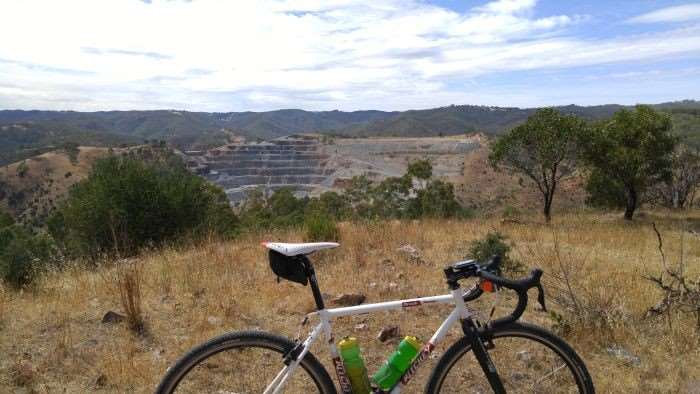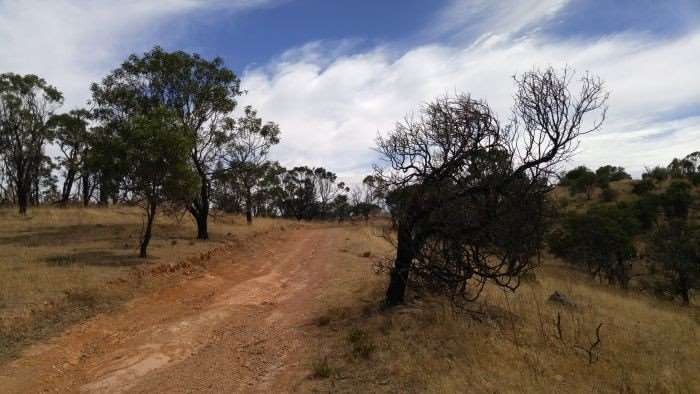 Finally, the summit was reached…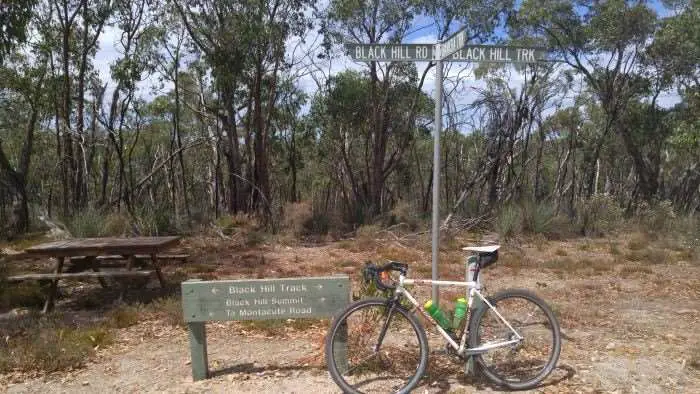 To celebrate this mega hike-a-bike sufferfest, JOM took a photo of his gravel rig near the Subaru KOM banner at the top of the paved Corkscrew Road climb.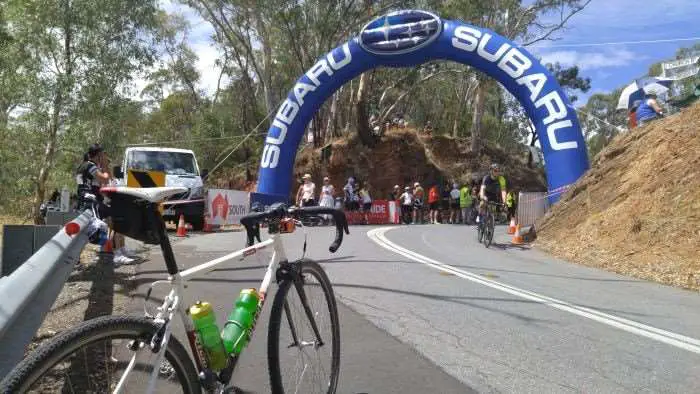 But the ride would be incomplete until JOM descended the paved Corkscrew Road climb, in order to ascend it. The paved Corkscrew Road climb is tough, but a piece of cake compared to the gravel road alternative. With that said, JOM didn't exactly set any speed records ascending the paved version…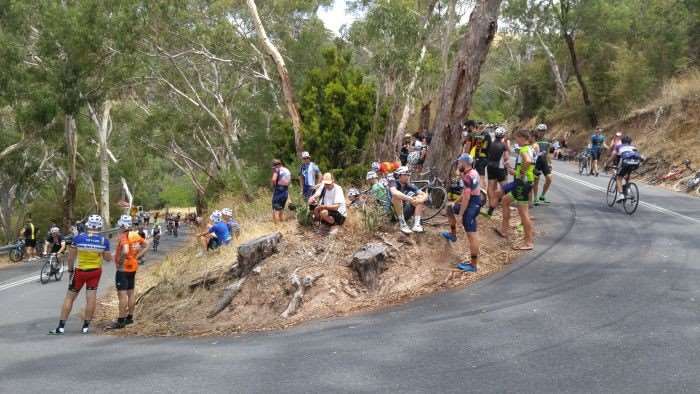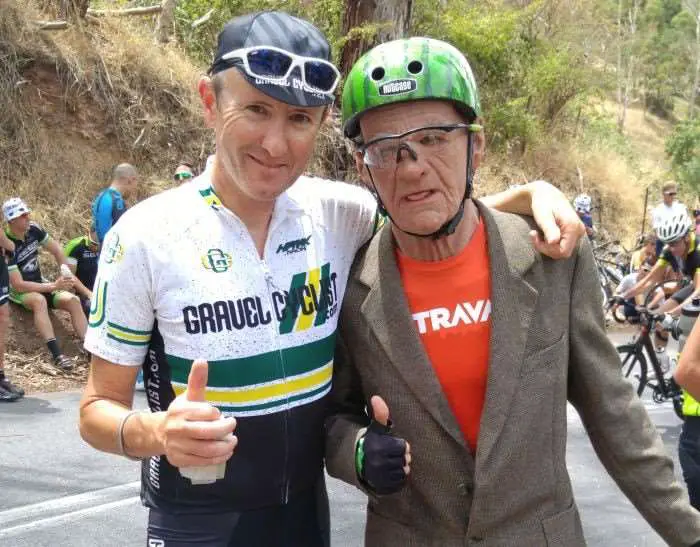 Cycling fans will brave all sorts of weather just to get a glimpse of their favourite riders – after a couple of hours of waiting around in the heat and sun, the race came through. The professionals make it look easy, even if some of them were suffering immensely.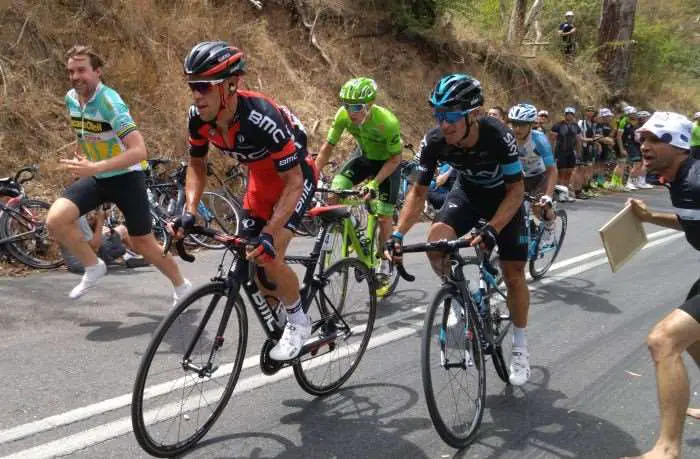 Once the race and its support vehicles had passed, the mad rush to get off the climb began. Cue a massive cyclist traffic jam!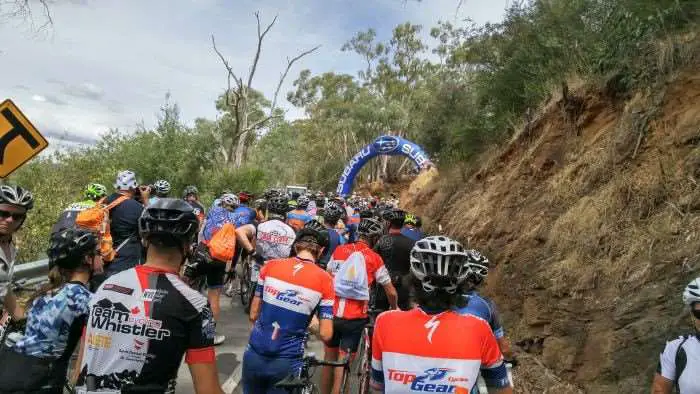 Summary
Would JOM ride the alternative dirt and gravel route to the top of Corkscrew Road? Yes – but only on a very low geared mountain bike. A 34 x 36 low gear on a cyclocross bike simply wasn't enough. Bigger tires (tyres) with mega traction on loose gravel would help too.
JOM captured high-definition video of this ride, so expect a nicely edited video in a future posting.
Strava Ride Data
For those so inclined, you can check out JOM's ride HERE.
Thanks for reading!