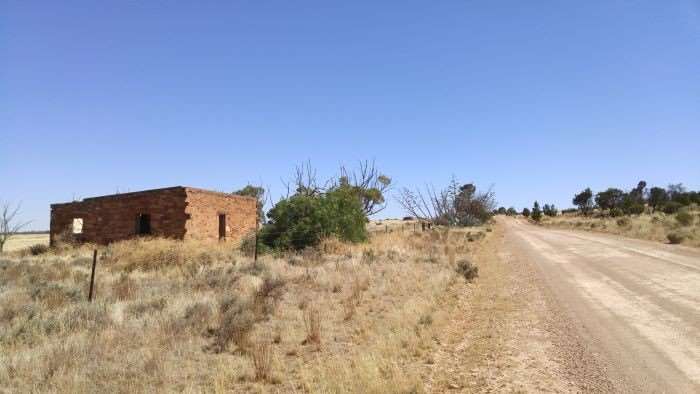 January 8, 2016 – Today, I (JOM) decided to head far beyond the reaches of suburbia, and into the mid-north of South Australia, to an area that borders on the southern side of the Flinders Ranges.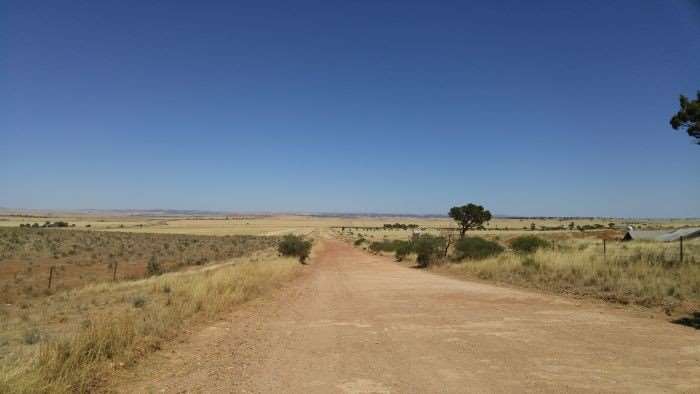 Today's ride would begin in the South Australian town of Peterborough, a town steeped in railway history. The route would head northwest to the town of Orroroo, via the now seemingly deserted town of Black Rock, and return via another potentially deserted town; Yatina.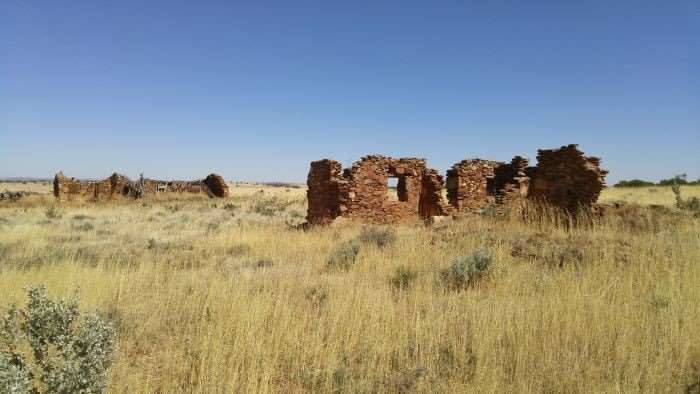 The town of Peterborough was originally named Petersburg, and was among 69 places in South Australia renamed in 1917 due to sentiments related to the First World War. Times were very different then.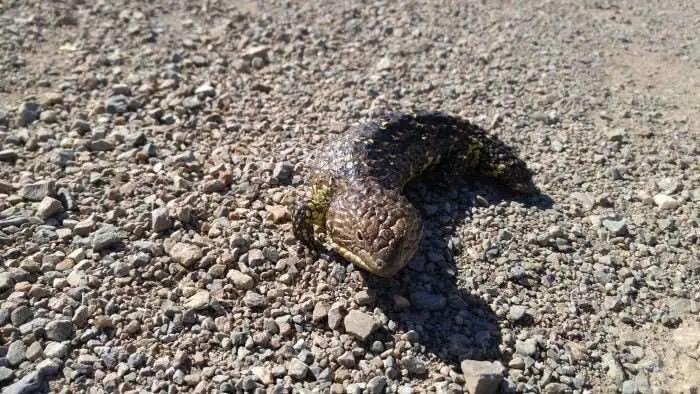 Peterborough is best known as the former railway "crossroads" of Australia, linking north, south, east and west. The town hosted extensive workshops and a roundhouse, employing 1,000 people during its peak in the 1920's. It is also home to Bob the Railway Dog.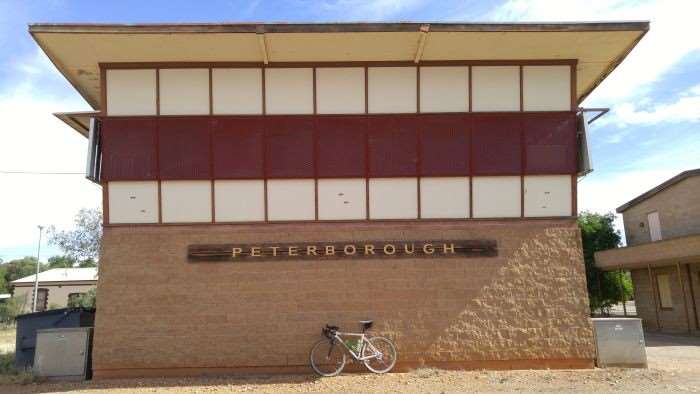 Unfortunately, the railways have all but left the town, with only the weekly Indian Pacific train (Sydney on the Pacific Ocean side, and Perth on the Indian Ocean side) passing through once a week. Fortunately, assets and memories of the steam era live on at the Steamtown Heritage Rail Centre at the end of town.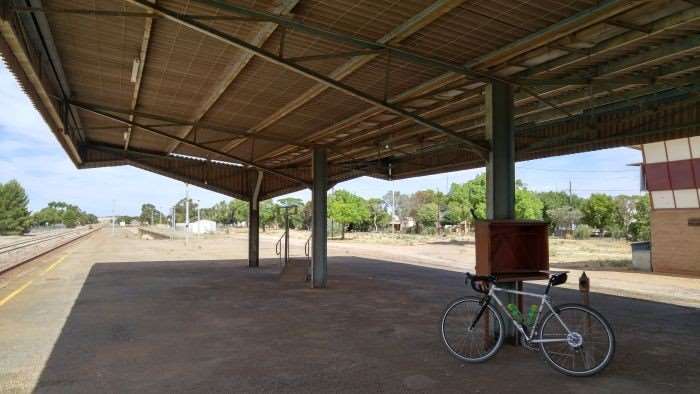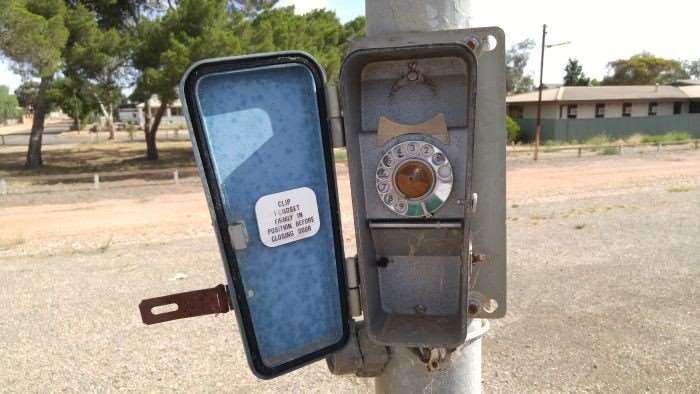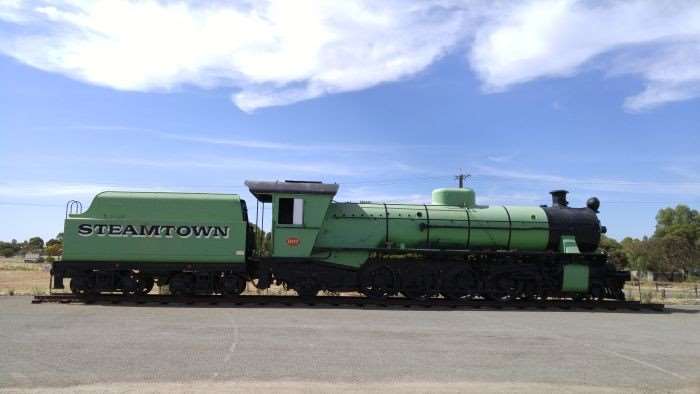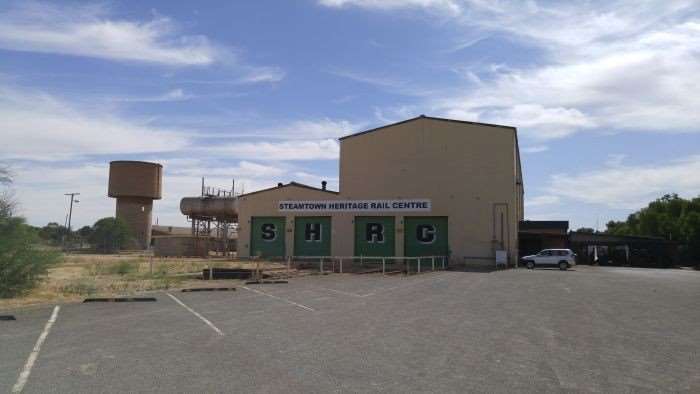 It didn't take much pedaling before I (JOM) was out of Peterborough, enjoying the quiet gravel roads, bright sunshine, low winds and moderate summer temperatures.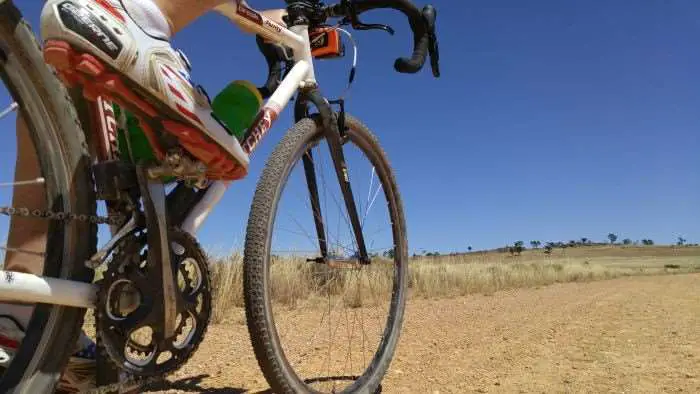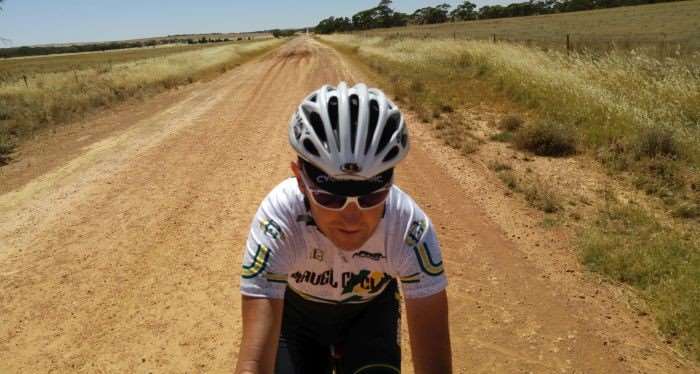 Many of the roads I traversed were in the middle of farming land. If you peruse the Strava link at the bottom of this page, you'll see the elevation profile wasn't too extreme, and mostly downhill from the beginning. It was in this shallow valley that most of the vast open fields were located. More than anything, I was thankful the wind wasn't kicking up today.
For those readers who are unaware, January is prime summer time in Australia. Think opposite seasons in the US of A and you get the picture. Cue references to a sunburnt country, a line made famous in the poem "My Country" by Dorothea Mackellar. Or, in the context of this ride, a sunburnt JOM – who was wearing sunblock.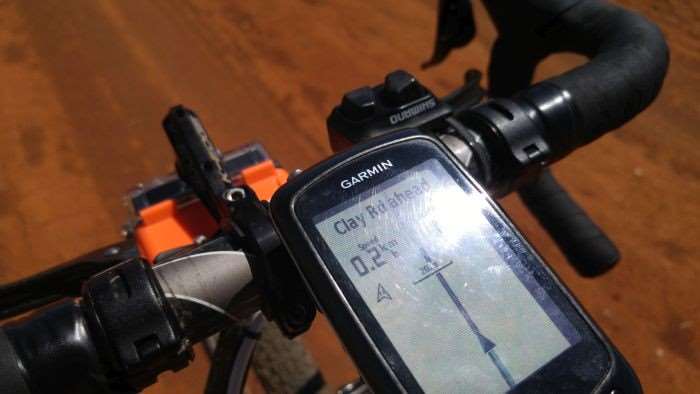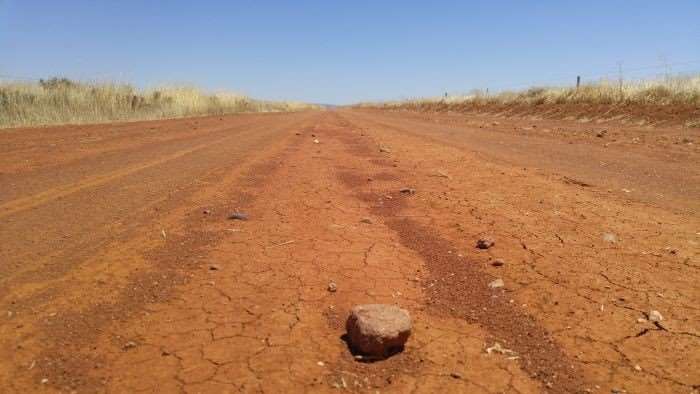 Due to the fact there is so much railway history associated with today's route, I (JOM) was motivated more than usual. This was an area I'd wanted to re-visit for over 35 years, my first visit coming as a lad when I accompanied my father during the late 1970's. Considering I moved countries in early 1998, it took a while to finally get around to it!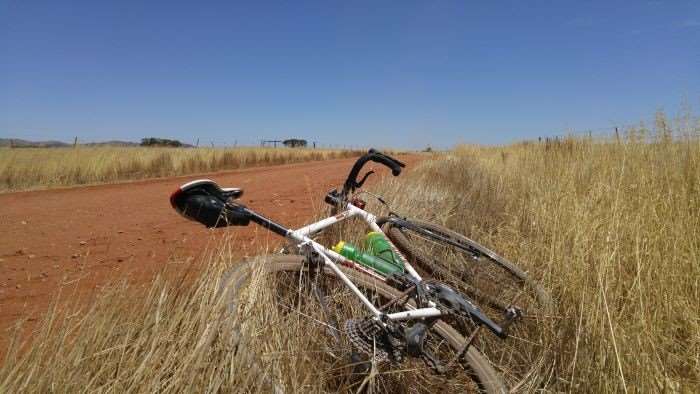 One of today's highlights would be the mostly deserted town of Black Rock. But, just a kilometre or so south of Black Rock were reports of an abandoned railway bridge.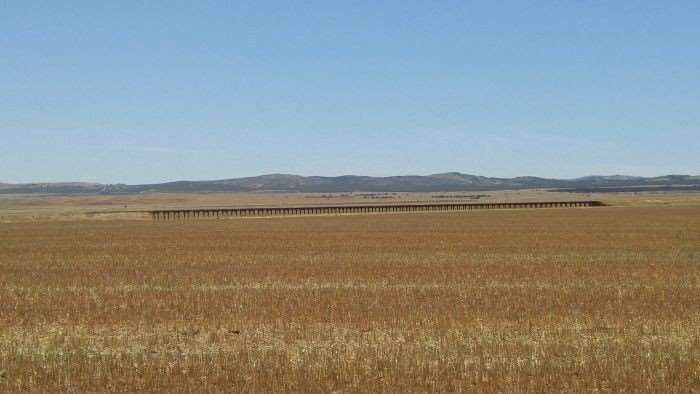 Like an Oasis spotted from the red clay roads, the railway bridge finally came into sight. The bridge and the track laid upon it are some of the few remaining pieces of connector track between the towns of Peterborough, Black Rock and Orroroo. Most of the track was removed in 2008 – such a shame.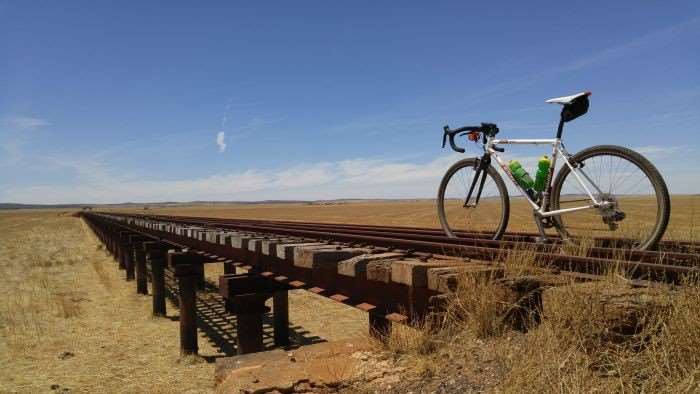 When this track was last active in 1988, its primary function was supporting the operation of grain trains between Peterborough and Orroroo. If you've ever visited this part of Australia, huge grain storage silos are part and parcel of the landscape around small towns.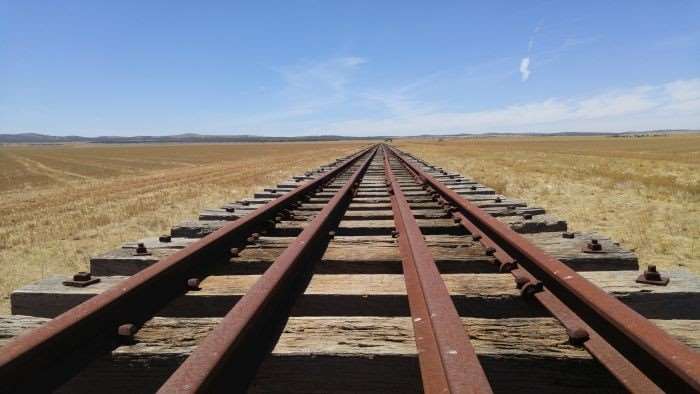 After spending way too much time at the bridge and attracting the attention of about 20 Australian blowflies, I finally departed for Black Rock.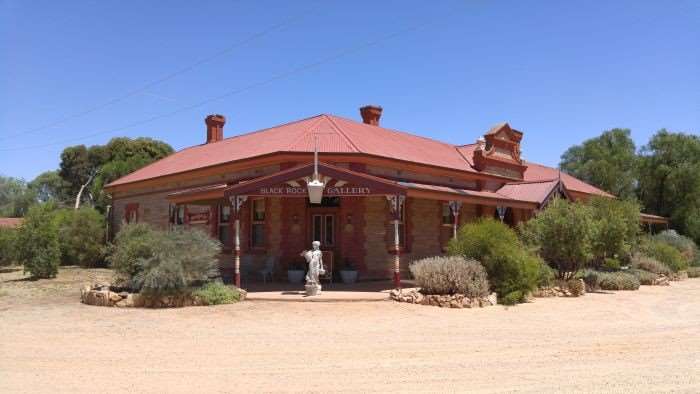 The beautifully restored hotel / pub now art gallery was the only sign of life in town. While it was closed during my visit, it is a homage to life from a bygone era. The pub last traded commercially in the early 1980's.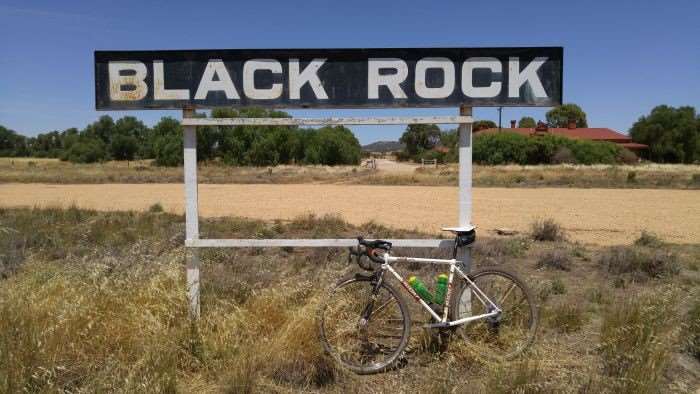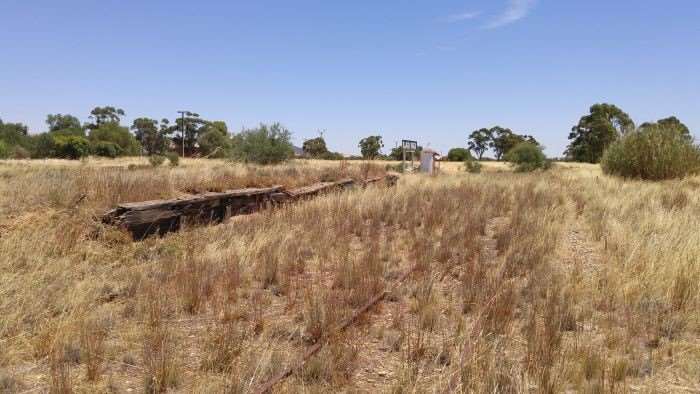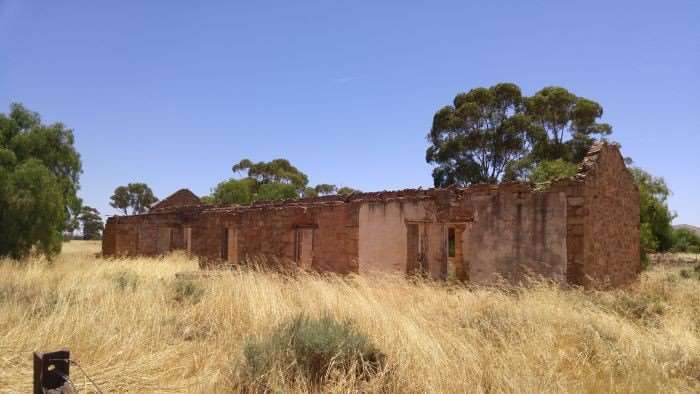 The need for hydration cut my photography session short, else I would have spent at least another hour hanging around. Onward to Orroroo!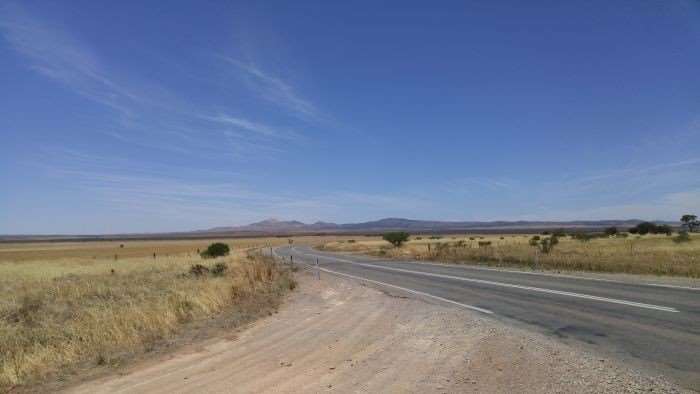 Entering Orroroo, the first thing I (JOM) did was to head straight to the former railway station. Now a private residence, the railway station backs up to a huge grain silo. In a perfect world, I would live in my very own rural railway station.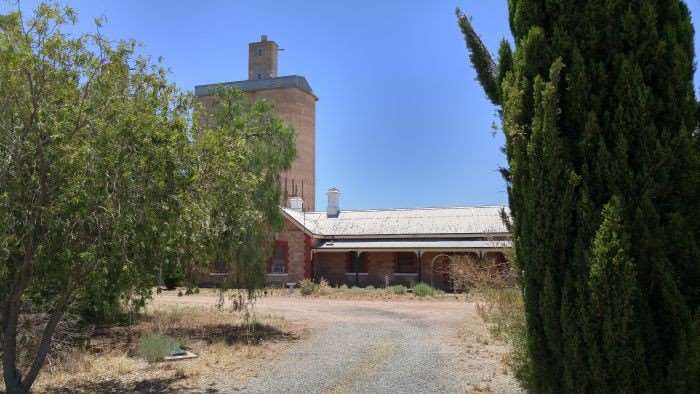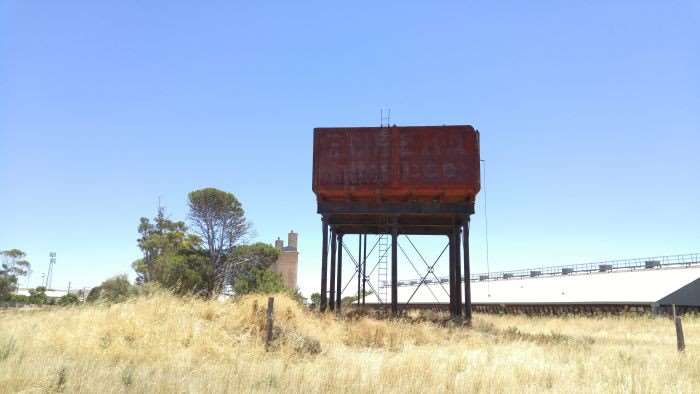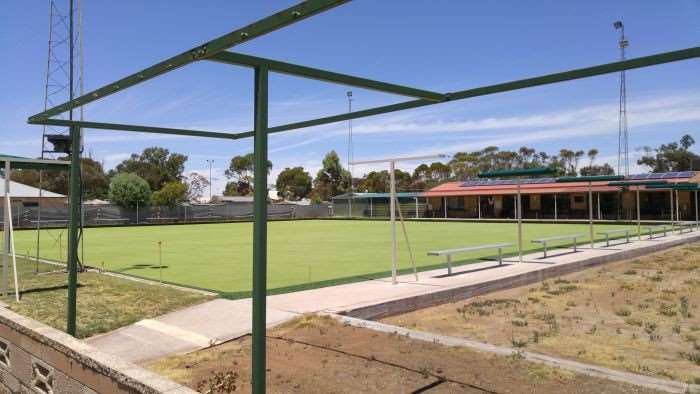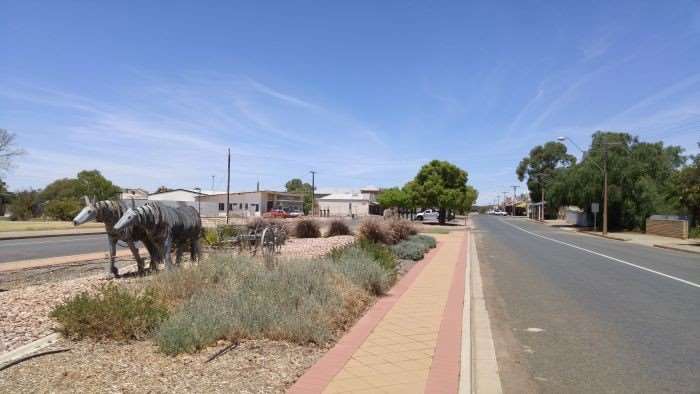 After the obligatory photographs of interest were taken, I (JOM) settled into a major re-hydration session at the local bakery; for once I refrained from consuming the baked goods. A local woman in her late 70's? / early 80's approached me as I sat around, and filled me in on some neat historical facts about the area, and observations about modern life. In hindsight, I should have interviewed her. Things of note that came from our conversation:
Cyclists nowadays are soft – referring to the range of gears on my rear wheel. In her day, it was single speed only. I didn't tell her my derailleurs were electronic
Most young people are soft – something about an evening basketball game being canceled recently because the forecast heat of the day reached 35 degrees Celcius / 95 degrees Fahrenheit.
People in cars are soft – she rode her horse, bicycle, or walked everywhere.
She is probably right on all counts.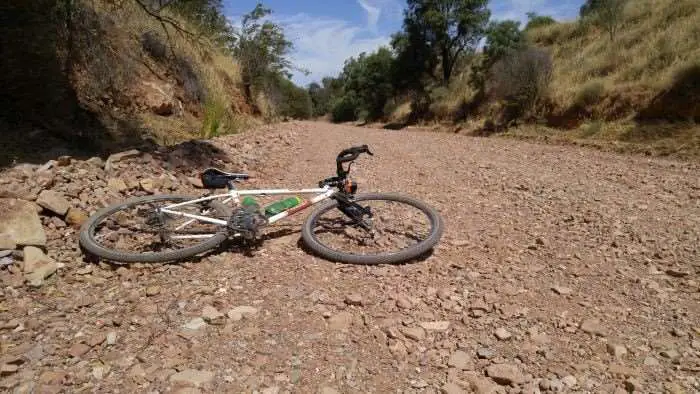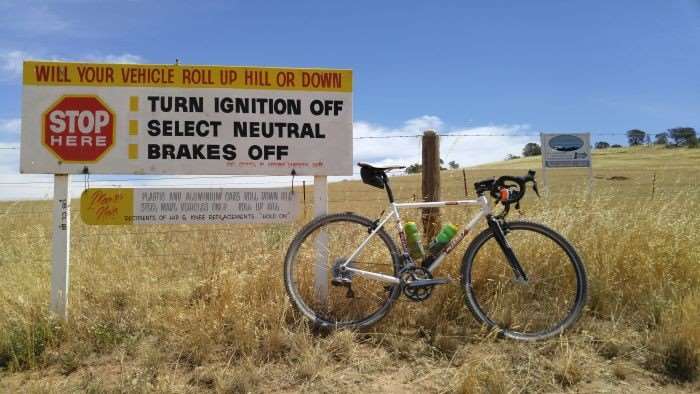 Not long after departing Orroroo, I came upon another planned point of interest for the day, Magnetic Hill. Quoting Wikipedia's entry is the best way to describe this location – "a place where a slight downhill slope appears to be an uphill slope due to the layout of the surrounding land, creating the optical illusion that water flows uphill or a car left out of gear will roll uphill, among others. Many of these sites have no specific name and are often called just "Gravity Hill", "Magnetic Hill", "Magic Road" or something similar."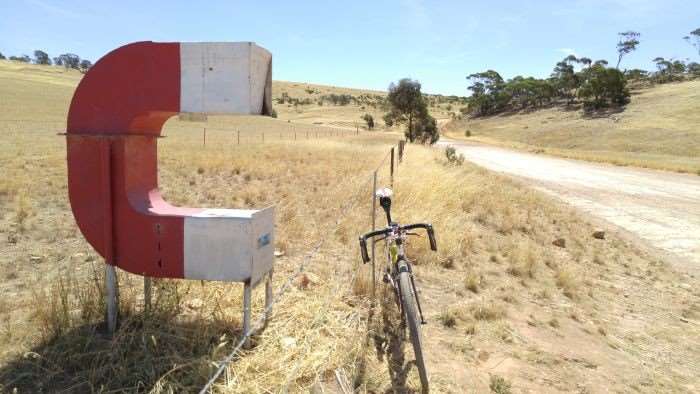 My bike didn't roll down hill. Nor did I catch the illusion on my bike, but still worth a visit!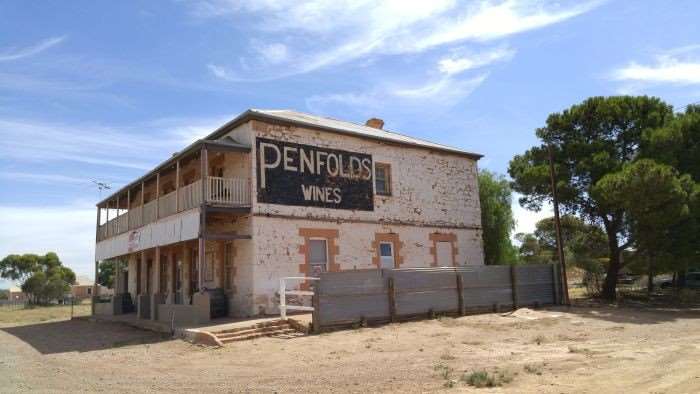 The final stop of the day during the return to Peterborough was the town of Yatina. If you view the Wikipedia entry in the link, you'll see not much has changed from the photo taken in 1974. Not counting the Yatina hotel (built in 1874), there are only one or two other buildings in town. Unfortunately for Yatina, a promised railway extension in 1877 bypassed the town, effectively sealing its fate. Town population peaked at around 100 people in 1887 and nowadays serves as a reminder of the desolate nature of this area.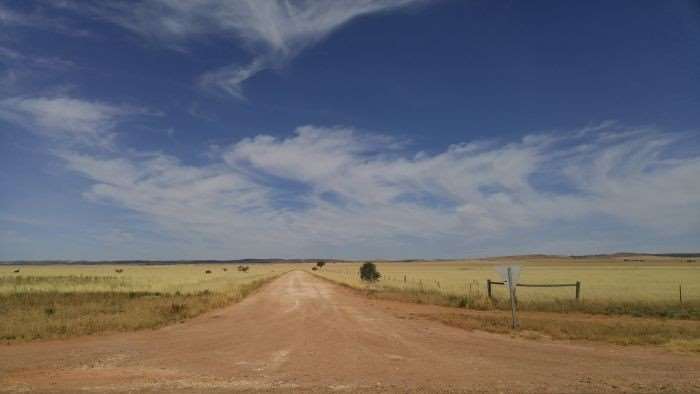 Summary
If you love vintage railways, this area is a must see, particularly the town of Peterborough. If you love gravel cycling along quiet roads with virtually no cars – I saw ONE car on this day, breaking my record from the previous day, make the trip!
I captured high-definition video of this ride, so expect that in a future posting.
Strava Ride Data
For those so inclined, you can check out my ride HERE.
Thanks for reading.