Vermont Overland Grand Prix aka VOGP

Organized by Peter Vollers and ably assisted by his team of volunteers, the Vermont Overland Grand Prix is a "53-mile dirt road bicycle adventure ride, featuring 6,000 feet of climbing, six sections of 'Vermont Pavé' – aka unmaintained ancient public roads – a beautiful rural and historic ski area start / finish, and an awesome party afterwards. It's the ultimate overland adventure ride."
The moment a promoter utters the word "timed", this automatically elevates an event to race status. This rang especially true for VOGP 2015, when attendees such as Ned Overend, Lyne Bessette, Tim Johnson, Crystal Anthony and her brother Jesse, appeared on the start list – along with 348 other bad arses.
Your humble reporter (JOM) was there for the Vermont Overland Grand Phondo – because he'd ridden the 180km D2R2 event the day before, and was totally knackered… and he resides in Florida. With the excuses out of the way, this is what happened from JOM's perspective.
Sunday, October 23, 2015
Waking at a reasonable hour in reasonable accommodations, I (JOM) made the trip from Killington, Vermont to the little Vermont town of South Pomfret – just around the corner from Woodstock, Vermont. Upon arrival at the race venue of Suicide Six, I was greeted by Les, one of Peter's volunteers, who happened to be an Englishman. We shared an expatriate bonding moment which is always cool… if you're an expat.
Shortly after I met race promoter Peter Vollers, who warmly welcomed me to the event. Guys like Peter embody the typical gravel race promoter – they do it for the love of the sport and their local community – and they want you there – such a nice change from some of my past experiences.
After making the usual bike preparations, a lot of socialization commenced on my part, as well as photographing cool bikes that I'll post in a future blog article – the "Bikes of VOGP". No doubt I missed a few.
Race time of 9:00am rolled around, but not before the superstars I mentioned earlier, as well as a few others whose names I forgot, were called to the front. I took this opportunity to milk camera person status, filmed the superstars and front row, and positioned myself beside Peter Voller's Landrover – the lead vehicle – conveniently located ahead of everyone. Running cameras on one's bike sometimes has its privileges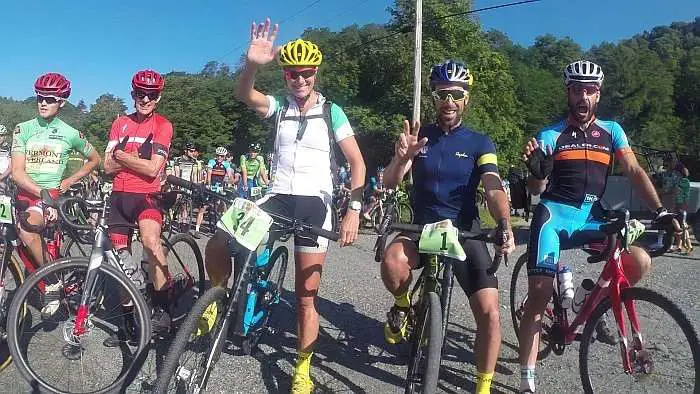 After a playing of the American National Anthem, Peter fired up the 'Rover, and led the massive throng of riders out of the Suicide Six parking lot in neutral mode. Yours truly was in the second row, again milking camera person status.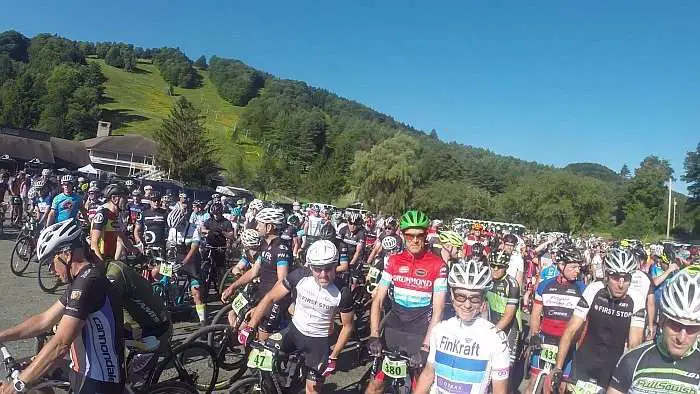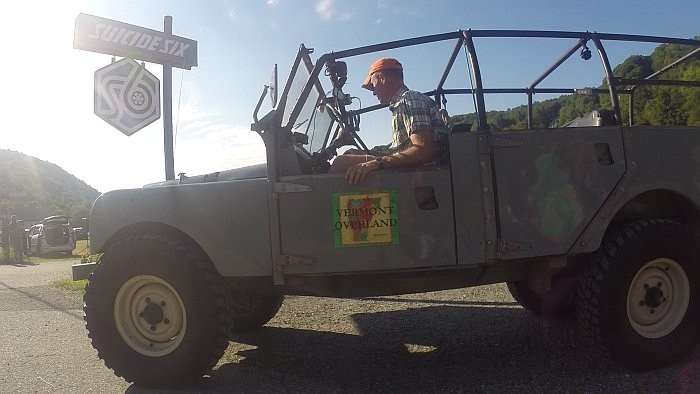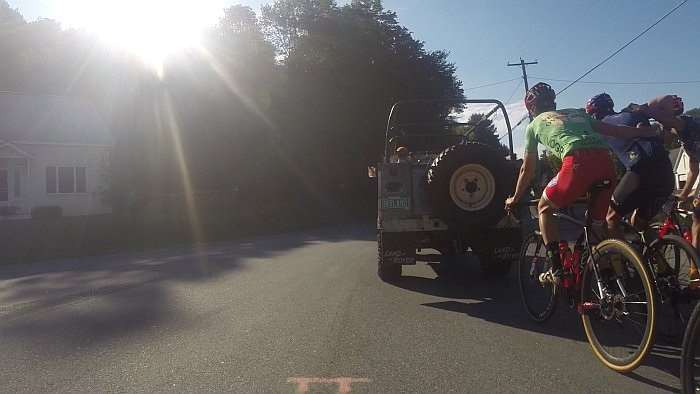 But, my position in the race would change as soon as the race officially got underway at the first gravel sector. Said sector began ascending immediately, while I (JOM) was dropped immediately, from second row to rear third of the bunch in about two minutes. I thought I might sort of be recovered from D2R2, but obviously not – and apologies to anyone I got in the way of early on.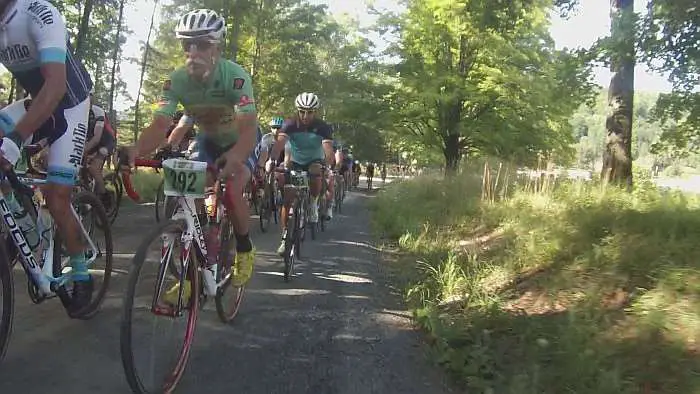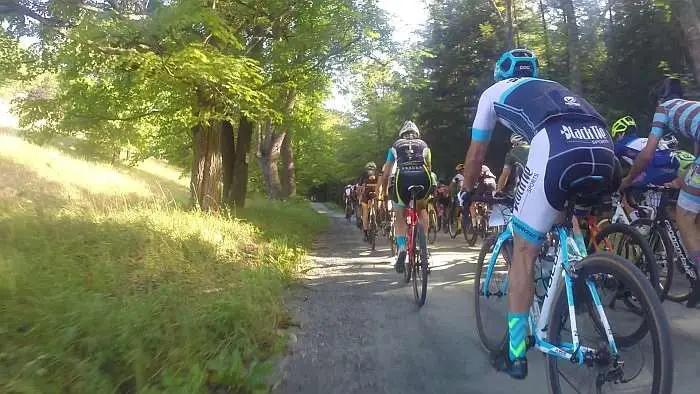 So, rather than squawking about dead legs, I chugged along as best I could, flicking my cameras on and off, while capturing the sights and suffering of the VOGP 2015.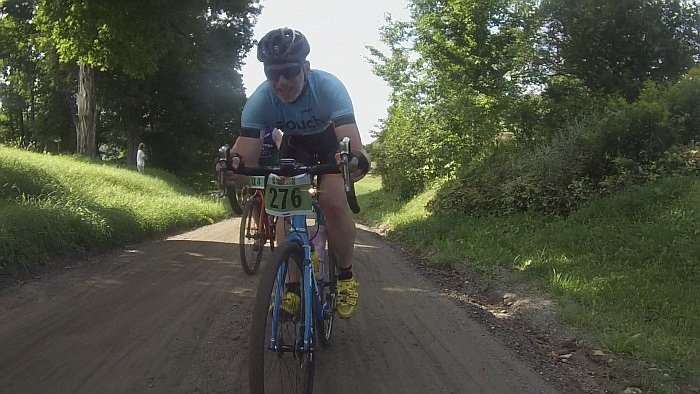 Vermont "Pavé" is best described as a rocky forest trail. Sections of the "Pavé" are completely rideable, perhaps totally rideable if you have the skills. But, the early sectors became a logjam for those of us in the grupetto, as people dismounted and trudged up the steep and rocky grades. Hike-A-Bike is always more fun with the company of others!
Aid Stations and Small Towns
South Royalton Village is the first stop along the route, assuming one stopped to refuel. Local business Worthy Burger, Vermont Law School and KMS Cycling Team were the sponsors of this station, and had something for everyone.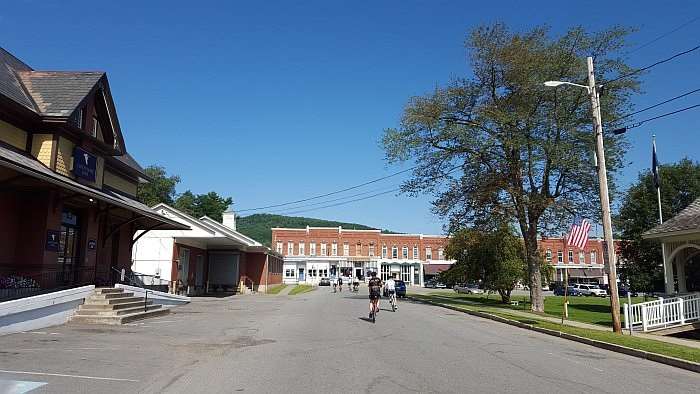 Between the first and second aid stations, everyone had to view marvelous scenery, ascend multiple climbs, and traverse the section of Vermont "Pavé" referred to as the "Arenberg Forest", a homage to the world famous pavé sector in Paris Roubaix – France. Pleased to say I survived the forest, no worries.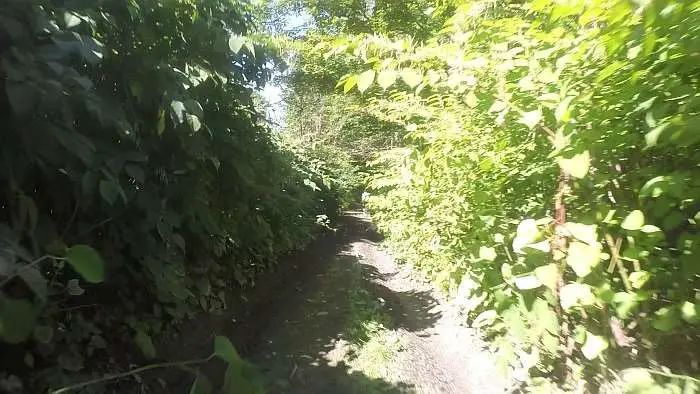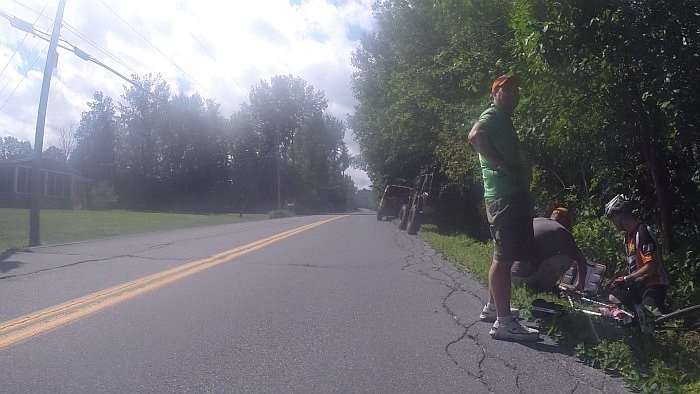 Those who missed out on the second aid station stop in Barnard Village missed a real treat. The highlight for me and possibly everyone else who stopped, was the Wood's Bourbon Barrel Maple Syrup. I managed to score two shots of this goodness, but really could have done with a bottle!
Between the last aid station and the finish line lay a lot more ascending, and tough "pavé" sectors. I (JOM) had been feeling the earlier effort of D2R2 all day, but started coming around a little knowing the finish line was drawing closer.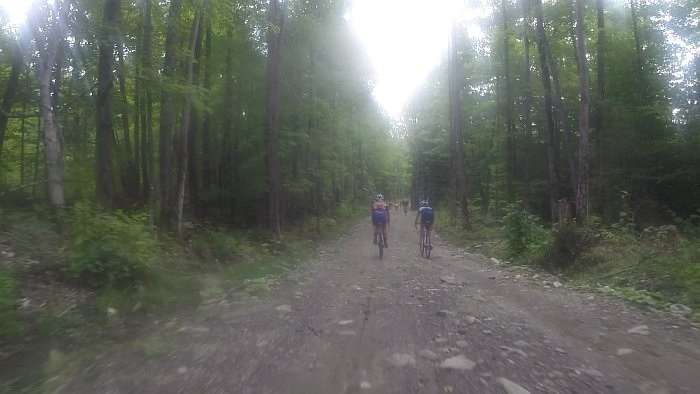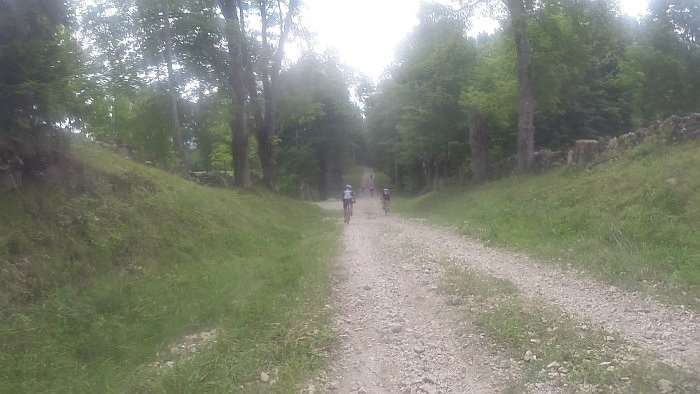 Along with the relentless climbing, there are many tricky descents along the course. These were a personal favorite of mine, and one of the few areas of the course I made up time. But, I did heed the warnings of promoter Peter Vollers in his pre-race emails – particularly as I had absolutely zero tribal knowledge of the course.
There was also much walking by some on the less technical roads – such was their steepness – and some riders were very under-geared. Not to brag, I was aboard the perfect machine for VOGP – but not with the perfect legs.
The Finale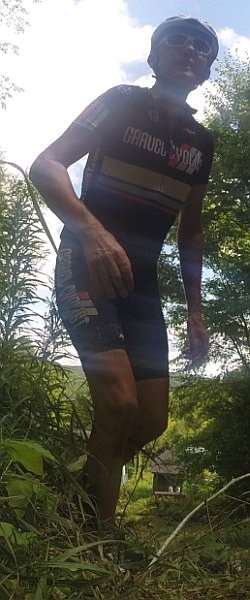 The ending to all of this fun and madness, was a steep descent to Suicide Six – the back way.
I (JOM) had come a long way sans mishaps.
To avoid any chance of a mishap, I bailed halfway through the steepest of the descents (something like 45 degrees) before the finish line.
Unfortunately, my exit was less than graceful, but I didn't crash, although the camera did catch me flailing around a bit.
My VOGP finish time and result wasn't stellar, but I survived it, captured a bunch of video, made some new friends, and have a story to tell!
Regardless if you're racing the VOGP, riding it for fun, or suffering through it as I (JOM) was, it is a fantastic ride experience with amazing scenery associated with Vermont.
For 2016, I am stoked to hear there will be a week separating the VOGP and the D2R2 event.
Why?
Because doing both events back to back is only recommended if you've driven a long way, are possibly a bit suspect in the head, or both 🙂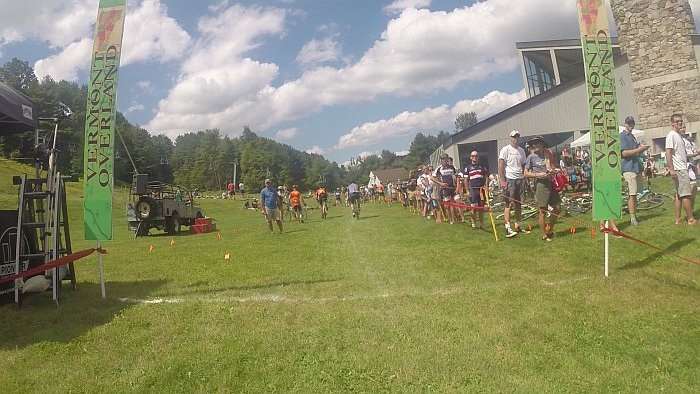 Gravel Cyclist's Bike and Strava Data
If you're wondering what I (JOM) rode at VOGP, it was the identical setup to what I was aboard at D2R2 – my Lynskey Monster CX bike. The cassette is a SRAM 1170 11-speed 11-36 unit – the 36 was used all day!
Ordinarily I don't share ride data, but I thought some people may find it interesting to see what I get up to during my dirt and gravel rides.
VOGP Ride Data – Gravel Cyclist's Strava Page
The VOGP Ride Video
All of the images you see above were captured with my handy front and rear Go-Pro cameras. The ride video is coming soon…
Thanks for reading!