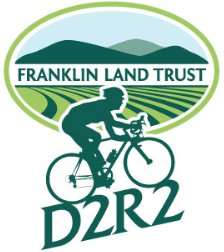 D2R2 – Not a word play on Star Wars
Deerfield Dirt Road Randonée, aka D2R2 – see what they did there? Two D's and two R's.
Gravel Cyclist D2R2 Ride Video
"Originally conceived in the 1990's as a favorite dirt-road loop in the hilltowns of Franklin County, Massachusetts. Since its birth as an organized event in 2005, many have hailed D2R2 as the hardest, most beautiful, most fun, most traffic-free, most unique and overall best ride they have ever done".
D2R2 offers six courses to attendees, ranging from a 20-mile family ride, all the way up to the full monty 180 kilometre event – that's 115 miles for those who dig the imperial measuring system.
All proceeds after operating costs go to the Franklin Land Trust – "a non-profit organization that assists farmers and other landowners protect their land from unwanted development".
With a reputation like that, support of a worthy non-profit and a glowing endorsement from friend of the Gravel Cyclist crew, Brian Rogers, we decided we had to check D2R2 off the list.
Saturday, August 22, 2015
D2R2 is an event for the early riser – with a 6am – 6:30am start for the timed 180 kilometre participants, it was a bit earlier than I (JOM) was used to. Staying in a hotel about 30 miles away, a rise time of 3:30am was required. Being the first attendee to arrive at the event, I had plenty of time to unload the bike, relax, walk about the place, take a few photos, and do a bit of socializing.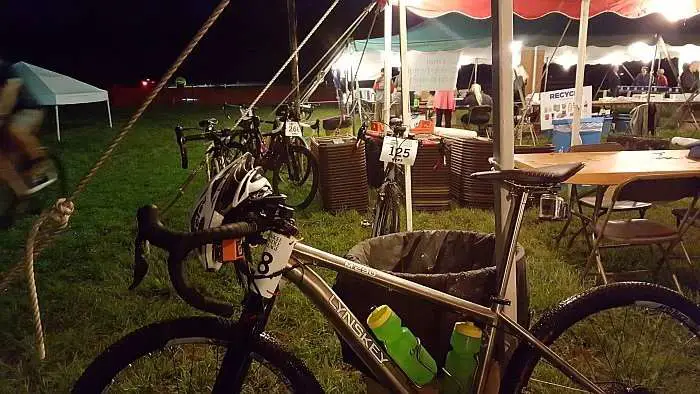 Organizer Mary and her top notch crew of volunteers assembled an excellent breakfast spread, with something for everyone. 3:30am wake up is a bit rude for me, so I indulged in a couple of straight black coffees.
6:00am came around quickly – I was expecting a massive throng of riders lined up behind the start gate / timing mat. Rather, a group of about eight riders had assembled, and barring a small delay for timing, we rolled out at 6:05am. The other 180 kilometre riders trickled out after we left – of which I believe there were over 200?
The early flat miles were a pretty casual affair. Possessing absolutely zero tribal knowledge, I (JOM) decided it would be prudent to hide at the back of the group, and pull the pin if the pace got swift.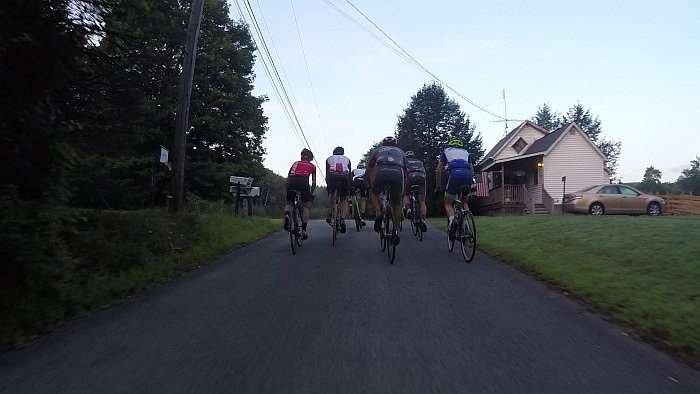 It didn't take long before the group encountered the first of the day's endless ascents. The first miles of climbing were manageable for this Florida based gravel cyclist, but it became apparent if I stuck with these lads, I would pay dearly for it later on. So, I sat up – some would say I got dropped… but D2R2 isn't a race, so… best to meter one's effort…

Non-Stop Climbing
As alluded to by the section heading, the climbing along the 180 kilometre course is relentless and very difficult at times. My only idea of what to expect was gained when I examined the course elevation profile in the days leading to the ride.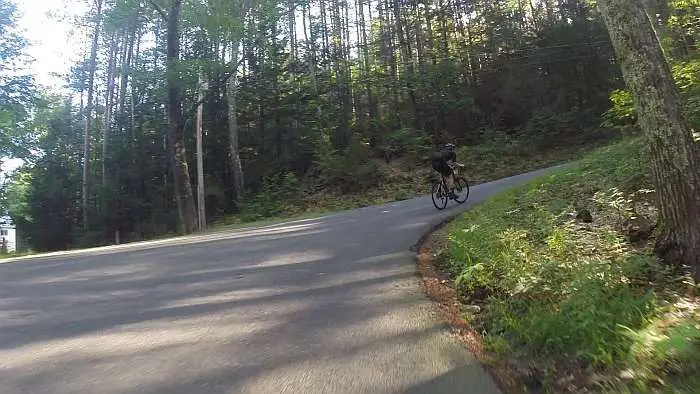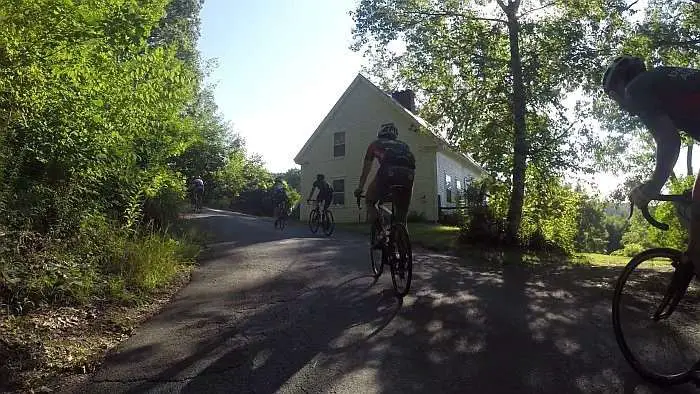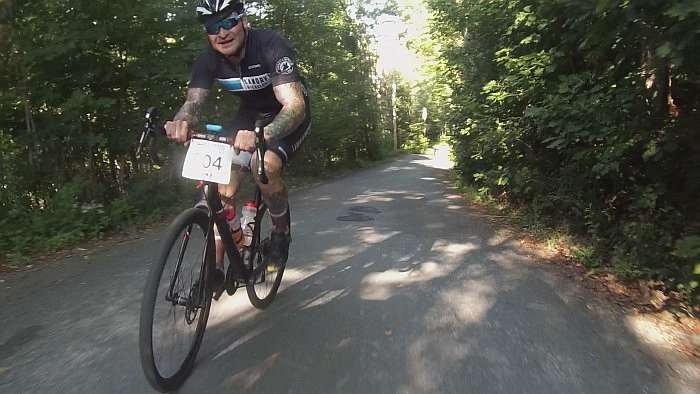 The online cue sheets will provide some additional clues, but there are many grades in the 20% range, with at least one that measured 27%!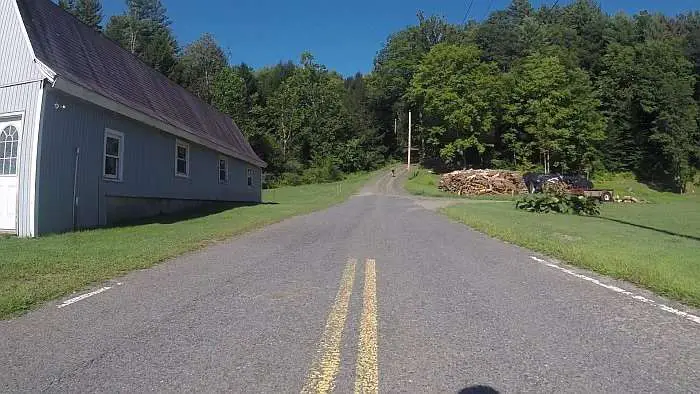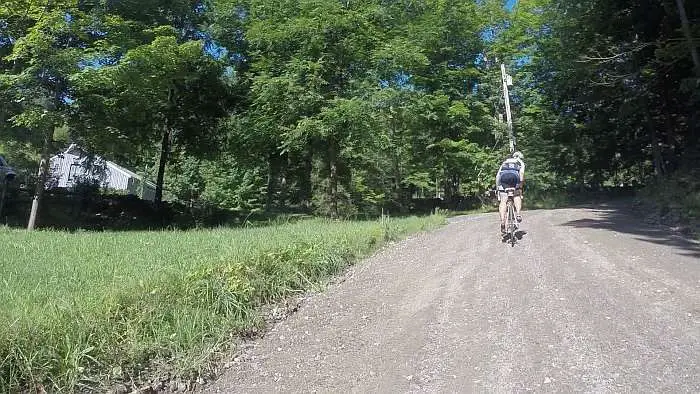 Low gearing is advised – 'tis better to turn a smaller gear at a higher cadence versus bogging down on a climb, blowing out one's legs on a heavy gear. A lot of the hardest climbing came before the lunch break. Some of these climbs were paved, but most were not.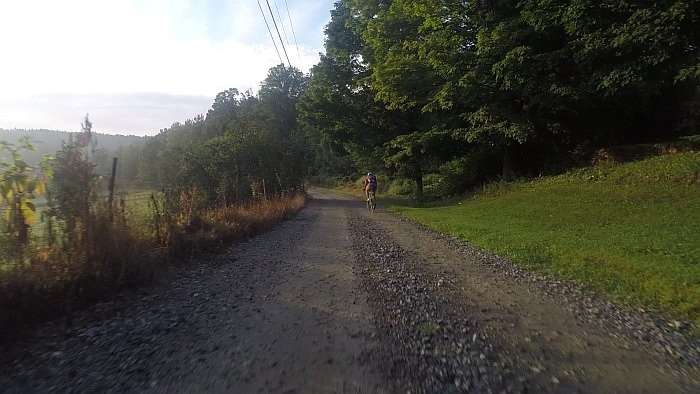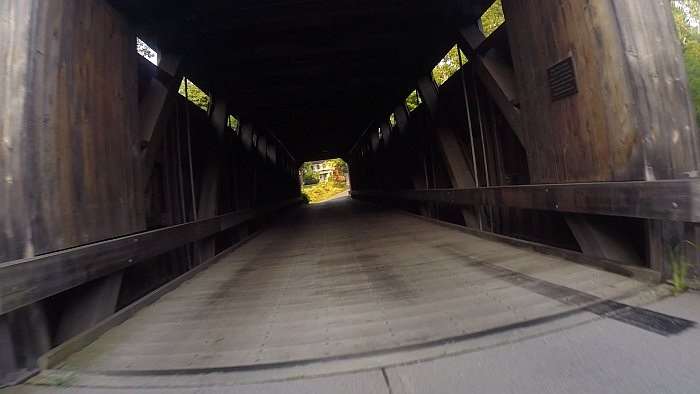 By the same token, what comes up must go down – and there are some wild descents. Always think safety first, but if you have the bike, wider tires, experience and a bit of insanity, you can fly.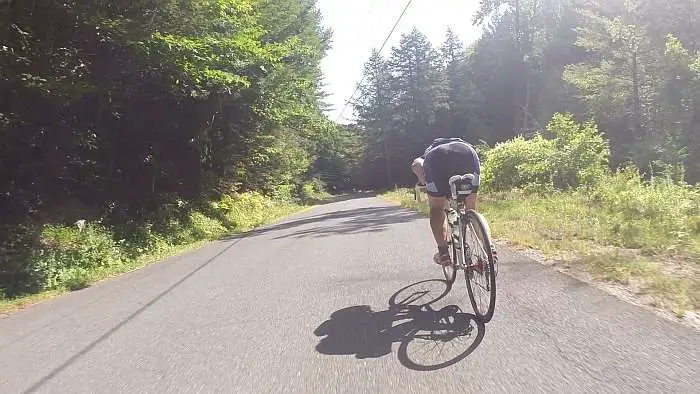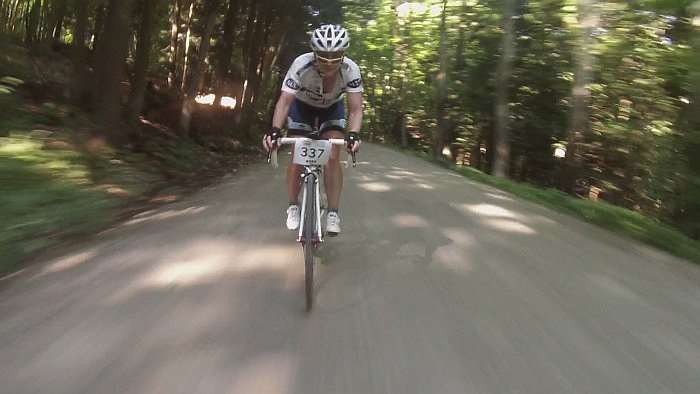 But, the suffering on the climbs was overshadowed by the gorgeous scenery. No matter where you looked, there was always something to see. I (JOM) captured a lot of video during the ride, and had a tough time deciding what to film and what to omit.
For much of the ride, I yo-yo'd back and forth with a fellow Aussie out of Boston and a group of his mates. They would catch and drop me on the climbs, and I'd catch them again on the descents. D2R2 is the sort of ride best experienced with a group of friends.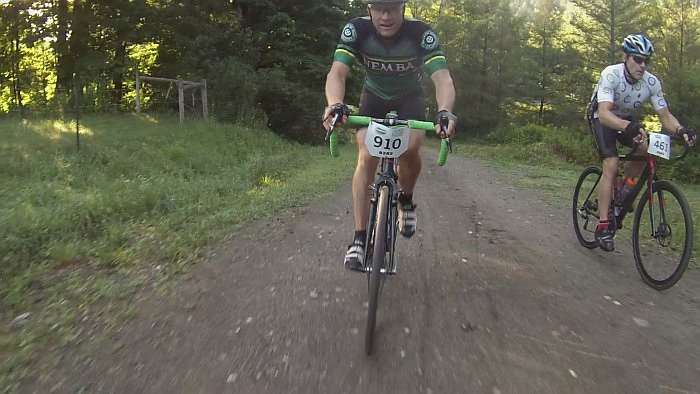 Navigation
Navigating 180 kilometres of mostly dirt and gravel is tough with no signage, but with six course options, several of which overlap on each other, such an undertaking would be nigh on impossible for the organizers. Thankfully, cue sheets were made available for the event, but if you're like JOM, you've embraced modern technology and follow the on-screen directions of a navigation device. I highly recommend readers consider such a device – although there is some fun to be attained getting lost with good friends.
The Aid Stations and the Lunch Stop
I (JOM) cannot speak for the aid stations not along the 180 kilometre course, but what I did see were well stocked and staffed by friendly volunteers. The lunch stop was superb. While I didn't take any photos, the stop was situated alongside a river, a covered bridge, and an area adorned in plenty of shade. I chatted with fellow riders and loaded up on carb heavy food such as pasta and bananas.
Someone I chatted to was Amy Kemper, a local from the Northampton area of Massachusetts. As you can see in some of the photos above, Amy is quite the accomplished cyclist, especially on the descents. Amy either led the way or followed my wheel on some of the tricky gravel road descents – on a road bike with 25mm tires – that is impressive.
Post lunch and lots more climbing…
The 180 kilometre riders were greeted with a rather nasty surprise right after lunch – the steep climb of Jacksonville Stage Road. But, this climb was insignificant compared to what lay in store later on.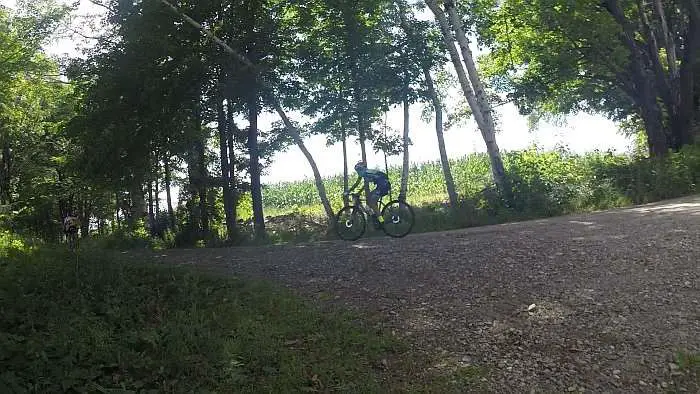 I'd heard much about the climb of Patten Hill Road. I was thinking to myself, after everything I'd seen thus far, how bad could it be?
The answer – it's bad. Patten Hill Road is two miles of very steep pavement, with a complement of not-as-steep gravel near the summit. Because this climb comes so late in the 180 kilometre route, it is extremely difficult. I witnessed tacking across the road – even I did that on my uber low gear – and cramping – some poor bloke's legs were completely locked up as I rode by. That's never any good.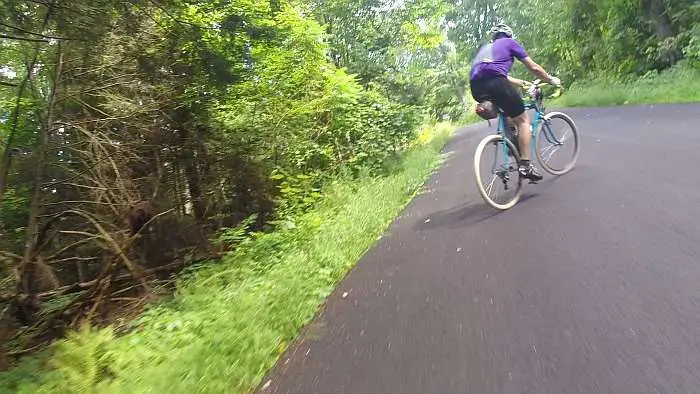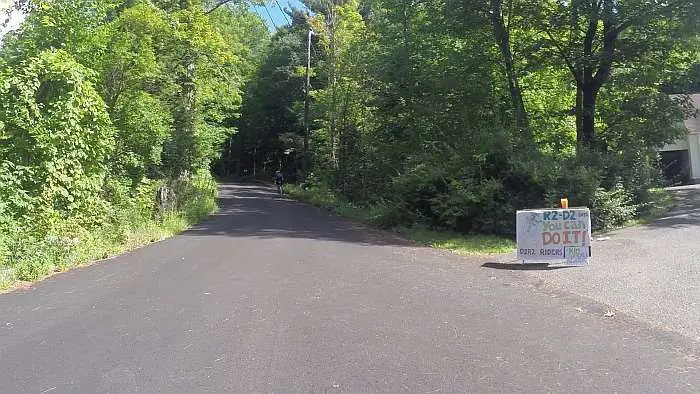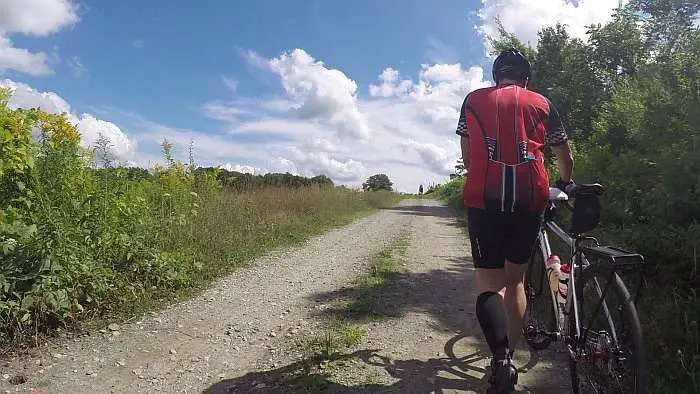 Patten Hill and Deerfield
After the tough ascent of Patten Hill, some 14  miles remained before the finish in Deerfield – and another 1,400 feet of climbing.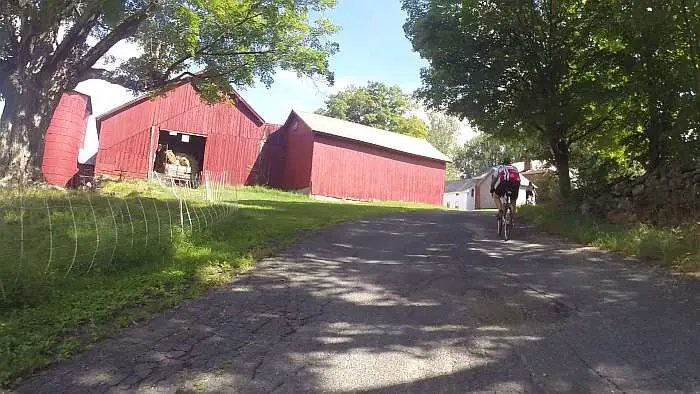 Before the finish line could be reached, a very tricky mile-long descent with loose stones and washout had to be negotiated. Having come this far sans mishaps, there was no way I was going to overcook it. Consequently, I descended this road in a very conservative manner.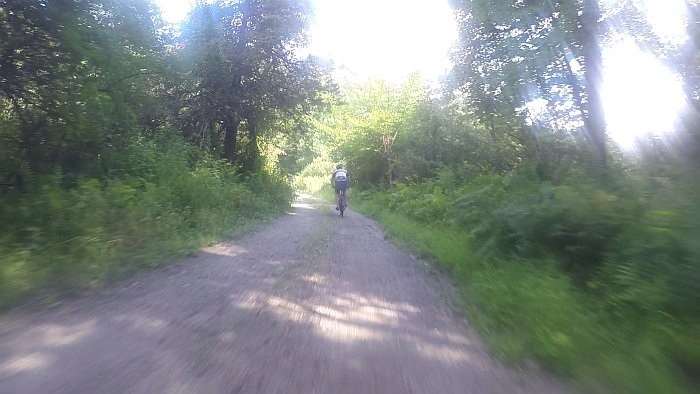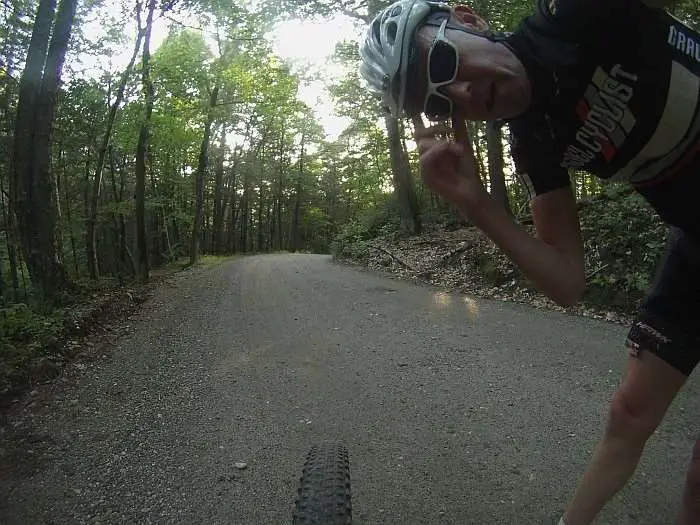 The D2R2 Experience
It is a difficult task to write about this ride. It is so much fun, yet so difficult at the same time. The best way to describe it is as follows – if you love cycling, you have to do this ride. There is a D2R2 route for everyone. If you love gravel cycling, you HAVE to do the 180 kilometre once in your life. It is that good.
Ride of the day has to go to the gentleman below. I didn't catch his name, but he was having a blast riding one of the shorter D2R2 routes – which had plenty of climbing and gravel – on a hand cycle. What a legend. An inspiration to all as far as I'm concerned. Know any friends sitting on a couch? Show them this photo and get them riding a bicycle!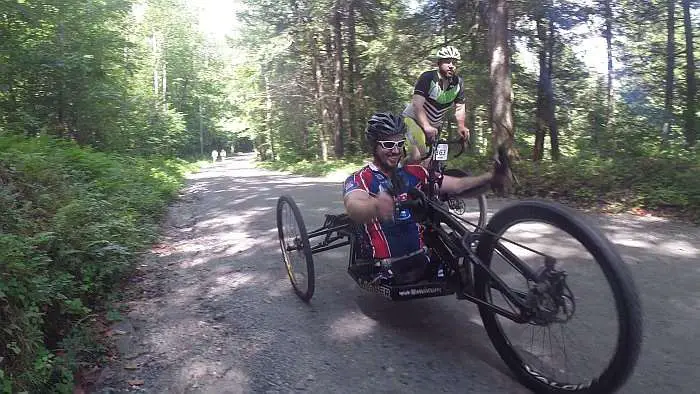 After 180 kilometres of hard riding with 13,000 feet of climbing, the finish line finally appears…
Post ride, everyone enjoyed the awesome food spread (and beer), and shared stories about their D2R2 ride experience. In between socializing and stuffing my face, I took a bunch of photos of "The Bikes of D2R2". Expect a future blog posting about that.
Gravel Cyclist's Bike and Strava Data
If you're wondering what I (JOM) rode at D2R2, you can see my Lynskey Monster CX bike HERE. The cassette is a SRAM 1170 11-speed 11-36 unit – the 36 was used extensively!
Ordinarily I don't share ride data, but I thought some people may find it interesting to see what I get up to on dirt and gravel roads. Everything else I keep offline 🙂
D2R2 Ride Data – Gravel Cyclist's Strava Page
The D2R2 Ride Video
All of the images you see above were captured with my handy front and rear Go-Pro cameras. It is difficult to condense 180 kilometres of awesome into a video of 10 minutes or less, but that is coming soon… this blog posting can only convey so much.
Thanks for reading!