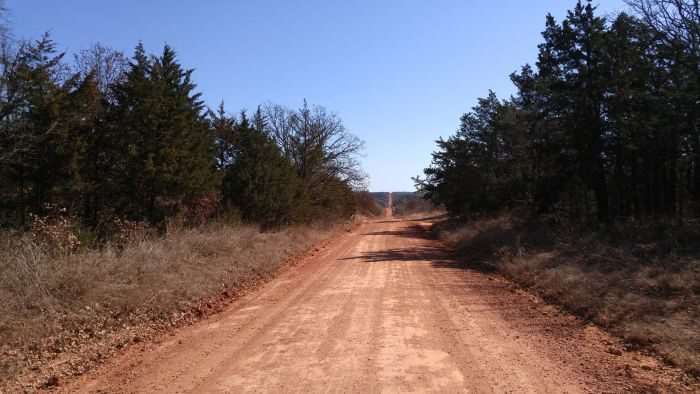 "Land Run 100 is a 100 mile, self supported, gravel road race through the red gravel roads of Oklahoma." But, there is more to this event than a simple description. For 2017, Land Run 100 sees its 5th year of operation, and like so many other events on the Gravel Cyclist's calendar, this one sold out in short order – over 1,000 riders in the space of around two hours. In addition to the bicycle race, the promotion duo of Bobby and Crystal Wintle added a running race – 100 runners for 50 kilometres of red road action.
I never like to use the terminology "bucket list", but LR100 is a race that has been on my radar for some time. With an invitation from none other than Bobby Wintle himself, I made plans to appear at the 2017 edition. Getting to Stillwater, Oklahoma from my USA home base of Gainesville, Florida is a bit of a marathon in itself – around 1,200 miles of driving. Sure, I could fly, but I'm not financially free as a bird, thus I have to select any fly-to gravel events carefully. With my reliable and economical Toyota Prius packed to the gills with a gravel bike, wheels, tyres, computers, drone cameras, clothing, food and other bollocks, driving makes sense to me sometimes. Additionally, I like to take the not-so-traveled route on the way to an event; seeing the country from the back roads is far more interesting than the highway or fly-over route.
The Drive and Pre-Ride #1
Once my regular work gig finished for the day on Wednesday, March 8th, I knocked out a serious block of driving and wound up spending the evening in Shreveport, Louisana. The leg from Shreveport to Stillwater was interesting in terms of sightseeing, and there was relatively little traffic along the way. As I neared Stillwater, it became apparent how strong the winds are in the Midwest – and, the Midwest is not flat. Cast that notion from your mind immediately! LR100 has well over 6,000 feet of elevation and endless hills.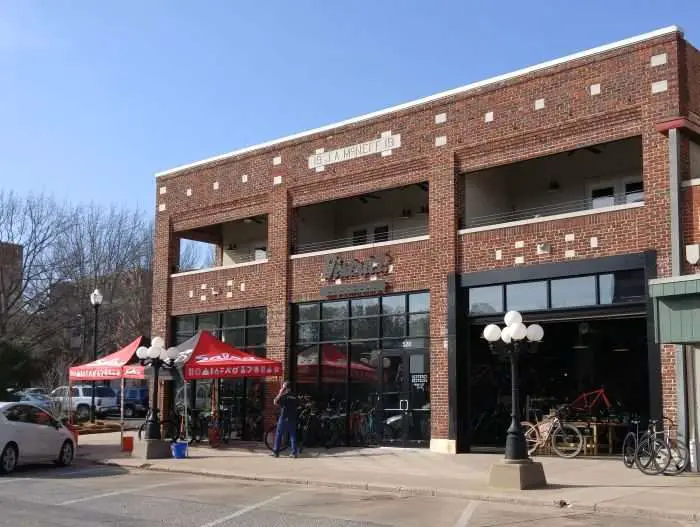 What's the first thing you do after arriving in Stillwater, Oklahoma after a lengthy drive? Not counting the hotel check-in to score a ground floor room for ease of bike toting, you head to District Bicycles in downtown Stillwater to shoot the breeze with Bobby and his crew! Bobby is a popular bloke, and was busy with the media crew from Salsa Bicycles upon my arrival.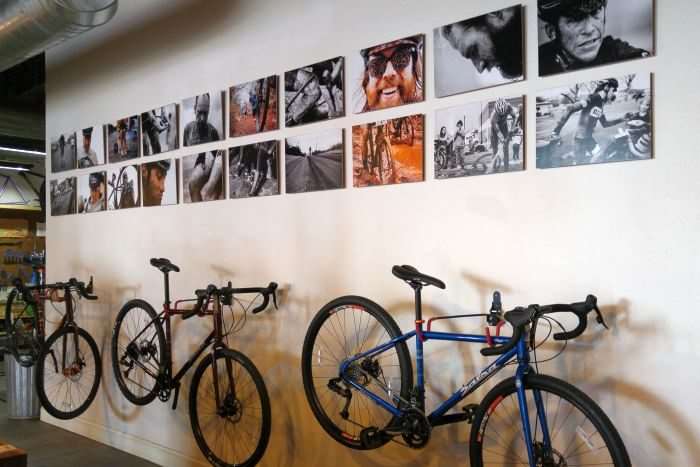 However, he made sure to spend a few minutes of his valuable time with me, mostly to express his thanks for the time and effort I'd taken to make the trip out. Gravel ride and race promoters, they're a different breed from what I used to deal with in my former days of road racing. They genuinely want you at their events and they care about your experience. Bobby's enthusiasm is infectious – this is well apparent by those who work at District Bicycles, or anyone who has anything to do with the event. Bobby and his #1 support crew member and wife, Crystal, put their heart and soul into this race, such is their passion for gravel cycling and racing, and the town of Stillwater, Oklahoma.
While in the store, I ran into my good mates from the Kuat Racks gravel team, Jamie Wynne and Jim Phillips. Jim, a well-known bearded ginger bloke in the Midwest gravel cycling and racing scene, was attempting the Friday run / Saturday LR100 ride – aka the Land Run Double. WTF?! Jimbo, that is totally mental! I am pretty certain Jamie agreed with me.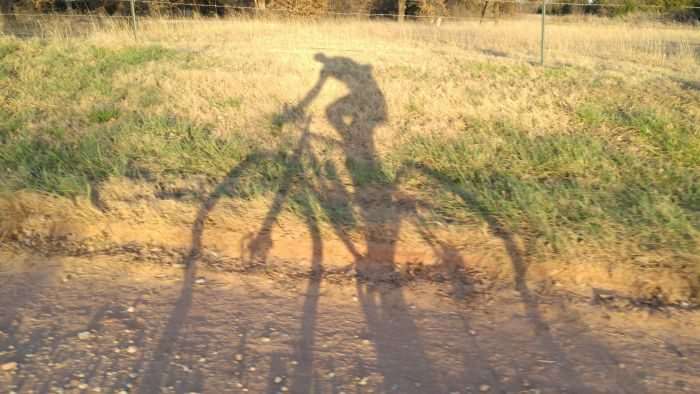 With so much time being spent in the car, I had a serious case of Prius legs. Best to kit up in the company of my bicycle and drone camera, and do a little course reconnaissance of the first five gravel miles.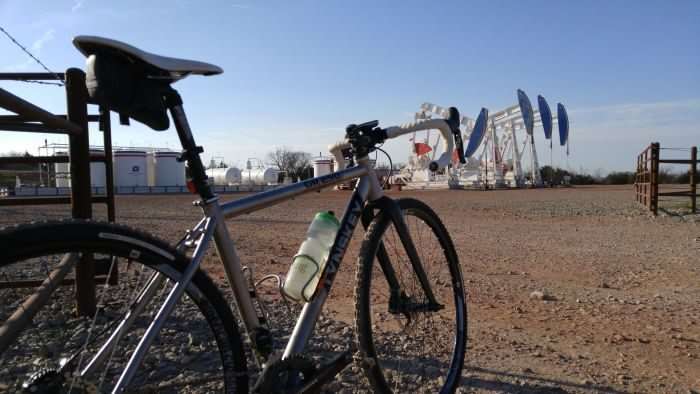 Unfortunately, it was getting a bit late in the day, so further pre-riding would have to wait until the next morning.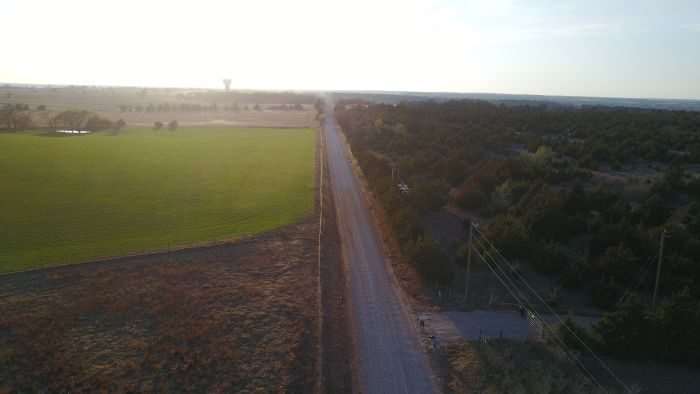 Besides, I had to get back to Stillwater pronto, for the 6:30pm party at Iron Monk brewery, where the specially brewed Pale Ale for the LR100 would be unleashed by Bobby and his crew!
Readers, if you want to taste this fine brew for yourself, it's best to make the trip to LR100 for the 2018 race…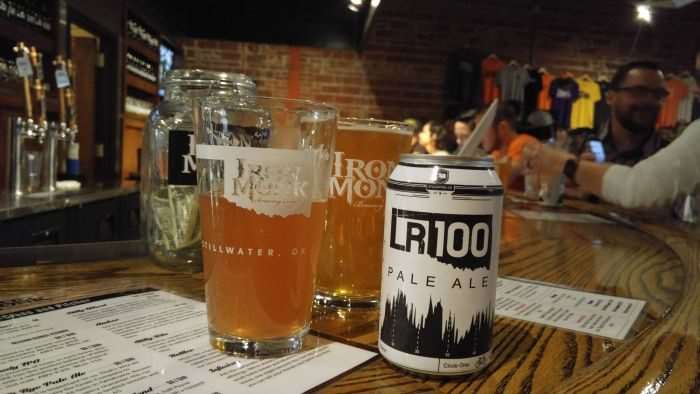 Pre-Ride #2 and Final Preparations
Waking to cooler temperatures on Friday morning, I examined the weather forecast for Saturday's race. Chance of rain, 90% and forecast high temperatures close to 50 degrees Fahrenheit / 10 degrees Celcius. All week long, even before I began my trek to Stillwater, the weather forecast indicated the same. Over the history of time, weather forecasts have sometimes been erroneous, so I chose to block it from my mind and press onward. With event day just around the corner, the weather forecasts were right about one thing – the temperature was dropping.
I chose to leave my motel room a little later than planned, in an attempt to wait out the cooler temperatures. The time was well spent with race preparation – I examined the route, loaded it into the Garmin navigation device, charged the camera batteries and double checked the bike, mostly to ensure the recently installed tyres were holding pressure.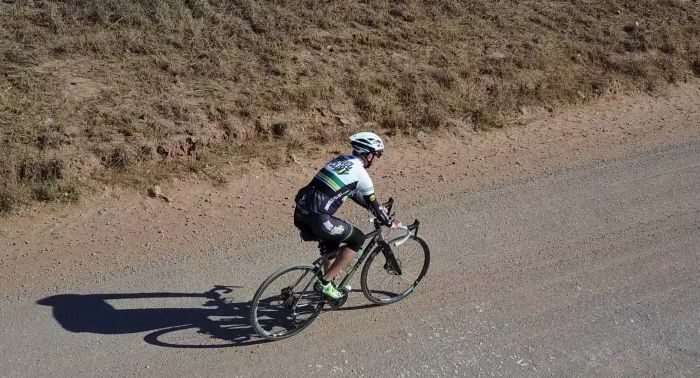 With Saturday's weather forecast looking decidedly dodgy, I thought it appropriate to run Panaracer's Gravelking SK Mud tyre. This was a new tyre to market, and Panaracer were kind enough to mail a sample pair for me to review. I'm the sort of bloke whose reviews are real world – I don't fart around a parking lot writing a fluff review – a potential quagmire at the 2017 LR100 seemed like a good time as any for some serious tyre testing!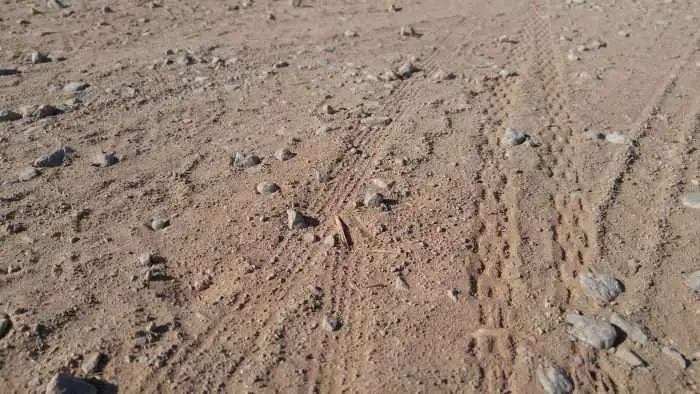 Onto the course proper, to say conditions were dry would be an understatement. The tyre tracks pictured above were certainly indicative of the Friday before LR100 – and that someone else was out pre-riding the course too. For the fellow tyre nerds out there, you can easily spot the tell tale tread pattern of the Panaracer Gravelking SK at left, and at right, the tread pattern of the new Gravelking Mud variant. Tyre tracks can also tell a story, especially when conditions are wet and muddy.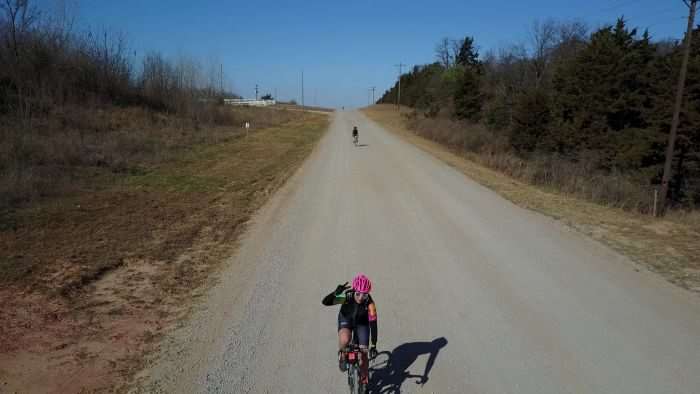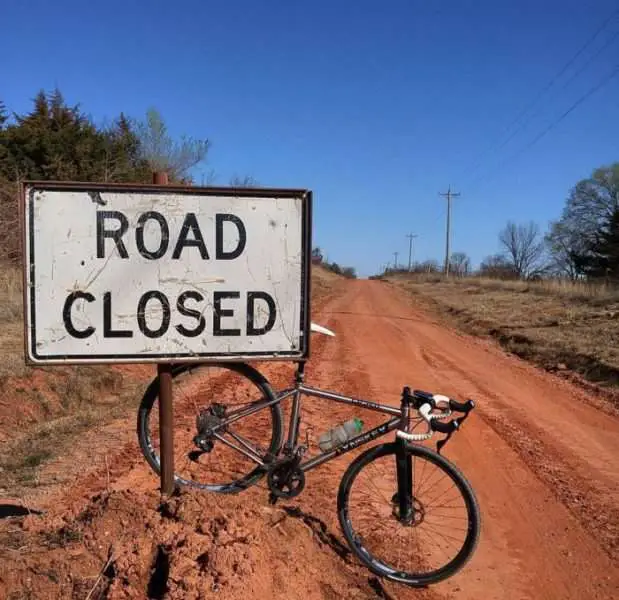 Pre-ride went well – the bike was ready for its final preparations that would come later in the day. Namely, fit the race number and liberally apply my special mix of Dumonde Tech regular formula chain lube and bicycle grease. This is a trick I learned from World Tour pro mechanics during some recent journalism work at the Tour Down Under – the grease helps keep the chain running smoother for longer in inclement weather.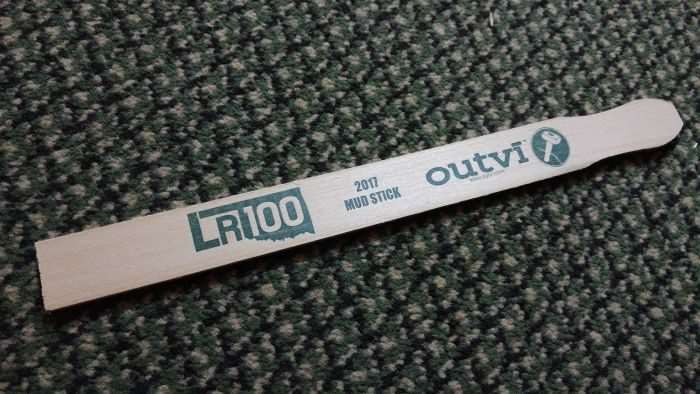 Later in the day, downtown Stillwater began to get busy. Riders poured into town for race number / packet pickup, and to visit the many bicycle related vendors that lined the street directly adjacent to District Bicycles. I made a visit to the good people from Vittoria / 3T / Opus Bicycles to gather details on new product related to the gravel cycling genre. I'll be sharing details about those goodies here, and over on BikeRumor.com soon.
Three O'Clock in the afternoon signified the Jay Petervary led group ride. This short and easy 20 mile ride took in some of the gravel roads close to Stillwater.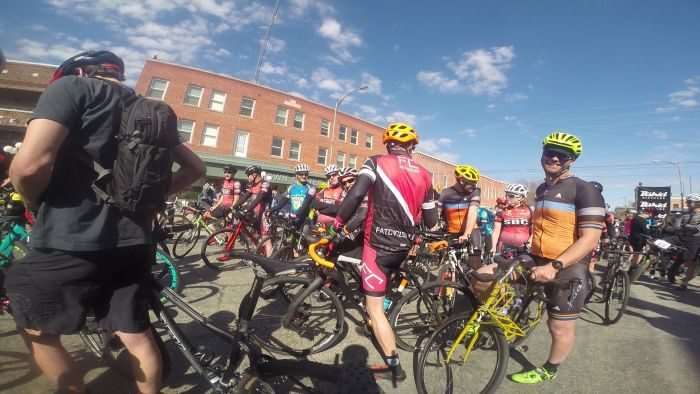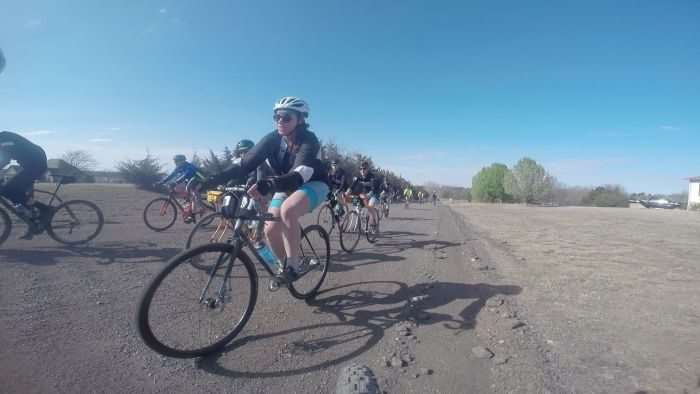 I captured some images and video of the ride, but cut it short as I'd already knocked out around 25 miles in the morning. Best to save some petrol in the tank for Saturday's race.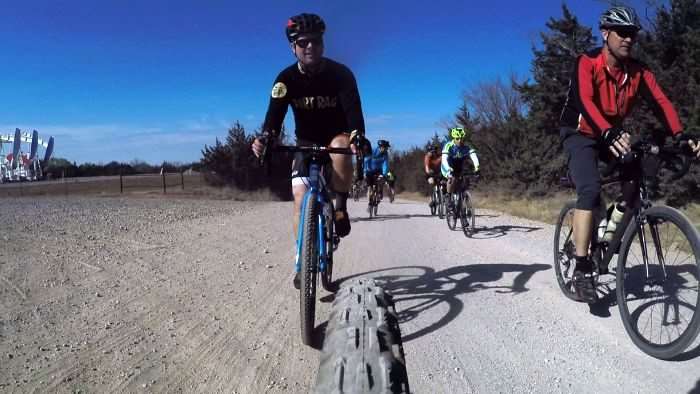 Towards the end of this busy day, I spent some time catching up with Bob Cummings of the Panaracer Gravel Team. In addition to being very strong and talented riders out for the win(s), the team possessed top notch equipment to tackle the tough and unforgiving LR100 course – the 3T Exploro gravel bike. We'll be featuring Bob's bike very soon, watch this space!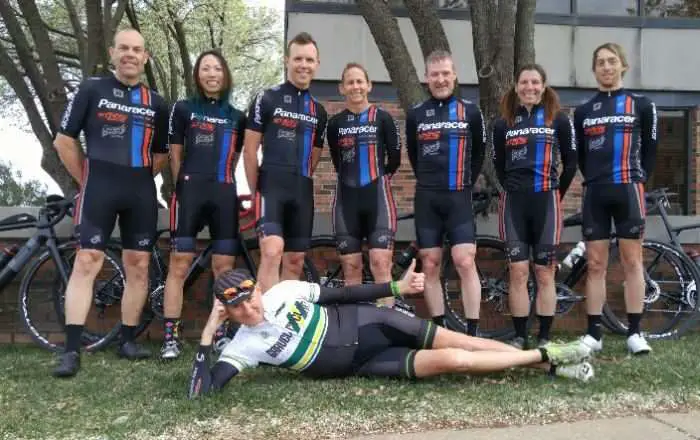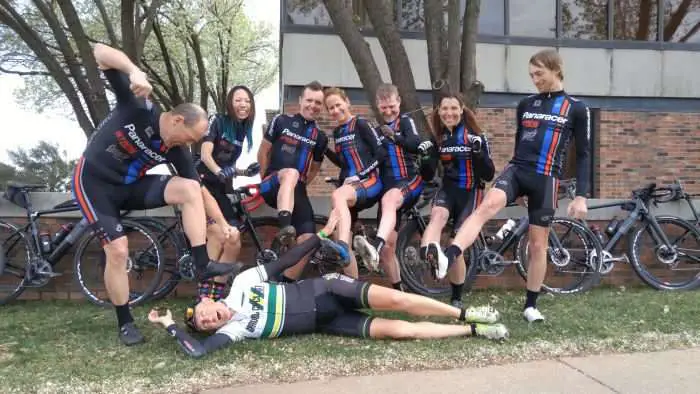 Saturday, March 11, Land Run 100
The weather forecast was spot on. Steady rain was falling as I peeked out the door of my hotel room at 5:30am. 2017 Land Run 100 was going to be a wet one! Ironically, the area had seen no rain for weeks, but on cue it fell, just for the sake of Land Run 100.
To cope with the nasty weather and the projected high temperatures of 48ish degrees Fahrenheit, I donned my Castelli Gabba jacket and matching Nanoflex bib knickers. Possessing a surface treatment that keeps the rain water at bay, these garments make riding in rain almost a pleasure. Beneath the jacket, I wore a long sleeve base layer, and on top, my trusty Gravel Cyclist branded sleeveless vest. Unfortunately, I'd left my overshoes back in Florida, so wool socks would have to do the job. Topping it off was my cap and a nice pair of warm gloves – along with a second pair, stashed in one of my jersey pockets. Hopefully this would be enough. The rest of my pockets were loaded with spare chain lube, Gu product and Lara Bars. My drop bag at the midpoint town of Guthrie contained two bottles of Gu's drink mix, more food and a fresh pair of gloves and dry wool socks.
After a suitable period of procrastination and stooging around downtown Stillwater, I made it to the start with 10 seconds to spare. Enough to milk the media credentials with a pan shot of the start line, and clip in.
Bobby Wintle fired the starter's cannon, and the 2017 Land Run 100 was underway!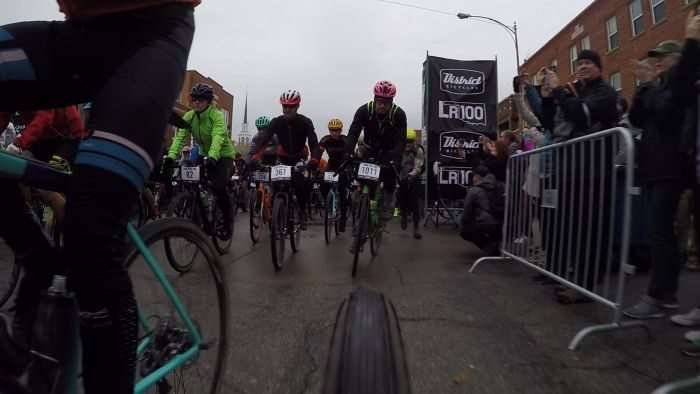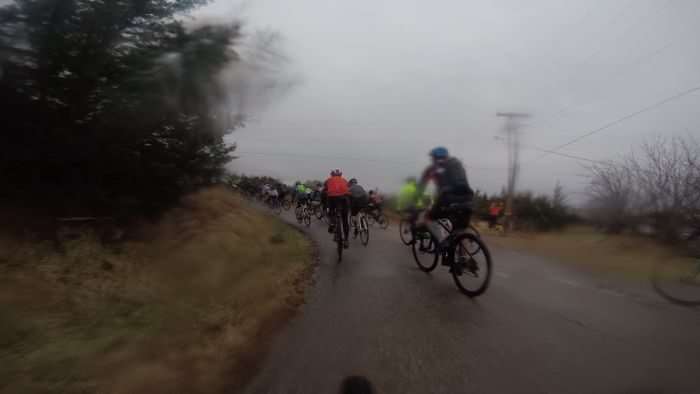 Even though the first mile or two were "neutral", the pace was pretty swift. I dropped away from the front, but not so far that I would lose sight of them… that would probably happen on the first hill of the day, whee!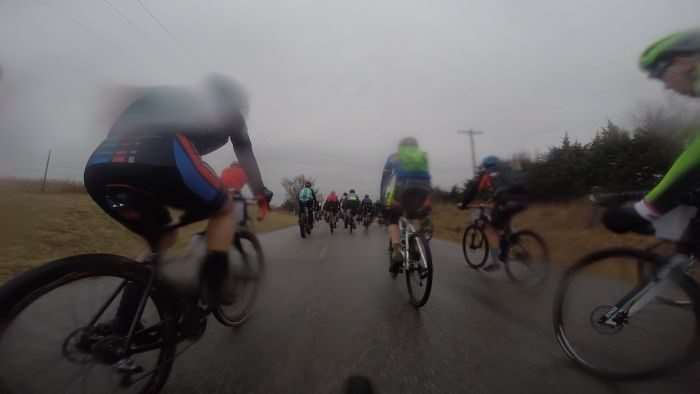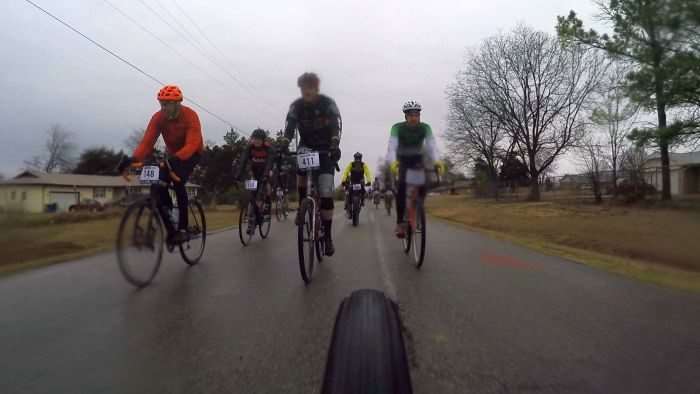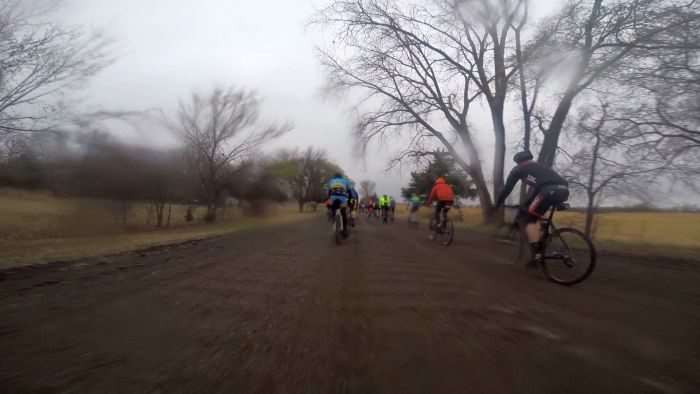 The group entered the first sector of gravel, and it was on. Flat out pace, washboarded road and crap flying everywhere. Plenty of rain had fallen, but the drainage on this first road was fab, meaning there was no sticky mud to worry about.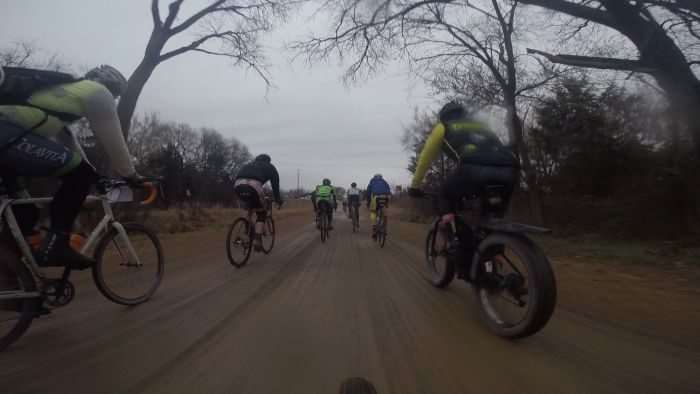 My transmission, the JOM-a-matic, has three speeds for operation in gravel racing.
B (Bludger Pace) aka really slow, not much effort.
C (Cruise Pace) aka steady and moderate, around 160bpm. Optimal all-day pace.
F (Farkin 'ell) aka flat out, red lined, can't handle this $hit for long else I'll be totally knackered.
I slammed the JOM-a-matic into C and began tapping out my own tempo… as countless riders rode on by… but thank you to those who spotted my kit, said Hi, and a positive word!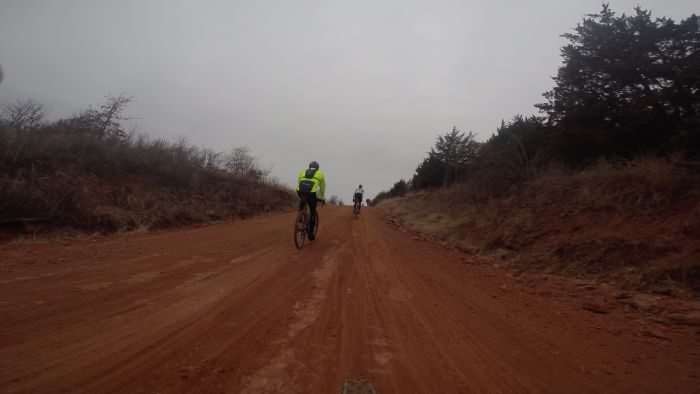 The hills keep coming, one after another, after another. To quote my 60+ yo teammate K-Dogg, absent but slumming it at the 2017 Big Scrub Gravel Buzz in Ocala, Florida – "imagine a Giant with a conveyor belt of endless hills… he pulls a lever and more hills appear". Exactly.
The road surface was very soft and sticky in some places, most notably on the wet red clay roads. I knew this coming into LR100, and paid close attention to any noises my bike and drivetrain were making. The Lynskey GR250 bike I am reviewing at the moment has gigundo tyre clearance – as in, I can run a 29'er x 2″ wide tyre on this bike and there is a stack of clearance front and rear. Regardless, it pays to pay attention.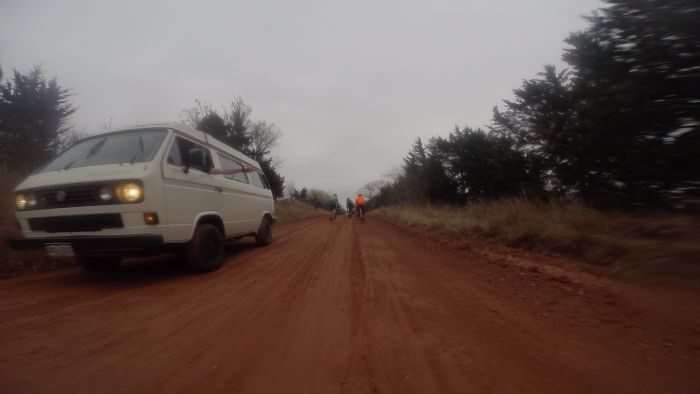 Somewhere within the first 20 miles I spotted a Volkswagen bus, honking its horn and flashing its lights. I thought to myself, "who the Eff is out in a car on these roads on a day like this?"… it was none other Bobby Wintle, offering up encouragement to every rider as we crawled on by. Nice!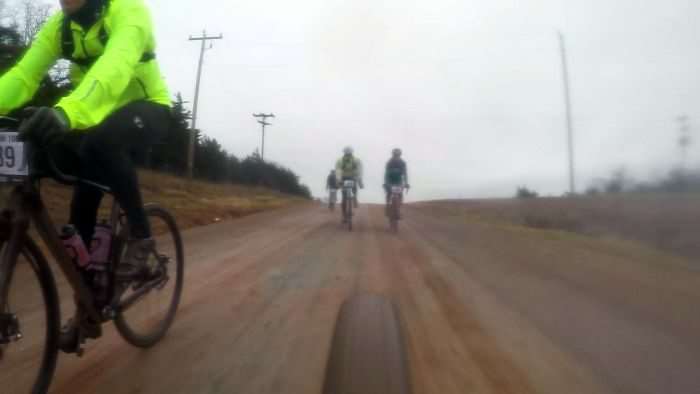 Rain begun to fall steadily. This made the already sticky roads, stickier.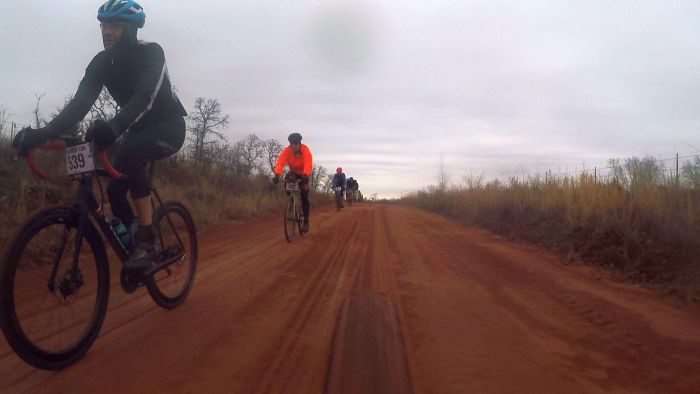 My front GoPro camera with its extended battery was having a hard time – I attribute its lack of performance to the temperature, or it was pissed off. The mercury was hovering around 39F / 3 degrees C. At some point, the GoPro packed it in for the day. Who could blame it?, conditions were worsening by the minute. As it was, I was barely capturing any footage anyway. I continually wiped the casings for my cameras clean, but that was akin to wiping crap on crap. My gloves were dampening rapidly, and the wiping action only helped further smear the mud that was packing itself onto the camera casings.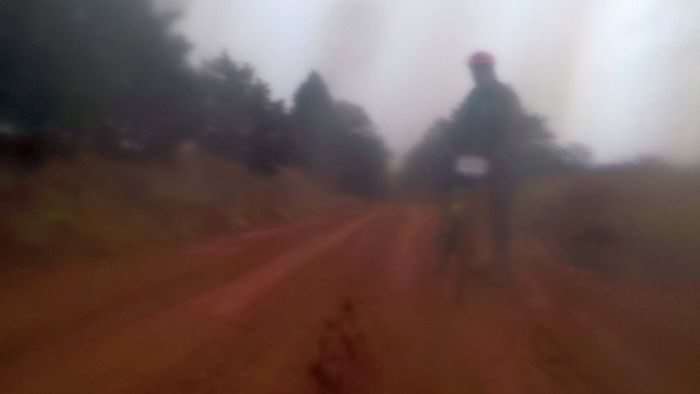 During the first 30 miles, the thickening mud was already wreaking havoc. I crawled past several riders with broken bikes, derailleurs, drivetrains, frames and dreams – everything was packing up with mud. Keep going Lynskey, you can do it!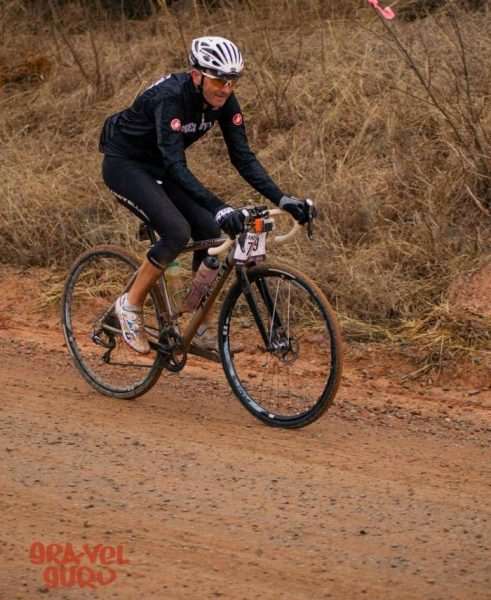 The temperature seemed to be falling. My gloves were soaked and while I started off perfectly dressed, I was starting to shake and shiver. I don't know if water had penetrated my kit, but a feeling of dampness and extreme cold began to set in. The feeling in my hands and feet was going away. Houston, we've got a problem.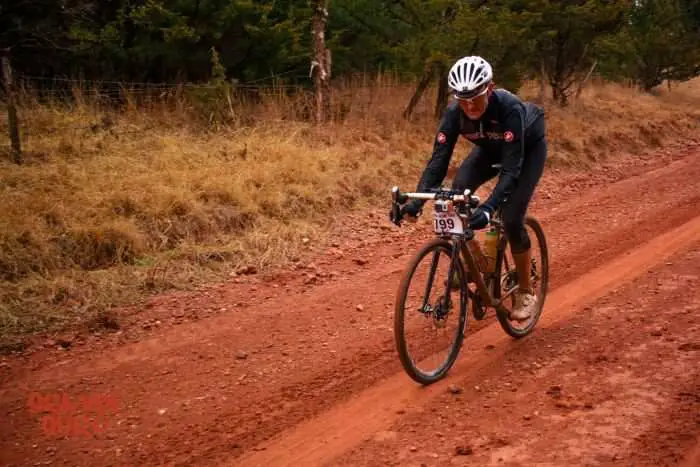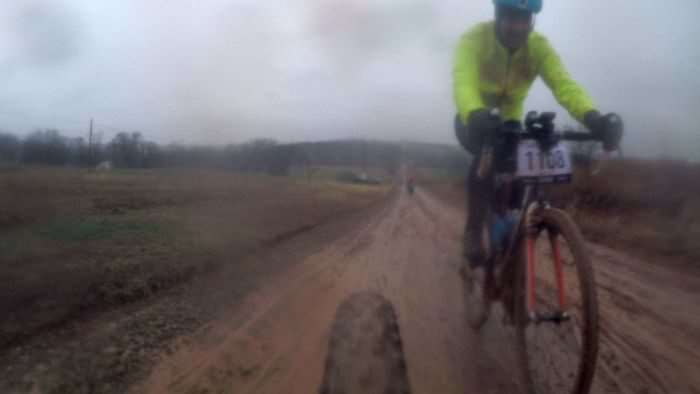 Heading south along N. Hiwassee Road, I made the decision to stop and switch to fresh, dry gloves. I struggled just to remove my gloves, so bad was the lack of dexterity in my hands from the cold. I applied some additional chain lube, but this too was a major chore; squeezing the lube bottle took two hands. I remounted and continued plodding along in the quagmire.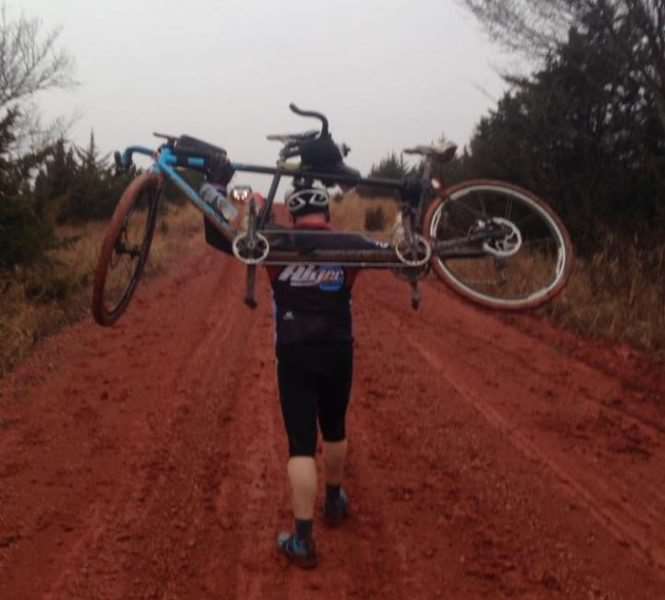 I passed more riders – either their bikes were broken, or they had enough of the foul conditions and were waiting for a ride from support, provided by the Red Dirt Jeep club. Thank you so much to those guys.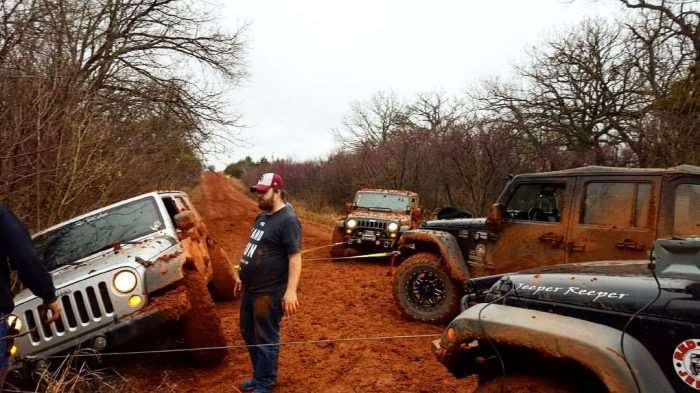 My fresh gloves provided a brief moment of warmth, but soon they too were sodden, and the deep and painful freeze continued. Braking was becoming a real issue. I had almost no power in my hands to brake, and with my shivering, keeping the bike controlled was proving difficult. I was thankful to be riding Shimano's fabulous Di2 electronic shifting system and hydraulic brakes – shifting was perfect, and the brakes were absolutely flawless, even with my limited power to operate them.
Close to the cattle ranch west of 35, I was caught and passed by Jim Cummins of Dirty Kanza 200 fame. He was happy as a pig in $hit in the conditions. He looked warm and toasty in the muck, wearing a rain jacket well suited to the task. I yearned for that rain jacket.
This story isn't a pity party, nor am I looking for internet affirmation. I cannot stand that bollocks. My choice in clothing would ultimately prove to be inadequate for the conditions and I blame myself solely for that. Keeping my hands and feet warm would have been difficult even if my garment planning was spot on, but I completely dropped the ball. Big lesson learned. In these conditions, it's more than just the bike.
Judging from the number of riders with bike issues or abandoning due to the cold rain, I knew the jeep support crews would be inundated. Dropping out before the half way point of Guthrie was not an option – moving versus standing around is always better. My only thoughts, "JOM, get your arse to Guthrie and pull the pin." I don't take abandoning a race lightly, in fact, there has only been one other time when a mechanical issue ended my day. But I was concerned for my overall well-being – and I really need the dexterity in my hands and fingers to type up these race reports and other ramblings on GravelCyclist.com

And so I crawled into Guthrie, Oklahoma, over three hours and forty minutes after starting the race. A shelter with friendly volunteers beckoned me to join them, and this is where I ended my 2017 Land Run 100. My state of near hypothermia was recognized immediately. LeLan Dains of Dirty Kanza 200, and his lovely wife Christina, had a heavyweight blanket wrapped around me in seconds, while a friendly volunteer provided hand warmers. LeLan and his wife went even further, and loaded me into the back of their car, firing up the engine to run the heater on full. I was completely incapable of removing my gloves, shoes, socks and helmet – LeLan took care of me there too. Thank you so much LeLan. I've traveled to many places throughout the world – the people of the Midwestern United States are among the friendliest folks I have met.
As I slowly warmed inside LeLan's car, I shot the following video for my personal Facebook page – reminder, this isn't a pity party.
When I was stable enough to be moved, Karla, a volunteer who had finished her shift, kindly collected my bike and drop bag, loaded everything into her car, and drove me back to Stillwater. Thank you so much Karla! The 20 minute hot shower I took felt a-m-a-z-i-n-g – ditto on the dry clothing.
My race may have ended, but there were still many riders plugging on through to the finish.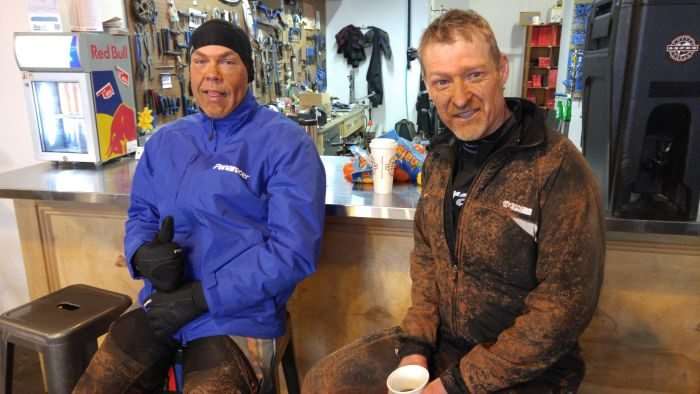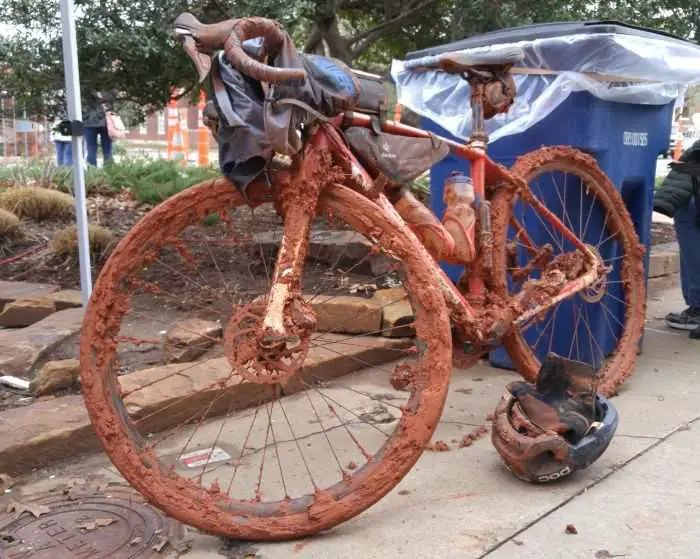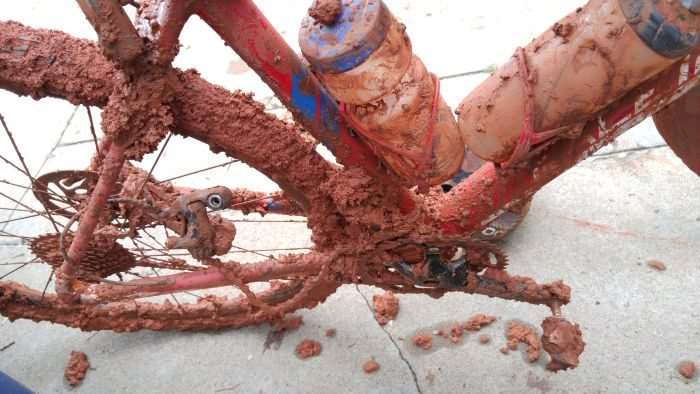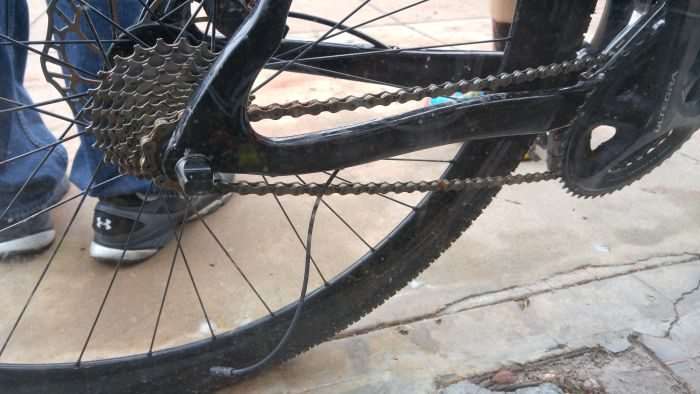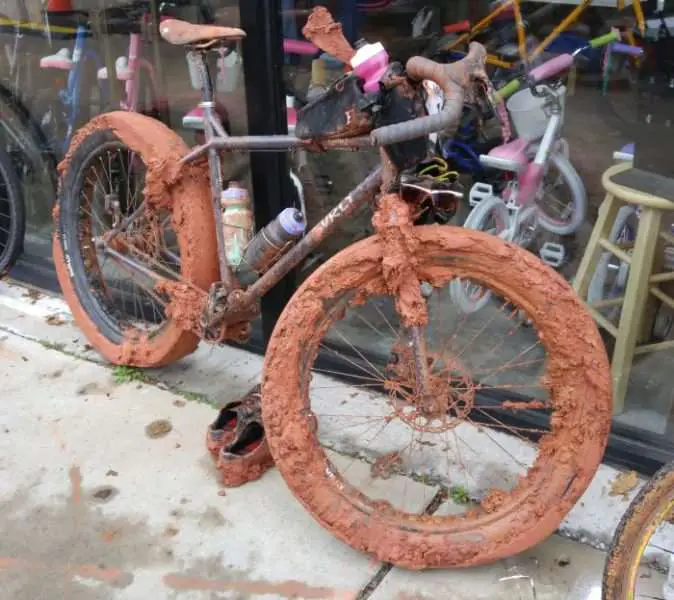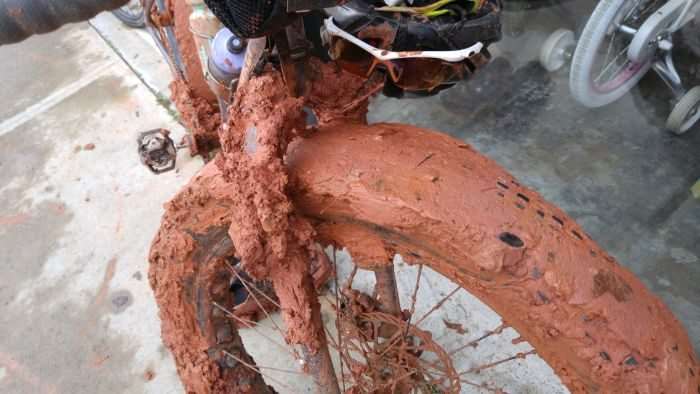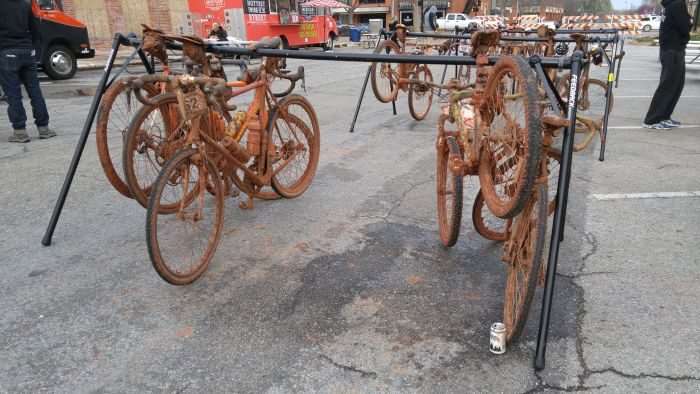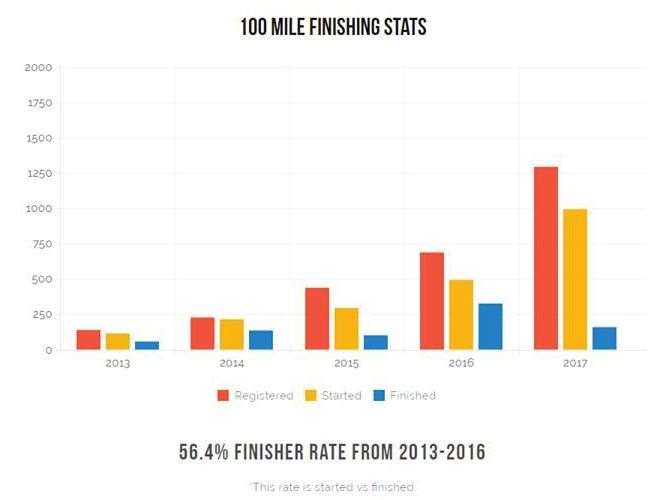 For me, this graph is the most telling picture from Land Run 100. The 2017 edition was the hardest yet, just 168 finishers from the big pool of riders who started. To those who finished, I tip my hat. I witnessed some wild and crazy scenes at District Bicycles as I watched riders finish the race. Many of them were hypothermic, pushing themselves beyond the limits of safety. A few riders ended up visiting the emergency room, but I understand most have made a full recovery.
To quote Jay Petervary at the finish – "these conditions were far more difficult than Iditarod". Yikes.
Will I return for Land Run 100 on March 18, 2018? Definitely. I will make better preparations for inclement weather next time around, and once again pay very close attention to bike setup. I enjoyed my time in Stillwater and Oklahoma, but Oklahoma rain and cold, I am not going to forget about 2017 any time soon!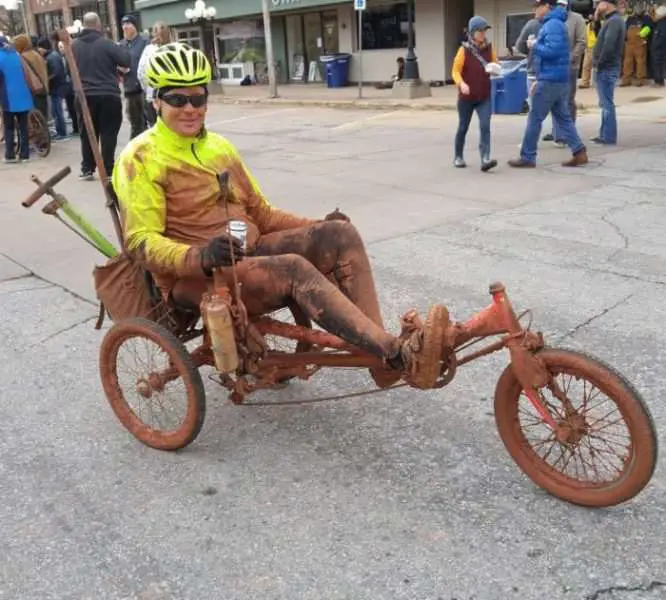 Finally, I saved the best for last. Pictured above is Ben. He is a military veteran who sustained injuries while on duty, but this doesn't stop him from riding and racing. He knocked out the Land Run 50 miler on a trike!… sans mud the trike weighs over 100lbs / 45 kilograms. He experienced some problems with mud packing up on the wheels, but rode strongly to finish.
Ben, as we say in Australia – you are a LEGEND.
There may be an abbreviated LR100 POV ride video coming soon, dependent on how much useful footage is available from my cameras.
Thanks for reading!