Dubbed the "New American Sportive", Roll Massif is a collection of eight road, gravel and mountain bike sportives across the state of Colorado. Roll Massif builds on the legacy of existing road cycling institutions like Elephant Rock, Copper Triangle and Tour of the Moon with brand new sportives like Wild Horse Gravel in De Beque and Crooked Gravel in Winter Park. For more about the series, please see the Roll Massif press release.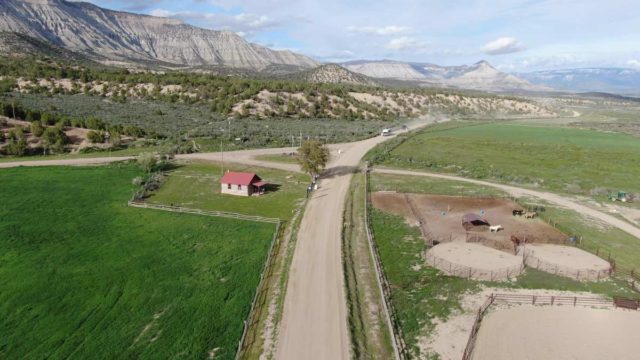 Roll Massif's inaugural event was Wild Horse Gravel, hosted by the good people at The High Lonesome Ranch of De Beque, Colorado. The ranch sits along the spine of the continent on the Western Slope of the Colorado Rockies. The town of De Beque is located a few miles away, with a population of just 491, circa 2016.
"Be Wild, Be Free", like the wild horses associated historically with De Beque and its surrounding lands, is exactly what happened on event day, Saturday, May 11. Unfettered to ride as fast or as slow as they desired, riders had the choice of two courses and with it, two timed segments in classic "Grinduro" style. If you're unfamiliar with a Grinduro event, the only time that matters is the timed segments of the course. Whilst a time limit to reach the event's designated aid stations / checkpoints is in place, riders can take their sweet time between segments to take it all in… and photos.
Thursday – Jetsetting to Colorado
Ben Delaney, a renowned cyclist journalist, nowadays finds himself as the frontman for Roll Massif, but he's more than just the P.R. bloke. Ben isn't afraid to get his hands dirty. One of his duties was corralling media types to attend the event, which included the glorious task of arranging for loaner bikes, airline travel, hotels and so on. Ben and the partners associated with Roll Massif kindly extended an invitation to yours truly, and naturally, I didn't hesitate to accept.
Gainesville, Florida and Grand Junction, Colorado are similar in that they feature small airports, a joy to fly in and out of, except for the part involving three flights on the westward-bound route to attend the event. Gainesville to Grand Junction via Miami and Dallas isn't logical, but with convenience, a certain price must be paid. And so it went, departing my regular gig on Thursday afternoon and landing in Grand Junction an hour later than planned at around 12:30am. Yours truly mostly functions on sleep deprivation (not recommended), but Ben, perhaps not so much. Regardless, Ben collected me from the airport and drove us to our Grand Junction accommodations.
Friday AM – The Colorado National Monument Media Ride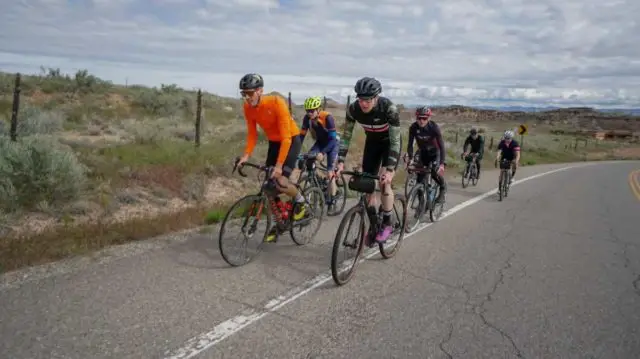 Entertaining journalists is another of Ben's duties, and Friday morning dictated a bicycle ride punctuated with stunning western Colorado scenery, a coffee shop stop, and visits to two wineries, one of which would include lunch. Quite the luxurious itinerary. Suitably kitted up for slightly cooler May weather than I'm used to, the journalist group rolled from downtown Grand Junction on a mix of bikes; yours truly and Jack Luke of Bike Radar, visiting from across the pond, were astride the Specialized Diverge Pro courtesy of the Specialized Boulder Experience Center, shod with Shimano Ultegra Di2. Quite the luxurious loaner bike.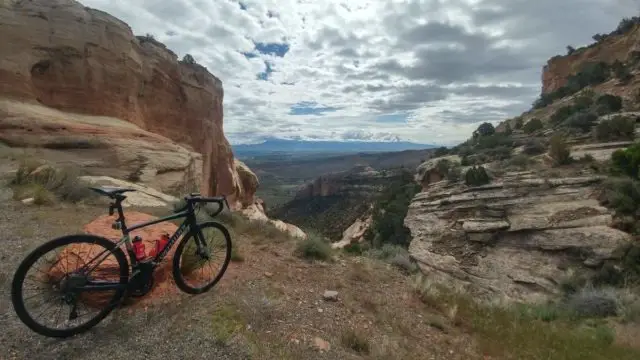 The Colorado National Monument "preserves one of the grand landscapes of the American West. But this treasure is much more than a monument. Towering monoliths exist within a vast plateau and canyon panorama. You can experience sheer-walled, red rock canyons along the twists and turns of Rim Rock Drive, where you may spy bighorn sheep and soaring eagles."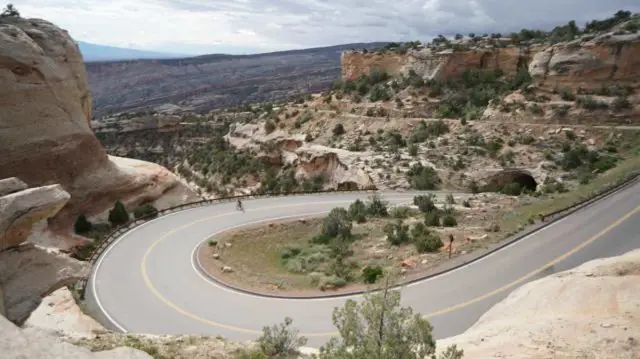 If you haven't visited this marvel of nature, the National Park Service got it spot on with their description. Our roadie-centric ride began ascending once we'd departed the confines of Grand Junction proper. Possessing legs and lungs acclimated to Colorado would come in handy for this ride, along with a genetic disposition to climbing at a decent pace. I possess none of these but with views on tap such as those above and below, any whiny complaints about dodgy legs and lungs soon faded away!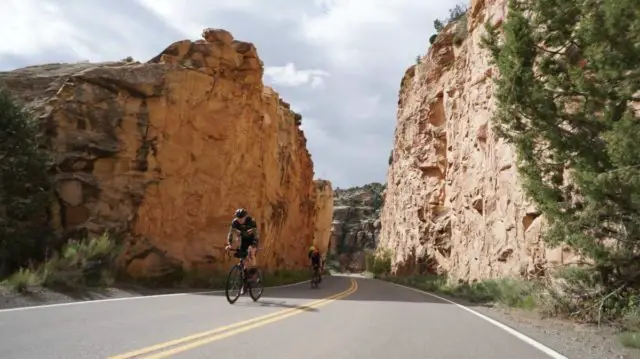 Mind-blowing scenery no matter where you looked. The media crew are a good lot, kindly regrouping at scenic points along the route. The route flattened out for the final two thirds, taking in a scenic bike path and paved roads surrounded by peach trees and wine grapes.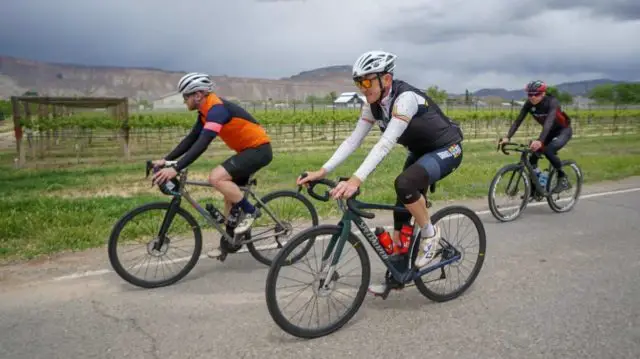 Pictured above was my trusty loaner steed for the duration, the Specialized Diverge Pro, shod with Mavic's Ksyrium Pro Carbon SL UST disc wheels. Watch this space for my two-ride review video covering the Diverge Pro!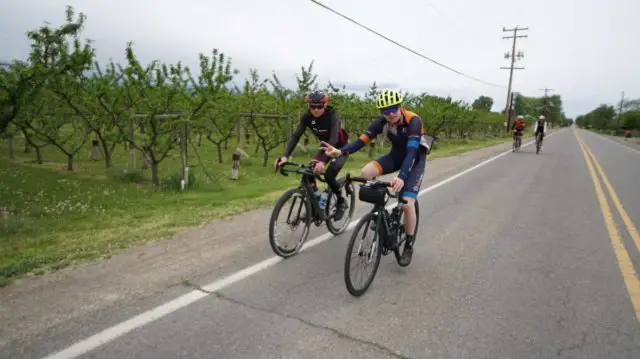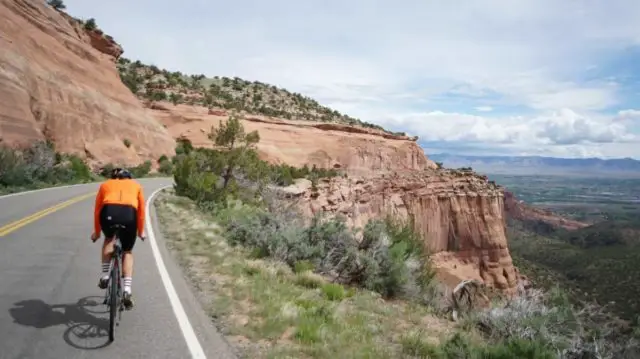 More of these views were to come albeit with gravel roads on Saturday.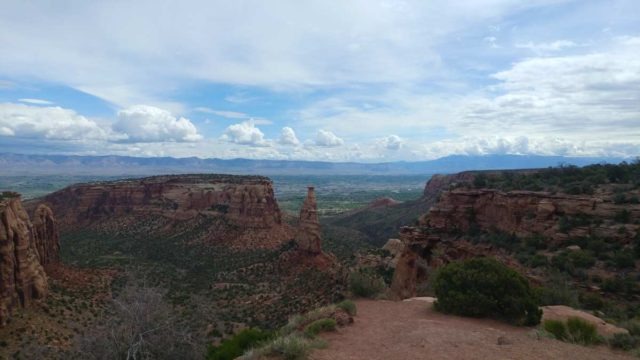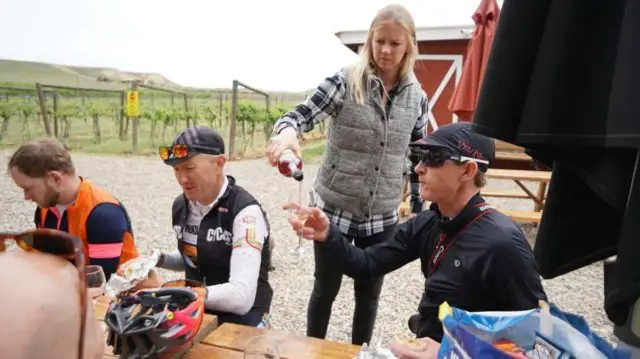 Friday PM – The High Lonesome Ranch & Mini-Expo
Mentioned earlier, the High Lonesome Ranch is situated among the high desert landscape of the Western Slope. Featuring "mountain forests, grasslands, spring creeks and alpine mesas at an altitude that ranges from 4,000 to 9,000 feet, the ranch is home to diverse wildlife and provides a vast playground for sports and wilderness activities".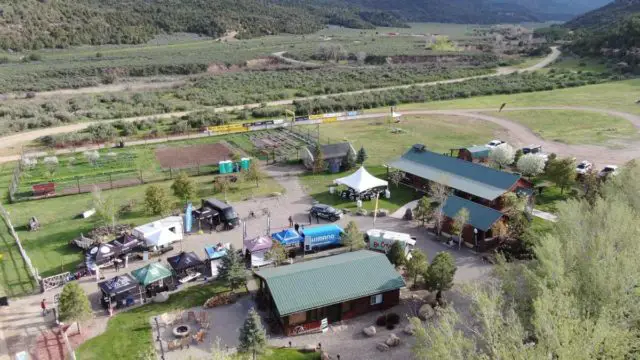 The mini-expo featured vendors such as Rocky Mounts, Shimano (showcasing the new GRX gravel-specific groupset),  J. Guillem Titanium Bicycles (video coming soon to Gravel Cyclist) and Mavic. Speaking of Mavic, I would switch wheels to their all-new Allroad Pro Carbon SL wheels with 40mm Yksion Allroad tyres for Wild Horse Gravel on Saturday. Many thanks to Gary of Mavic for his hard work over the weekend!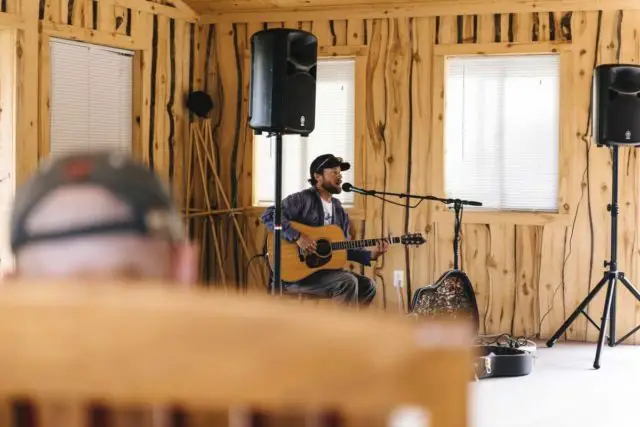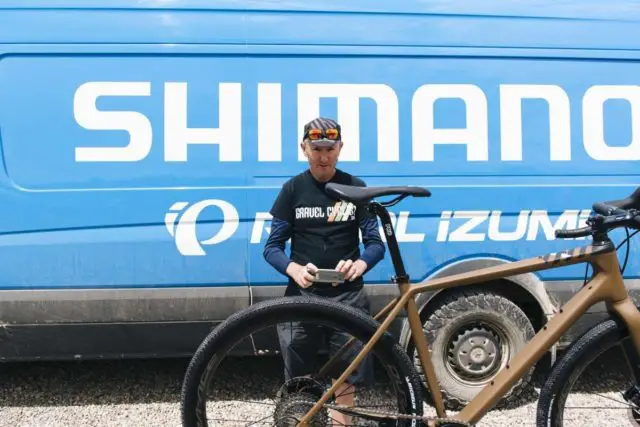 Friday evening was capped off with a marvelous dinner catered at The Lonesome High Ranch by chef Matt Chasseur, followed by a viewing of Shared Territory by Justin Balog.
Saturday AM & PM – Wild Horse Gravel!
Grinduro format racing, if you want to call it a race, is less than serious. This was abundantly clear from some of the riders I spoke to the morning of the ride. Riding in the company of friends and snapping photos was of a higher priority, in addition to enjoying the virtually vehicle-free gravel roads – aka "groads" – we would traverse once the event kicked off.
The inaugural Wild Horse Gravel would roll – as in "let's roll" – at 8am, but first, breakfast was served! This isn't the first rodeo for The Lonesome High Ranch. Catered by their capable staff, riders enjoyed coffee, eggs, sausage, potatoes and so on. Excellent chow for a long or short day in the saddle.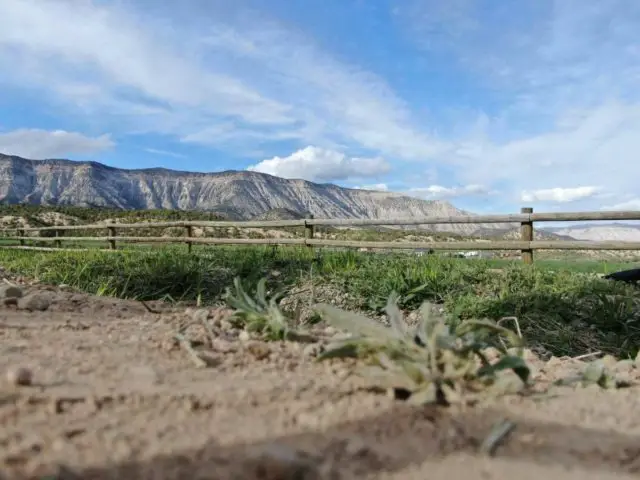 The temperature was brisk in the low 50's Fahrenheit, but the sun's rays would warm the day to the low 70's Fahrenheit and barely a cloud in the sky, absolutely perfect conditions.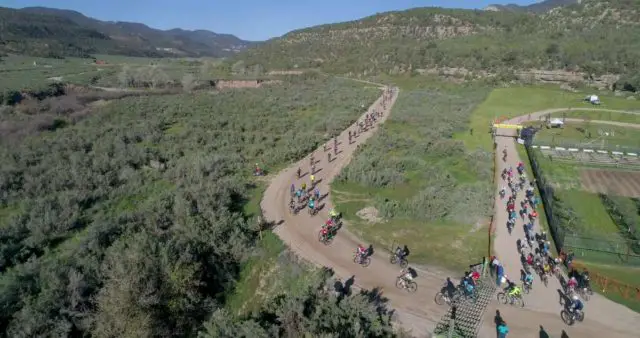 Unlike some of the bigger gravel races I've attended where there has been a bit of argy bargy to get well positioned on the start line, there was none of that at Wild Horse Gravel. In fact, the first mile or so was neutralized and led out briefly by a horseback rider, before everyone was turned loose. Even then, the pace was extremely civilized.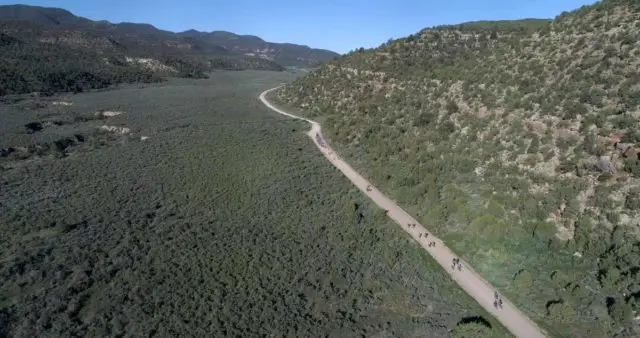 I may have started towards the front for some handy video captures, but it didn't take long before I found my rightful place in the Wild Horse Gravel Peloton; off the back of the front group, and chugging along at my own sweet tempo. With that said, it wasn't like the front group was going hard. I took my sweet time warming up, and felt my legs from Friday's ride, along with the altitude. Did I mention I live in Florida much of the year? Remember, any half decent cyclist usually has a sizable list of excuses. 🙂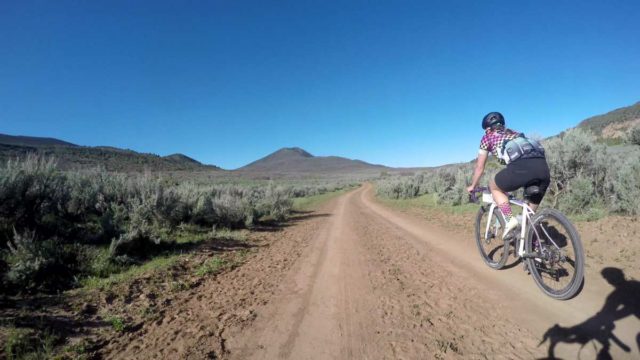 Mile zero to five was effectively a warmup for the first timed KOM / QOM segment, which was entirely uphill. I certainly wasn't going to set any record times, but I did select one or two riders as carrots to pace from. I don't know her name, but the rider pictured above was setting an excellent tempo that I could maintain, until the extremely steep climb to the end of the KOM / QOM segment. My loaner bike was kitted out with a 48/32 chainring pairing and an 11-32 cassette, perfect for much of the course, except the really steep stuff, which is when a less than 1 to 1 ratio comes in handy.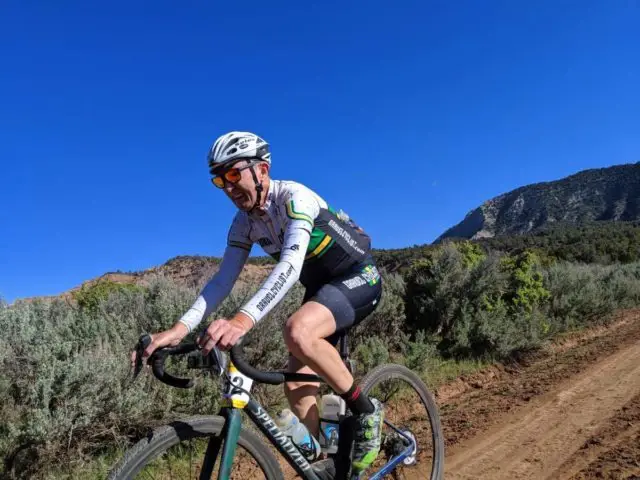 Thankfully, I didn't embarrass myself too badly and finished in 75th spot of 171 blokes who began the event. I'm claiming best performance from a Florida-based rider?! Not that it matters, at the head of affairs for the ladies was Kristen Legan in a time of 28:42, and for the men, Connor Mullervy at 25:18. Well done!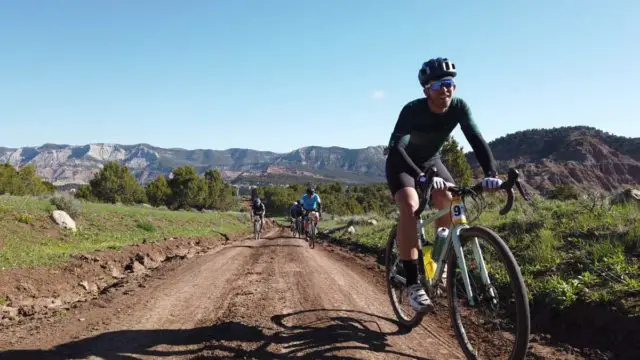 Positioned just after the KOM / QOM was a water stop that served as a regrouping point for every rider who'd just finished the segment. If there was a category for sheer time wasted at aid stations, I was hoping to podium.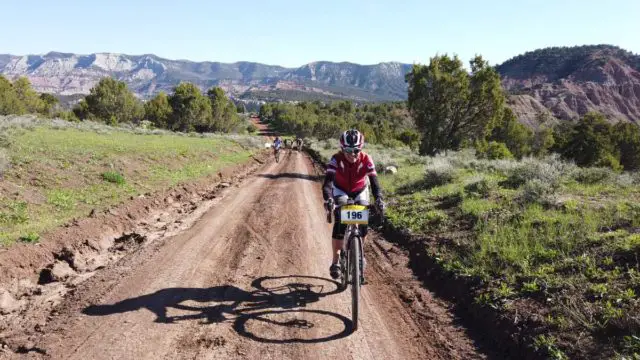 I used my down time to capture video and still photos of the riders and views behind them, as they scaled the hill just beyond the KOM / QOM finish line.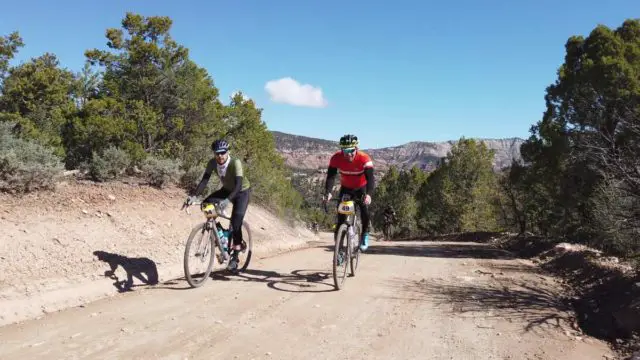 The only serious element of Wild Horse Gravel was the tricky nature of some of the descents. They were steep and rutted, and considering there was no time clock running between segments, it was a futile exercise to hammer them with unnecessary risk-taking. With that said, descending is one of the most fun things I do on a bicycle, but possessing no tribal knowledge, I mostly took a gentler, more cautious approach.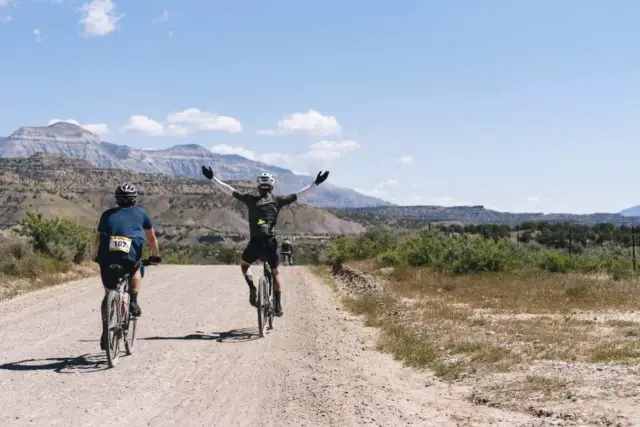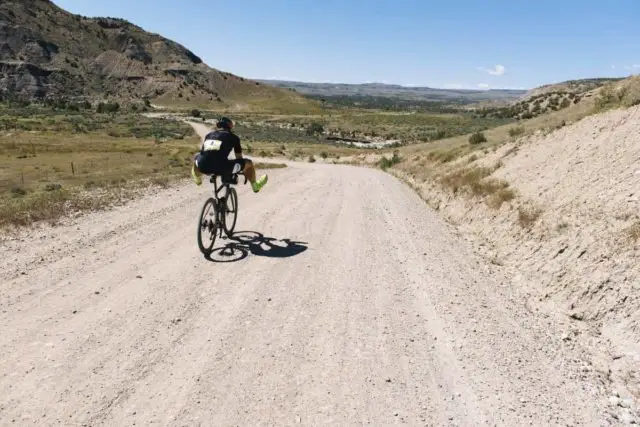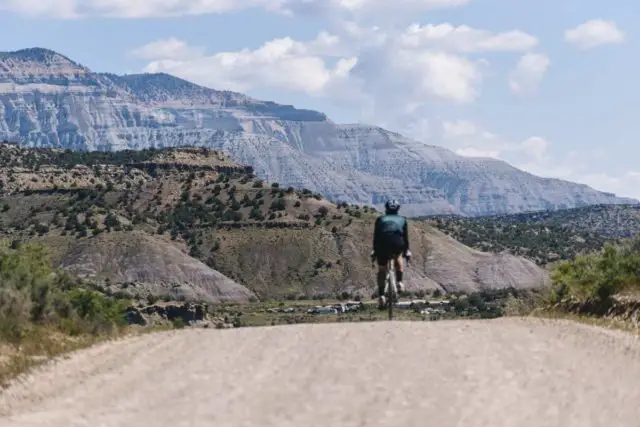 From the end of the KOM / QOM, twenty-three miles of beautiful high desert vista delighted the rider's senses, all the way into the town of De Beque, Colorado. De Beque was the location of the well-stocked aid station with mechanical support, and the turnaround point for those riders completing the long course.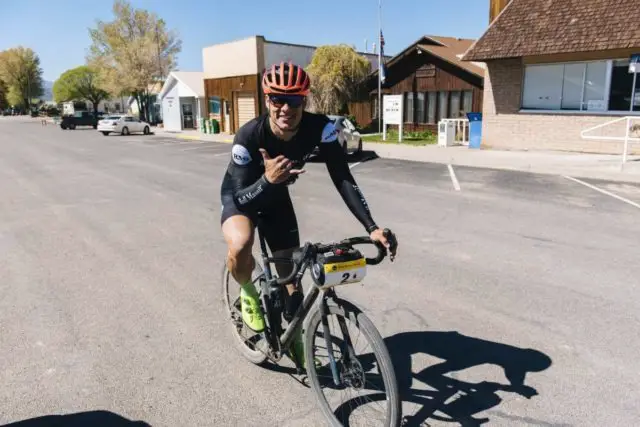 The long course was an out-and-back affair, albeit extremely challenging, whilst short course riders had just 10 miles to ride from De Beque and back to The Lonesome High Ranch. Yours truly chose the latter, citing knackered legs and overall fatigue.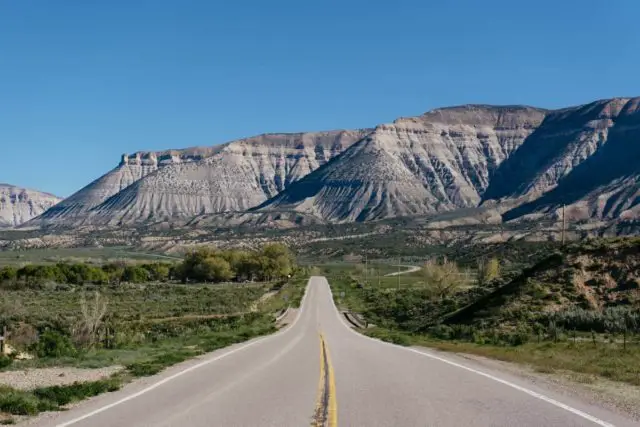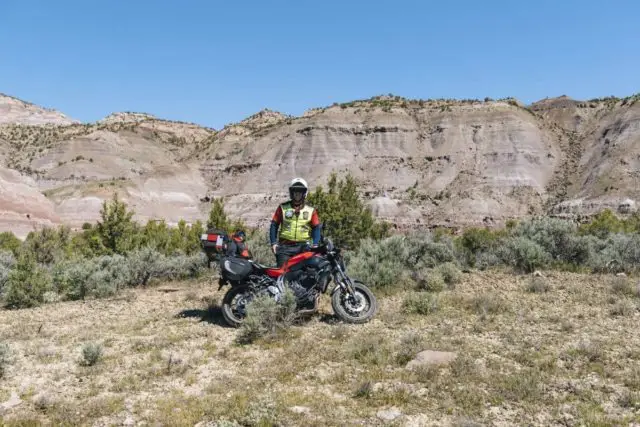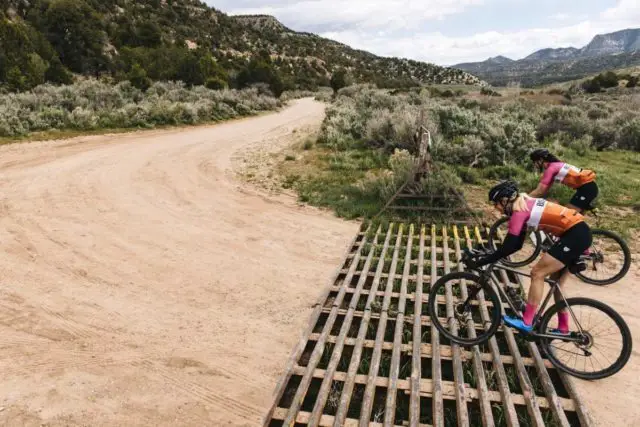 As a new promotion outfit, Roll Massif have excelled with their production of Wild Horse Gravel. This event had it all, ticking boxes across the board.
Gobs of fun ✔
Excellent support on-course with a first-aid and mechanic moto ✔
Great communication before and during the event ✔
Plenty of activities at the start and finish venue for riders and family members ✔
Well-marked course (this is optional in my opinion) ✔
Off the chart scenery ✔
A smaller event with a great vibe offering a rich experience ✔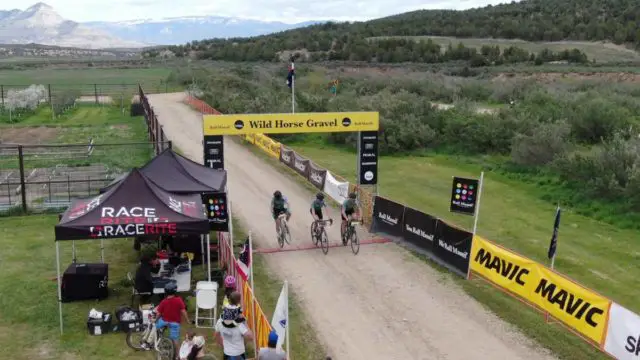 Be sure to check out the rest of Roll Massif's Sportives by visiting the link at the bottom.
More Photos from Wild Horse Gravel
Coming soon, the Wild Horse Gravel event video! Thank you for reading.